Brought Back From Regions All Over Italy (Tour 2011)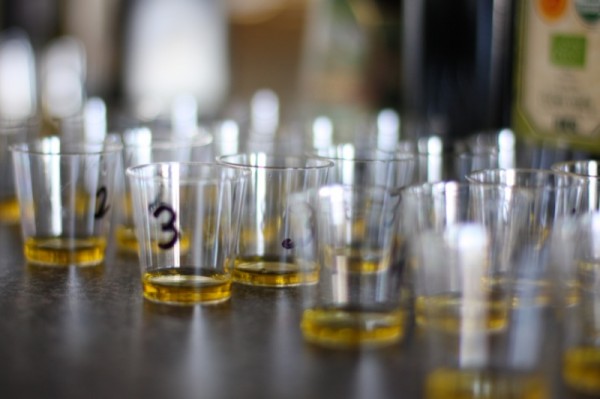 Ten (Twleve) from Italy, mostly DOP's, and 4 from other places: Oh! What a Tasting!
My motherboard crashed after returning from Italy last November, and so my final photos of my haul home we lost. Thankfully, that was all, so there never was a post about the ridiculous and precious finds I packed into our bags and brought home. One of the many items was olive oil. Well, to be honest, not one – but ten. Yes, ten bottles of olive oil, mostly DOP from each region of the country we visited, or neighbouring regions where I could find bottles to pack away. I adore olive oil. I find this golden green hued fruity grassy liquid of the Mediterranean area enchanting. I have been eager to do a comparative tasting since November, and finally one night the last week of March, it all came together.
Overly ambitious? Yes. Usually, when doing a purposeful tasting with thought and intent, five tastes are enough. Even plenty. The palate desensitizes as the nose does when sampling perfumes. However, on this night, I went for it. I put out all 10 as well as one from Superstore, one from Greece (a gift from Vanja's brother who was just there last summer), one from Serbia, and one from France (my Quebec acquisition). Then invited my guests, and one of my guests brought 2 more from her trip to Italy last fall, as well. Yes, we tasted 16 samples and it was an incredible learning experience for me. Not nearly as overwhelming or exhausting as the marathon chocolate tasting I put myself through a couple of years ago. Surprisingly, 14 tastes of olive oil, within the environment and process we used, worked very well!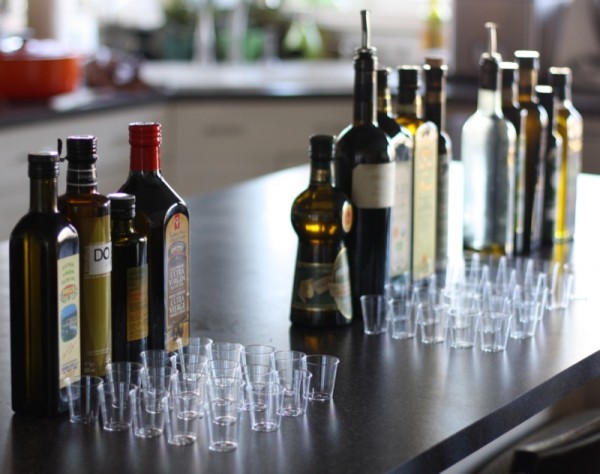 I had tasted all of them at different times, and based on what I thought, I grouped them. The first 5 I put together, I believed would be the best. The next five still had what a believed to be two excellent bottles and others I didn't know about. The last samples were the 4 that were not from Italy, and the two Italian ones from our guest. These little shooter glasses are 30 for a dollar at the dollar store and though I don't like to use plastic, they are perfect for this kind of thing. Numbered 14 for each of us and numbered the bottles the same number as the number of the glasses that sample was poured from.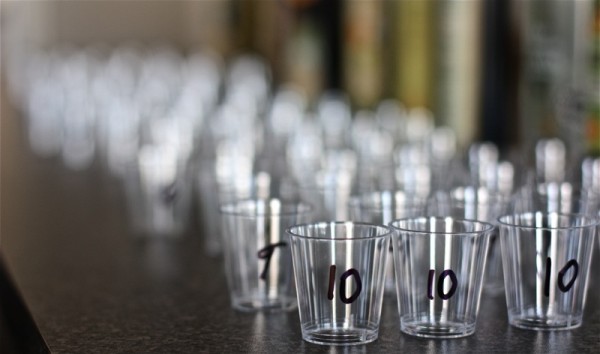 Below are the first round of tastes. The oil on the far left is the only oil made from the black olive and it a DOP bottle from the Liguria region which is the region Cinque Terra is in. I didn't purchase it from there, however. I didn't even see a DOP bottle of olive oil in any of the five little towns in that area, and believe me, I searched through them all for one. This one we purchased from some unforgettable oil vendors at the Campo de' Fiori in Rome. They sold every kind of oil, but raved about this one as the "…best in all of Italy! The only one from the black olive! You must buy this one. It is famous!" I am not that hard of a sell. I was going to buy it just because it was a DOP from that region but this championed the bottle and had me salivating with expectation.
The second and third were purchased in Spello from Roberto Angelini. The second one is the one Alain Ducasse has exclaimed to be "the best in all of Italy" and the one he showcases in his Paris restaurants. The fourth one I puchased in Bologna from EATALY which adopts the philosophy where the supply of products must come from the direct origin of the producer and where education about food is paramount. These ideas are both based upon the tenets of Slow Food International which was the starting point to instilling a perception of quality and develop levels of healthy taste and enjoyment that makes human beings more fulfilled and happy supporting the belief "eating well help people to live better." This very bottle can also be purchased at The Italian Centre Shops. It is also a DOP bottle. The last tall thin bottle was from Guillio, our Truffle Hunter. I have yet to write my post about our surreal experience with him. This bottle is the only one of single origin olives. Most olive oils are made by mixing varietals and he is a firm believer in the production of single origin oils and sees it as the future of the artisanal industry.
The next five start with what I believed may be the crème de la crème of them all: the one purchased in Rome very near the Testaccio Market at Volpetti's on the last day of our holidays fresh from the presses! This is the only oil from 2011. All of the others were of 2010 origin. There was just enough left for the tasting as we had definitely been enjoying this one. This is followed by another DOP from the Liguria region. This one I purchased at the Mercato Albinelli in Modena. I spied it there the day we left Cinque Terra and eye-poppingly plopped it in my bag! The Sardegna DOP was from a little shop steps away from that same market in Modena. I prefer fruitier oils than grassier oils, and Letizia had said the fruitiest oils come from Sicily. Somehow that made me hope that would also be true of Sardinia's. I also wanted another DOP taste to add to the many terriors already collected! Puglia is up next. Oh, I cannot wait to visit Puglia with the foods from there I have come to love! I had been searching for a DOP and Martina said there were vendors at one of her markets that she knew had excellent olive oil from Puglia. We went. We tasted. We bought. The last one I have no recollection of purchasing whatsoever. So odd, considering each has such meaning for me, yet this one I cannot place at all.
The final four, with the exception of two more Italian samples from my guest, are not from Italy. The first bottle was a gift from Vanja's brother upon his return from Greece last summer. We thought it would be cheap and tasteless as the lid was already partially open, the bottle held no charm, and his brother would definitely buy the least expensive bottle. (He is not cheap. He is poor.) Next, is the bottle I purchased in Quebec that comes from France and I loved it. When I sampled it before I bought it I was awakened with the depth of the grove and the freshness of Spring! Third, a bottle from Vanja's home country, the former Yugoslavia. Another gift from a friend of his that know I adore this liquid gold. And last, my old standby from Superstore. I have done taste tests with this one before and one or two bottles purchased in Italy. This one was just as good. But, that was then.
Samples poured, not even a tablespoon in each glass. Just enough for a whiff and a taste or two.
Quite a line up. I believed we would not get through it, but thought that a Balsamic tasting in the middle would offer a reprieve for the palate refreshing our desire to continue. Vanja and I had purchased a bottle from the Consortium in Modena at the house of the producer. There are only 57 producers of this product in the Consortium which is the "real black gold". There are others that do make the balsamic in exactly the same manner, but they cannot belong to the consortium, and the small skinny bottle is one of those from the same region, though I purchased it at Volpetti's. The 100 mls we purchased that is the authentic balsamic was 80 Euros. The one from Volpetti's was 25 Euros, so a significant difference in price; both were expensive. I also had a bottle "made in the old manner" specifically for a store in Boston's Italian area that I purchased while on a food tour there that I included in this tasting, and my guest brought her consortium bottle of authentic balsamic to join this trio. Balsamic is made from grape must, or grape juice. I happened to have a bottle of grape must that was gifted to me by one of my favourite lovers of food, Tara. That was also placed in the tasting frey.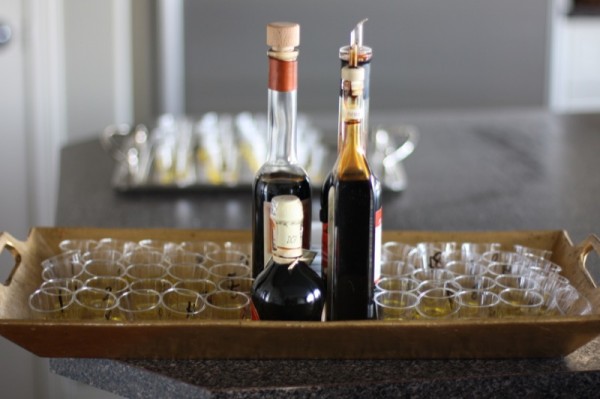 The authentic consortium balsamic, bottle designed by Ferrari, followed by the Boston purchase, then the grape must and the other balsamic purchased at Volpetti's.
I was expecting the colours of oil to have much greater variance that they did. Looking very closely with them on a white background, some were slightly greener and some were slightly darker, but they all looked the same at first glance, even at second glance.
Table set. I did add bread boards on the side with crusty pieces of bread for dipping or chewing between tastes which were needed and made the experience even more pleasurable for me.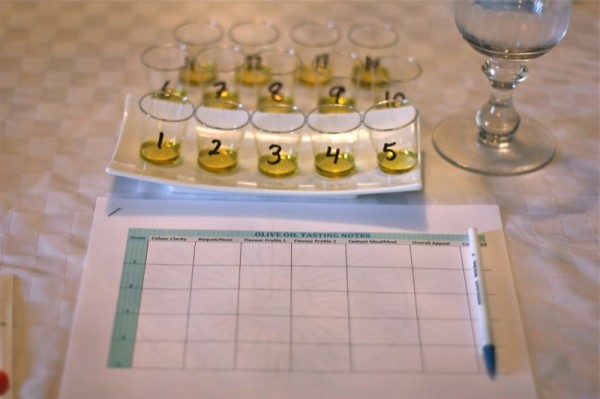 Fist five up, tasting chart ready. Guests eventually arrive and we dive in.
Appearance: colour and clarity? Aroma? Tastes: fruity or grassy? Other tastes? Mouth feel and texture? Other comments? After leading everyone through the first taste and referring to the two tasting wheels provided under the chart for vocabulary reference, each taste was silent. We would breath it in, take it in, ponder, write and then discuss. Almost always there was a consensus. Each discussion helped me clarify my own perception of each taste through agreement or otherwise. There were a couple that we all gagged over and looked at one another immediately after tasting, and a couple that were complete pleasures. Very few had any aroma at all. That really surprised me. But, my predictions we not really on the money. Over all, four stood out as complex and flavourful olive oils. Two stood out as terrible. The rest were – well – forgettable. Not that similar, but eventually all came together as similar in their unified lack of impression.
1. No one in this group could tell any discernible difference between a black olive or not in this oil: a light green hue. It was very light and subtle. Not at all complex. One note and smooth.
2. A light golden oil, no aroma, grassy with notes of avocado followed by a pleasant bitter finish. It was a heavier oil than the first. It was tasty but no "wow" factor.
3. Greenest hue yet with a very aromatic fruity invitation to the nose. The first taste was grassy followed by a chemical mix and a bit of turpentine in the offering. It was light and smooth in the mouth with a bitter finish and presented quite a bold impression.
4. Greenish hue again with a floral aroma and fruity first taste followed by a nuttiness, a little reminiscent of avocado and a broader range of flavours with a depth not yet experienced. It was smooth on the tongue, yet the most viscous so far.The finish said "YUM" to me and left the impression of a bold, meaty, fruity luxurious pleasure. This was identified later as one of the favourites by most of us.
5. This was a gold colour, no aroma and presented a first taste of old grass to me. There was some disagreement here where a couple felt this was a fresh spring grassy taste. I felt it was a brown mulch that was quite off putting. It was light in texture and all agreed it had a bitter bite in the back of the throat as it finished that was unpleasant. Guillio had told us during our tasting with him in Firenza that this means there are too many impurities in the oil and it wasn't properly pressed. A great metaphor for it was given by a guest who said it was like comparing a Metaxa to a smooth Brandy. Surprisingly, this is the single varietal from Guillio!
6. Quite green, no nose, slightly fruity, but more of a blandness accompanied the first impression. It was oily. Really, in the end, no one could identify any strong discernible note other than the thick unappealing oily texture (that, interestingly, none of the others had). Surprisingly, this was the only newly pressed and loudly heralded oil from Volpetti's which I had been completely enjoying on my food. I do have to wonder if we were tasting the dregs from the bottom of the bottle as I recall many pleasurable moments with a bold fruity oil garnishing my food.
7. Again, gold in colour and no nose. This was a light grassy first taste with a fresh Spring appeal that was subtle but very pleasant. We found ourselves going back for a second taste as the flavour was appealing, though very light, it was refreshing. This was identified later as a favourite by a couple of us.
8. Very pale yellow in appearance with a sweet floral note. At this point, any sample that has an aroma at all is very appealing. The first taste was fruity overpowered rapidly by a powerful chemical undertow that washed through with a bitter finish that had us all gagging. Light in texture, this oil was terrible. It was the one from Sardinia!
9. Back to a bit of a greenish hue, this oil presented no nose and on first impression was balanced between fruity and grassy. There were waves of complexity within this spectrum but identifying any was abruptly interrupted by an almost hot burn just before the finish. My first impression was that this was going to be a winner, but I was left with a big dislike for the finish. This is the one from Puglia.
10. The last sample from Italy was a pale yellow with no nose and a nutty first taste. Not fruity, not grassy, but nutty: then swirling through the mix came chemical notes of turpentine and petrol mixed with a meaty and earthy black olive. It had a smooth texture but was a big turn off in flavour for me over all.
11. Back to a greener oil with no aroma and a grassy first taste followed immediately by fruity notes dancing across the tongue: artichoke, avocado, a little peppery finish and a very smooth overall feel. This was a thicker oil, but in a very appealing, luxurious way. This was one several chose as a favorite and it happened to be the one from Greece!
12. This was a darker gold with a bit of green. Not very pretty, really with a grassy nose and the first taste a musty old bitter overtone that immediately moved into a gaggingly off putting taste that was soon recognized as gasoline. In proper English: YUCK! This one was a resounding "NO!" How could this be? I vividly recall standing on the floor of a charming Quebecois store at the Jean Talon Market in Montreal celebrating the flavours from this very bottle not so very long ago. It must have been longer ago than I recalled.
13. Light in colour, grassy aroma overpowered by the thick tongue coating viscosity of this oil coupled by an old chemical taste similar to the smell of grease at a service station. None of us liked this oil and it is the one from the former Yugoslavia. There are lovely trees there and there must be incredible artisan oils, too. There is certainly no standard for olive oil making which would affect production.
14. A definite green tone, this fruity floral nosed sample held its fruity first note on the tongue with an invitation to enjoy that was immediately quelled by a dull muddled indistinguishable mix of flavours that were somewhat spicy followed by a surprisingly bitter finish. It was a full bodies experience, without clarity and a roughness that lacked finesse in the mouth. Was this really my old Superstore President's Choice stand by? Tastings do awaken the mind and the palate. There is no doubt about that.
Carmen's two samples were both good. I didn't take notes for them. Daniel Costa of corso 32 recommended Carmen and Dong visit Volpaia, eat in their Osteria and take a wine and, or olive oil tour and tasting. It was a great recommendation according to Carmen! The olive oils she brought for us to taste were Volpaia Extra Virgin Organic from Radda Chianti at the Volpaia winery and estate. This one was really fruity and complex. We were all amazed as we tasted it as it was definitely one of the best in our tasting group, though it was not a powerful or bold oil. It was quiet, fruity and mellow, yet a beautiful tasting experience. The second bottle was from La Castellina in Castellina Chianti and sadly, I didn't take notes on it. I do recall it was "nice".
The Balsamics? Between the two from the consortium – both just happened to be done in cherry wood and that was apparent. Ours was a much smoother sample with a more luxurious finish if you are looking for the "aged black gold" experience. I do happen to enjoy a bit of a bite in my balsamic and found Carmen's to hold a strong appeal for me. She paid 40 Euros for hers and for half the price, it was equal to ours in my opinion. Without them being side by side in a tasting, both hold equal enjoyment for me. Some preferred the one from Volpetti's made in the same manner. It was also excellent, and without a side by side tasting, provides very similar tasting information. The sample from Boston was also good. Nothing like a common balsamic. But, it did not have the body and depth of the others. The grape must was a lovely companion to this tasting experience and one person preferred it to the Balsamics!
Another epic post. I will cherish this time spent with my friends who are like minded food lovers. I immensely enjoy tastings! Thank you for making this happen and for the full on engagement you each brought to the table!
I will continue to taste my way through the world of olive oils in search of understanding the tastes of the terriors through various olive oil making countries.