Only Three Ingredients: it is what you do with them, that makes all the difference.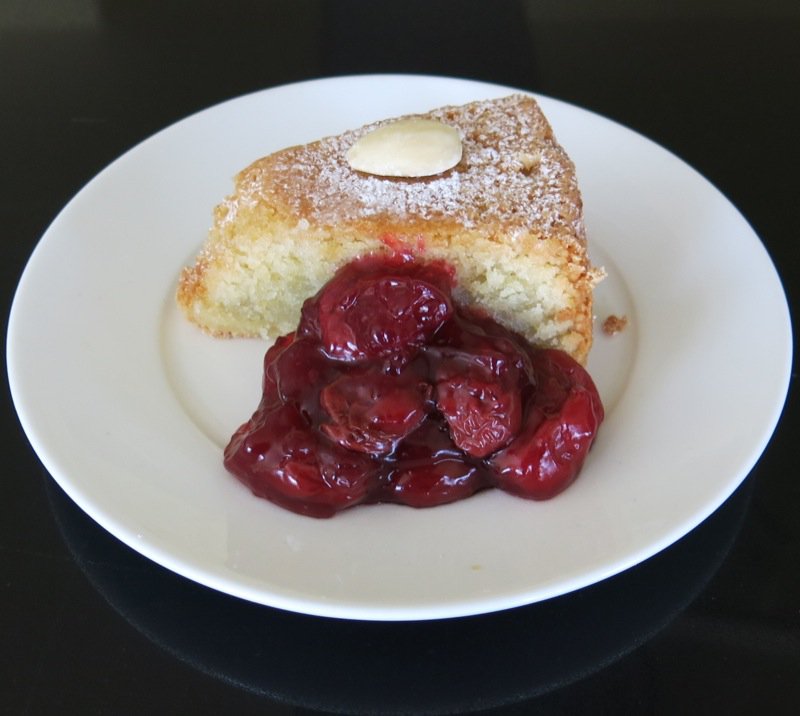 A recipe is a recipe is a recipe. But, watching the hand of the master execute that recipe makes all of the difference. Almonds, sugar and eggs. Three ingredients, one recipe, and many possibilities. Think about baking bread. There is yeast, flour, salt and water. Four of the simplest ingredients. The recipes are all so similar. Combine together. Knead. Proof. Bake. Yet, some create magic with the palm of their hands using those four simple ingredients. Most manage to create a sound loaf of baked bread. It is those that create the magic I want to learn from. To bake beside. To have as my mentor.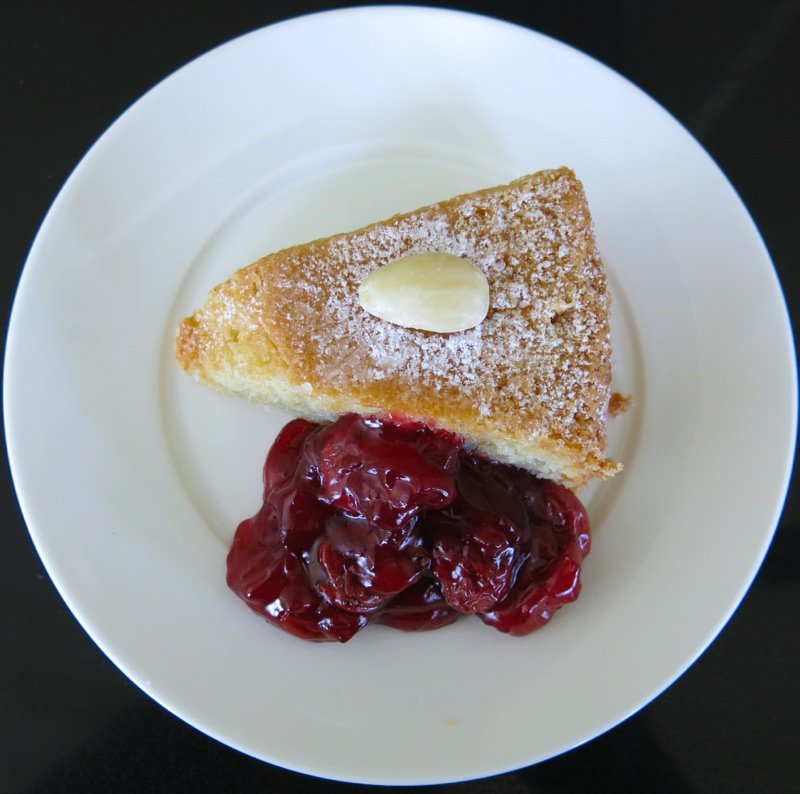 Portugal is near the top of our "places to travel to next" list. So, when Maria, one of my Thermomix clients, shared this classic recipe from the Algarve region of her home country, I was delighted. Many of my clients have friends or relatives in other countries cooking their heritage recipes with the Thermomix machine and this is a machine that does produce consistent, constant, predictable results, time after time after time. "Almonds grow wild in Algarve, along with figs and carobs, and their extensive use in sweets is a reflection of the Arab influence from the 600-or-so years that the Moors spent there (Algarve was only completely taken back in 1249 with the conquest of Silves). This is the most basic cake you can get, but there are recipes that then add other things, such as fillings made of eggs and sugar, or a confectionery made from a particular kind of squash called Chila (http://en.wikipedia.org/wiki/Cucurbita_ficifolia)." Maria João Arantes e Oliveira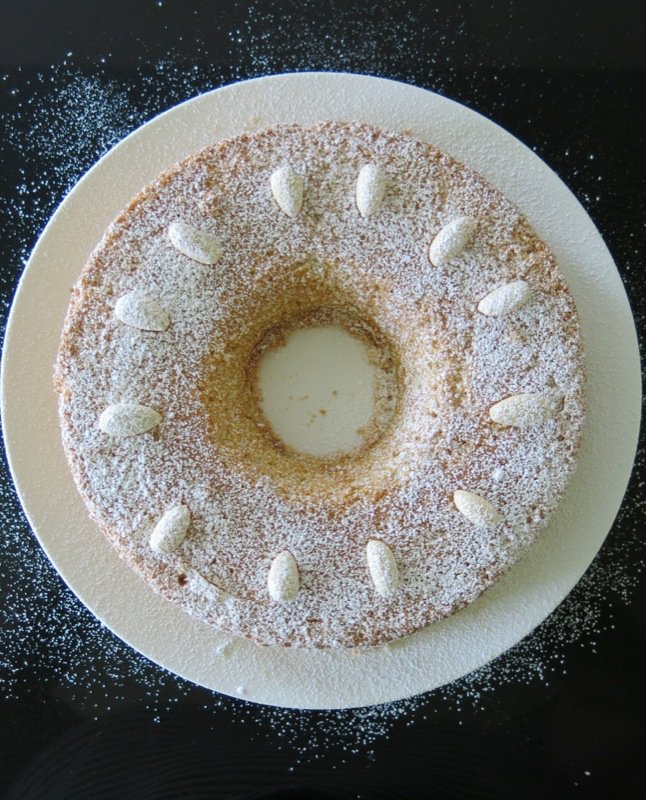 Don't get me wrong. I said I work my way to the elbow of an artisan as my mentor. Yet, when one is not available, or after I have learned the technique, there is this amazing machine creates the same result time after time after time. Scale in the ingredients with the built in scale, set the time, temperature and speed. Walk away. Or not. This recipe is fast, so no walking away. And, even with the Thermomix machine, I failed the first time. Could be because after receiving it, I stood up so abruptly, my Macbook Pro hurdled to the ground, and I ran to round up the 3 ingredients. Had the cake in the oven within an hour of getting it from Maria.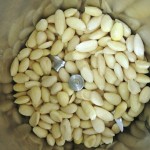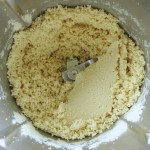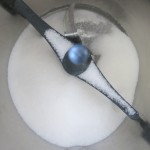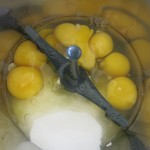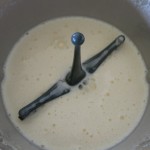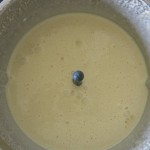 I have made marzipan many times with the Thermomix machine, so milling the almonds I was familiar with. I have made Zabaglione (have to post that recipe) many times, so cooking eggs and sugar in the machine was not new to me. Folding the almonds into the frothy eggy mixture wasn't too tough, either. Nothing about this recipe is intimidating and can be done without a Thermomix if you just buy the almond flour. (Won't taste as fresh and good, though.)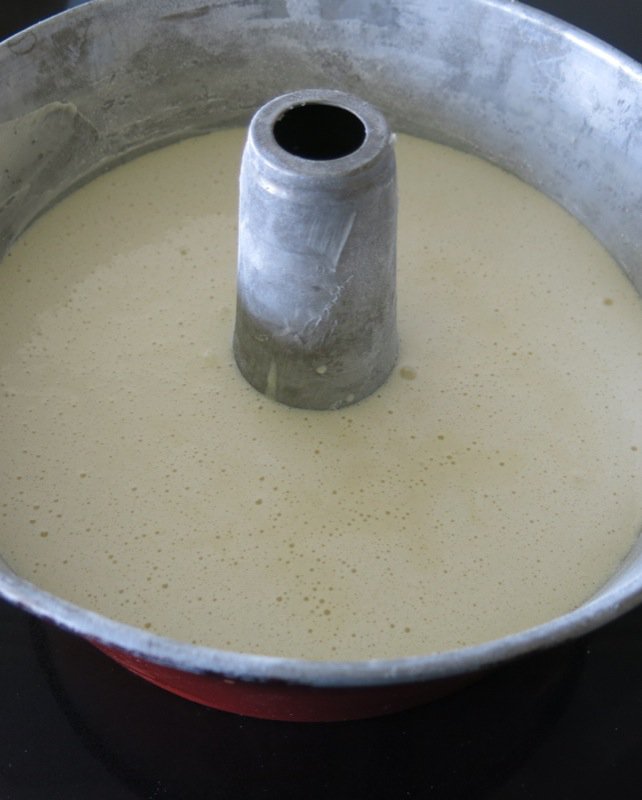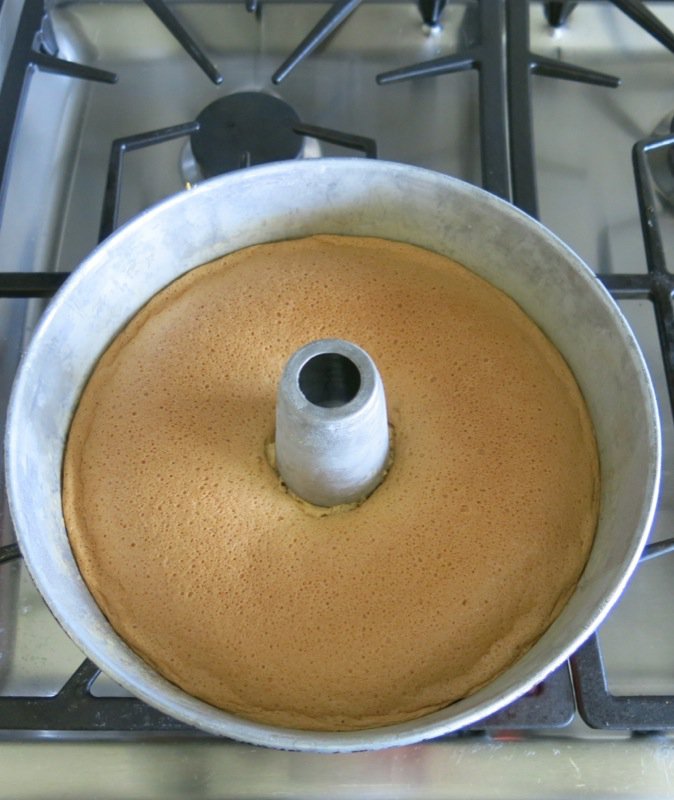 It was the baking time that through me off. I know how to bake a cake. The instructions said 35-40 minutes at 320F, yet I could tell by touch the cake was not done at 35 minutes. I let it go to 45 minutes, and thought: "Hmmm. Maybe like a meringue, it will firm up out of the oven." Took it out. Gorgeous. Within minutes it started to fall. See the edges starting, above? My next frame of reference? Angel Food Cakes. Quick. Flip it. Did I forget I had buttered and floured the pan. Yup.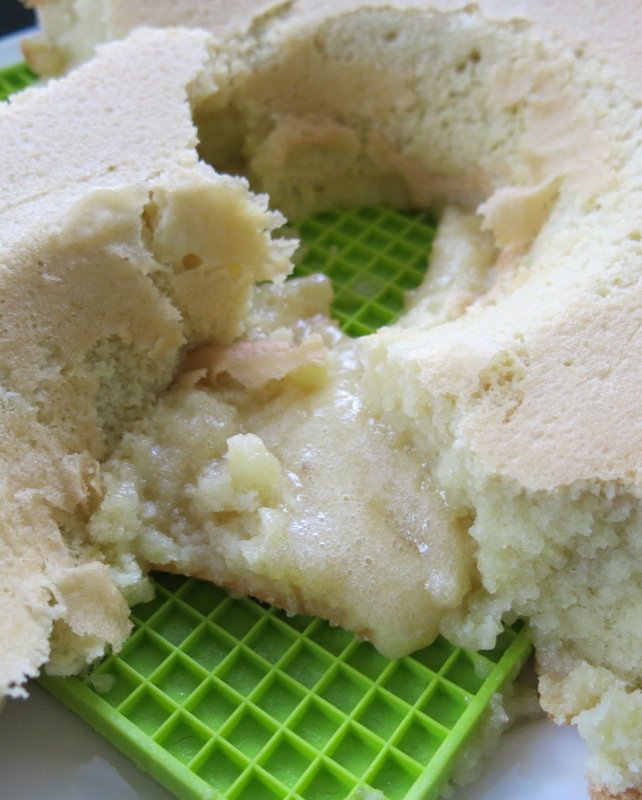 Ker-plunk! And not just a little under-baked. A whole lot! Put on my breaks. Backed up. Did a u-turn. Research. Read. Read. Read. Wrote to Maria. Ready for take two:
I did everything right, but this cake simply needs to cook longer. Maybe a whole lot longer. This time, I used the convection heat fan and turned the temp down to 300F and added 20 minutes to the cooking time. I had read that it was characteristic for these cakes to fall a little, at the end of cooking, inside of the oven. Breathe.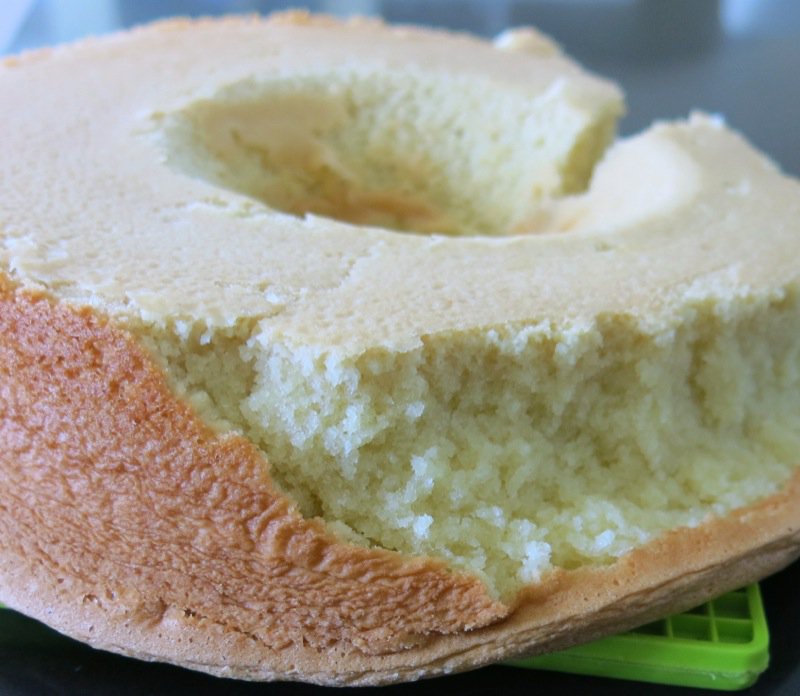 Oh. The taste and texture of my failure? Phenomenal. This failure held a truckload of hope. Below is cake two. It fell inside of the oven and just under the crust, it appears a little too moist for a "done cake". It had been in 65 minutes. It was done. I let it sit in the pan until completely cool. Patience is not one of my virtues. I managed.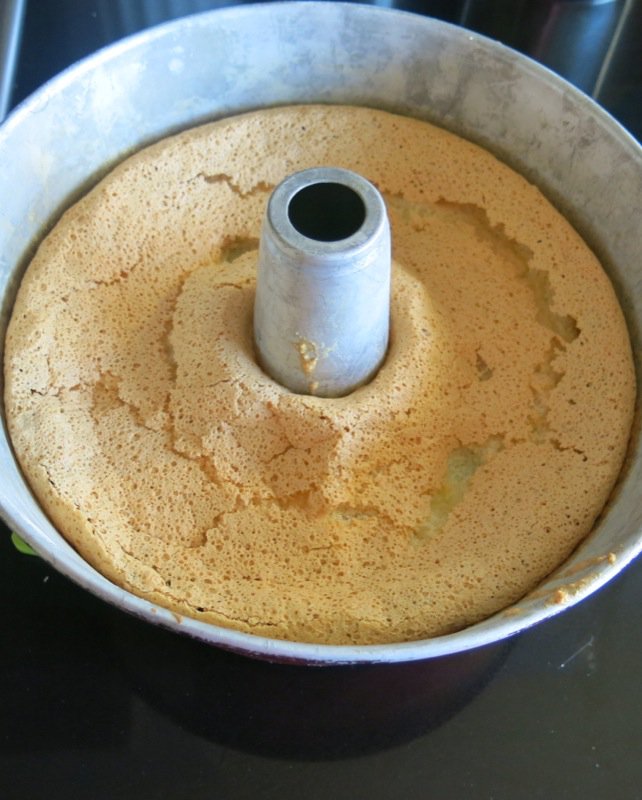 Carefully, with a butter knife, I went around the edges of the pan and the central funnel to release the cake. Took off the sides, and did the same thing with the butter knife to release the cake from the bottom of the pan, taking no chances this time. Cake back into the pan, as it was easier to flip onto a plate from inside of the pan, I flipped it onto a plate and was stunned at how little lift the cake had. Yet, it did look exactly like images of the Algarvian Almond Cake I had seen.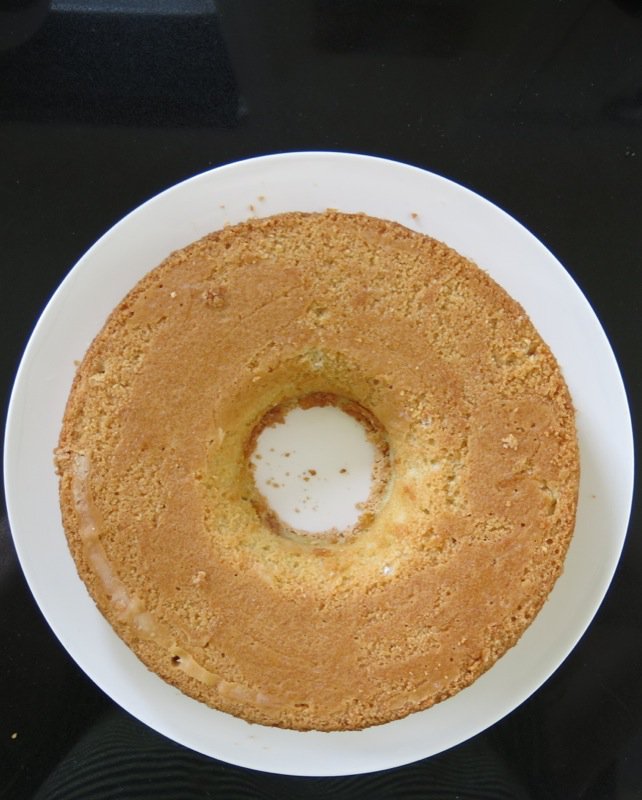 It was only on the top, now the bottom, that the cake had appeared a little underdone, yet it was clearly properly cooked at room temperature. The cake was to be dense and moist, yet there is no fat in the cake. Zero fat. Nulla. Nil. Nauda. None.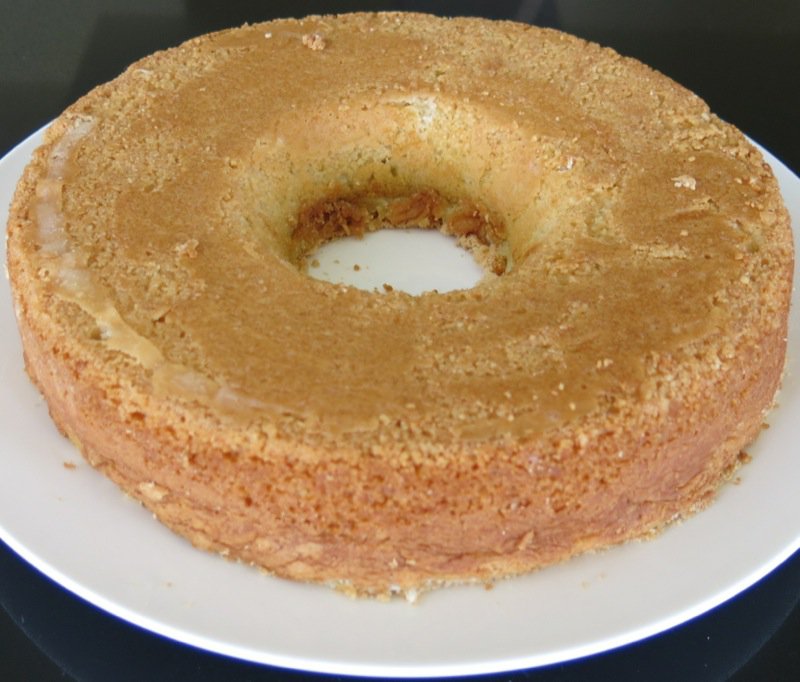 How to decorate it? Powdered sugar and almonds. Simple.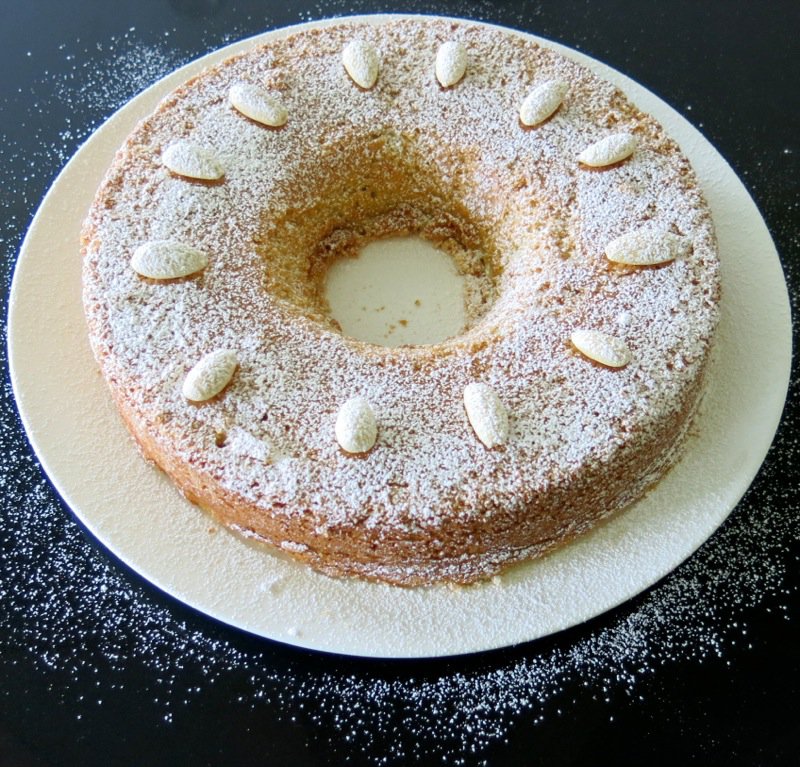 Check to be sure photos of the whole cake work before cutting into the cake. Now… let's slice this classic Algarvian Almond Cake and examine the texture and taste what happens when three simple ingredients are worked into magic via the Thermomix.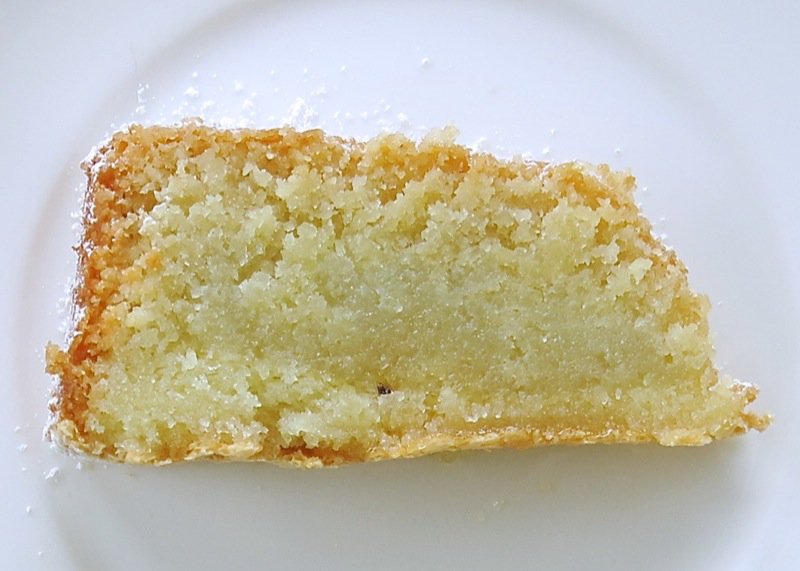 Oh! Oh! It looks under baked! How did that happen? Impossible! Of course I tasted it. It was definitely not under baked. This is a dense, moist, flavourful cake with a pasty texture somewhat similar to marzipan, but much lighter, and – well, of course, "cakey".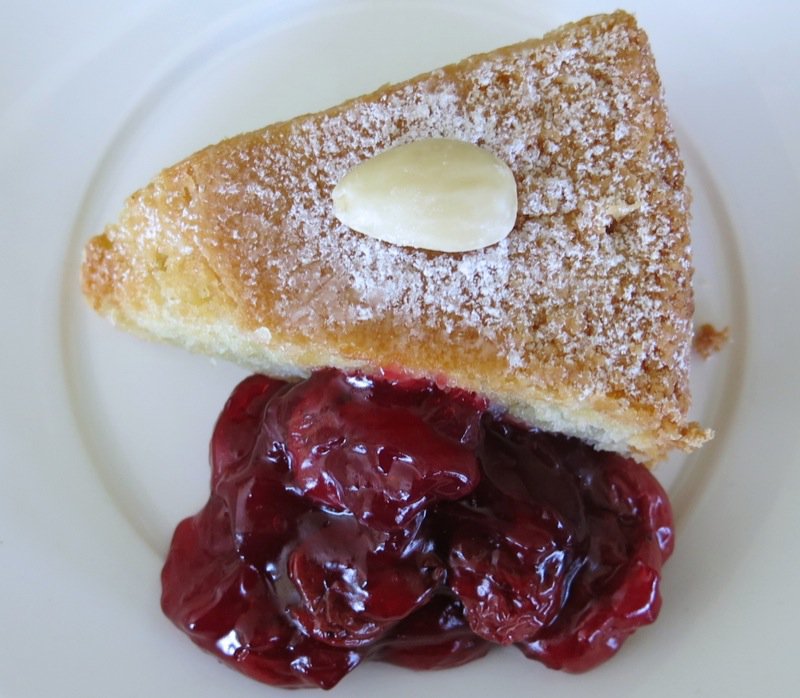 It is sweet. Not sickeningly sweet, yet sweet enough I thought of a counterpoint to accompany it. And, opening my fridge, what did I see? The Homemade Evans Sour Cherry Pie Filling I had just made the day prior. The cherry concoction served this way immediately became a "Cherry Compote" and the puckery tart edge from the compote made this my new hit dessert. I would even go so far as to say this is a power couple: the Algarvian Almond Cake with the Evans Sour Cherry Compote, at its side. This could and should be the next new flavour combination and dessert that sweeps through the nation. People scrambling to buy Evans Cherry Trees and Grow their own cherries…. and to buy almond trees to grow their own almonds….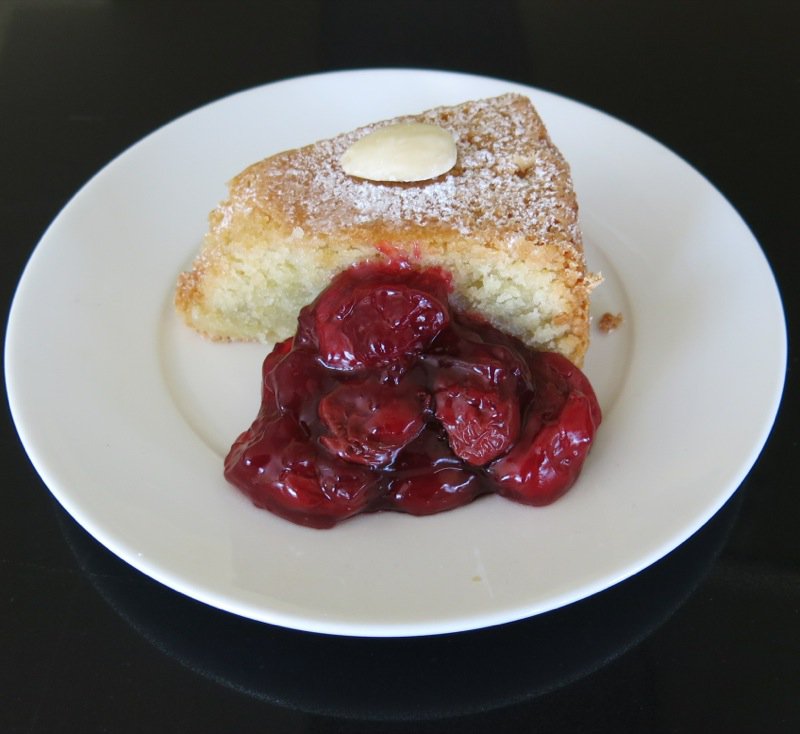 Trust me. This cake with this accompaniment is my new "company" dessert this season. Thermomix Algarvian Almond Cake with Thermomix Sour Cherry Pie Filling has hit the fan hard at this house and will be on the company dinner menu for months. Maybe years. Who knows. Try it. You will love it.
"Now, this is a basic Almond Algarve Cake recipe that will taste fine from the get go and is great for impromptu baking, but there's no reason you can't spice it up with cinnamon or citrus zest. You could bake it as a sheet cake and decorate it with slivered almonds, for instance. Or drizzle it with honey." Maria João Arantes e Oliveira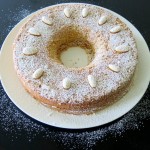 Algarvian Cake


Maria purchased a Thermomix machine for me and shared this recipe with me. Just a fraction of the joy created after joining the Thermomix community.
Total Time
1
hour
15
minutes
Ingredients
370

g

almonds

300

g

sugar

7

eggs

butter for coating the pan

flour for dusting
Instructions
Scale almonds into TM bowl; mill for 20 sec at speed 9 and set aside

Insert butterfly; scale sugar into TM bowl, add eggs and whip for 7 min at 37 C on Speed 3

Pre-heat the oven to 300F convection (fan on)

Re-set Thermomix for 5 min on speed 3 and in last 40 seconds, add ground almonds through hole in lid

Prepare a ring shaped pan (a bundt or angel food cake pan would work) by greasing with butter and dusting with flour; pour batter into prepared pan

Bake for 60-65 minutes; cake will begin to fall along the sides and give back to the touch of your finger on the surface, when done
Recipe Notes
The cake appeared a little "undone" immediately after removing from the pan, just below the crunchy lifted surface of the cake (see photo); however, the cake was definitely baked. The interior is dense and moist. A little goes a long way. A light and lively fruit compote would be the perfect compliment to the dense pasty texture of this delicious cake.