Okanagan Food and Wine Writers Workshop 2012: Breakfast Cruise with Monika Walker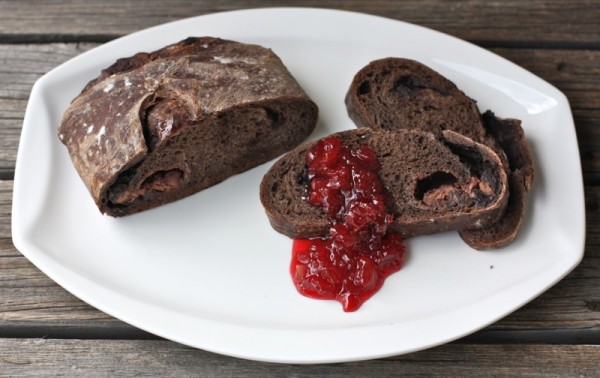 It started with the croissant…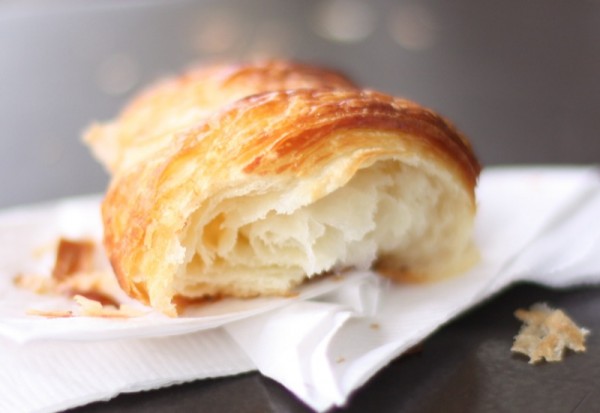 …b-b-b-b-uttery, f-f-f-f-flaky shards of delight.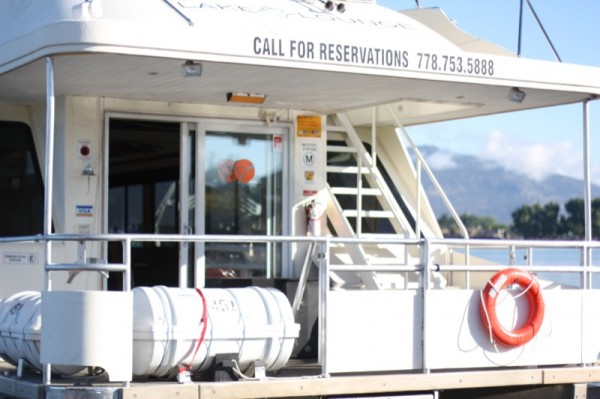 The last day of the Okanagan Food and Wine Writers Workshop 2012, Jennifer Cockrall-King had arranged a boathouse breakfast with Monika Walker from Okanagan Grocery's fresh-out-of-the-oven's hand crafted fare. While we all knew that the nondescript white boxes teetering in her arms were filled with our breakfast, the anticipation was ebbing on low. At least, for me. Things that come out of nondescript white boxes usually have a nondescript flavour profile.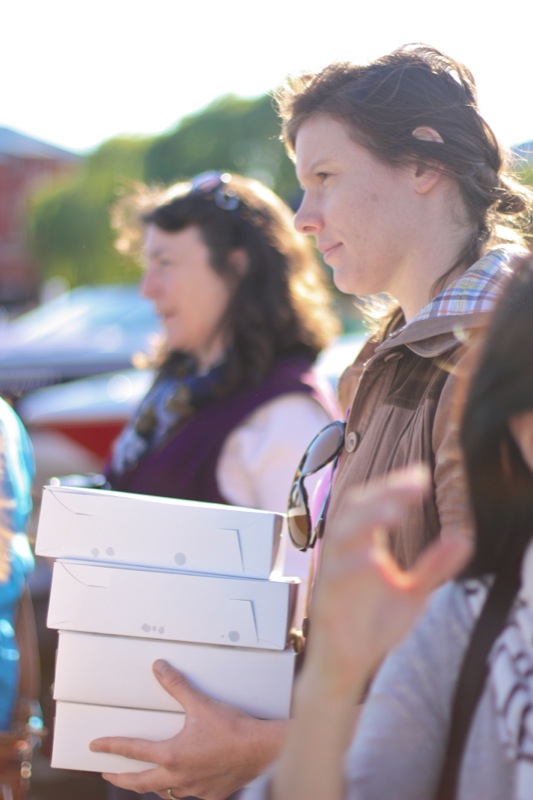 The ride on the boat was where my anticipation was spent.
It took all of two seconds for my focus to shift when I saw these hand crafted crusts.
The loaves were stunning and full of complex flavour and loft with great holes and that sought after chewy crunchy texture. Monika hails from Germany and is clearly one of Kelowna's Local Food Heroes. At 25 she was voted one of the Top Foodie's under Forty by Western Living Magazine due to dedication to her craft. Her sourdough bread is made with her over 100 year old starter. She inspires herself by making a different bread every single day as well as offering a variety of 10 fresh breads every weekday.
Saturdays are a religious experience for some of the locals who make it to Monika's more regularly than to church on Sunday for her hand-shaped pain au chocolat, heavenly brioche, Callebaut chocolate bread and the pièce de résistance: the butter croissants.
The latest edition to her yeasty collection is a Boskat. This is such a novel treat that you can google it and find absolutely no information about it. I can tell you it is almond topped, orange scented and a scrumptious cakey scone.
She has just opened a second location at 115-1979 Windsor Road, much roomier than the tiny little spot we visited, that offers fresh baked items with a steamy cup of coffee. "Bread is an affordable luxury, so treat yourself "" you deserve the very best." Monika says.
I was still not prepared.
Until first bite.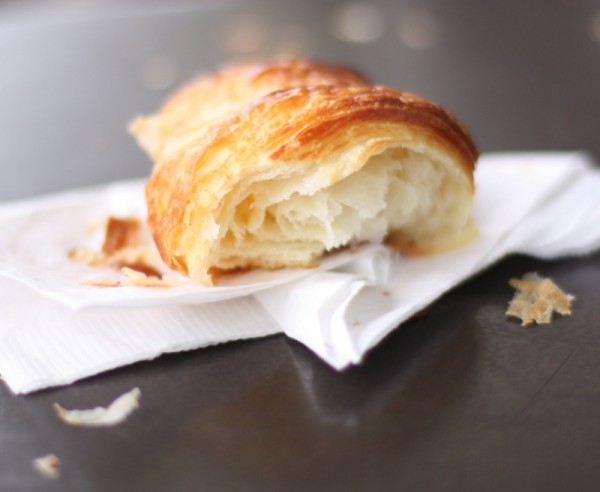 Nowhere else have I had such an unexpected sit-up-straight-in-my chair uttering guttural moans of pure pleasure eating a croissant. Flakes of pastry shatter, then flail and flutter to rest on my chest. Thin fat-laced leafy scraps rhythmically rise and fall while I pretend not to notice. Standing sideways, I begin to guide the crumbles down the middle of my shirt, with seeming subtlety.
"Oh, how wonderful! you have made a big mess! That's exactly what must happen eating puff pastry!" Monika was genuinely delighted to find me enshrouded in blissful bits of Okanagan Grocery croissant fallout.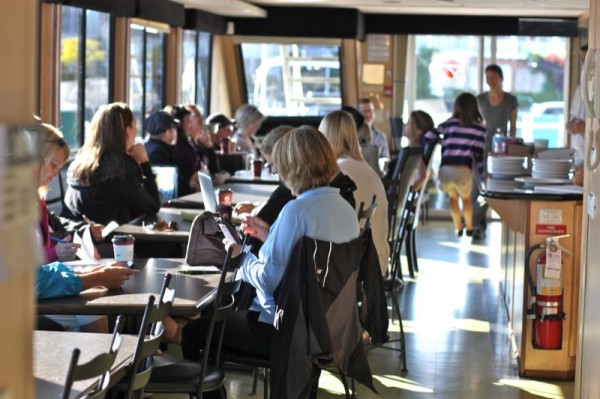 Valerie Harrison, from More Than Burnt Toast whom I was delighted to finally meet in person at the conference, offered to take me to Monika's shop on Saturday morning.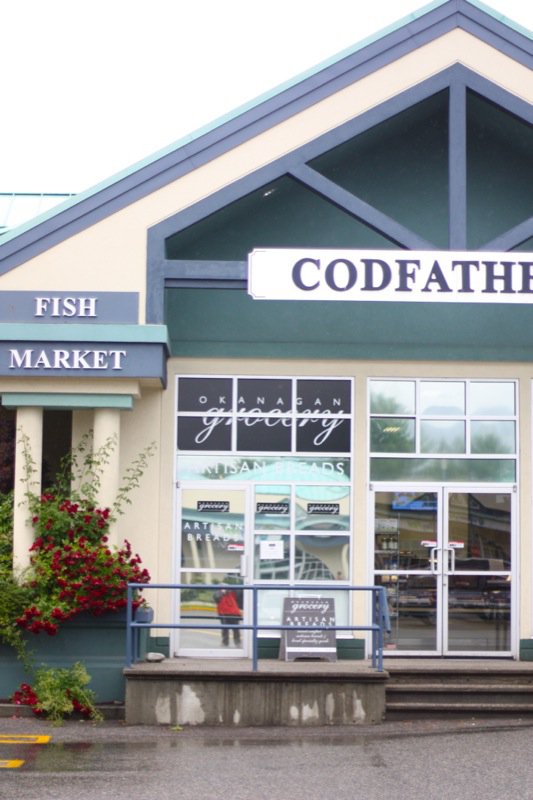 The Okanagan Grocery is in the same building as Codfathers. We arrived within 30 minutes of the 9:30 Saturday morning opening. Valerie took me to her favourite croissant place first, where we engaged in a Saturday morning croissant tasting, both agreeing that Monika's reign supreme.
The tiny spaced housed a fine array of local and regional artisanal cheeses and other carefully selected artisanal items.
The sought after decadent hand shaped Bernard Callebaut chocolate bread that Valerie had raved about was on the shelf. I didn't need coaxing. Before I had it home I was already imagining its combination with my Evans Cherry Jam. And, making chocolate bread pudding. That will have to be next time; however, as there was just not enough!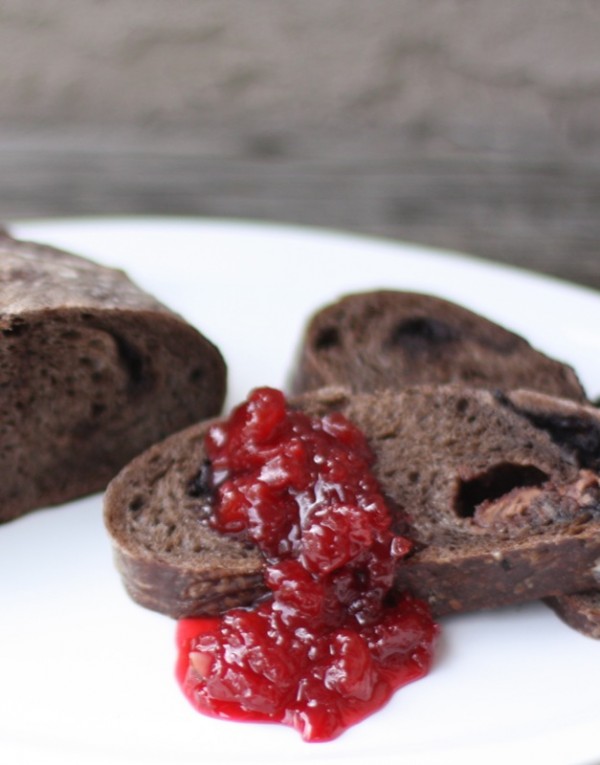 If you are spending any time in Kelowna at all this summer, this is a must stop shop.
Note: Geoffrey Lilge of On Our Table in Edmonton, the husband and partner of well known Edmonton Chef, Cindy Lazarenko, also attending the conference, had donated one of his exceptional hand hewn and refined plating boards to the conference participant who wrote the best Charcuterie Haiku: it wasn't me. Monika's loaf is sitting on it in an above photo. Check out their amazing website!