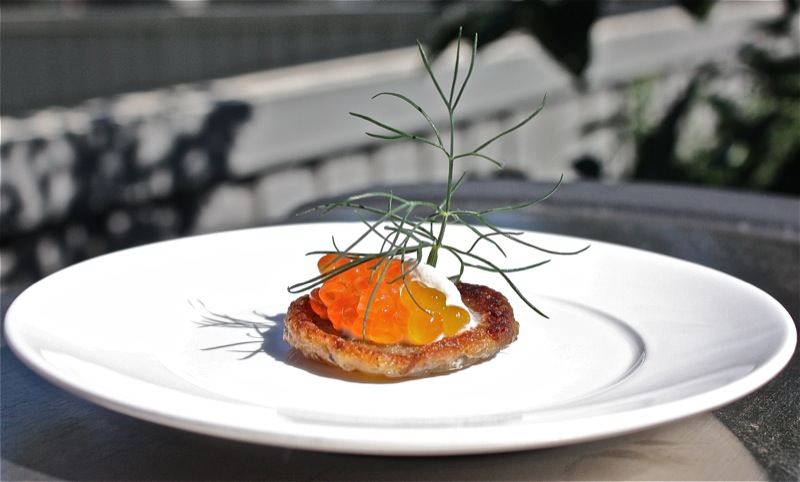 Ah! Blinis and caviar: another life, another time!
Early one brisk late summer Saturday morning a couple of weeks ago, I was at the City Market downtown and spotted "Salmon Roe" on the fresh seafood board at Ocean Odyssey's booth. I adore salmon roe and haven't had any since our wedding! It was definitely time.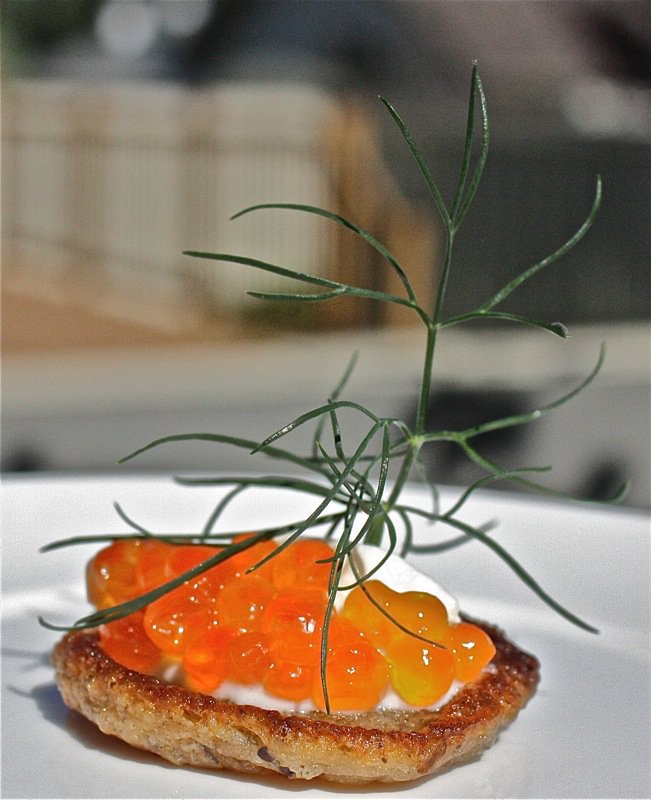 I met Vanja on a cold February evening in 1998. It was his wonderful sense of humour that drew me to him right away. We have been pretty much inseparable ever since. Inspecting the construction of our home one evening, somewhere in the kitchen area where the island now is, I seem to recall a proposal of marriage. I stepped out to the doorway to catch my breath. Within days we were planning the wedding.
We took possession of our home September 12, 2002 and were married in the dining room on October 17 of that year. (We chose that date to honour his parents as they could not be with us. That is their wedding anniversary.) My parents and two daughters attended with both of Vanja's parents on the telephone (not understanding one word of the ceremony!). Oh, and Penny, my parent's little puppy (and my baby sister) was also there, with a garter belt around her neck. It was a very special ceremony. Mature love is so different that young love.
A celebration of our marriage was held November 30th at our new home for all of our friends. Of course, I had to prepare all of the food. (Yes, I did hire some lovely gals to serve it.) We had 70 guests. The menu was intense and extensive; the evening perfect, but the one dish I have never had since that night was Buckwheat Blinis with caviar. The dish was the iconic plate that symbolized the regalness of our evening.
I served a the blinis with three kinds of roe: a lovely black sturgeon caviar, a golden roe, and the salmon for contrast that evening. The salmon was the least expensive (by a long shot) but, I loved it. All had to be special ordered then, and that was just eight years ago. I had considered the Beluga. Now, I wish I had brought it in, it has gone up so much. Things have changed access-wise, but it is still not so easy to find in the city.
I was not going to pass up the opportunity to make this again. I was having guests for dinner, too. Perfect!
Dry ingredients; buckwheat flour, flour, sugar, yeast and salt.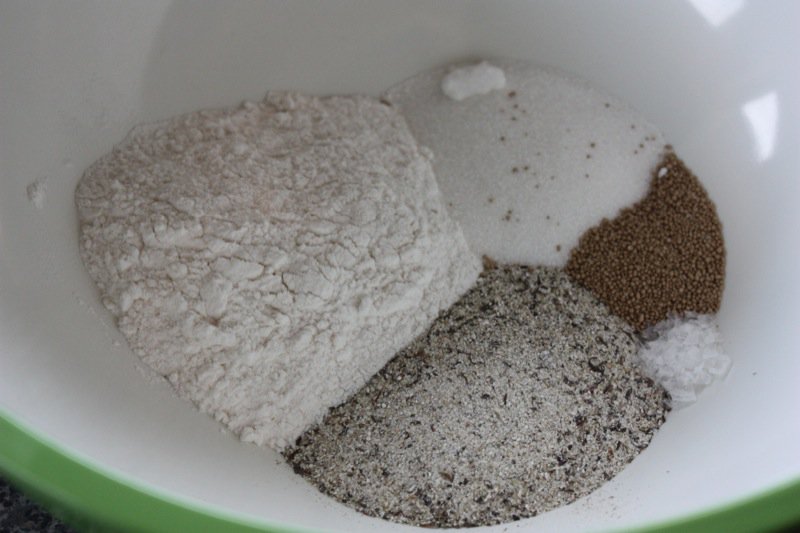 Scale milk and butter into the TM bowl; stir for 2 minutes at 37°C at spead 1-2 until butter melts.
Scale the dry ingredients into the TM bowl with the milk and butter and whisk for 15 seconds at speed 2-3 until smooth.
Cover with plastic wrap and let stand in warm draft-free area until doubled in volume for 1 to 1 1/2 hours then return to T bowl and whisk buckwheat batter for 5 seconds at speed 1 to deflate; set time to 1 minute and speed at 3; whisk in eggs one at a time, through the hole in the lid. Then pour into another bowl and chill overnight to intensify the flavour. Below is how it looks the next day.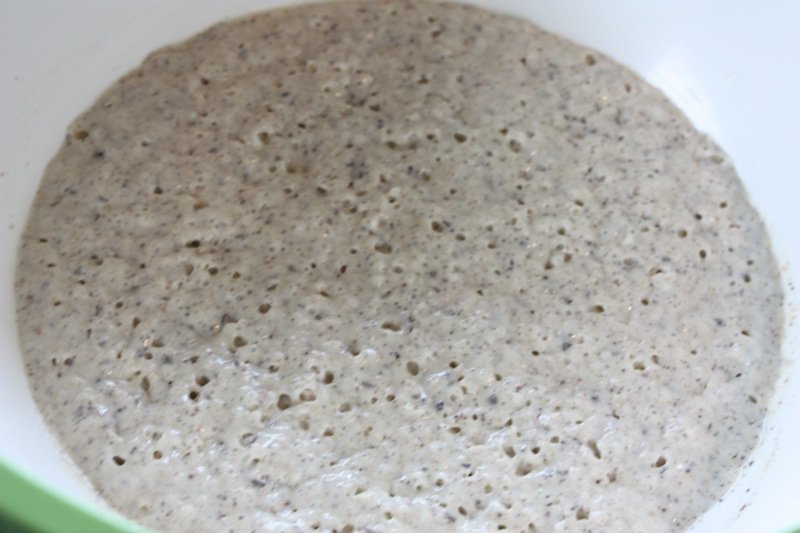 Whisk before cooking…Â I whipped the batter up in my Thermomix, effortlessly, really, and then covered it and set it overnight to develop the complex dark yeasty flavours that buckwheat blinis have. The above photo is how it looked the following day. YUM. Really, a little butter is all you need. The photo below has far too much butter in it. I love the ridges each little blini forms around it to hold its topping with.
The crème fraiche must be homemade. This one is even better than my original recipe, as I wasn't "A Canadian Foodie" then, and didn't have wonderful people like Nicole giving me incredible recipes and ideas, then! The little wisp of dill is such a powerful addition to the bite. I love that it is from my own garden and that this was effortless to garnish.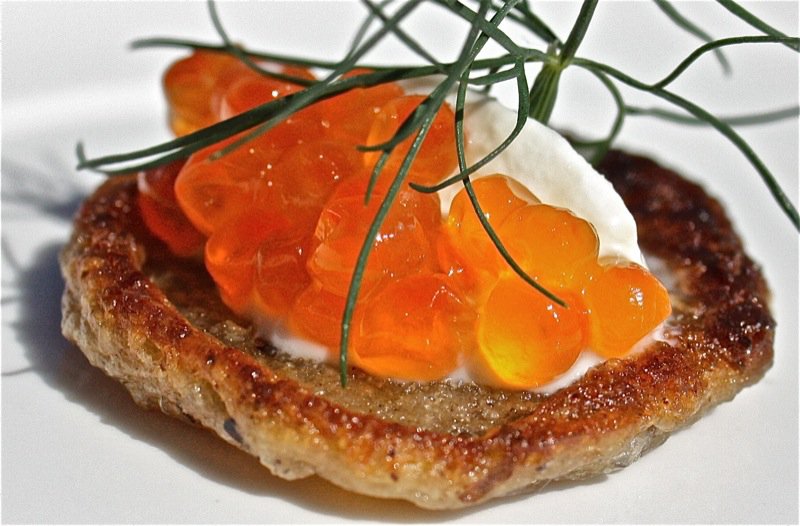 When Vince and Colleen came to dinner, I served this with a smoked salmon and blueberry terrine as part of a three course tasting menu that prefaced our main course. The terrine was a bit more complex than that, and I will post the recipe for it, shortly, too. I was inspired by the amuse bouche served to us the night before at Madison's Grill. It was smoked Arctic Char and a blueberry propped upon a buttery house made cracker: brilliant.
Vanja doesn't like this bite. He doesn't like caviar, or any roe. He ate it, though, and said he was surprised to discover that it better than he expected it to be. That's progress. For me, it was crisp, and buckwheat buttery bitter; the cold cream melting on the hot blini while the briny roe popped little glistening droplets of tang on my tongue. Mmmmm. And the dill? Refreshing and fragrant; the perfect end punctuation.
This little bite brought forward an entire space in time I have not neglected, but have rushed past year after year… served on a tasting plate so unexpectedly: the possibility presented itself that morning at the market. I embraced it. And I am glad I took the time. It was long overdue.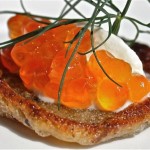 Buckwheat Blinis


This is a very special bite and is lovely to provide a selection of caviar to top each with. This recipe takes a couple of days as the dough must sit overnight.
Ingredients
1/2

cup

all purpose flour

1/3

cup

buckwheat flour

4

teaspoons

sugar

1 1/4

teaspoons

active dry yeast

1/4

teaspoon

(generous) salt

1

cup

whole milk

3

tablespoons

butter

, cut into cubes

2

large eggs

, lightly beaten

Melted butter
Instructions
Whisk first 5 ingredients in medium bowl

Place milk and butter in small saucepan; stir over low heat until butter melts and thermometer registers 110°F (if mixture gets too warm, cool until temperature returns to 110°F)

Pour warm milk mixture into flour mixture and whisk until smooth. Cover with plastic wrap and let stand in warm draft-free area until doubled in volume, 1 to 1 1/2 hours

Whisk buckwheat batter to deflate; then whisk in eggs

Do ahead Can be prepared 1 day ahead: Transfer to large bowl, cover and chill (may increase in volume; rewhisk before using)

Preheat oven to 200°F

Heat griddle or large skillet over medium heat; brush lightly with melted butter

Working in batches, pour 2 tablespoons batter for each blini onto griddle, spacing apart

Cook until bubbles form on top and begin to pop, about 1 1/2 minutes

Turn blinis; cook until golden brown on bottom, about 1 1/2 minutes

Transfer to baking sheet; tent with foil and place in oven to keep warm while cooking remaining blinis

Do ahead Blinis can be made 1 day ahead. Cool, cover, and chill; brush blinis lightly with melted butter and rewarm on baking sheet in 350°F oven 5 minutes

Arrange warm blinis on platter; garnish as desired
Instructions for Thermomix:
Scale milk and butter into the TM bowl; stir for 2 minutes at 37°C at speed 1-2 until butter melts

Scale first 5 ingredients into the TM bowl with warm milk and butter mixture; whisk for 15 seconds at speed 2-3 until smooth

Cover with plastic wrap and let stand in warm draft-free area until doubled in volume: 1 to 1 1/2 hours

Whisk buckwheat batter for 5 seconds at speed 1 to deflate

Set time to 1 minute and speed at 3; whisk in eggs one at a time, through the hole in the lid

Cover and chill overnight to intensify flavour; the next day, rewhisk before continuing
Next Day:
Preheat oven to 200°F

Heat griddle or large skillet over medium heat; brush lightly with melted butter

Working in batches, pour 1 to 2 tablespoons batter for each blini onto griddle, spacing apart

Cook until bubbles form on top and begin to pop, about 1 1/2 minutes; turn blinis; cook until golden brown on bottom, about 1 1/2 minutes

Transfer to baking sheet; tent with foil and place in oven to keep warm while cooking remaining blinis

Arrange warm blinis on platter; garnish as desired
Recipe Notes
Blinis can be made 1 day ahead: Cool, cover, and chill; brush blinis lightly with melted butter and rewarm on baking sheet in 350°F oven 5 minutes