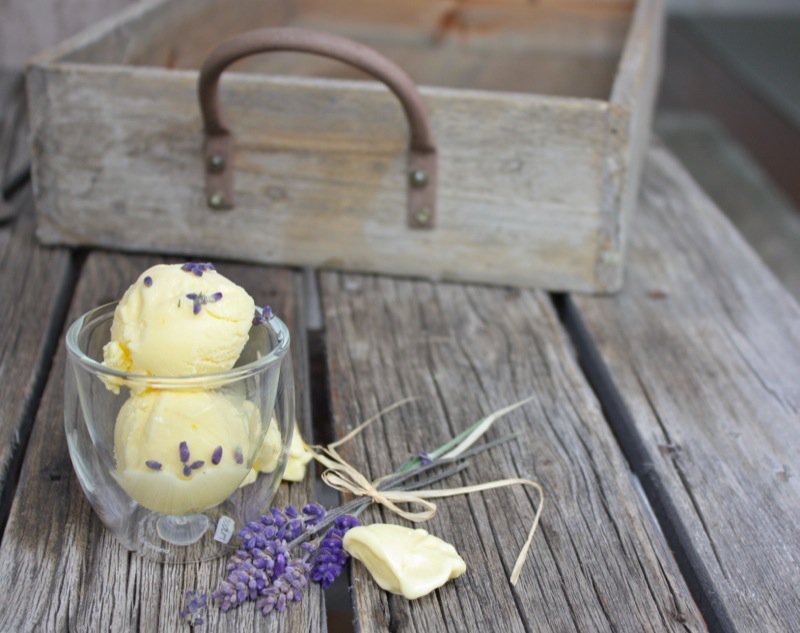 The Okanagan Valley is the Napa of the North, but better. Better because it showcases Canadian culture, heritage and authentic food, as well as world class Canadian wines in the quintessential polite, unassuming, quiet and most sincere Canadian way. Andrea McFadden's Okanagan Valley apple farming roots date back to 1904. When she and her husband, Dave, took over this farm, it had been the family hub since the 1950's. However, it soon became apparent that something different needed to be done to maintain the farming lifestyle that had, over time, become a composite of their beings. Good, old fashioned grueling hard work has brought her love for lavender to the forefront of the Okanagan Valley's new and happening scene. They have definitely found their niche.
Jennifer planned three farm visits during the bike tour and farm field trip day of the Okanagan Food and Wine Writer's Workshop and the Okanagan Lavender Herb Farm was our middle stop.
Upon crossing the threshold of Andrea's quaint little shop we were whisked to Provence; the heady lavender perfume hung in the air, intoxicating, as we wandering wide-eyed recklessly from charming-country-corner to whimsical-vintage-array. Resembling a disoriented throng from a Shop-a-holics Anonymous convention, all lined up at the til within minutes. Only intense coaxing with a promise to return got us out the side door. Flooded by the brilliant Okanagan Valley mid-day sun, we found ourselves enveloped by the yawning heliotrope hued polka-dotted expanse.
Andrea is as passionate about her land as her lavender is purple. Listen to her speak, and you will be moved to return every Sunday and motivated to pay a tithe. Sitting on a well worn rock overseeing undulating waves of violet hued gardens, embraced by Lavendura angustifolia, I discover an unexpected calm. The sun-hot path, whispering a breath of a breeze fingering through the lengthy graceful lavender stems accompanied by the distant soothing drone of fuzzy buzzing honey bees found me settling in. There is resonant comfort in these gardens. It is no coincidence that the word "lavender" is derived from the Latin word lavare, meaning to wash. Your body will be commanded toward calm as you breathe in the rejuvenating fragrance and discover more here than a vast variety of lavender bushes.
The culinary attributes of lavender are plentiful; glean a few gems from Andrea's kitchen, or visit their charming cafe where you can sip a long icy glass of healing fuschia lavender lemonade with a hearty lavender-rose infused scone, or savor the addictive lavender ice cream. This moment is definitely on my to-do list for my next visit: the "take the time to soak it all in" stop.
I thought twice about how I could pack home a cluster of the lavandula x intermedia stems as they apparently serve well as culinary skewers. Oh, what I could create with an at-home stash of lavender skewers! I still long for them.
Opportunities to participate is classes to create ones own vinegars, herbal and lavender teas, skin creams and such, await. There is also a U-pick Lavender garden and special event days such as the lavender distillation day every year mid August.
Precious vial of Okanagan Lavender Farm's pure essential oil in hand upon arriving home, I was eager to create a lavender ice cream reminiscent of Andrea's. I could not get that desire for more out of my head. She had me at one taste. As a long time fan of all things lavender, I had planted the requisite patch in my garden again this year. I have had little luck with wintering it. Only once I was that lucky.
I made my favourite vanilla bean ice cream recipe and added just a couple of drops of the lavender oil. I was inclined to add more, but had been cautioned to use only a drop. This was a good thing. My precious oil will find itself in many, many batches of Lavender ice cream. The recipe was divine. As addictive as Andrea's. I served a small bobble alongside a birthday cake to a throng of gals at a party, and they swooned.
I have enjoyed a solo scoop overlooking my garden, sitting beside my lone lavender "shrub" savoring every sweet minuted of it. The infinite lavender fields of Provence and the paradise I discovered at this farm in the Okanagan Valley join me on my stoop. And sometimes, I go back for seconds.
Lavender Ice Cream
2 quarts
Ingredients:
2 cups whole milk
1/4teaspoon of salt
11/2Â cup sugar
2 drops lavender essence oil from Okanagan Lavender Herb Farm
4 cups (500ml) heavy cream
12 large egg yolks
1 teaspoon pure vanilla extract
Instructions:
Heat the milk, salt, and sugar in a saucepan
Add the drops of lavender essence to the milk (be careful, it is very strong, you can add more, but you cannot take it out)
In a separate bowl, stir together the egg yolks
Reheat the milk, then temper the yolks by gradually pouring some of the milk into the yolks, whisking constantly, then pour the warmed yolks and milk back into the saucepan
Cook over low heat, stirring constantly and scraping the bottom with a heat-resistant spatula, until the custard thickens enough to coat the spatula.
Strain the custard into the heavy cream; stir over an ice bath until cool
Add the vanilla extract, then refrigerate to chill thoroughly: preferably overnight
Freeze the custard in your ice cream maker according to the manufacturer's instructions
Garnish with fresh lavender blossoms
Instructions for using the Thermomix:
Scale the milk, salt, and sugar in the TM bowl and heat to 80°C for 10 minutes at speed 2-3
Add the drops of lavender essence to the milk (be careful, it is very strong, you can add more, but you cannot take it out)
Set the time for 15 to 18 minutes, temperature to 80°C and speed on reverse 2-3; reheat the milk, then add each of the yolks to the warmed milk once the temperature reaches 50°C, or more, one at a time, within a minute
Strain the custard into the heavy cream sitting on ice; stir over the ice bath until cool
Add the vanilla extract, then refrigerate to chill thoroughly: preferably overnight
Freeze the custard in your ice cream maker according to the manufacturer's instructions the following day
Garnish with fresh lavender blossoms