Mom! How do you make your turkey dressing?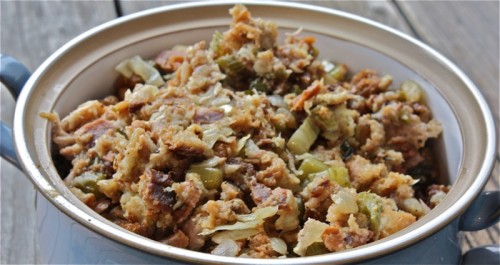 Lauren, if you have your own breadcrumbs, that is where you start. I save mine when I make Christmas Morning Wife Saver (at different times of the year) or when I am doing "fancy sandwiches" like I did from grandma's 80th Birthday Celebration. I never throw them out, and they do keep for a very long time if frozen. Stale is fine. (mine are from homemade bread, below, left) I then dice them if they are not hard. And, usually, they are dry, but not hard.
I also had some left over brioche (above, right, also homemade) from a dinner party and we couldn't eat it all, so that is going into the stuffing, too. That looks fine. I like to have a variety of breads, if I can. I also always have a bag of the dry store bought dressing croutons on hand, too, should I not have enough in the freezer. This looks good.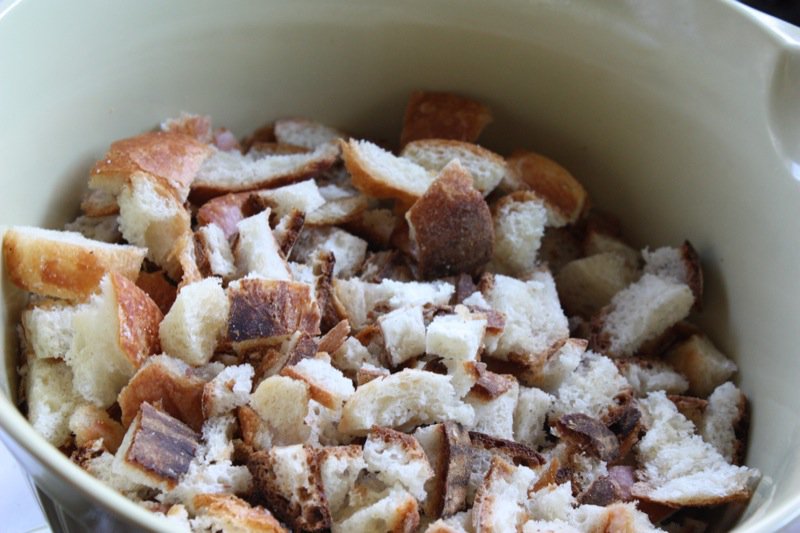 I never worry about the size of turkey I have. Odd, isn't it. But I always make the same amount of stuffing. If the turkey is small, I stuff it up both ends and usually get it all in. If it is big, it seems to fit nicely.
I use one very big yellow onion, and dice it then use a little olive oil in the frying pan and toss in the onion while I dice three generous stalks of celery: leaves, and all. The leaves add a lot of flavour.
In goes the celery. Keep the heat medium to medium high. You do not want to caramelize the vegetables. You just want to sautéthem until they are translucent. Keep them moving.
Add a generous amount of sage, but remember you can add more, but you cannot take it away. Start with 2 teaspoonfuls. Do the same with the salt and also with pepper.
You will need a generous amount of freshly ground pepper.
Stir it all in and keep watching the vegetables. It won't take long. It should be fragrant. Add more seasonings later, not now.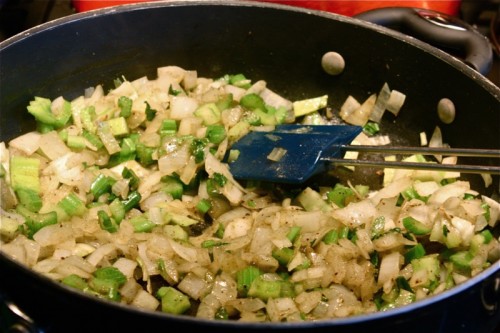 Add a generous 1/4 cup to 1/3 cup of butter and melt it in.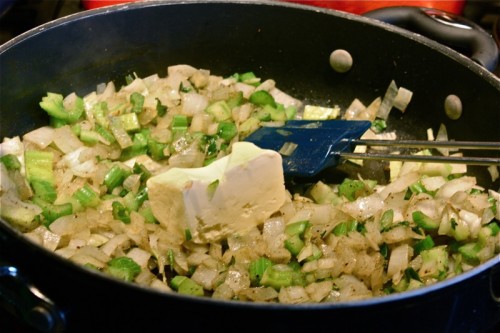 You don't have to use Sylvan Star butter, like I did, because I was making it super special to meet Jason's mom and dad (that would be my daughter's fiancés parents, for the rest of you), or Vital Greens Farms whole milk. But, what you do have to add should be wholesome and the best you can get because it is going into your body and you want to make healthy nutritious delicious food!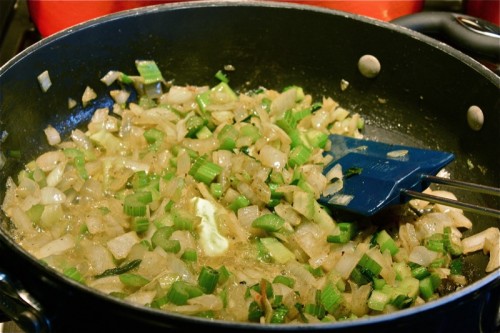 As soon as the butter melted, I poured in enough milk to cover the vegetables. How much? See below: it was 2 litres, so that much.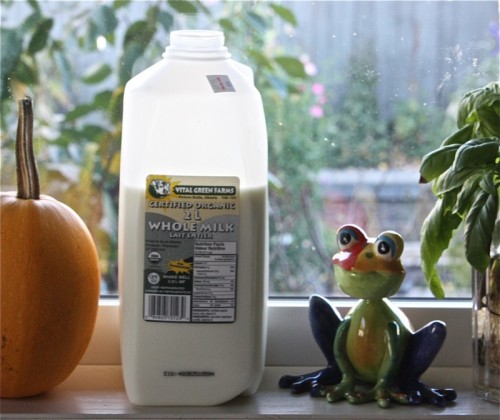 This is what it looks like without the bread crumbs.
Time to empty them into the wet mixture and stir them in.
Woops! Not enough bread crumbs. If you stir them in really well, you want to see no liquid in the bottom of the pan. When there is liquid on the bottom, like there is above, you know you need some more bread.
This is also the time to add the extra seasoning. I needed about double of what I started with. Don't "over sage" or "over salt" it. The flavours will get more intense as it cooks inside of the bird.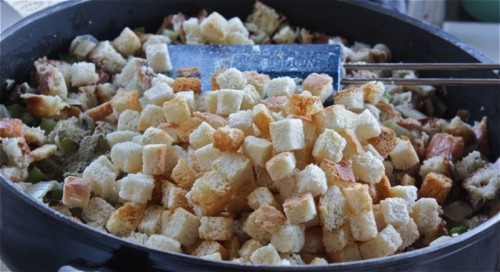 There goes those store bought crumbs (well, some of them) that I have in case I need them. Stir them in and ensure there is no extra liquid. These were very hard, so I let it set for about 30 minutes to see if it was the right consistency. It was. I did not believe any more liquid needed to be added. I have made this more times than I can count. It was seasoned well, and I then put it into another bowl and covered it with plastic to wait to go into the bird. And, when you do stuff it into the bird, do not pack it in. Stuff it in lightly so that it will be a lovely light dressing. Not a dense, packed one.
Many people believe it is not safe to put dressing in a turkey. For sure, it is good advice to put the dressing in only just before the bird is ready to go into the oven. I always stuff my bird with this, the simplest and most basic of stuffings, exactly what we have had in our family all my life and all of your grandparent's lives. I hope you have fun making this for your Canadian Thanksgiving in Palo Alto!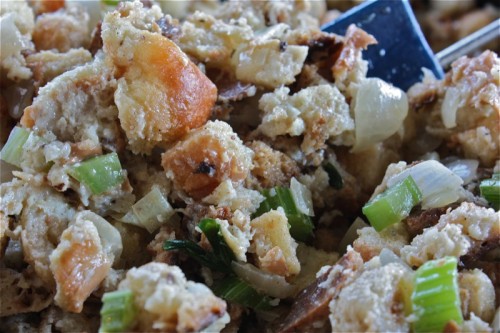 Chime in Canadians, Americans, Aussies, Brits, and others…. how do you make yours? I would love to know.
We sure miss you here, Lauren, but I am so THANKFUL you are who you are. I love you. MOM. XO
(…and Shirley W, if you are reading this, that's how easy it is… and I will post how to do the bird, just for you, soon! XO)