Addie's Idea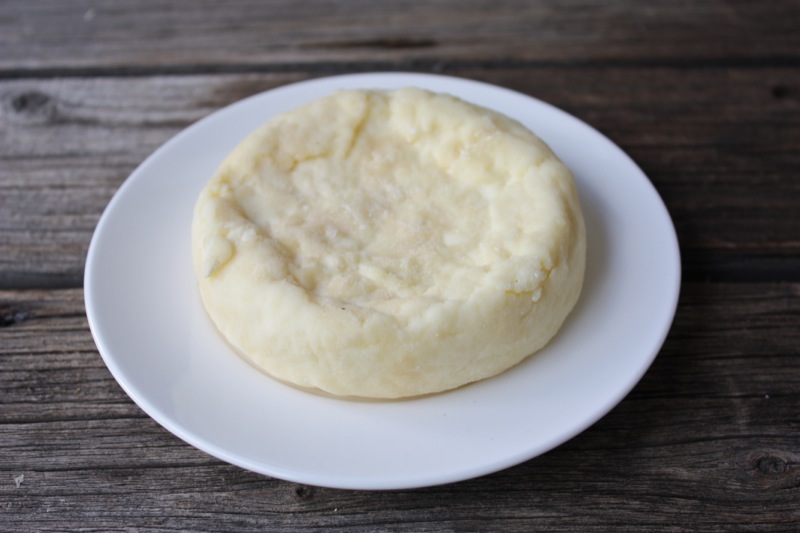 Making chèvre for the first time with Addie, he had a request and I promised him I would follow through. A portion of the beautiful chèvre curd went into his mold. (I covet his mold.) He was heading to Pheonix for some work and I was to let this mold set on the counter for a week or so to see if a rind developed. I left it in the mold in the cheese cloth for 7 days, then took it out of the mold, left it in the still damp cloth and set it on a plate on the kitchen counter. I did turn it over every day after this. On day 10, it was quite dry on the outside, so I unwrapped it and it looked similar to how it does now, above, but was not "knock on wood" hard. It was firm. I placed it in the fridge, uncovered. On day 13 I cut into it and was stunned at the interior.
We were having our first "formal" Cheesepalooza meeting. I was meeting Ian for the first time. Addie was on Skype from Pheonix. Something triggered my memory about this cheese and I showed it to Addie on the screen. This afternoon, it was "knock on wood" hard. Both Addie and I thought it would be a rock. Thank God there is a Scientist in him. What happened to my curiosity? Thankfully, he said he wanted to see inside of it.
The velvety interior had me flush with excitement. I had not expected that. I showed Addie through cyberspace, and then we all had a taste. Ian was very impressed. I was over the moon. Deb was rather quiet. The texture was that of a hard butter. The mouth feel was similar. The cheese coated my mouth and had an appealing unctuous richness. The flavour was delicate, yet complex. Light with the flavour of grassy Spring goat milk with a depth of earthiness from the aging and the texture. It was definitely rich. The same amount of fresh chèvre would not have tasted or felt nearly as rich. It is now in the fridge awaiting Addie's arrival at the end of the month for him to taste it.
This would be excellent with one of my preserved sour cherries atop a cube to cut the richness and add balance to the texture. Of course, it is lovely on its own. But a taste is enough. I could not dive in for more, though little tastes are a treat. Cubed with a cherry on top, it may well be addictive.
I would have not thought of doing something this simple to a portion of the chèvre. And, once we did, I did not expect this kind of result. I was thinking it may be gooey inside, initially. Working with this team is going to be an incredible experience this year!
If you are interested in making cheese at home, please take a look at our Cheesepalooza project, and join us! It starts August 1, with your first posting due September 1, 2012.