Tutti Frutti Ice Cream: Nummy Yummy for my Tummy!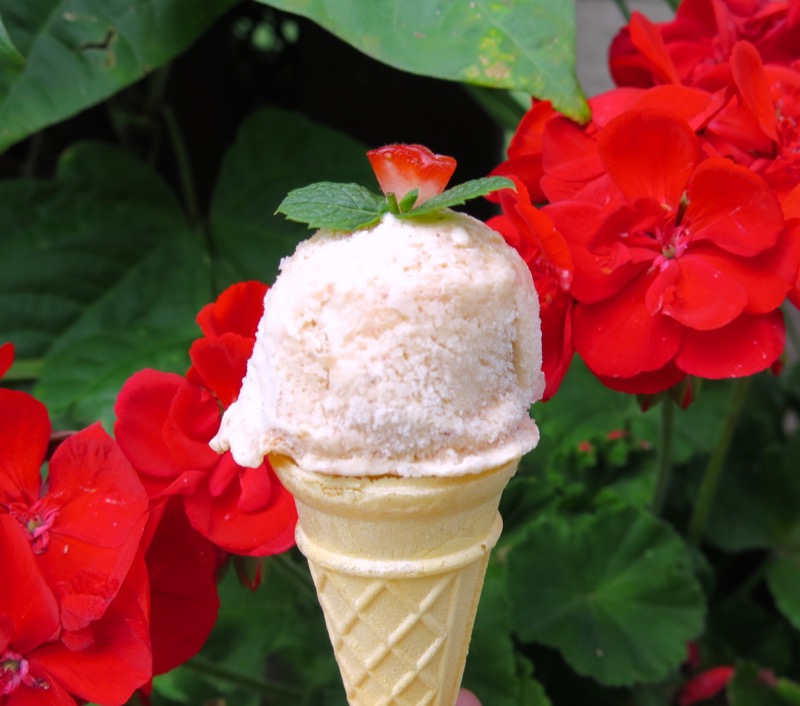 A thousand years ago, when I lived on the outskirts of Lethbridge, in a little house on a little farm, my neighbour was my landlord. He was also my doctor. The appointment when I found out I was pregnant with my first daughter was the same day he asked me if I would like to live on a farm. I thought it was a very odd question, but yes. It had always been a dream of mine, why?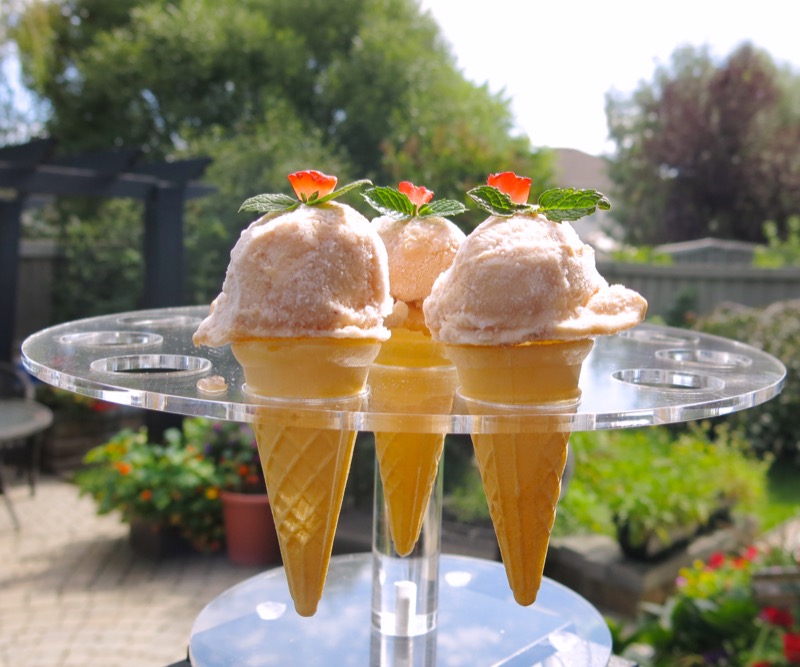 Well, he and his wife and his then 7 children, owned a large farm 2 miles out of town (practically in town, really) and it had two other houses on it. A little old lady lived in the tiny house, but the bigger house was going to be vacated in a few months and he would be interested in my then husband and I being his tenant. Hmmm. Let me see.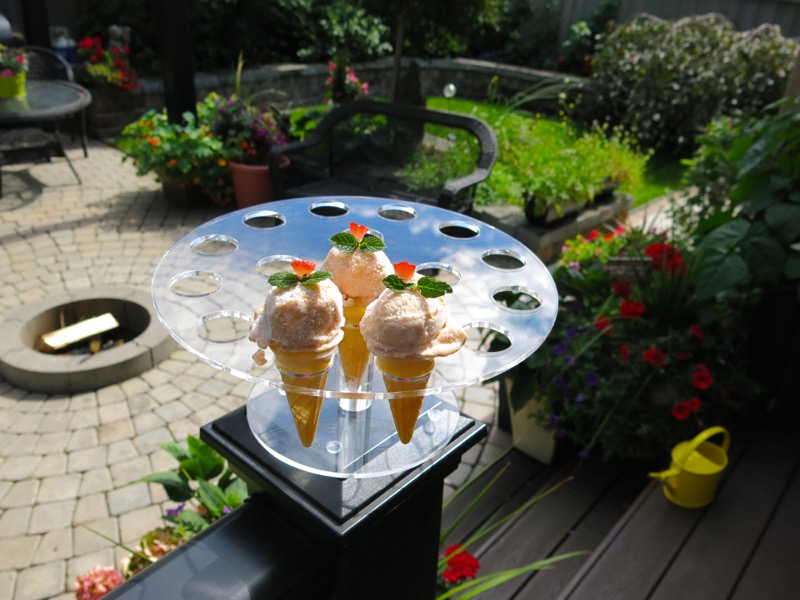 So, the rent was super cheap. He really wanted my then husband to be there to watch the farm when they were on holidays so he could have that security and help. Thus, it was a yes! I was thrilled to my toes. By the time we moved, my baby was about 3 months old. I had the lovely (to me) home fixed up as cute as a button within a day. That's the kind of thing one could do, when young, and when one hasn't much.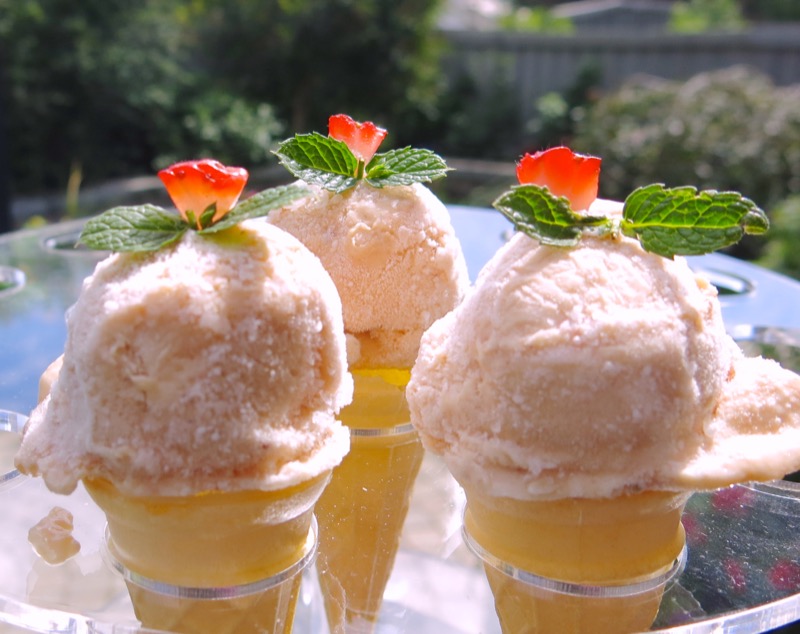 I loved living in that little house. I loved living 2 miles out of the city. I loved the people. The country roads. The expansive garden I grew. And, I loved raw milk. They had a Jersey Cow and even with their growing family (eventually 11 children), they brought us gallons of fresh milk from that gorgeous cow. I will never forget that thick cream laying on the top of the golden milk. Oh. My. I would scoop it off so carefully to make homemade ice cream.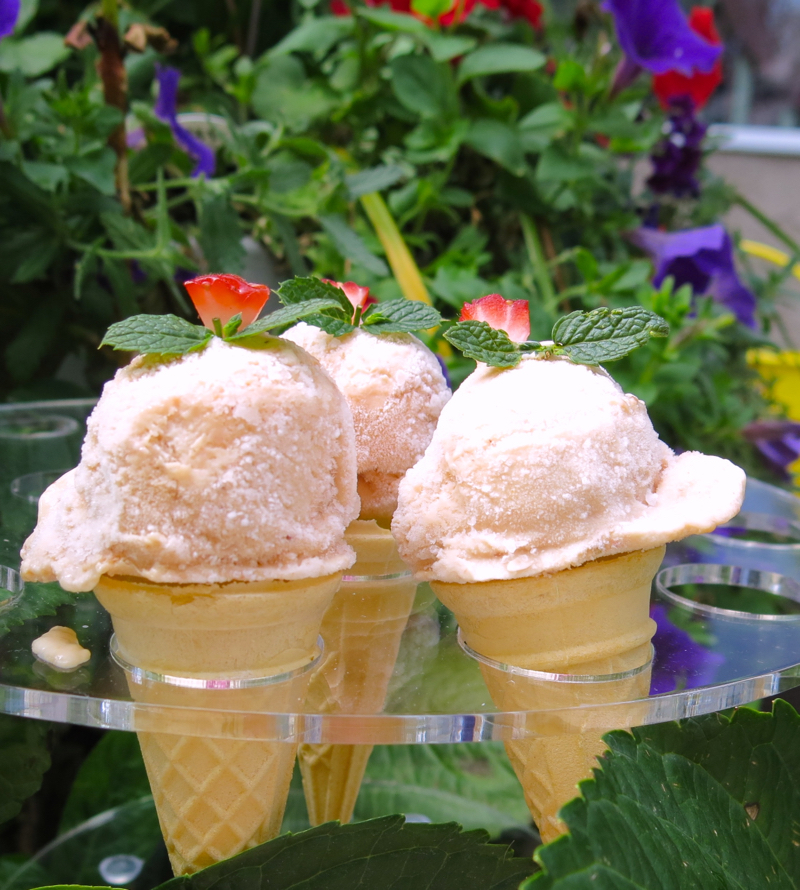 The doctor's wife had me and my little baby over once in a while, and one time she served this incredible ice cream. Whatever is in it? The delicate pink colour gave way to an effervescent burst of fruity lusciousness with a citrus tang swaddled in a thick unctuous heavenly velvet cream that was simply divine. She shared her recipe with me and we bought an ice cream maker immediately. And buying anything like that in those days "immediately" was a huge sacrifice and a really big deal.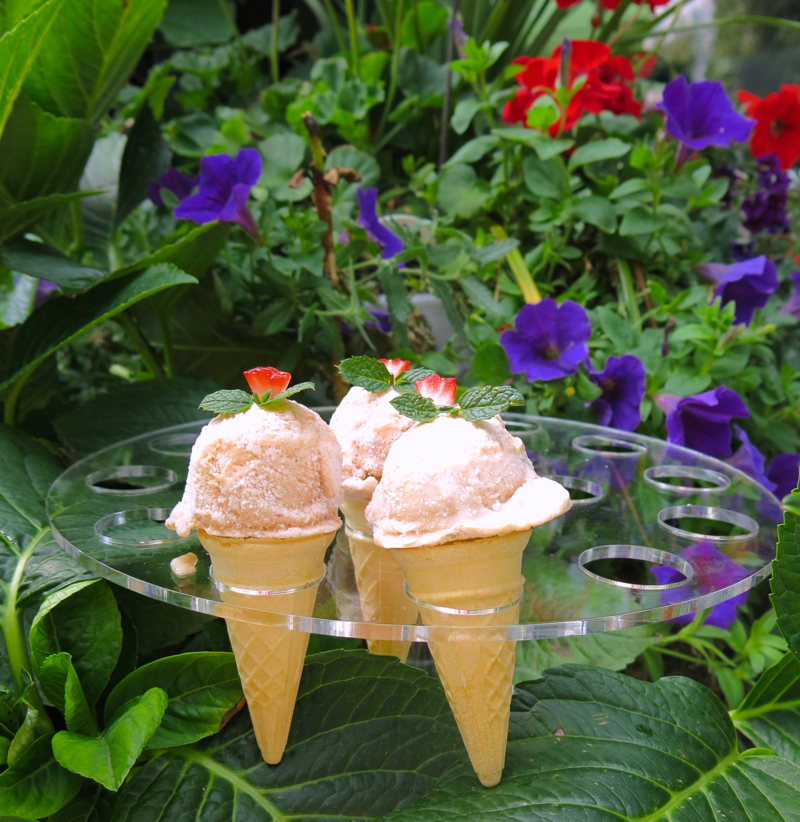 I made the recipe so many times while we lived on that little farm. But, once we moved, no more cream. No more raw milk. No more ice cream.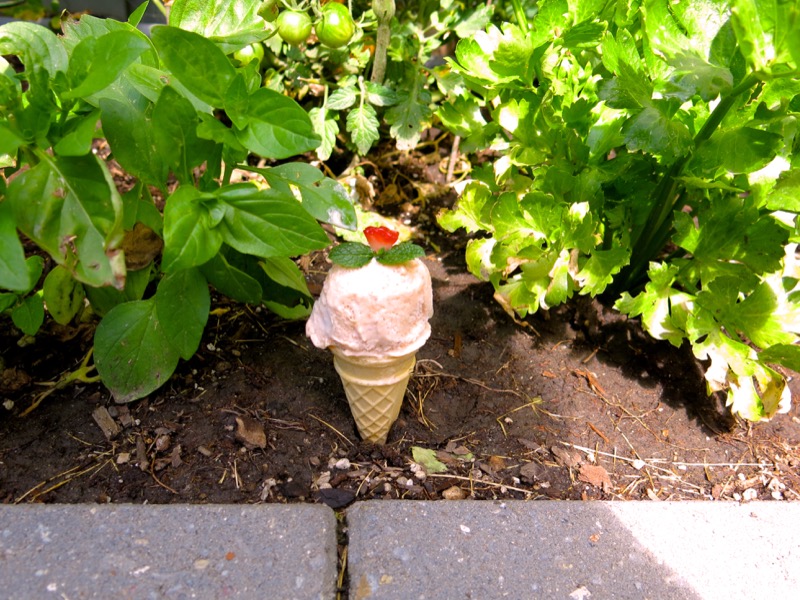 Oh, look, William! Look what's growing in Gramsy's Garden!! An ice cream cone!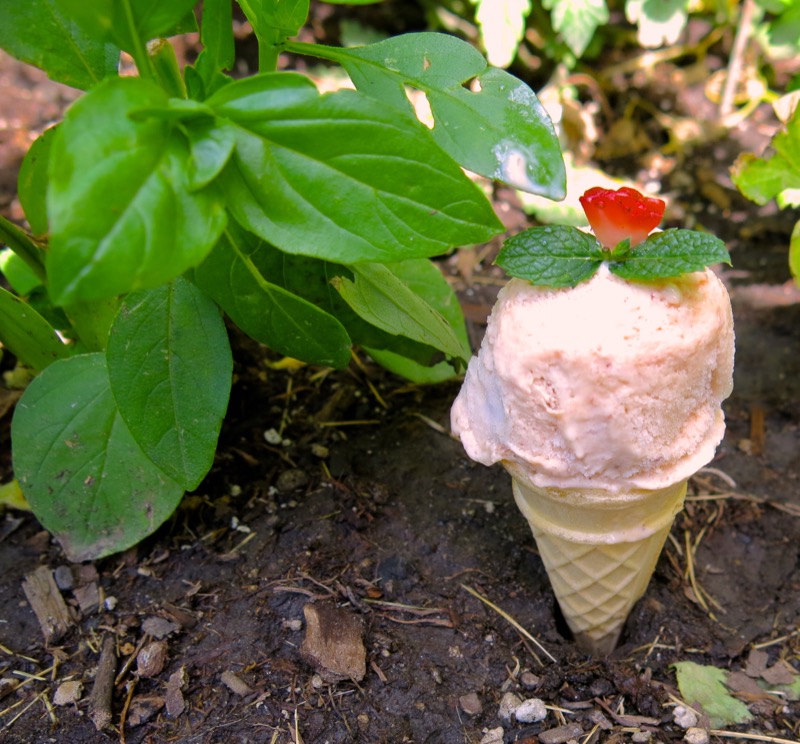 See? Home grown and home made! Now, that has to be good for you! Nah! He has a good mommy who does not give him sugar while his brain is growing and developing. Well. We have all given him minute tastes. I am not sure why. Lauren says I do it so he will love me more. But, that is not why. And, I know I must not give him food with sugar, but I can make similar fruit ice creams without any sugar in my Thermomix…. so, William! Look what Gramsy can grow! (Of course, I wish he lived here… but we were so blessed to have him with us for almost a month in July, and I can do nothing without thinking of him!)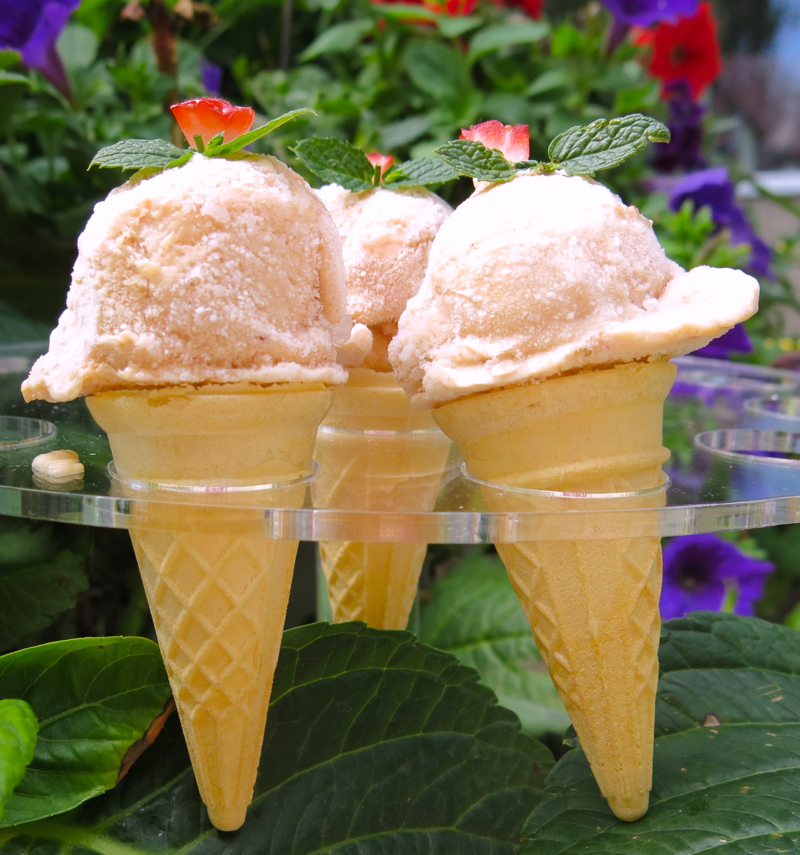 It was thinking about my taste memories and my favourite things while preparing for Amy's Shower for her little sweetheart Heidi, that brought me back to this place in time. I don't know why I no longer have the original recipe. I do know that it did include a package of strawberry jelly which I would now never use, anyway… so I did the best I could to recreate that magical moment in time.
And, my own two daughters loved it. I loved it, and the three frozen cone treats I made for the shower all went over well!
The Deviant Tutti Frutti Ice Cream made in the traditional manor with a custard base (here)
A Seedless Raspberry Ice Cream made in the Thermomix with just cream and berries
Deviant Tutti Frutti Ice Cream: The Custard Base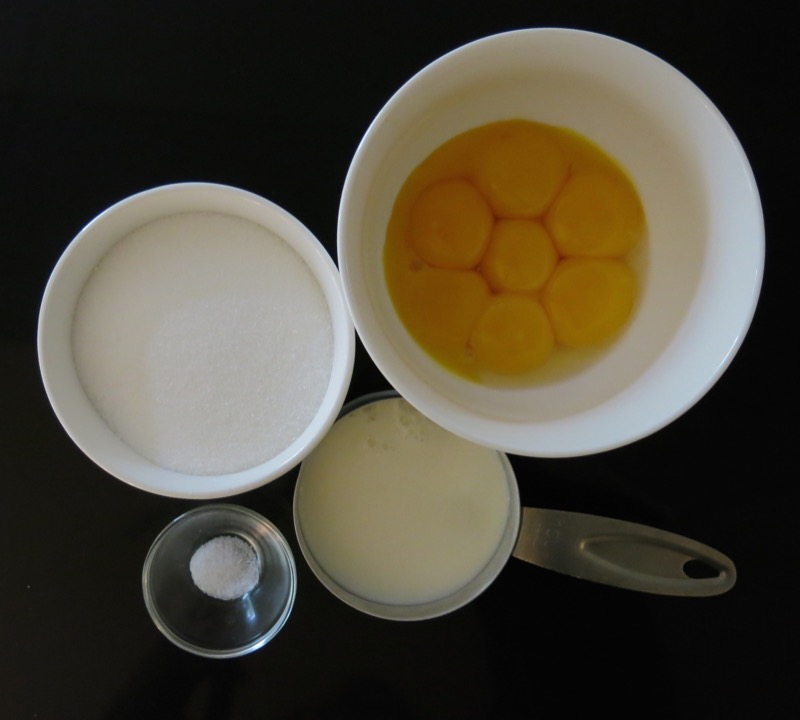 Sugar, heavy cream, salt and egg yolks. That's all she wrote.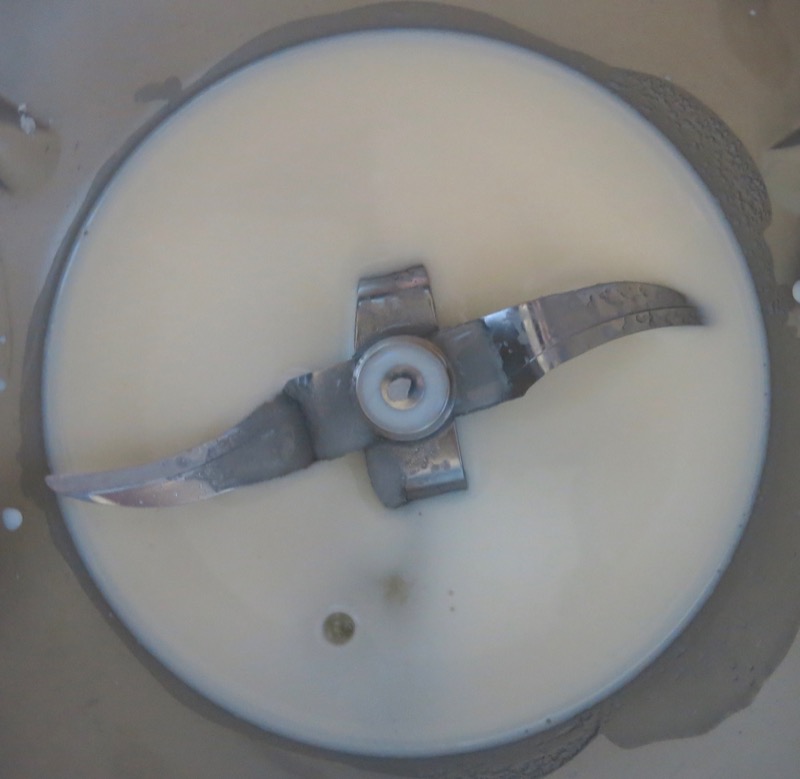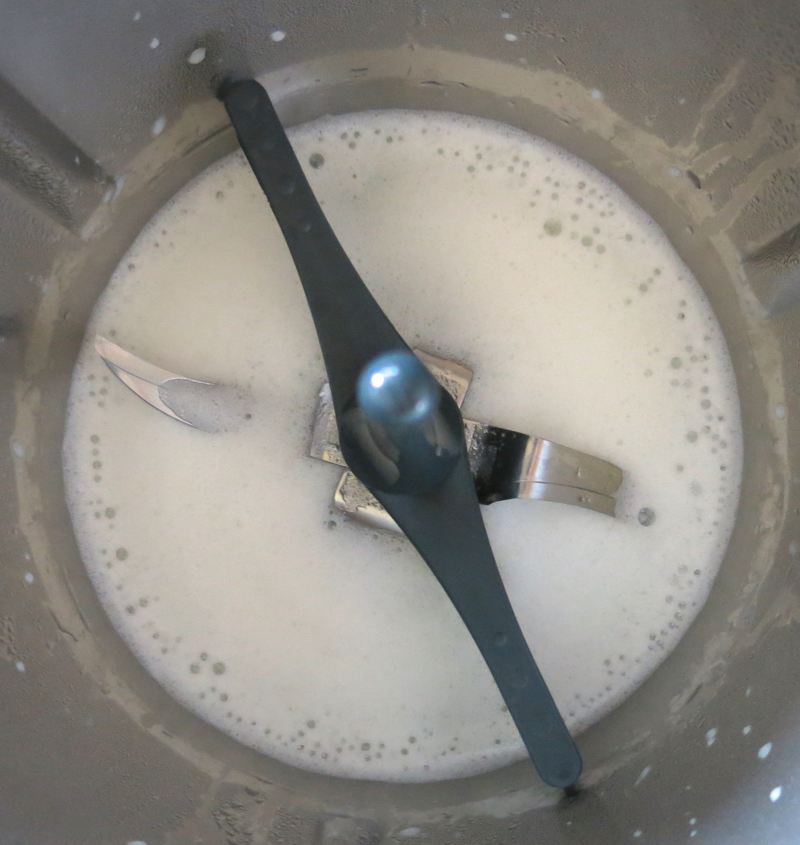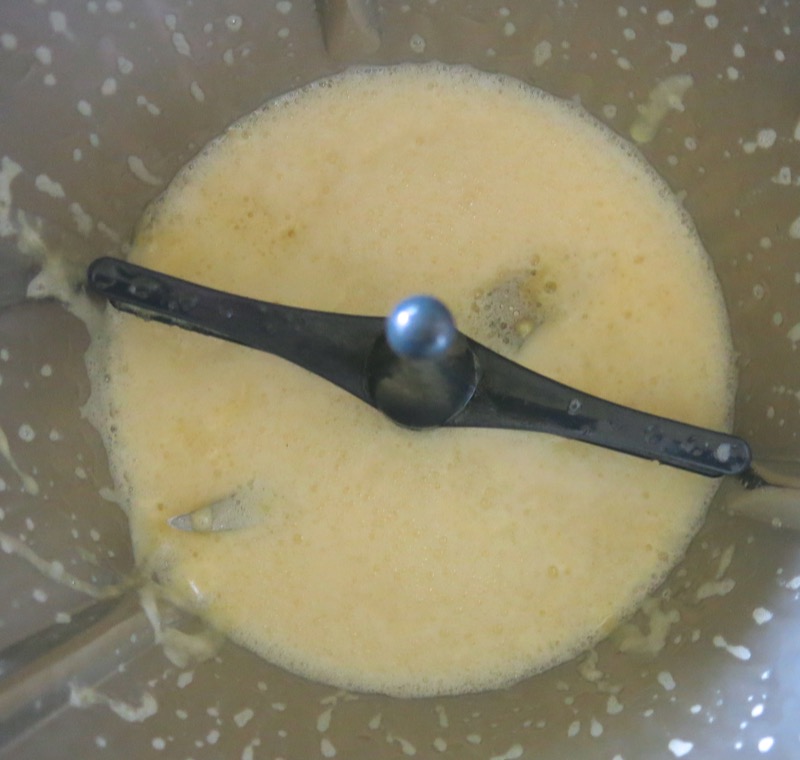 Insert the butterfly, weigh the ingredients as they go into the bowl (the Thermomix will do that for you) and follow the instructions in the recipe… the Thermomix will stir and cook the custard for you, until it is done. Remove from bowl, and set aside to cool, cleaning bowl completely.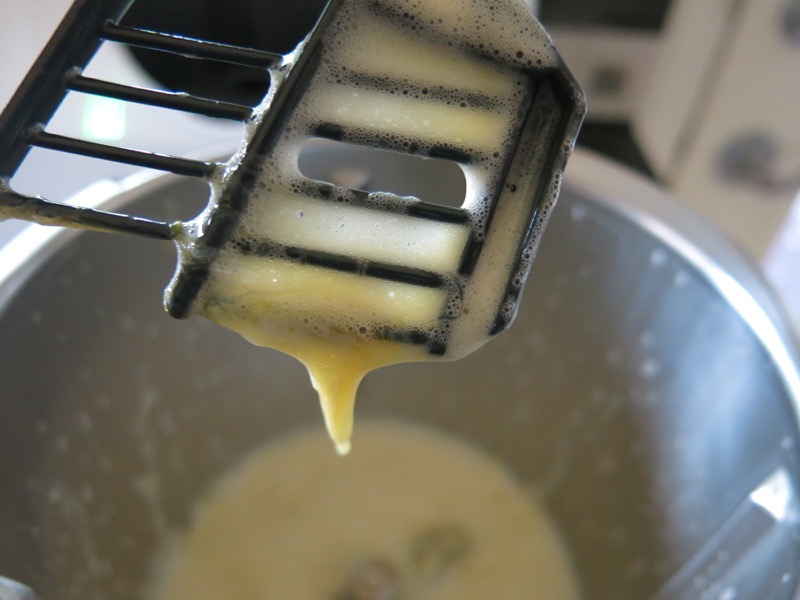 Deviant Tutti Frutti Ice Cream: The Flavour Base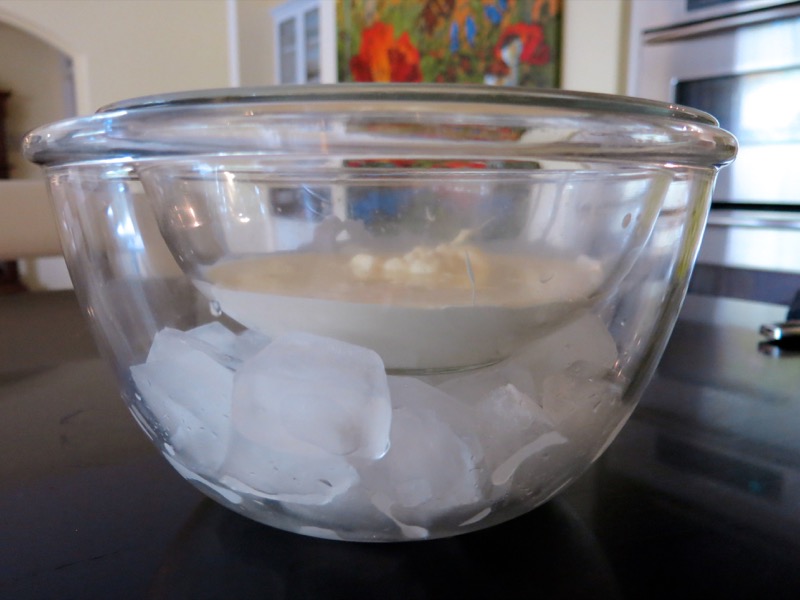 Before you start the custard, place the heavy cream over ice, and refrigerate it.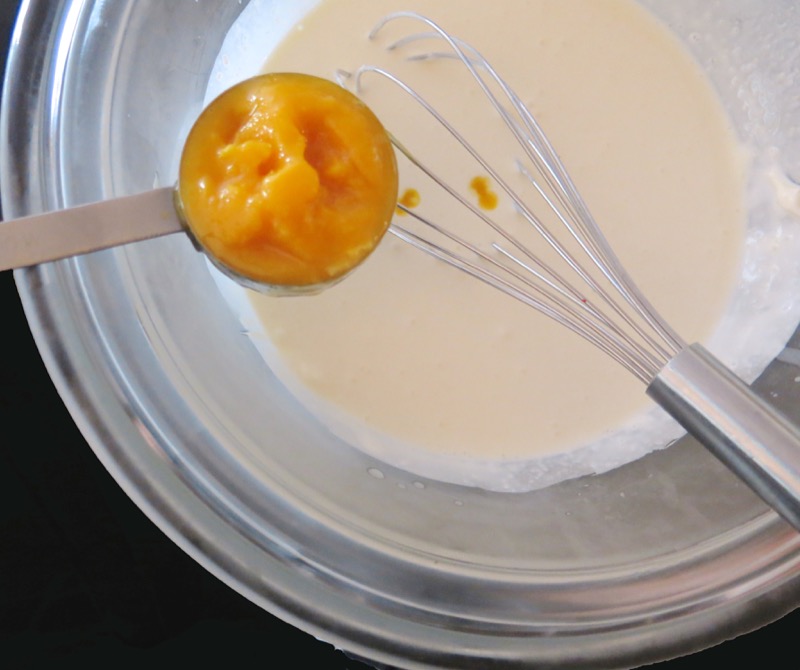 Once custard is made, take heavy cream out of fridge, and add orange juice concentrate.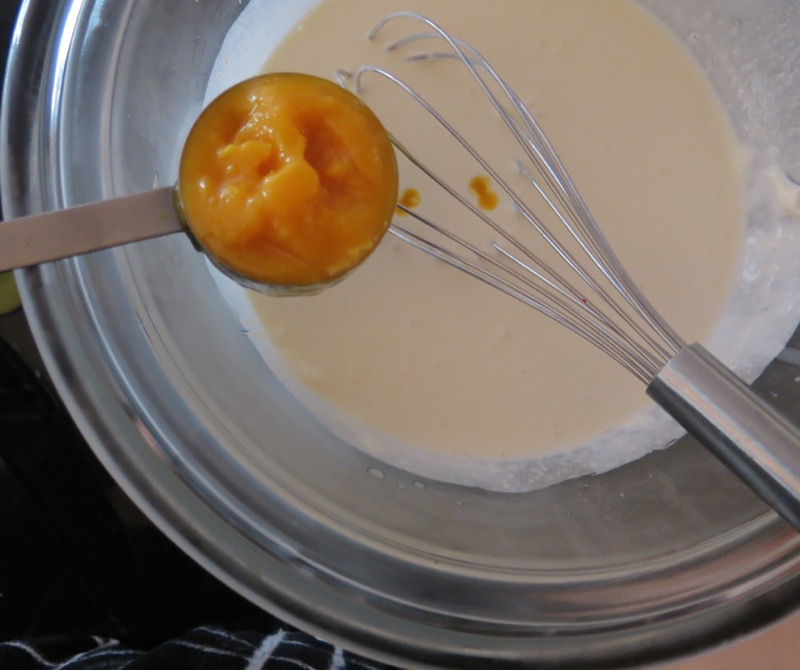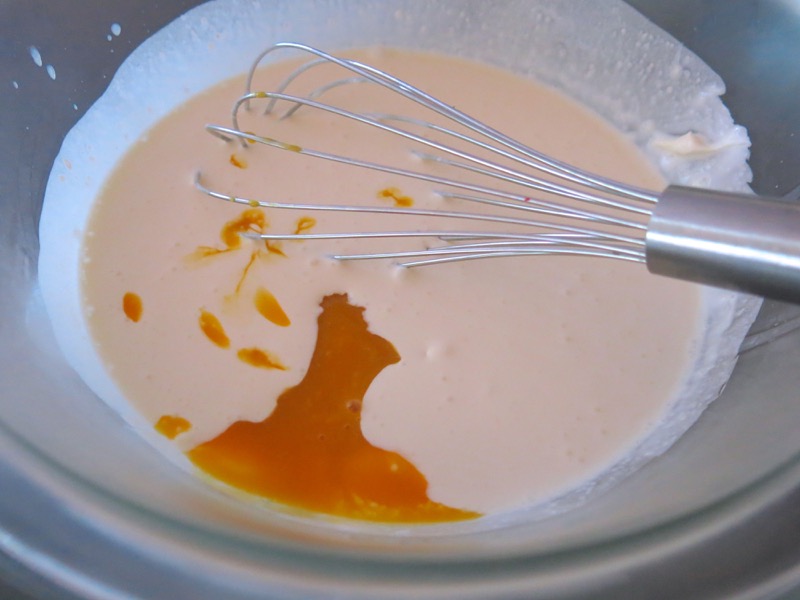 Meanwhile, weigh frozen berries and banana into Thermomix bowl, pulvarize until ice cream like: image 3, below.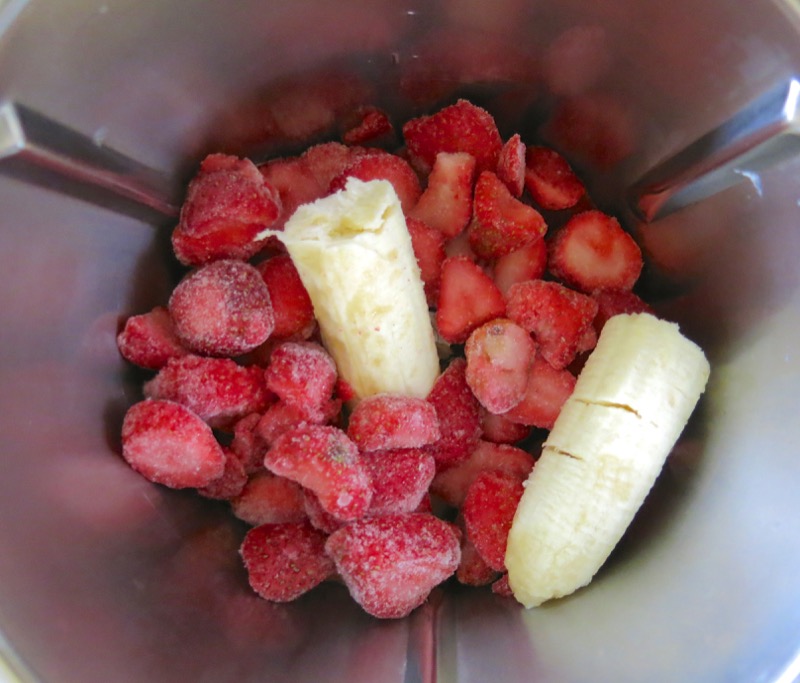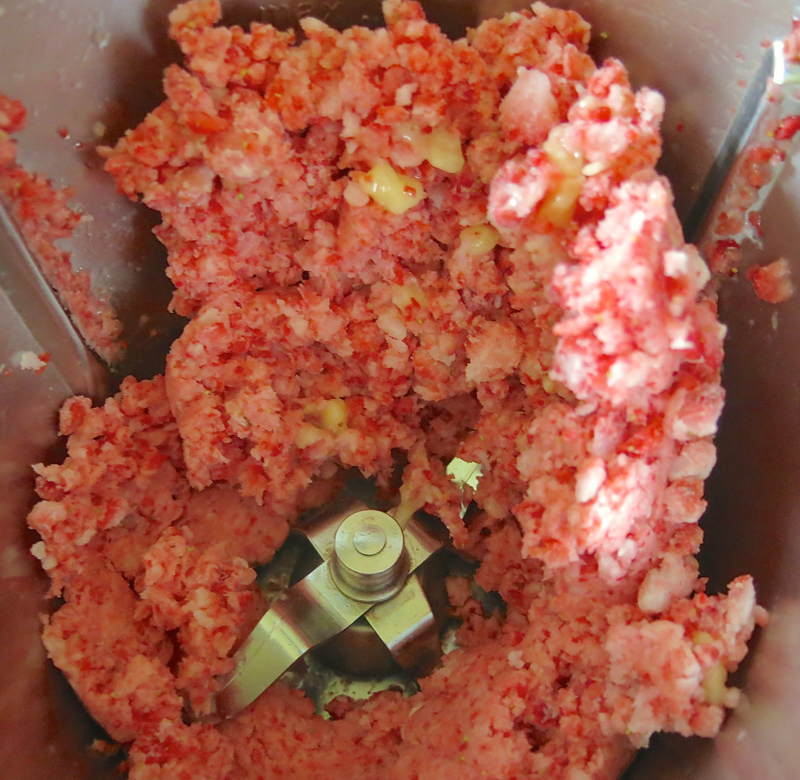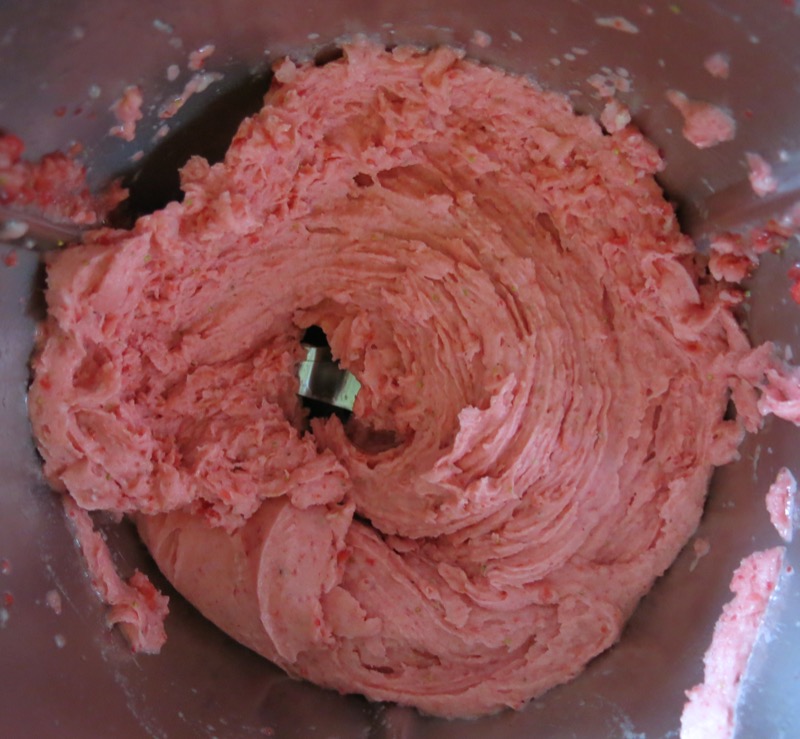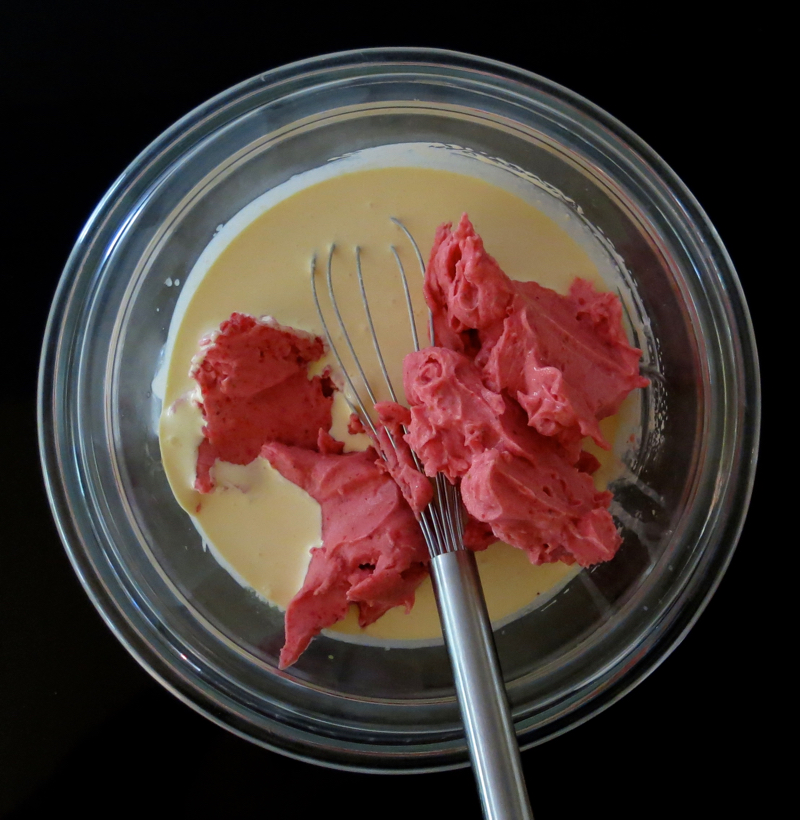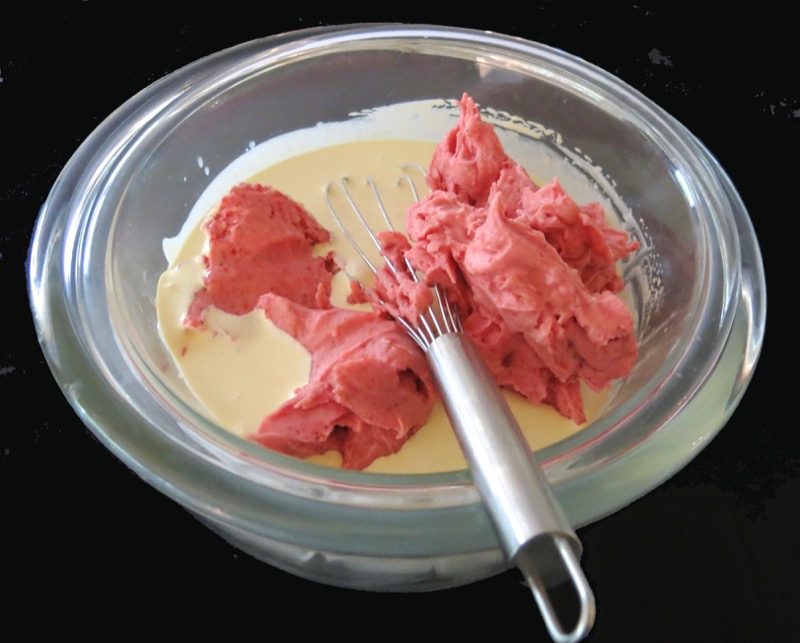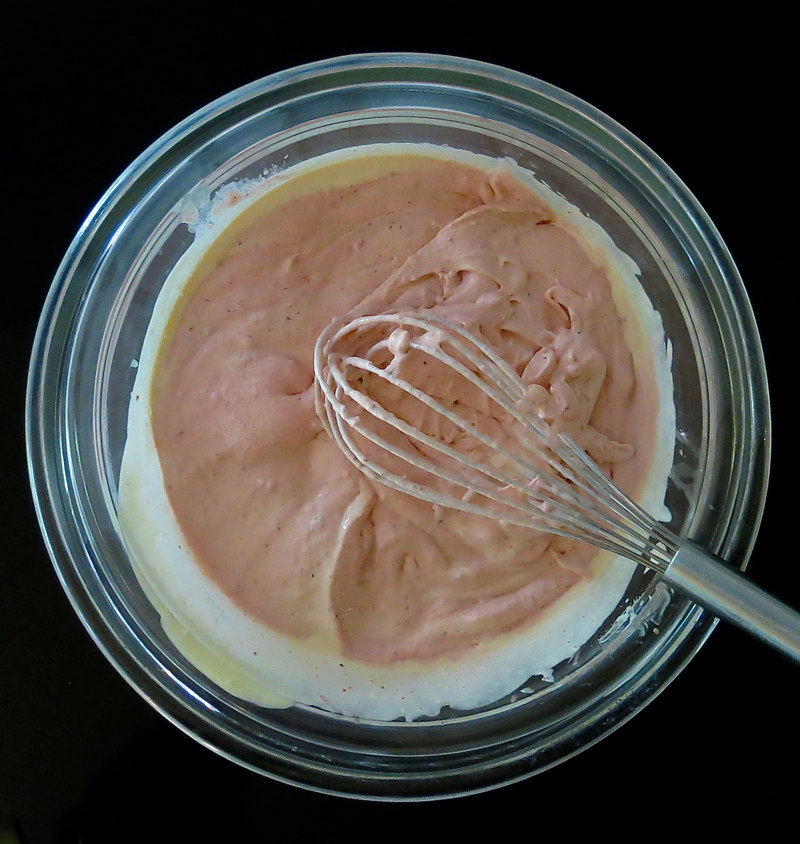 Stir puréed fruit flavour mixture into orange cream mixture until well combined.
Deviant Tutti Frutti Ice Cream: Combining Both Bases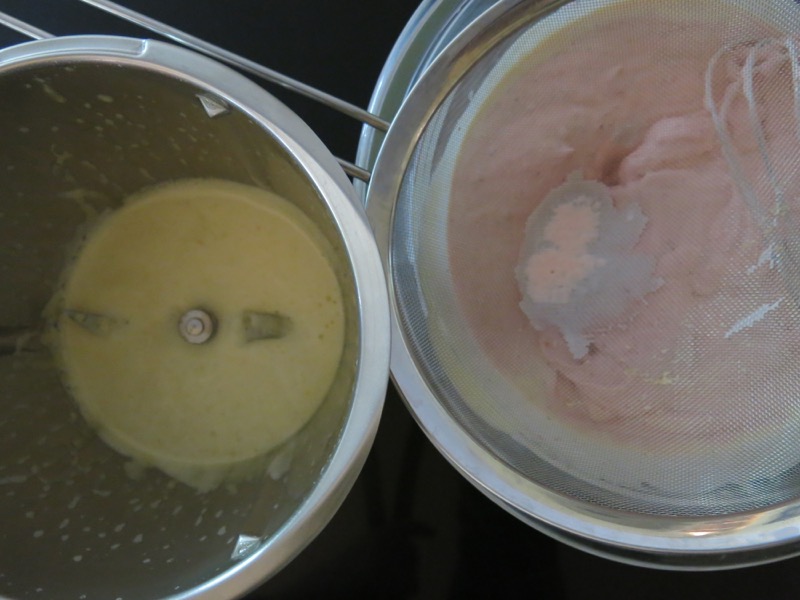 Place sieve over fruit flavour mixture and strain custard into it, stirring to combine, over ice, until completely cool.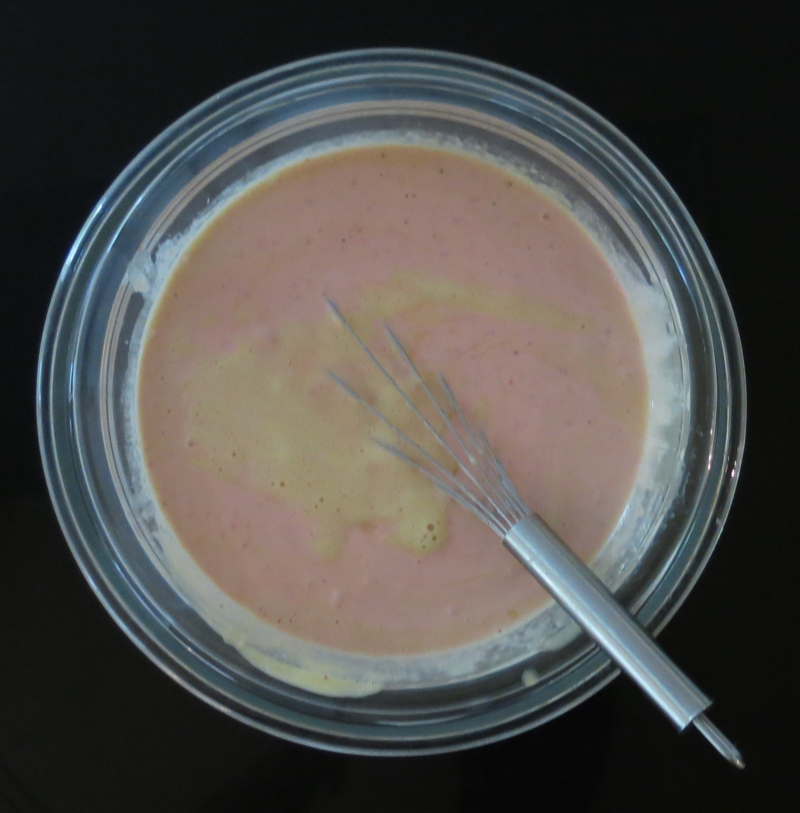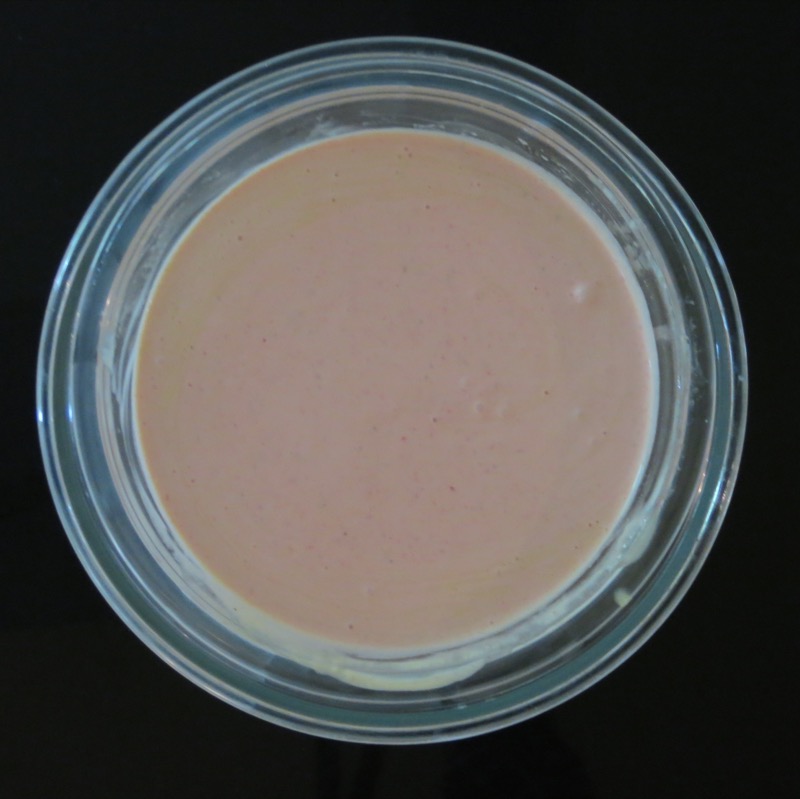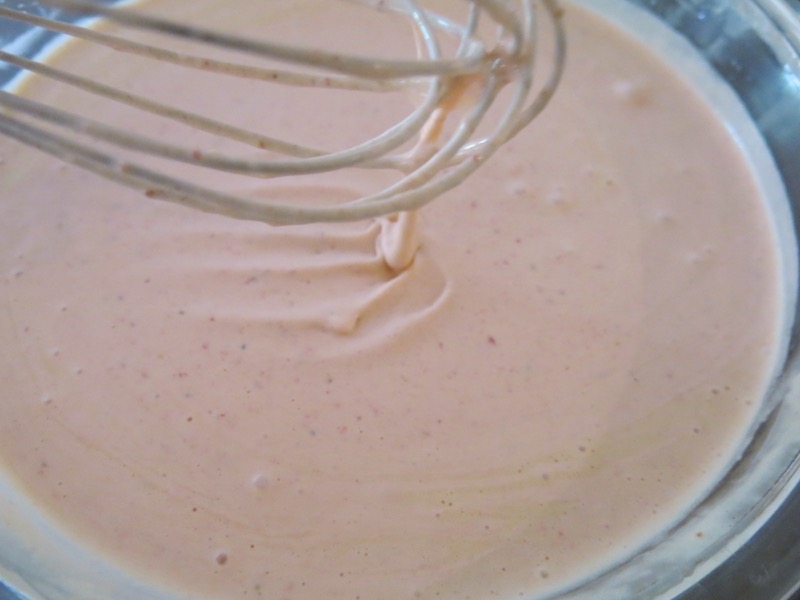 Place a film of plastic wrap over the surface to avoid the creation of a skin and refrigerate until icy cold. Overnight is preferable.
Deviant Tutti Frutti Ice Cream: Churning the Ice Cream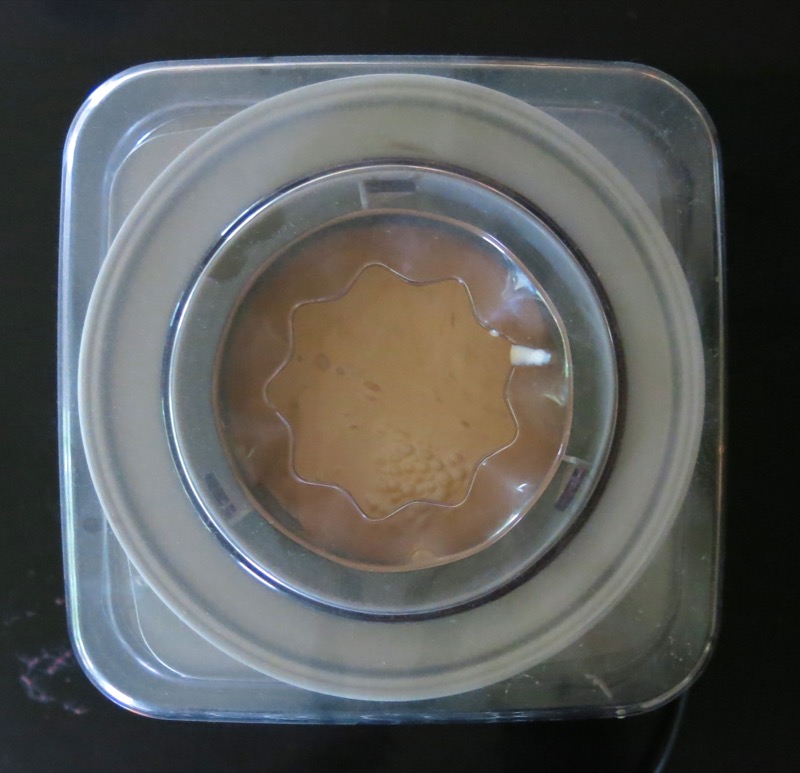 Follow the manufacturer's instructions for your ice cream maker.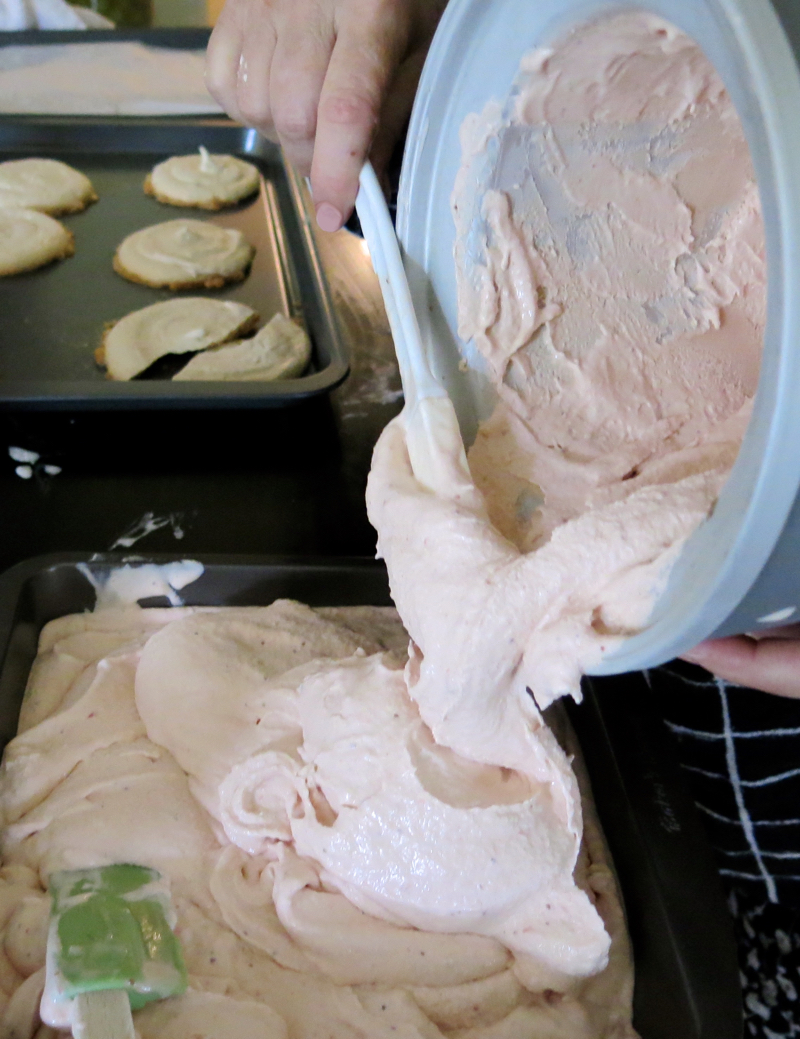 Ladle or pour finished ice cream into a loaf pan or a cake pan, lined with plastic or parchment, and freeze a minimum of 4 hours. Again, over night is preferred. Certainly, have a soft cone now. Yum!
Deviant Tutti Frutti Ice Cream: Serving the Ice Cream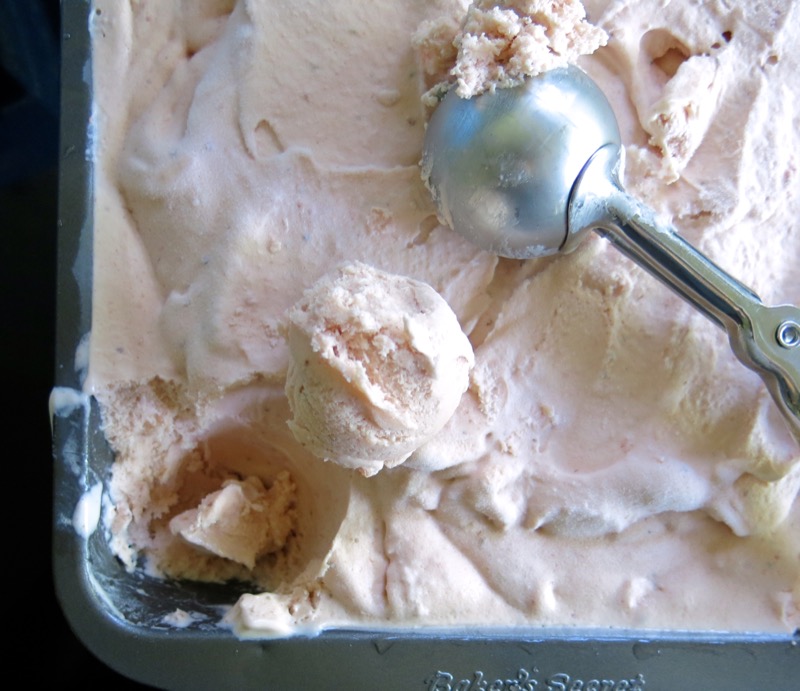 When making an ice bowl with various homemade ice cream flavoured balls in it, or serving cones with various flavours at an event, I must make the individual balls in advance. This is also a great way to store small batches of homemade ice cream for quick service, as well. I simply scoop small balls of the ice cream onto parchment or plastic covered cookie sheets, rather quickly: about 6-8 at a time. Then, get them into the freezer and start another tray, get them into the freezer, and start an other tray. After the third tray, usually the scooped balls are stable enough to combine to one tray. And I continue with the other two trays, until the ice cream is done or until I have the number of balls I need. The next day, I layer the scooped balls into a large zip lock freezer bag with the parchment wrapped around the rows of balls. I like to maintain the scoop shape not have the ice cream balls touch one another. I store them this way for up to a couple of weeks, until the event.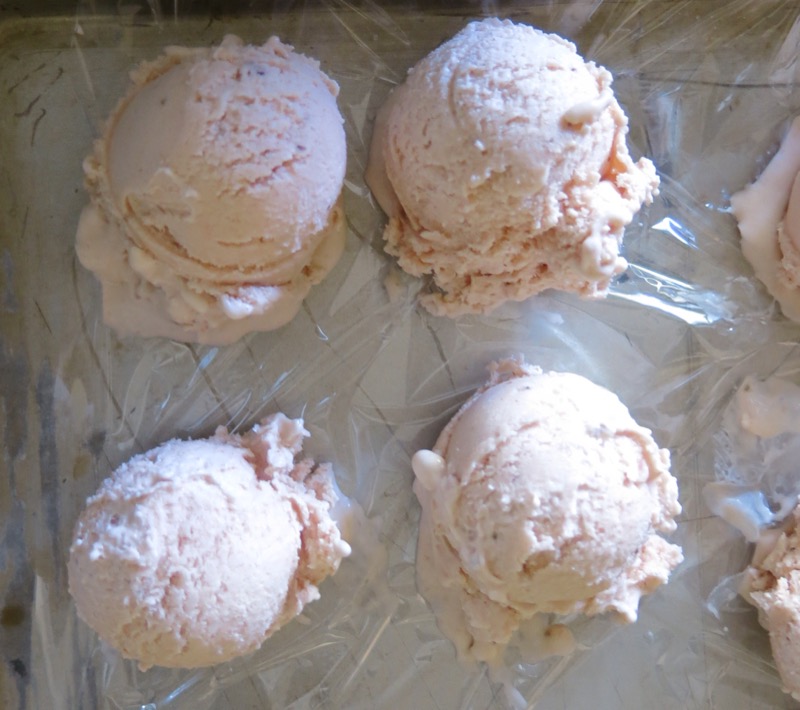 At this point, using tongs, the balls can be placed upon mini cones for service, or into an ice bowl, for self service.
Amy's Shower for Heidi Marie: Deviant Tutti Frutti Ice Cream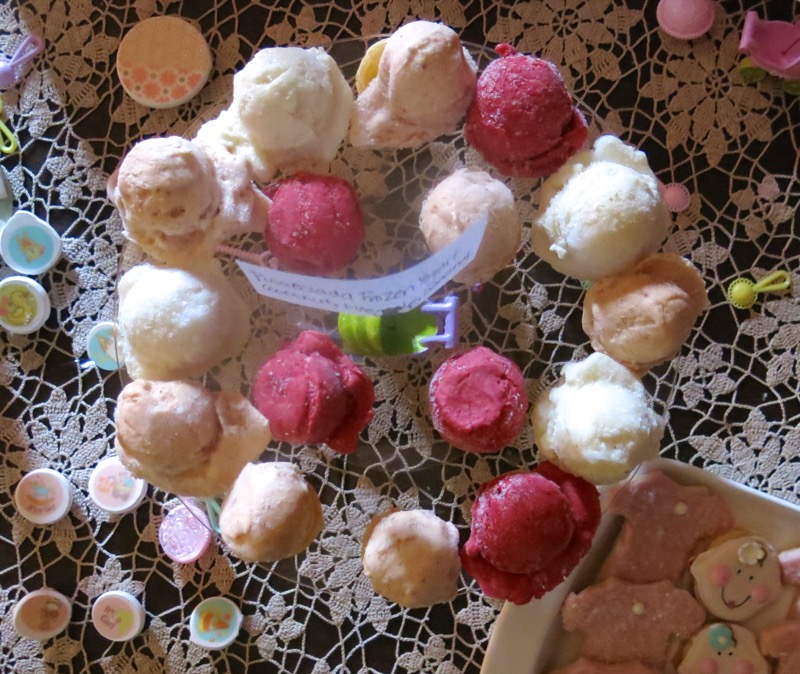 At Amy's Shower, I had intended to serve the cones with the desserts, but the gift opening was taking quite a while. It was a very hot day, and I decided to serve these amid the gift opening, so I don't have photos of them on the table or in anyone's hand, as I had intended. However, you can see from the above image, taken of the cones from the above angle, that this ice cream, combined with the raspberry and pina colada frozen yogurt made a lively pink display and varied fruit flavoured combination. I also think that serving the ice cream before the desserts provided the perfect opportunity for it to actually be savored.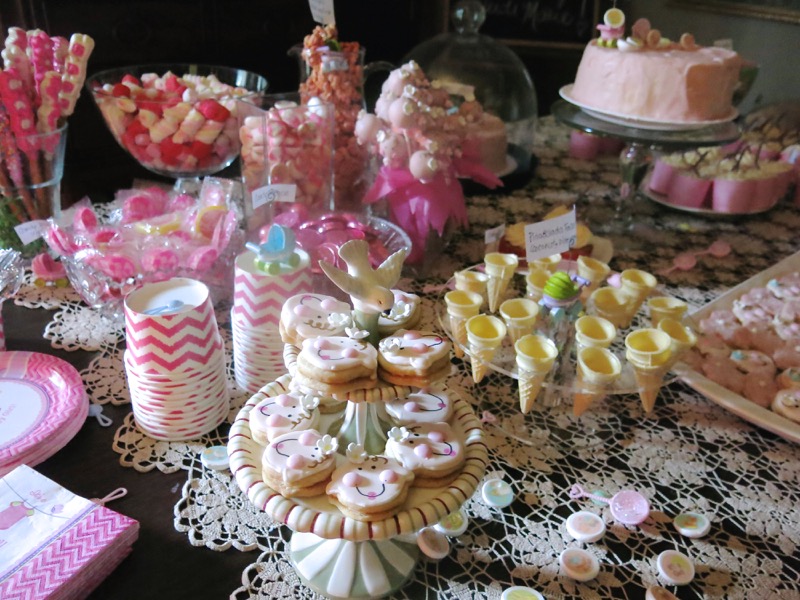 Above, you can see a portion of the dessert table set up with the little mini cones ready to be filled just prior to the dessert buffet.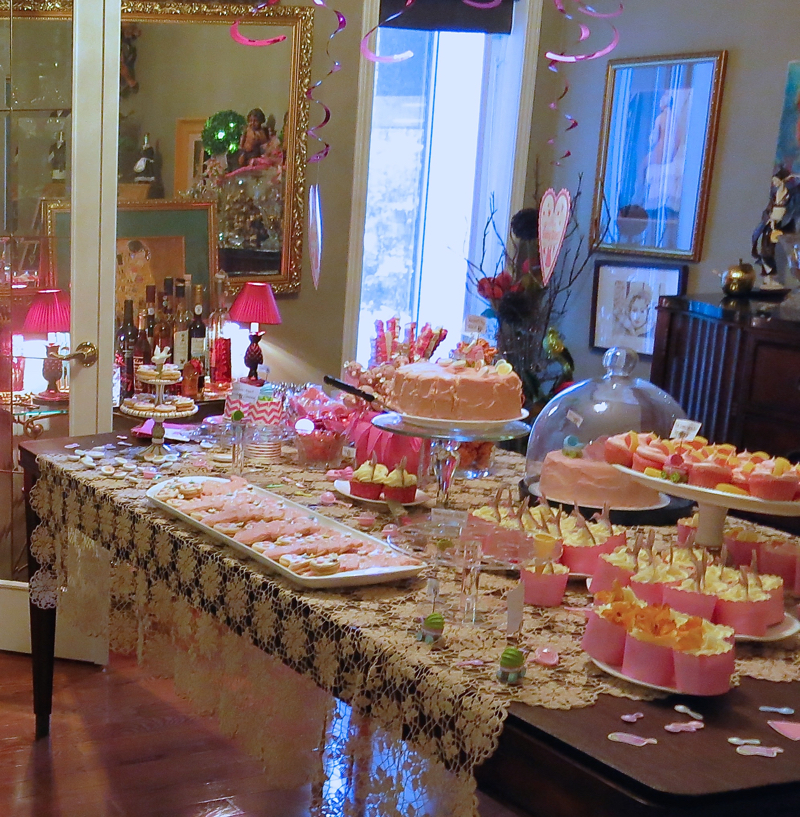 I left the empty ice cream pedestals on the dessert table intending to refill them, but didn't manage to do so, but, if you look carefully, you can find one on each side of the table slightly above the cookie platter.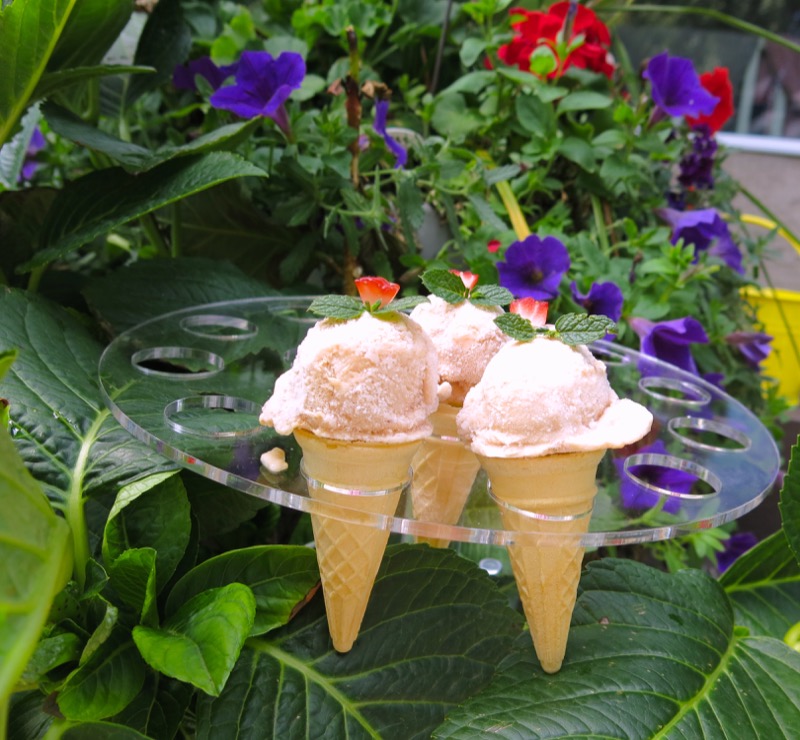 I am not sure which frozen morsel was the crowd favourite, and my choice will vary with my mood, but this deviant tutti frutti ice cream recipe is definitely a keeper and was Ragan's favourite, hands down.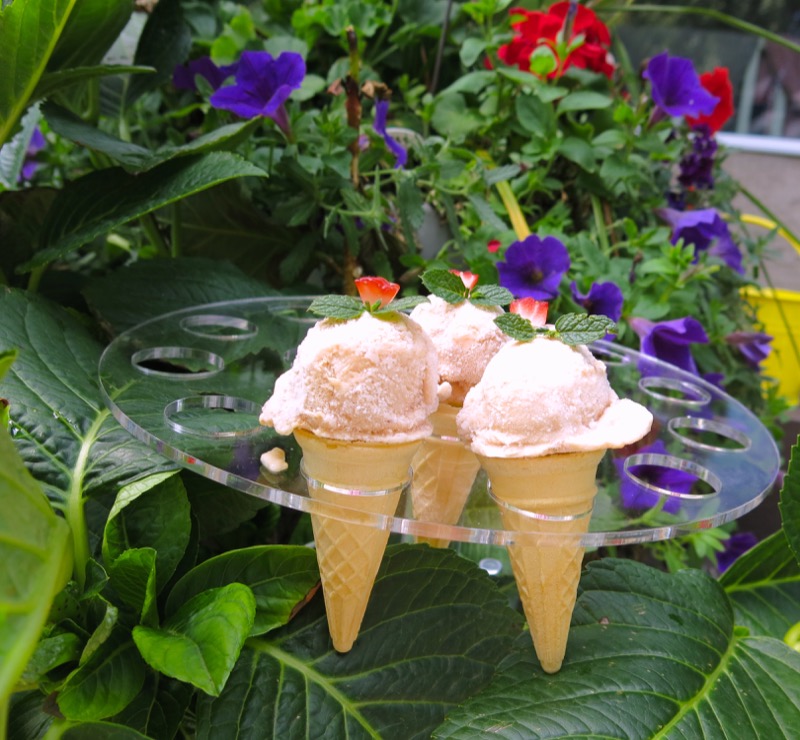 If you try it, let me know. Of course, I would love to hear from you!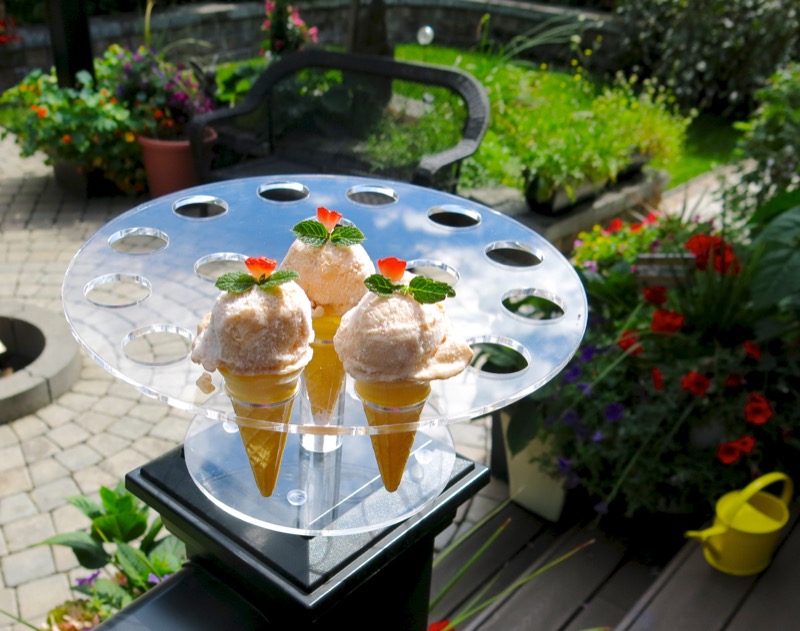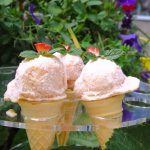 Deviant Tutti Frutti Ice Cream


Will work for TM5 or TM31 A vibrant burst of fruity goodness with tang from the citrus and berries, and sweet comfort from the banana all swaddled in thick velvet cream.
Ingredients
125

g

or one large fresh banana

400

g

frozen sliced strawberries

1

L

or 4 cups heavy cream

(52% fat)

2

trays of ice cubes

360

g

or 1 1/2 cups whole milk

1/4

teaspoon

of salt

300

g

or 1 1/2 cup sugar

12

large egg yolks

1

teaspoon

pure vanilla extract

1

cup

frozen orange juice concentrate

250

g

or 2 large fresh bananas

800

g

frozen sliced strawberries
Ingredients for 1/2 batch or one litre
125

g

or 1 large fresh banana

400

g

sliced frozen strawberries

500

mL

or 2 cups heavy cream (52%

2

trays of ice cubes

180

g

or 3/4 cups whole milk

¼

teaspoon

of salt

150

g

or 1 cup sugar

6-7

large egg yolks

1

teaspoon

pure vanilla extract

1/2

cup

frozen orange juice concentrate
Instructions
Weigh heavy cream into large bowl (large enough to hold entire batch of ingredients); insert into larger bowl filled with ice cubes and set in fridge until needed

Weigh milk, salt, and sugar into TM bowl; heat to 50 C for 10 minutes at speed 2-3 (time will vary depending upon the temperature of the ingredients when weighed into bowl)

Insert whisk in TM bowl; set time for 18 minutes, temperature to 80 C and speed on reverse 2-3; add each yolk through the hole in the lid of the bowl to the all ready warm milk, one at a time, within 30 seconds of each other (there will be 15 minutes left when you are done)

Add vanilla to custard and set aside; clean TM bowl thoroughly

Weigh banana and strawberries into TM bowl; combine on turbo for 2 seconds 10 times

Take refrigerated heavy cream out of fridge; stir frozen orange juice concentrate into it, over ice

Stir pulverized berries and banana into heavy cream mixture

Strain custard into heavy cream fruit mixture sitting on ice; stir over the ice bath until completely cool

Refrigerate to chill thoroughly, preferably overnight

Finish in an ice cream maker following manufacturer's instructions
Recipe Notes
I made 1/2 batch in this post so my photos represent 1/2 batch of this ice cream recipe which made about 36 small ice cream balls.