Only in Canada: Ambushed by Magpies!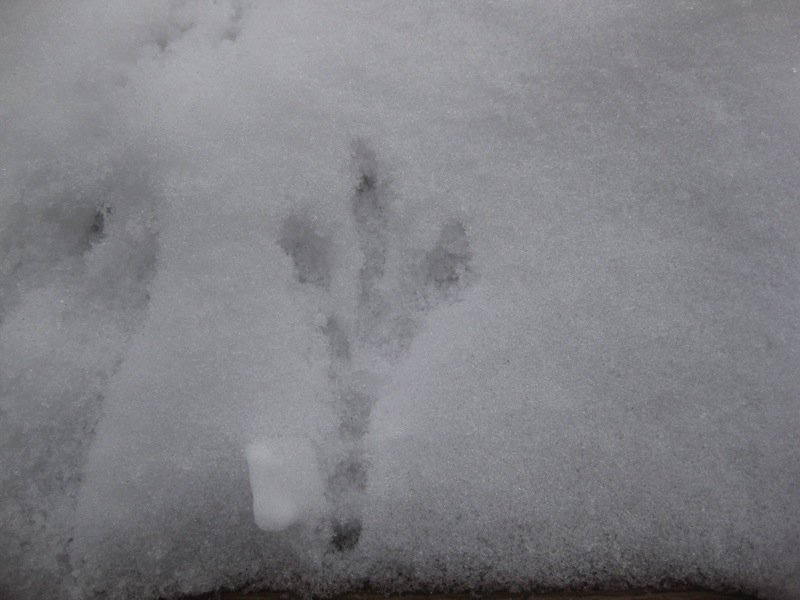 And I have more evidence than their tracks!
Vanja was just leaving for work on January 3rd, my last day of Christmas holidays, when he noticed a swarm of magpies out of our kitchen window. "I bet they can smell your cookies." and we both ran to look out the window. Smell my cookies? Smell my cookies? They had scavenged an entire tray of them! i was dumbfounded. Never had I believed this possible, and if someone had told me this was possible, would still find it very difficult to believe. Yet, there, on the back deck, where I was so happy to have our Canadian Freezer to store my baking this year, I was scavenged!
I had been documenting my "Canadian Freezer" for my Aussie readers. The last few years in Canada, it has been too warm to have one. I seem to do a lot of preparation for the holiday season, so the outdoor freezer comes in very handy. And, this year, I was thrilled that I could bake as much as I wanted because it was so cold that I had the use of my Canadian Freezer. (One December day, Edmonton was the second coldest place on the planet!) Above, you can see my tins and boxes, tightly sealed, right outside my door for easy access.
Below, you will see that I have actually plated some treats for the Slow Food Winter Solstice event a couple of days early. Do you see there is even a tray under the table? It was definitely cold enough at -20ºC and colder to keep these goodies fresh. I had them quadrupley wrapped, and have done this so many years of my life that I didn't give it a second thought. I snapped a photo to write about one of the advantages of living in Canada at Christmas. (There are too many!)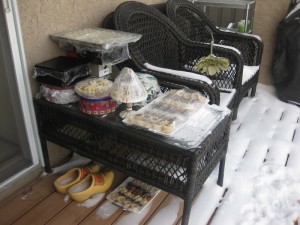 Take a look below! This is what I opened my door to that morning. Yes, half of the tray was gone!
And, half of the tray under the table was gone, too!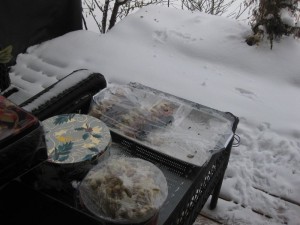 There was a tidy litte incision in the plastic wrap. It was neatly folded back, and butter tarts, shortbread cookies, sugar cookies, Brown Eyed Susan's, and eggnog cookies were all gone. Even one rum ball!!
See one of the culprits on top of the pergula? And, another on the eaves?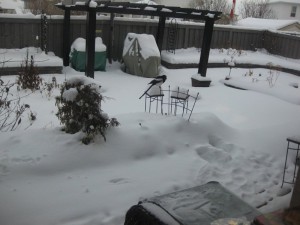 And still another on top of Beavie's Turtle cookie hiding place. Beavie actually left three cookies buried in the snow, and they had been dug out, and were also gone! I know Beavie should have known better, but it was too cold the day he was out playing with his cookies for him to go back and bring them in.
And you can see the trays of cookies are already in the house. I am photographing the evidence, and what does this clever little Magpie do? Comes back for more! I wished I had left some out. I would have loved to have caught one with a loaded beak! Then I would have justification to retaliate! I didn't think they were that unaware after being clever enough to do what they had already done with such precision.
If you are looking for Beavie, I can't find him, either. I assume he is hiding somewhere with his tail between his legs worried that I will take out my angst on him. He is a clever little fella!