Traditional Apricot Pie: These fuzzy golden globes are now in season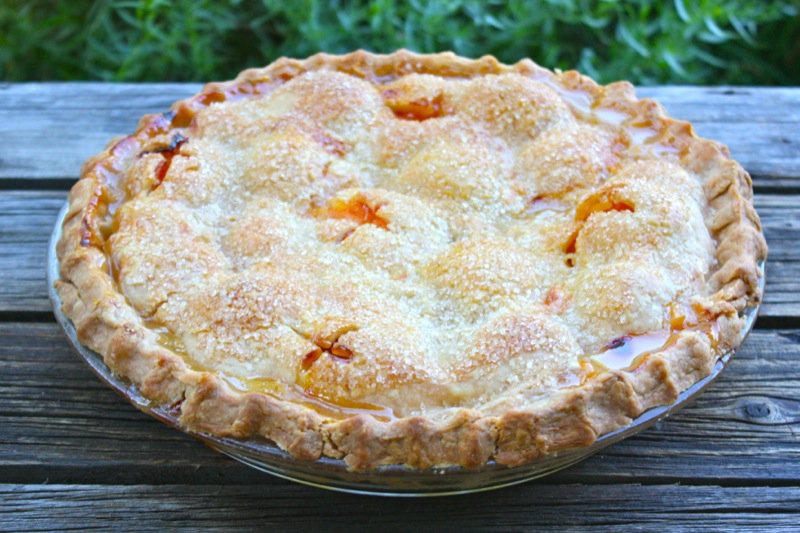 Vanja loves a good fruit pie and I love Vanja, so this equation is rather straightforward: Traditional Apricot Pie!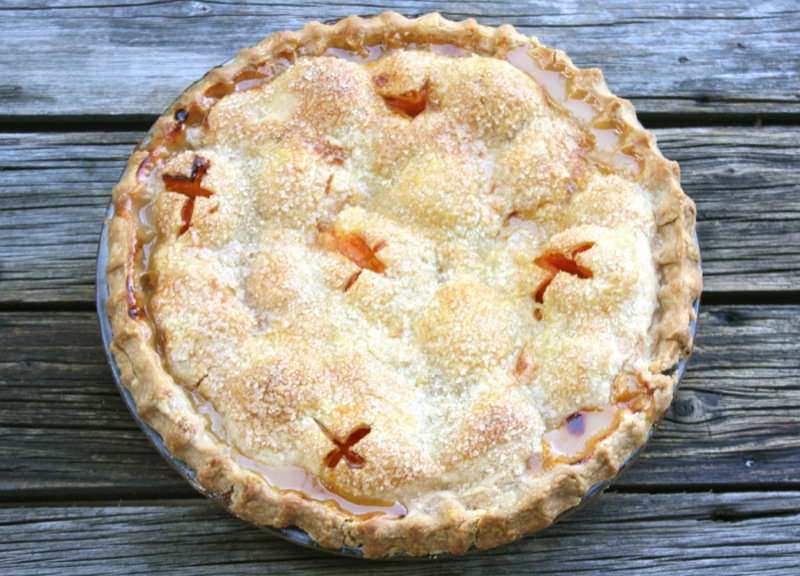 But, who doesn't love a good fruit pie? I have never met a person who has said, "I don't care for pies." Most people love them.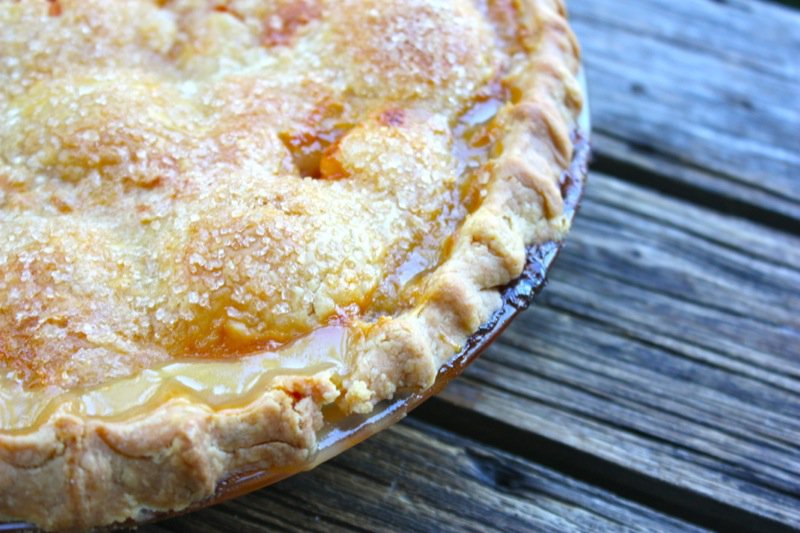 Yet, few people make them.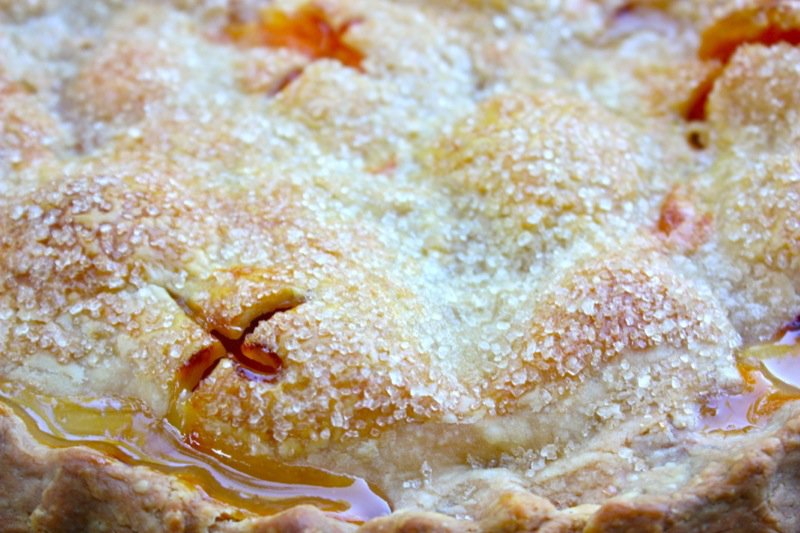 Their mothers don't make them, either, anymore. I learned how to make a good pastry from my grade 7 Home Economics teacher, Judy O'Brian. (She became a close friend much later in life.) Once you know how to make a really good pastry, making a pie is one of the easiest desserts you will make. The pastry is key and best made in advance.
I make big batches and freeze them.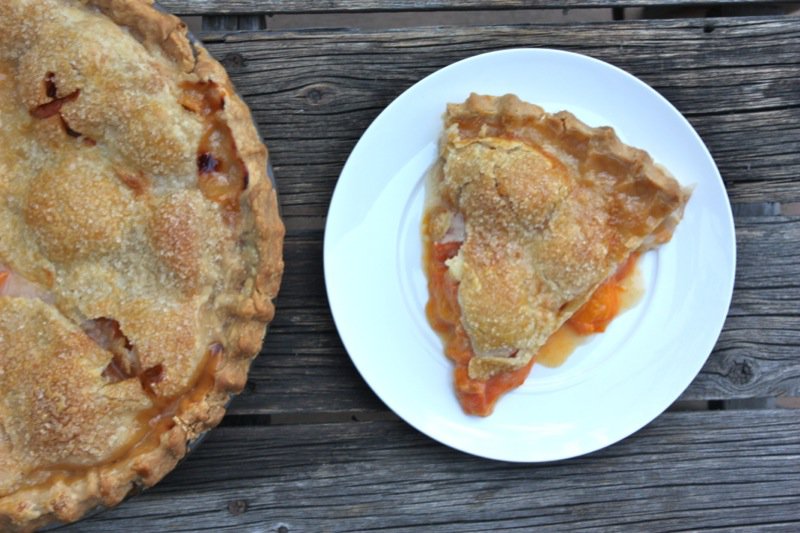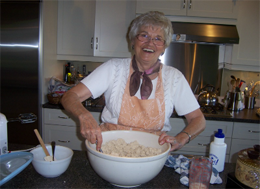 For years, mom made pastry for me. I would have frozen discs of it in my deep freeze. I definitely knew how to make it, but it was never easy for me. I use my Thermomix to make pastry now and it is slick as slick.
I had mom over for a day, a few years back, to make a slideshow of her handmade process with notes. I make a couple of batches at a time, freeze the pastry in pie crust disc sizes and thaw what I need. It enables pie making to be the pure joy it truly is.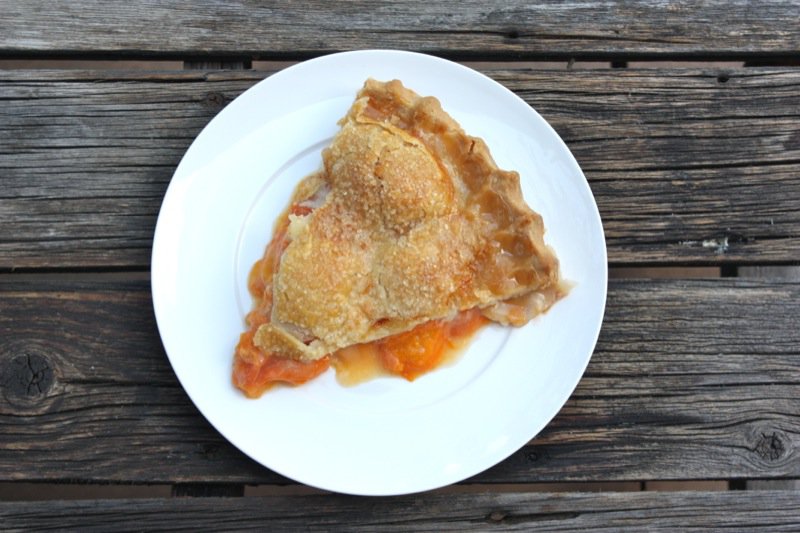 When any fresh fruit is in season, the ultimate dessert is almost always a pie. I couldn't wait for the case of apricots that I ordered to come in from British Columbia so I could immerse myself in apricots for a week.
Eating them fresh is an absolute pleasure. The little ones have the most complex flavour, but I have yet to do a tasting of the newly available varietals, so I don't know which is my favourite. The ones I have were very tart when baked. Usually, apricots are tart, but Vanja didn't care for these at all. "There's something wrong with those apricots." was his mournful mantra as he eyed them longingly, wishing for the sweet meaty ones from home in the former Yugoslavia.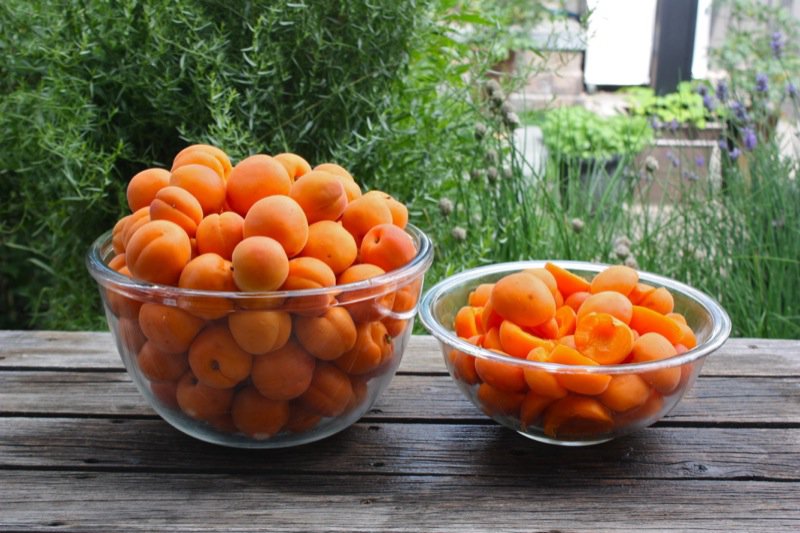 I thought the apricots were deadly delicious as they exploded with flavour and fragrance at first bite.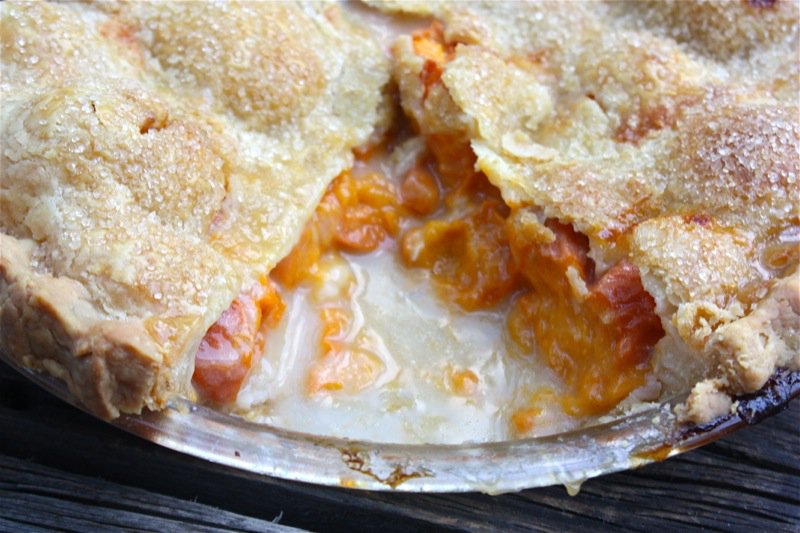 Sadly, Vanja didn't like the Traditional Apricot Pie. I have come to learn, over time, that apple pie is the only pie I need bother to make for Vanja. However, Ragan and I really enjoyed this Traditional Apricot Pie. It was scrumptious.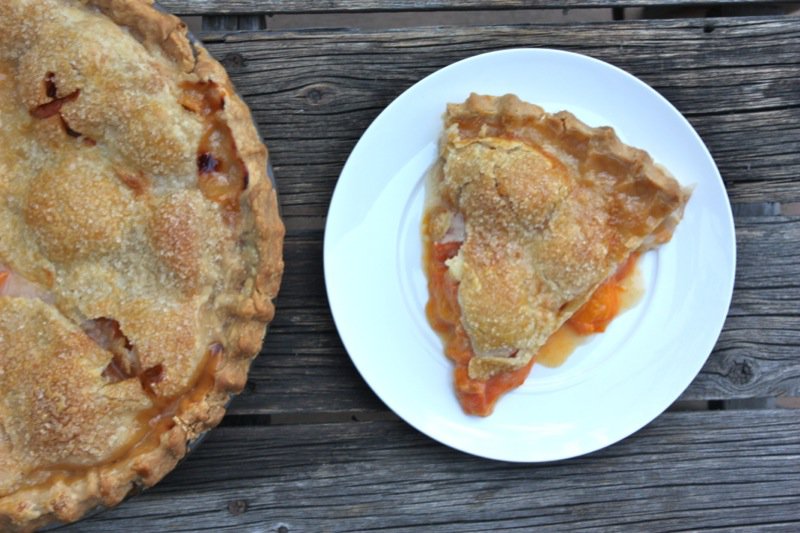 Vanja's disdain thwarted my plans for making a couple more to freeze for Winter. I was looking forward to that. We gave 1/2 the case to mom and made jam with the rest.
Traditional Apricot Pie: Preparing the Filling
Macerate the fruit in sugar for 30 minutes.
Traditional Apricot Pie: Preparing the Crust
Traditional Apricot Pie: Filling the Pie
Traditional Apricot Pie: Topping with Pastry and Crimping the Edges
Traditional Apricot Pie: Brush with Egg and Sparking Sugar
No woman added a sparkly sugar to the crust of any pie when I was a child. No one had any sparkly sugar. I am addicted to the crystal sweet crunch a smattering of Demerara Sugar adds to the texture of each flakey bite.
Traditional Apricot Pie: Baking the Pie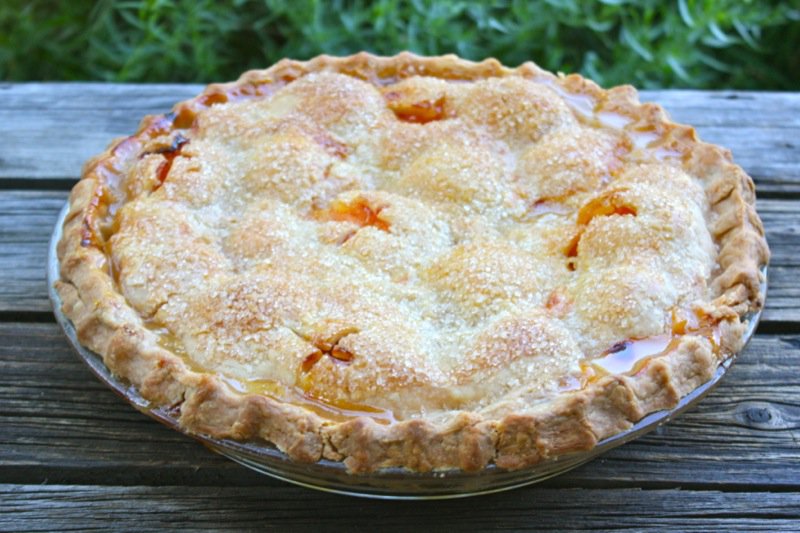 Not to mention how purdy a pie looks with sparkles dusted over the top crust.
Traditional Apricot Pie: Serving the Pie
Ah, summer… this is not a cool and refreshing summer sweet. It is a tradition and a taste memory etched into the very being of one that lives even 900 kilometres away from the closest apricot tree.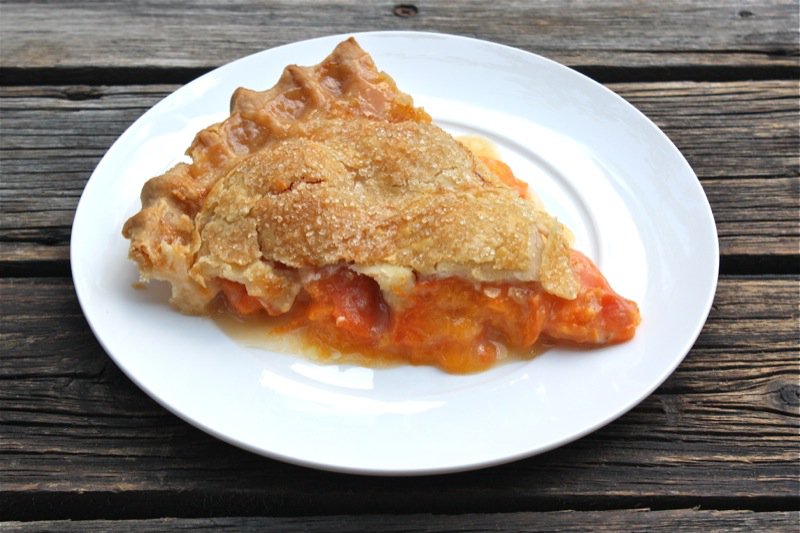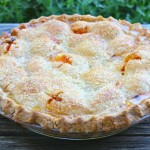 Traditional Apricot Pie
This recipe is a prairie tradition. When the BC fruit trucks roll into the prairies each week throughout the summer, laden with fresh in season fruit one province over, we celebrate the bounty.
Cook Time
1
hour
15
minutes
Total Time
1
hour
35
minutes
Ingredients
Ingredients for Filing
24

small apricots, pitted and halved

1-11/2

cups

sugar, depending upon how tart fruit is

1/4

cup

flour

2 - 3

tablespoons

butter
Ingredients for Crust
2

discs of homemade pie crust*

sparkling sugar (Demerara) and egg yolk for garnishing the crust
Instructions
Instructions for Filling
Cover bottom of oven with foil to catch any spill from the pie

Add sugar and flour to apricots, set aside for 30 minutes to macerate
Instructions for Crust
Pre-heat oven to 425 F

Roll out bottom crust pie pastry; place in 9 inch pie plate, edges hanging over lip

Roll out top crust pie pastry; and rest while filling bottom
Instructions for Filling the Pie
Carefully fill pastry with apricot mixture; top with dabs of butter

Carefully place top crust over fruit; edges hanging over lip of pan

Gently roll edges of pastry together resting on edge of pie pan to form an ample ridge to crimp; crimp edges
Baking the Pie
Brush top with beaten egg yolk; sprinkle liberally with sparkling sugar

Slash top pastry to allow steam to escape

Please in hot oven; turn heat to 350 F after first 15 minutes and bake for another hour until bubbly, golden, fragrant and completely irresistible
Recipe Notes
Remember to watch the browning of the pastry as you may need to cover with foil 30 to 45 minutes into the baking process so that the pie doesn't continue to brown,