Our Traditional Canadian Christmas Cookies were varied this year!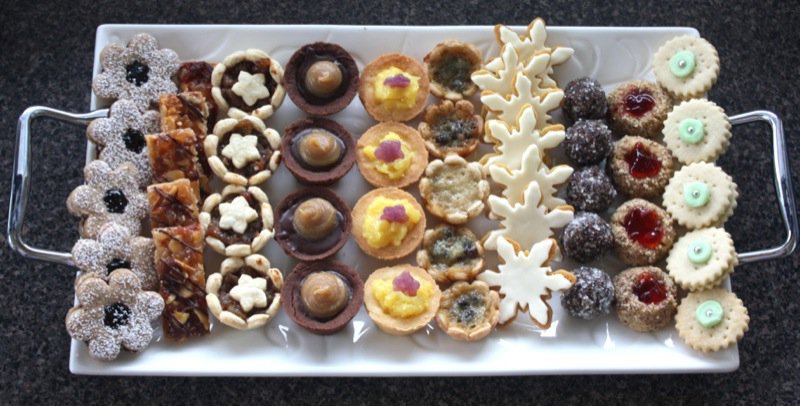 This Christmas we live amid an authentic miracle at our house. My dad and my mom are both with us, healthy and able to participate and enjoy the family festivities of the season. We are truly blessed. None of us have lived through a fall like that of 2012. For those of you unaware, mom and dad celebrated their 62nd Wedding Anniversary this year. They are 82 and 83 years old and have been a very active couple forever. Mom was diagnosed with bowel cancer in August. Dad then had his first COPD exacerbation in years five days later. Don't tell me that stress does not induce illness. It just does. Dad was in the hospital for about a week each, four more times through September October and November. Each time was worse than the last. The third time, we almost lost him. The fourth time, his survival was simply a miracle. His oxygen level was below 60 and his CO2 level was over 120. Those of you in the medical profession will know.

Mom's surgery was Friday, October 12. Dad got home the Monday prior from his third stay. She did very well, had a significant, but not rare set back, then recovered completely. Her pathology? No cancer whatsoever. And I was tired, but born into yet another dimension of our family relationship. My dad is a very anxious man and I had not spent that much time with him since I was in kindergarten. I got to know him all over again. He does love his sweets, so baking these cookies held extra meaning this year.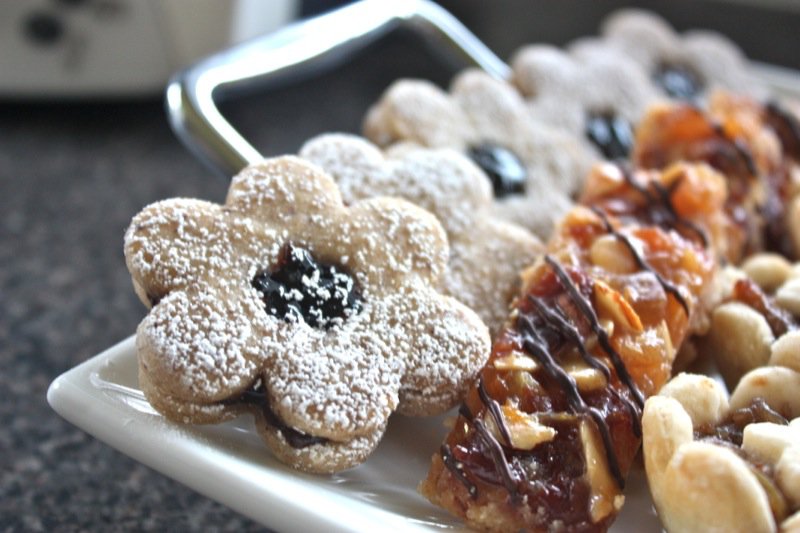 The Lindser Cookies, above, left are new, but the Florintines are dad's very favourite. And this year, mom's too! Mom is now busier than she ever was, but the time I spend with her at the hospital reaffirmed the circle of our lives together. I have begun doing this Christmas baking for her for the last few years, yet last year, I was not well, and did none. This year, she has a whole new life, and went into overdrive – and I mean overdrive.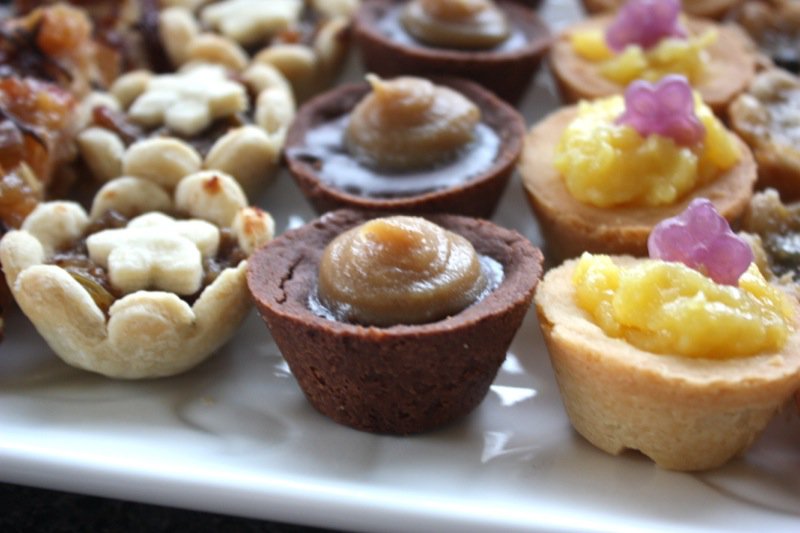 This was the first year in many that I made Mincemeat Tarts! Love them. I have made Chocolate Cranberry Tarts before, though never posted them, which was my intent this year; however, that never happened. I made Chocolate Caramel Tarts instead. Easy-Peasy, yummy-nummy and the post is yet to come. The Shortbread Crust Lemon Curd Tart is a family staple. I did not candy violets this year, so garnished each with a delicate little violette sweet that I bought in Paris one year. They actually added a lovely little fragrance to the lemon flavour!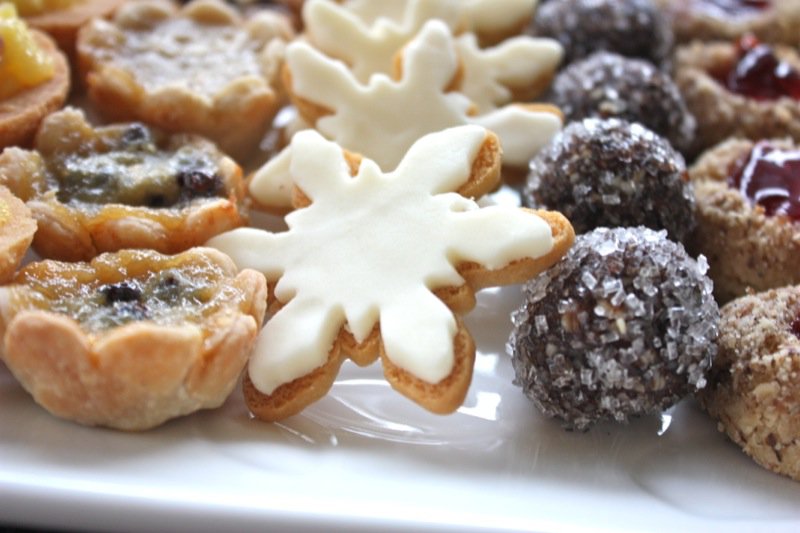 Dad is still fragile, but with us. Each of us clung to every moment we were able to spend with one another through the holidays. That's why it was so important to push myself to carry on with our familiar family traditions. Oh, my. Great Grandma Maude's Butter Tarts. There are none better anywhere. Period. This is a Canadian staple, and both mom and dad popped one into their mouths the day I brought theirs over to them. Lip-smackin' love! To the right is Grandma Maude's famous Sugar Cookie recipe. No, she never made them like this. Hers were honkin' huge, towering in columns in one of the old gallon glass cookie jars on her kitchen counter in Clive. The taste it the same. The memory is there. Sugar Plums were a new addition to our goodie plate this year. I am not sure if anyone ate them. I heard nothing from anyone about them except how pretty they were. Comments, family?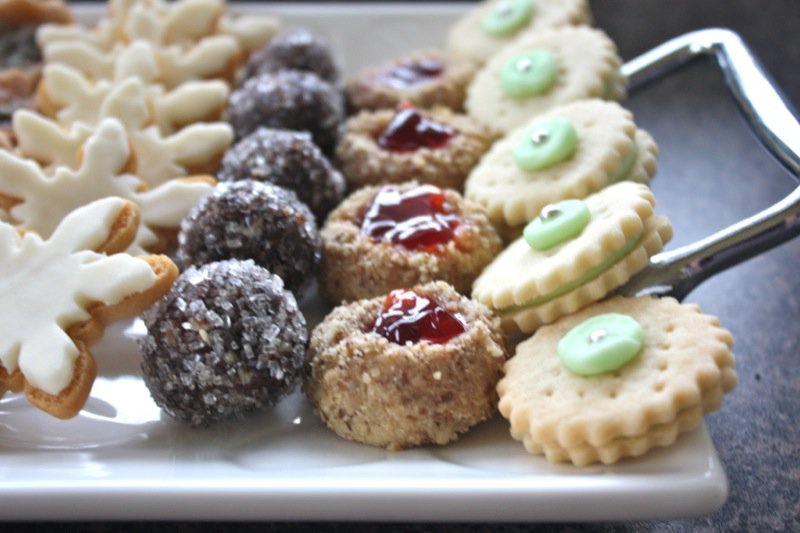 The Thimble Cookies are filled with High Bush Cranberry Jelly. Mom made them every year and I never have. I may not again, either. There were another treat that met silent accolades this season. They are such a traditional prairie sweet, but maybe just too, too…? I haven't posted my recipe for them, yet, either. Every year, there are new introductions to the family of "keepers" on the plate. Qualifying for another go means the goodie is spectacular in its own right. Maybe I needed the more traditional raspberry jam for this one? And, drum roll, please, for the most famous cookie of all, sans a red nose: The Shortbread Sandwich Cookie! These are very special and made in the traditional fashion. They possess a special power in that everyone who had one, has two.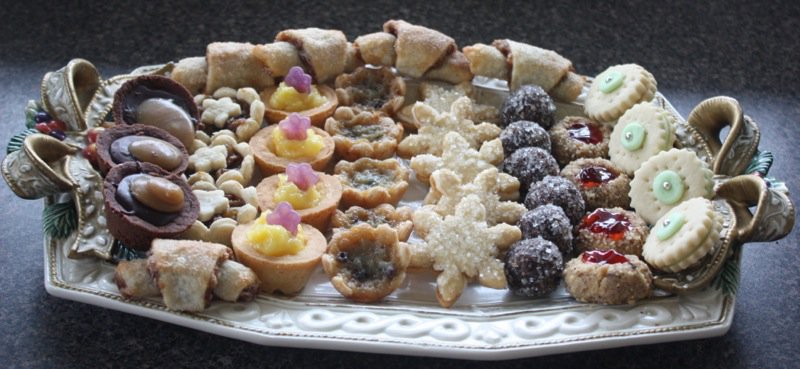 Oh, and there is more! This platter also contains another new addition this year: Rugelach! Definitely a keeper. They are the rolled cookies around the edge of the platter.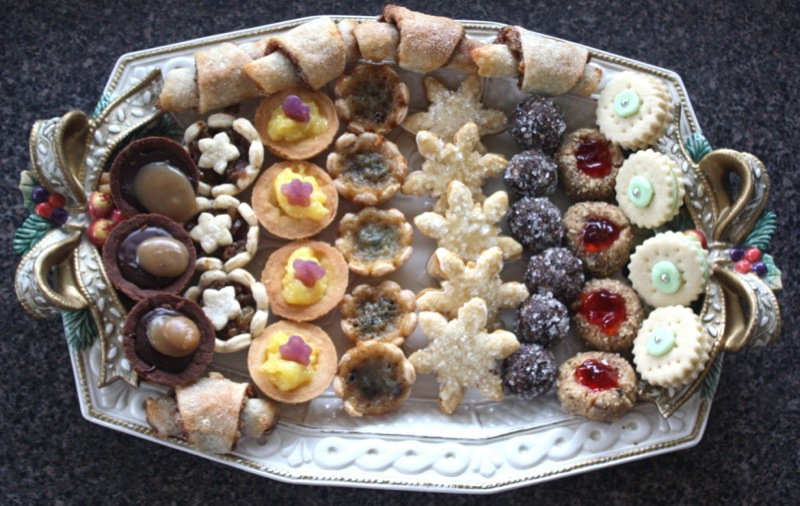 In all, we were able to savor seven full family meals through the week with other visits and time together. What joy.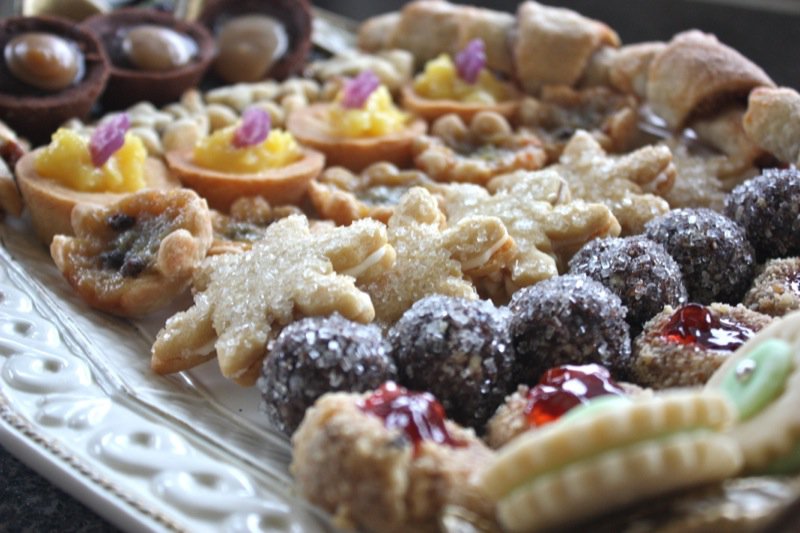 When my youngest daughter, Lauren contemplated leaving, she just cried. And cried. The future is unknown. Always unknown. All we can ever do is the best that we know.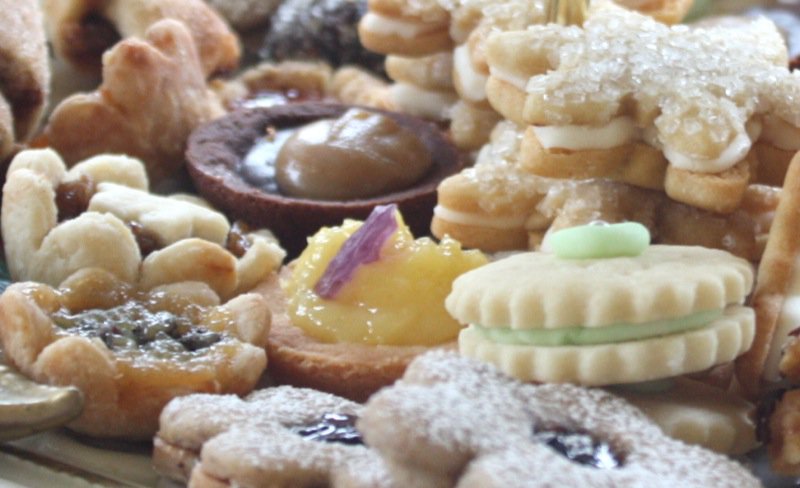 And one thing I know a lot about is how to bake Christmas Cookies.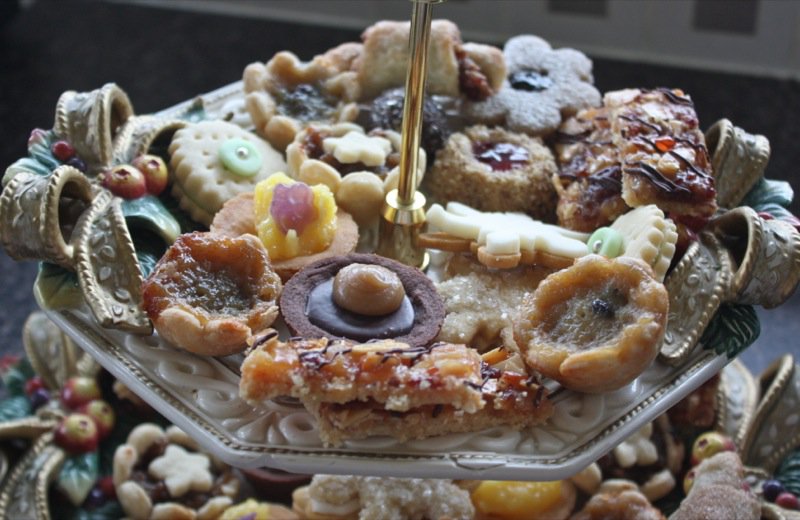 I know how to prepare traditional family and holiday meals that bring people together.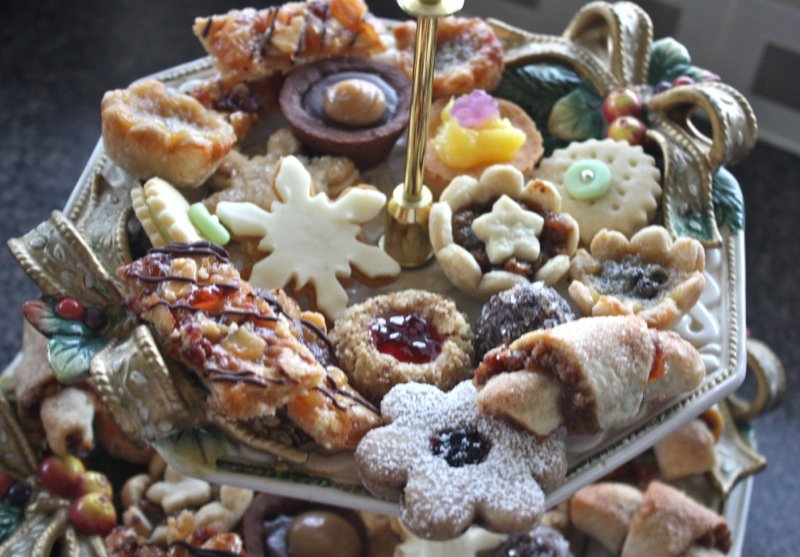 I also know that we experienced a miracle this Christmas at our house. The hope and promise of that miracle was baked into each of these cookies, and then it really happened. We are truly blessed.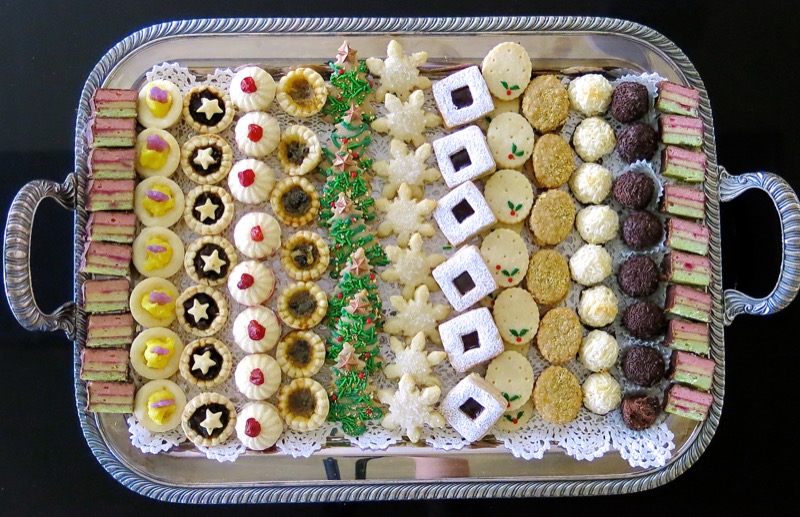 Above is the cookie platter from 2016 which you may want to pop over and take a peek at. Links to the recipes for all cookies on the above platter are in that post. Happy Happy!