Thermomix Raspberry Souffle: Never fails, Never falls and even Freezes!

Thermomix Raspberry Soufflé! Look at that masterpiece. Thank you, Nico Moretti! What inspiration and what a fabulous recipe!

Of course, my mantra (of many) is:"everyone's best idea can always be improved by another", so you are also welcome, Mr. Moretti. Can you hear me laughing?

Paparazzi!? What's all the excitement about?

It's about how gorgeous these little ditties look strutting their stuff down my kitchen island runway, of course! Raspberries are my favourite berry.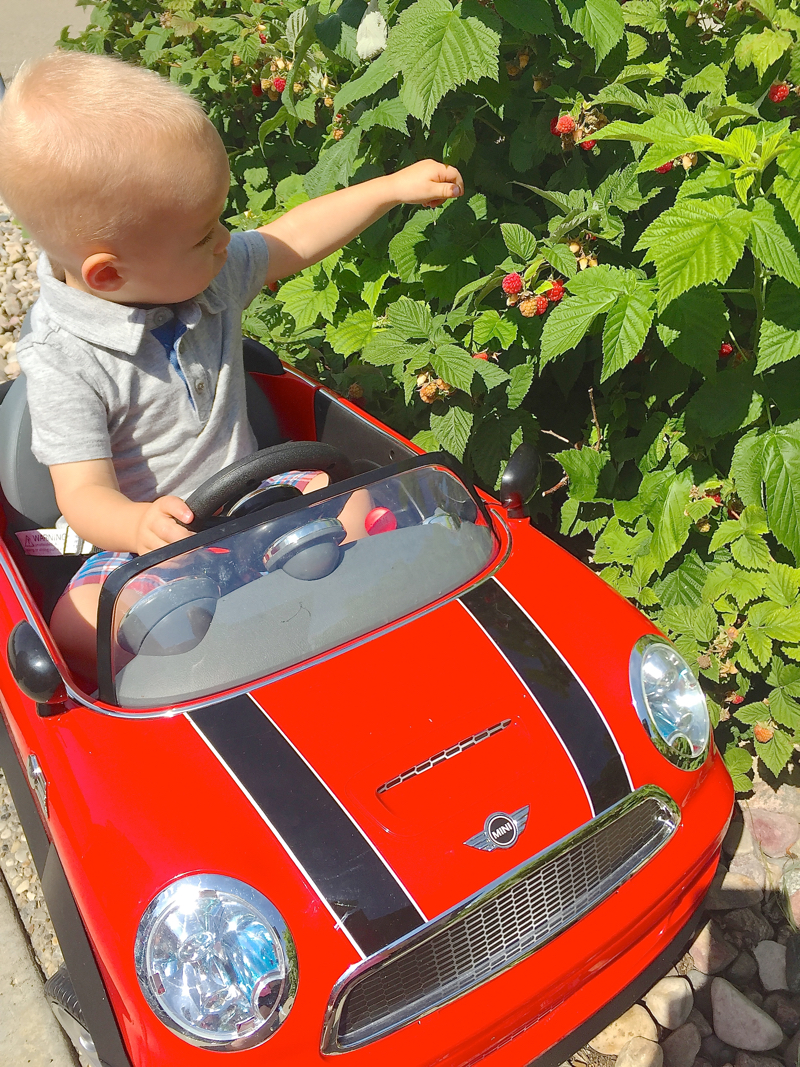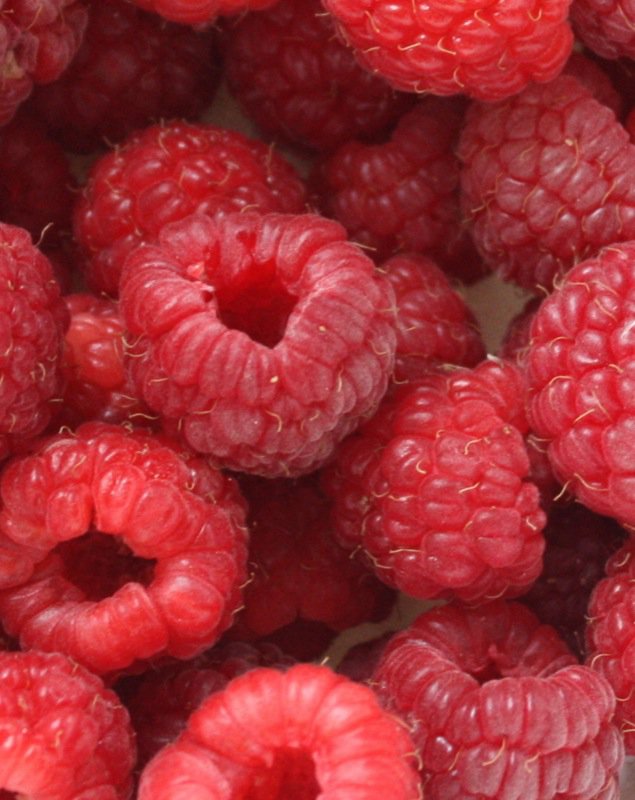 I grow them in the space between the houses everyone puts rocks. Enough for our family for the year. Last year, Prince William would drive by for a berry in "Beep-Beep". This year, he has a new baby sister, Princess Eleanor, and cannot visit Gramsy and Deda. So, I revel in my berries and dream of when he'll be here to enjoy a Thermomix Raspberry Soufflé with us. Oooo, I can imagine it now: "Deee-lishus, Gramsy!"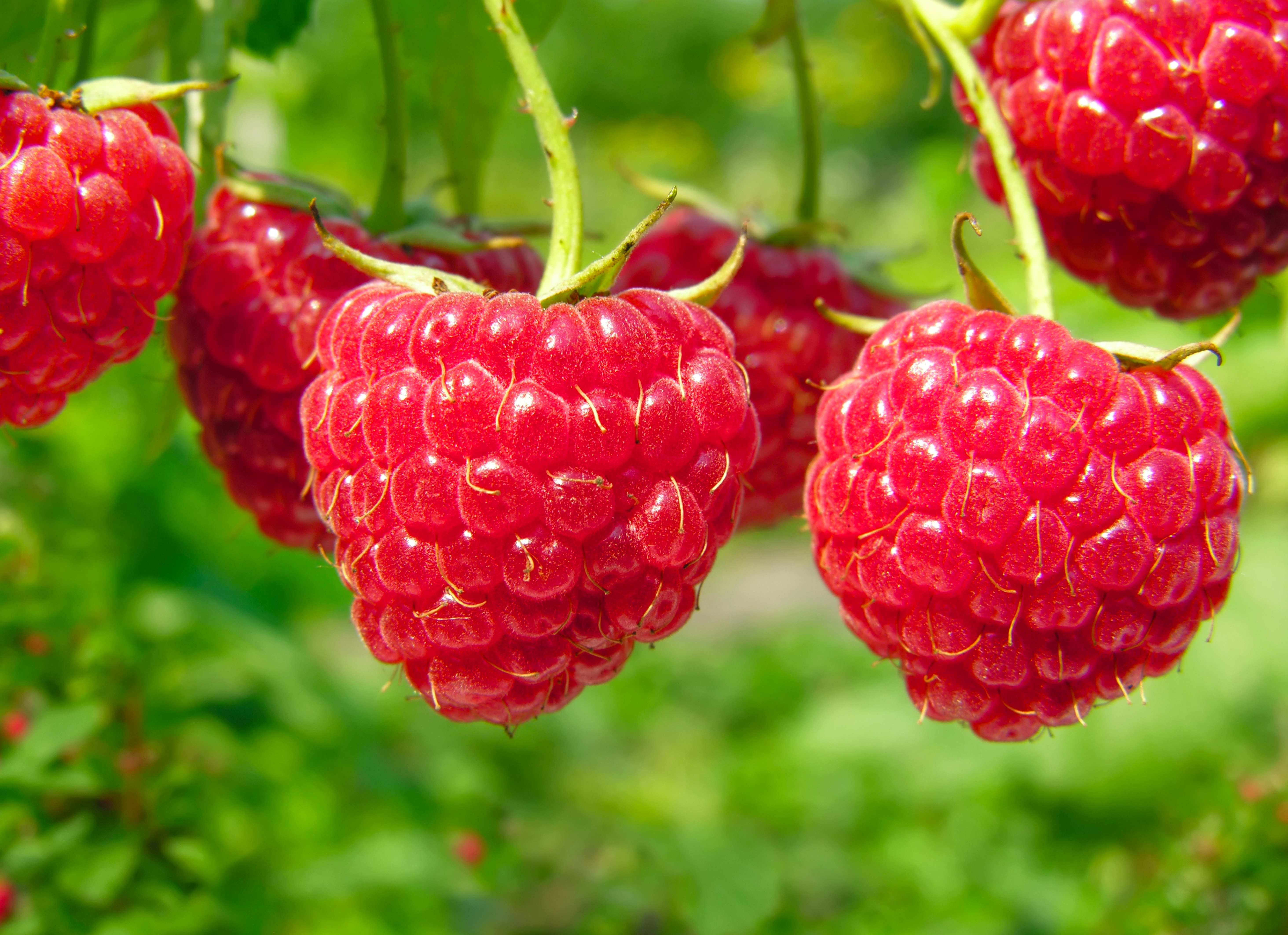 The most precious jewels in my garden. I cherish my time plucking the sweet tart sun-hot globules bursting with the flavour of summer from the prickly branches. I pull up a chair, and just take my time. And I dream. I dream I live on a farm and am twenty and young and strong and healthy…. and have my entire life ahead of me….

But, if that were true, I wouldn't know how to make the Thermomix Raspberry Soufflé with such flair! Nico Moretti adds small chunks of hard nougat which offer a contrasting textural crunch to the lucious light and lively interior, but it can make the soufflé a bit too sweet. I added half the amount he suggests in his recipe, then found it a bit tart. Either way, you can adjust the sweetness with a tart coulis or the tartness with a sweet coulis.

I find a little dab of raspberry coulis trickling through the fresh passages of this eggy delight to be my personal addition to this inspiration.

I have 12 in my freezer as I write. I have served 12. We had our first, hopefully annual, Thermomix Regional Consultant Retreat last weekend of July and cooked up a storm together. I presided over the first cooking experience which was our Saturday lunch and could not resist passing along the inspiration gifted to me by Nico at his Cooking Class in Vancouver in June. I prepared his Mojitos, his Gnudi (and Jamie Oliver's Gnudi – Nico's were better!) with his Tomato Sauce. I made his fabulous make ahead and freeze Gourgeyers and then, served this Thermomix Raspberry Soufflé for the luncheon finalé! Thank you. Thank you. Thank you very much.
Thermomix Raspberry Soufflé: Making the "Raspberry Jam"

Freshly picked berries, but frosen work just as well, and sugar are added to TM bowl with lemon juice.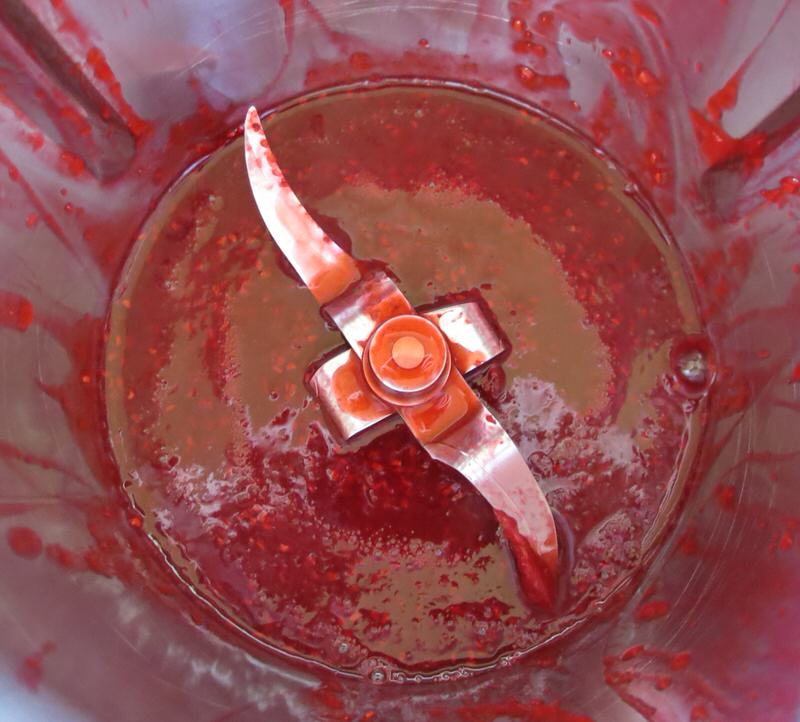 Combined and cooked together…

A little cornstarch slurry is added to the bowl as the berry-sugar mixture is whisked and stirred.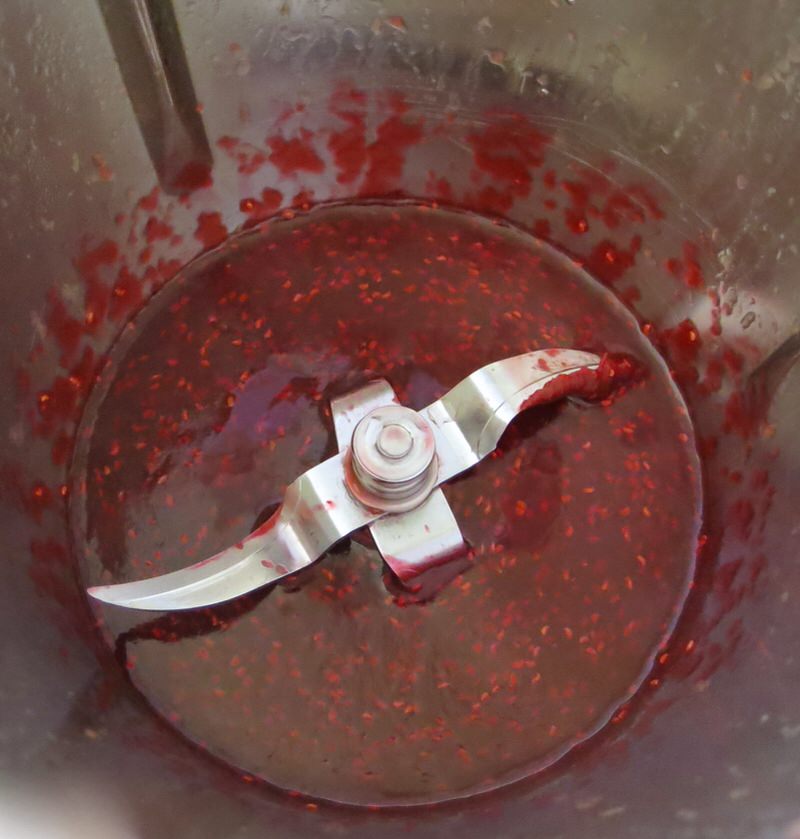 The "Raspberry Jam" for the Thermomix Raspberry Soufflé is ready to transfer to a bowl and set aside to cool.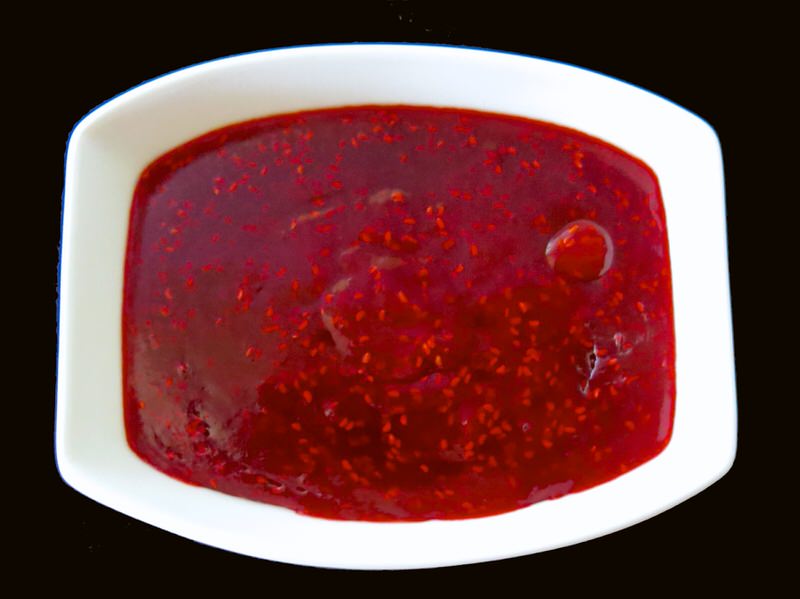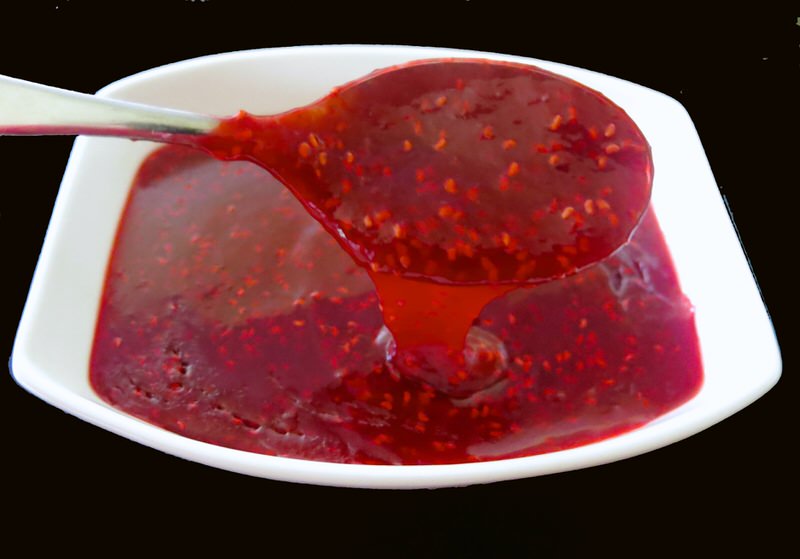 Thick. Ooey-gooey. When this cools, this "jam" works to provide significant structure as well as flavour to the Thermomix Raspberry Soufflé. This is why it doesn't fall.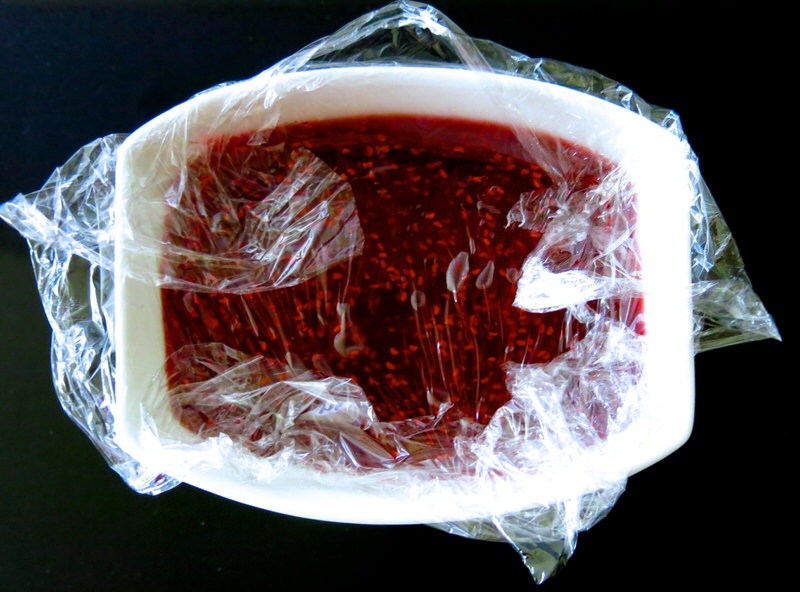 I cover it and set it in the freezer for 45 minutes, or it's perfect to make a day ahead and be ready in the fridge.
Thermomix Raspberry Soufflé: Preparing the Ramekins


I get so excited when I can find simple, attractive, functional oven and freezer proof containers at the dollar store for fifty cents a pop. Perfect for so many things. I have 24 if you live nearby and want to borrow a batch. But, be forewarned. You break any, and you must afford to replace. Buttered and sugared. That's it.
Thermomix Raspberry Soufflé: Making the Meringue

Nine egg whites. Nico's recipe says 8. Nine works well and makes it 12 instead of 11 for this size of ramekin. Cream of Tartar, sugar – not too much, as there's the nougat.

The idea is to have a textured crunchy bite now and then and the nutty sweet nouget fits the bill, but only when "coarsely chunky", not as above. Two seconds works best.

Ensuring a spotless greasefree bowl is essential for whisking eggwhites anywhere. Nico's tip: a litre of water with 30 greams of vinegar in the TM bowl for 10 minutes at Varoma speed 2-3. Dry very well. Works every time.

Once foamy, add the Cream of Tartar.

Slowly, slowly, sugar through the lid….

What gorgeous fluffly puffy whites.
Thermomix Raspberry Soufflé: Putting it all Together to Make the Soufflé

The raspberry base is well chilled and firm. Running a fork through it to loosen it up, works well.

Then into the TM bowl for a whiz…

One quarter of the whites back into the mix for a gentle, oh – ever so gentle combining…

All three parts: whites, raspberry concoction, nouget.

Combining without losing the air in the whites is essential. Fold up and over. Up and over. Gently… gently… it's enough!

Plop portions in the ramekins, leveling each with a table knife and clean each edge immaculately to enable a clean rise.
Thermomix Raspberry Soufflé: To Freeze or Not to Freeze

Then, freeze or bake. Freeze? Or Bake? Yup. Freeze or Bake: 14 minutes at 400 degrees if not frozen and 15 minutes at 400 degrees if straight out of the freezer. Either way, the Thermomix Raspberry soufflé is a show-stopping spectacular celebration of friendship and a grand finalé at the end of a lovely meal.
Thermomix Raspberry Soufflé: Serving and Presenting the Soufflé

As I am a Raspberry Fiend, I also prepared a simple Raspberry Coulis to accompany the Thermomix Raspberry Soufflé. Mint for colour (and I love the flavour, too) and Fresh Raspberries for garnish.

A dusting of powdered sugar is so pretty.

The caramalized crust on top contraasts perfectly with the sublimely soft light warm moist texture of the flavourful sweet-tart soufflé. And the sauce?

A flavour bomb.

For the Recipe, you will need to buy Nico Moretti's Delicious Journeys Cookbook here. It is out of print right now, but will be available in October 2017, so you won't have to wait long. Put it on your calendar so you won't forget to order it.
Meanwhile, I offer you my simple Raspberry Coulis Recipe.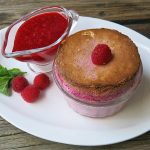 Raspberry Coulis
A very simple fresh Raspberry Sauce as versatile as one's imagination.

Ingredients
600

grams

Raspberries, fresh or frozen

200

grams

Sugar
Instructions
Combine ingredients; place in chinois and strain overnight

Press gently to release all juice from the chinois, leaving the seeds behind

Store in refrigerator for up to 2 weeks, or freeze for later use.

Thermomix Raspberry Soufflé: Save to PINTEREST…. so you can find us again, with ease!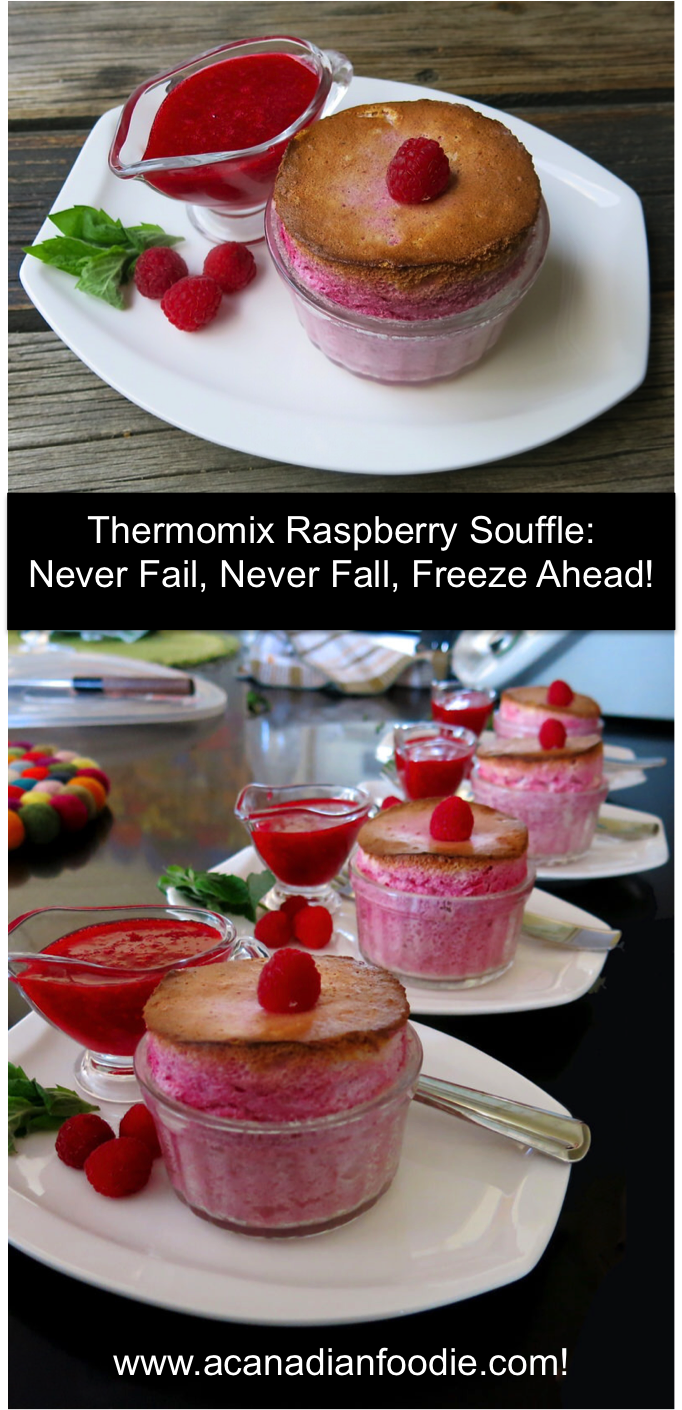 Half of the amount of sauce in each little pitcher is plenty.