Dragon Beard Candy Master Johnny Chin Demonstrates this Ancient Art in Montreal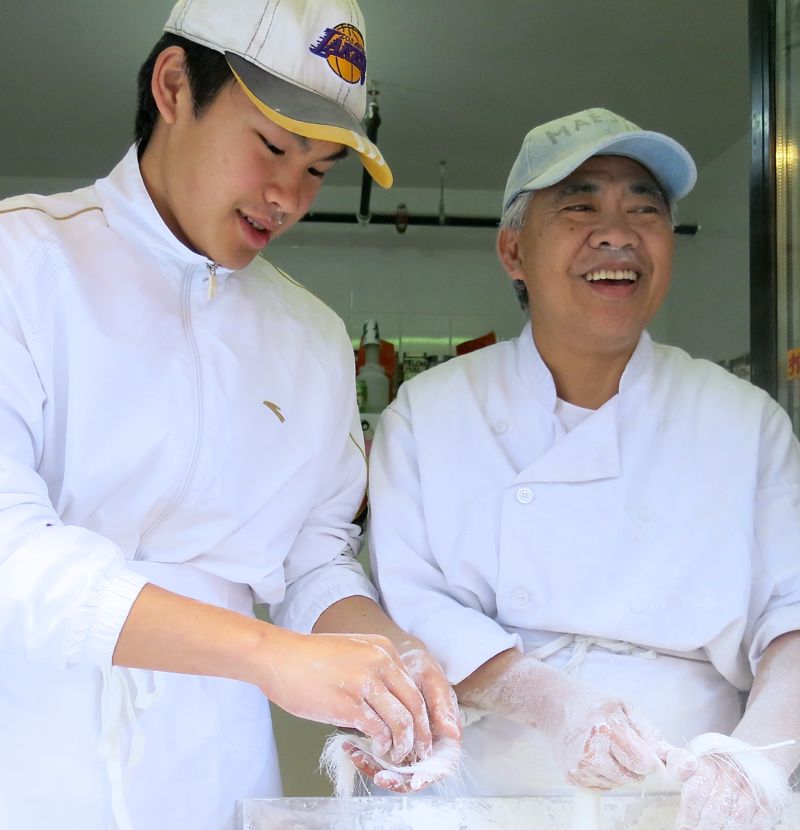 The son apprentices at the hand of the father: that is a long lost tradition in our culture, for the most part, and warmed my heart to see it in Montreal at the onset of a food tour Vanja and I took while there for the Slow Food in Canada Conference 2015. Johnny Chin is one of the few living Masters of the ancient art of Dragon Beard Candy making. He was one of only four masters of this art in China in 1991 just before he moved to Montreal. Chin's brother learned from one of the two remaining masters after paying him $5 000 to share this sacred knowledge. In turn, he taught Johnny. This delicacy was exclusive to royalty in the Han Dynasty over 2000 years ago probably because of the complex process involved in making it.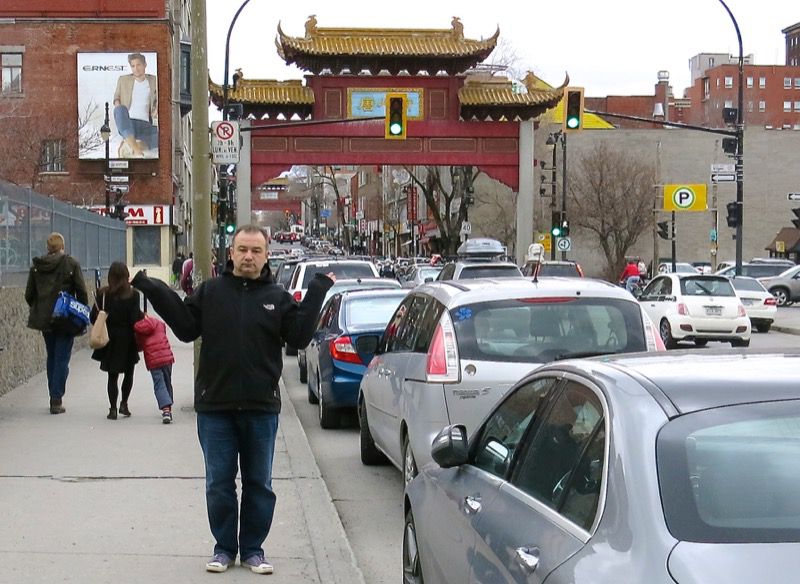 The Slow Food in Canada conference this year was an exceptional gathering of like minded leaders across Canada. The meetings were extraordinary and filled my soul, but there was not any sense of Montreal as a place taste-wise during our meetings, so Vanja and I booked a food tour with Fitz& Follwell Co. as it was the only tour possible the morning we decided to make it happen. The first stop: Chinatown.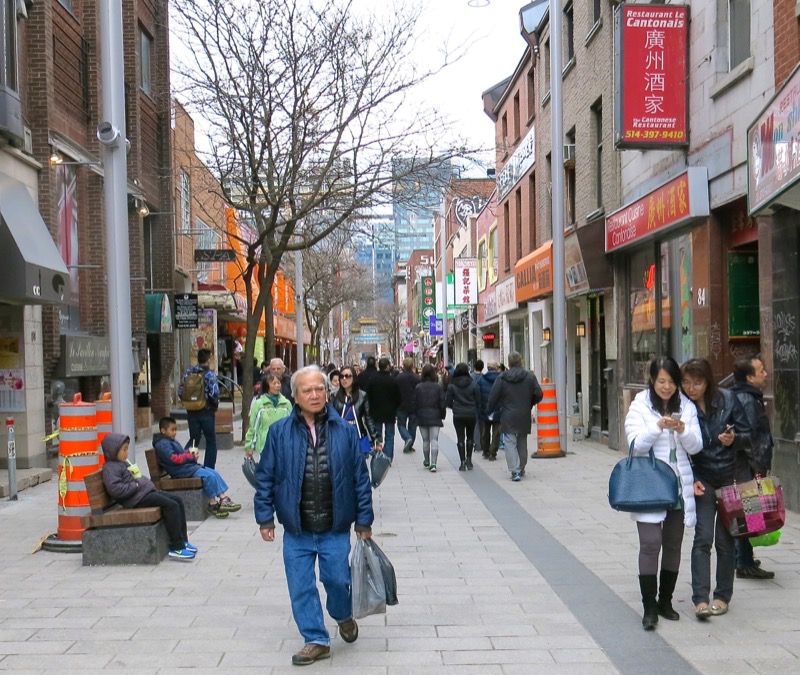 The Dragon Beard Candy booth is just down the street to the right, but we didn't know that. We had met our guide and the one other couple that joined us, and were just taking it all in. I have been to Montreal a couple of other times, but not to Chinatown. It is not big, but it is lively! I was delighted to find it and be guided through its streets.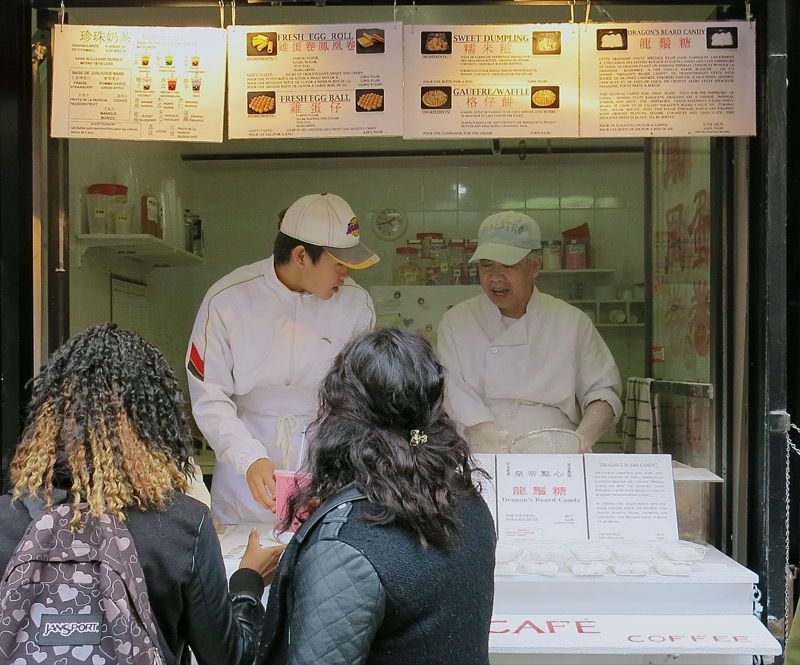 Our guide, Danny, stopped for a minute and watched these two… then stepped in closer. We had no idea what we were about to experience. The posters above advertise sweet dumplings, fresh egg rolls, and a variety of other Chinese street food snacks along with Dragon's Beard Candy.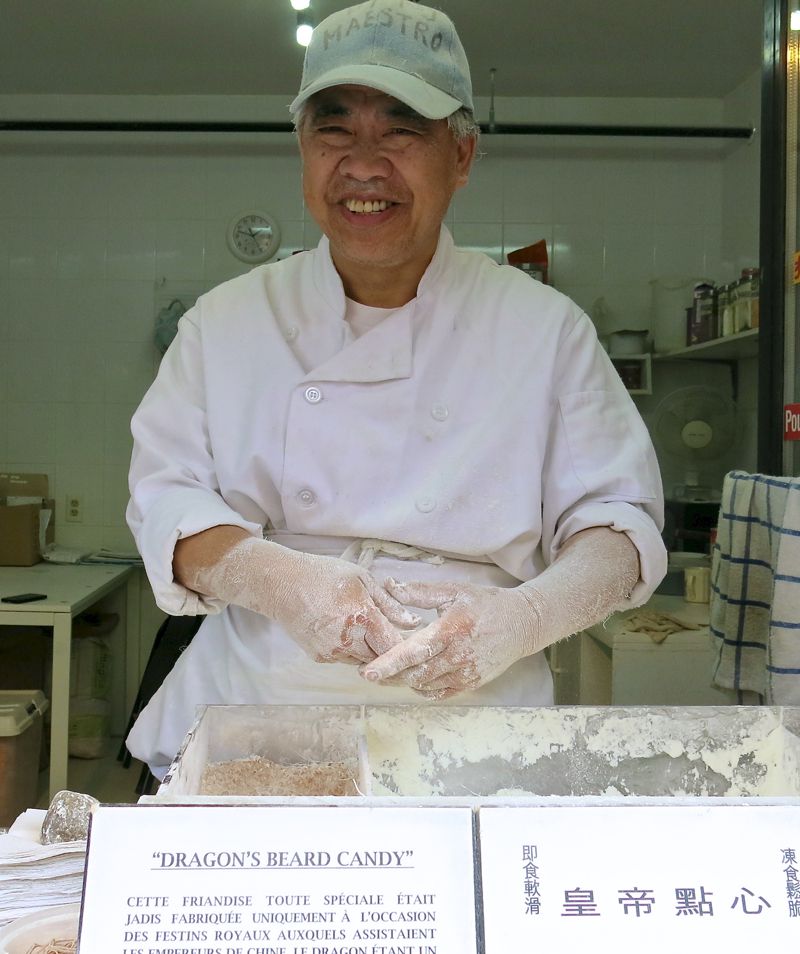 This was our lucky day. We arrived just in time for a demonstration from the Master himself, which according to Danny, is rare.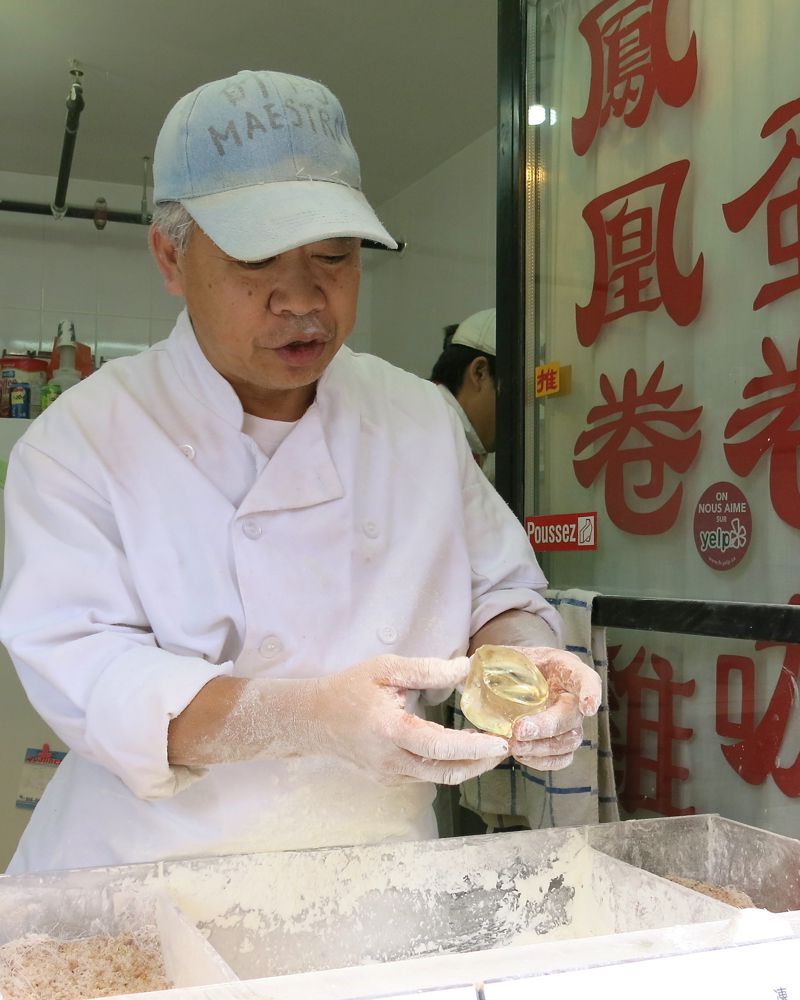 It was immediately apparent that Mr. Chin likes to perform for an audience and is skilled at it! The lump in his hand is a lump of sugar and maltose syrup that has been boiled and melted until thickened (which takes about 5 minutes), and then "chilled" until a solid state is reached (which takes about 10 minutes), but "the lump" is still flexible or elastic and likely quite hot, or at least, warm.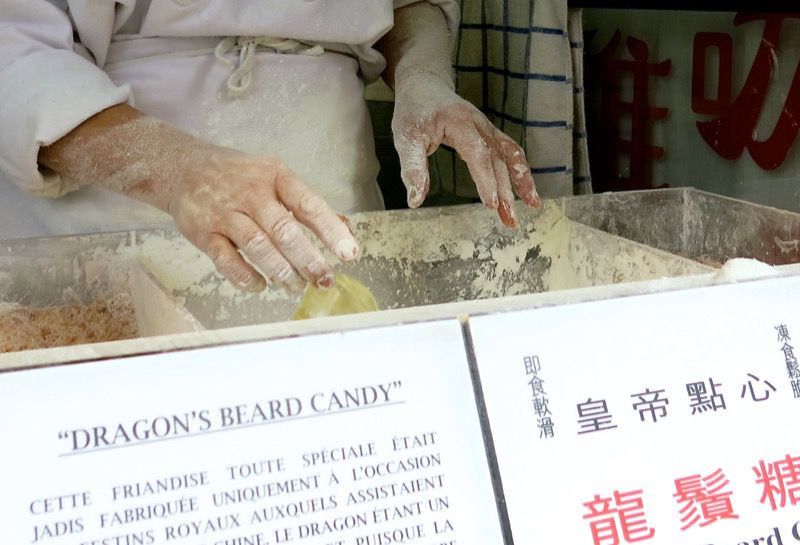 Into a mass of toasted glutinous rice flour it went. I thought it was icing sugar, but I was wrong.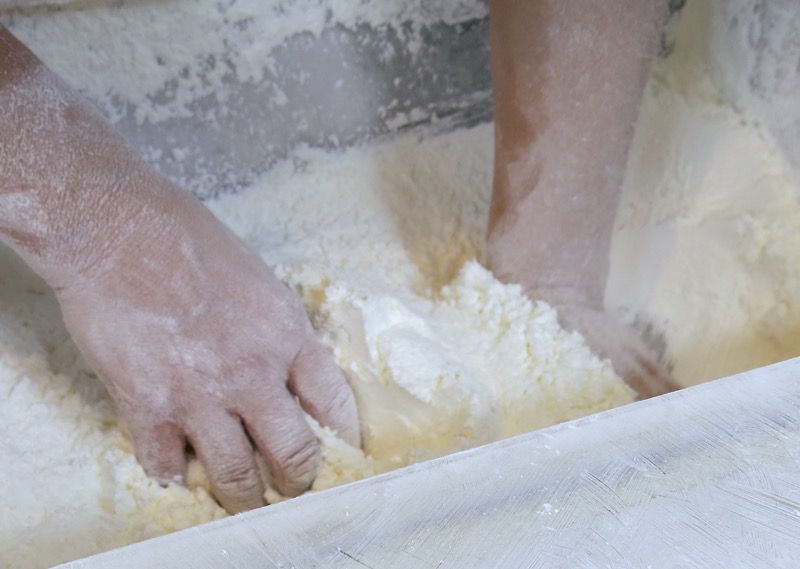 After thrusting "the lump" of flexible sugar into the flour, the Master formed a hole in the center of it and enlarged it with his hands…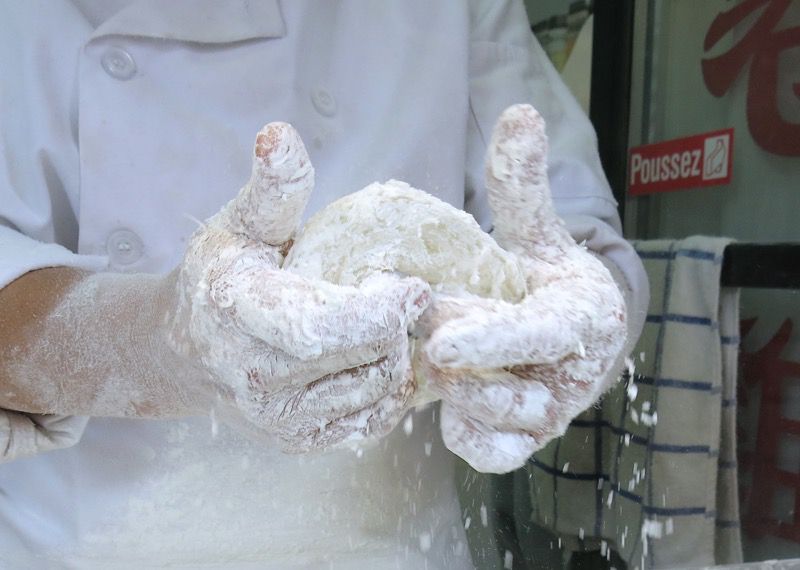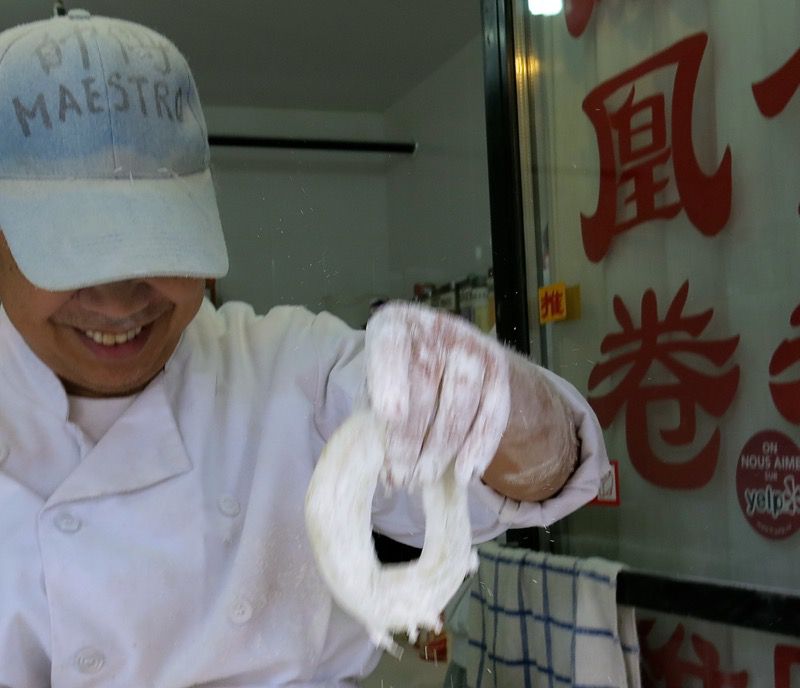 …joking about this being the "Chinese version of the famous Montreal Bagel".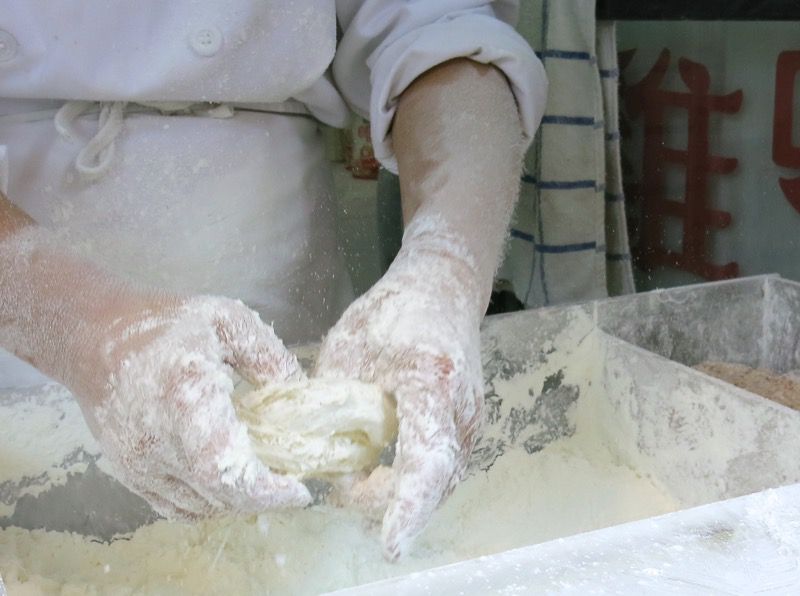 Then he asked us how our Math was. "Can you multiply 2×2, 2×4, 12×16 and so on?" He twisted "his bagel" into a figure 8 and then folded both circles in the 8 back onto each other. Can you see that in the image above? He repeated this process over and over having us chant the math along with him, though we couldn't really keep up as he was working more quickly that we could mentally do each simple calculation.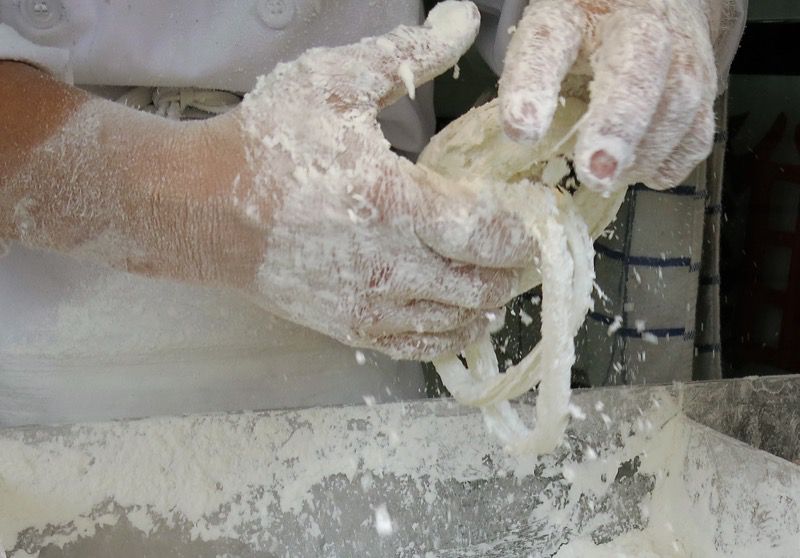 "Two time 16 is 32 and 2 x 32 is 64 and so on… "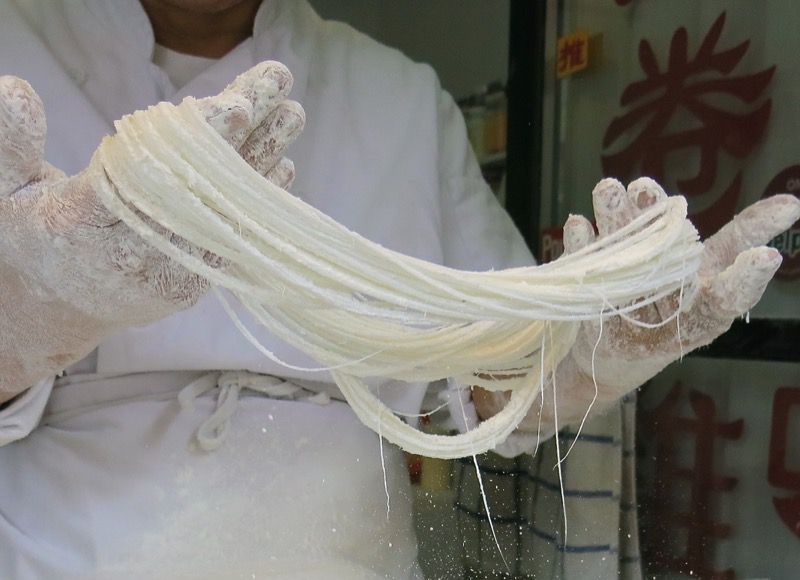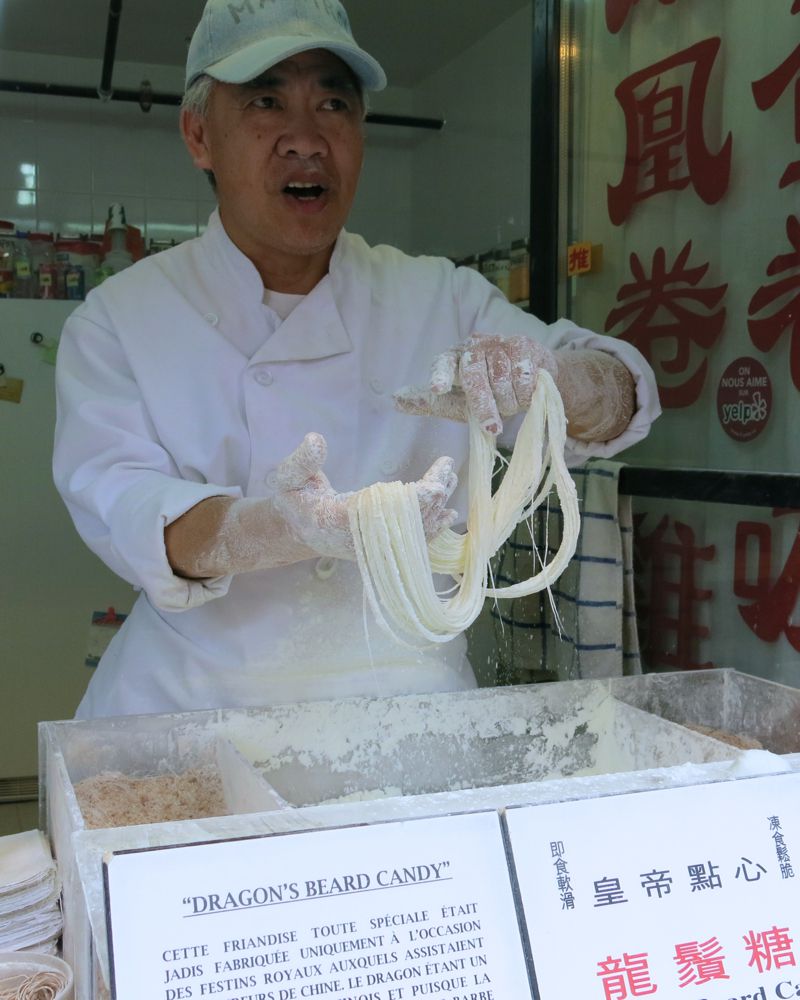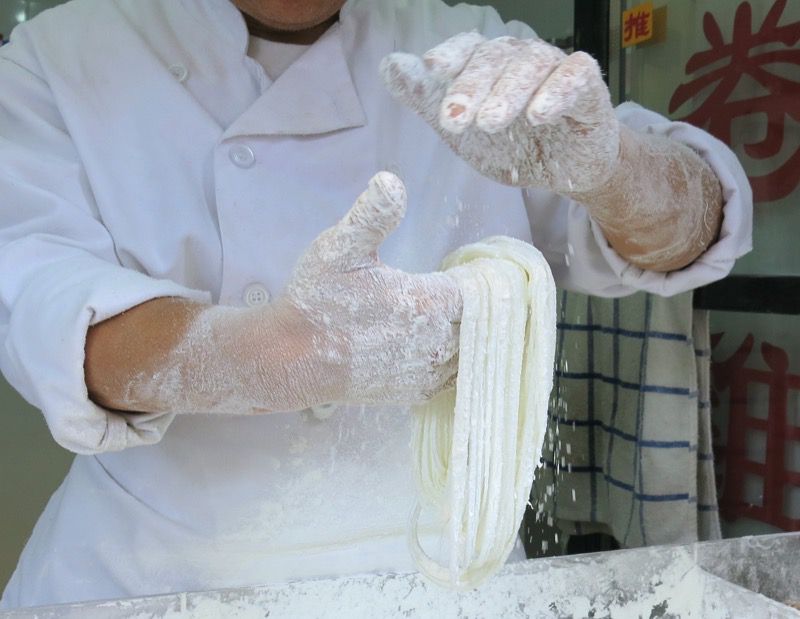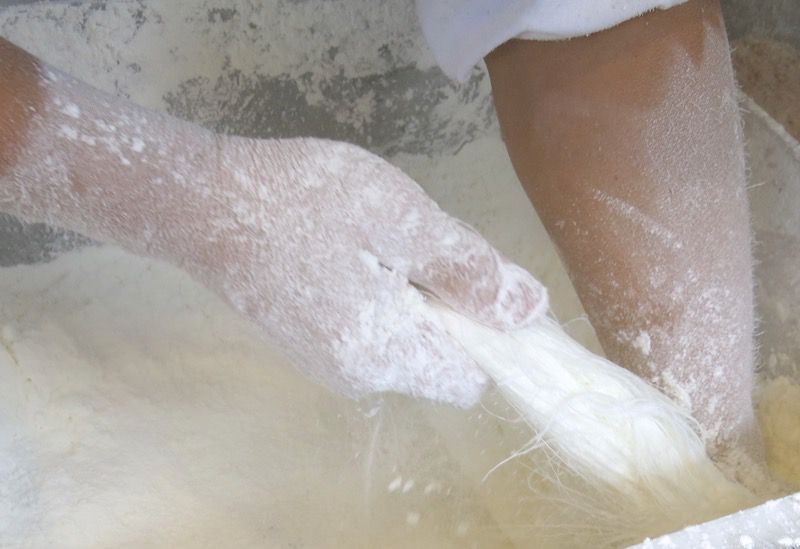 …until we got 8 thousand and something according to our Master.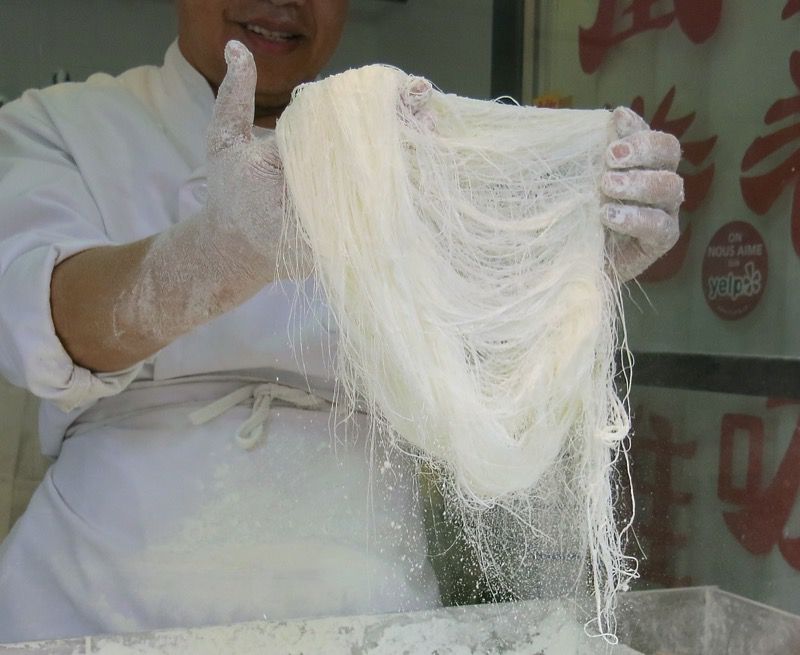 He just kept thrusting each fold back into the flour to ensure the strands were well coated and would not stick together…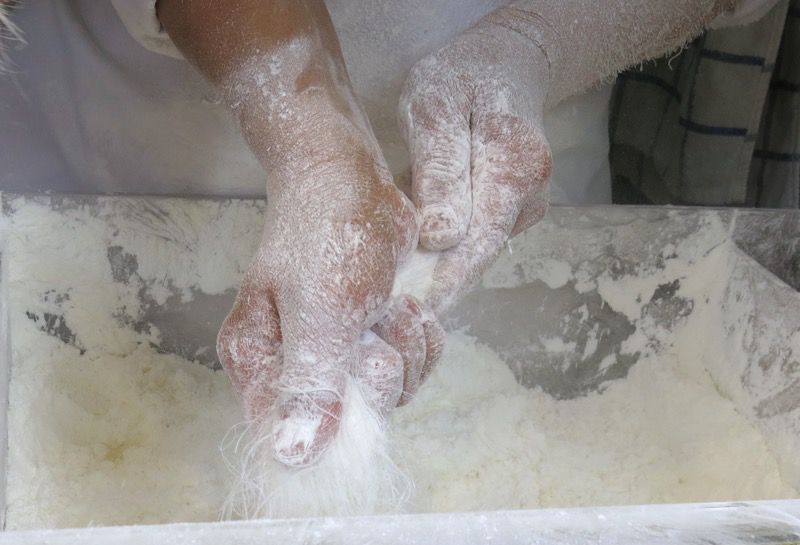 And, he just knew when he was done. At that point, he broke the circle, and started to pull chunks off of it….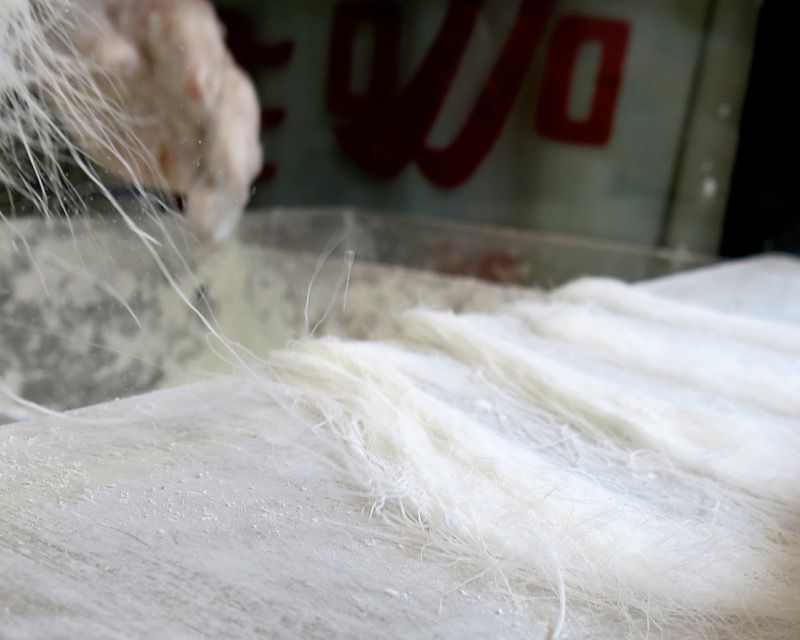 …. laying each side by side, as you can see, above.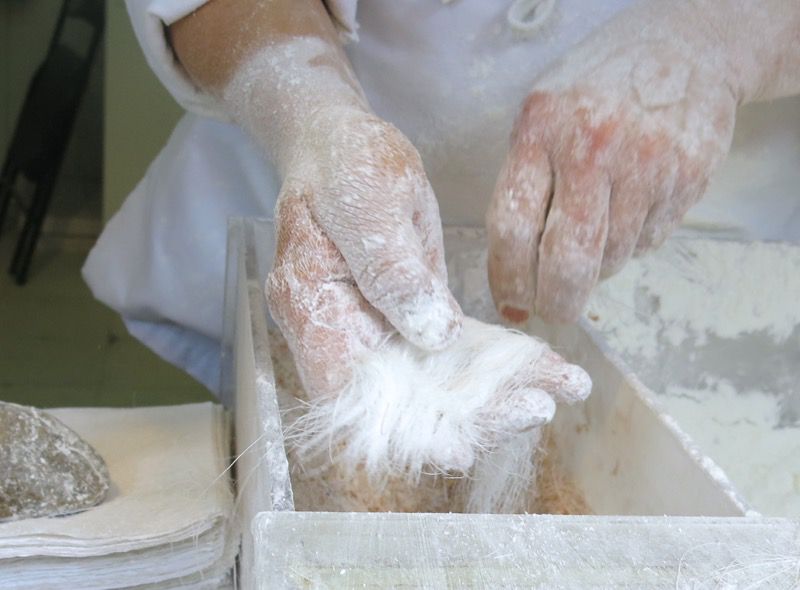 To the left of the rice flour was a bin of roasted caramelized peanuts. Apparently, Dragon's Beard Candy can be filled with a variety of fillings, but toasted sweet nuts are classic.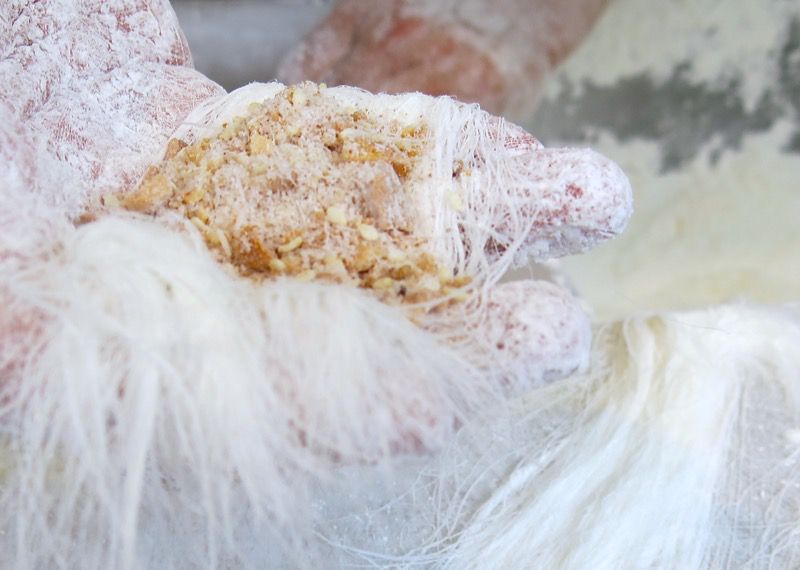 The spun sugar-like strands are very sticky (thus the glutinous flour coating) so it is easy to encapsulate a surprise in the beard by wrapping the strands around the filling.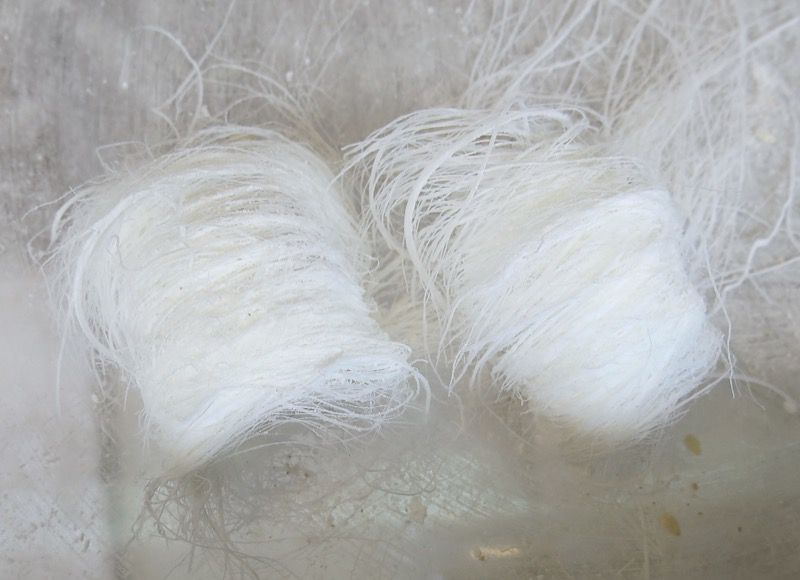 As these strands are sticky enough to adhere to one's face, the Emperor at the time apparently likened them to a dragon's beard. This was likely also as the dragon was the symbol for of the Chinese Emperor, thus calling the sweet treat Dragon's Beard Candy worked on all fronts.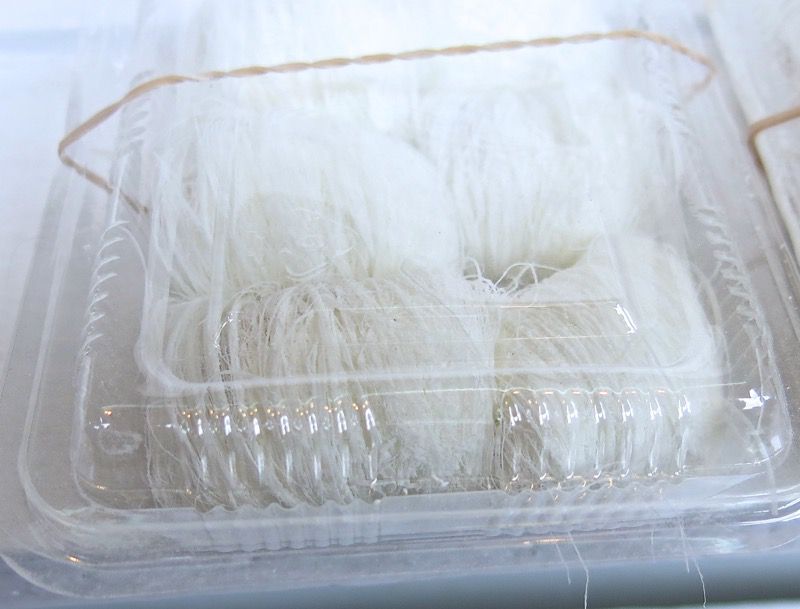 "How long will this keep?" Oh, two months in the fridge and away from humidity" was the answer. Nope. About 30 seconds is how long it keeps. It is delicious immediately after being made. That is the best moment for the mouth to feel the sensation of the wirey strands melt into sugary goop within seconds to reveal the surprise filling. We bought two packages to take home and to Europe for Vanja's family to try next month. It was a cool day and we toted them with great care, yet they were a melted puddle of nothingness upon our arrival to the hotel. Best to enjoy the moment at the moment. They cost $1.40 or $1.50 each, so we didn't go bankrupt, but we sorely disappointed that we were unable to share this pleasure and story with our families.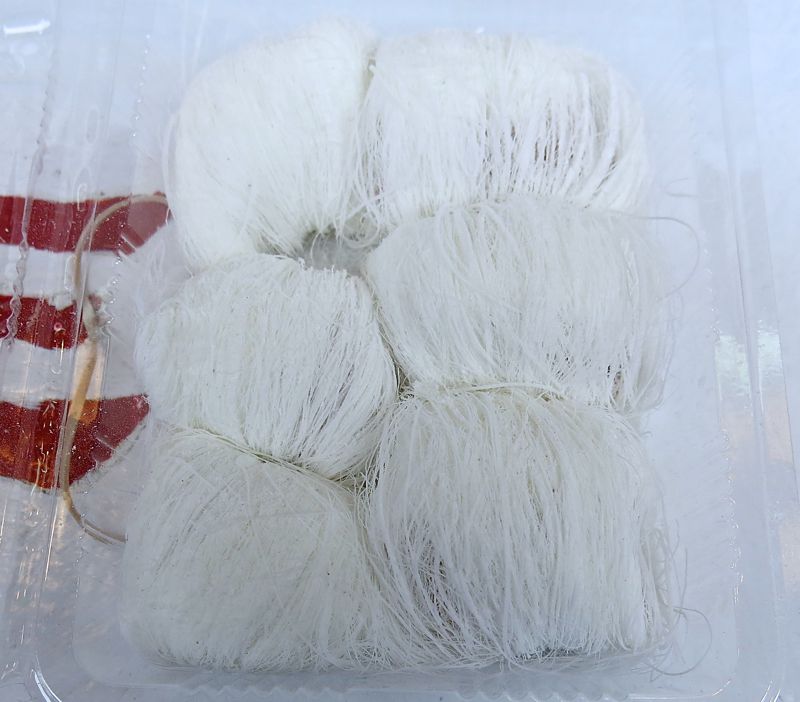 The art of making Dragon's Beard Candy was already rare, and then the process of practicing and passing on the art was banned in the 1960's during the Chinese Cultural Revolution when the Red Guard forbade the Chinese population to do anything that resembled the Han Dynasty. Hong Kong born Canadian, Johnny Chin, is one of the oldest and most famous Masters of this art in Montreal.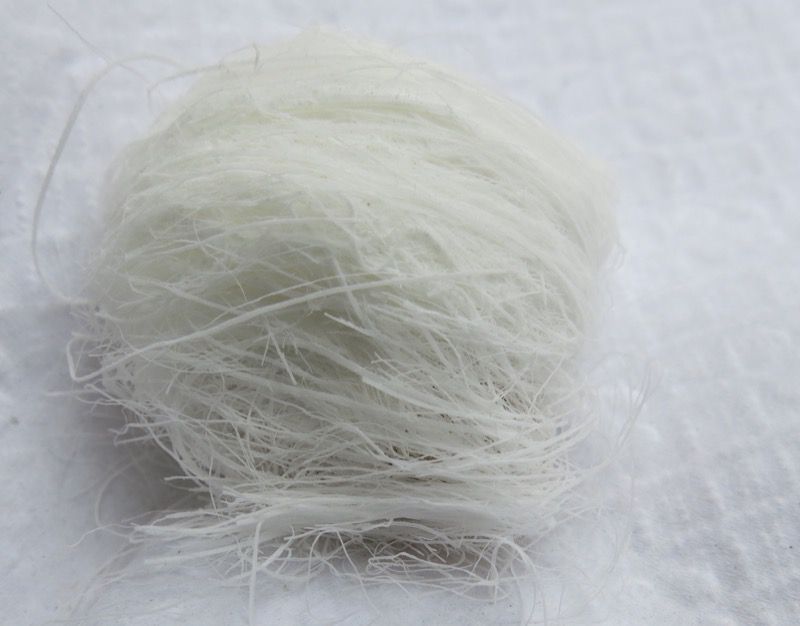 And this was just the first stop on our food tour!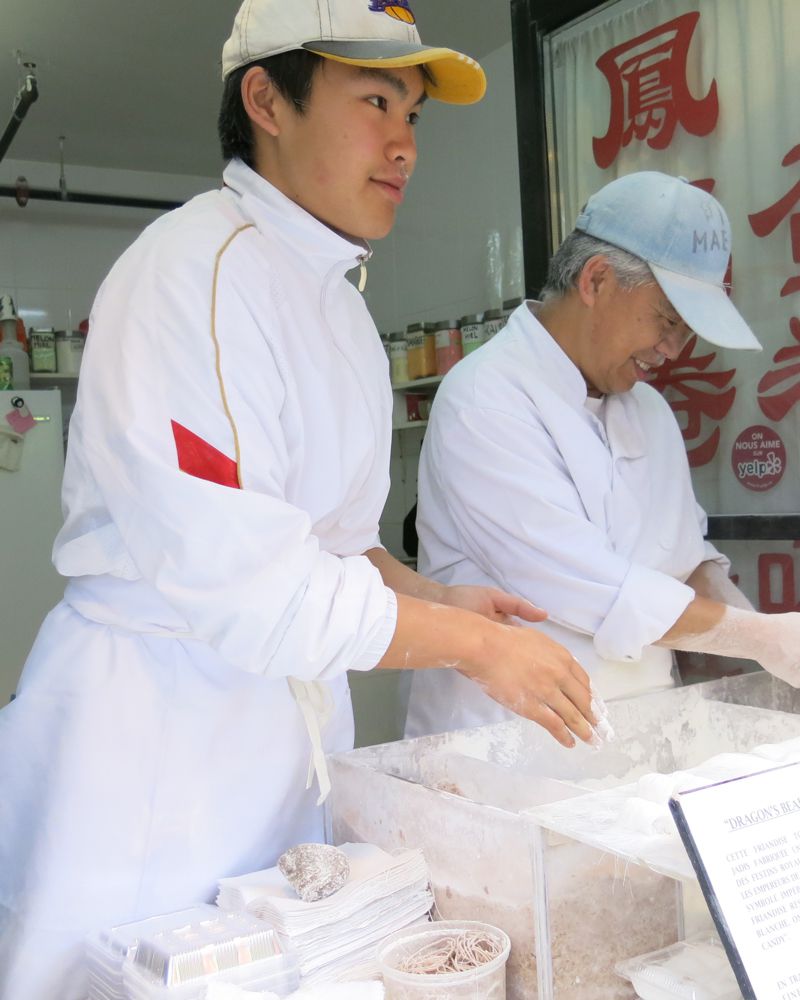 A father-son relationship is sacred, but in our modern times, the following of the father's footsteps is all too rare and it was an honour to witness this ancient tradition two ways on this day. What a proud Canadian I was, as well, standing on a street in Chinatown of Montreal, witnessing this ancient Chinese art presented by one of the most famous living Masters today. Oh, Canada! How I love our multicultural tapestry! Each of us is here with a story worthy of telling and listening to, no?