An Introduction to The Mediterranean Diet on Steroids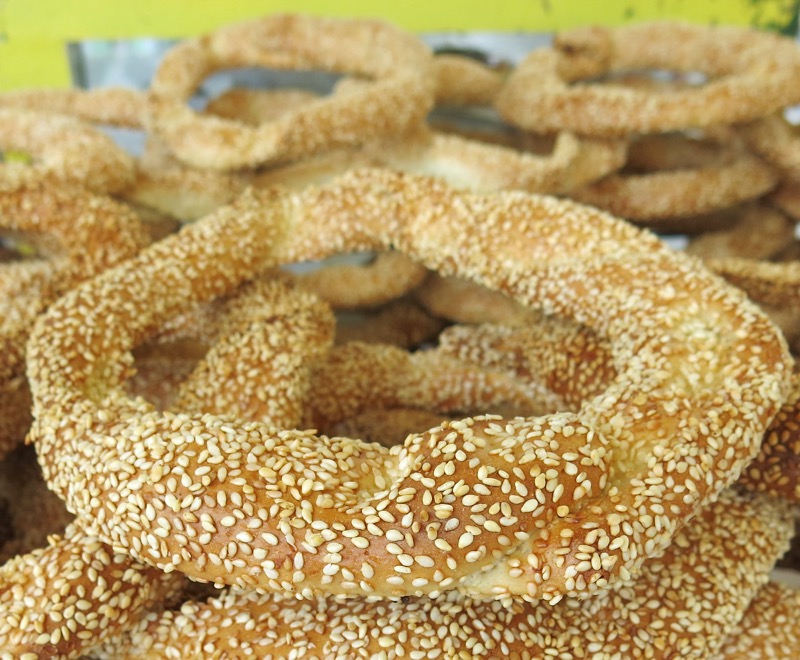 Be prepared. This is one of my signature "mega-posts". Grab a coffee. Not sure if this is a labour of love or insanity, but I certainly am wiser for the time invested. Getting the best food tour of any area we visit is very high on my priority list, when traveling. In the "old days", it was easy. There was only one food tour, if that. Now, it is tough to decide which one to take. Really tough. It is not just the company, but the guide. The guide is critical to any tour, and on this day, with Athens Food Tours (Athens Walking Tours) we had Evangelis forge through the city of Athens with us. True to his name, a crusader of the noble and historic food heritage of his country.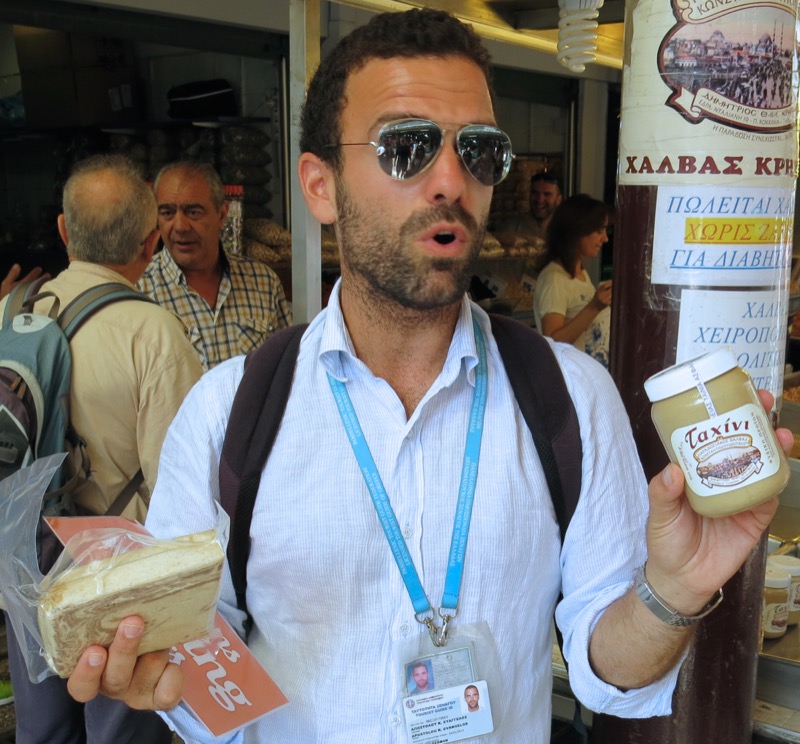 The first thing he said upon gathering the 8 of us taking the Athens Food Tour in the square below was that the people of Greece are a healthy and vibrant people because of their Mediterranean Diet. Due to the healthy lifestyle of the Greeks, Southern Italians, and the Spanish, the diet has been studied extensively. Primarily, the diet consists of vegetables and fruits, grains and dairy, fish, and very little meat. I did know this, yet in North America, it is the Greek meat dishes that are the most well known.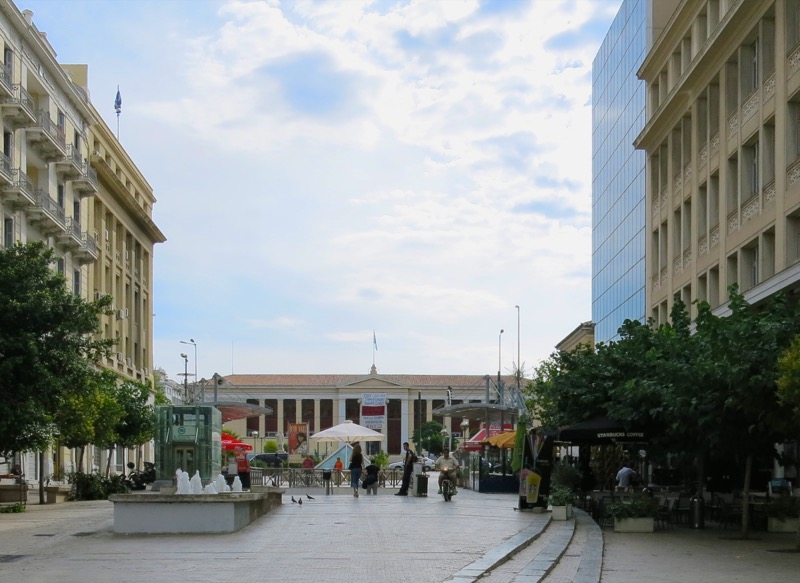 The Mediterranean diet is not a specific diet plan or diet program but a collection of eating habits that are traditionally followed by the people of the Mediterranean region. A high intake of vegetables, legumes, fruits, and unrefined cereals; a moderate to high intake of fish; a low intake of saturated fats, but a high intake of unsaturated fats (lots of olive oil); a low to moderate intake of dairy (mostly cheese and yogurt); a low intake of meat; and a modest intake wine. Yes, wine.
In 2013, UNESCO added the Mediterranean diet to the Representative List of the Intangible Cultural Heritage of Humanity of Italy, Spain, Portugal, Morocco, Greece, Cyprus, and Croatia
This way of eating was examined for the first time in the 1960's based largely upon the "food patterns typical of Crete, much of the rest of Greece, and southern Italy. In addition to "regular physical activity," the study discovered that the people in the area ate "abundant plant foods and fresh fruit was the typical daily dessert. Olive oil was the principal source of fat consisting of 25% to 35% of the daily calories (saturated fat at 8% or less).
Comparison of the Mediterranean Diet to The Canada Food Guide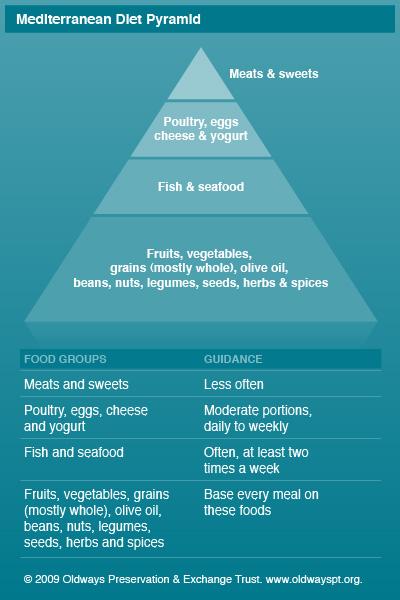 So if you haven't got it yet, The Mediterranean Diet emphasizes:
Eating primarily plant-based foods, such as fruits and vegetables, whole grains, legumes and nuts
Replacing butter with healthy fats, such as olive oil
Using herbs and spices instead of salt to flavor foods
Limiting red meat to no more than a few times a month
Eating fish and poultry at least twice a week
Drinking red wine in moderation (optional)
The diet also recognizes the importance of being physically active, and enjoying meals with family and friends.
Focus on fruits, vegetables, nuts and grains
Residents of Greece average six or more servings a day of antioxidant-rich fruits and vegetables. Grains in the Mediterranean region are typically whole grain and usually contain very few unhealthy trans fats. Bread is an important part of the diet; however, bread is eaten plain or dipped in olive oil, never eaten with butter which contains saturated or trans fats.

You will see dried fruit and nut vendors everywhere. Nuts are high in fat, but most of the fat is healthy. Because nuts are high in calories, they are not be eaten in large amounts, generally no more than a handful a day. The candied, honey-roasted and heavily salted nuts will not be found in the Mediterranean.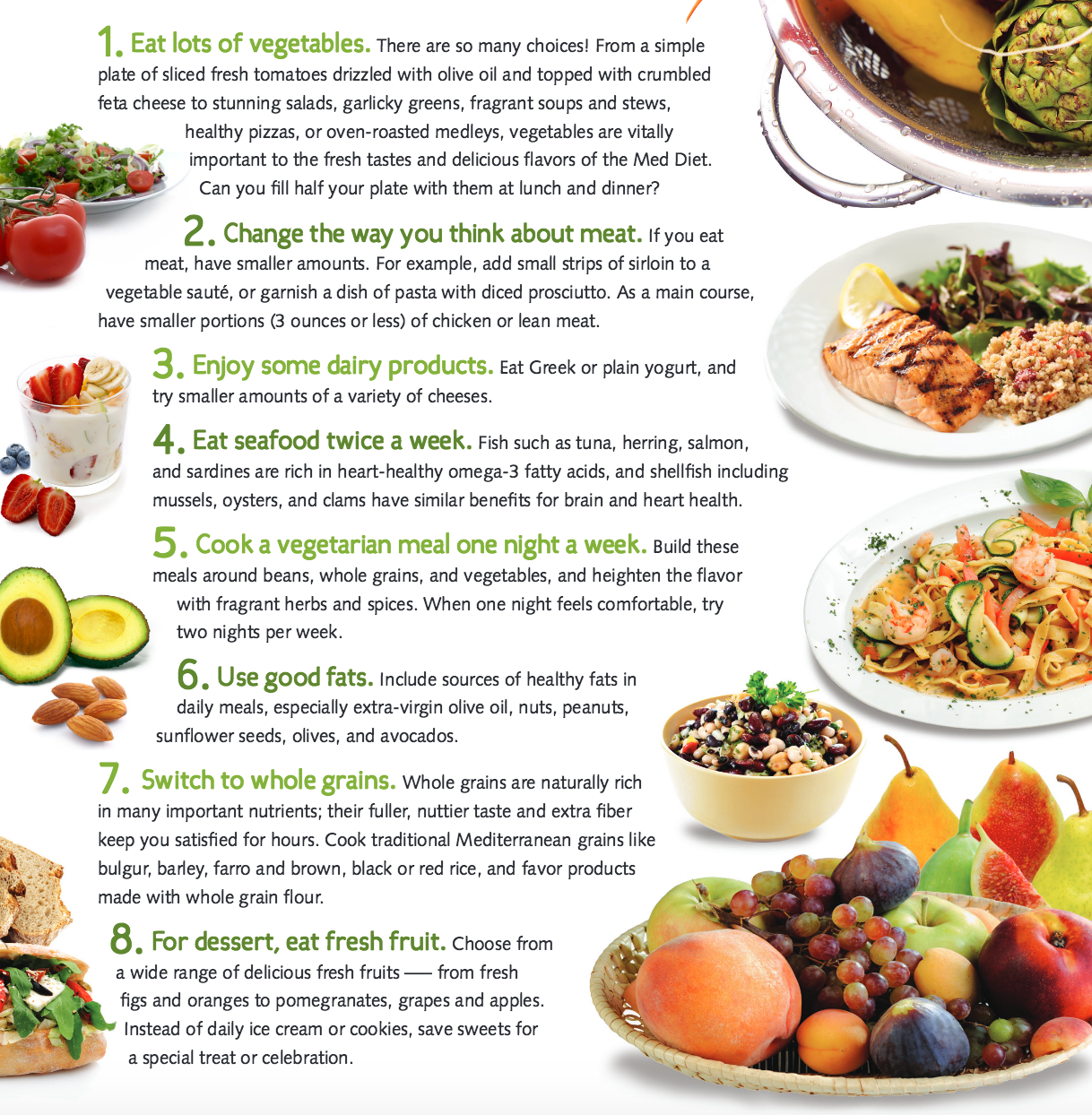 http://oldwayspt.org/resources/heritage-pyramids/mediterranean-diet-pyramid
Koulouri
I didn't spot a single hot dog cart in Thessaloniki, but there were a several umbrella-shaded vendors selling koulouri, or biscuit-like rings covered in sesame seeds. They are bagel-shaped, or maybe bagels are koulouri-shaped, considering these date back to the Byzantine era.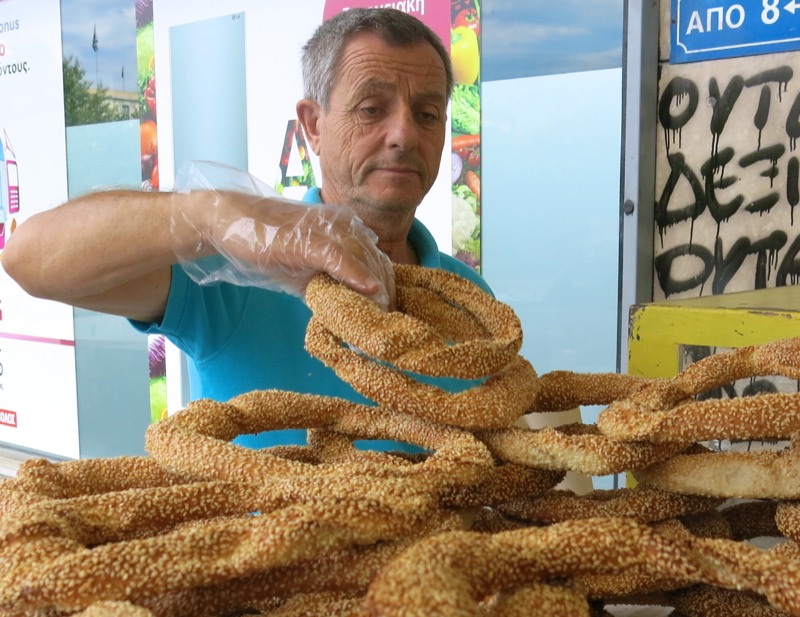 Unlike bagels, they yield more of a crunch than a chew on the outside. With my closest frame of reference to this Greek morning staple as a bagel or a pretzel, it was impossible not to compare. It was also impossible not to prefer both the bagel and the pretzel, as I love the chewy, yeasty heaviness of a each. Koulouri could easily be as addictive had I been raised on them. The cart we bought ours from is across the street, below.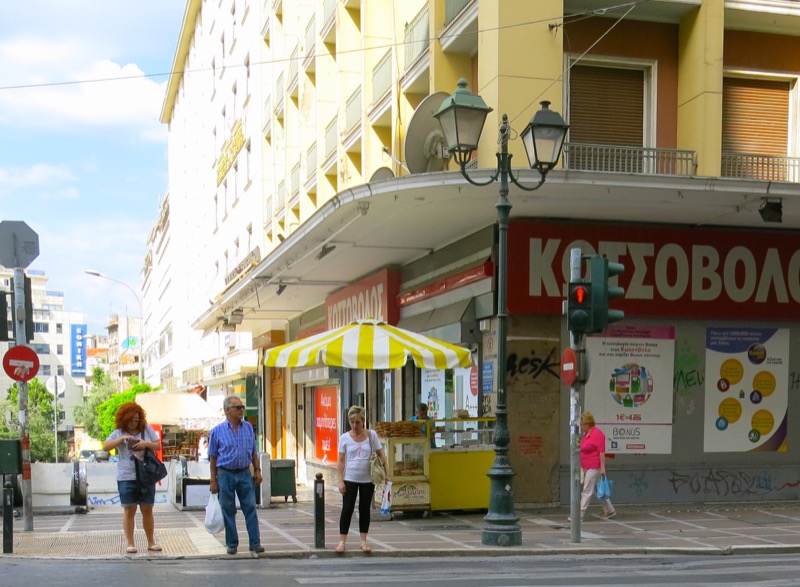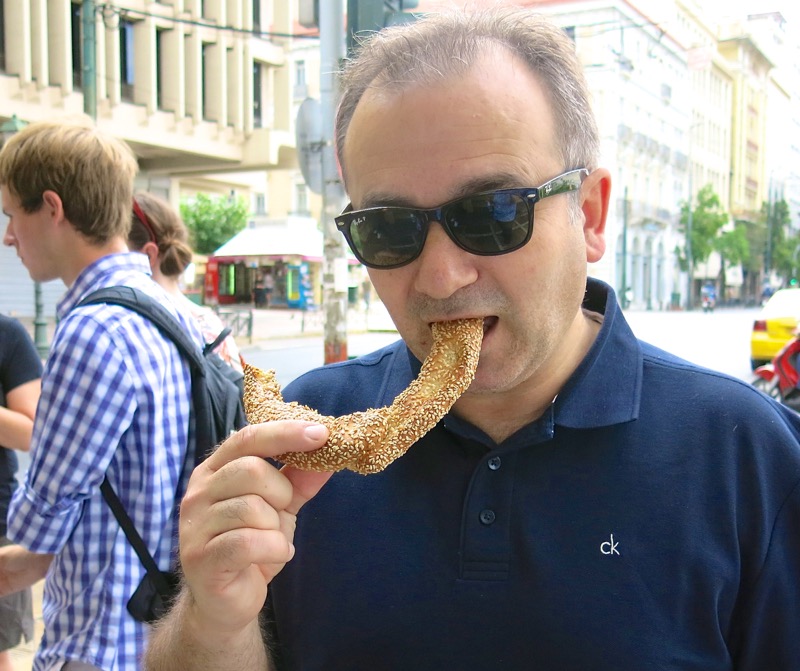 The crunch is as unexpected as the wispy fluffy interior. I craved a little salt but was taken with the vibrant fresh full on flavour of the sesame seeds!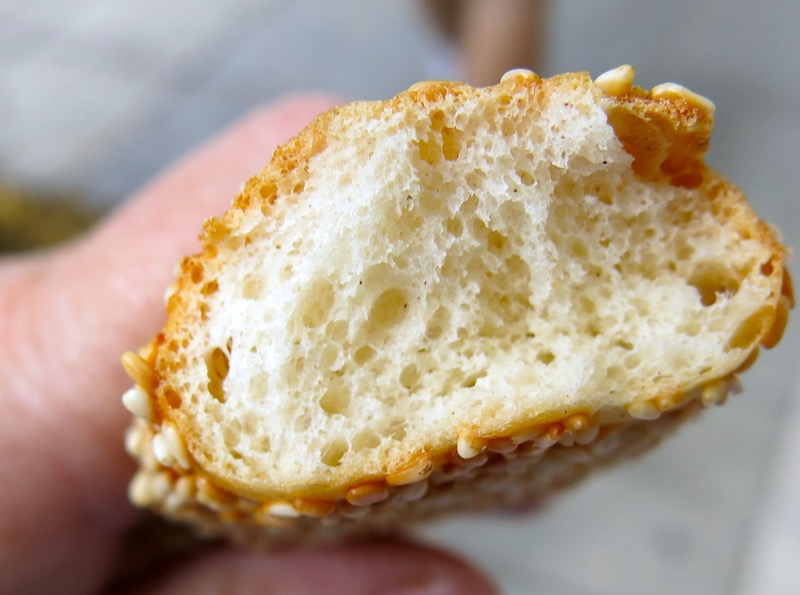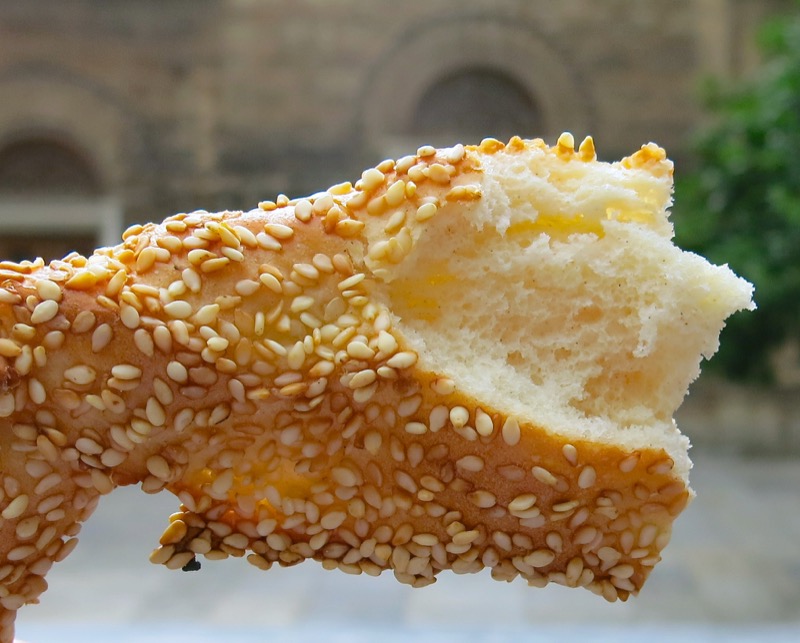 Evangelis explained that sesame seeds are a very important part of the Greek diet and that the very best sesame products come from the Island of Lemnos. I could find no supporting documents to support that claim, but I can attest to the fact that the jar of sesame paste I bought while there (the same one in his hand, from Lemnos) is fresh, bright, light and addictive: the best sesame paste I have ever tasted. None of the grocers I have visited since coming home carry any Tahini made in Greece. Not surprising as Greece is one of the largest importer of the product. Though it is made on the islands, there is not nearly enough produced to meet the demand of these seed and sesame loving people.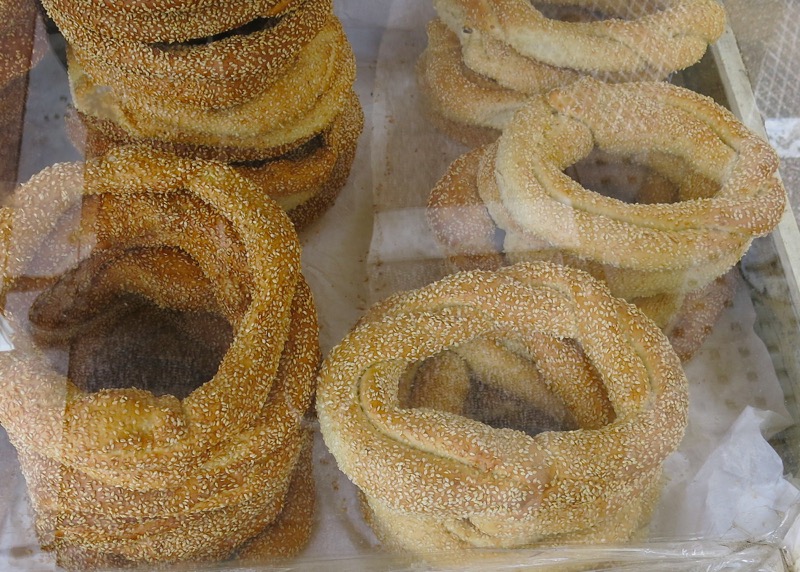 At .50 Euros each, this is a very delicious, nutritious and economical mid-morning snack, or as Evangelis said, "The Greek Breakfast". "Greeks don't eat breakfast. We get up and go to work very early. We have our coffee, but eat nothing. About mid-morning, you will see the streets fill with office workers heading for their favourite Kolouroui cart. That is what they eat and it tides us over until the end of our work day because it is so hot. No one wants to eat anything. After work, about 3 or 4 in the afternoon. Maybe 2, we sit outside for an hour or two and graze. There are a lot of choices. We usually eat nothing hot. We just have a little of this and a little of that. We call this Mezze. When the sun goes down and it is cool, which takes until 8 or 9 0'clock – and never before 9 o'clock, we will eat our evening meal. That is why we don't need any breakfast." There were many tastes that will live long in my Greek Taste Memory, but this is not one. It is, however, an absolute must for a try. At half a Euro, one bite will lead you deep into the culinary history of this country and guide your curiosity.
Bitter Orange
Driving into the city from the airport the night before, our driver identified the fragrant trees lining almost all of the major routes in and around Athens as orange threes. They are bitter orange trees that are never harvested by the public to the the deeply rooted cultural value of farmed food and the affects of pollution on food like this grown on city streets.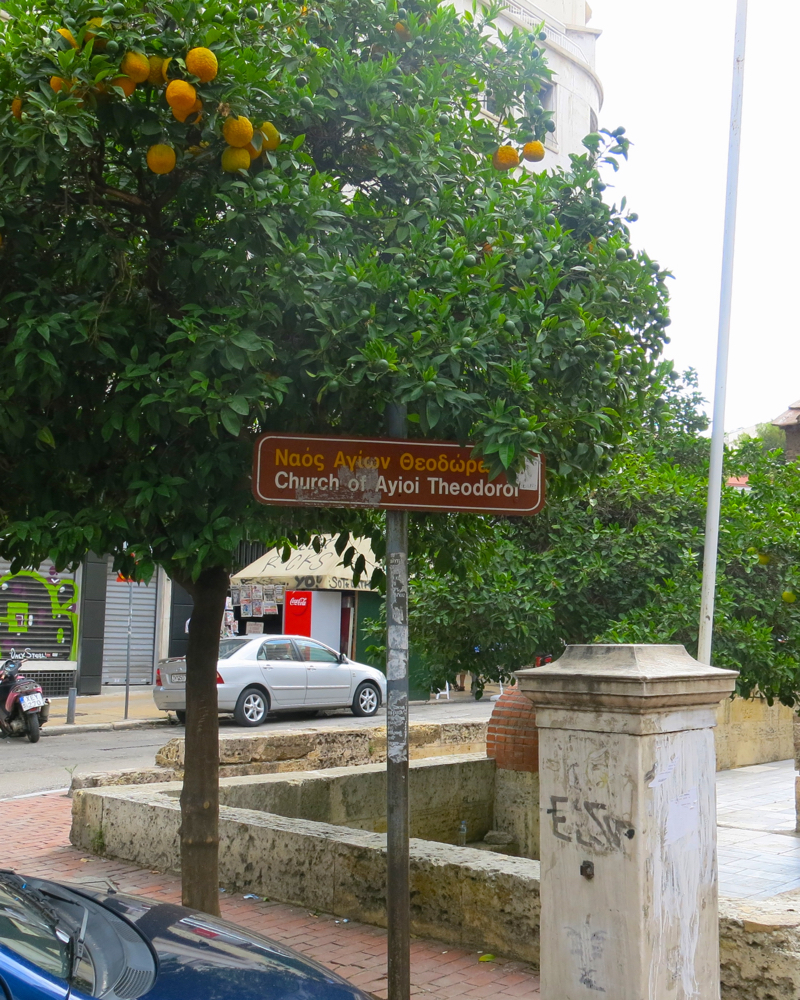 Evangelis told us that the rind and sometimes the entire fruit is preserved in sugar known as the γλυκό του κουταλιού, or spoon fruit, where an array of bitter or under-ripe fruits are turned into a syrupy dessert. As the bitter orange spoon sweet is typically served in Greece as a refreshment with a glass of water, sometimes together with black coffee and a speciality for guests, the bitter orange art project by Ino Varvariti and Persefoni Myrtsou served as an acute point of discussion. The intent of this 2012-2013 art installation was to identify the taste of the Greek Crisis created to initiate a dialogue about the economic crisis based on the experience of taste. These exceptionally hardy trees festooned along the vast cement metropolis offer the greatest splendor during the Christmas season as the deep green foliage supporting the bright orange baubles present promise and hope for the future of this very small and culturally significant country. Everything, everywhere holds meaning.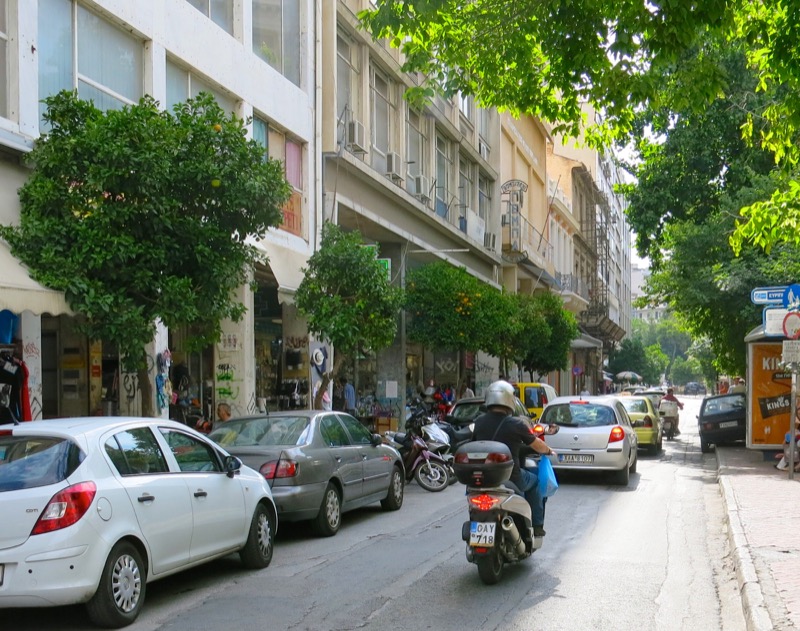 I was on a quest for the bitter orange spoon fruit our entire trip. I did find some in Kalamata, but by then, our bags were bulging. Oh, how I still crave, desire, hope and imagine the taste.
Loukoumades
Krinos opened in 1922, still makes traditional loukoumades by hand and is the oldest louloimades shop in Athens, famous for this traditional fried Greek specialty drenched in a honey-citrus syrup and sprinkled with cinnamon. Not just for the taste. Cinnamon aids digestion. There is little in Greek food that is added just because it tastes good. Eight of these little ditties is considered a serving for one with a strong little cup of Greek coffee, of course.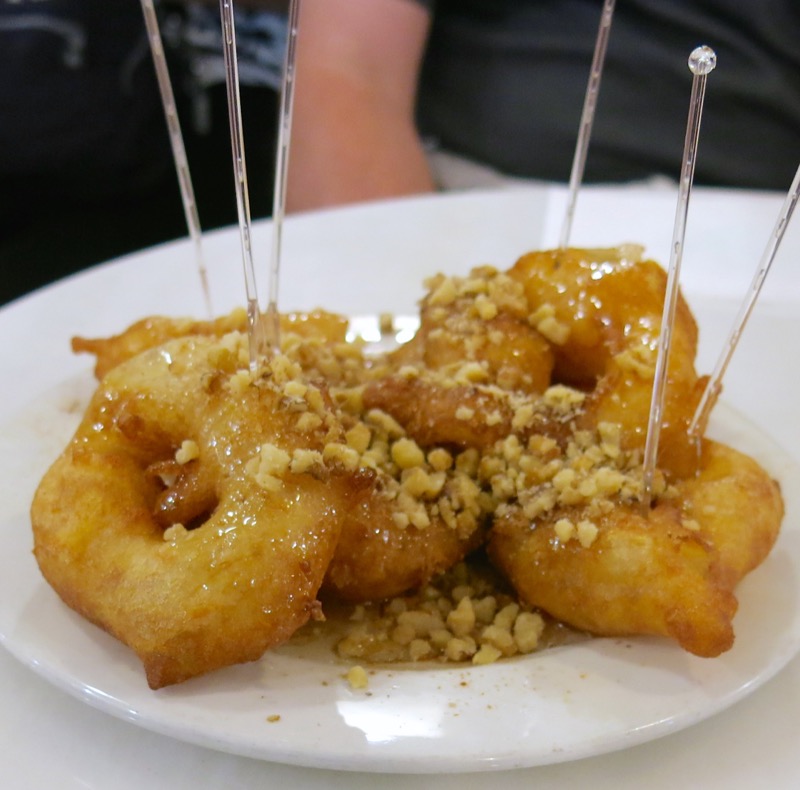 Krinos is amidst the shopping area near Omonoia Square and did remind me of the Greek version of Cafe du Monde sans the bulging line ups. It is self service shop also inside a beautiful neoclassical building.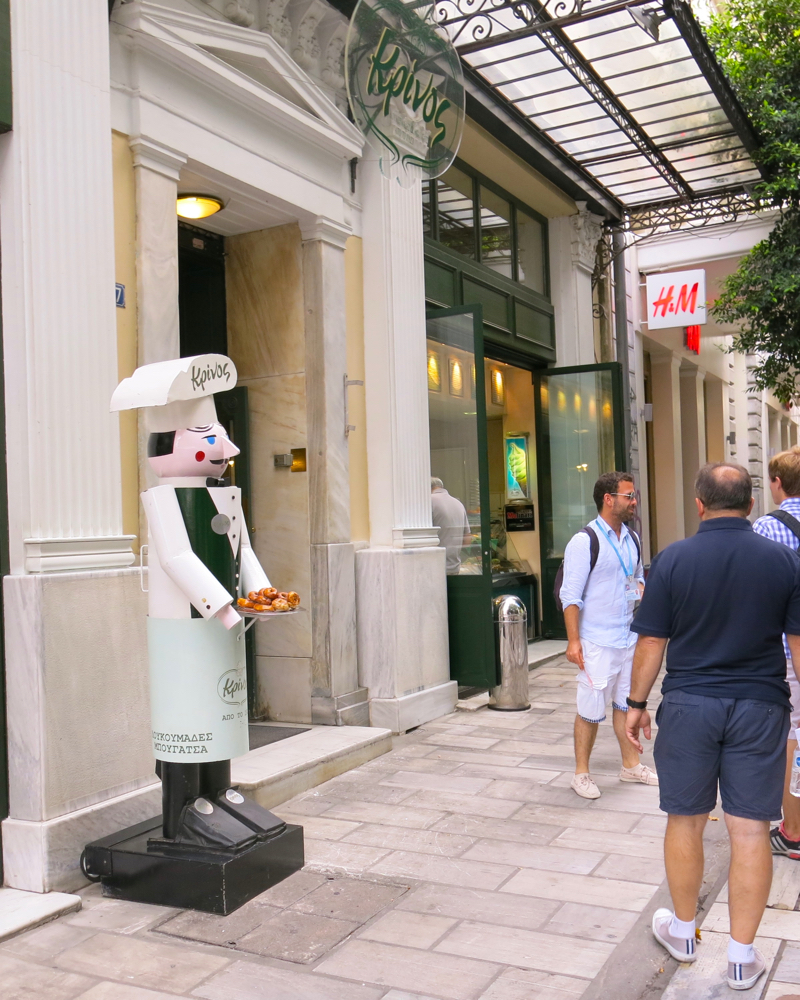 Tiny specialty shops are sandwiched between restaurants and mainstream stores everywhere throughout the central Athens walking districts. To the left of Krinos, was the typical very long, narrow and tiny specialty store: this one, underwear. Evangelis explained that most Greeks would have their one favourite place to buy each specialty item as the owners of these shops were highly esteemed as very specific experts in their specialty. There were many, many of these kinds of stores that could and would never exist, let alone thrive in Canada. I was enthralled by this tradition and the vast variety of these kinds of shops and really curious, wishing for more time to investigate.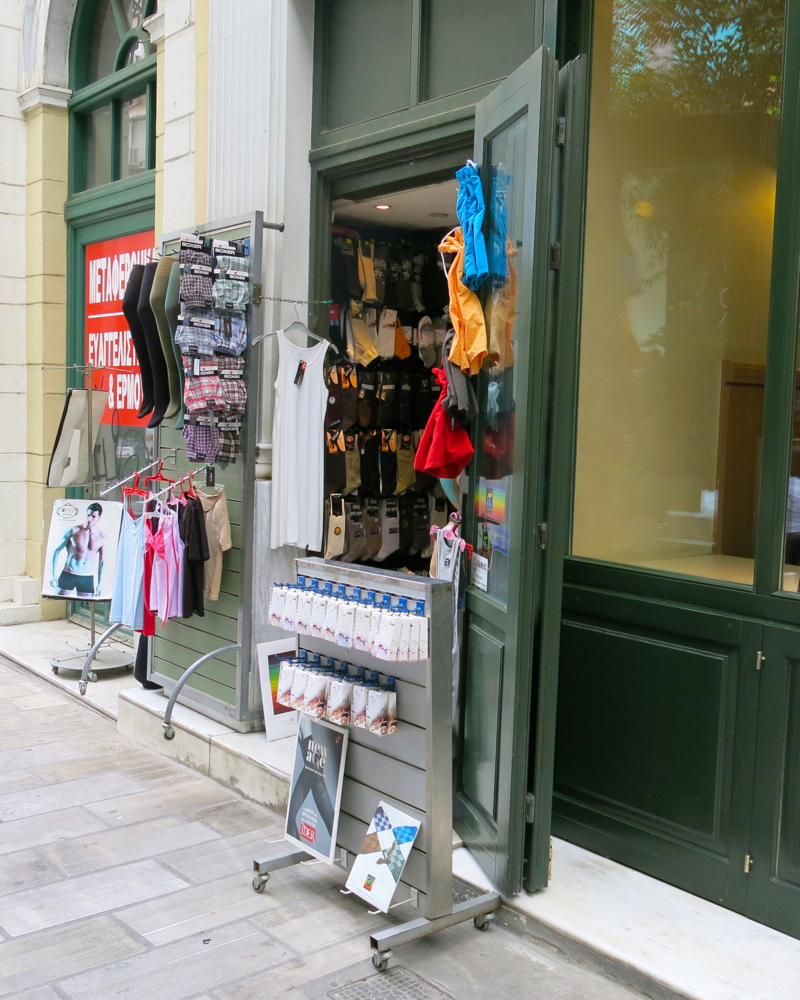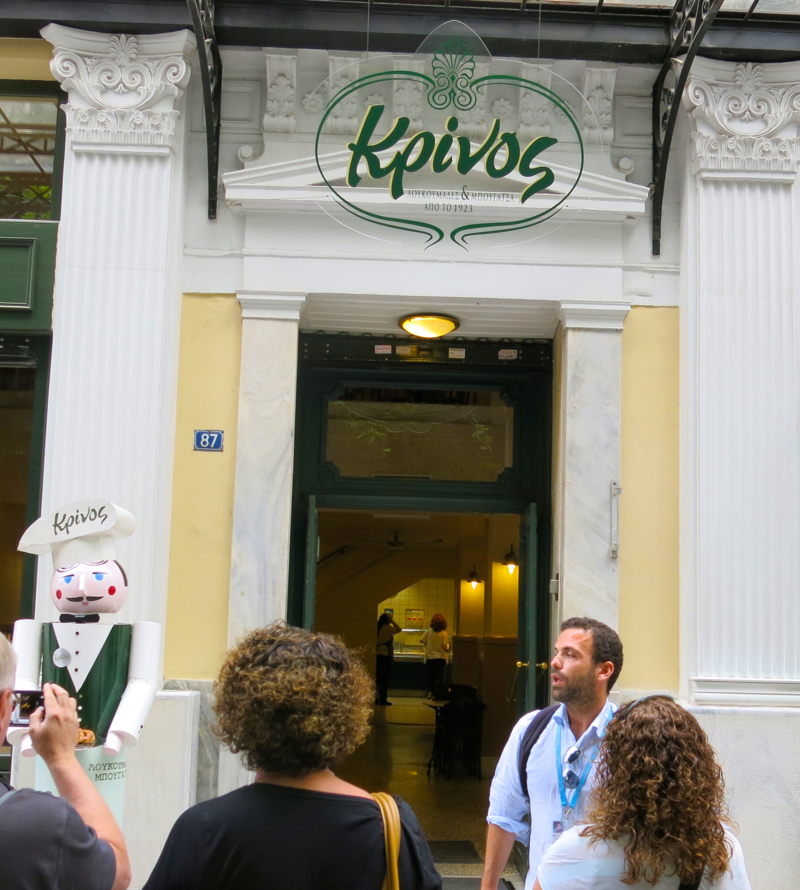 In Athens, most streets in the central area are closed to motor vehicles and paved with cobblestone for the enjoyment of the Athenians and the millions of tourists that visit each year: 29 million a year. Every kind of store you can imagine, and some you never imagined existed you will find exploring this area. Certainly, evidence of the economic suffering is evident. Though tourism is thriving, it has diminished as many, many places have closed down and on a Saturday morning in June, Krinos had plenty of room for visitors to really savor this traditional experience.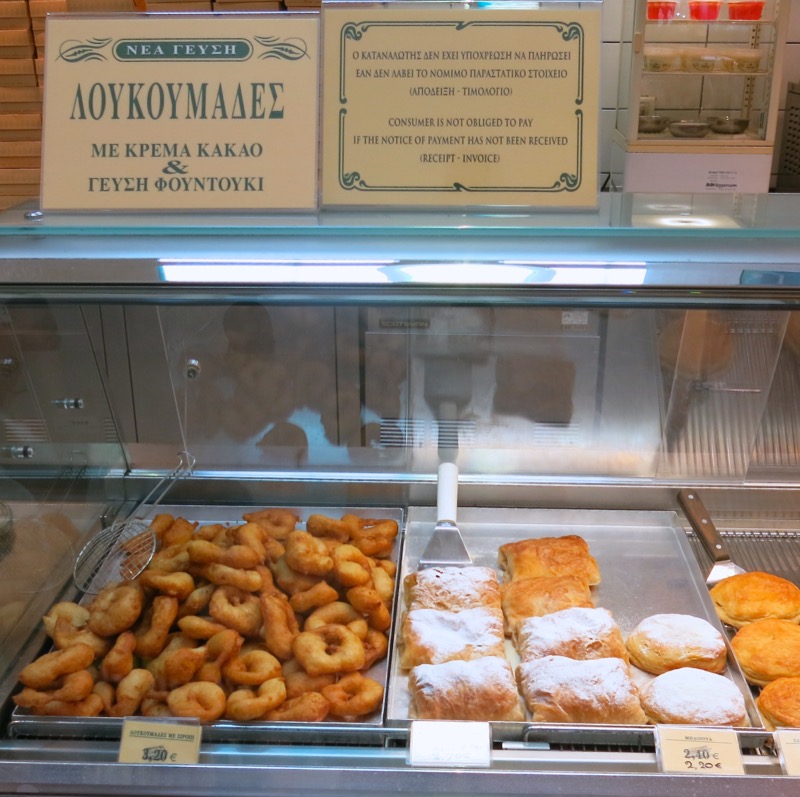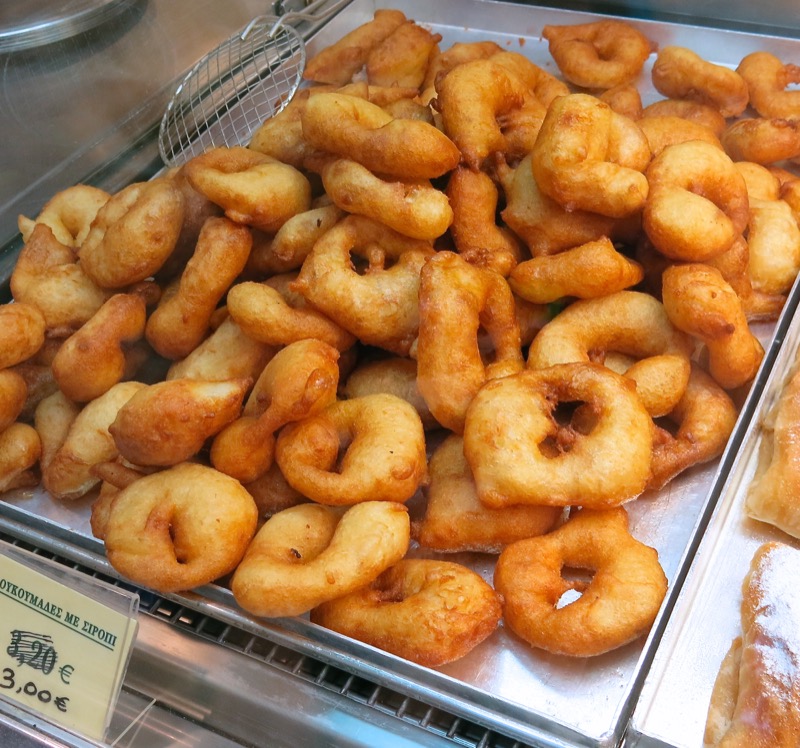 Three Euro for 8 hand made and fried to order loukoumades with honey and cinnamon. It is key that the loukoumades is fried to order and must be eaten very shortly afterward. This is not a "buy a dozen to take home" kind of treat.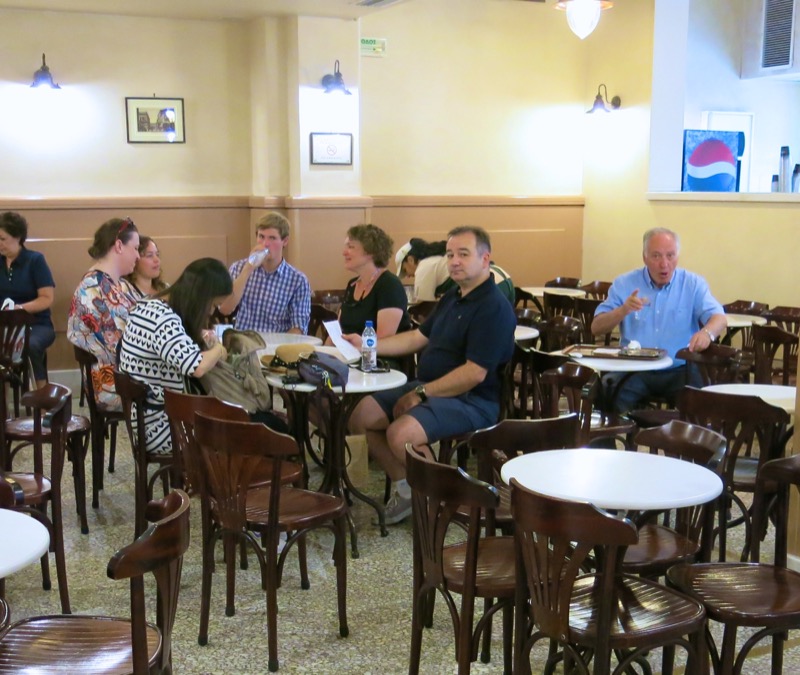 Athens Greek Loukoumades shop Krinos, Aiolou street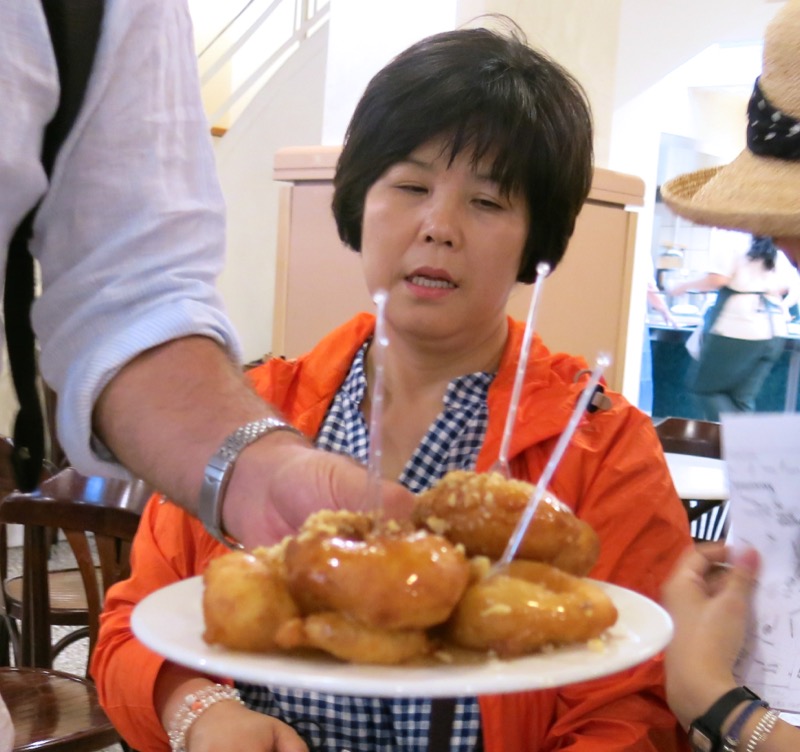 As with some traditional foods of the past, loukoumades were "out of fashion" for many years, but the new generation has re-embraced this childhood taste memory and a new shop has appeared in Athens where the young and hip locals go to feast on these pleasures of the past with – as you can imagine – a plethora of toppings, which seems to be a worldwide trend with almost every food topped with anything.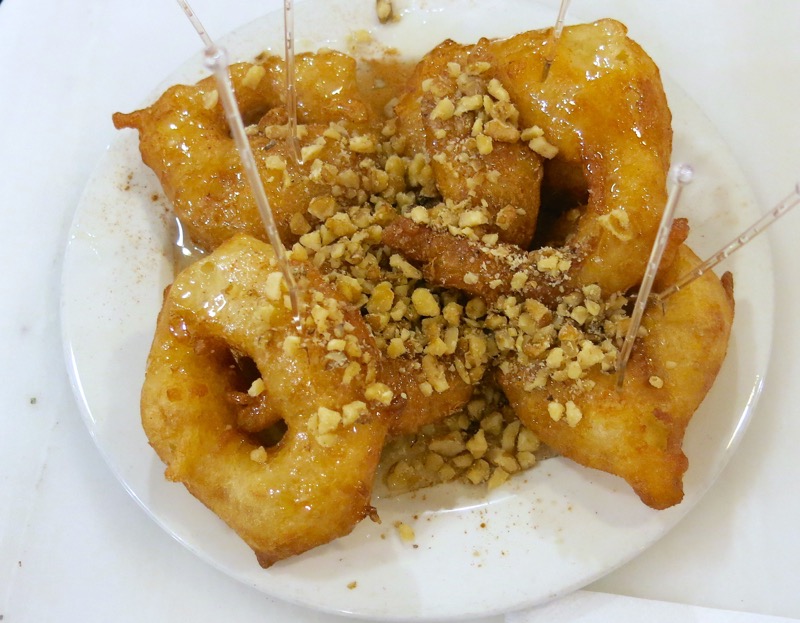 Fresh, warm, sweet, light with a nutty crunch. Do not underestimate the deeply rooted culinary tradition of honey, seeds, nuts and cinnamon in Greek recipes. This is a theme that repeats itself in a scrumptiously hypnotic mantra.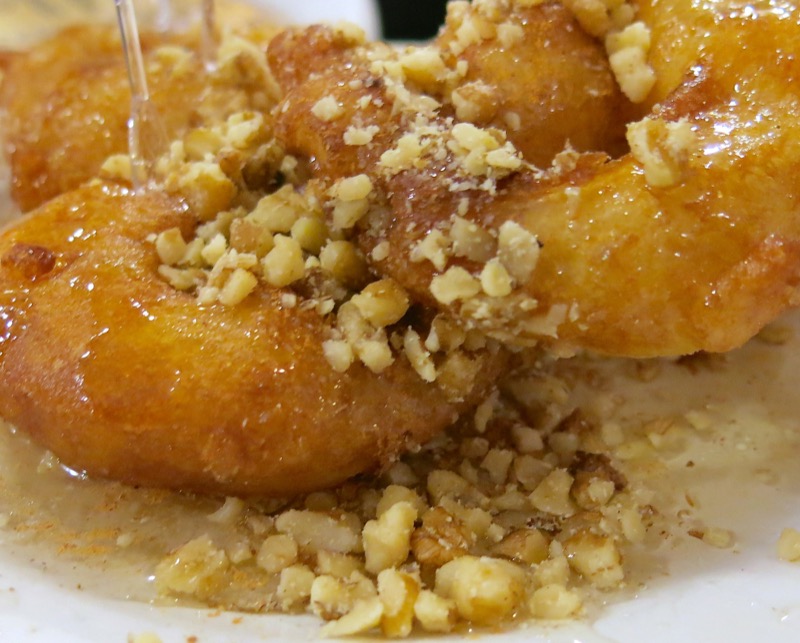 Tasty. Great experience. No need to repeat it, says me.
Athens Central Market: Dimotiki Agora or the Varvakios Agora

Around the corner and down a hall….

We found ourselves transported into a surreal landscape of meat vendors: pig, cow, rabbit, chicken, and more! I have traveled and going to outdoor markets, farmer's markets, central markets and local food supply centres is a constant on each itinerary, yet have never seen anything like this. Nothing close. How do people know what to buy, and from whom?

I cannot overestimate the expanse, bustle, vibrancy and intimate human interchange of this market.

Oh, yes. Even Greek butchers have attitude.

The only downside of this entire tour was how fast Evangelis walked through this area and the next one. He did stop to explain a little before entering, but I had so many questions and there was no opportunity to ask anything during our entire time inside. It was busy. It was noisy. Yet, I suggest an adjustment to this section of the tour to enable a better experience. You can see the wicked little grin on his face as he guides us past the tongue, below, and down the "offal aisle" where there were parts of animals I have never seen before. I thought I had seen everything in the numerous Italian markets I have spent hours in, but, no. I suggest spending a lot more time here with a guide who can answer your questions. Athens Central Market is too steeped in history and too unusual to briskly walk through.

Yes, those are bull testicles, above and below, as well as many more innard goodies.

The Athens Central Market's official name is the Dimotiki Agora or the Varvakios Agora which stands not far from where the Ancient Agora thrived hundreds of years ago. As vendor stalls dotted the bottom of Acropolis Hill on the outskirts of the Ancient Agora, Panagis Kyriakos, the mayor of Athens in 1875 decided it was time to build a thoroughly modern market. In 1885 the neoclassical Dimotiki Agora opened to the street outside through several large archways and, one year later, a glass roof was added.

Just past the "offal aisle", we found ourselves in the fish market.

Vendors rhythmically call out to passers by, spray their fish to keep them fresh, and chat with their neighbouring vendors all at once. Most smoking at the same time.

A Smithsonian article published in 2008 counted 108 butchers, 150 seafood stands and 80 fruit and vegetable stalls housed in the Dimotiki Agora which does not account for the restaurants in the basement which are touted as the best places to eat in the city. (In our three days in the city, we didn't get to the basement but Evangelis did recommend that all of us have at least one meal at the market) Most of the businesses are still family-owned, passed down through the generations with many employees now from Albania, Bulgaria, Pakistan and Egypt due to the struggling economic times.

Exiting the agora, the entire length of the building is lines with stalls: Spices, herbs, seeds, nuts and dried fruit…. more and more of the same, yet different, somehow.

Crossing the street and heading to the Fruit and Vegetable portion of the market, it is incredible to realize that this building is 130 years old! In the 1980's when the supermarkets came into existence, business suffered and many multi-generation families had to sell; however, in preparation for the 2004 Olympics, the Market received a facelift, which rejuvenated local interest and it is once again teeming with activity 10 ours a day, every day of the week.

Sesame Seeds on and in Everything
Before visiting Greece, I did not identify sesame seeds with the food of Greece. It is now impossible to forget the profound impact that this tiny seed has upon the culinary culture of this nation. Sesame seed biscuits, crackers, cookies, buns, and anything and everything one can imagine line the shelves and sesame seed snacks are nestled near every cash register. Though the products made with sesame are high in calories, they are exponentially high in nutritional value: 28 grams provides over one fourth of our daily need in calcium. They contain vitamins B1, B2 and niacin as well as polyunsaturated fatty acids. All in that tiny seed. Who knew?

Enroute to the Fruit and Vegetable Market, Evangelis stopped to offer a tasting of Halva and to explain the importance of the sesame seed and tahini. I was surprised to see jars of tahini mixed with honey or cocoa in food stores and small markets. It is apparently used as a spread on bread and sometimes topped with honey. Evangelis claimed that "the best tahini in the world" is grown on the Greek Island of Lemnos". Tell me anything like that, and I have to buy it. It was at this moment that I asked him about the best olive oil in Greece:"Kalamata, of course!" was his answer. But, when I asked him where to find it, he answered, "Oh, I will offer you a tasting at our Grocery Store Stop." That tasting was not of Kalamata Olive oil, and after not finding it in the local stores, it went on my list to buy in Kalamata, of course! When I see tahini, I think hummus as it is a staple snack and protein food at my house. The word hummus means chickpea in Arabic. Surprising to a Westerner, many of the foods in Greek and Arab cuisine are similar, if not identical. Hummus is definitely one.

I was first introduced to Halva in University. Dorm mates gobbled it as study food. It is dense, pasty and extremely sweet. People like it or don't like it. The word Halva in North America refers to the sweet sesame paste concoction, above. Yet, in Greece, there are two meanings for this word that can confuse tourists. The nut-butter-based Halva sweet includes this sesame based sweet as this kind of halva is crumbly, usually includes tahini or another nut butter (sunflower) with sugar.There flour-based Halva sweet is slightly gelatinous and typically made with semolina, clarified butter, flour, and sugar.
Pasteli
Evangelis did not introduce this obvious Greek specialty, and it begs to be introduced here. Pasteli originated in Greece and the Middle East over 6,000 years ago. The traditional recipe contains just two ingredients: sesame seeds and honey and are touted as the ancient Greek energy bar. In the Iliad, warriors ate pasteli to gain energy before battle.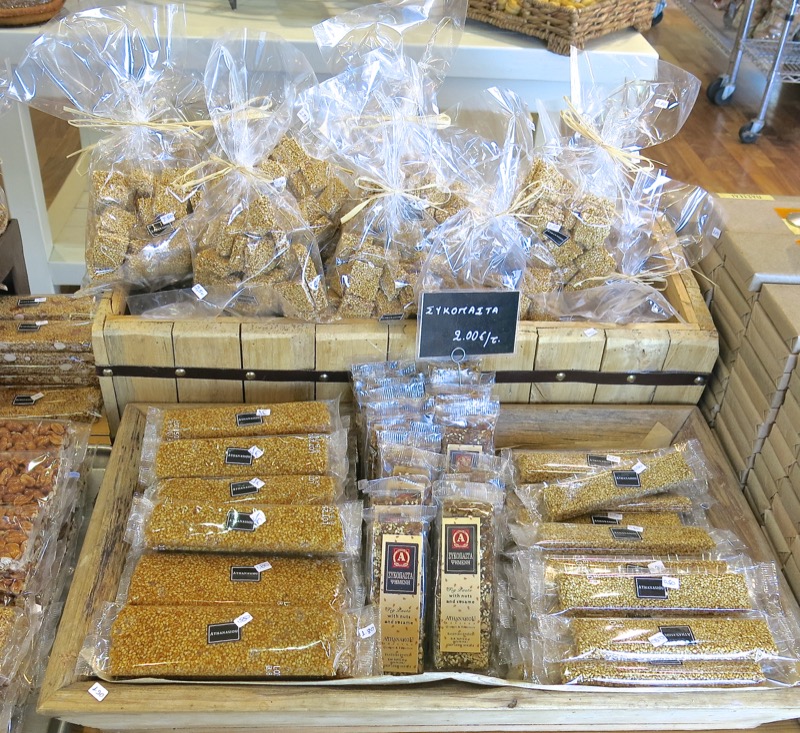 "The Father of History", Herodotus (c. 484–425 BC) claimed pasteli to be "both a delicacy and a benefit to one's health." He and Homer wrote of pasteli as a source of life-giving energy which is a testament to the power, purity, longevity and tradition of this simple, ancient and incredibly healthy food. The above photos are actually from Athanasiou in Kalamata, which makes the best pasteli in Greece: according to my short 2 week tasting adventure! The colour difference: in modern times, some pasteli is made with sugar instead of honey or a combination of sugar and honey. The more honey, the chewier; the more seeds, the crunchier. Different regions do make it differently. Even with two simple ingredients, the variation in flavour and texture is significant due to the ratio of seed to honey and the process used to make it.

Athens Fruit and Vegetable Market
Suddenly, we arrived. Really, just across the street from the Central Market, but there is so much to see everywhere, it seemed much further away. The month is June and the abundance of produce was astounding. There was squash and melons at the same time as peaches and cherries. That turned my notion of a growing season upside down!

I adore olives. I was in search of a stool to perch upon to taste and compare each and every one of these olives. We did taste the one below and a Kalamata. Just like apples, an olive is an olive is an olive, but each is vastly different in flavour and texture.

For a brief moment, I thought I was in Bosnia… where the elderly wear the identical garb. Someone's Greek Mama grows beautiful garlic, but look at the age of this woman, the uncomfortable perch she rests upon and the hours she likely spends here, each day. The quality of her life is not good and that makes me sad. Everywhere in North America people say, "Ah, the Greeks don't work! They need to get out an make a living." Honestly, I didn't see one lazy person anywhere during our entire two weeks. I witnessed a very hard working people quite foresaken by their government.

The produce was beautiful and bountiful. This was Saturday and the market was busy, but not packed. What would happen to all of this food?

This was my first ever spotting of the lime coloured bell pepper, though I just bought one yesterday at The Italian Center Shop in Edmonton. I have seen and tasted every other colour, even purple, but never this one. Does it have a special name? Anyone know?

This is what lemons really look like, people. This is the land of the lemon.

It is so difficult to visit these markets without a kitchen to cook in. Three Euros per kilo for these gorgeous tomatoes – and they smelled like tomatoes!

Down the street, past more small specialty shops and ancient landmarks preserved among the urban jungle, to a small specialty food store.

Grocery Store: Lesvos Shop
Next stop was a small independent specialty food store where the owners live and work on a farm from the island of Lesvos. They sell many of their own artisan products in this store as well as other artisan products from small independent producers like the tahini from the island of Lemnos. . Both Vanja and I enjoyed the tasting and food experience here though most products were new and innovative creations of producers of ancient products. I did not catch the name of the store, but it sells award- winning olive oils, spoon sweets, honey, feta, olive paste, sundried tomato paste, fresh yogurts, specialty alcohols, soaps from virgin olive oil and donkey milk along with many other authentic Greek products: address: 27 Athenas st. / Tel. +30 210 3233 227.

The young man slicing the feta told Vanja that many of the products in the store were from his family farm, particularly the award winning olive oil. And, a little more about olive oil. Of course, after coming back from Italy a couple of years ago with over 12 DOP bottles from various Italian regions, I was interested in determining the "best olive oil" in each region in Greece as I had tried to do traveling through Italy. The DOP labeling isn't as clear in Greece, so it was much more difficult to determine which regional oil to try or buy. I would ask each person I met, " What is your favourite local olive oil?" And every single person would look at me, oddly, and say, "Ours." Ok. So what is the name on the label. How do I find it? They would just continue to say "Ours is the best. Of course, it is ours!." It wasn't until we were at the Olive Oil Museum in Sparta where I asked the Guide the same question that she answered, "Mine" where I finally "got it". "Yours?" "Yes. Mine. Everyone makes their own. Everyone has enough olive trees to make their own. Everyone will say theirs is the best because they believe it is." AH-HA! Of course. That was hilarious! But, for those of us that must buy, the agreement was a great bottle from Kalamata. And when in this store on this day, a bottle from this young farmer from the island of Lesvos. Yes, I came home with a few bottles: 7 in all. This trip was shorter than the one in Italy.

The award winning elixir can be used in a variety of ways and is a "new product" developed by old farmers that captures the complexity of the Greek herbal palate and is very unusual in flavour.

Fancy mustards are the rage in Greece, just like at home.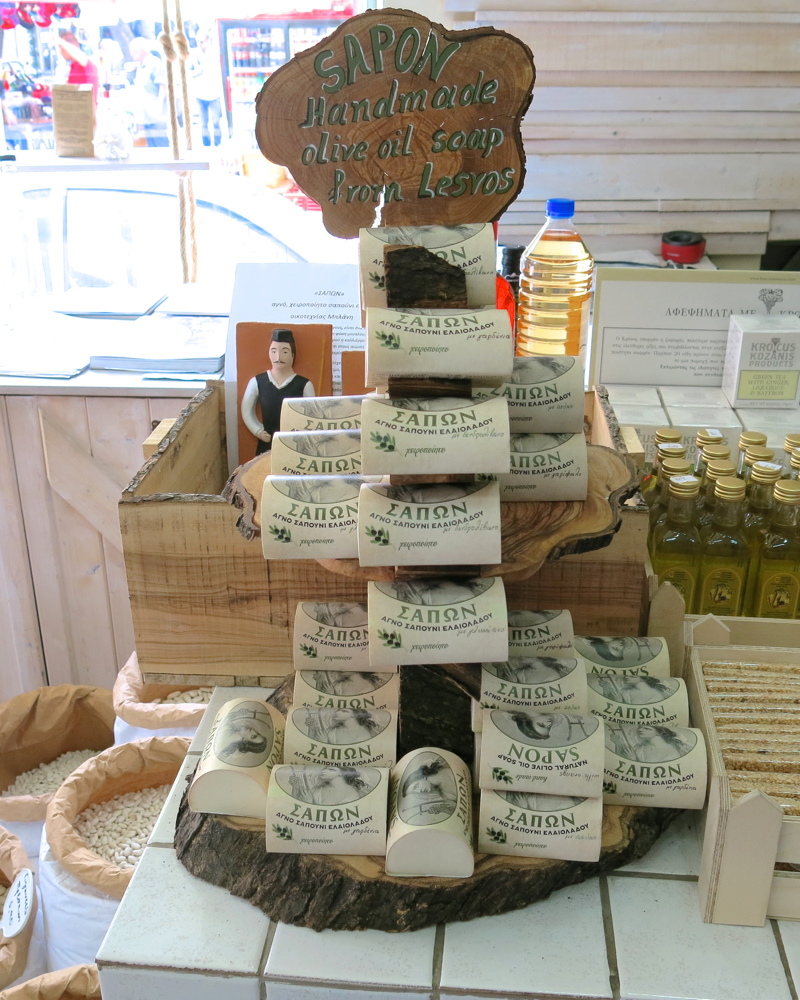 Olive oil soap.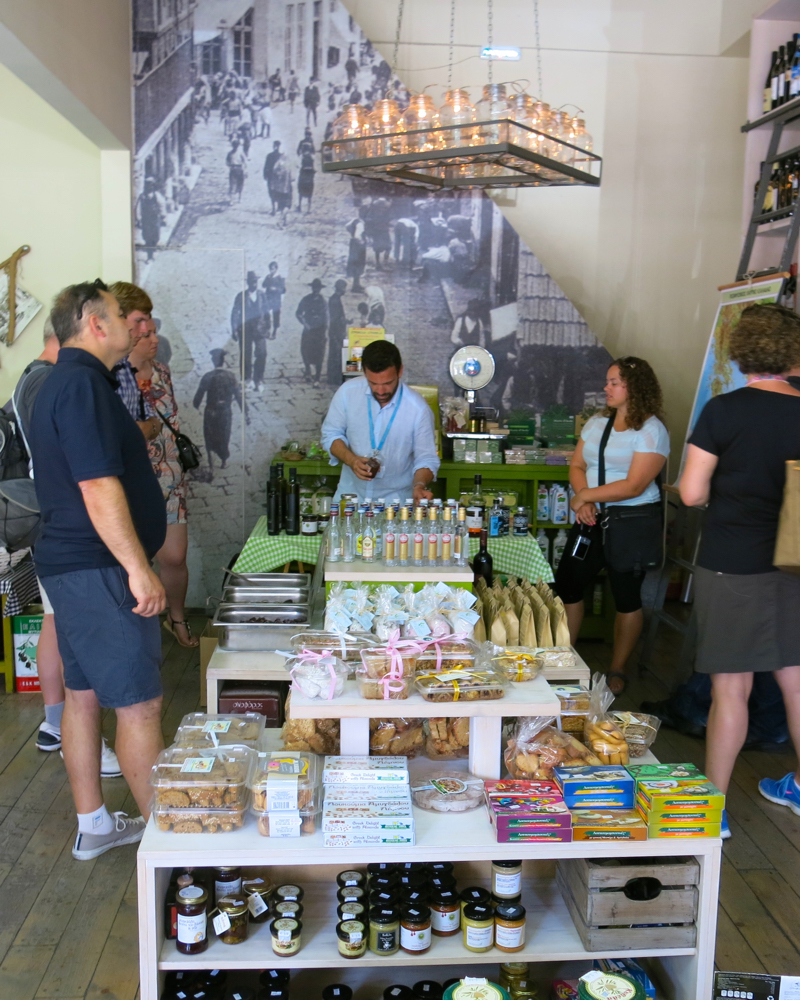 The modern clean fresh hip decor of this little shop is definitely linger worthy. Everyone speaks English. With 29 million visitors a year to Greece, it is a priority to learn English and other languages. Tourism is the number one industry in Greece.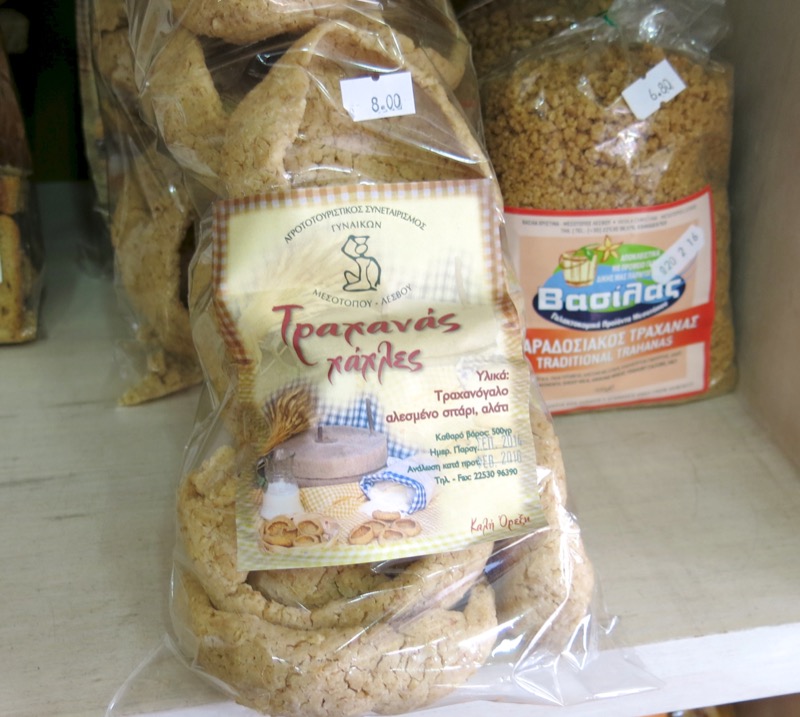 I am not sure how long one would have to stay to experience the multitude of new and never before seen culinary offerings.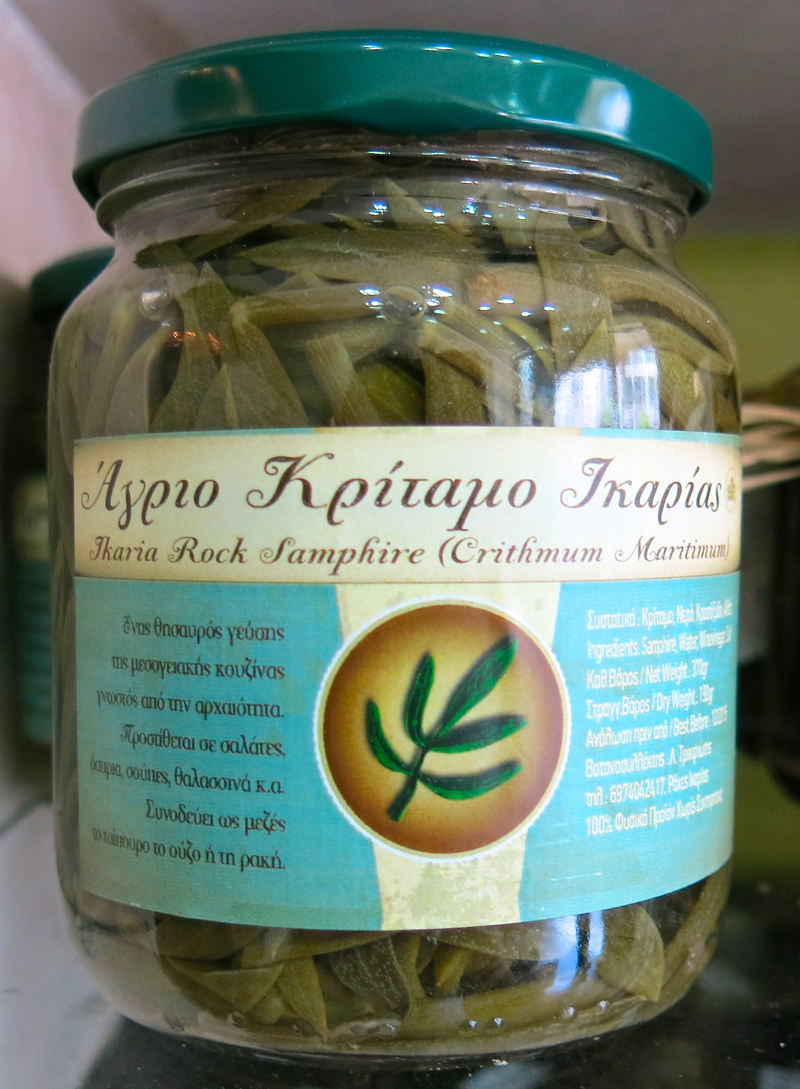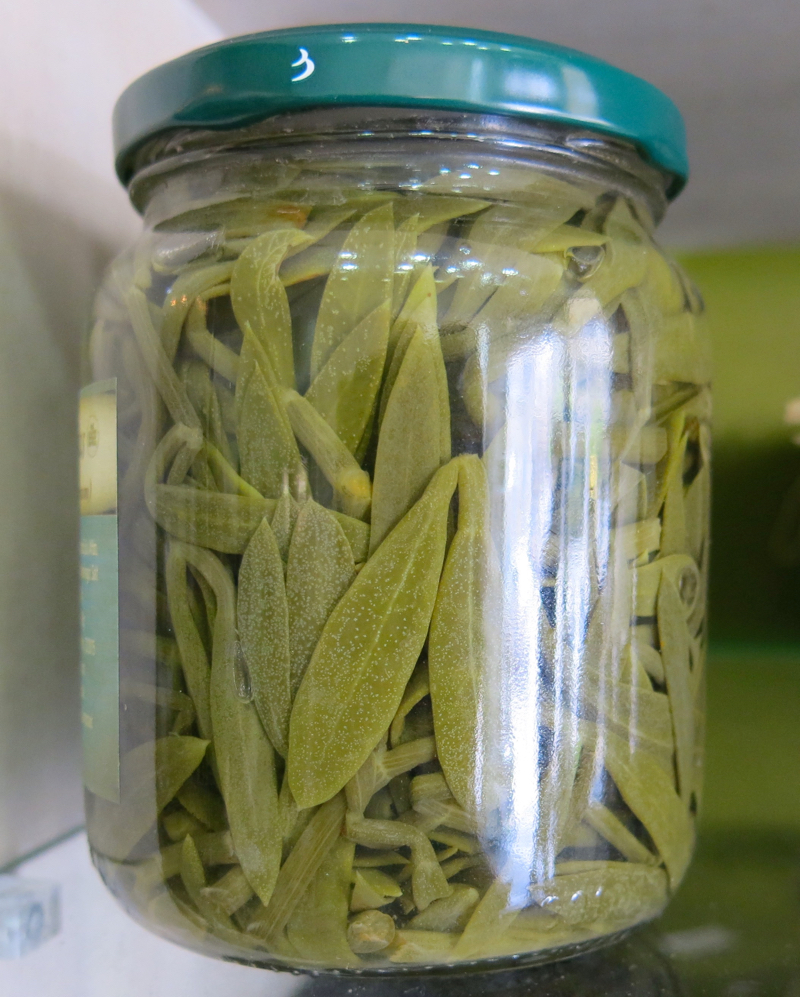 Above is a preserved sea plant commonly used in Greek Salads.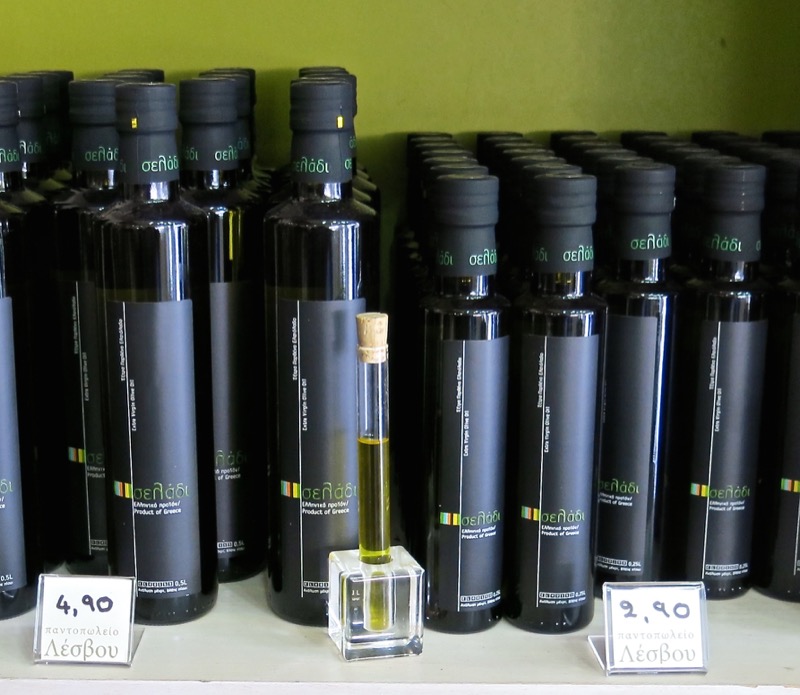 The award winning oil. Did you know the Greeks sell their oil to Italy and that it is then labeled Italian oil? You cannot travel anywhere on the main island without being immersed in olive trees. Just before Olympia we passed a valley with millions of olive trees. Millions. As far as the eye can see. The oil here is of incredible quality. The best I have every tasted. I like fruitier olive oil, and less grassy. The oil is thick and fruity. I want to dive into the lush velvet ripples. And lets talk price. For a bottle of oil of this quality in a major city in Italy you would pay 30-50 Euros per litre. Here, it is not even 5 Euro.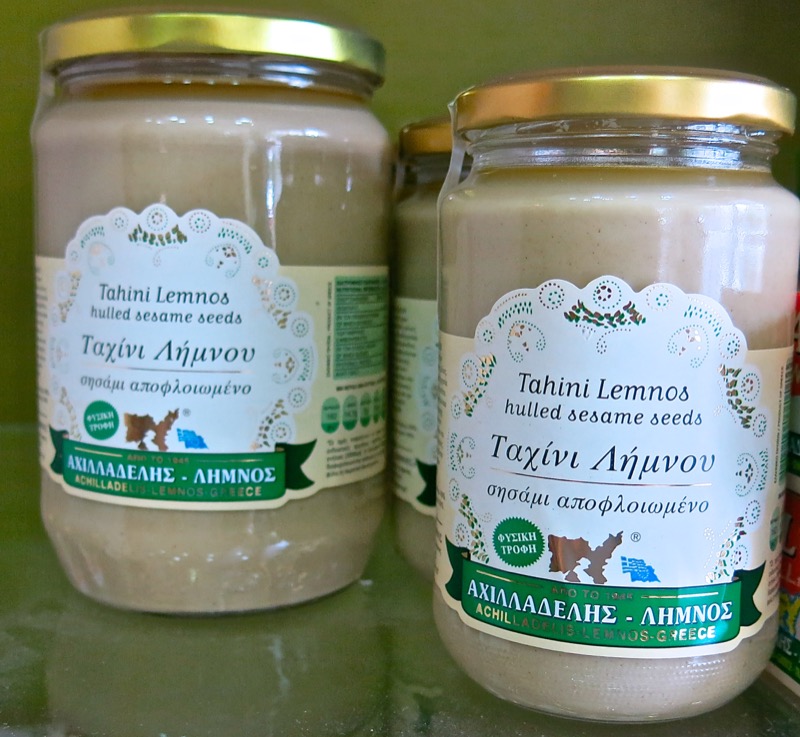 I would love to have an endless supply of this gorgeous tahini from the island of Lemnos. This is where I bought mine.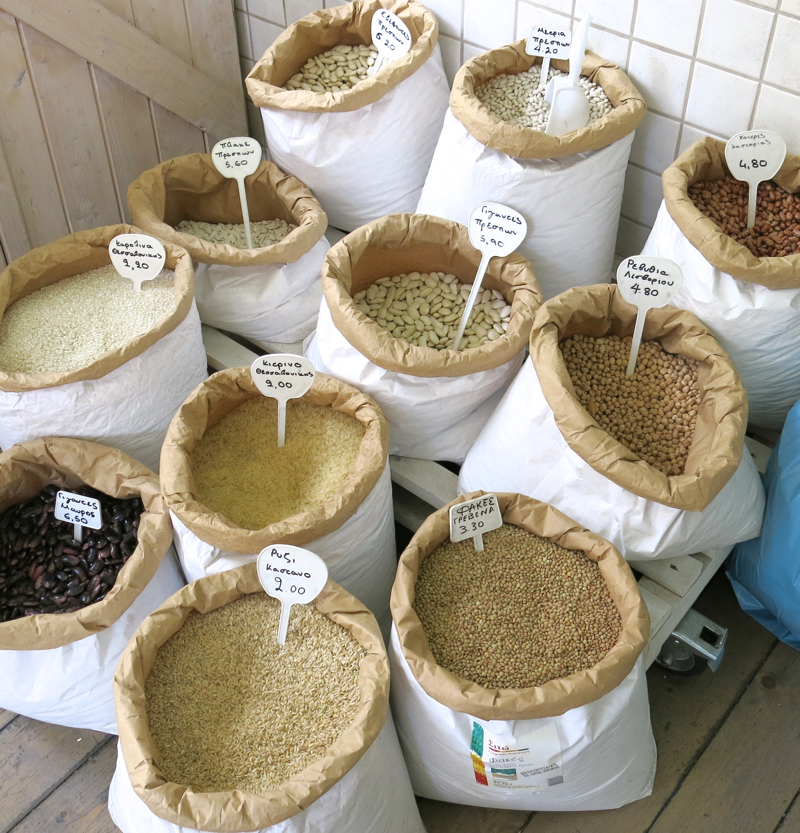 Recall that Greeks eat little meat on a regular basis and are primarily vegetarian. The variety of legumes and lentils was astounding. I picked up some black beans and was told they originated from Canada! I can find no history of that, however.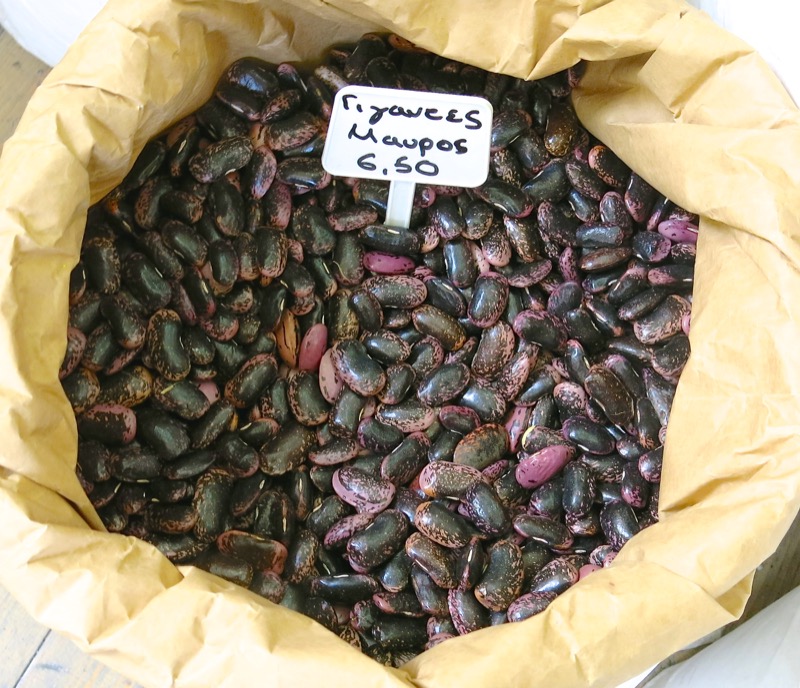 Spoon Sweets or Spoon Fruits
Spoon Fruits are traditionally served with Greek coffee and a glass of cold water. Most are made of whole fruit, though some kinds are made of pieces or purees. They are considerably different than our Canadian canned or preserved fruit in that they much sweeter and thicker and only a little spoonful is to be eaten: a well made spoon fruit is chewy. They are made by slowly and gently boiling whole fruit in water and sugar for several hours or even days until the syrup sets. It is said that while making good spoon sweets one must have "patience and a heavy pot". Some lemon juice is often added to preserve the fruit's original color.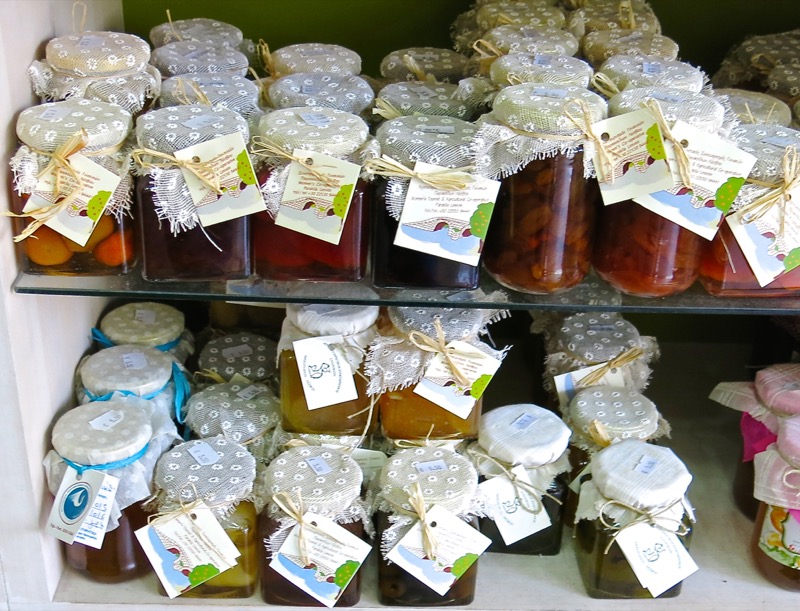 Above, the traditional "spoon fruits" which were only made in the home throughout antiquity until very recently and the quality and offering of the spoon fruit, a ritual of great personal honor and pride. They can now be purchased at specialty stores. The official sweet of the Patriarchate of Constantinople is a spoon sweet made with mastic. It is snow-white and intensely aromatic of vaníllia though not made of vanilla, but of mastic resin. The mastic resin is mixed with table sugar and beaten industrially to create the thick, white, sweet pasty spoon sweet. When cold, it has the consistency of hard caramel candy and is to be licked like a lollipop as it will soften and become chewable at body temperature. That is why it is traditionally served as a spoon sweet on a table spoon, then dropped into a tall glass of ice-cold water. In modern day, it is called a "vanilla submarine".
Honey
Though we didn't have a honey tasting in Greece, honey must be in a category of its own.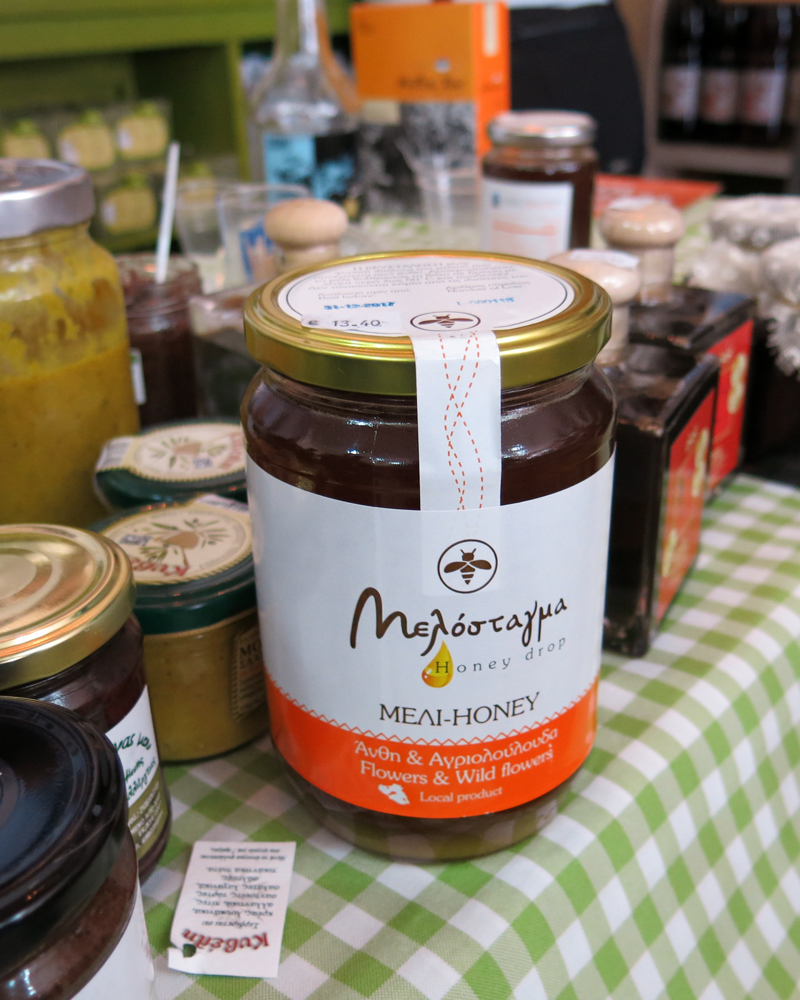 In Greece, it is the first ingredient used in sweets or to sweeten anything. Honey is offered with coffee, yogurt, and ever present on a Greek table. Honey vendors are everywhere and the multiple varieties of honey are common place. Driving through the main island, hives were everywhere, among the olive trees. Greece has more bee hives per acre than any other European country. Our first evening in Athens at i Kriti, we were told there was a very special honey drizzled on our feta cheese and again on our dessert which was identified as Thyme honey which is revered as the best honey in Greece and many will tell you it is the best honey in the world. Greek honey is considered to be some of the finest in the world due to the endless summer sun, the vast biodiversity within the Greek countryside which includes over 850 species of flora found nowhere else in the world. With this splendor, the bees produce multiple types of honey that can only be found in Greece. The art of apiculture began in Greece in prehistoric times and still, today, many beekeepers harvest by hand using these same ancient methods: extracting the honey cold and unfiltered to ensure the health benefits are retained.
Mastic
Mastic is a resin gathered from the mastic tree known for its health properties.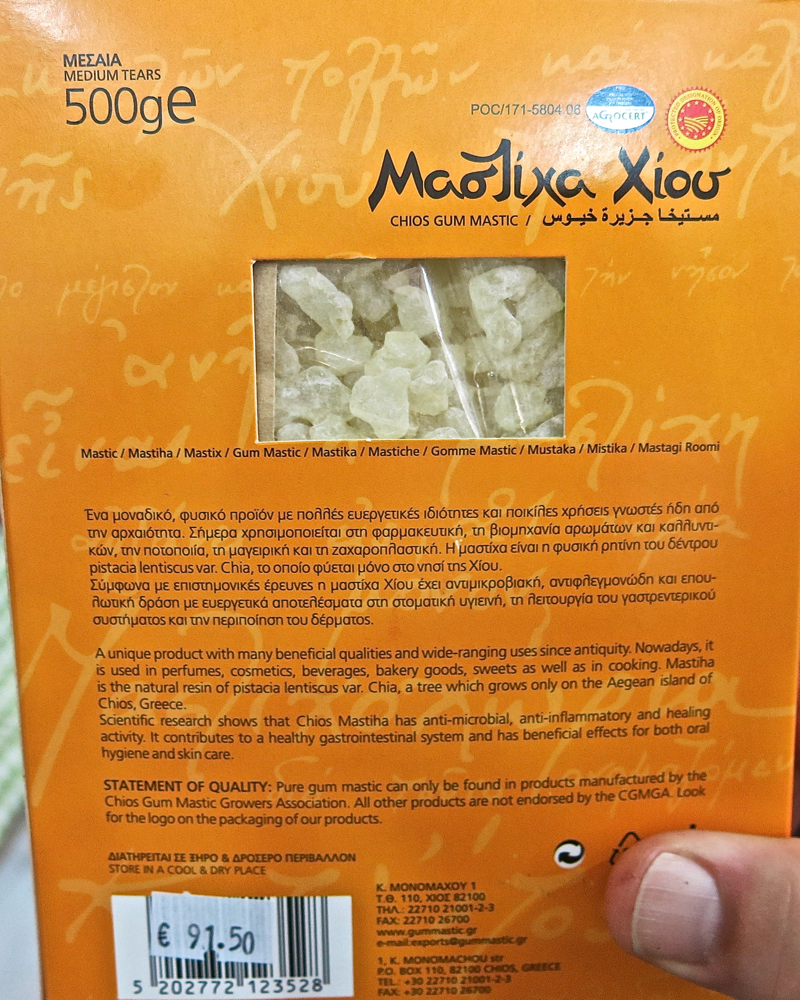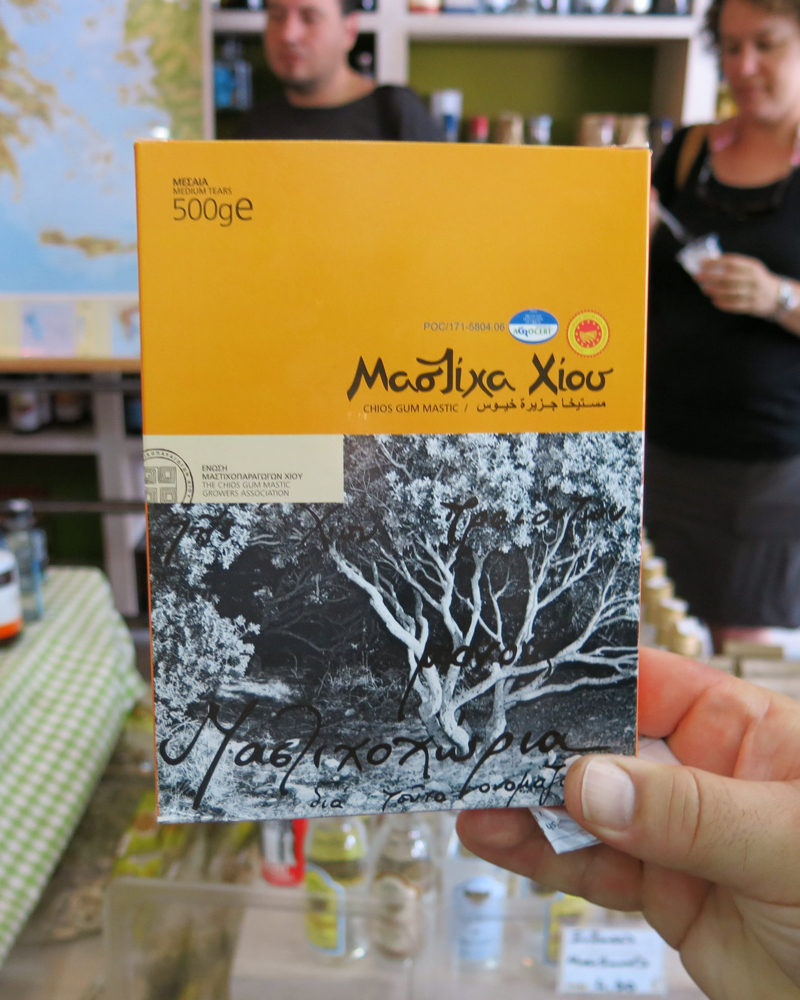 It is 91.50 per 500g. Expensive. Mastic is clearly fundamental to Greek culture and I have never heard of it. This surprised me. Known also as "Arabic Gum" (Evangelis later gave us each some to chew) and also as the "tears of Chios," as it is produced in droplets, like all resins, on the Greek island of Chios. My piece was too small to get any taste from, but others said it was a little like a pine or cedar tree smell in taste.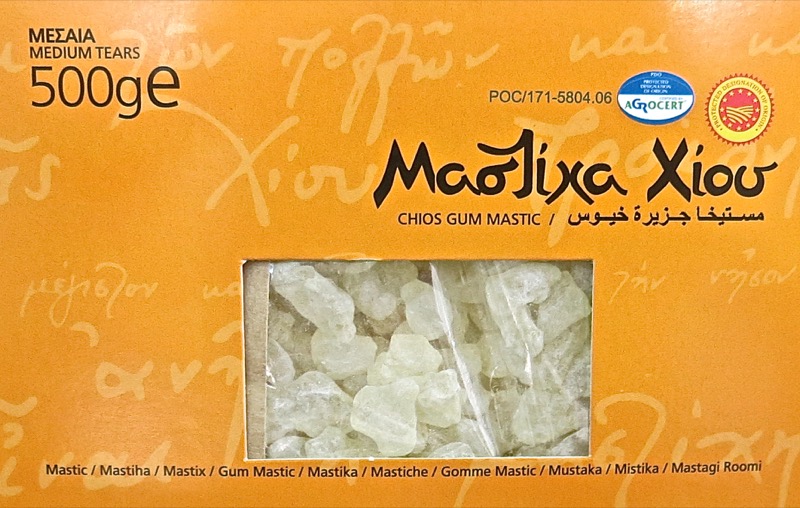 Mastic is highly revered for its health benefits.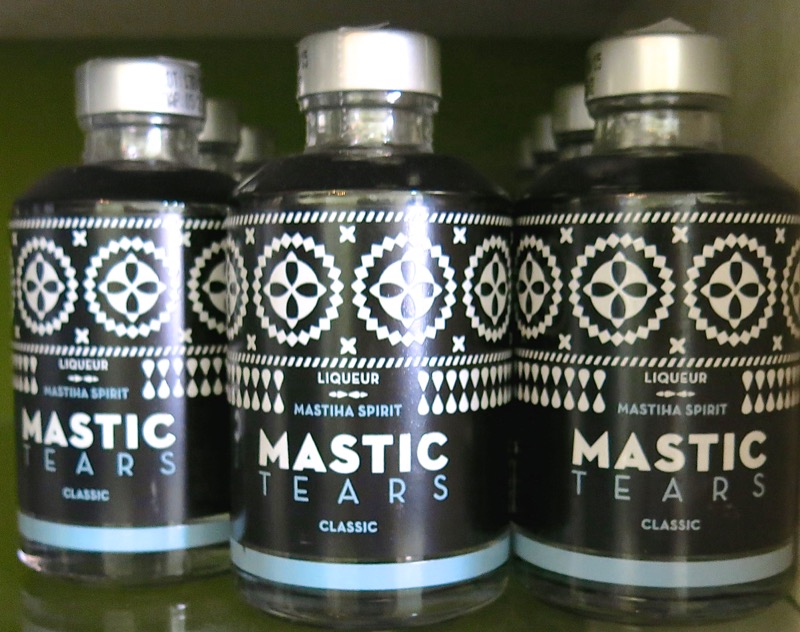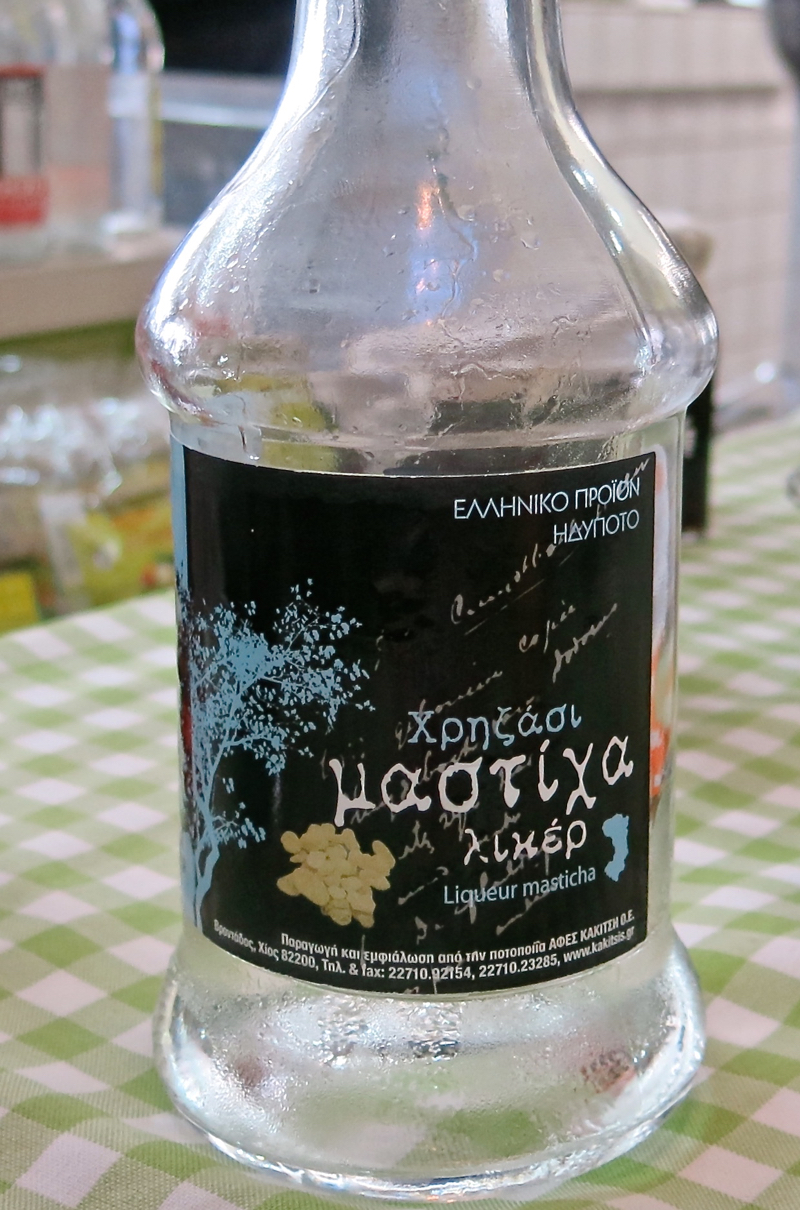 It is also used in liqueurs such as Mastichato, the spoon sweet earlier referred to as the white submarine and commonly found in rose and vanilla flavourings. Matic is also used in beverages, chewing gum, various sweets and desserts, breads; and even in cheese. Loukoúmi is a traditional sweet in Greece exactly the same thing as Turkish Delight, but mastic replaces the cornstarch of gelatin. . In desserts, as an ingredient of jam or cakes, mastic replaces cornstarch and gelatin.
Fotsis Herb Store: The Importance of Herbs

After eating one meal in Athens and touring the city for one day, it was all to apparent that the Greeks are masters of using herbs in their traditional dishes just as Indians are known to be masters of using spices in their cooking. The meal at i kriti was seasoned simply, yet the flavour of each dish was composed with the skill of a master practitioner. The use of herbs in combination with one another and the simplest of ingredients was ingenious and novel.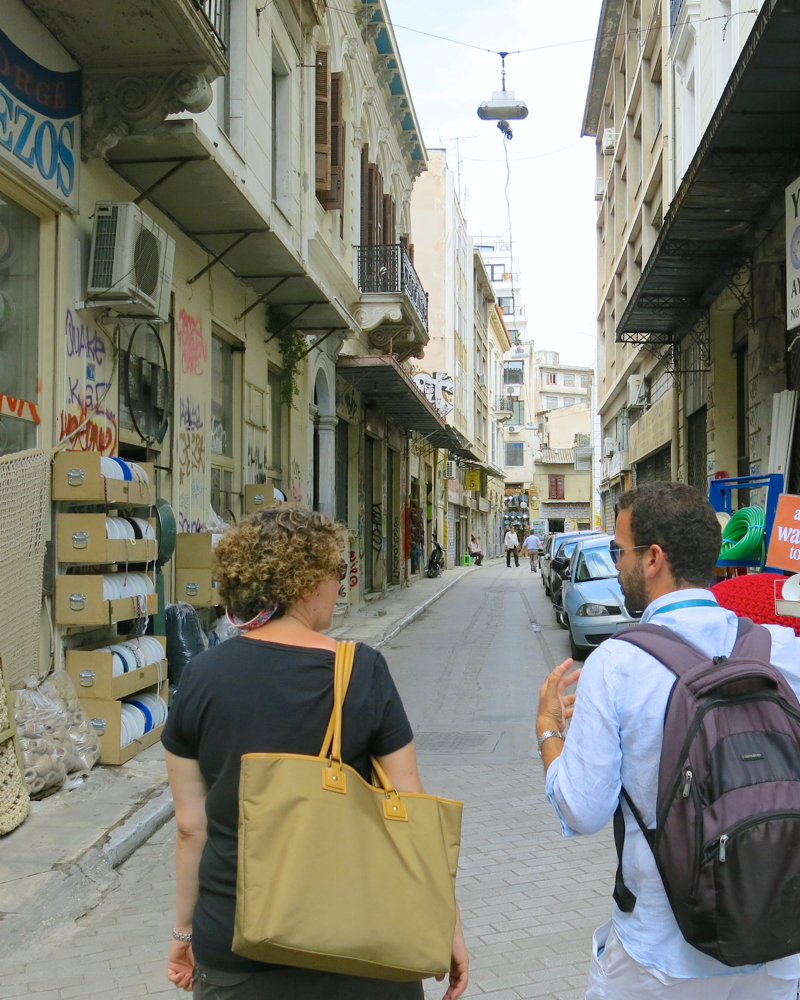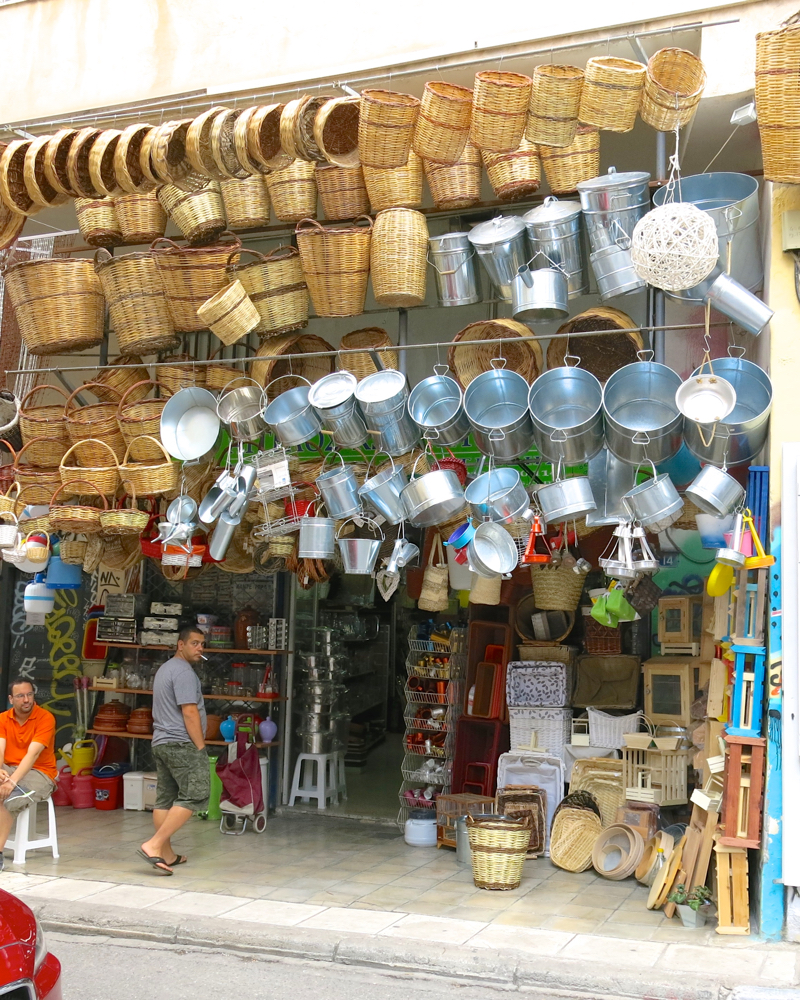 Past more specialty shops (the one above unusually large) we arrived.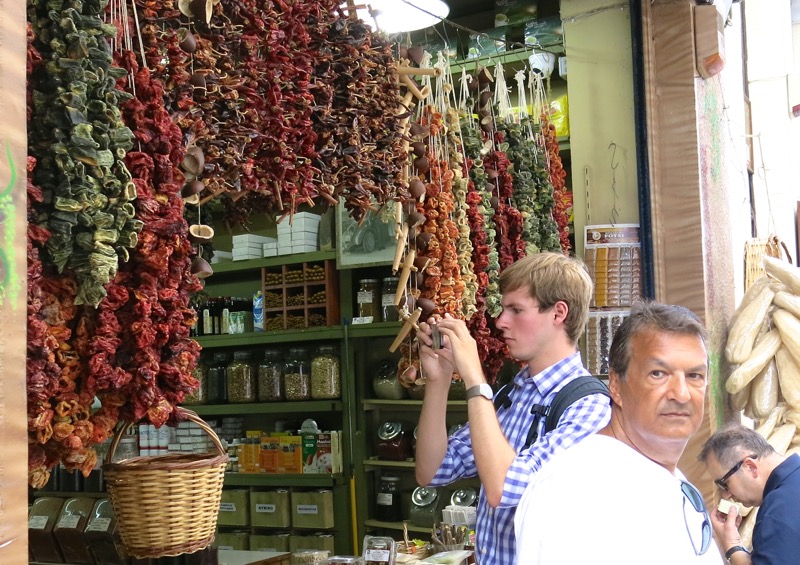 Dried herbs and vegetables hung from the ceiling, bins exploded with dried flowers, leaves, stems , seeds, pods and stalks! With over 6,000 different plant and herb species scattered throughout the islands, Greece's flora is one of the most esteemed in the world. The warm climate, rich soil, diverse landscape of mountains, flat lands and surrounding sea coupled with the active and ongoing at home practice of using herbs for healing since the ancient times of Homer enables such prolific diversity.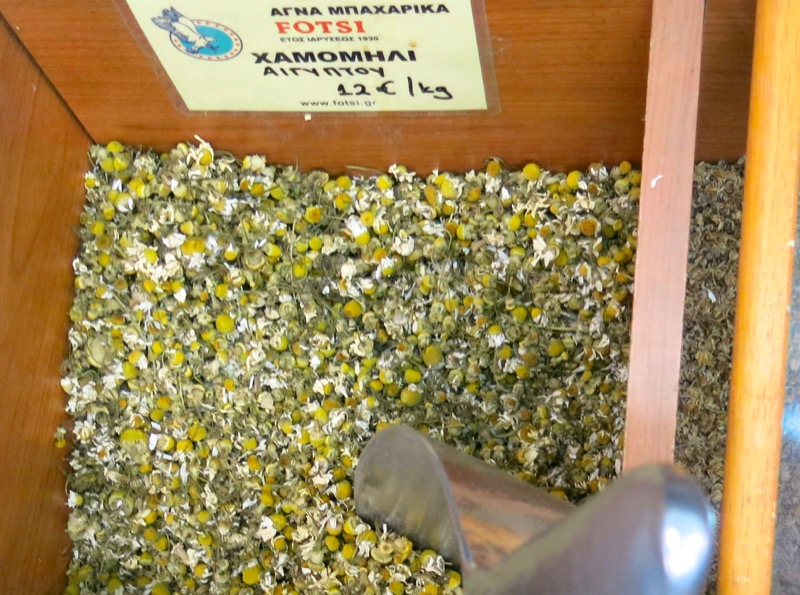 Above, and below: chamomile for tea. Domestic and Imported. Quite a difference in price!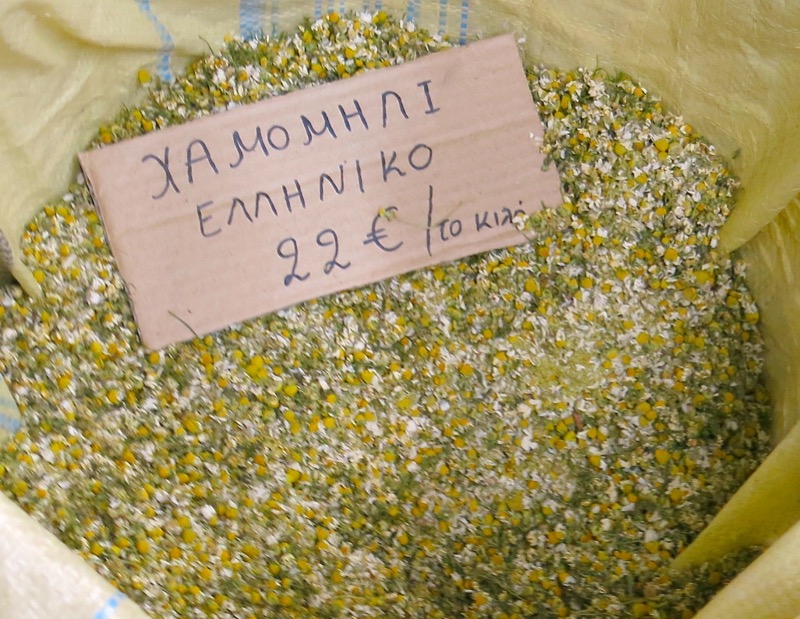 Just as Greeks eat seasonally, each season of the year signifies the herbs they use. In winter, the dozens of herbs that protect the immune system from various infections are brought into the home and brewed into aromatic herbs such as mountain tea, Sideritis spp, tilia, sage and thyme. Pure thyme honey may be dipped into the tea for the same healing purposes.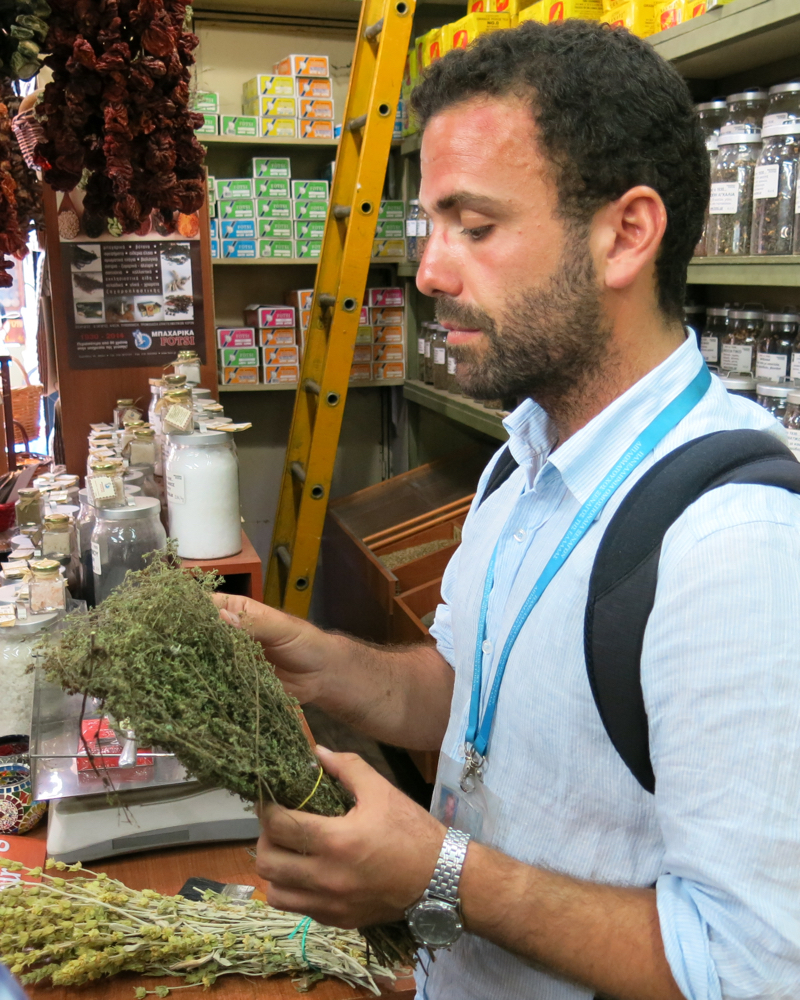 The reverence with which Evangelis handled each bundle is noteworthy. This cuisine favors oregano, mint, dill and bay laurel leaves with garlic and onion. Of course, a myriad of other herbs are used besides the primary four, but they remain the primary four.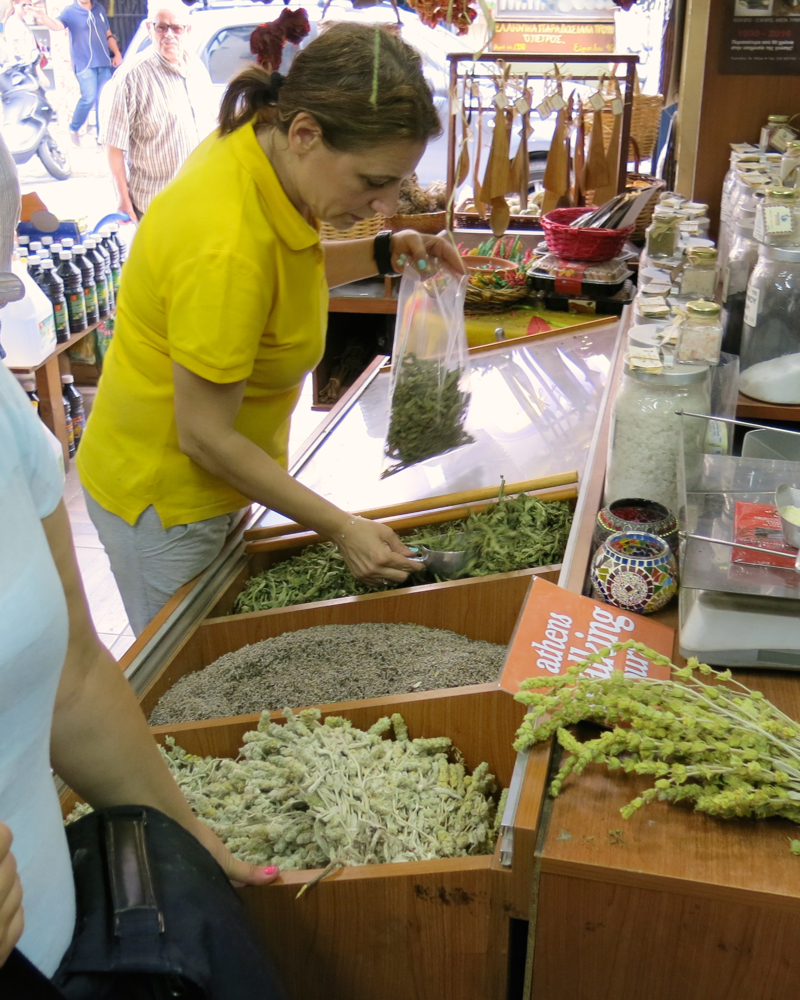 Almost every region or locality is known for particular herbs that possess "magical," qualities.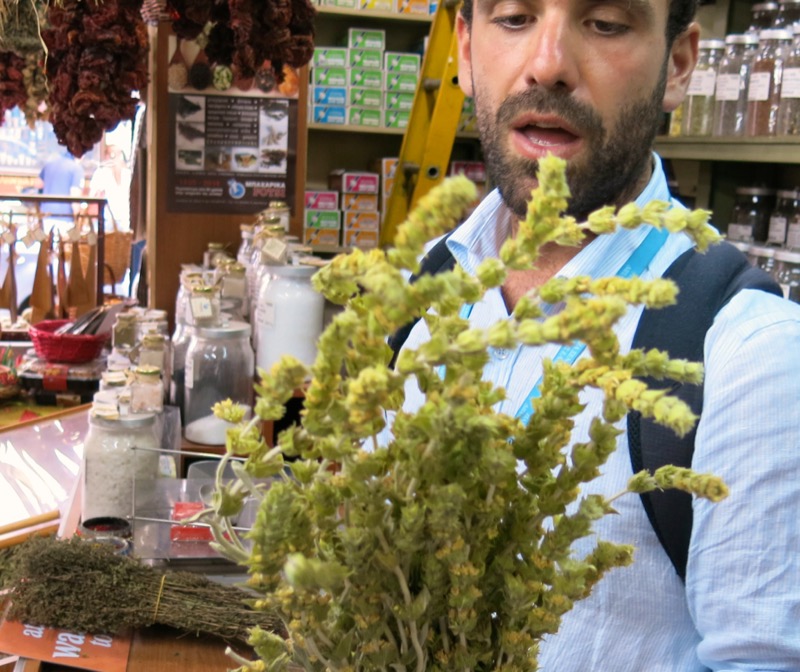 I cannot recall the name of the herb above, but it is for a healing tea. Below is Mastic. We each took a little to chew, but as it is so valuable, I took too little.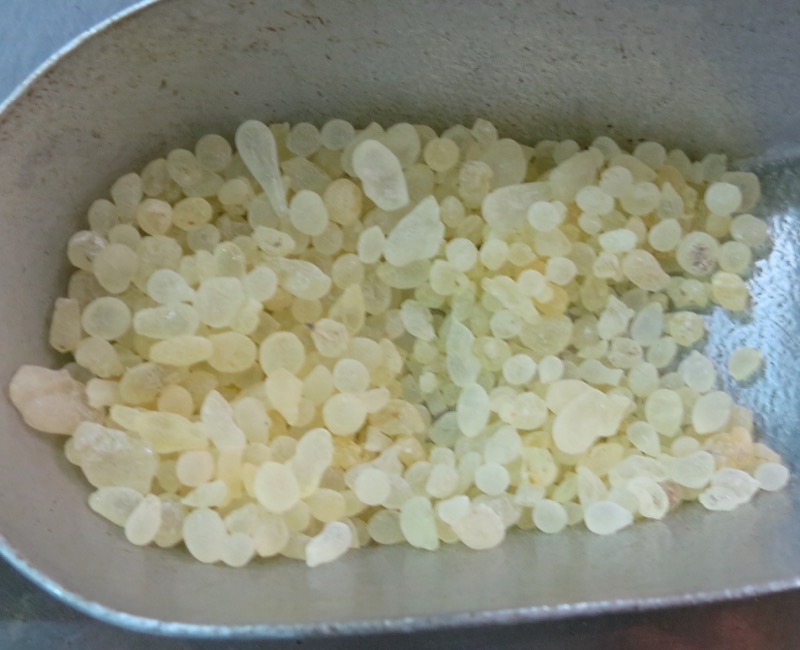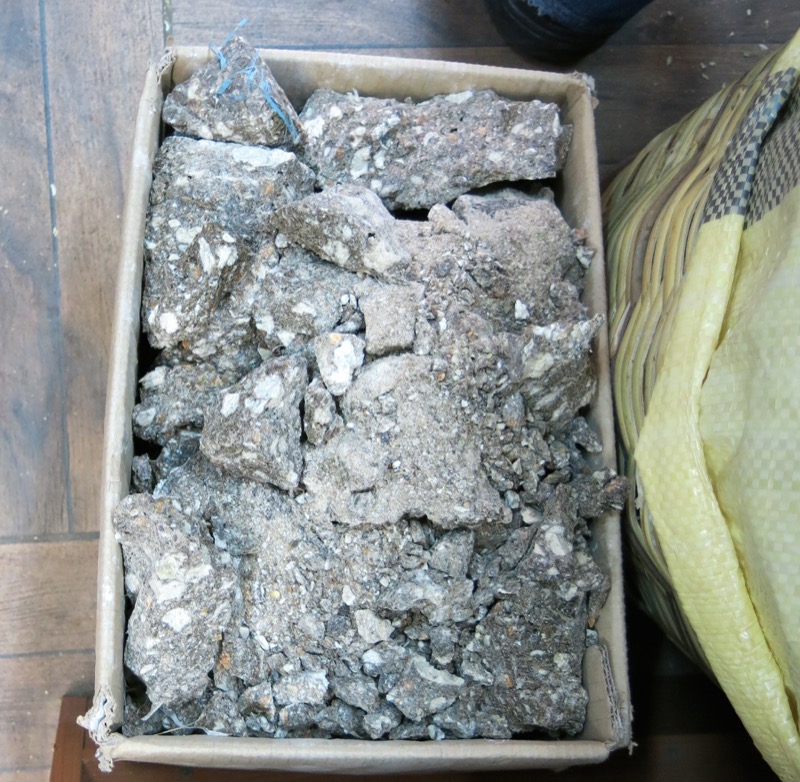 "What is in this box?" This is a porous substance that is used to burn for aroma therapy. An incense.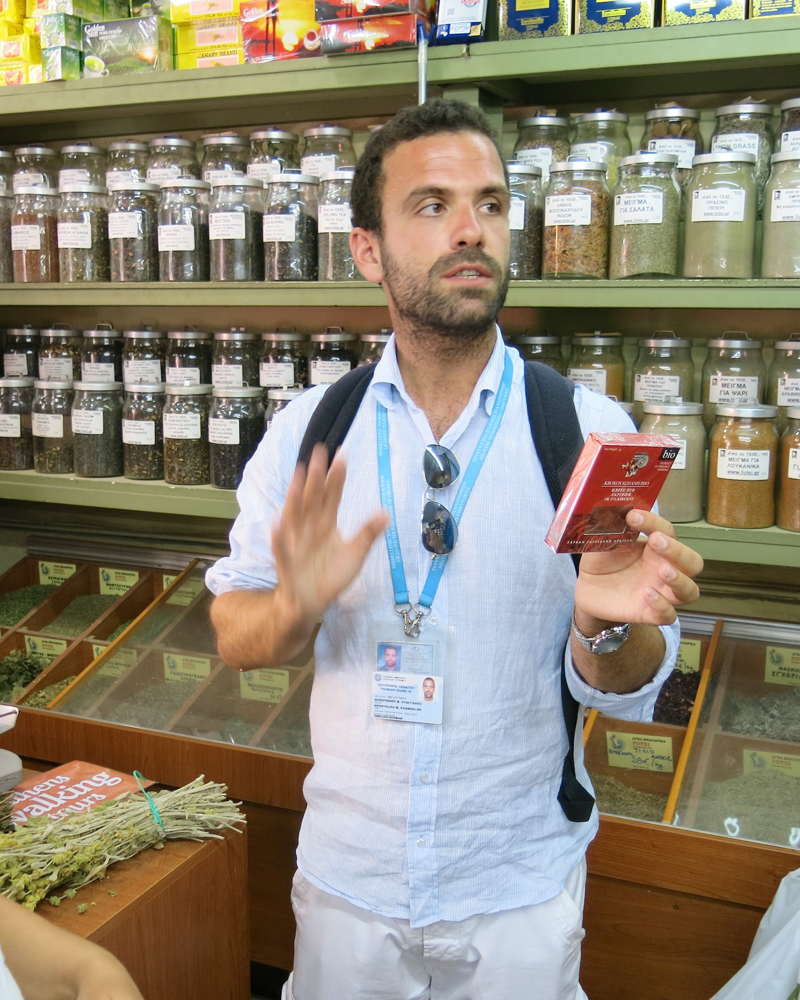 The prized red saffron of Greece was also introduced to us by Evangelis. Of course, I bought some! Krokos is renowned in Greece for the production of the Greek Macedonian Saffron which Evangelis claimed to be one of the world's most intense and valuable. it is Protected Designation of Origin or PDO (similar to DOP in Italy); therefore, no other region of Greece can produce Greek Red Saffron. It is also extremely high-quality as it has a guaranteed coloring strength of 230 which is apparently excellent. Don't leave Greece without it.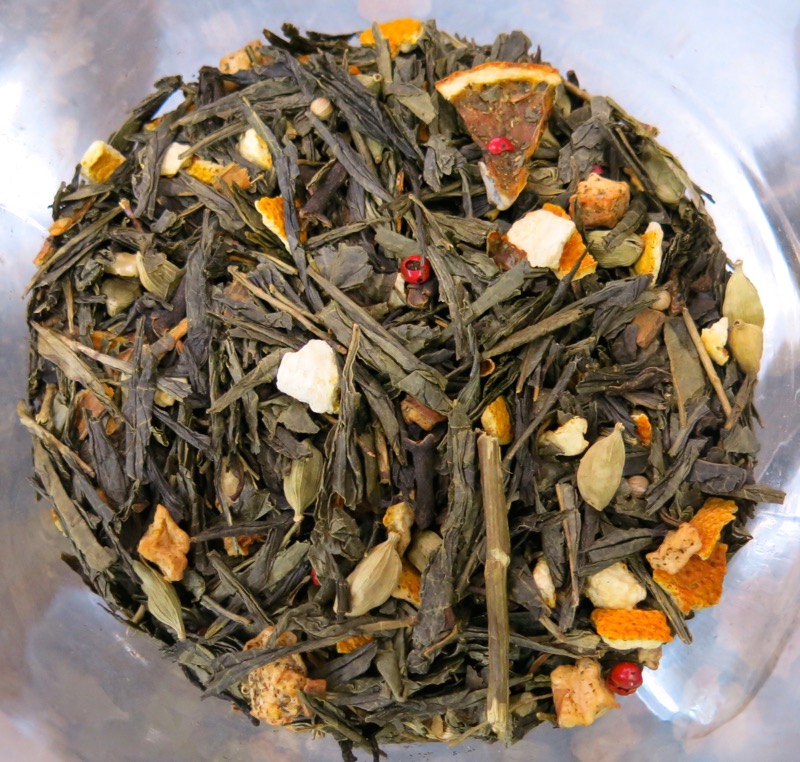 Just before leaving the shop, we stuck our noses into a jar filled with potpourri. Never I have I experienced such aromatic power via naturally dried elements. Simply, divine, and a testament to Greek understanding of the importance given to all senses and the affect of such attention to the mind, body and spirit.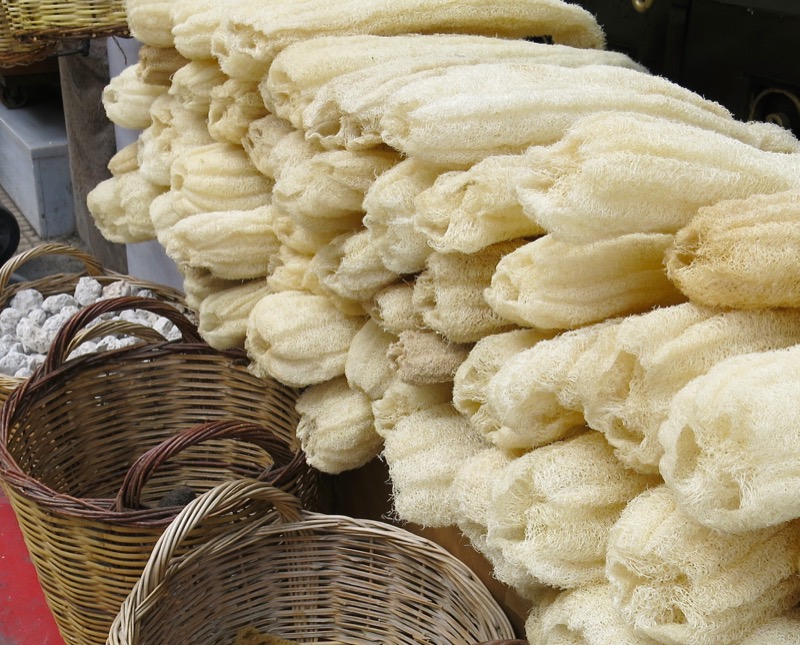 And, loofah. Everywhere, loofah or luffa, depending on how you spell it. Did you know that luffa grows like a zucchini, kind of looks like one and can be eaten like one? I have absolutely not idea! In Greece, they are grown for their fibrous interior which is then dried and used as a sponge. Seeing so many everywhere reminded me of the Grecian Baths I saw in picture books, as a child. Greek bathing regimens have formed the foundation for modern spa procedures. Immersed in Greek culture, I found my senses intoxicated with herbal aromas, peaked by the imagined sensation of luffa and overtly stimulated while tasting the simple, healthy, flavour packed samplings from the Mediterranean diet of these people. So much to learn! Where I have been all my life?
Pastourma at Miran

Evangelis introduced pastourma as a very special Greek cured meat similar to prosciutto; however, it is significantly different. First, it is beef, though believed to have originally be made with camel meat. It is highly seasoned, air-dried cured beef of Anatolian origin. The Anatolians originally spoke Greek, but the region is now Turkish due to the invasion of the Seljuk Turks (Turko-Persian Empire) in medieval times, that ruled before the Ottoman Empire. Pastourma is now an important part of cuisines from many former Ottoman countries.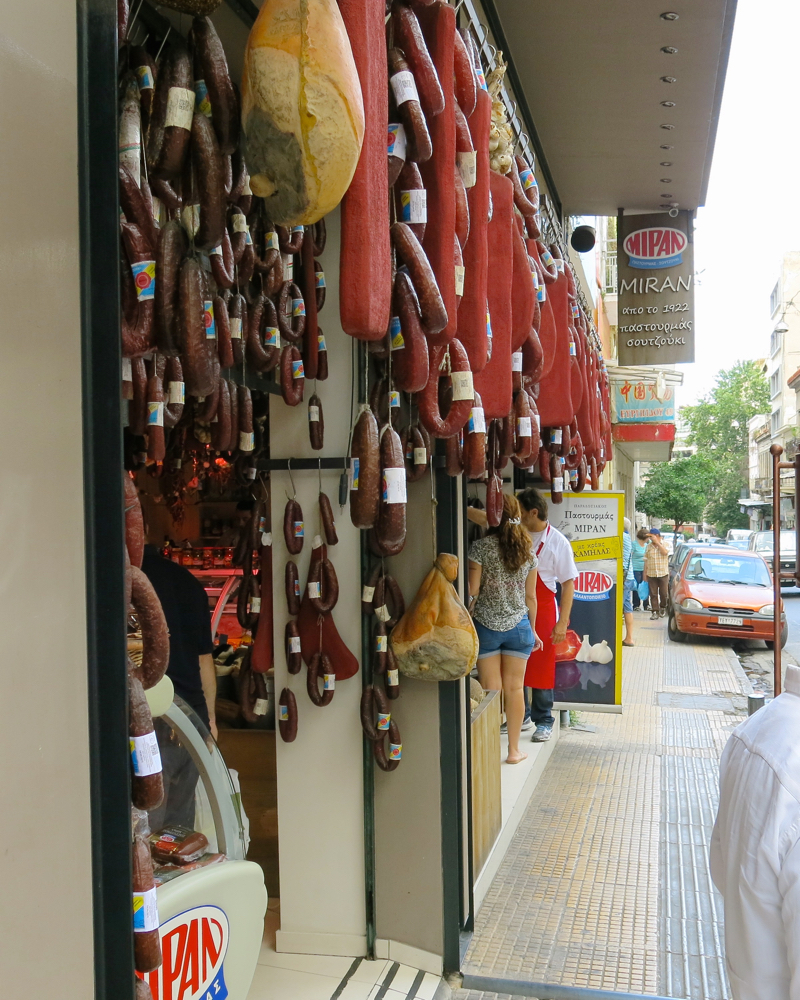 It was very fragrant and delicious. There was a definite Eastern Influence in the taste of this ancient cured meat that melted upon the tongue as hints of orange citrus and notes of spice lingered.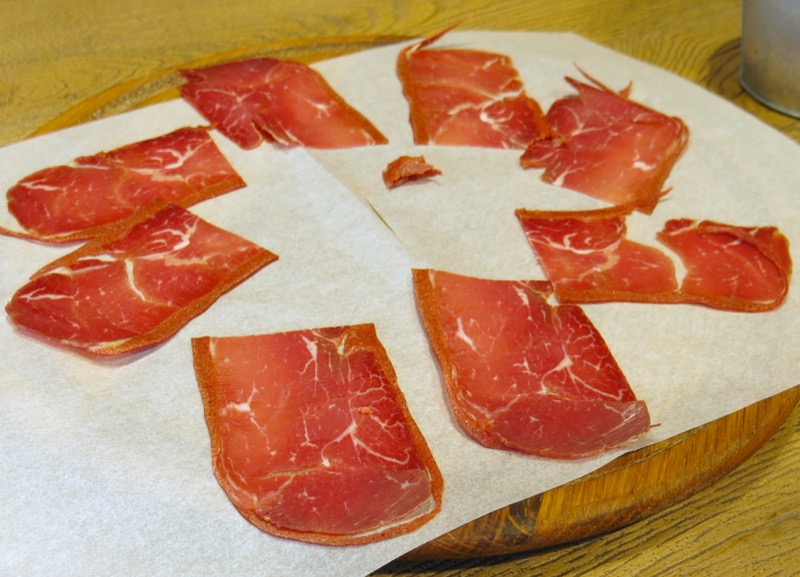 Turkish horsemen used to preserve meat by placing slabs of it in pockets on the sides of their saddles where it would be pressed by their legs as they rode. This was the precursor to today's pastourma: literal meaning is 'being pressed'. The most famous pastourma is made in the town of Kayseri in central Turkey.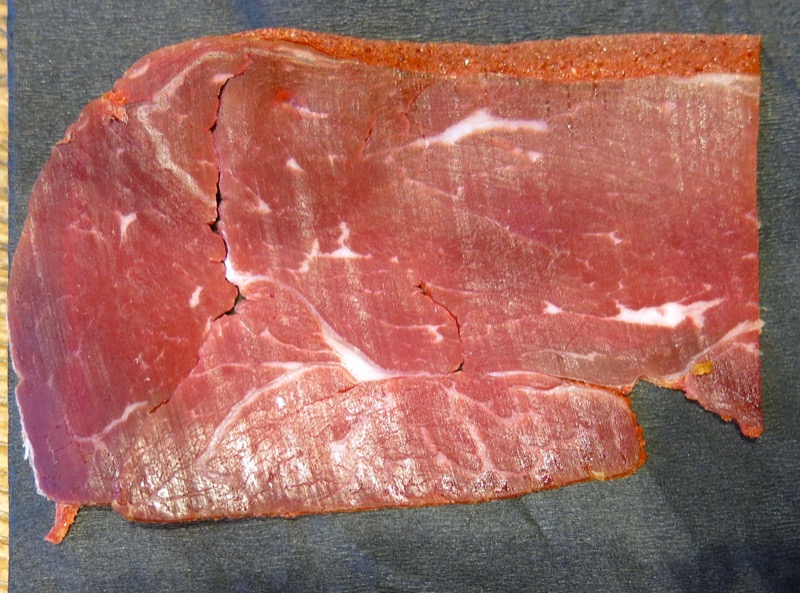 One story gives its origins as the city of Kayseri where a Byzantine dish called paston was created. It is said that the Kayseri pastourma was introduced to Greece by the Cappadocian Greeks refugees from that region in Turkey. Briefly, pastourma is prepared by a salting, washing and drying process, later seasoned and cured.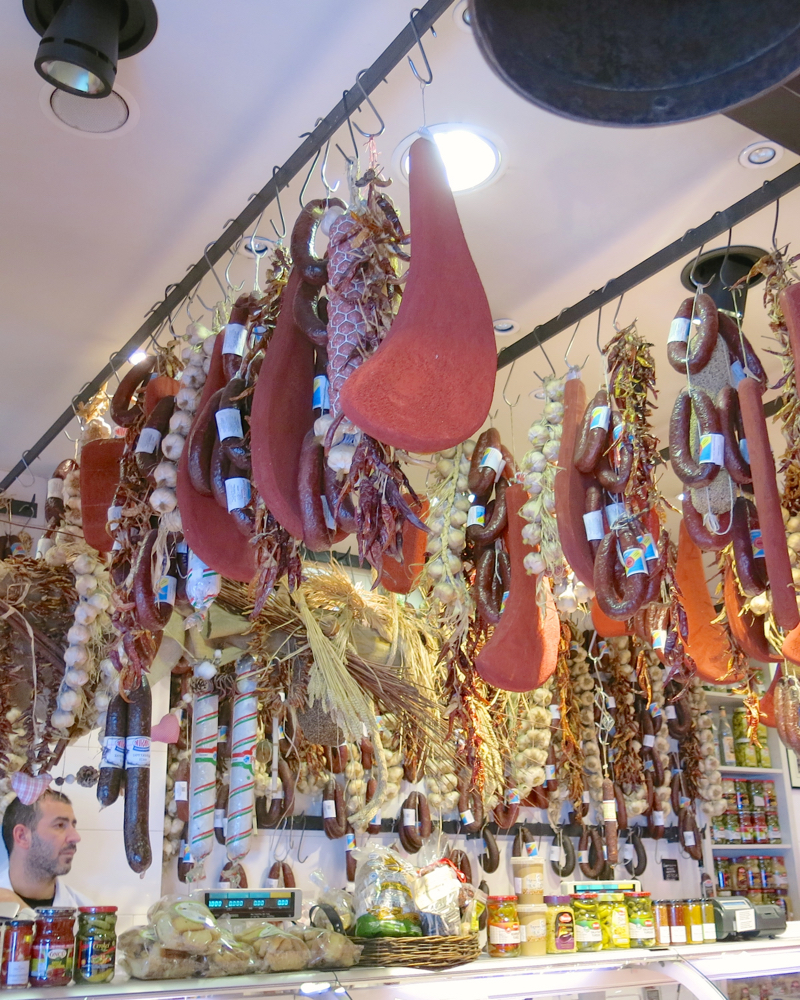 All of the meat baubles are plastic. Yup. More than tacky, me thinks. Yet, trying to recreate the ambiance of old.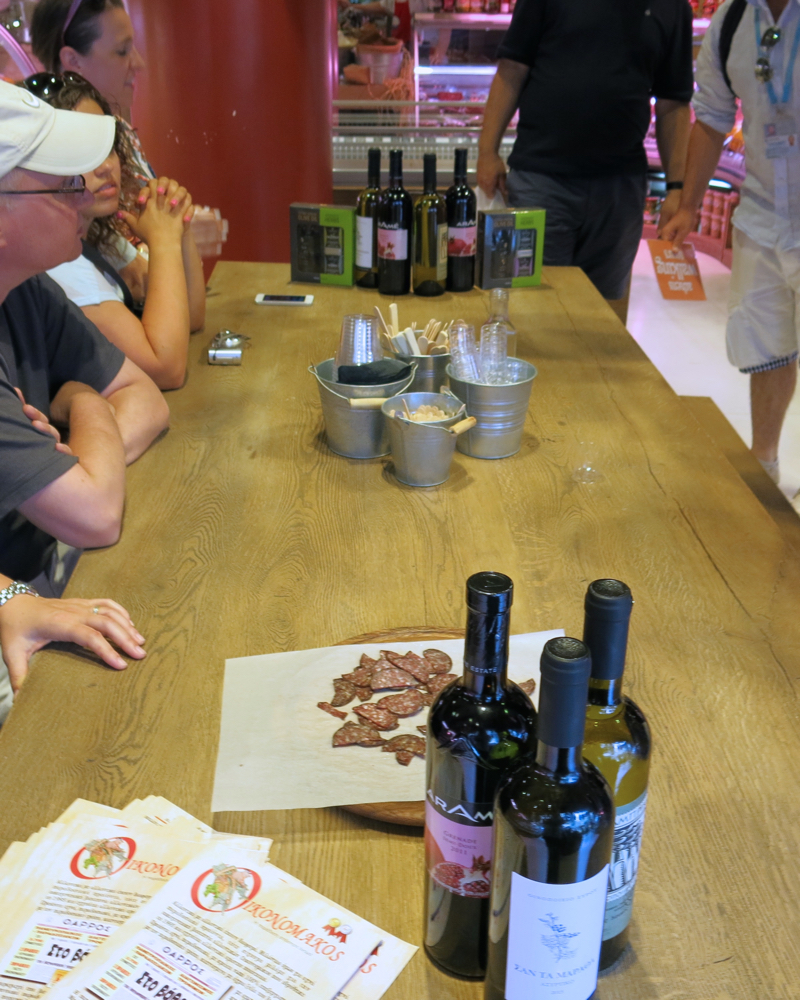 We sat, were told about the meat and explained that the wet rub used by this particular maker is very special as it includes orange.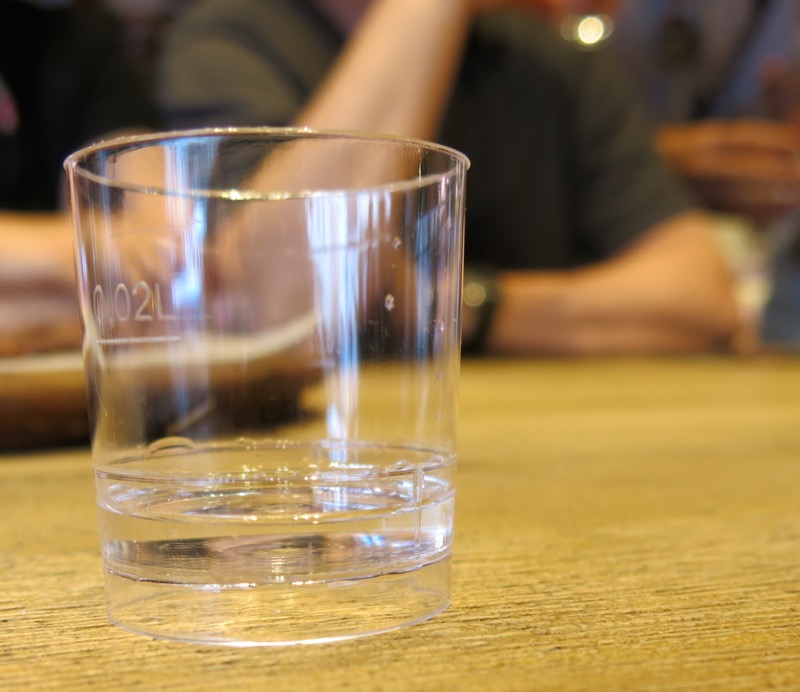 Opa! Here we downed a sip of Greek grappa.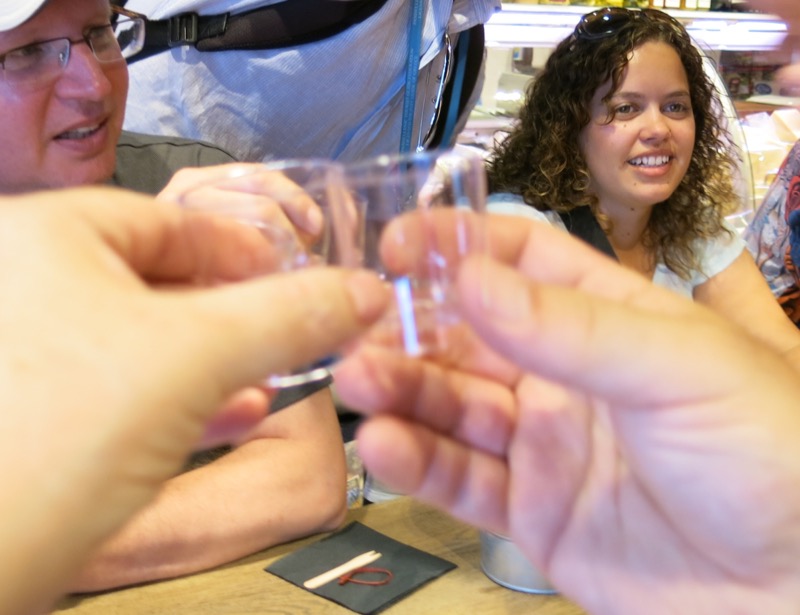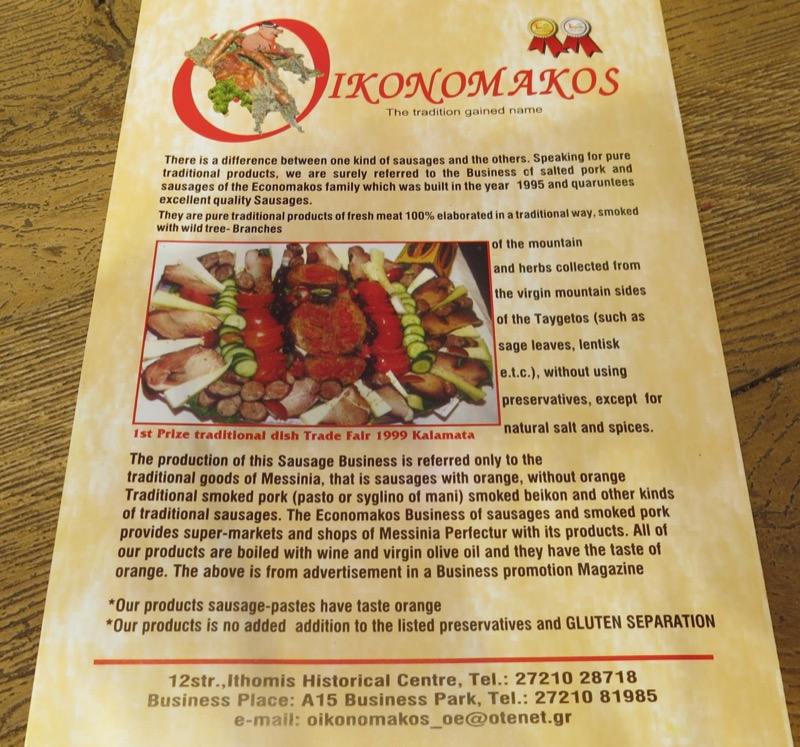 The not brief version of how pastourma is made: The series of processes the beef goes through last about a month from start to finish. The freshly slaughtered meat rests for 4-8 hours and is then cut into suitable portions that are slashed and salted on one side, stacked, and left to rest for 24 hours. The portions are then salted on the other side, stacked and left to rest a further 24 hours, then rinsed to remove all excess salt, dried in open air from three and ten days, depending on sun and humidity.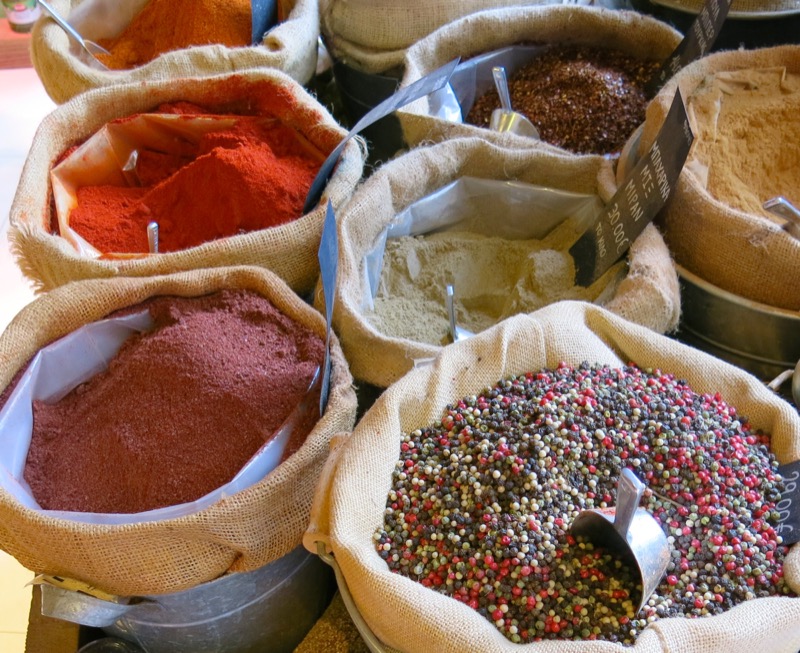 The portions are then moved to hang in the shade and well spaced to enable complete air circulation. After 3-6 days, depending upon the humidity, each portion is covered with what we now call a wet rub: a paste of ground spices called "çemen". The portions would cure for 10-24 hours in hot weather, and 1-2 days in cold weather. At this point, the excess rub is removed, leaving only a thin layer that is vital for preservation purposes as it protects the meat from drying and spoiling via contact with the air. That would cause the fat to oxidize. Portions are hung to dry one last time. The redder the colour, the fresher the pastourma. Over time it takes on a browner tone and becomes firmer in texture. Either way, well made pastourma is delicious: it is a matter of personal preference whether you like it young or aged.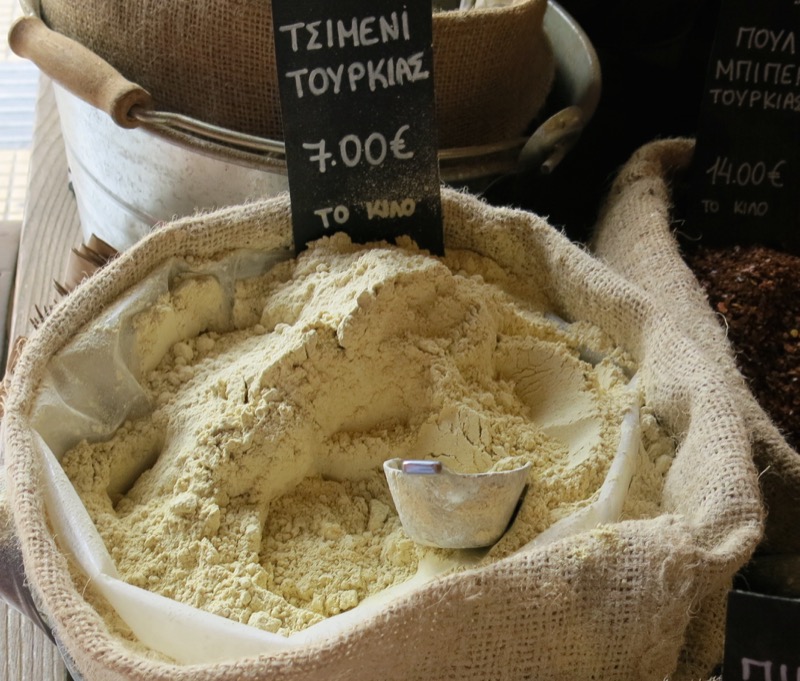 Finally the pastourrma is ready for the table. What is in the rub? Çemen is a creation of crushed fenugreek seeds, garlic and chili peppers mixed to a paste with a little water. This paste is also sold separately as a savory spread for bread. Above is the ground fenugreek used in the paste to cure the pastourma. I thought feugreek was used only in Indian cooking. I have the dried leaves for a dish I learned from Bal Arneson, the Canadian Spice Goddess Traditionalists do not approve of slicing pastourma with a machine but insist on the thin slices being cut by hand with a sharp meat knife.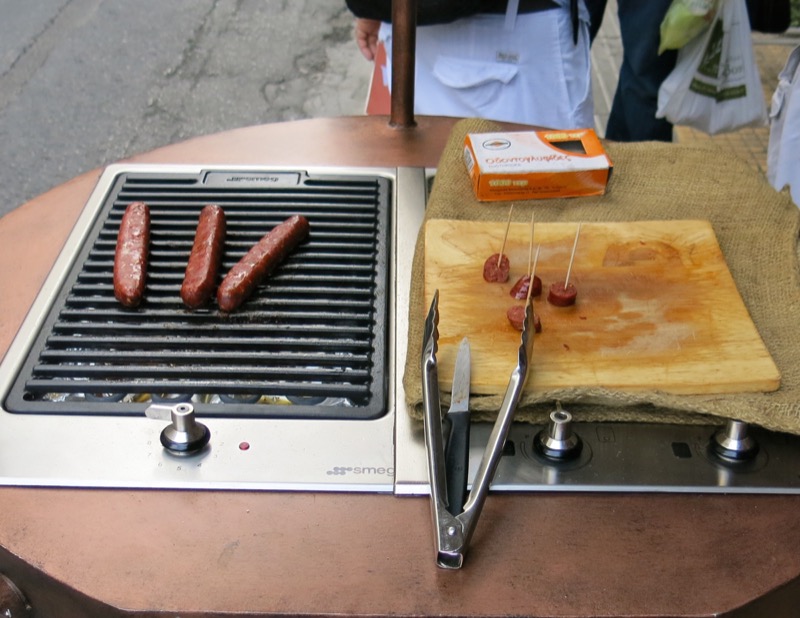 As we departed, each of us took a bite of the hot sausage. For a country of people who eat far more vegetables that meat, they are most skilled in creating scrumptiously seasoned meat dishes.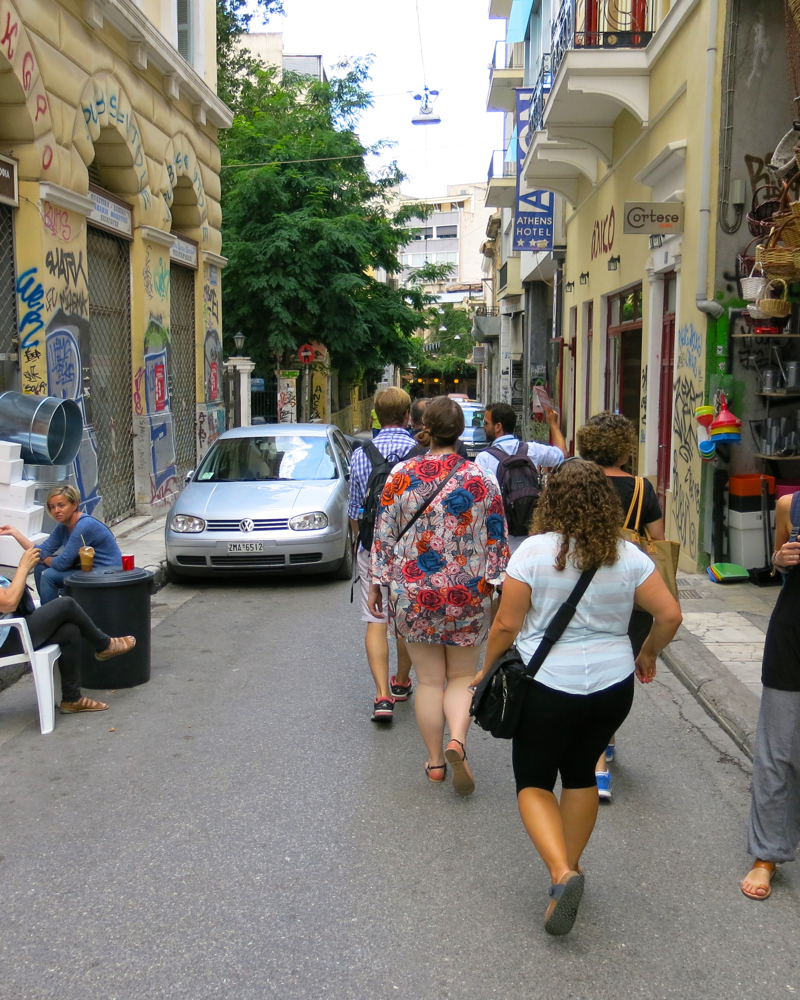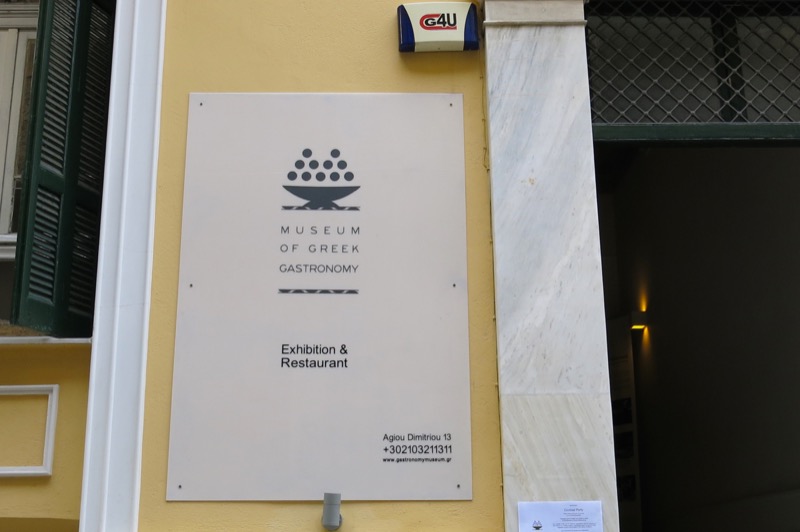 Ironically, on our Athens Food Tour, we passed by the Museum of Greek Gastronomy without a word. I couldn't catch up to Evangelis fast enough to ask about it, either.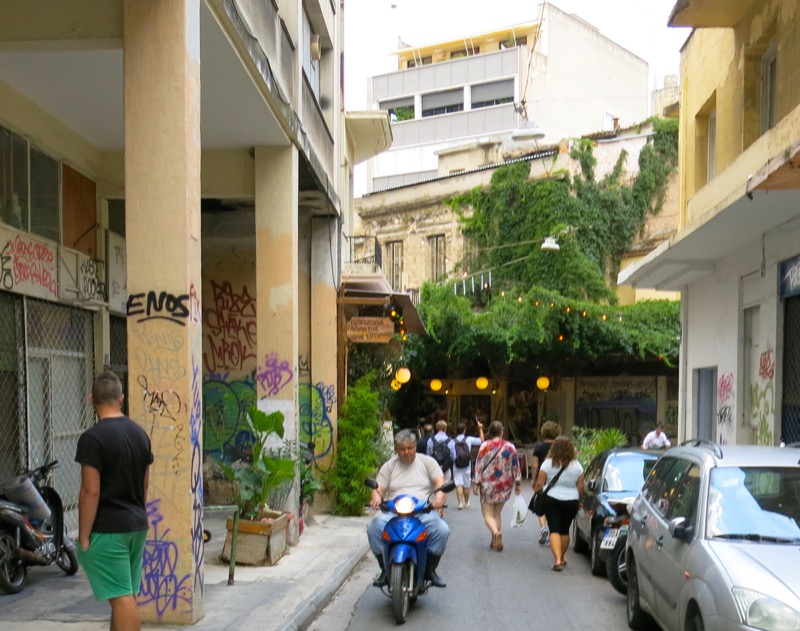 Sweet and Savoury Traditional Greek Pies: Bougatsadiko for Bougatsa

Greek bougatsa is a phyllo type of filled pastry consisting of either custard-like semolina, mizithra cheese (a gorgeous rich creamy ricotta-type soft curd cheese with a tang, from Crete), or highly seasoned minced meat filling between layers of phyllo. After it is baked, it is cut into serving pieces and served hot. The semolina version is dusted with sugar and cinnamon. Some small independent specialty cafes and bakeries still sell hand-made bougatsa and if you are lucky, as we were on this day, you can see the Bougatsa Master at work.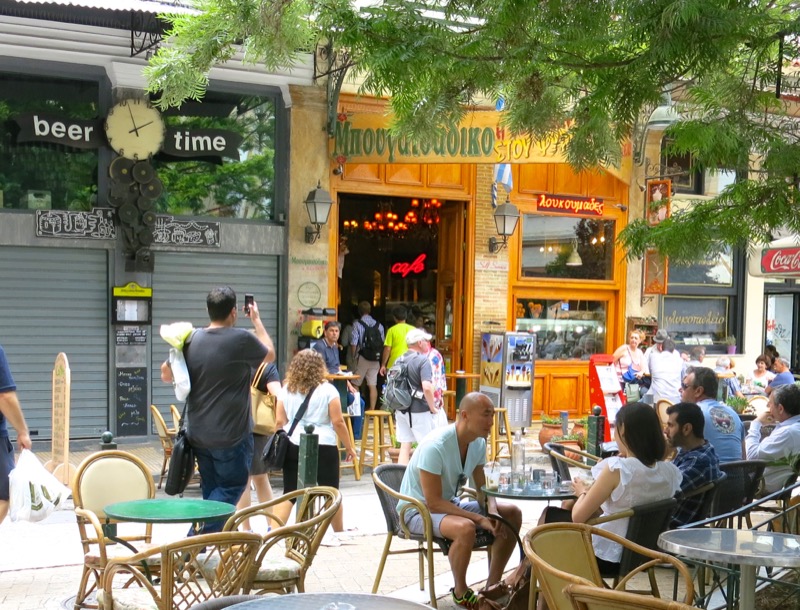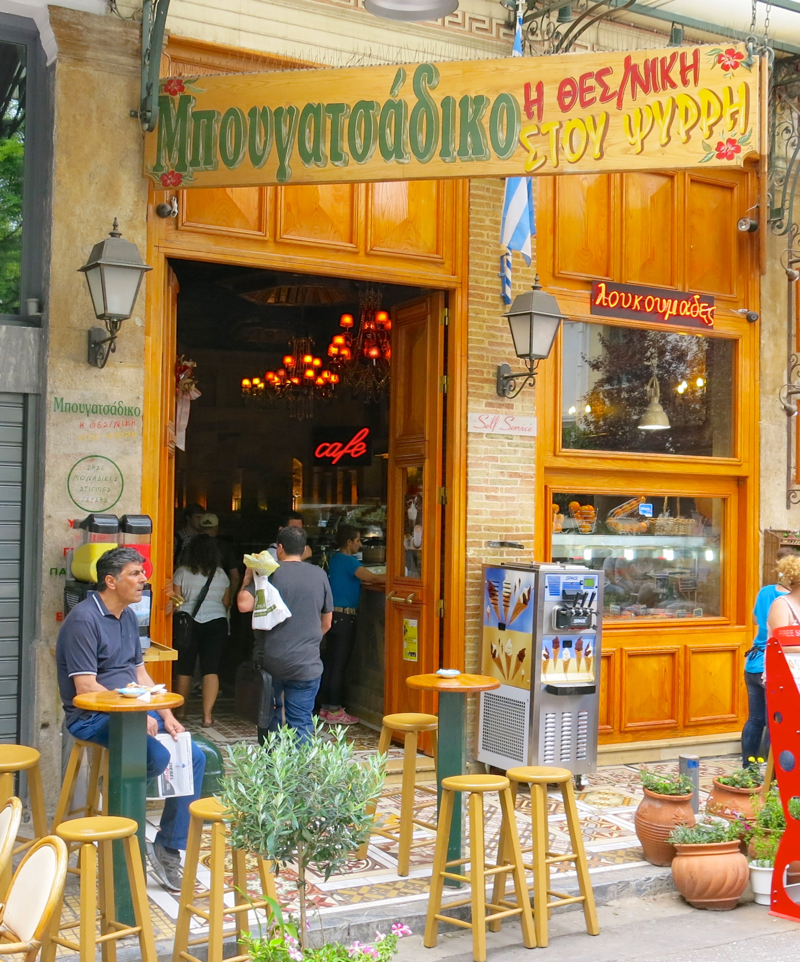 Bougatsadiko opened in 1956 and its name simply means the place that makes bougatsa.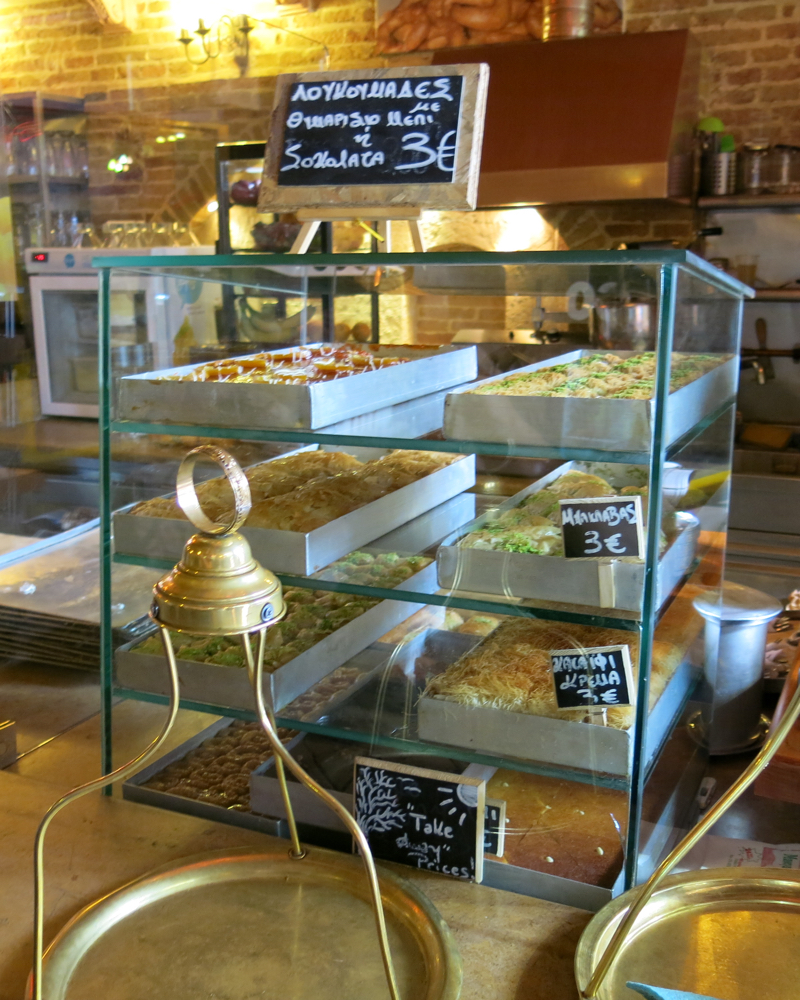 Both Vanja and I were in heaven upon entry. Greece is a Balkan country, as the former Yugoslavia, and many of the foods are very similar. Many are vastly different. The Eastern understanding of the power and value of herbal remedies is certainly shared by both, and so is the delectable phyllo pastry pie. In Vanja's country, it is called burek. I have had a couple of lessons and actually made the pastry by myself! But it is very difficult to acquire the kind of flour needed for such dough in Canada. In the former Yugoslavia, it is jokingly said that a young girl is ready for marriage when she can make the dough by hand.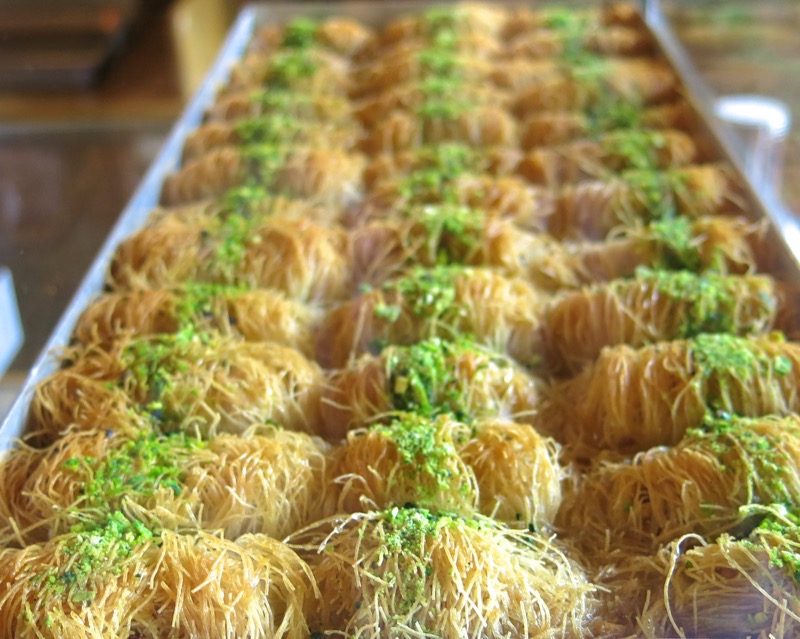 Baklava and a multitude of various Persian-influenced syrupy-sweet phyllo dough pastries baked in a pan are called "glyka tapsiou". Baklava is as traditional in the former Yugoslavia as in Greece. The Ottoman Empire definitely left their mark throughout Eastern Europe. Obviously, their food was good! I learned to make this long ago from a local European Baklava Master, and made it for Vanja's family in Belgrade, as well.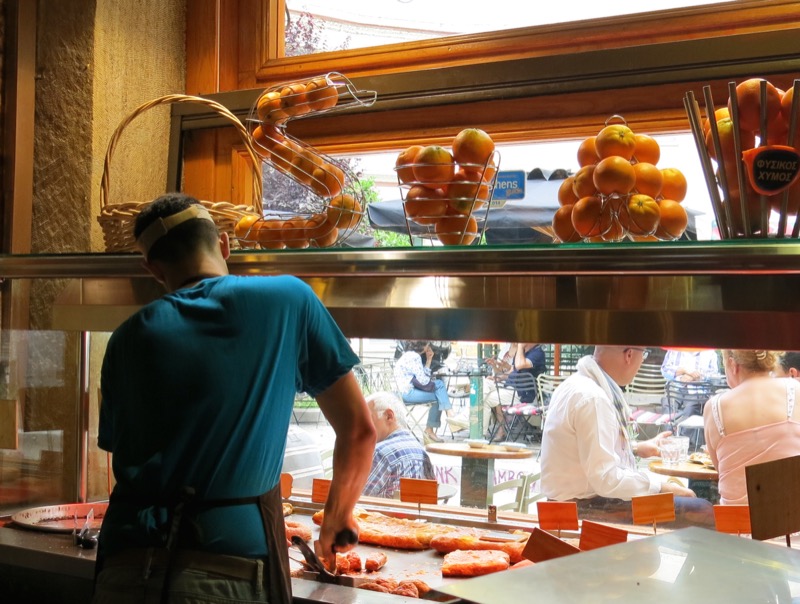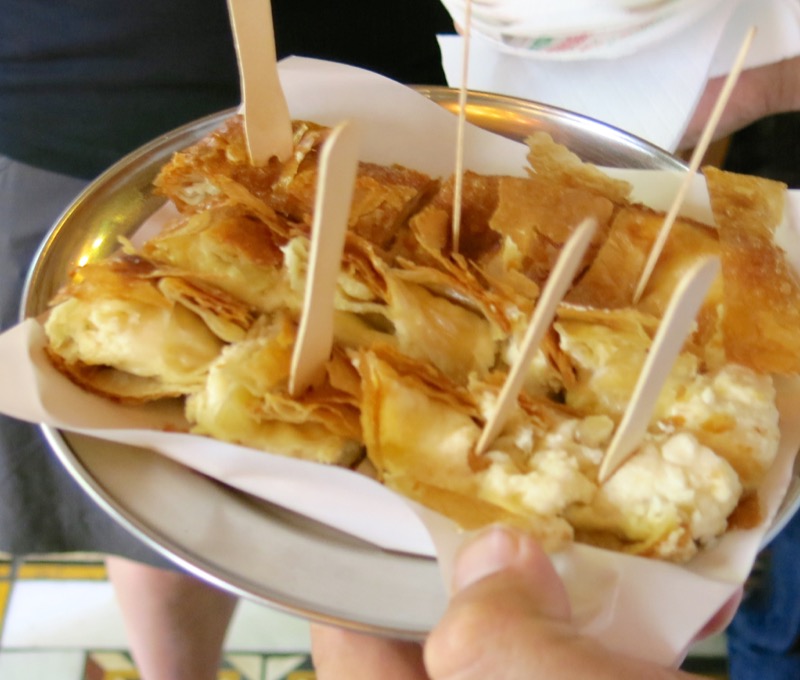 I believe we were supposed to have sampled Spanakopita, but loved the samples we were given: a cheese bougatsa, above….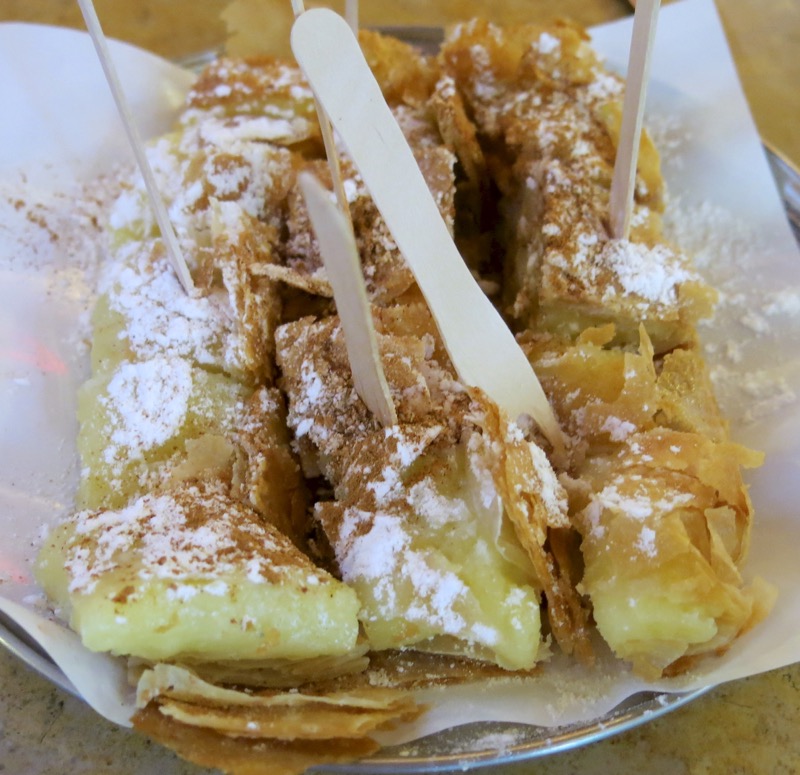 ….and a sweet semonlina bougatsa. You may have heard of the famous Greek Milk Pie or Galaktoboureko? What is the difference between Galaktoboureko and Bougatsa? Bougatsa is thinner, has more phyllo layered at the bottom and the top, and the filling is not so firm. Galaktoboureko is thicker and the filling is set and can be sliced with a clean edge. Galaktoboureko also has syrup added with an additional perfume of perhaps vanilla and lemon or orange. I had my eye out for milk pie the entire time I was there, and it wasn't until our last luncheon in Sparta that the chef proudly brought us out a complimentary slice. MMMmmmm! So happy I got to try it, as well. Vanja and I were smitten with both bougatsas. The cheese one was exactly like the Yugoslavian Sir Pita which I adore. The semolina one was addictive. Not very sweet, but really simple home food.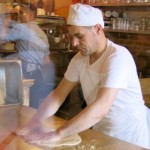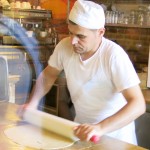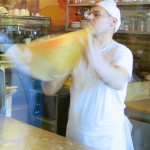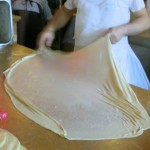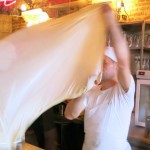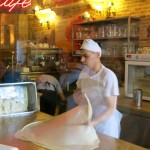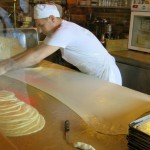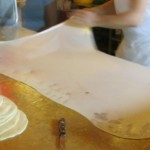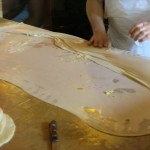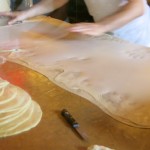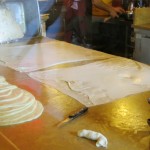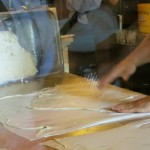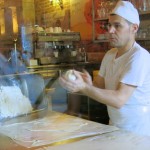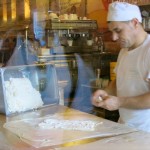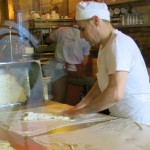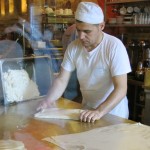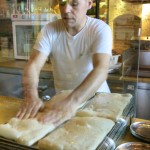 I know, I know. It is the 21st Century. Where was my video camera. Suffice it to say, I was mesmerized. This guy is goooooood!
Gyros
Honestly, maybe I am a few generations lost in the wind. I would expect slouvaki, but not gyros. I completely see these as Arabic food from my Canadian experience with the ethnic food offerings at home. I had no idea these were part of the Greek food culture, too, though it makes perfect sense.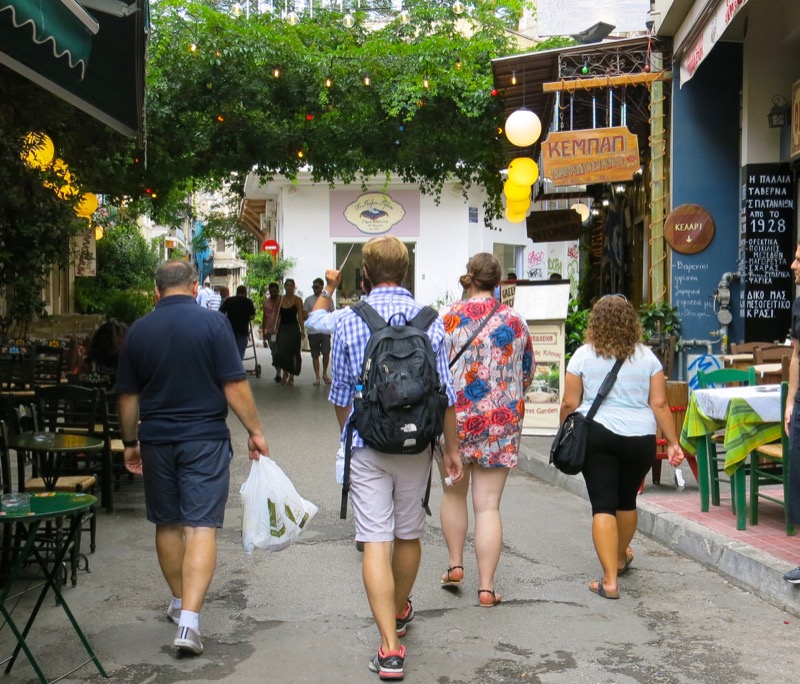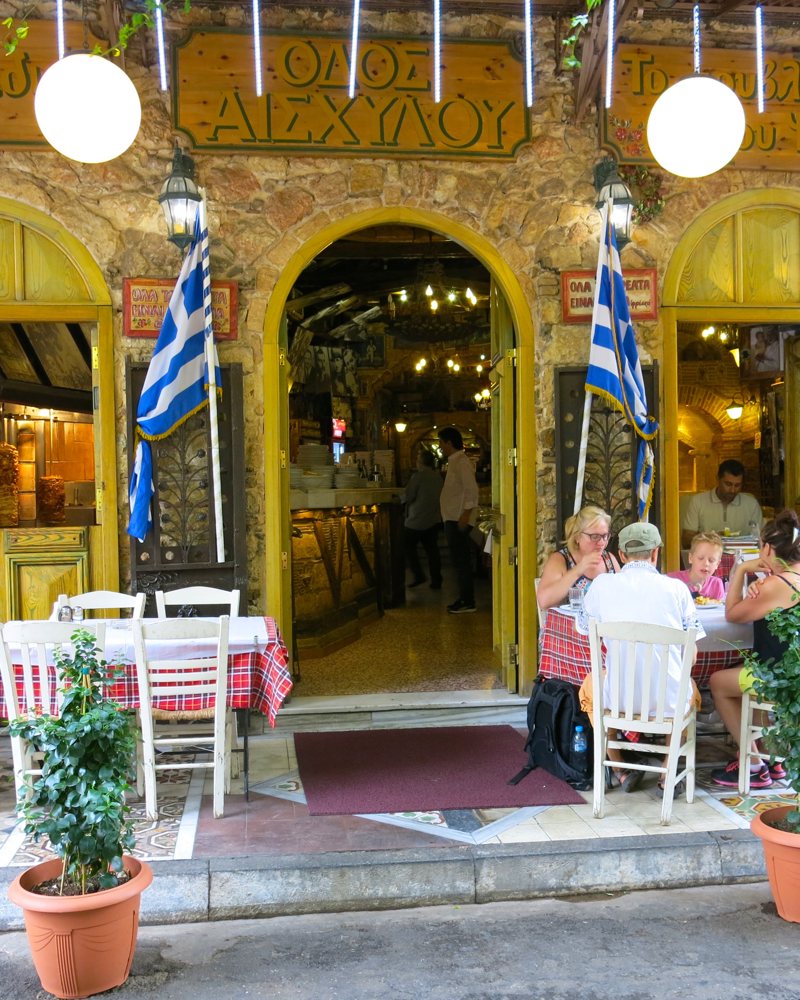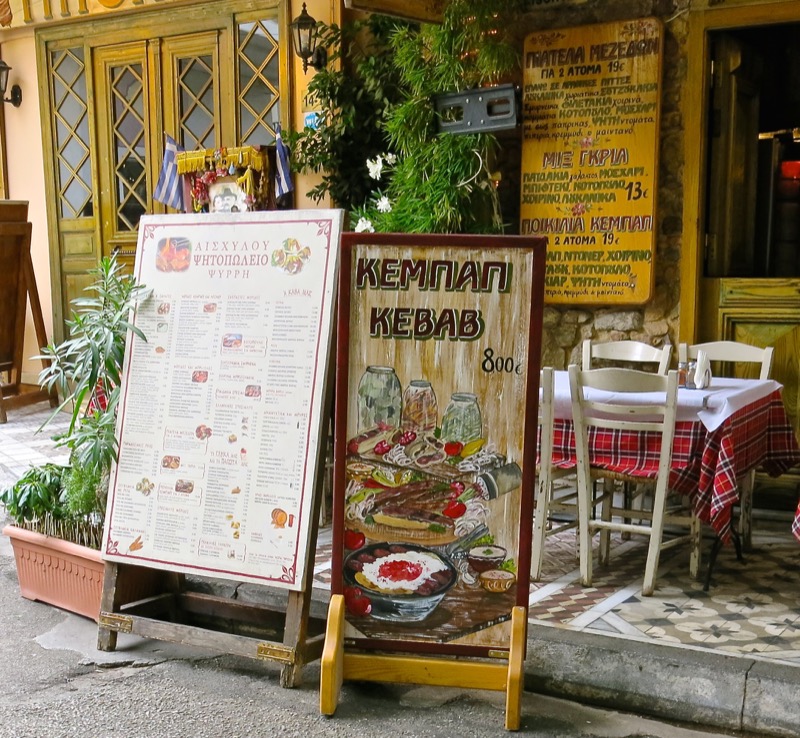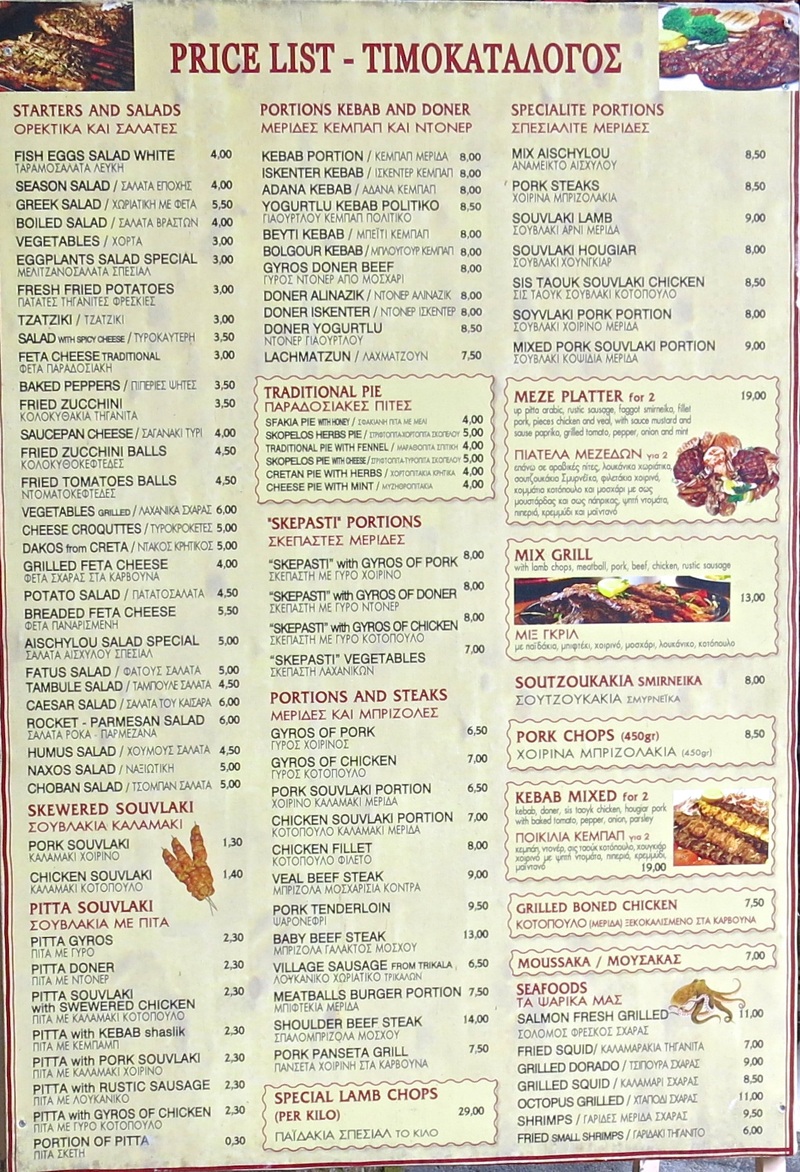 We were given a choice of a beef, chicken or vegetarian gyro. According to tradition, you should throw a few French fries inside! We wondered, "Why the fries?" And though we did not experience a traditional Greek Salad on this tour, I had many, many, many during my time here. We arrived in June, so the Greek Salad was just starting to be served as they are only served in season with a hudge flat slice of local feta on top of deeply flavourful juicy summer tomatoes, cucumbers, and onion slices. Interestingly, only a couple of olives found their way onto any of my Greek Salads and I love them…. but the puddle of that fruity delectable thick green olive oil is the ultimate crowning glory.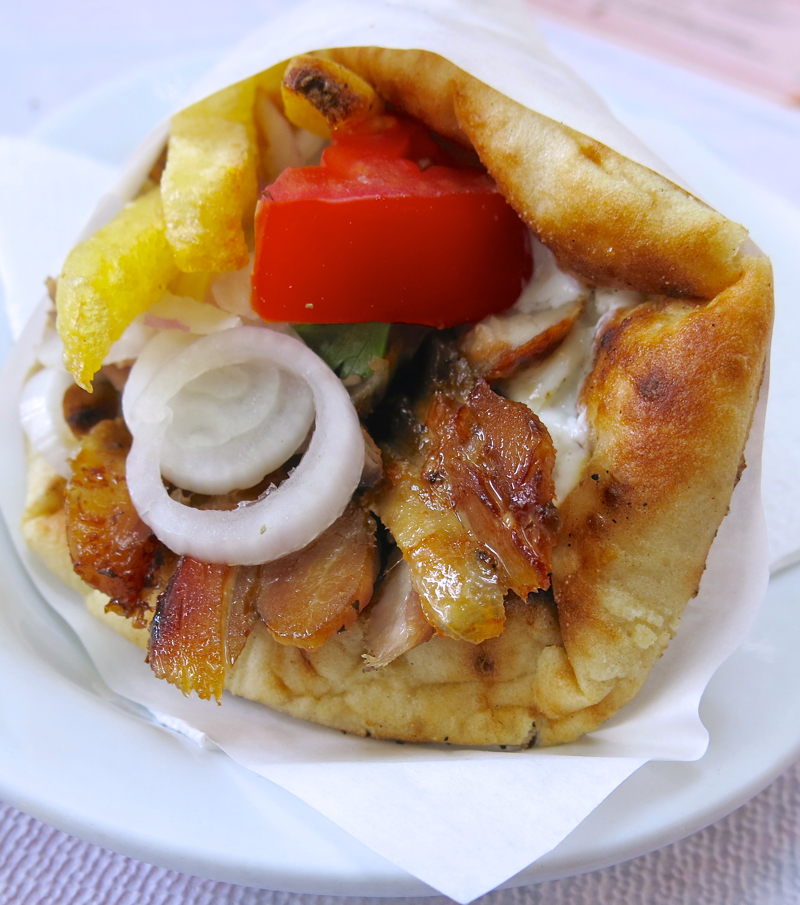 Above, the beef gyro. A Greek gyro is made with meat (beef, veal, mutton, pork or chicken, or other alternatives such as feta or haloumi cheese) cooked vertically on a rotisserie and served in a pita with tomato, onion, and tzatziki. Interestingly, Wikipedia explains the name change from donair to gyro: "The name comes from Greek γύρος ('turn'), a calque of the Turkish döner meaning "turn" . The name formerly used in Greece and spelled ντονέρ [doˈner]. The word 'ντονέρ' was criticized in Greece for being Turkish, so the Greek word 'gyros' was coined to replace it."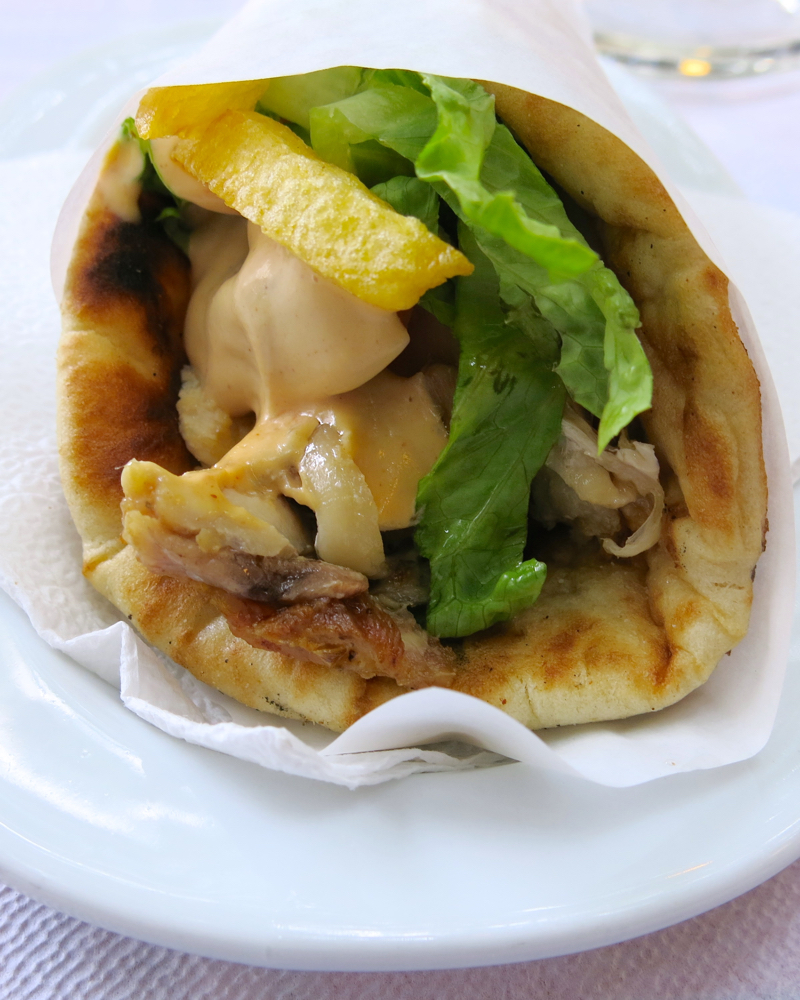 The chicken gyro, above, came with a tahini sauce instead of the tztziki. But why the french fries? That is just odd.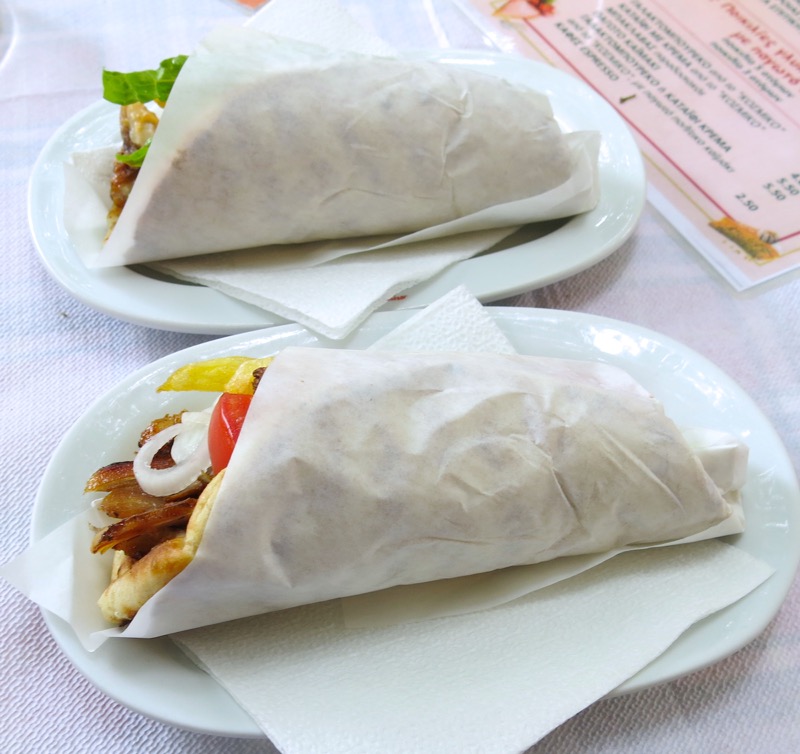 Tired, we inhaled the gyros, drank more cold water, shook hands farewell…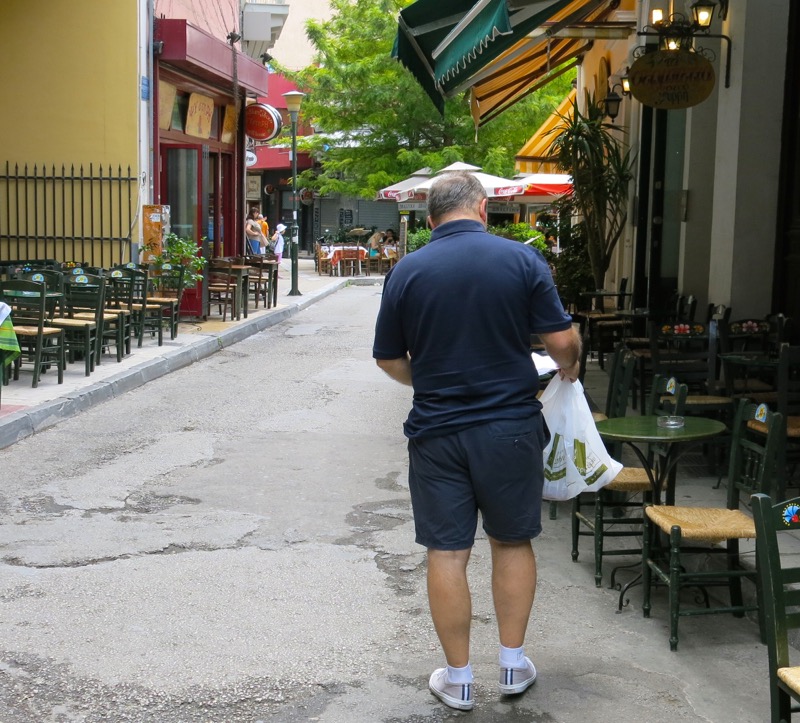 … and you may think that was the end of our day as it was so very full! But no. We took the Happy Train all around the old town and the acropolis, we stayed and ate at a little restaurant nearby, shopped and walked 16 kilometers before we headed home after a very satisfying introduction to Greek food in Athens, the modern city and the culture in one day! Just as we walked 16 kilometers – and maybe more, you have read over 7000 words – for those of you that actually did read the entire post. Nightly night, mom.