Schwartz's Famous Montreal Smoked Meat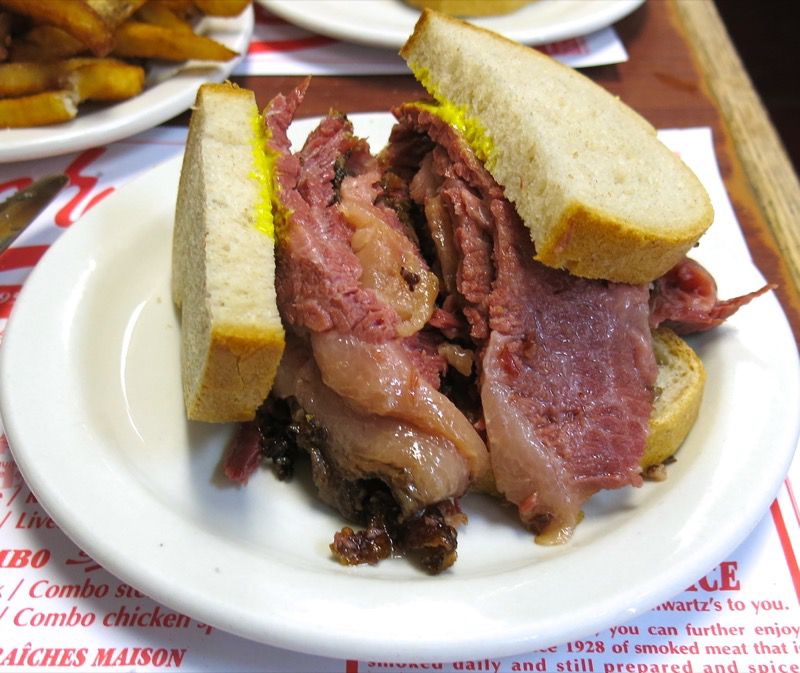 Order it fatty. There is nothing like it. The flavour is in the fat. It's as tender as butter and so succulent, I found myself licking my fingers in public.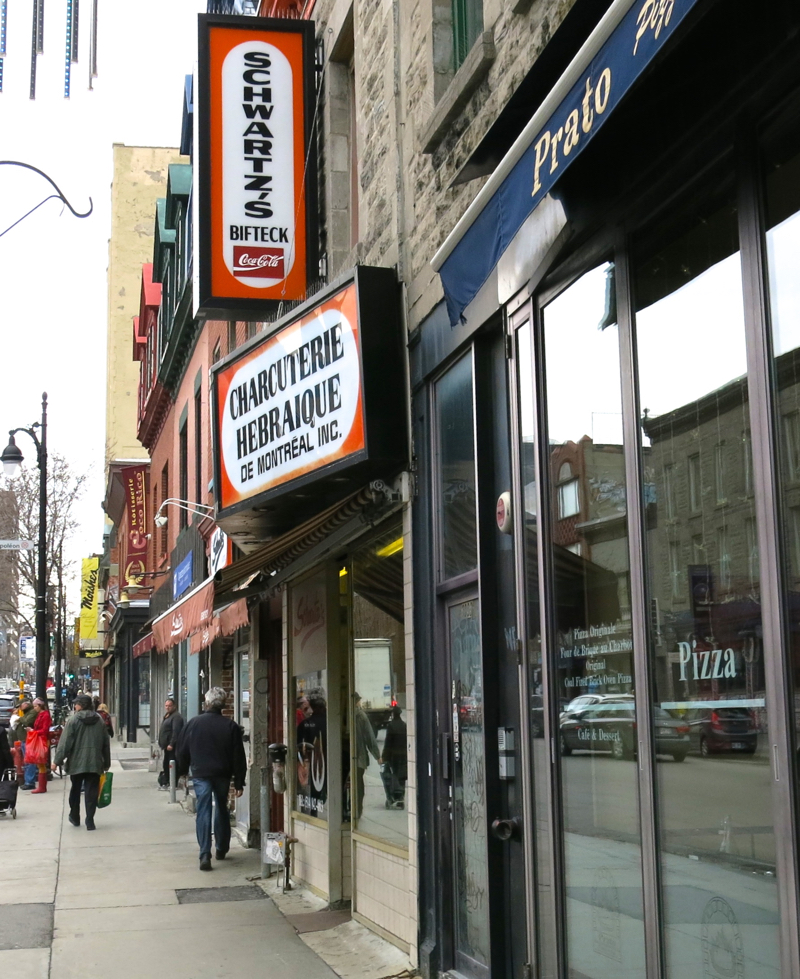 Schwartz's Deli is a Montreal institution; therefore, the Montreal Smoked Meat is an important Canadian food. Founded in Montreal in 1928 by Romanian immigrant, Reuben Schwartz, Schwartz's Montreal Smoked Meat set the standard all others rise to meet. As a young lad, Schwartz delivered smoked meat by horse and buggy for other wholesalers, but soon realized he could make a better and cheaper product himself in a more natural fashion. There are no chemicals or preservatives in this traditional and top secret family recipe.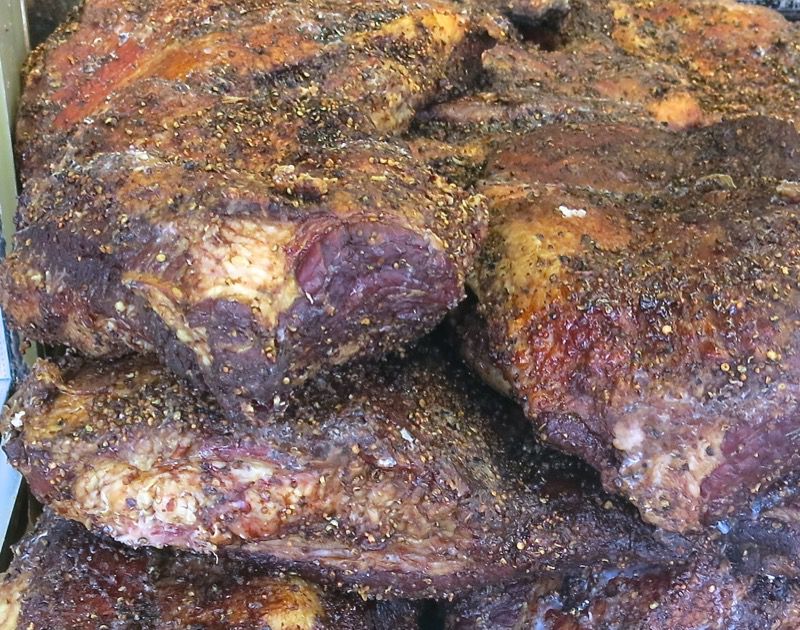 Montreal Smoked Meat Making Process
These days, it is the iconic Canadian Alberta Beef brisket that is marinated raw for 10 days with a secret blend of spices that are also sold in the Deli. The brisket is then smoked for 8 hours, and finally steamed for three before ready to serve. The recent buyout by Celine Dion and Paul Nakis has not affected Schwartz's Smoked Meat recipe or the restaurant experience. It has remained unchanged for years with that rare "if it works, don't change it" appeal.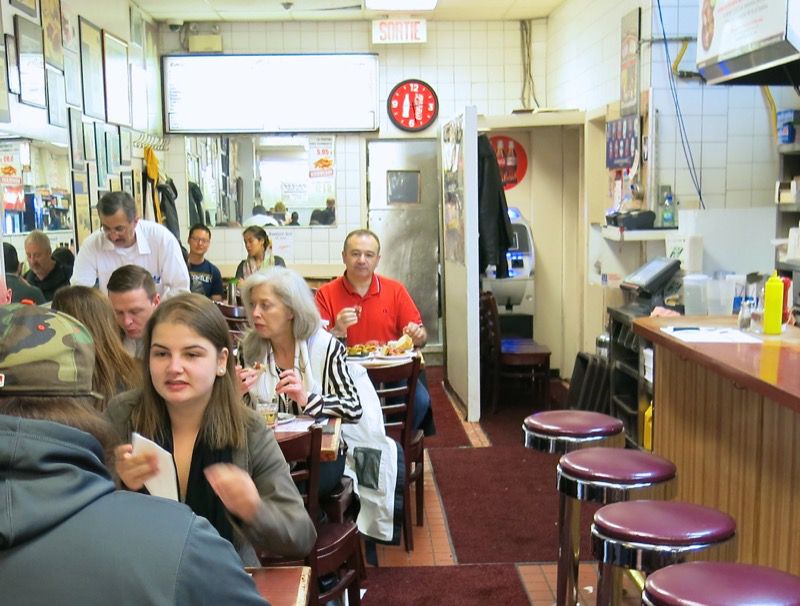 Ten years ago we stood in line like everyone else for our first Montreal Smoked Meat experience here, and have had our mouths watering for more ever since. Seriously. The anticipation was palpable. We were not disappointed.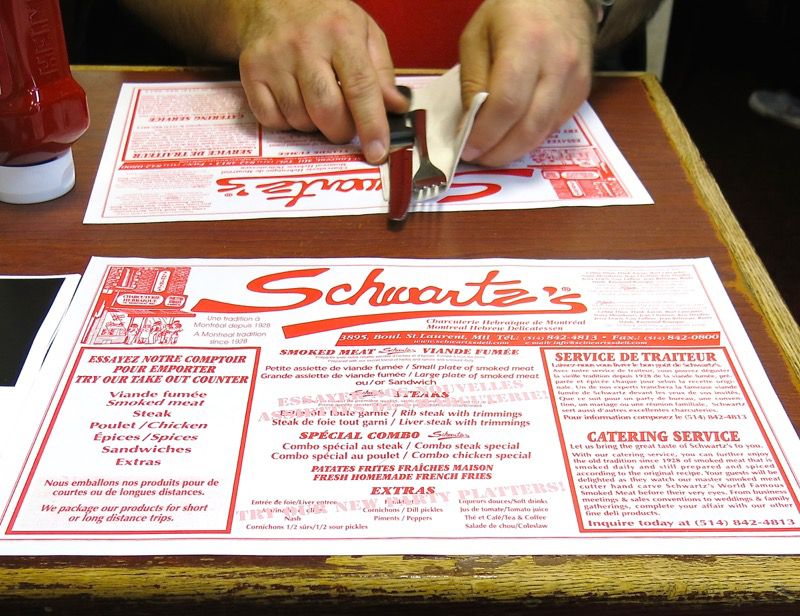 Eighty seven years later, they are still slicing the succulent fat capped briskets by hand and serving the melt-in-your-mouth rich smokey slices on rye bread with mustard. A giant house made dill pickle, french fries, and a Cherry Coke complete the iconic meal.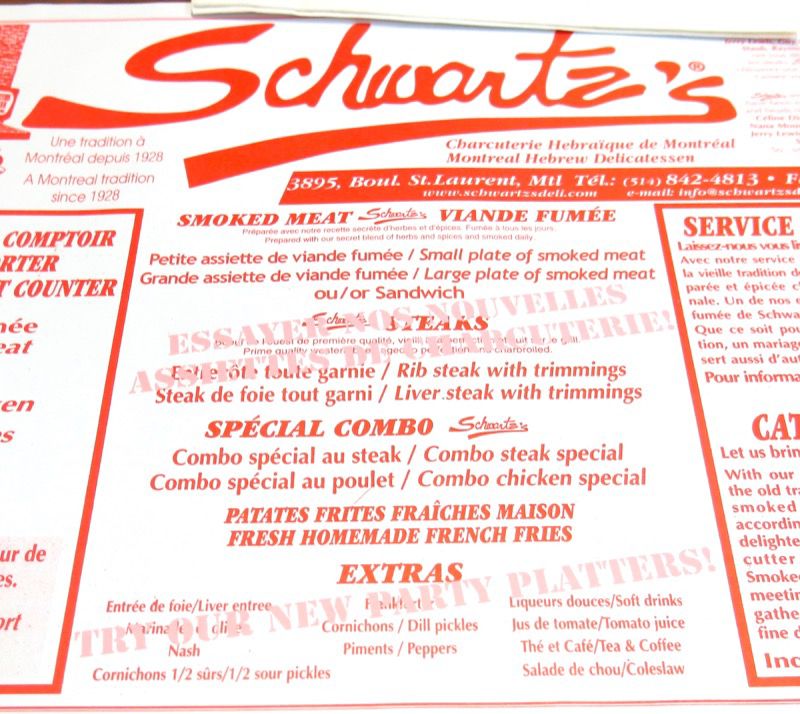 They smoke turkey, chicken and I have heard their liver is also unforgettable. We will never get to the other items on the menu. The beef brisket is that good. I had visions of flying one to Edmonton for 10 years, and now am definitely taking some home.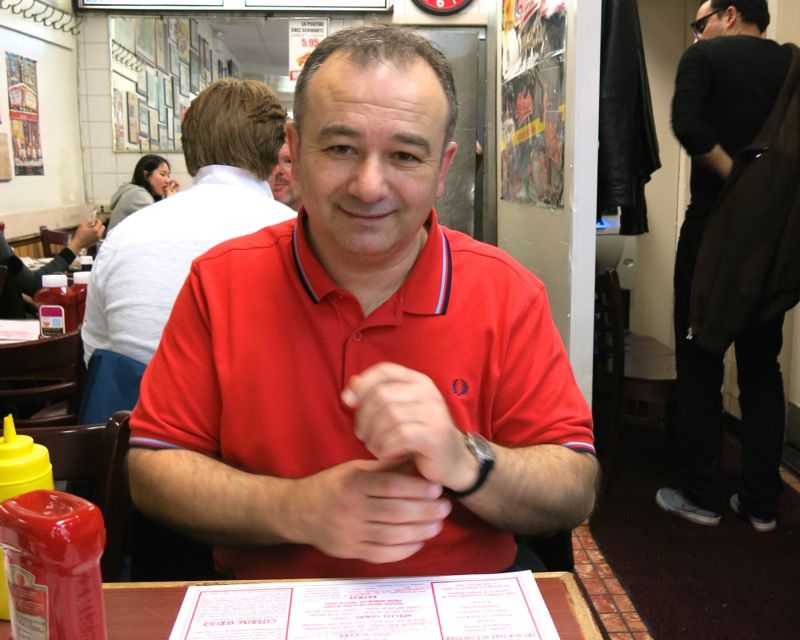 You can read the menu below, or read it here.

Interestingly, they serve a half sour pickle which is my personal favourite, below, on the right. A kind gentleman shared his with me. That's what happens at Schwatz's. It is communal dining at its best.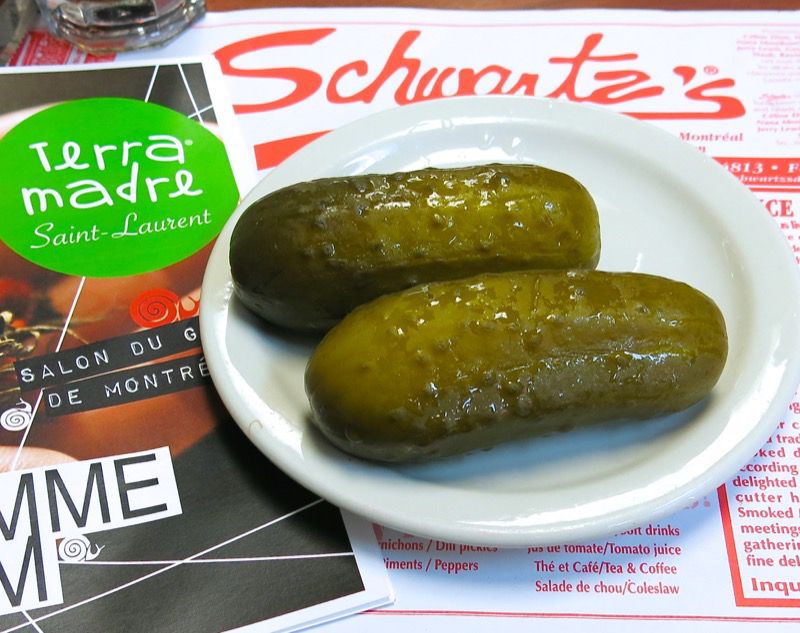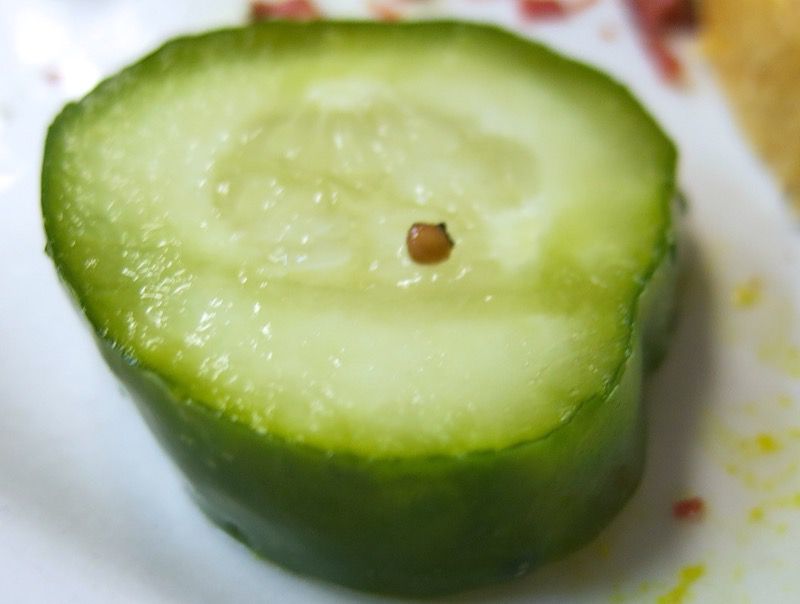 Meet the crazy people in the line up. Anyone waiting for food in a line up must be crazy, right? All I can say is they are my kind of crazy! I recommend off meal hours for a shorter line up, but this taste experience is worth the wait.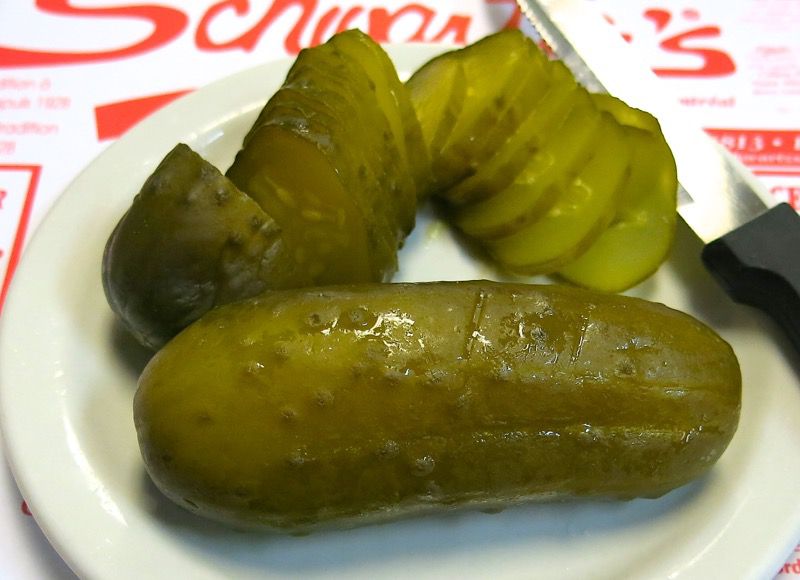 Your waiter will be your instant new best friend. He is that friendly and will quickly usher you to the only 2 empty chairs in the house. At a table with several others, likely from the four corners of the world, you have immediate and interesting dining company. People share. Everyone at the table is there for the food and the experience. If you just want the meat, you can buy it to go, or get it from their new small store next door. (We did that, too, after we left.)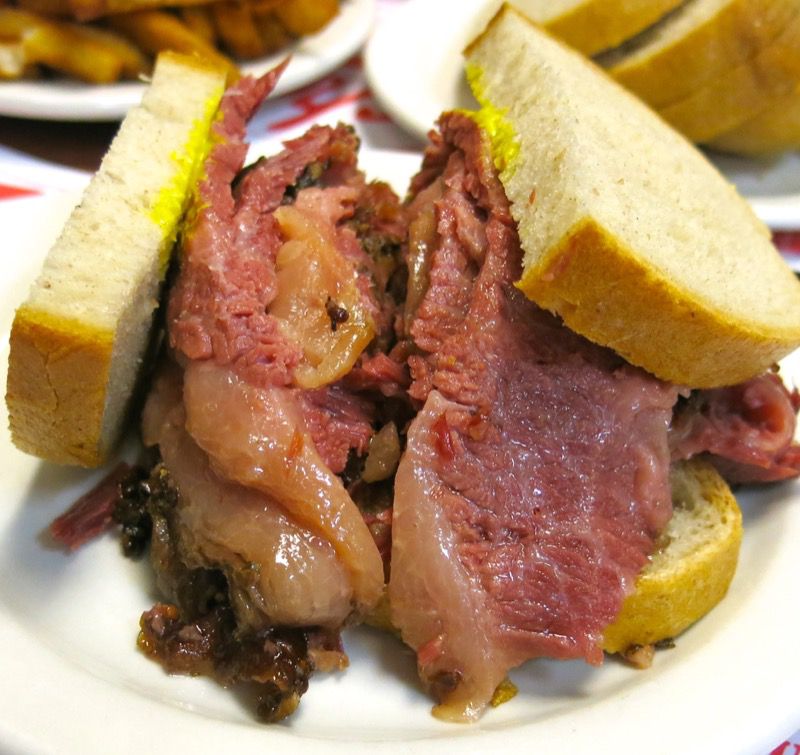 Look at that sandwich. I have come a long way, baby! I would have never let fatty meat pass between my judgmental lips before eating here. Ten years ago, the gal we sat beside could tell we were "first timers" and set about to give us the quick spiel: order fatty. It is what Montrealer's do. The flavour is in the fat. It must have been the day. I went for it. I did not regret it then. Have never forgot that advice, and did not regret it now. The first piece literally melted into a puddle of deeply rich smoky meat flavour on my tongue. Supremely smoked lip smackin' pleasure.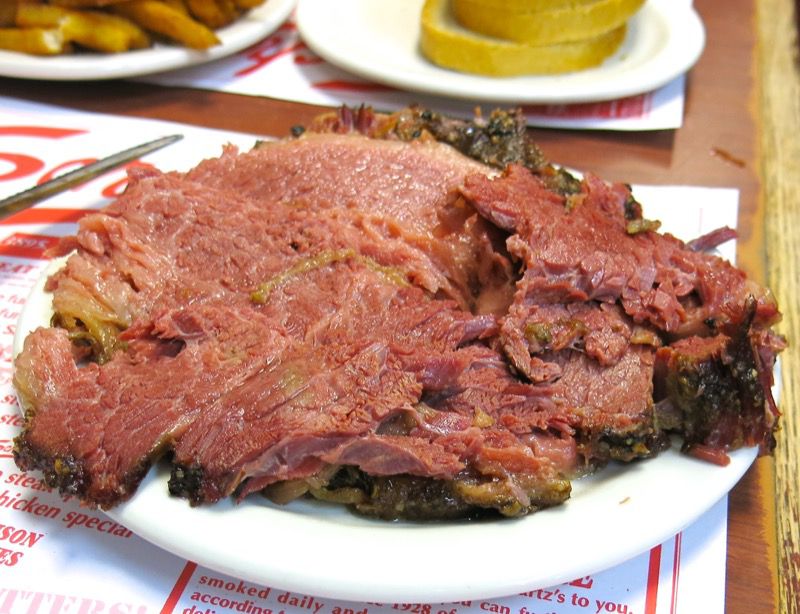 So what makes Montreal Smoked Meat different from other deli meats? First, it is cut. The brisket in Canada is butchered differently than that of the United States. The whole brisket in Canada includes part of the American brisket and navel. Therefore, when you order fatty or lean smoked meat, you'll receive meat from a different portion of the whole brisket. Montreal Smoked Meat contains very little to no sugar on the rub. Black pepper, coriander seed, garlic, mustard seed, bay leaf, and other aromatics are combined with the smoke and process to create this unforgettable taste of place.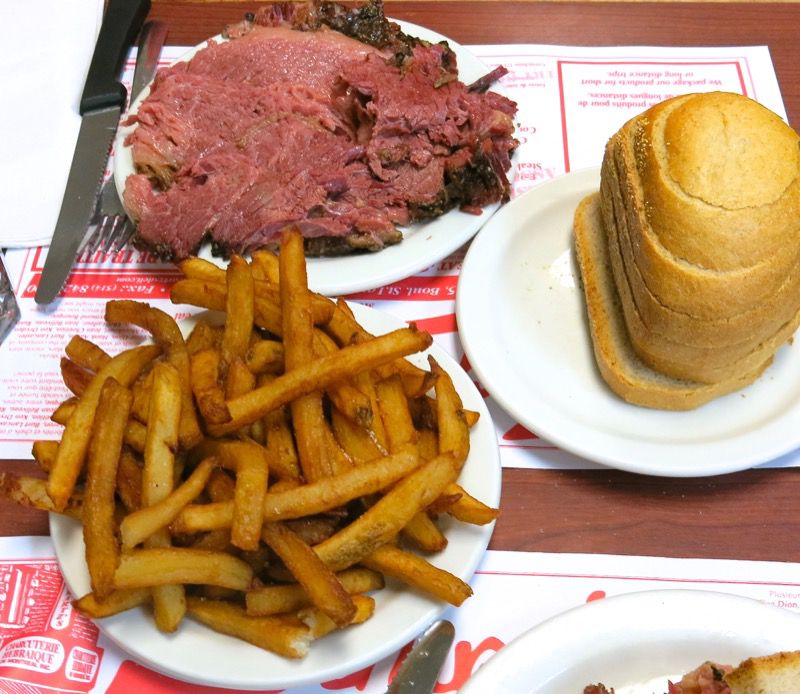 The rye bread. The mustard. The double crisp fries and the iconic pickle each contribute to the dining pleasure. As does the cherry coke. Some foods just don't pair as well with a great wine.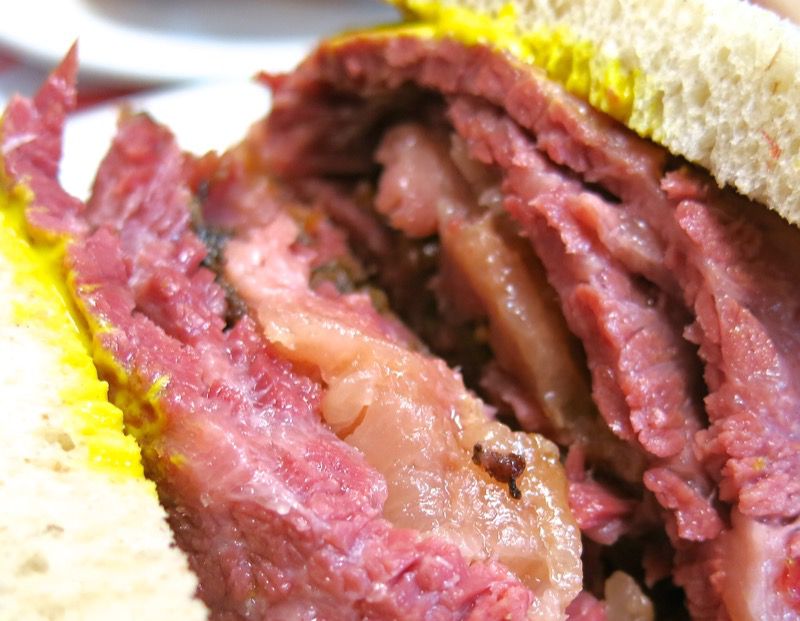 As Romanian immigrant, Reuben Schwartz, was a Kosher Jew and could not eat pork, beef was the protein of choice, and much more readily available than it was in Eastern Europe. Immigrating to the New World in the 19th century, the bulk of the Romanian immigrants settled in New York and Montreal and translated the cuisine of their motherland to the ingredients available in the New World. Over time, both Montreal Smoked Meat and Pastrami emerged, believed to be transformed from a much earlier version of Pastramă, a more ham-like meat than these two versions of smoked meat we have come to revere.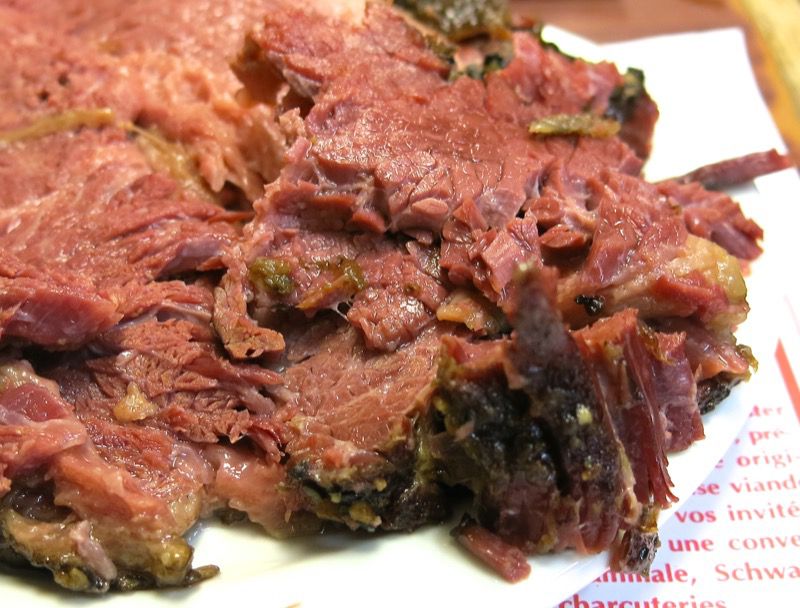 Without the taste experience, the picture cannot tell the story. That is part of the magic. The unexpected and rare succulence and rich depth of flavour this "corned" or cured meat offers is a completely new experience to most.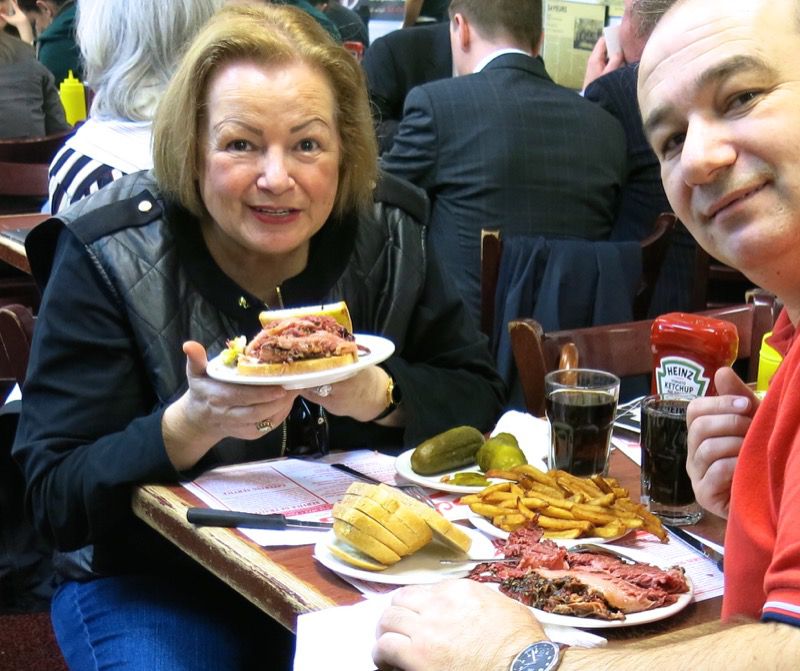 We must have been worshiping our bounty with a little extra zeal as the waiter offered to take our photo! Can you tell I am vibrating?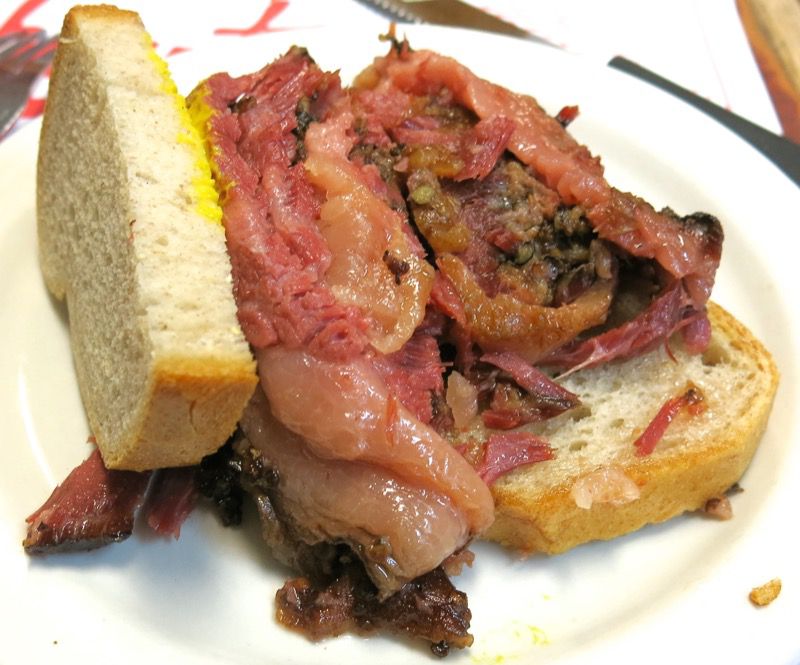 I could only eat half, but packed the other for back at the hotel, later.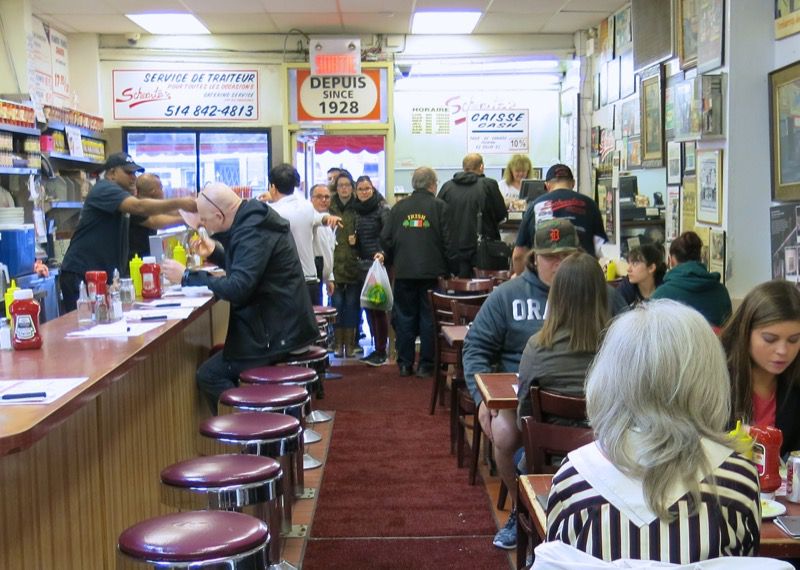 If the walls of this long and narrow space could speak, oh, the stories they could tell. You could buy the book and read them while you much one of the sandwiches! Ever been here, or made your own Montreal Smoked Meat? Share your recipe!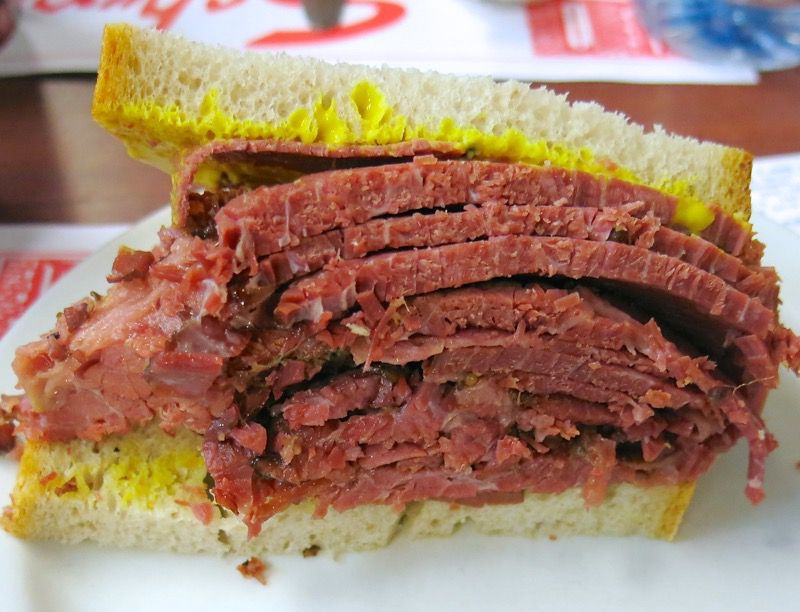 PS. We were back when participating in a Montreal Food Tour and got 1/2 a sandwich of lean meat for our plate. No comparison. Certainly, delicious, but what did I tell you? Order fatty.