Stumbling upon the Delft Farmer's Market was a very happy accident!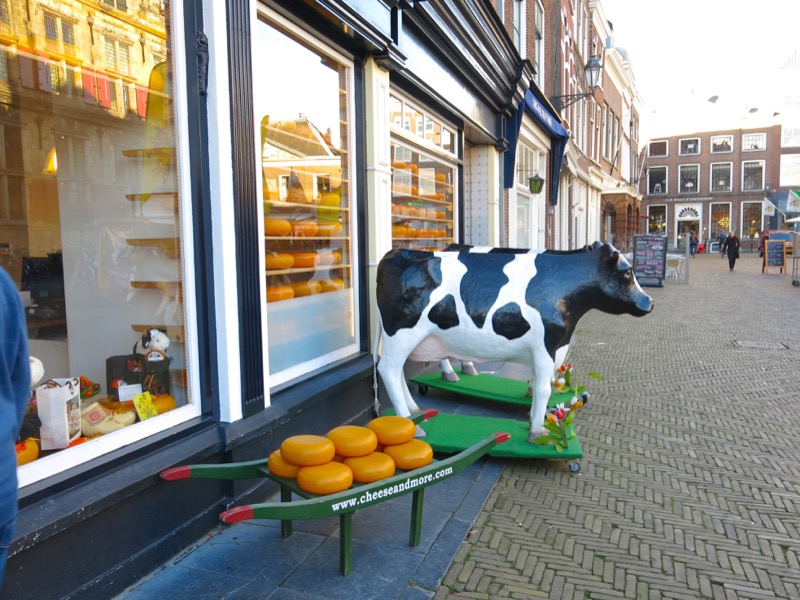 After our evening with Azra, enjoying her company and our first experience with rijsttafel, we both slept very very well. We had missed an entire night of sleep and were so refreshed and excited for our day in Delft! Why Delft? Vermeer!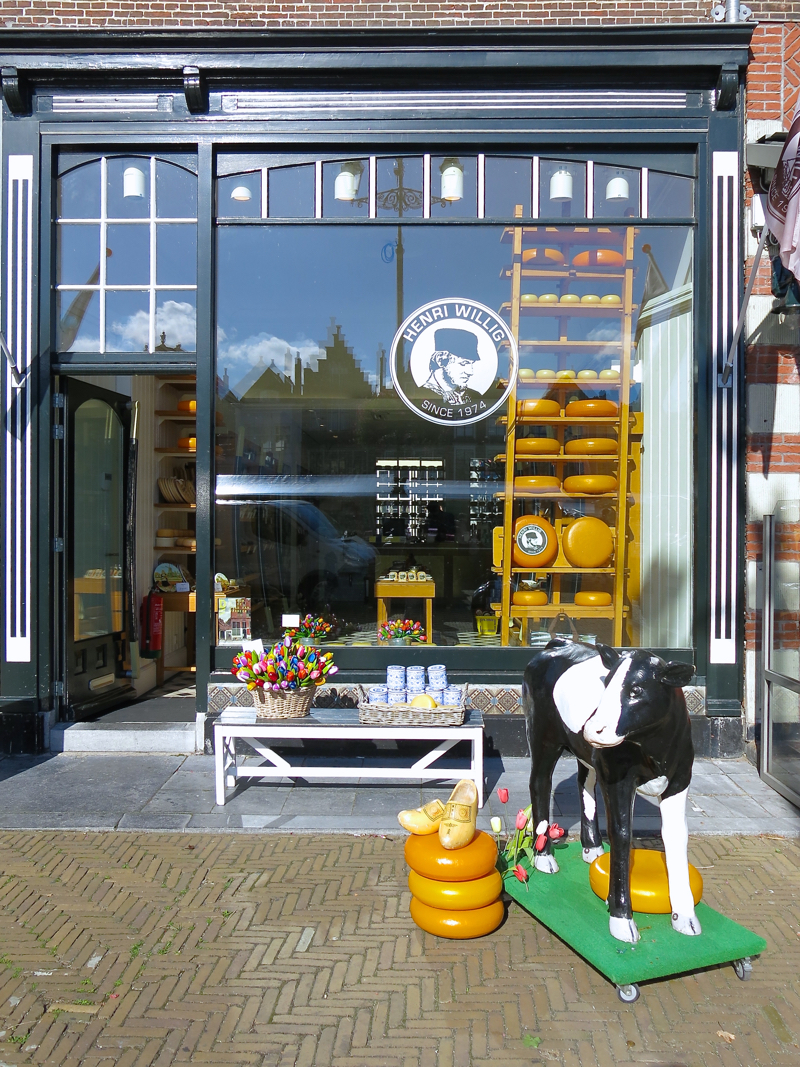 The first leg of our 3 plus week Europe vacation this year was focused on Flemish art with Vermeer as our favourite, his birthplace was not to be missed. We booked Dr. Kees Kaldenbach from Amsterdam for our day in Delft. This was the day we were both looking most forward to. Arriving at the Market Square where we should meet what did I see? People setting up for market day! It was the Delft Farmer's Market!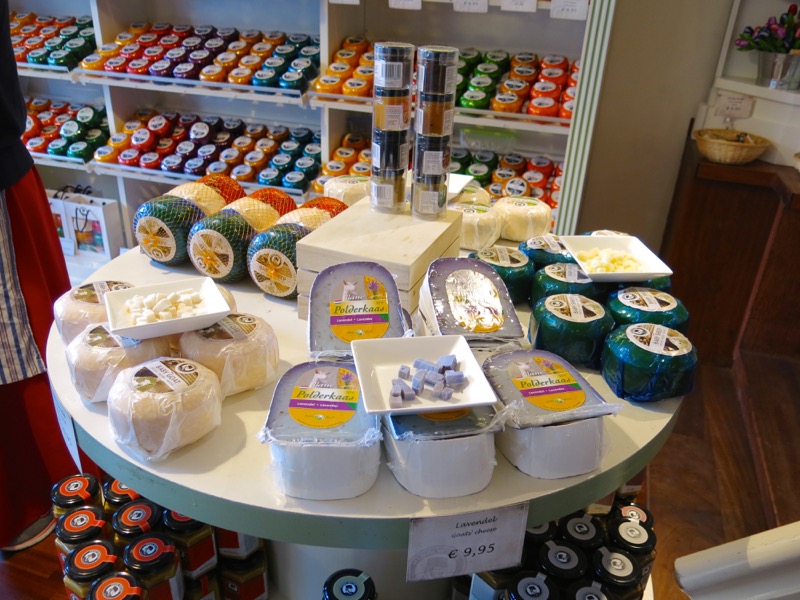 I learned that Thursday is market day in Delft. Between City Hall where we met Kees, and the Nieuwe Kerk, producers, farmers and sellers of pretty much anything set up for the Deflt Farmer's Market. The square is called 'de Markt' and it is not like me to not know when and where the local open air markets are when we travel, but this trip had a very tight and focused itinerary, so I hadn't done that research – and here I was. Standing in the middle of what I deem a wonderland! When I travel, it is the art, architecture history and food that is my focus, as a rule and for me, a farmer's market is as revealing about present day culture as a museum is about the past. The little cheese shop is near City Hall and not part of the market proper, but irresistible. The people there have a family owned farm that is not so small anymore, but independent enough to experiment with flavours of cheese. The goat milk lavender was brilliant and almost got into my coming home bag. But, I have learned I save these precious "bring homes" and never seem to use them, all-too-often throwing them out as they have gone bad before "that perfect moment to serve them" was realized.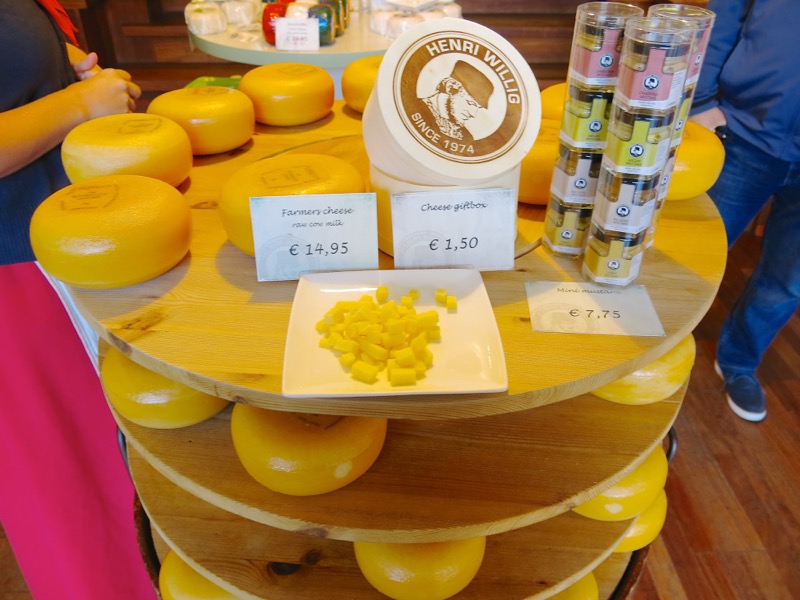 Of course, I love cheese, having made it at home for a couple of years, so I did stop in for a sample and an all too short visit.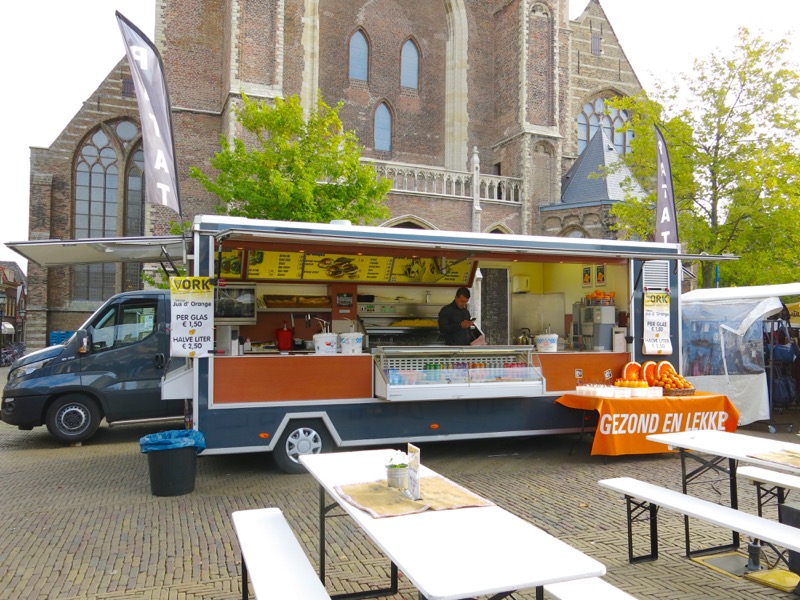 As this entire day was focused on Vermeer and we were paying quite dearly for our learned guide, by the hour, I had to make the decision to "pretend the market was not there" which was indubitably difficult for me. When Kees said, "Let's take a 5 minute break?" I am not sure he heard me even respond. I was running to the market. In 5 minutes, I captured what you see here, asked questions, and bought some treats. The Delft Farmer's Market is not large, but it is full of a compelling array of varied goods and food. Above, the end near the new church, and below, where I first say it setting up at the opposite end of the square in the morning in front of the city hall.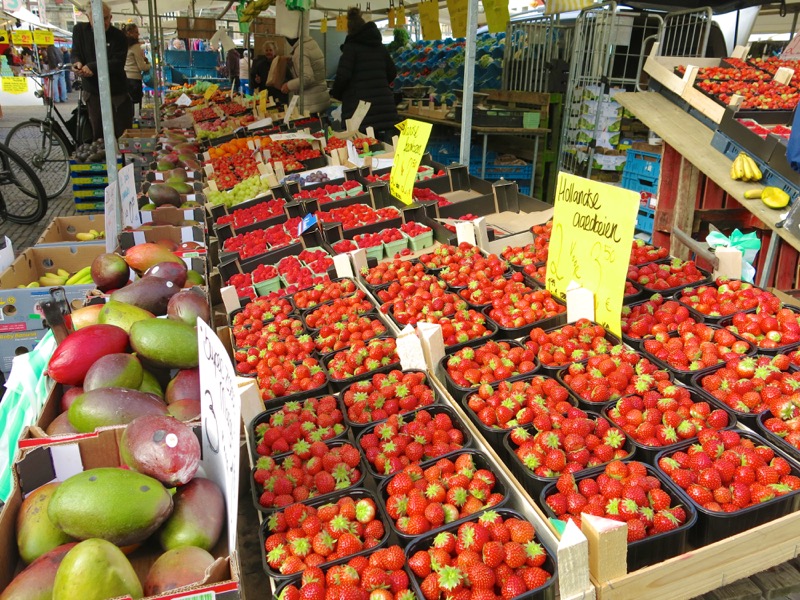 The strawberries were small, but oddly in season in early October and so fragrant. Yet, I resisted. One can only eat so much.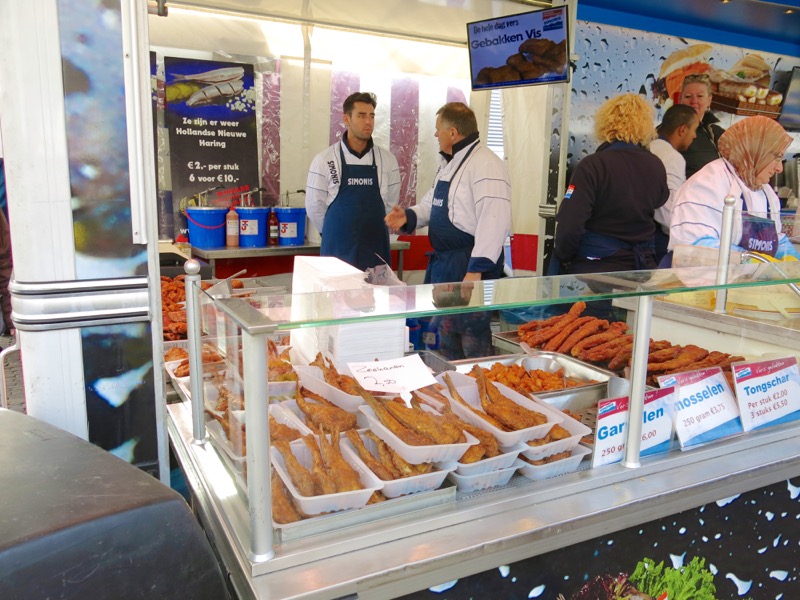 On the coast, fish is everywhere, and for this land locked prairie girl, it is very difficult to not be publicly salivating non-stop. This fish was so fresh. I watched it being delivered and it smelled like the sea – and now, much later, it is cleaned and fried and ready for the lunch rush crowd. I so wanted to buy a piece of that fish. Seriously. Yet, one can only eat so much. Imagine living near the Delft Farmer's Market and having fresh fish like this regularly. That is such an advantage.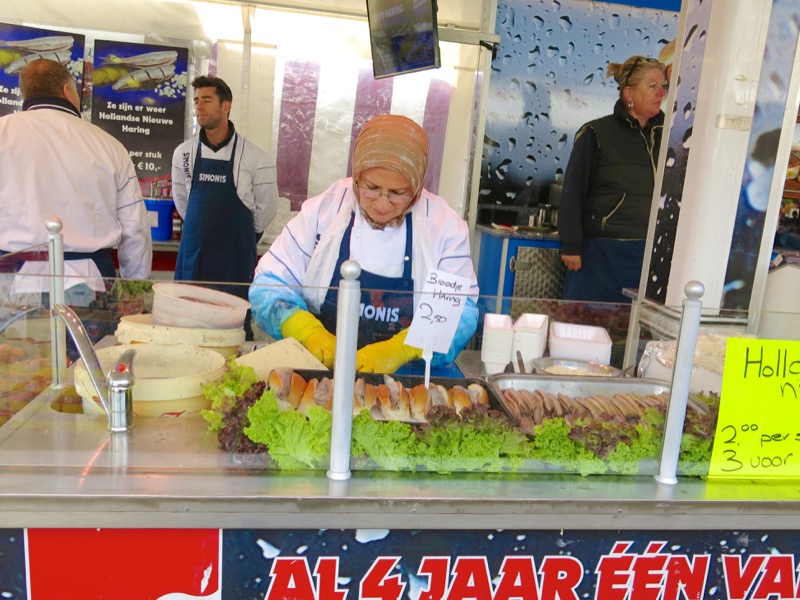 This woman was the hardest working gal at the entire market.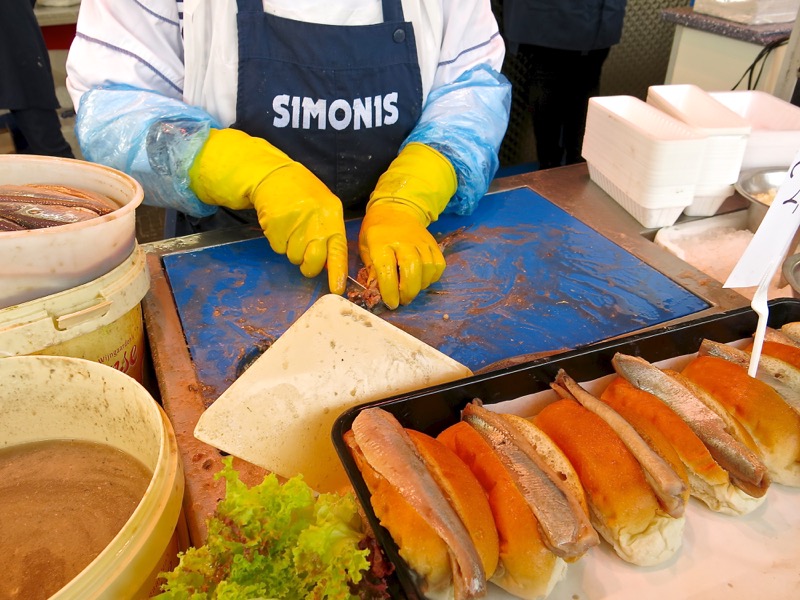 Though I only had 5 minutes now, we had walked past her earlier and at the end of the day, she was still there cleaning the fresh baby herring to be served with chopped onion for that traditional raw herring and onion Dutch bite.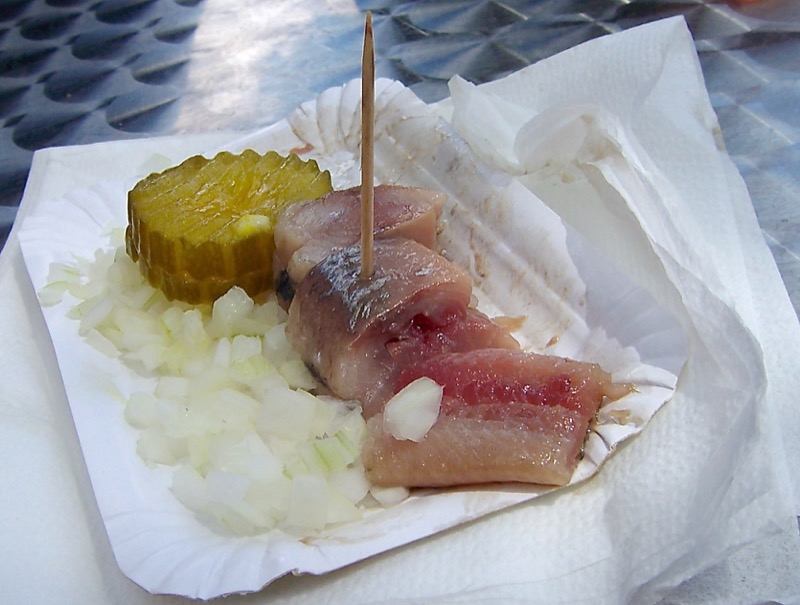 Above is the image of my fresh herring in Amsterdam in 2007. I really did enjoy it. I was surprised. It was very tasty. So happy I tried it, yet not eager to have more as it is not part of my food culture. I can definitely see why the locals love it, though. Little independent stands are where one usually buys the raw herring, and that bite is the only thing such stands usually sell, however, on this day, this stand at the Delft Farmer's Market had it as an offering.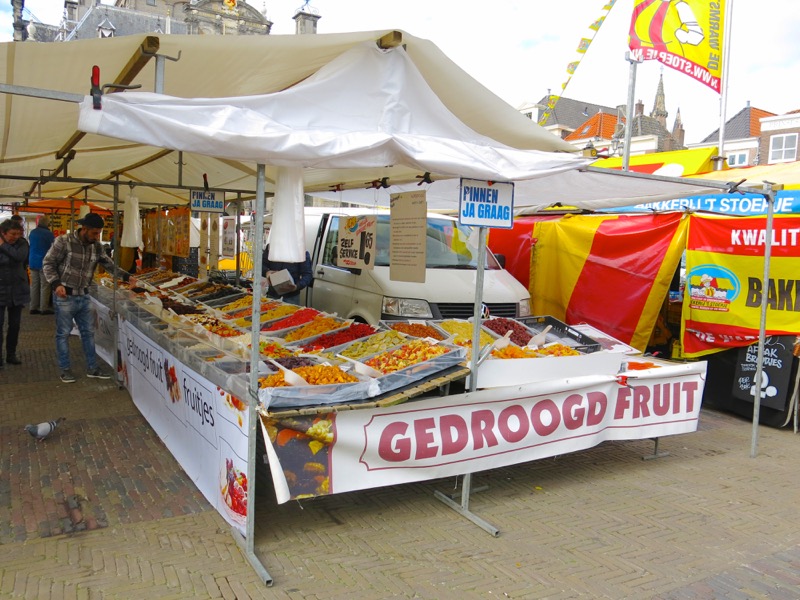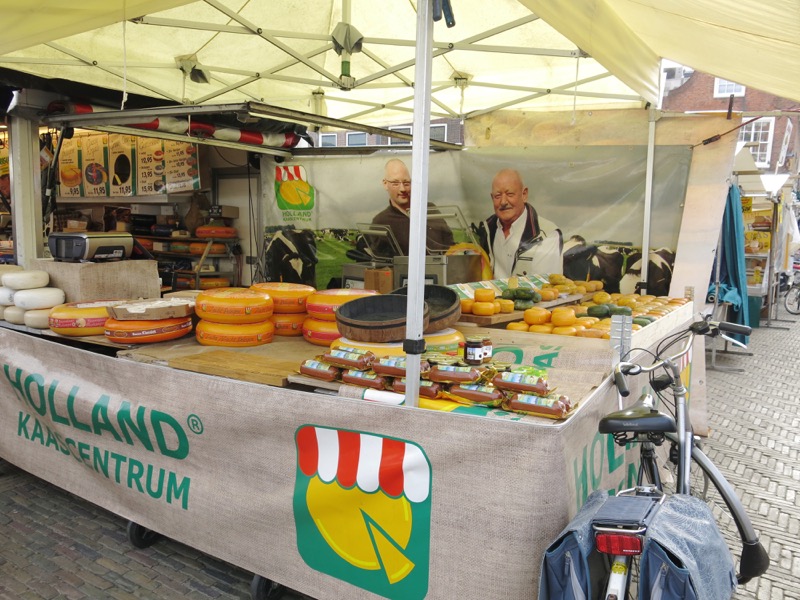 More than a few booths of gorgeous Dutch cheese.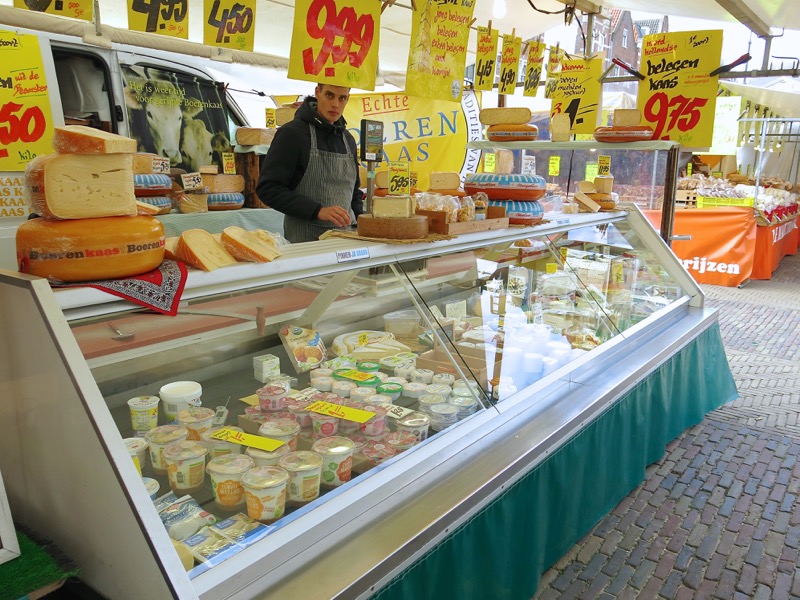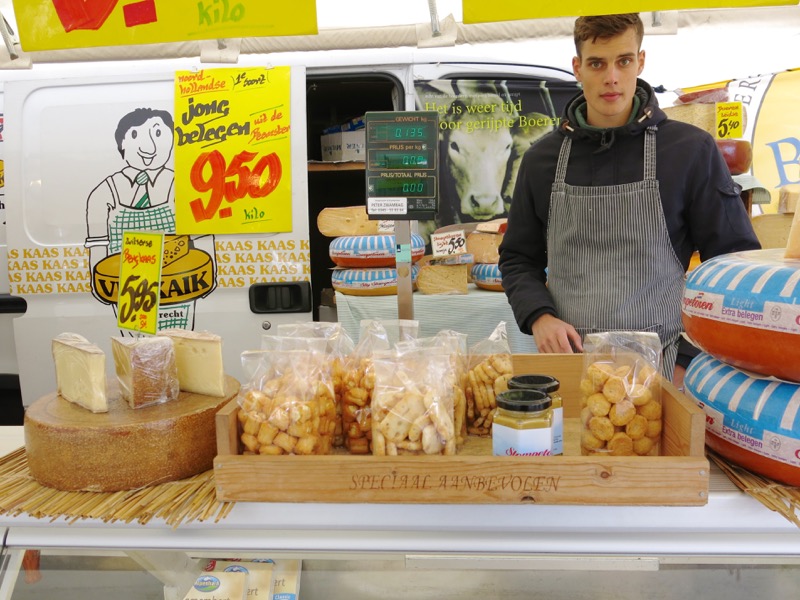 Some snacks I had never seen before: cheesy and very salty, apparently to accompany beer.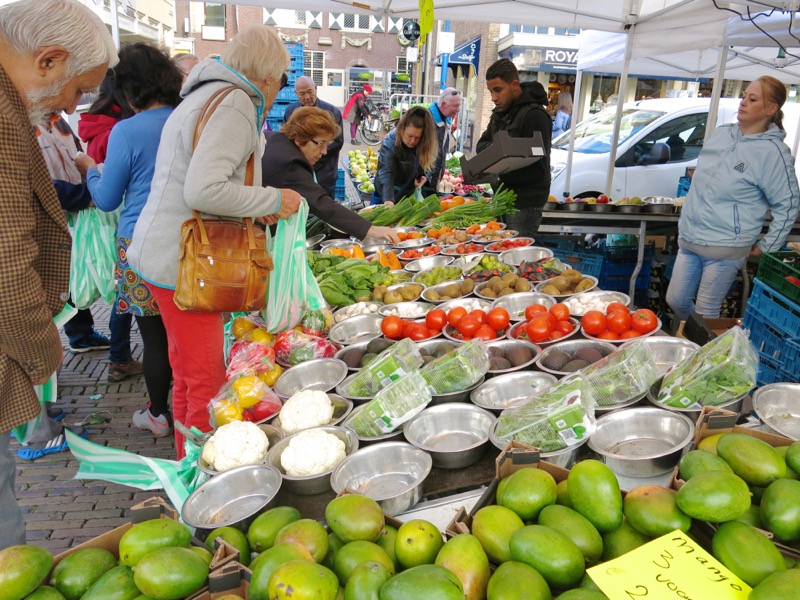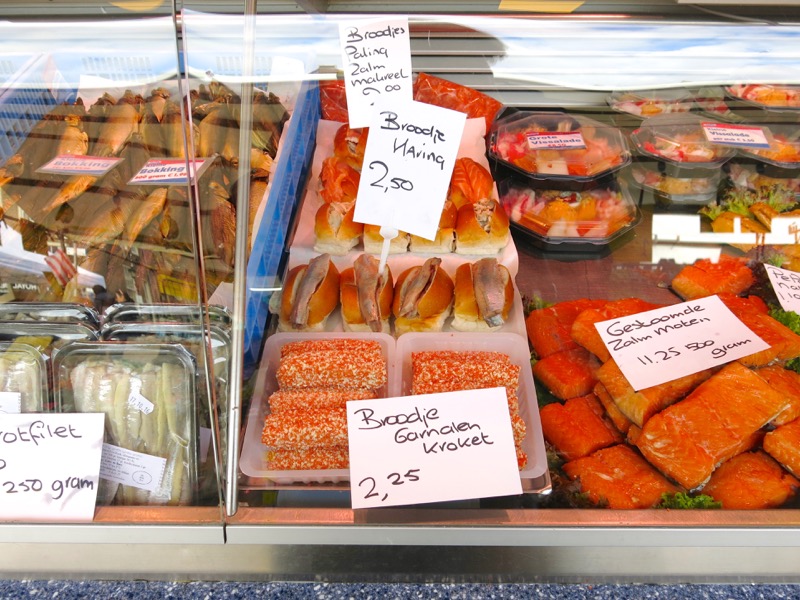 No food culture? Really? There was so many new to me foods in this market that I could see there is most definitely lots to learn about Dutch food.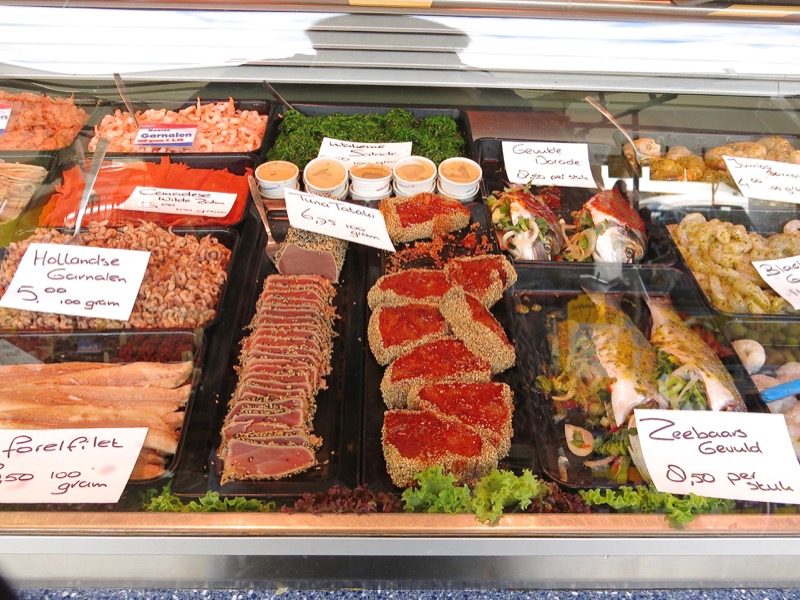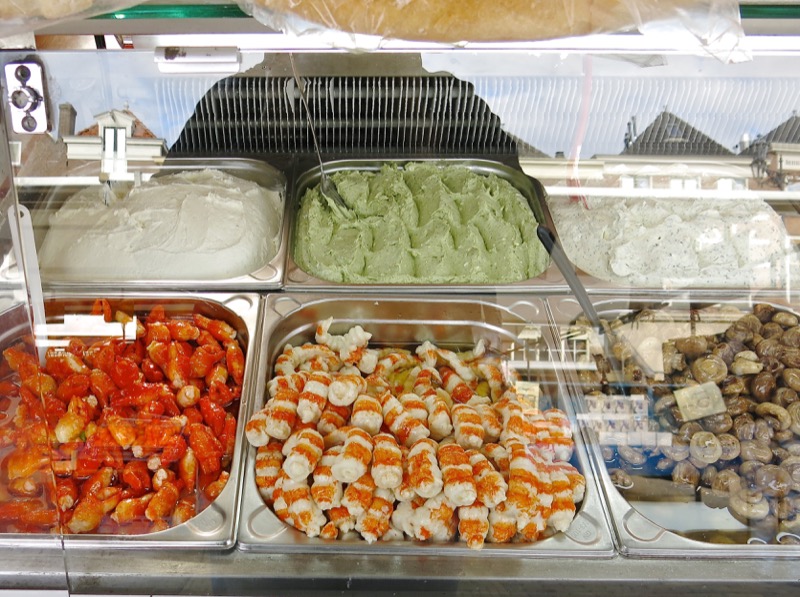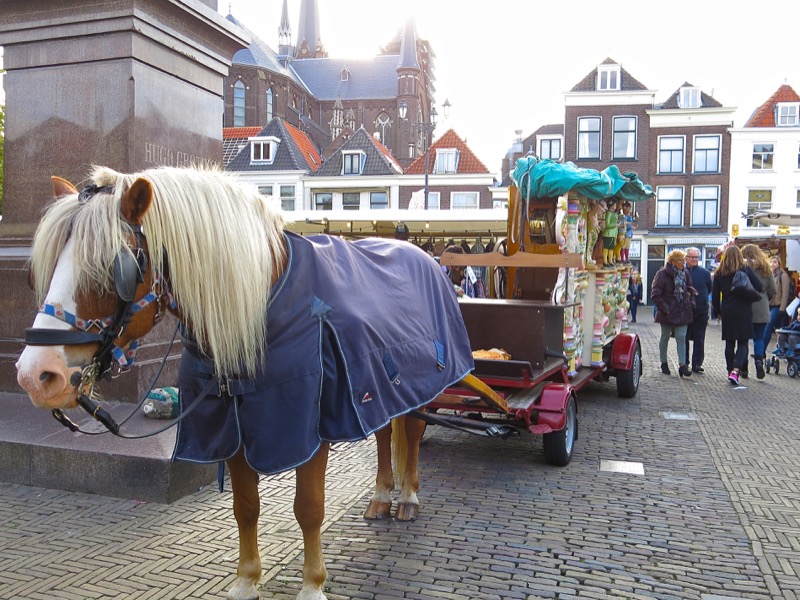 The Dutch Organ was an unexpected treat at the Delft Farmer's Market on this day! It was playing wonderful music that offered a welcome festive flare to the market for me, but it was very loud. The Organ Grinder was not the kind of fellow I would have expected to be the face of the organ. Quite glum, he was. I think I was missing the monkey!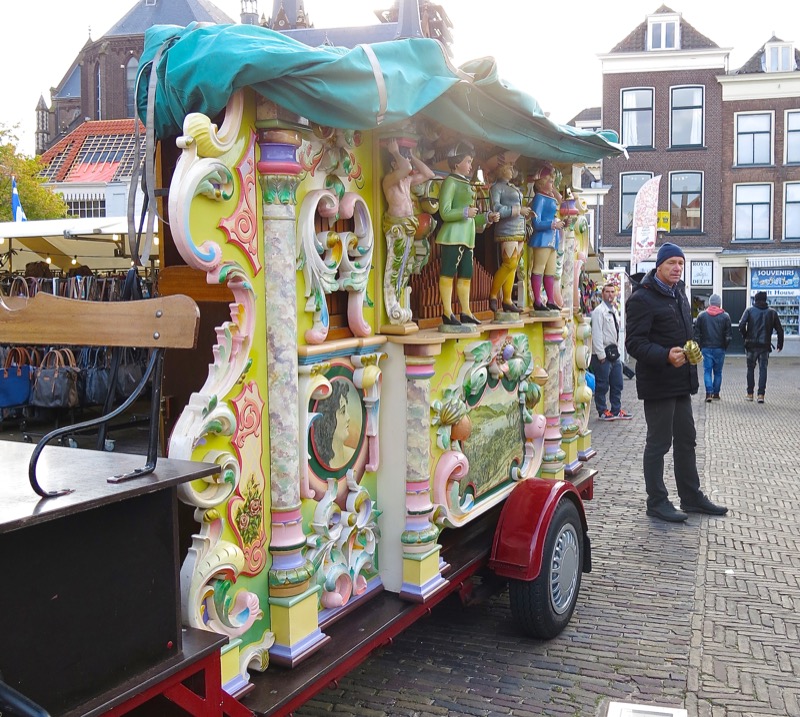 It was a really beautiful organ that we came upon several times through our day as we moved about and he moved about.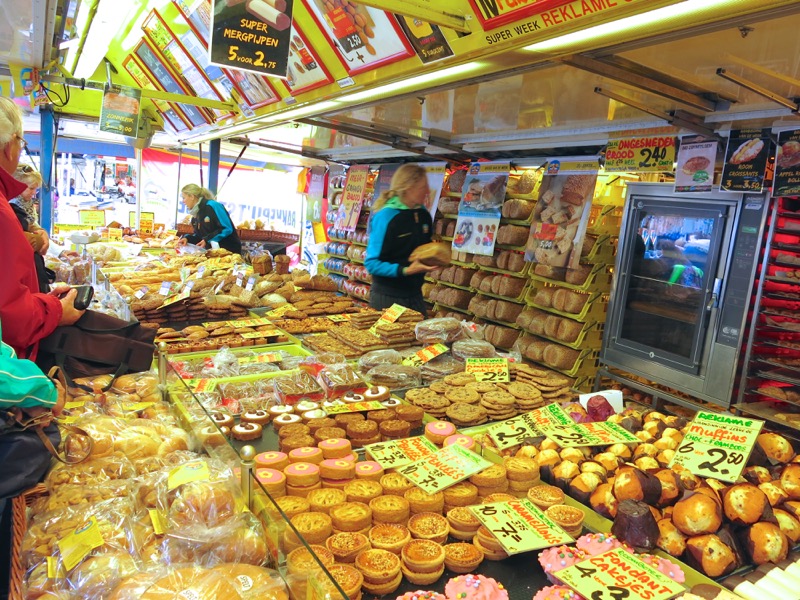 Usually, I would spend very little time around baked goods in a market. However, there were throngs of people around this huge booth. Throngs. Clearly, this is a popular baker that frequents the market only on Thursdays. Some familiar foods, but more unfamiliar ones. Oh, how I wished I could have had a tour through this market, as well!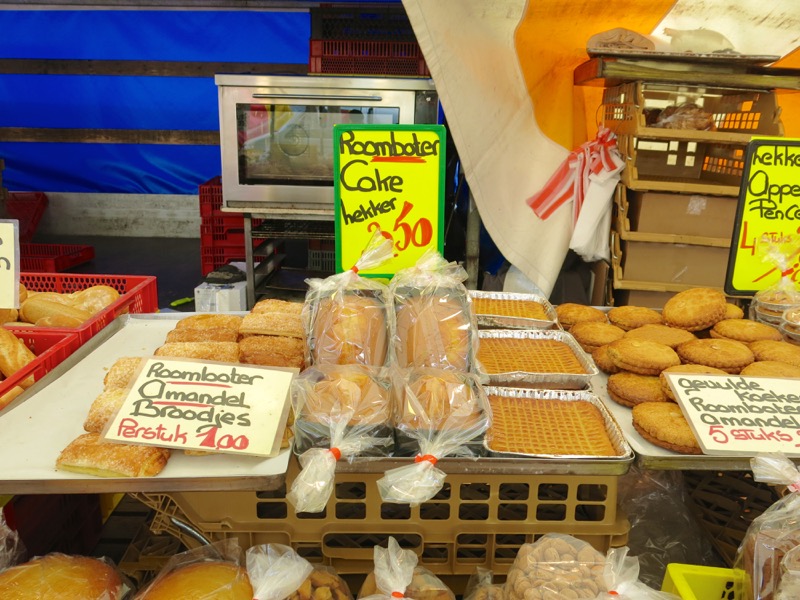 Immediately it was clear that almond paste is in almost everything. Love it. Make it. I am all over that.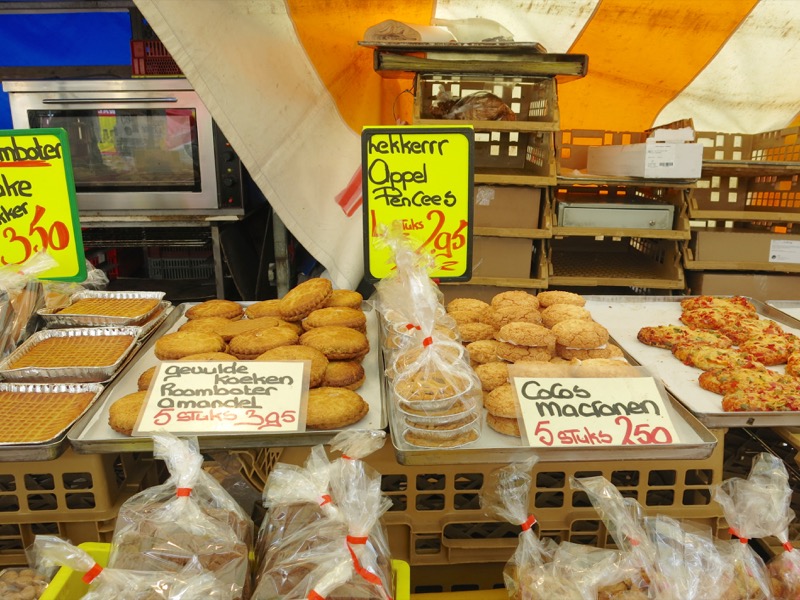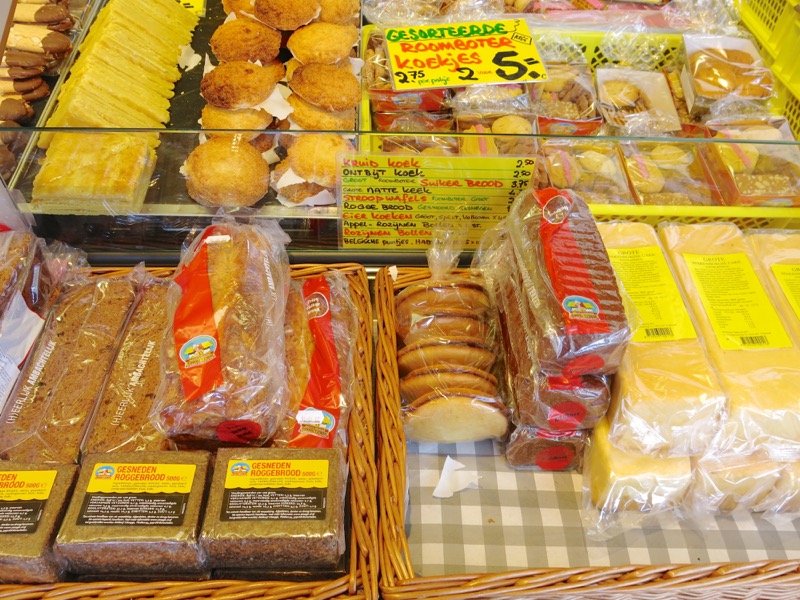 What are those giant big fat sandwich cookies above, right of middle? There were many different kinds, but these were close for the camera.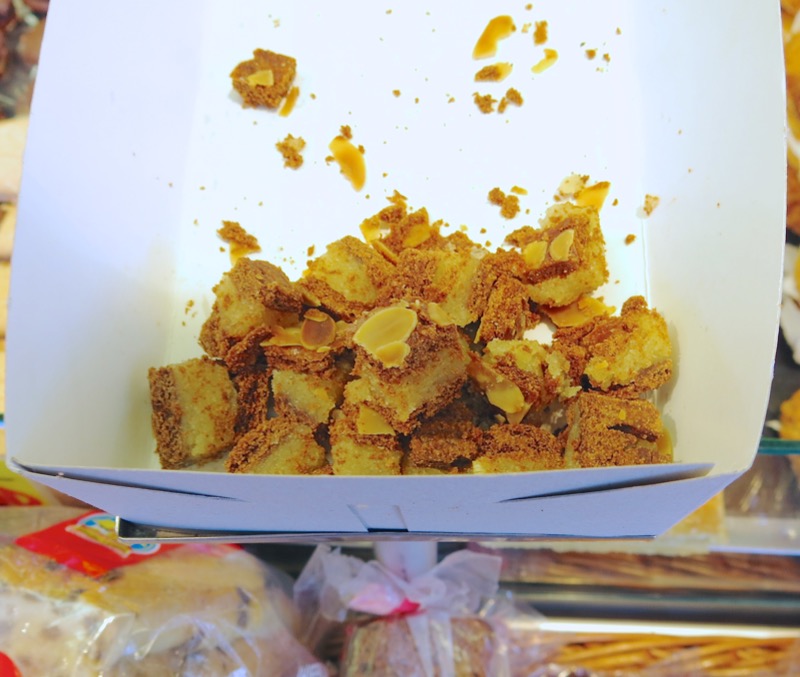 Samples are always smart. I thought it was gingerbread with marzipan. Delicious.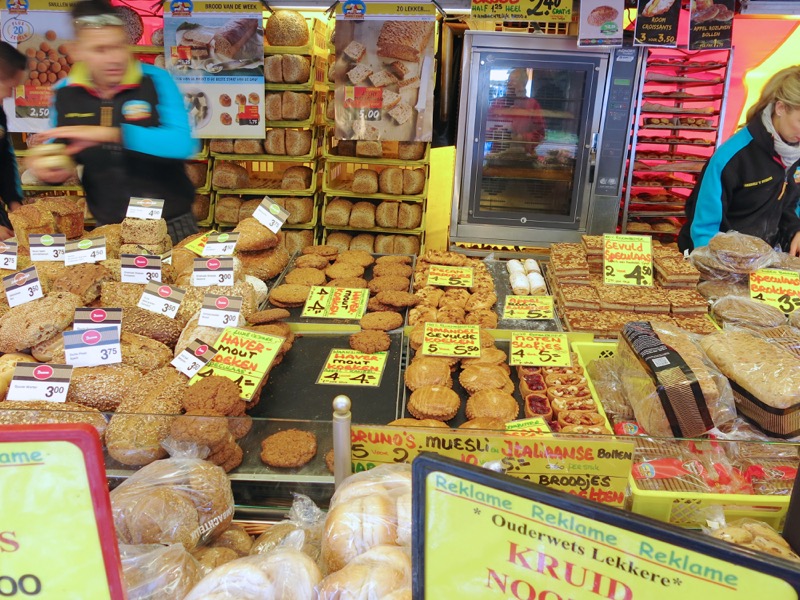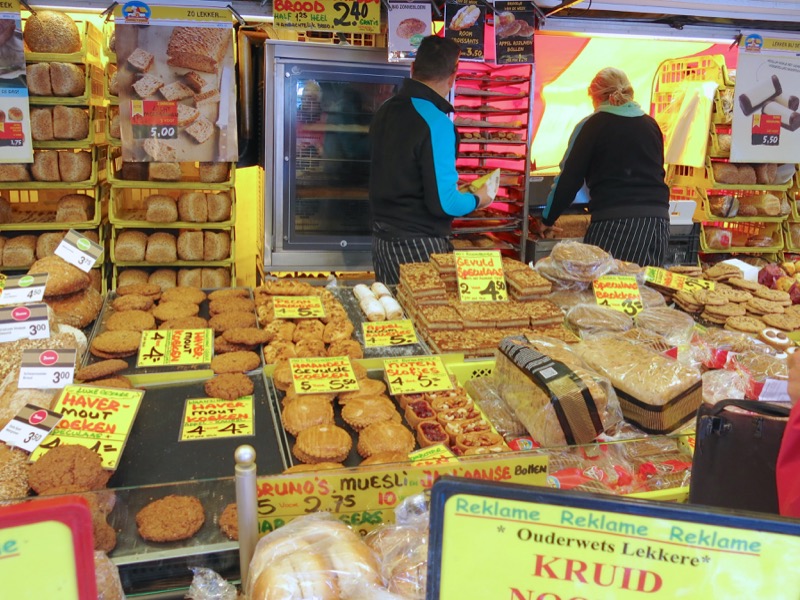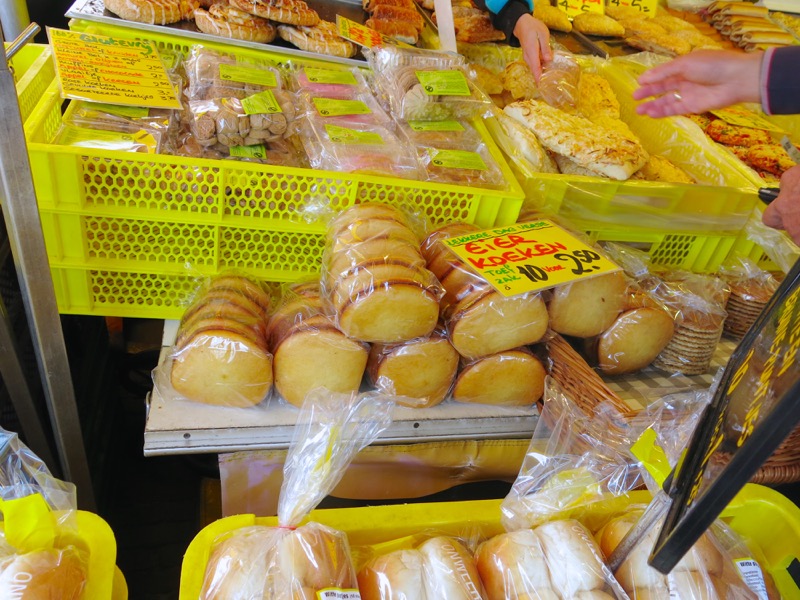 There's those big fat cookies again, above.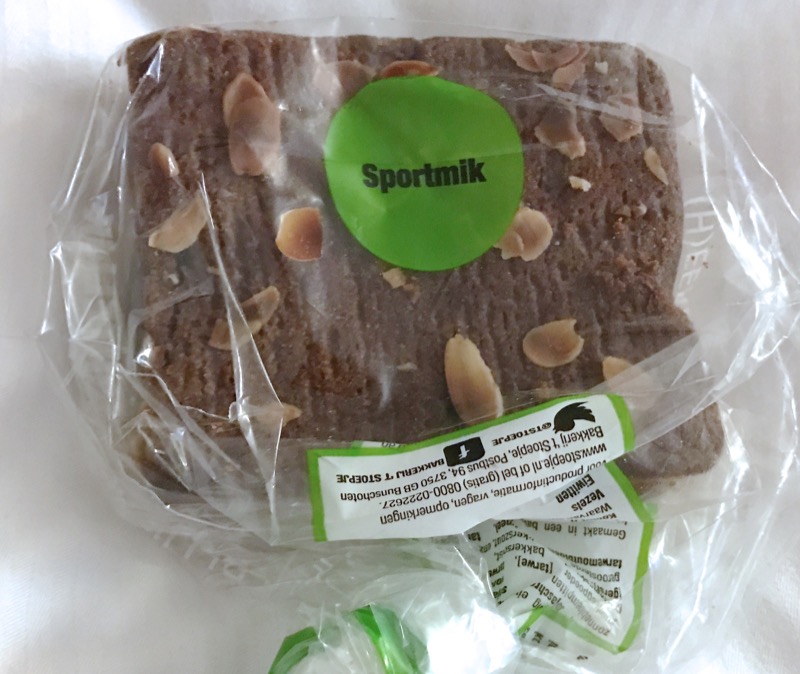 I bought a piece of what I tasted: the "gingerbread with marzipan" which I later learned was speculaas flavoured cake with marzipan. Now, I always thought that speculaas was a pressed spice cookie, and it is; however, the Dutch people also refer to speculaas as a seasoning mix and even buy their own special blend from their favourite spice store. The spice amounts vary but are primarily a combination of pepper, cinnamon, ginger, cloves, cardamom and nutmeg. Who knew? Likely you.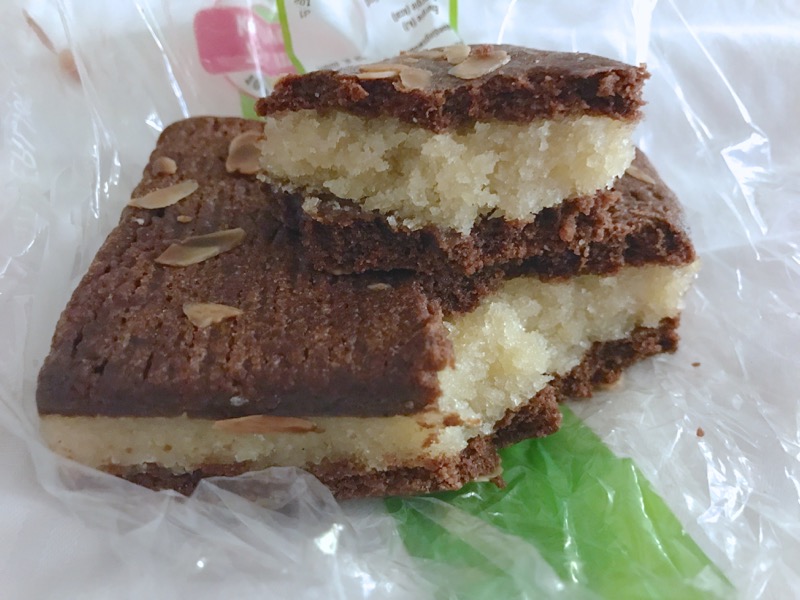 It was not sweet. It was deeply complex, yet subtle in heat; texture was divine: moist, and delicious.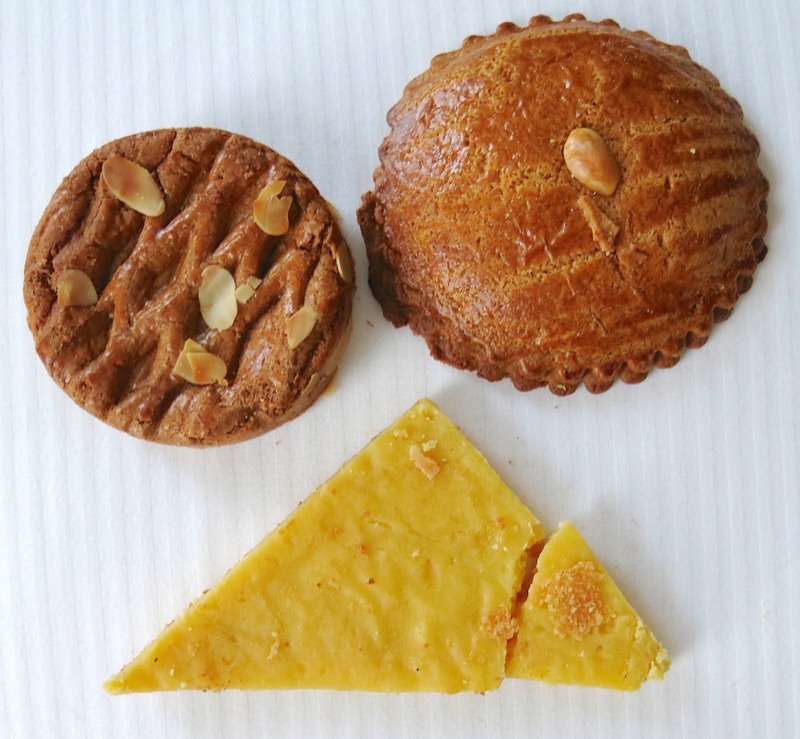 These other three cookies I bought at the Delft Farmer's Market, at the end of the day, watching a young university aged fellow impatiently lined up and determined. He bought 3 of each of these. I bought one of each. The Boterkoek was the only disappointment, and it was still tasty. Nothing like the one I had from a student many years ago. Still seeking that recipe.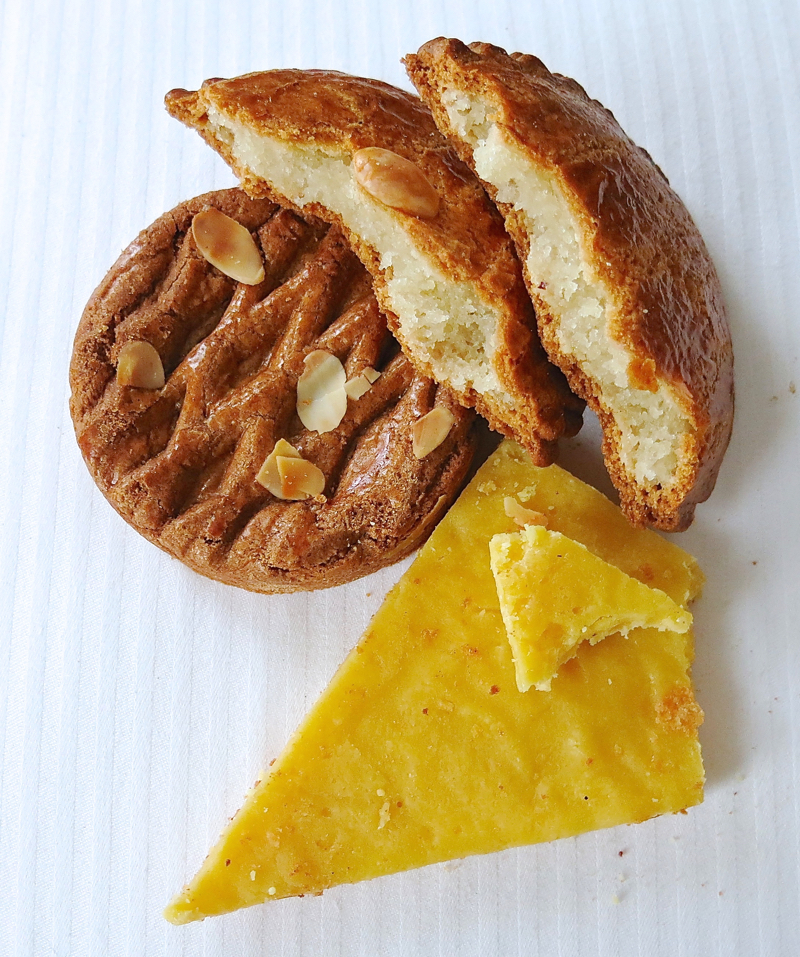 The Dutch marzipan filled almond cookie, or Dutch Gevulde Koeken (Almond Rounds), was scrumptious, just as I imagined it would be. I have actually made them, but see I never posted the article or the recipe. I will have to make them again, and do that. I really enjoy these cookies. Last was very similar to the cake filled marzipan, but it was a cookie and called a Speculaas. Likely due to the imprint and the flavour. Very similar to the cake, but with a cookie texture. Each has its own charm and I am easy to charm when it comes to marzipan and delicious concoctions that are not too sweet.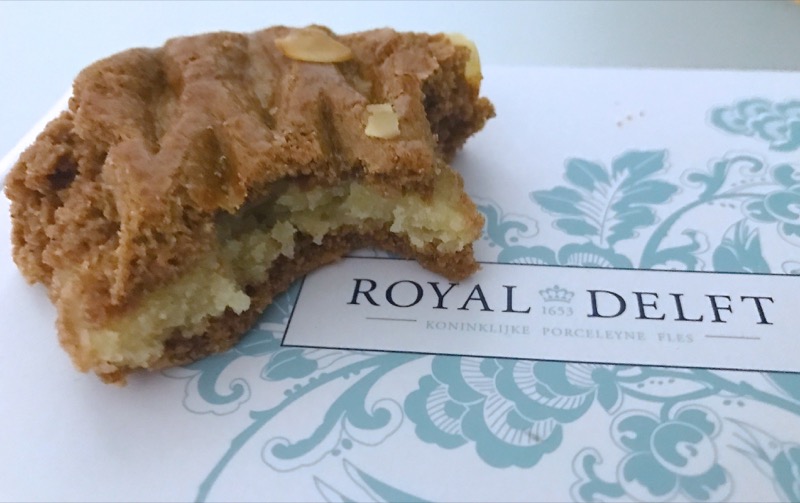 The other reason we didn't have long to linger after our Vermeer tour, was the workshop we had booked at the Delft Factory. Oh, what fun that was. However, two more quick notes. The weekly art and antiques market is also on Thursdays along the canal in the street known as Hippolytusbuurt and we were fortunate enough to pass by there. It did not hold the charm of the one we planned to visit and did in 2007 in Brussels.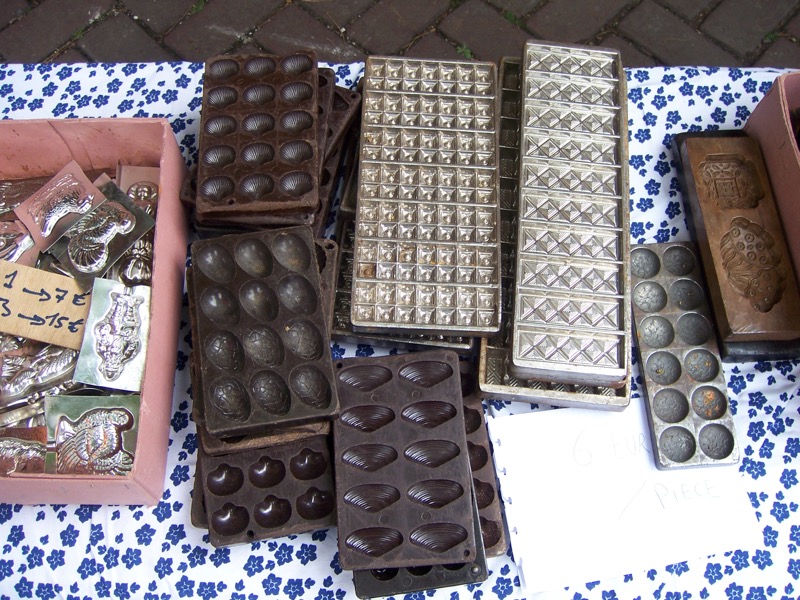 There were so many finds there that day, I wish I had known then what I know now, and it is just a few years ago. When I look through the photos of what I didn't even barter for that was available on the table, it just makes me laugh. And I treasure my mould, but have not used it yet. Funny, isn't it? We had lunch with our Vermeer guide at a famous Dutch pancake house and will share that next. Suffice it to say, if you have not been to Delft, and it was never on my list, it is charming, whimsical, fun, delicious, educational and just the perfect spot to spend some holiday time. If you are a Flemish art aficionado, it is a must stop.