A Quintessential Dutch Food Experience from the Dutch East Indies Colonial Period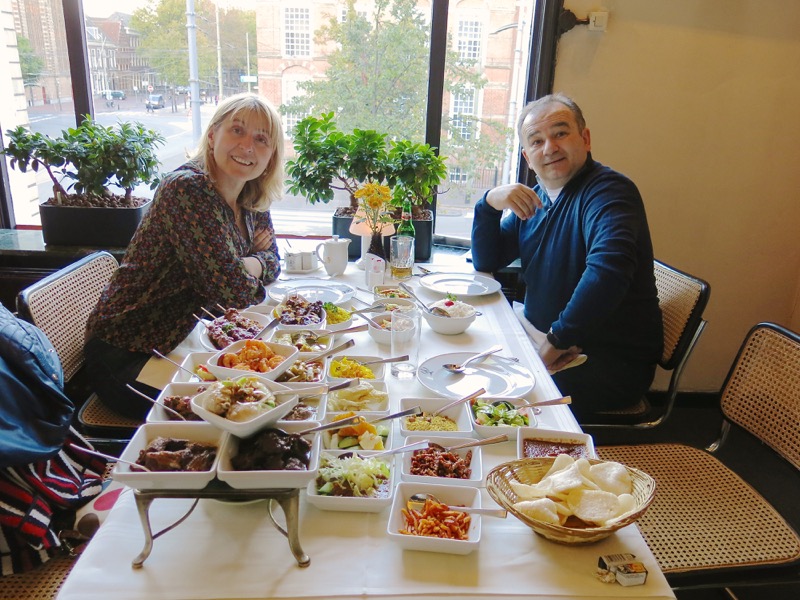 Garoeda is a five minute walk from the Mauritshuis Museum. Still walking on air after seeing The Girl with the Pearl Earring and four other Vermeer works as well as other masterpieces, we joyously made our way there to meet one of Vanja's childhood friends for dinner.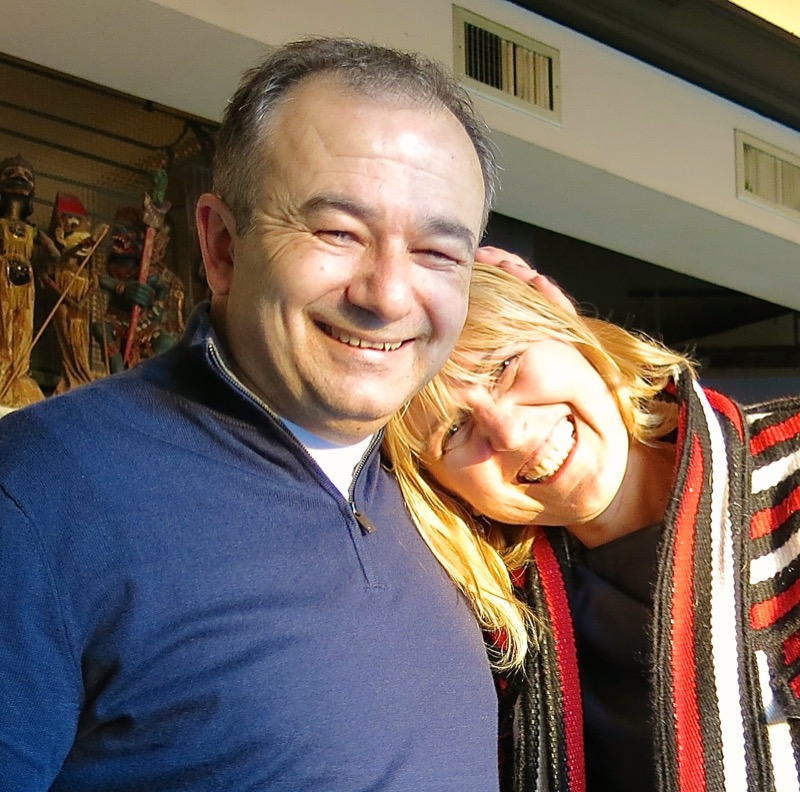 Azra lives in The Hague. She and Vanja lived in the same building and went to school together in the same class until grade 9, but have not seen each other since 1987. When we wrote to her to tell her we were coming, we invited her to diner with us and asked for her to find a good Rijsttafel restaurant as I really wanted to participate in this Dutch food experience and there are so many, it was impossible for us to make a decision. We were excited to meet her, and I was curious about this purely Dutch take on an Indonesian dining experience.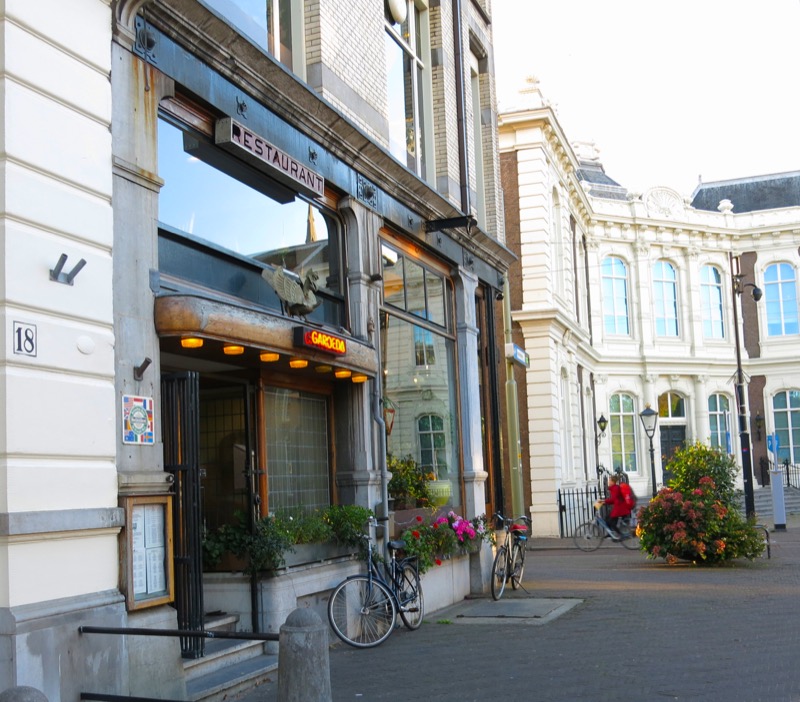 A hop, skip and a jump from the museum, we arrived early. No problem. Time to read the menu and enjoy the beautiful space. Now, what is Rijsttafel?
Rijsttafel
Rijsttafel is a Dutch word with the literal translation of "rice table". We booked a guide for our day in Delft who highly recommended "a rijsttafel meal experience" while in The Hague. I had never heard of rijsttafel, travel a lot, and had been to Amsterdam three other times seeking authentic Dutch food experiences. I consitently found in research and in person, the response: "We really don't have a Dutch kitchen. It is almost impossible to find or define." While it is true the world is becoming more multicultural everywhere one travels, there are still roots and most definitely regional specialties everywhere, at times, to close to home to even know that this everyday food is only everyday food in your area. Rijsttafel is one very specific example of a quintessential Dutch food experience, as it cannot be found anywhere else in the world, with the exception of the rarest spots in Indonesia… and then, even the Indonesians recognize the rijsttafel as a Dutch food experience from the colonial age. It is certainly not how the Indonesians would eat their own food.
Though each dish served is authentically Indonesian, the presentation, combination and origin of the Rijsttafel concept is completely Dutch colonial and the degree of spiciness is almost as important as the combination of textures and flavours.
So, the Rijsttafel is an elaborate meal or feast created by the Dutch during the Dutch East Indies Colonial Period to showcase the depth and breadth of their wealth through the varied cuisines from across the Indonesian archipelago. Rice is the base of the meal, and there are a minimum of two, and usually more, kinds of rice presented alongside 30 to 40 other dishes from the varied cultural regions showcasing the produce, spices, textures and flavours of each area. The combination was an ethereal exotic explosion of flavours, textures, colours, and heat that was so well received by the Dutch and their guests that the Rijsttafel became an institution unto itself and remains a very prominent and important aspect of the Dutch food experience to this day.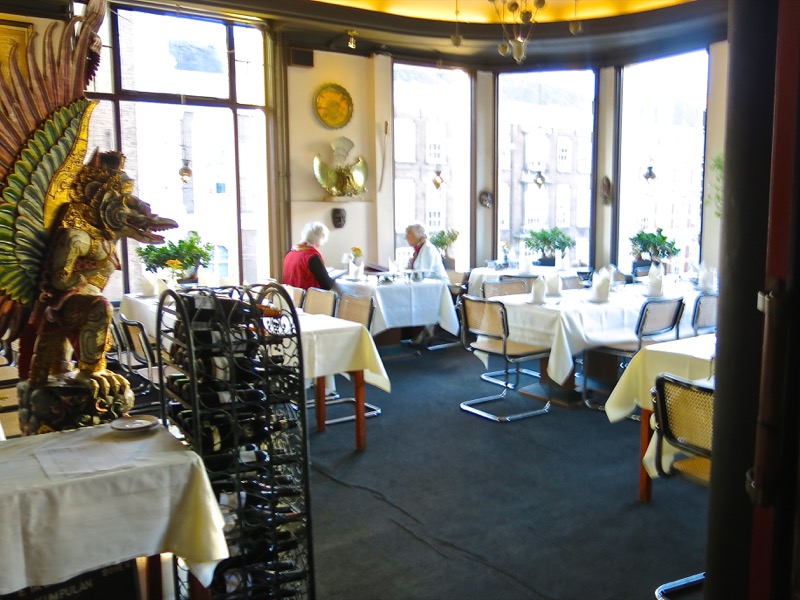 Apparently Garoeda is "the place to go" for Rijsttafel in The Hague. Azra had never experienced it, but asked her colleagues and at the museum, when we asked directions, the gals were praising our choice and said it was a well known elite place for Rijsttafel. Well done, Azra! Apparently, it has been around for years and years and most people that have eaten there praise the food, the ambiance and the service, but particularly, the food. That was what we were looking so forward to!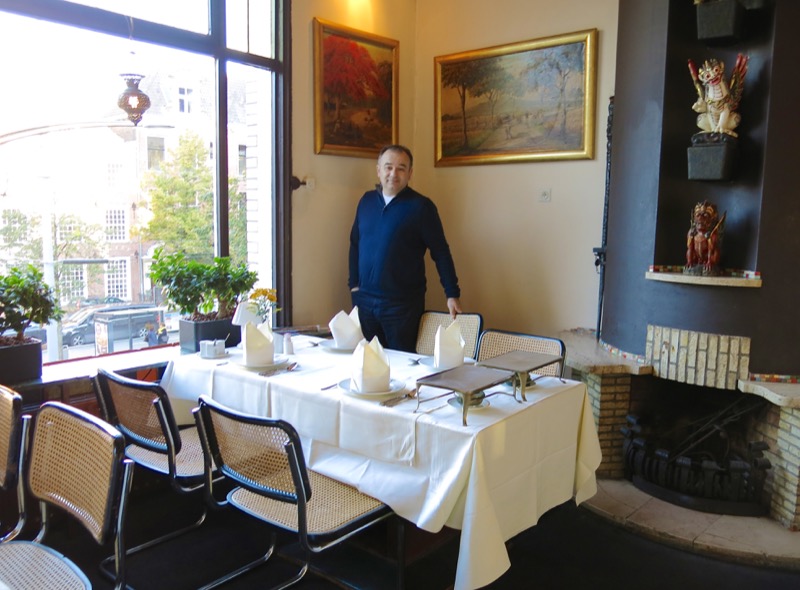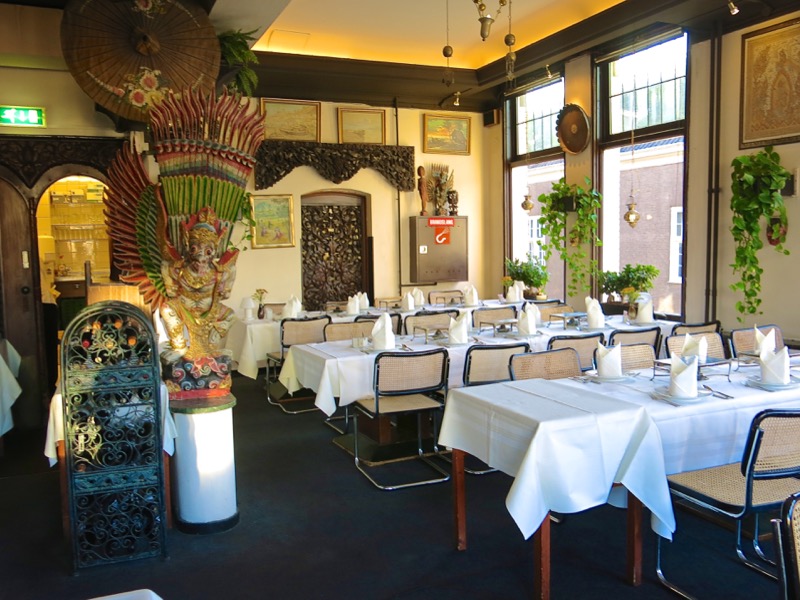 There are four floors and we were seated on the second. Our reservation was at 6:30. There was one other table seated, but when we left after 8, the floor was more than half full, and this was a Wednesday evening. Reservations are definitely required, as apparently all 4 floors are hopping from Thursday onward.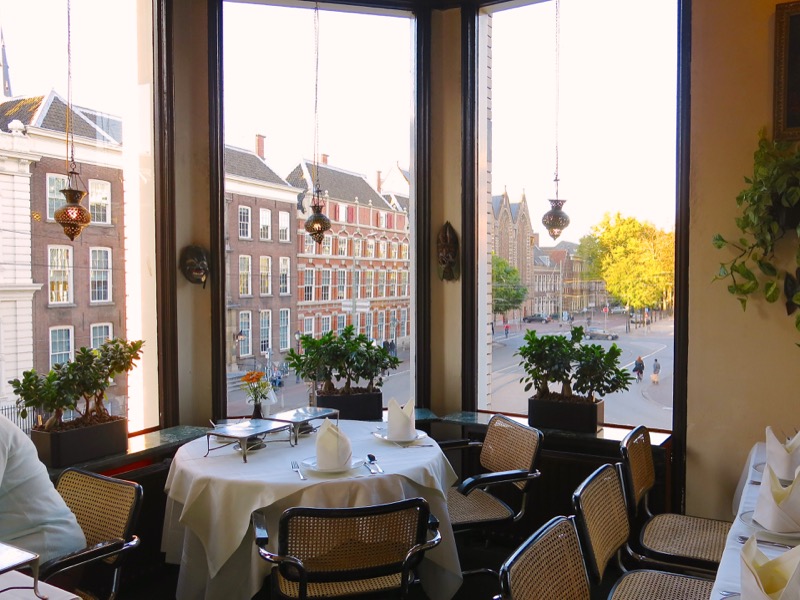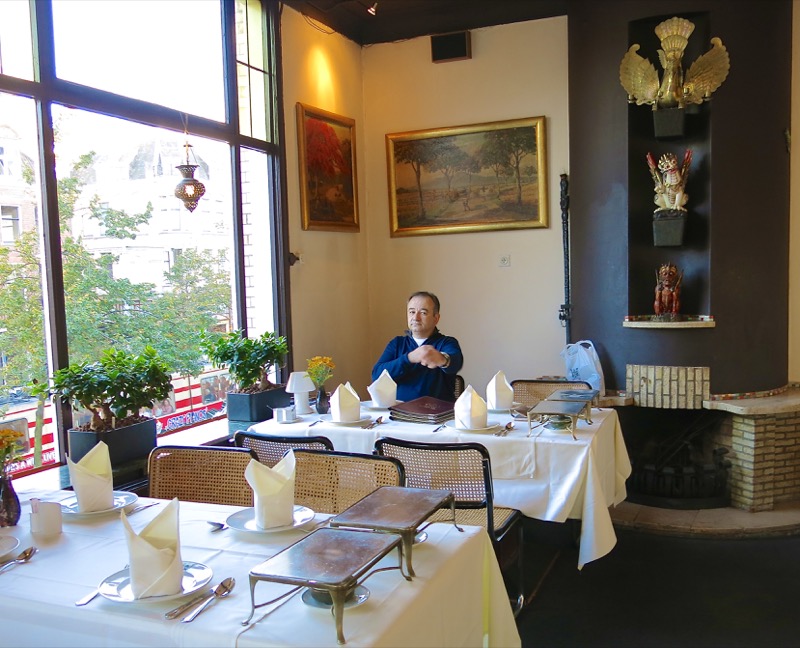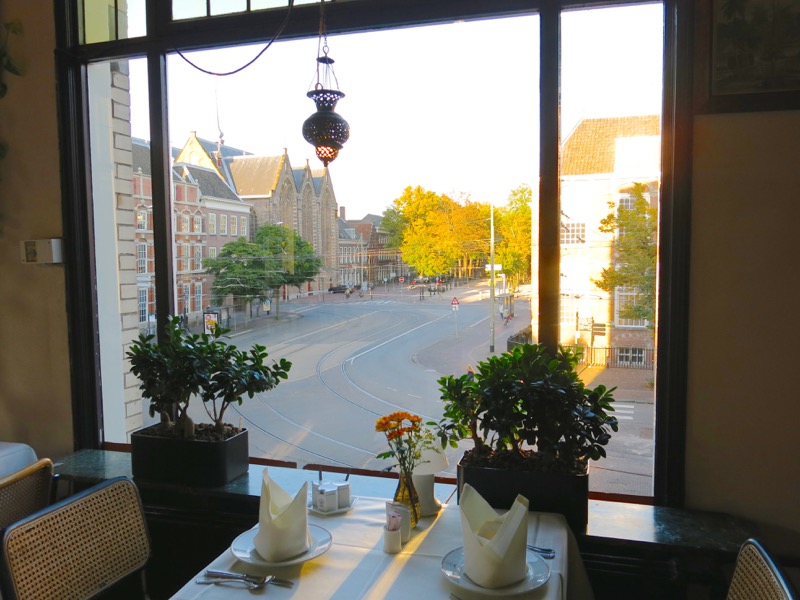 Situated on Kneuterdijk 18 A intersecting a very important main street in The Hague, the location is as prestigious as the history and reputation of the restaurant.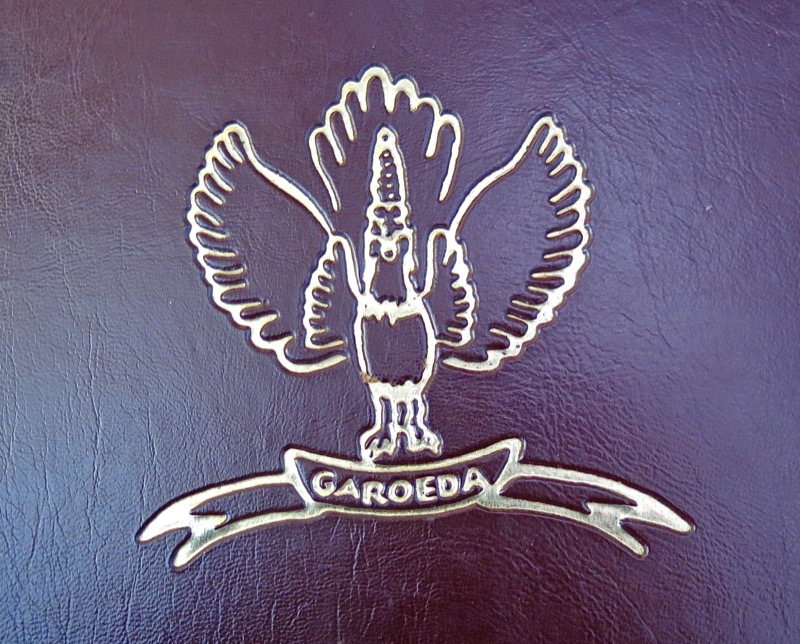 As we were early, we had plenty of time to peruse the menu and found it overwhelming: so many choices and so many dishes. Even three different rijsttafel menus. I was most definitely unprepared. We were fervently hoping Azra had ordering advice and rijsttafel experience to share with us for ordering purposes!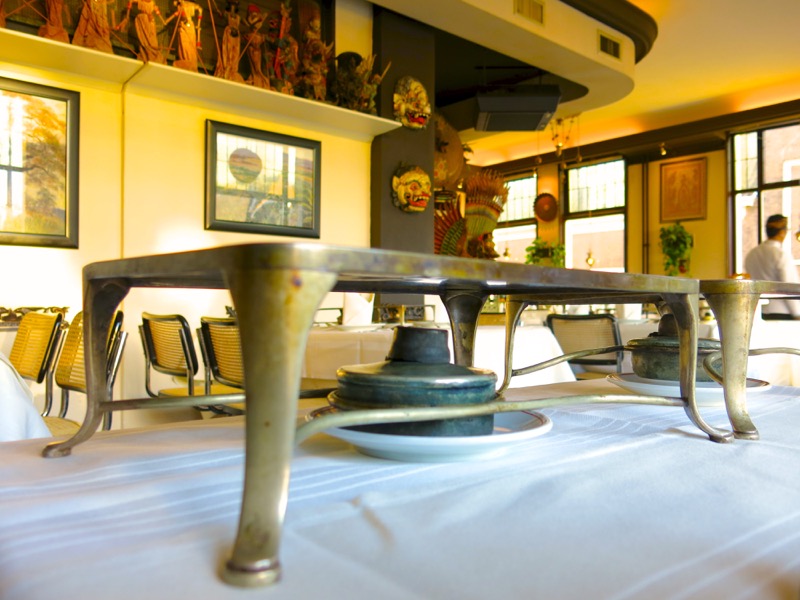 I was charmed by the little metal cooking tables. How would they come to play in our rijsttafel dining experience?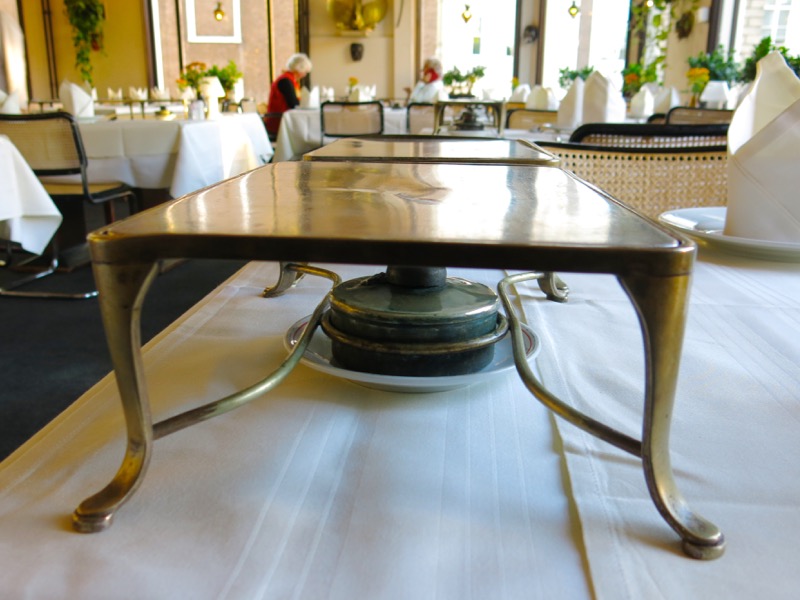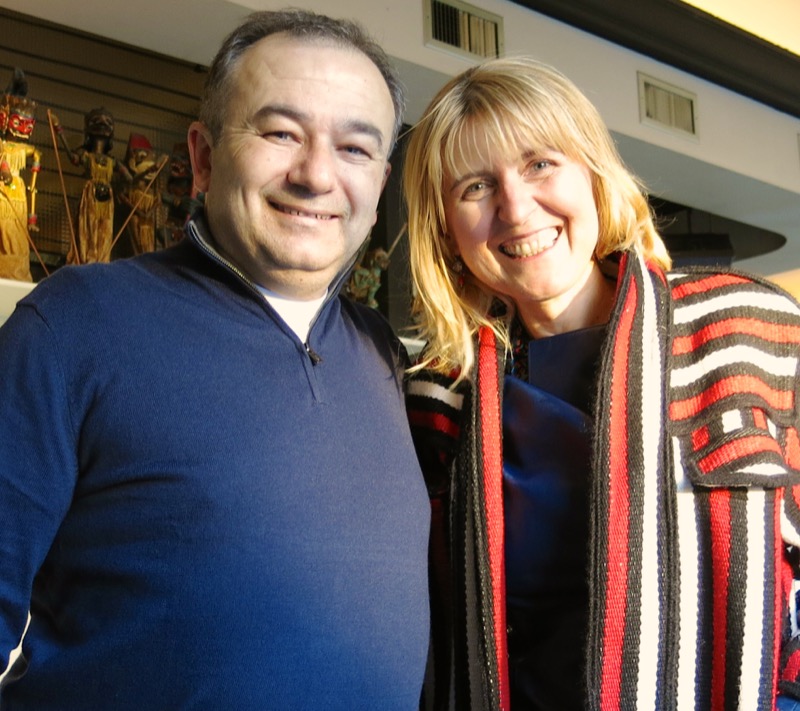 A warm reunion was had upon Azra's arrival. Lots and lots of chitter-chatter, blither-blather and good old heart-warming memory sharing.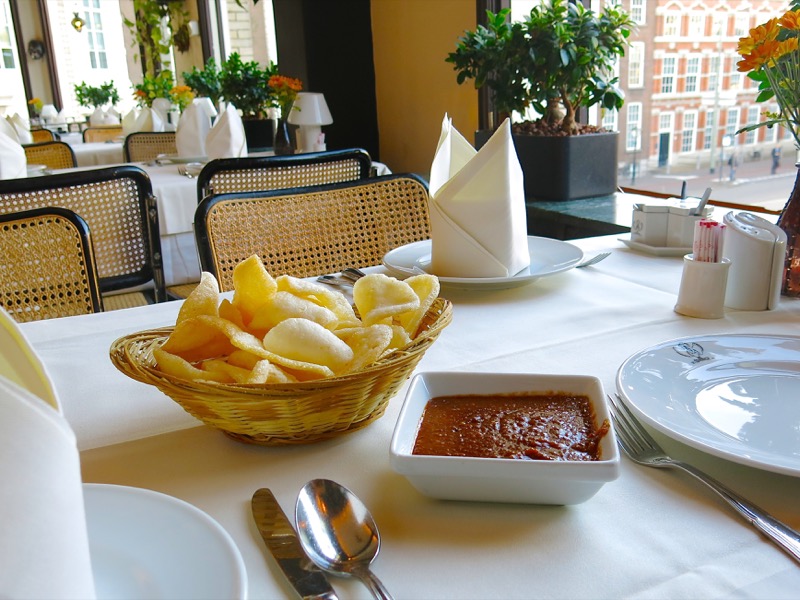 A very thick and tasty spicy peanut sauce accompanied puffy rice crackers that were sadly addictive. Pure fatty pleasure. Not guilt free, either!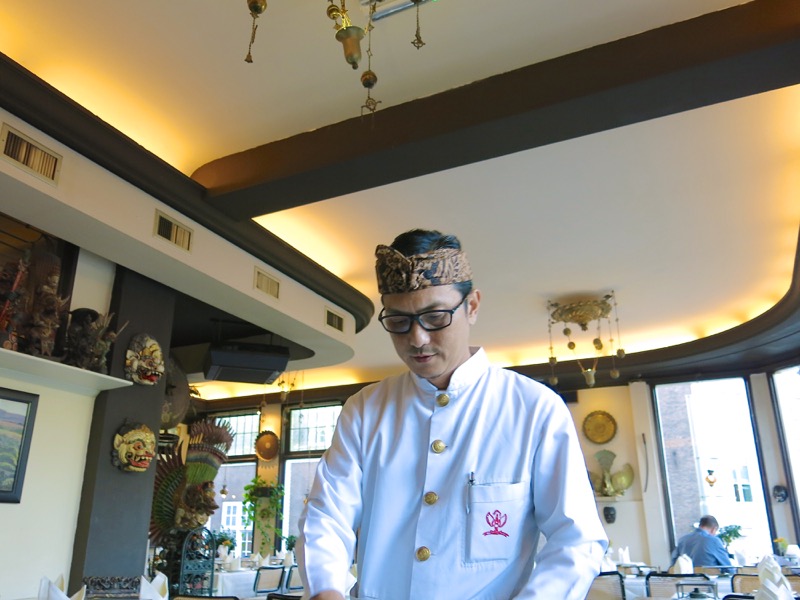 "What should we order?" looking to Azra for advice. She is a health food aficionado, we discovered, and had never experienced Rijsttafel herself, as it is known to be a rather heavy and unhealthy feasting of flavours. Oh, oh….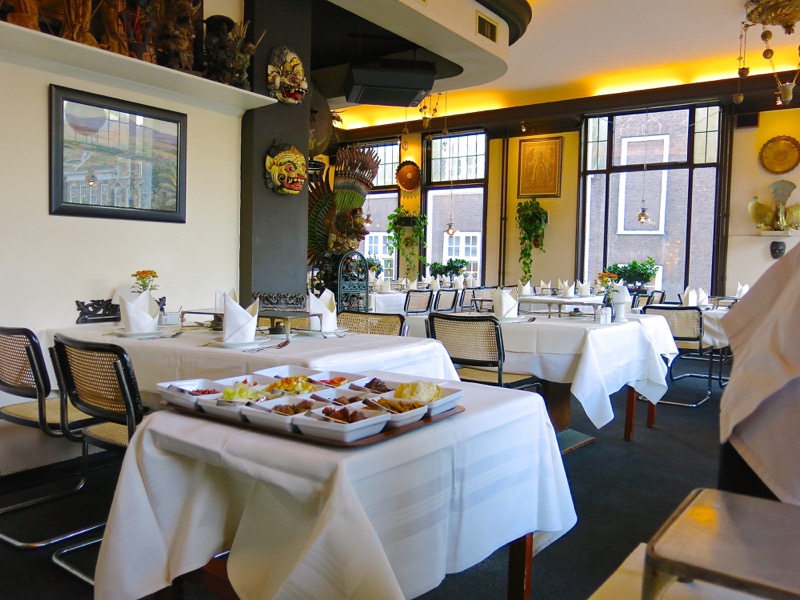 …. of course the waiter suggested the grand slam: The special "Garoeda Rijsttafel" for three or more which was the largest Rijsttafel on the menu and would provide the best experience. I was not against the idea, yet was concerned about the waste of food and high 35 EU per person price (for the meal alone) as I don't eat meat and would only sample and taste. Azra seemed all for it, as did Vanja, as would most in the same situation, so the grand slam it was…. and within minutes it started to arrive….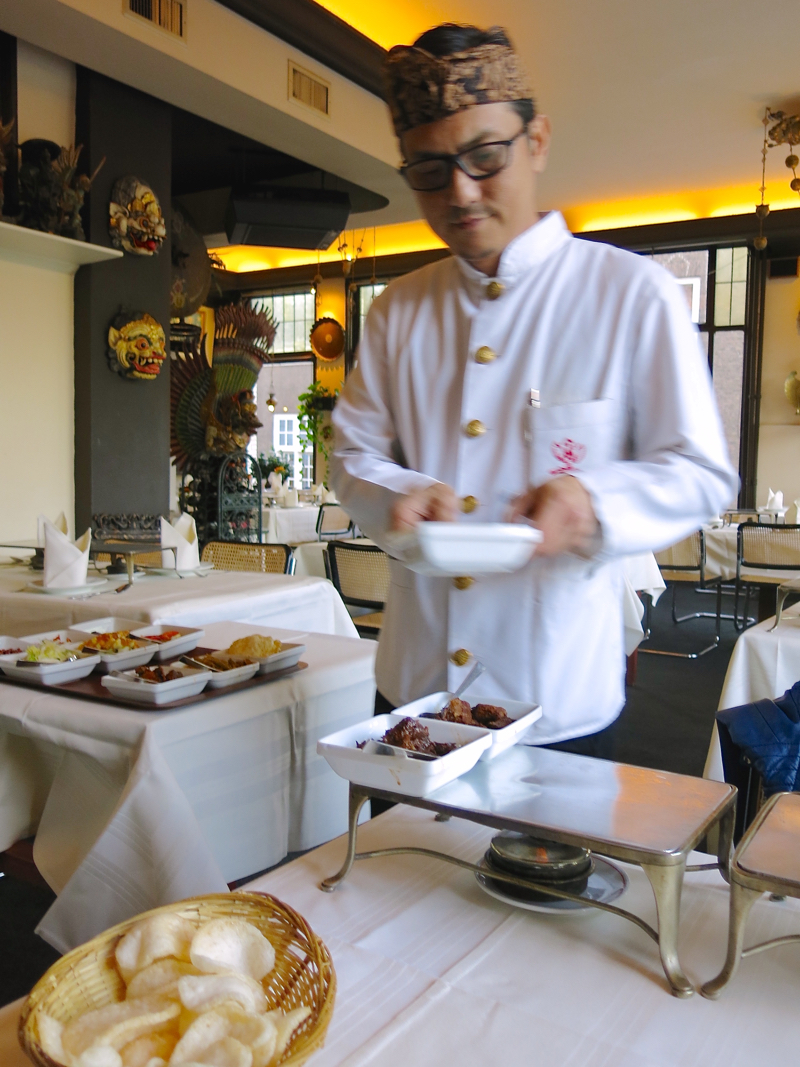 The little table was a heating table to keep the hot dishes hot. He skillfully set up all before us like an artist's palate: colours, textures, temperatures, flavours…. it was mystifying. Which dish was which and what is this or this or that?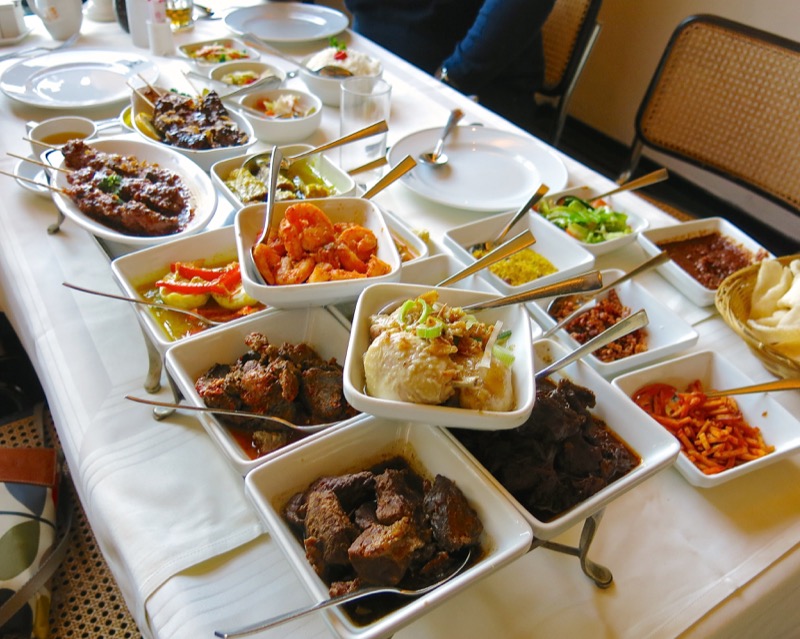 The aroma was tantalizing but the food was not so hot… so we left it on the heating table a bit. I thought it should have come from the kitchen hot, no?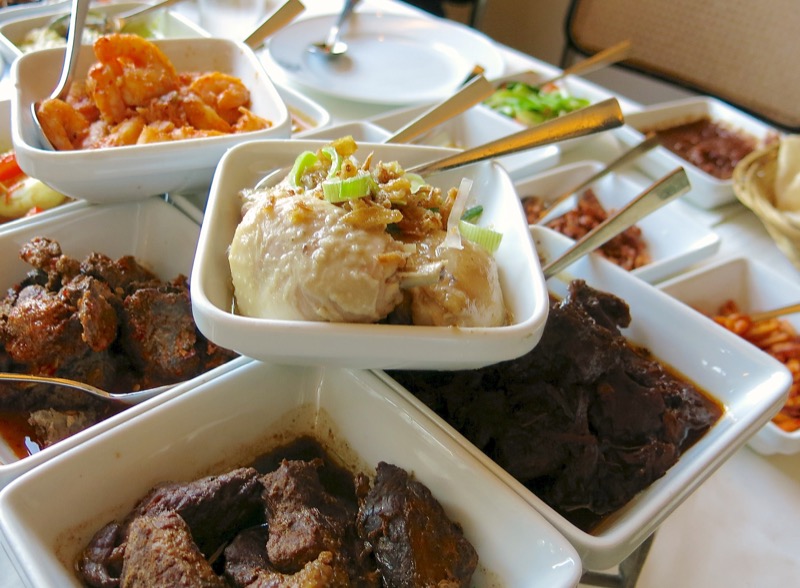 I had read that the rice goes into the center of your plate and that a little of everything goes around it and mixing it all up and together is part of the experience. Not quite ready for that, I did start with putting the rices in the center of my plate, and a little of most items around the rice. I would begin with tasting each on its own and mix together the flavours I liked. That was my plan.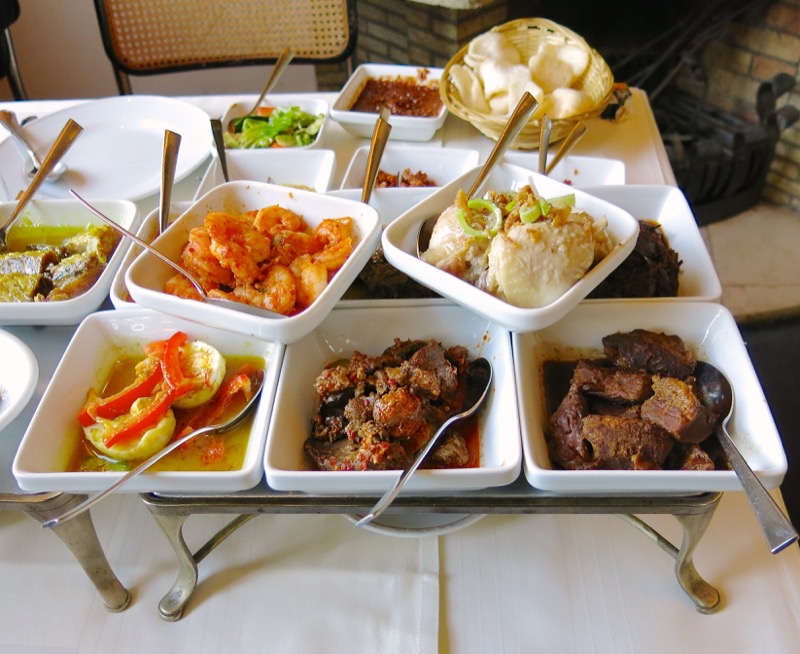 Even now, looking back on the menu to see what we were supposed to get and comparing it to the photos of what we were actually served, it is very difficult for me to name the dishes.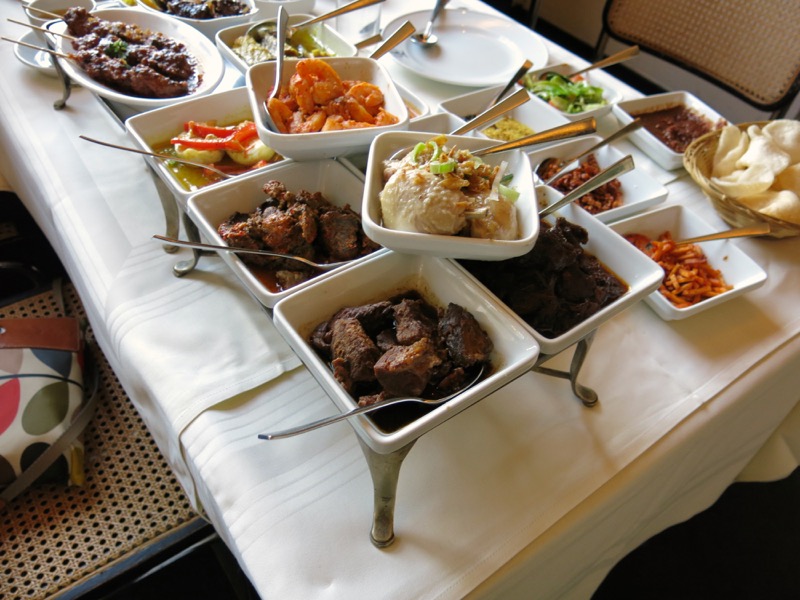 Some are easy, like the shrimp and the satay, but most are more confusing as they can be somewhat similar in appearance.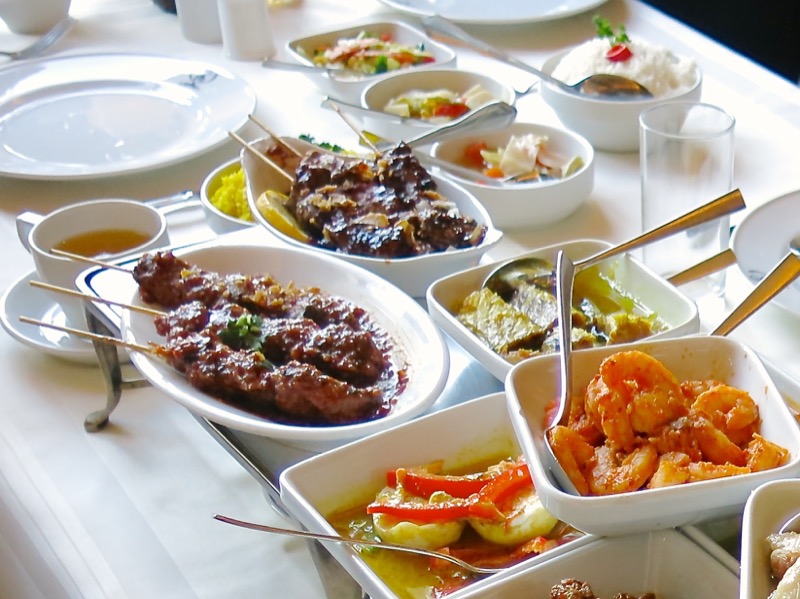 What was saddest for me was my first bite. It was the simple white rice. That, to me, would lay the foundation for the meal and a restaurant of this stature would certainly know how to get the rice right. It was actually hard. And old. I know my rice. I was really surprised. I then tasted a portion of the yellow rice. No difference in flavour, surprisingly, but the texture was a little more moist. Not day old like the first rice, but not fresh, either. Neither were tasty. I was sad, but of course, said nothing. There were three of us, and only 2 bowls of soup served. Of course, there was so much food, but why 2 soups for three people? I tasted one and it was like salty water. Luke warm. Have we arrived too early and is our meal part of yesterday's service? Customers cannot be proselytizing such rave reviews based on this kind of food. Clearly, we are here on an off night.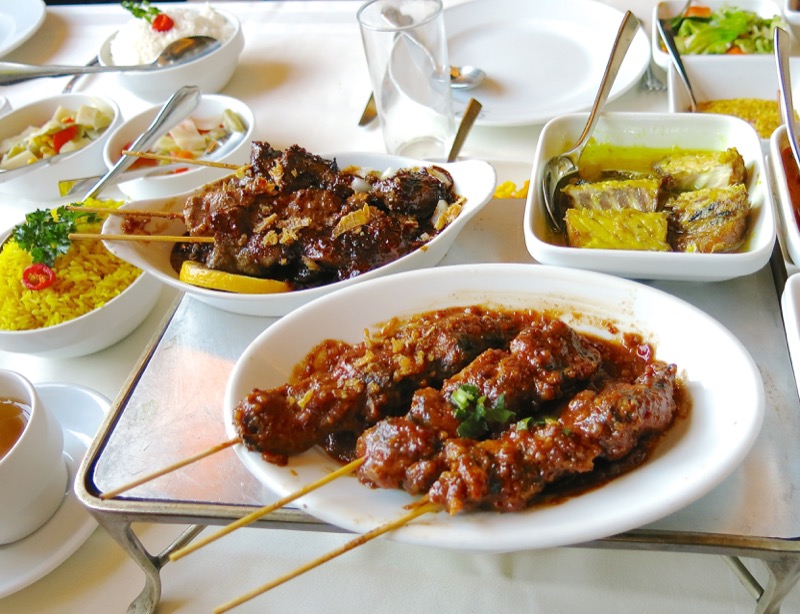 As the Rijsttafel experience is clearly a novel one, and one that I would most definitely want to experience with tasty food as I am a huge fan of Indonesian cuisine. Suffice it to say that only the satay and the tempeh had a memorable and appealing flavour. Not one of the other dishes was tasty or the guttural "yummy". The shrimp was a nondescript "edible" as were a few other dishes. I chose to write about our evening and meal here to provide a context for what the opportunity should hold, what a Rijsttafel is, and to capture the memory of this artistic presentation of an array of colourful dishes that will always be dear to my heart as we met lovely Azra on this evening and regardless of the food, the company was fabulous.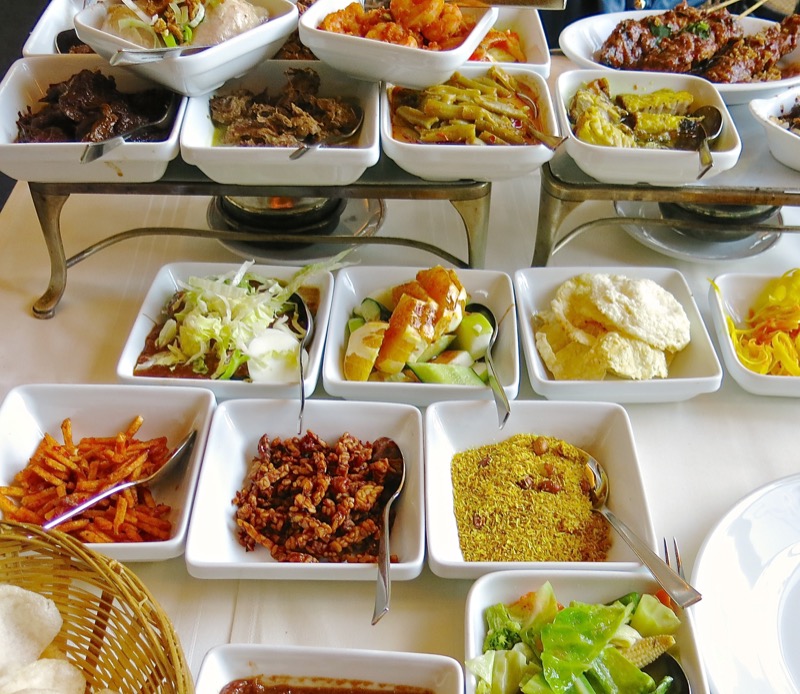 Though our dishes were cold, and day old at least, the food is usually incredible at this local. Our tour guide did tell us the following day when we met that a an excellent Rijsttafel for 2 with a beer, should be well under 20 EU per person at a neighbourhood Rijsttafel restaurant. I would have not blinked an eye to pay this price if the food was as good as the reviews are. There is nothing like taste, texture and ambiance to capture an unforgettable memory of a place in time.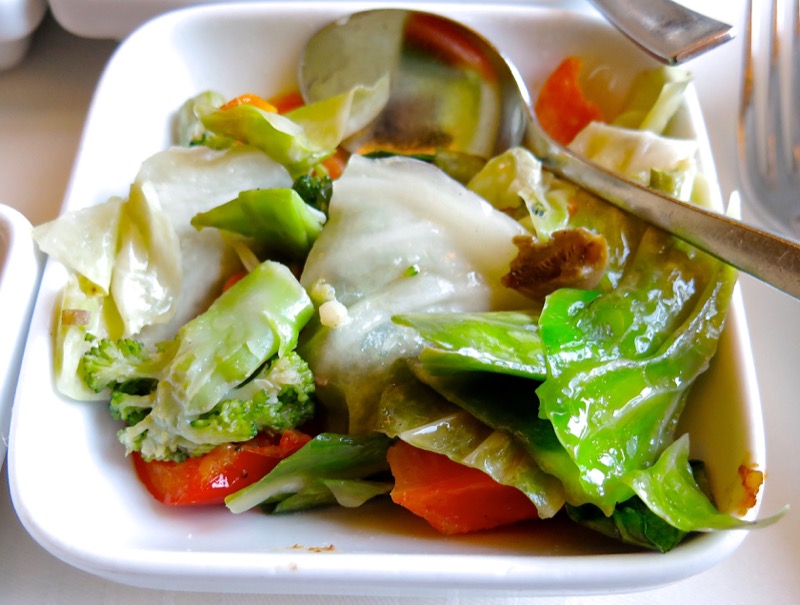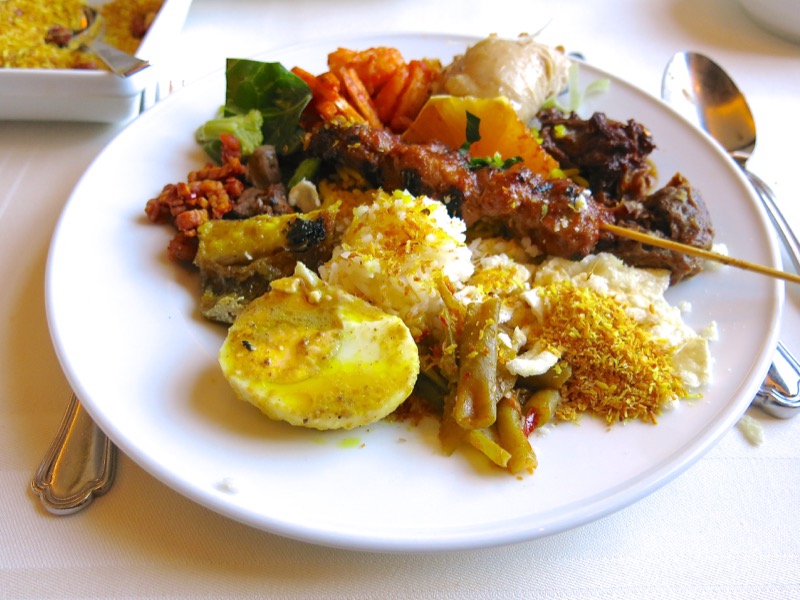 And, so it is, still. The place, the ambiance, the company, and the learning experience still found me kicking my heals at the end of the evening.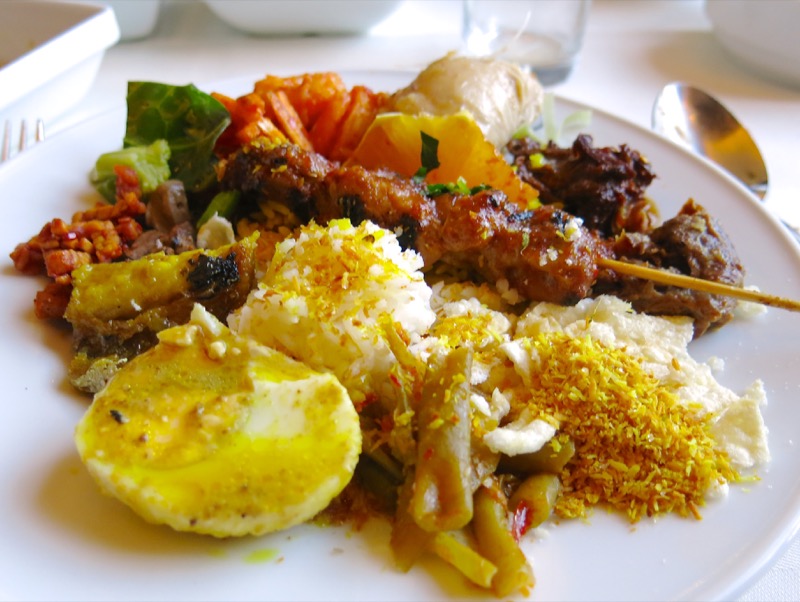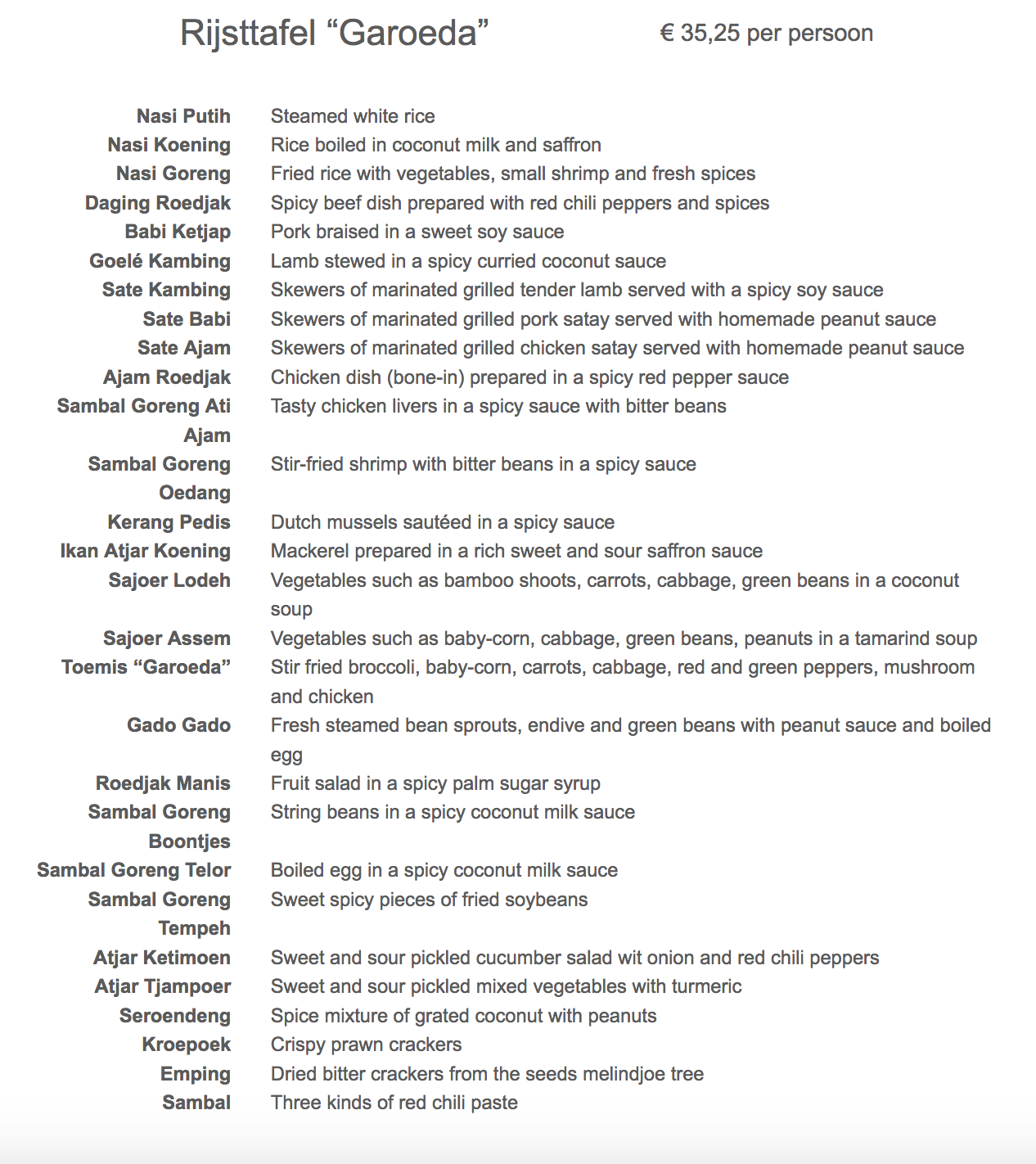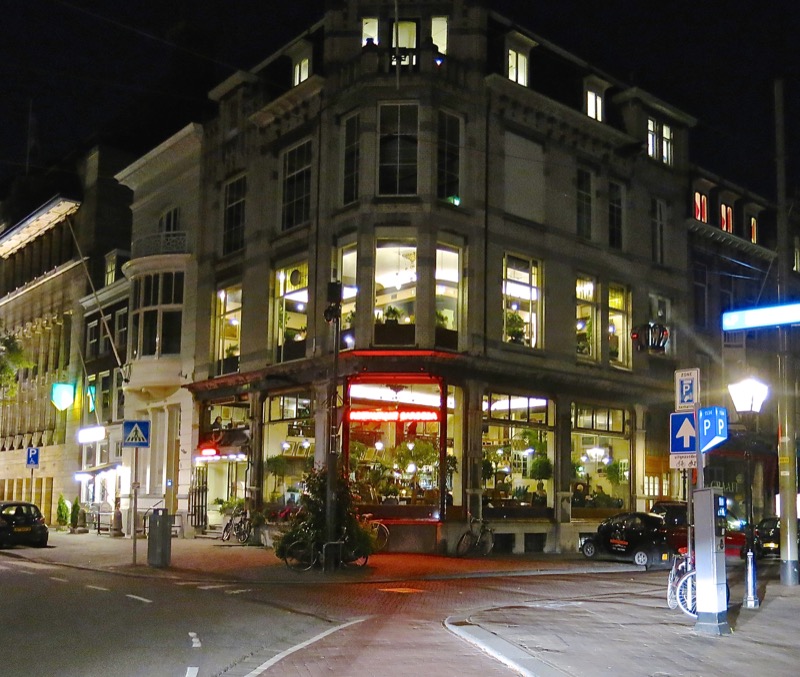 After dinner, Azra drove us around for "a night tour of The Hague". So much more to see and do. I felt as though I had known her all my life. Such a lovely gal.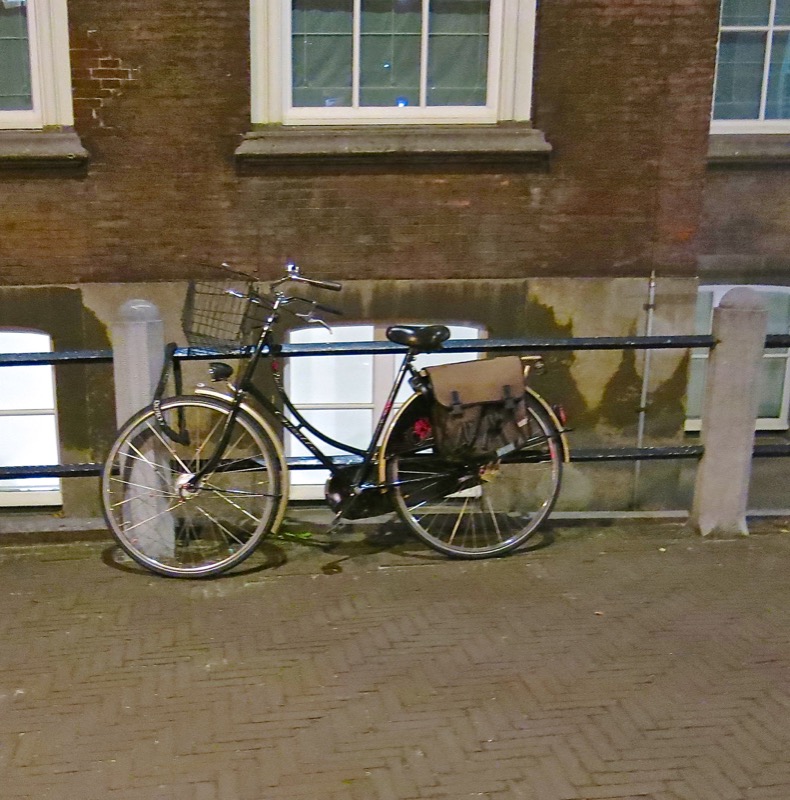 Then, off she rode, like so many others in The Hague this warm evening… into the dark on her bike.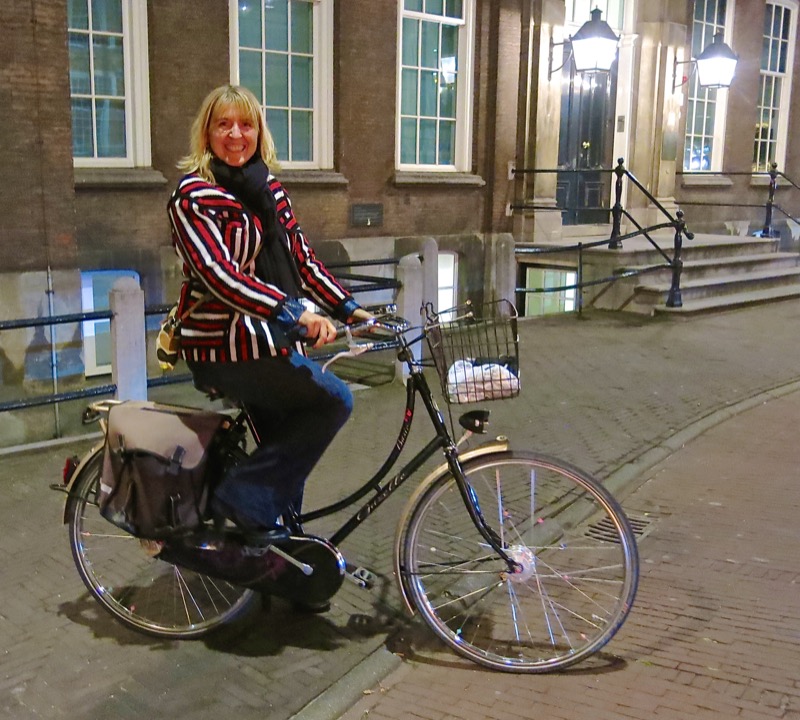 And, it was she who paid for the dinner! Our invitation. Our restaurant choice. She barely ate a thing, yet this is one determined woman. There was no getting around her and I am an expert at winning that argument… so it is. We must go back. We owe her a dinner and we will let her pick the restaurant when we return!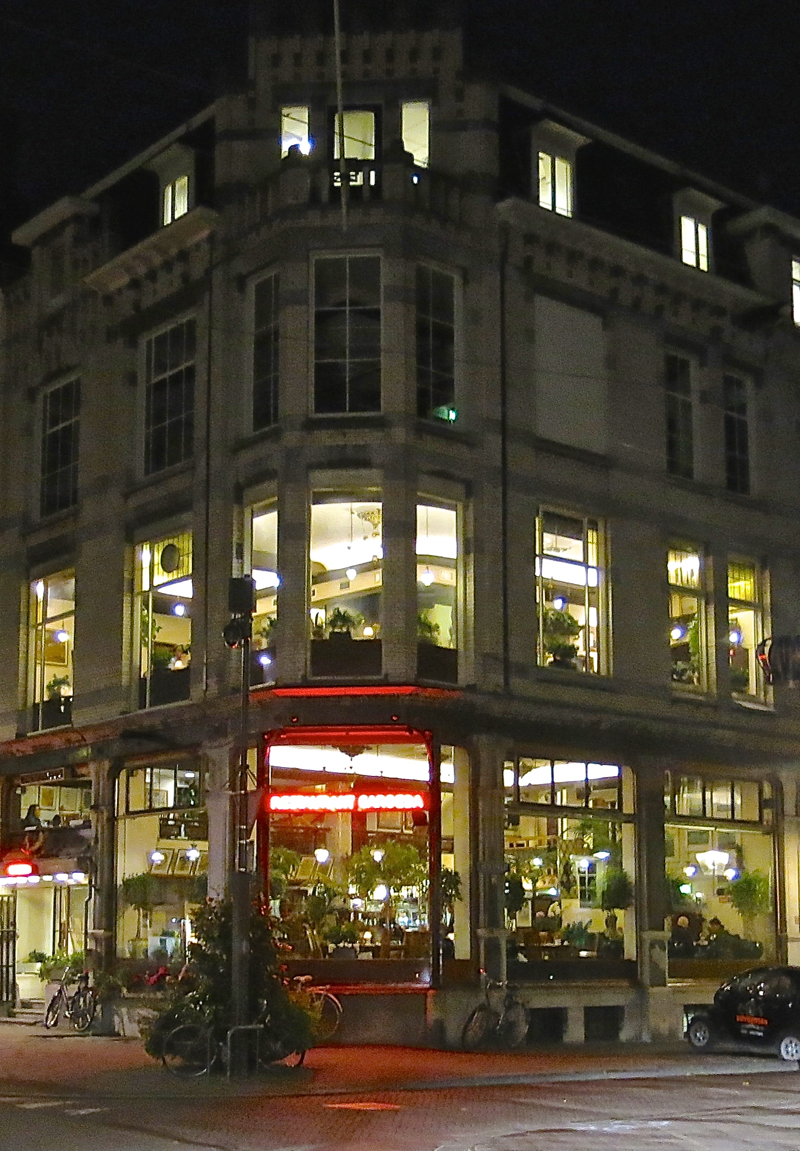 However, we will most definitely be taking in another Rijsttafel! This one off putting experience holds so much promise that I will not be able to resist.