Het Gulden ABC is a historic building where 21 Vermeer paintings once hung

Not only are the pancakes outrageously delicious, but the building has such history! Het Gulden ABC refers to the printing office that was housed in this building in the 17th century. Jacob Dissius was the owner of the building and husband of Magdalena Van Ruijven, who so happened to be the daughter of Pieter van Ruijven, a close friend and benefactor, or patron of Vermeer's. Owning many Vermeer pieces, he bequeathed them to his daughter, Magdalena, after the death of his wife, Maria de Knuijt. He displayed 21 of Vermeer's 34 known pieces in various room of the Het Gulden ABC at that time which made it the perfect spot for our Dutch Pancakes for lunch on our Vermeer tour day!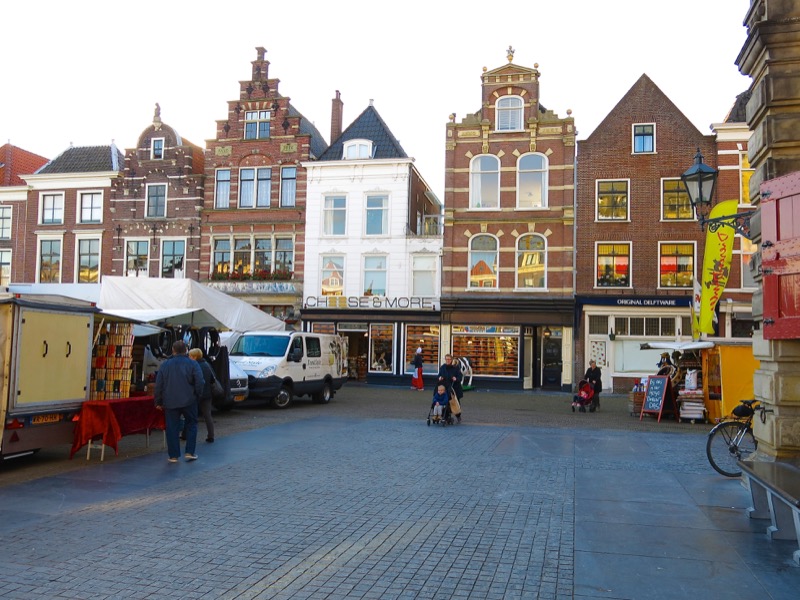 When Magdalena died in 1682 (at only twenty-six) Jacob became the sole heir to the collection. According to an estate inventory in 1683, there were "eleven Vermeers in the front room of Dissius's house on Delft's Markt (or "Market"); four in the back room; one in the kitchen, which apparently also served as a bedroom; two in a basement room; and two elsewhere in the residence.". After Jacob died, his collection was auctioned in Amsterdam on May 16th, 1696.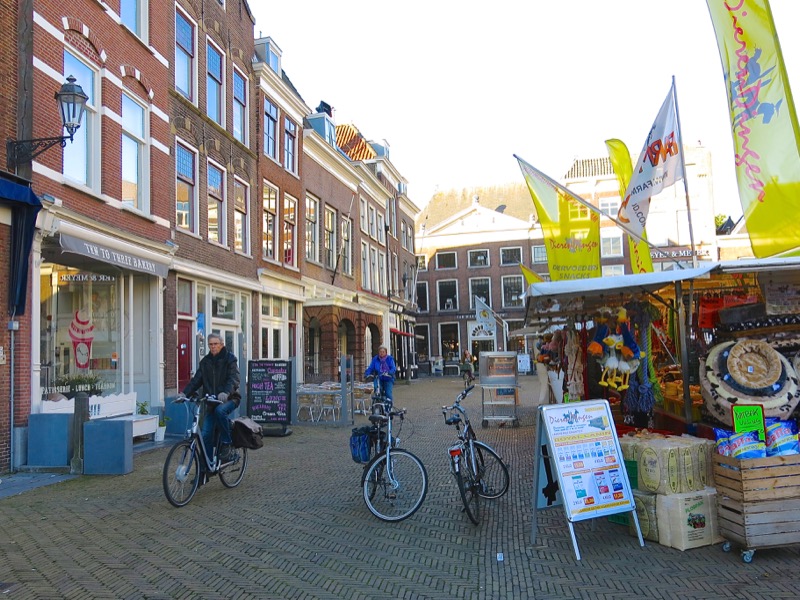 Delft is such a pretty city. The old town is well maintained, has canal streets like so many of the cities and towns in the area, and is almost fairytale like within its quaint, so well preserved, beauty.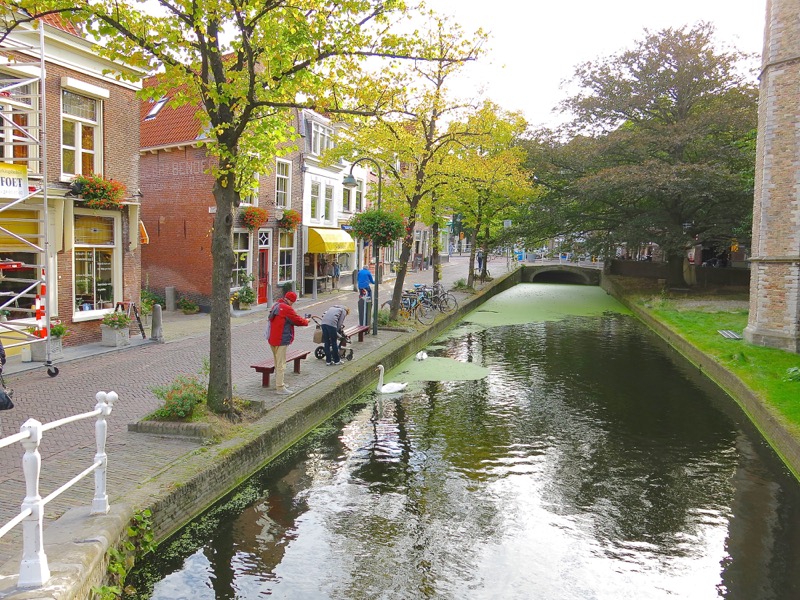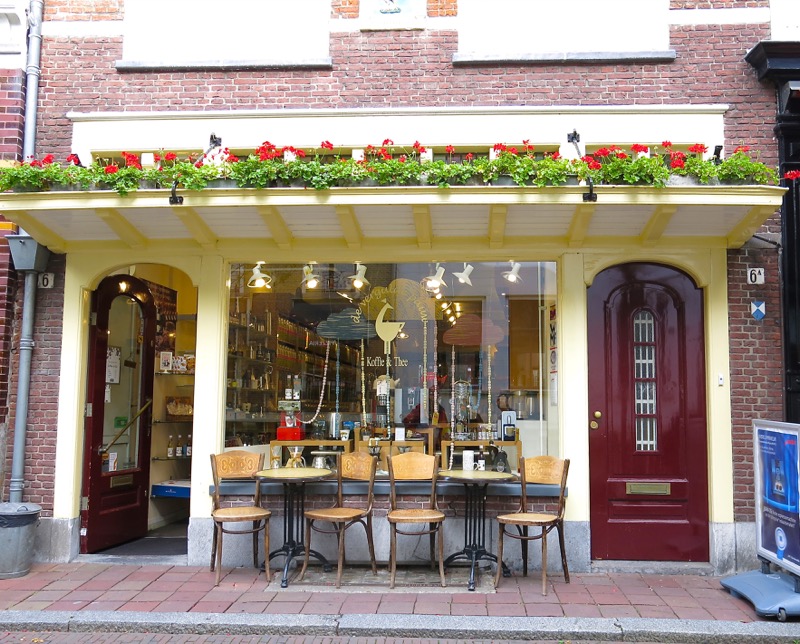 The people take pride in their town. So much charm and ambiance around every corner. Not so hard to imagine what it was like in Vermeer's time, either, as many of the historical buildings remain in the same spot.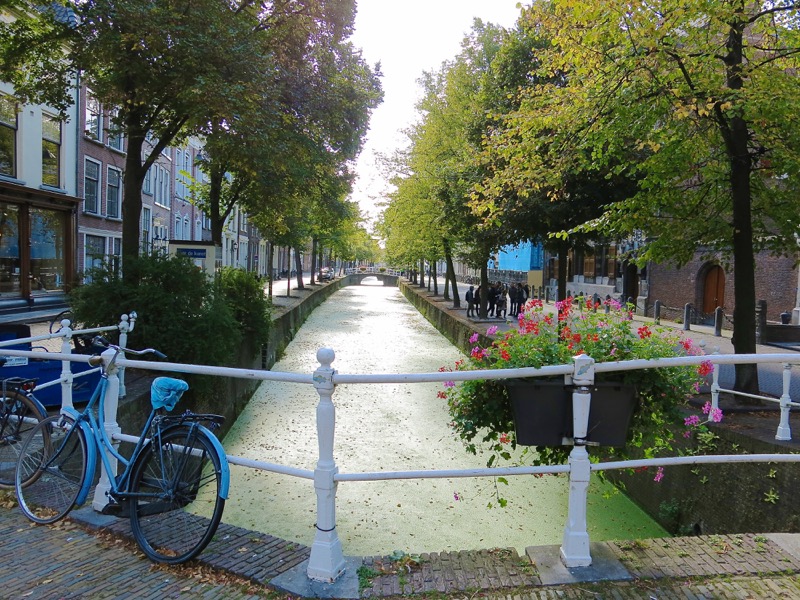 Apparently only once a year for two weeks are the canals covered with a thick green plant of some sort.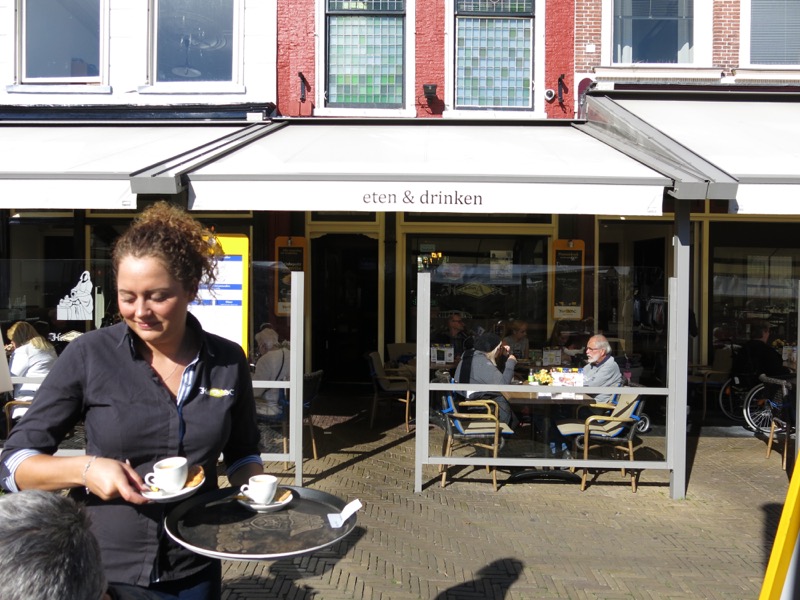 Finished out tour, with the exception of Vermeer's tomb, we stopped for the Dutch Pancakes our guide had suggested, in this historic building.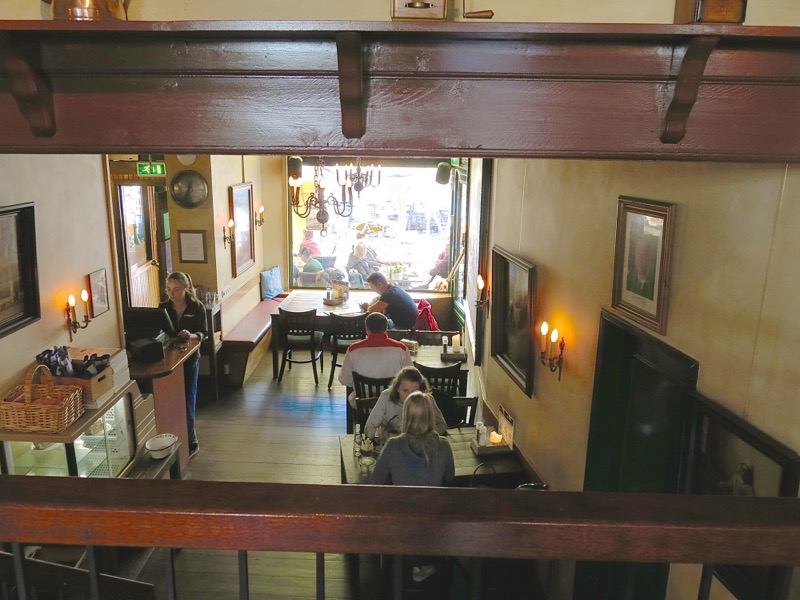 Apparently, you can ask for a tour here, and I was under the impression Kees would provide us one, but that never happened and after the lunch, time was so tight, I didn't ask.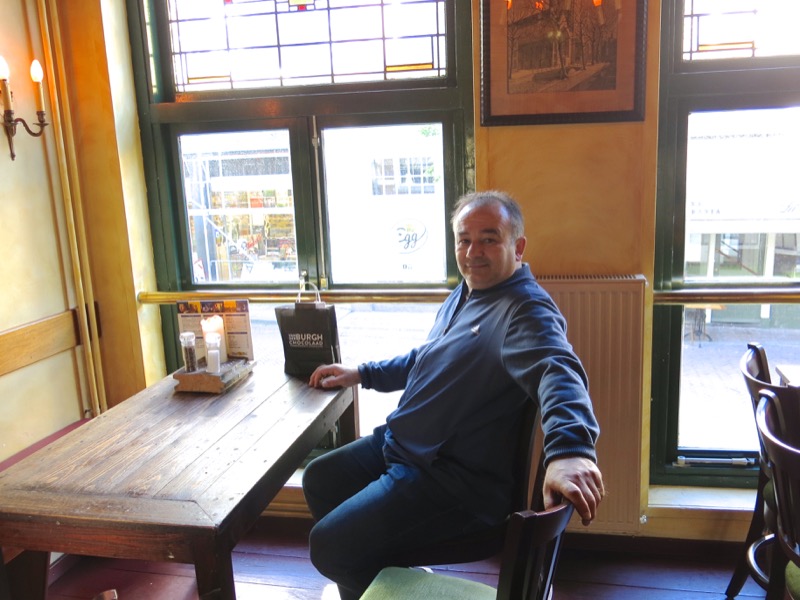 Simple, rustic spot right on the square.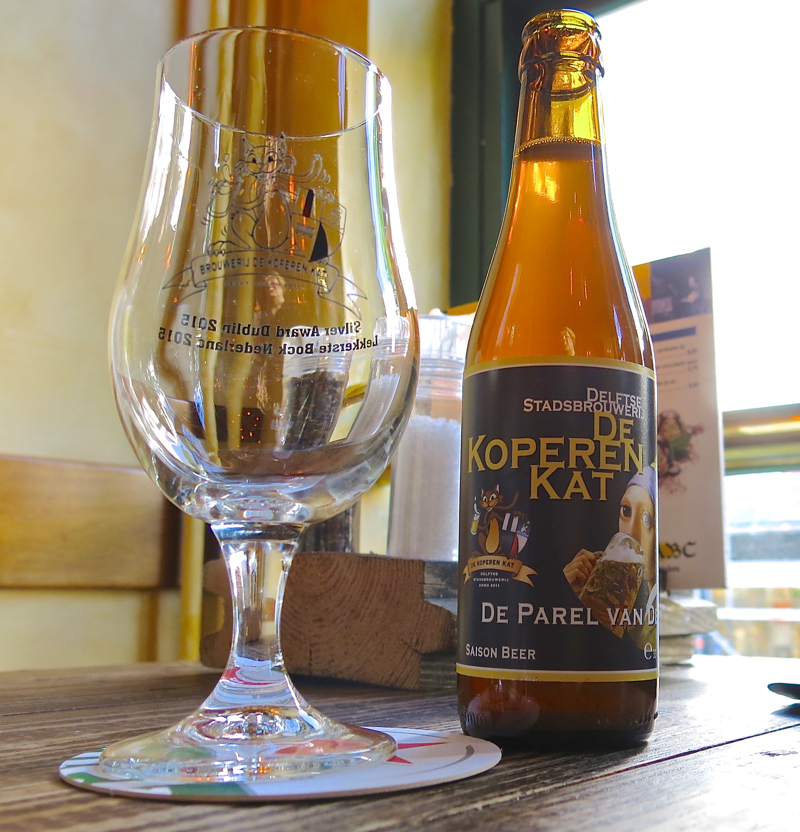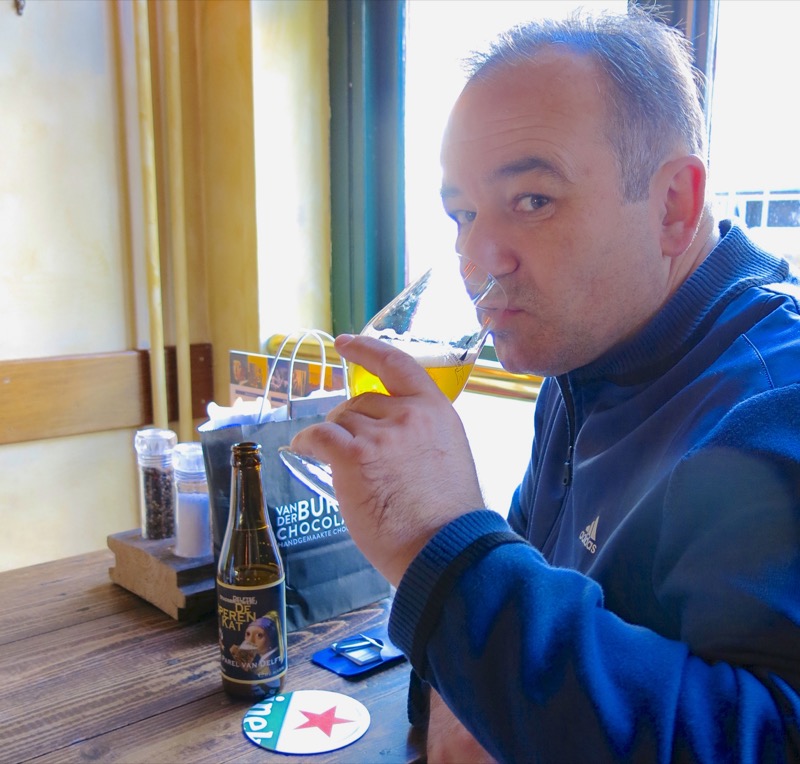 Vanja's tradition: a local beer at every stop we make. Look at the pretty picture on this bottle! Blasphemous! Haha! The Girl with the Pearl Earring would never drink beer… would she?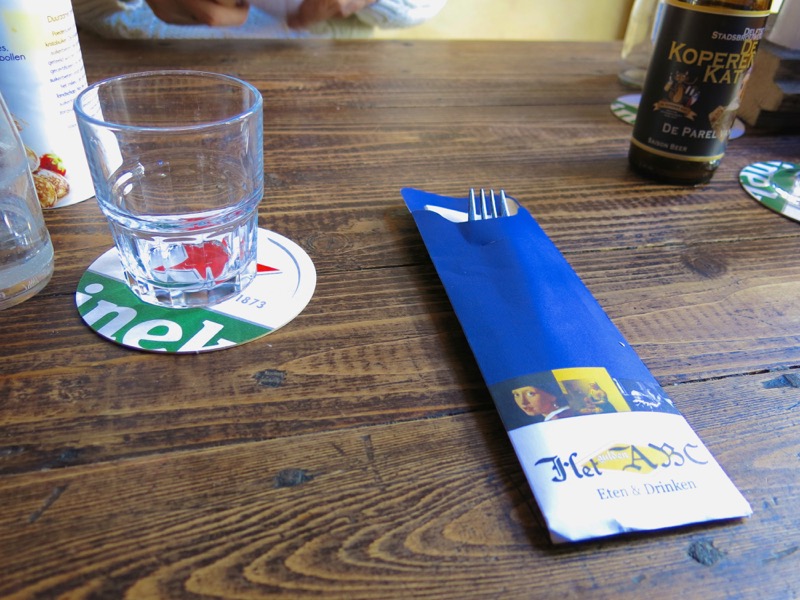 For some reason, I had in my head that Dutch Pancakes were poffertjes. That can happen, can't it? Our first time in Amsterdam so many years ago, there were poffertjes in almost every restaurant and on posters and signs and when I would see a sign in English that said: "Pancake House", I thought it meant that it served poffertjes. That has just always the way it has been in my mind. Whenever someone said Dutch Pancakes, I thought "poffertjes". I was aware there were sweet and savory versions, but I just through those versions came in the form of poffertjes. Wrong. Wrong. Wrong.
Dutch Pancakes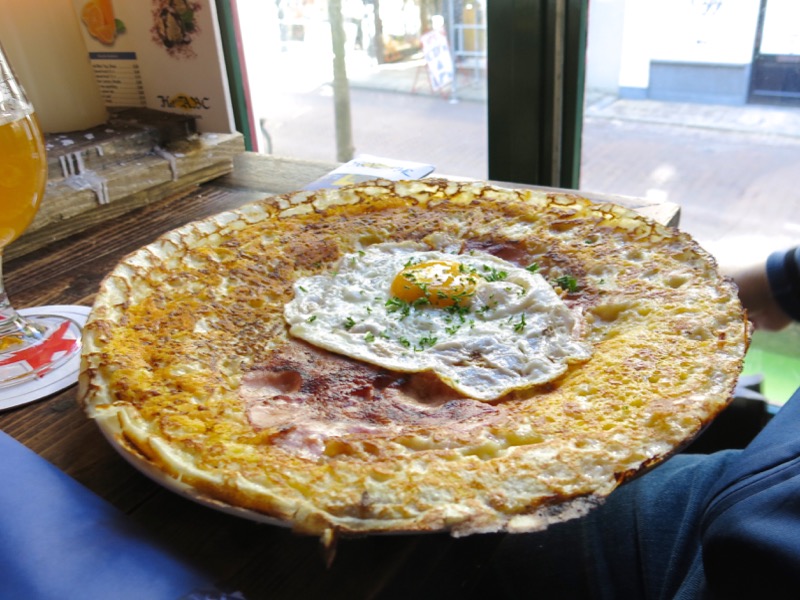 When we sat down, Kees said, Dutch pancakes are very different that your pancakes in Canada. I said, "Oh, I know. I've had them." He went on, "They are not thick at all, but very thin, similar to a French Crepe." What? I didn't say that. I just tried to process it.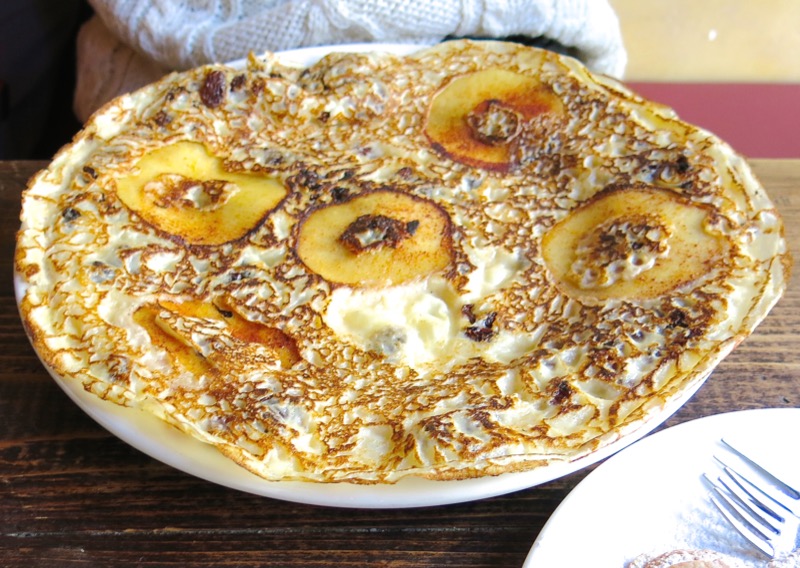 "Which is your preference", I asked, after reading the menu. "Well, I'm getting the apple one. It's my favourite." Isn't it sweet? "A little." I was surprised to see him order a sweet crepe or pancake for his lunch, yet when it arrived, it looked like the perfect savory apple pancake. Again, surprised that the fillings are cooked right into the pancake. I had asked the waitress what the most popular was. "Bacon and cheese!" I almost got the soup, but decided to be adventurous. And, I did order a plate of poffertjes, as I loved them so much last time I was in Amsterdam.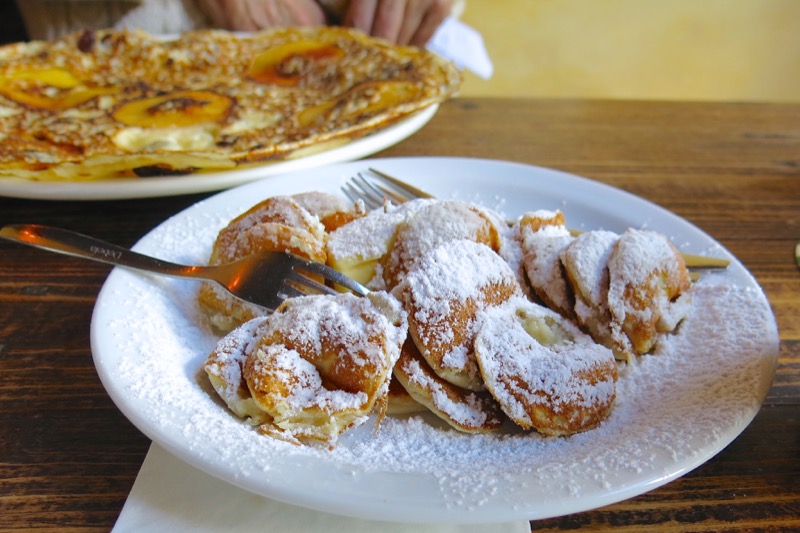 This batch may have been as tasty as the last, but my palate was completely focused on my new experience: the Dutch bacon and cheese pancake. Oh. My. Vanja said it was because of the bacon. I say it was the combination of flavours and textures, but the spongy type crepe (similar to the Balkan palacinka) with the cheese melted into it and the bacon cooked on top was so unexpectedly scrumptious that I ate half of the huge serving without even looking up. And, I don't eat meat. Usually. I took the rest home and ate it that night for dinner.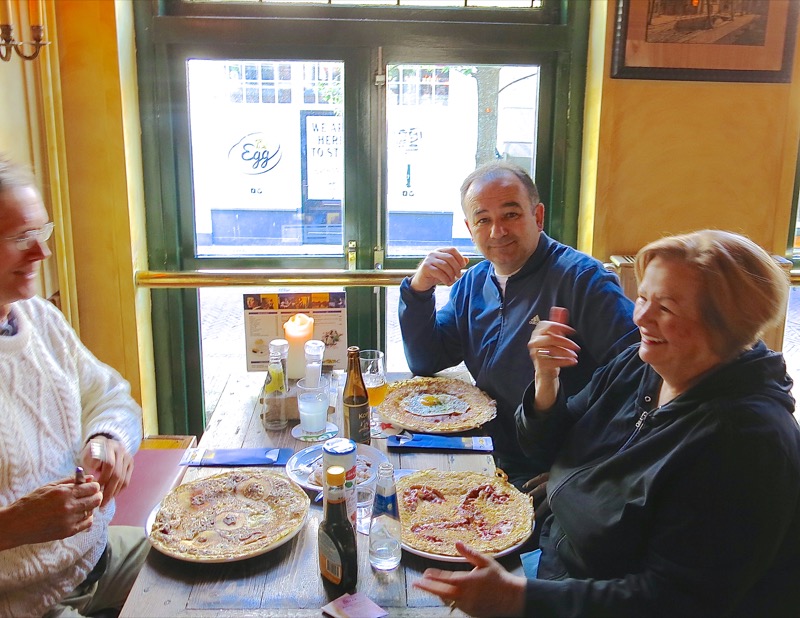 I really wanted a nice photo of the three of us, but the lighting didn't cooperate.
Dudok Cake or Dutch Apple Pie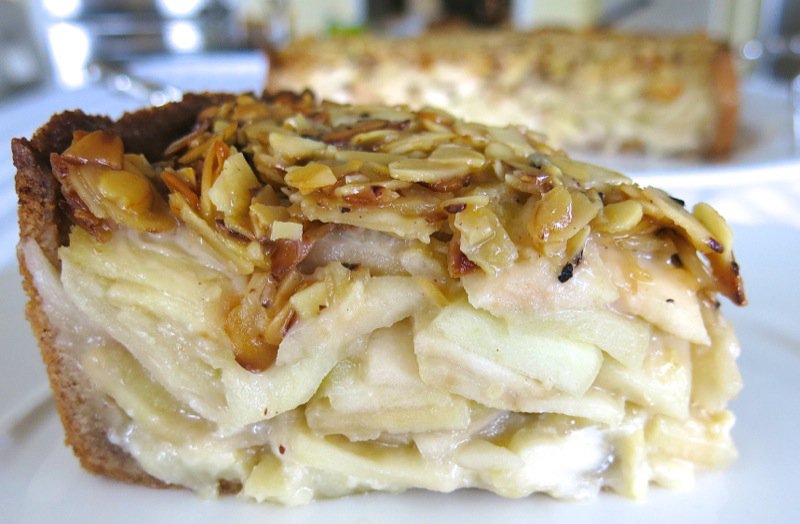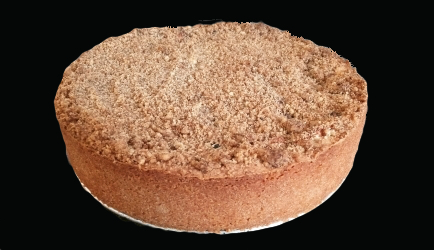 Looking at the menu more closely, later, I noted the restaurant served the famous Dudok Patisserie apple pie. The restaurant hails from Rotterdam, but has a location in The Hague and certainly sells here and at the Delft Factory Brasserie. Apple pie is as fundamental to Dutch cuisine as it is to North American, but it is a deep dish variety. Above, is my own recipe that I developed a few years ago, not even knowing of the famous Dudok pie, but the resemblence is uncanny. Though, mine hasn't raisins and theirs hasn't almonds or marzipan. I first saw the Dudok apple pie served at the Royal Delft Tea house without realizing what it was. Well, I knew it was apple pie, but it was stunning: so appealing, I immediately stopped in my space and thought about getting a slice to share with Vanja (as apple pie is his favourite dessert). Since then, I learned they serve the Dudok pie there, too! So, an opportunity missed. Dudok has become one of the most famous cake shops in the Netherlands mostly of their apple pie and the apple pie is the iconic celebratory dessert, apparently, for birthdays, anniversaries, and holidays. No one told us about the pie, so I hope telling you will put it on your list of "must taste" when in the area.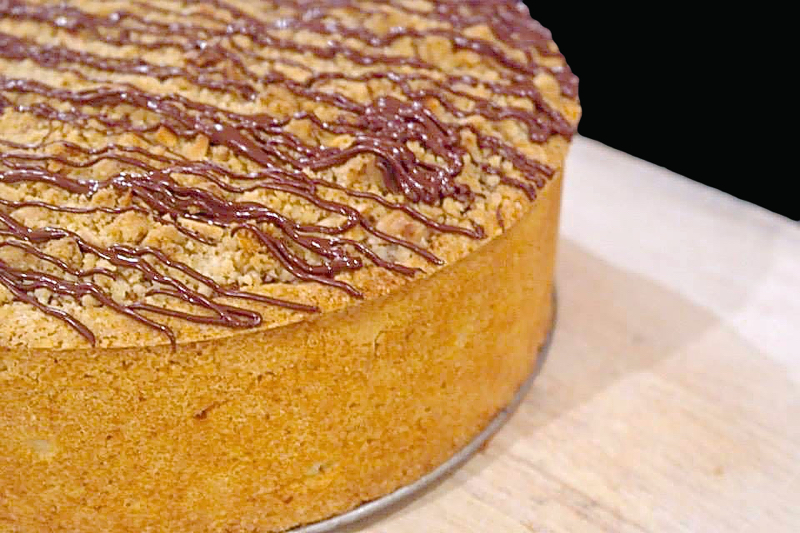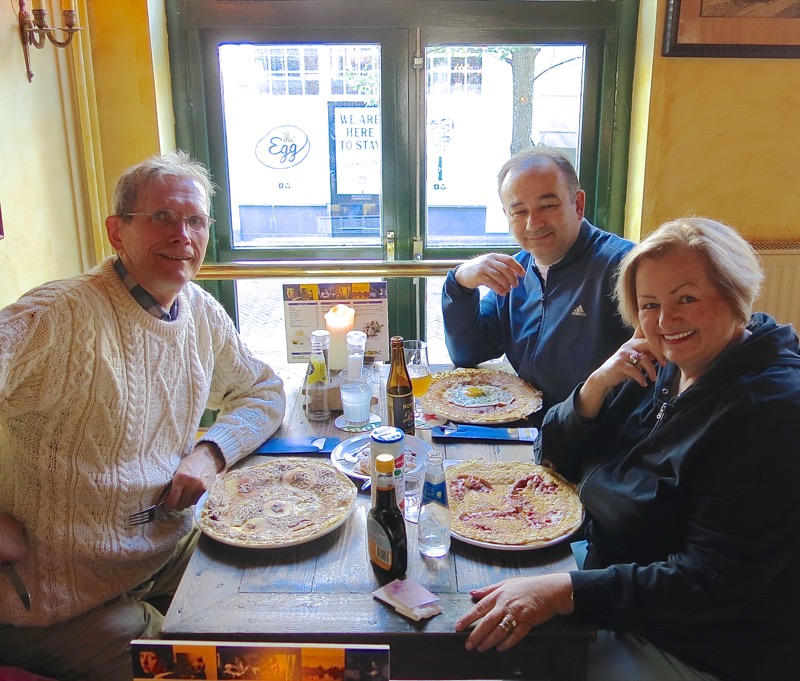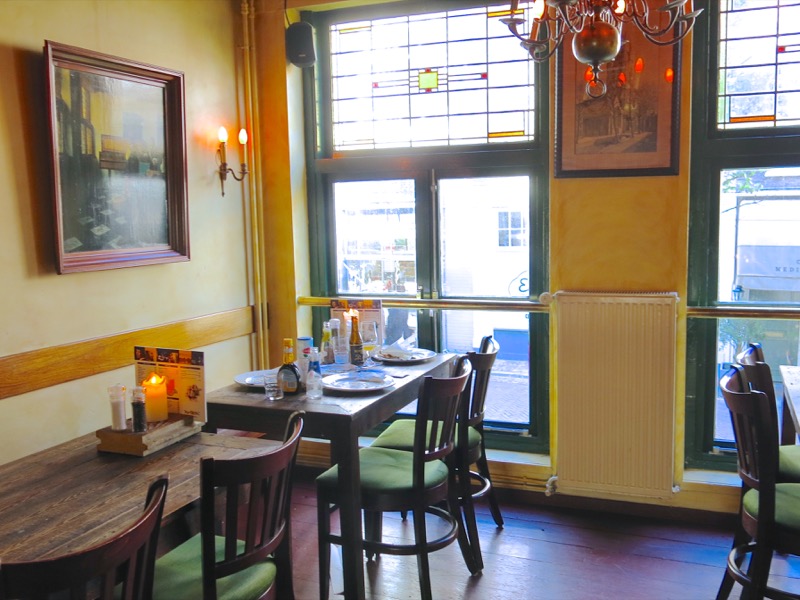 I could have lingered, but on a day like this, there will be no lingering. But, I had half of my pancake in my bag so there would be more savoring later!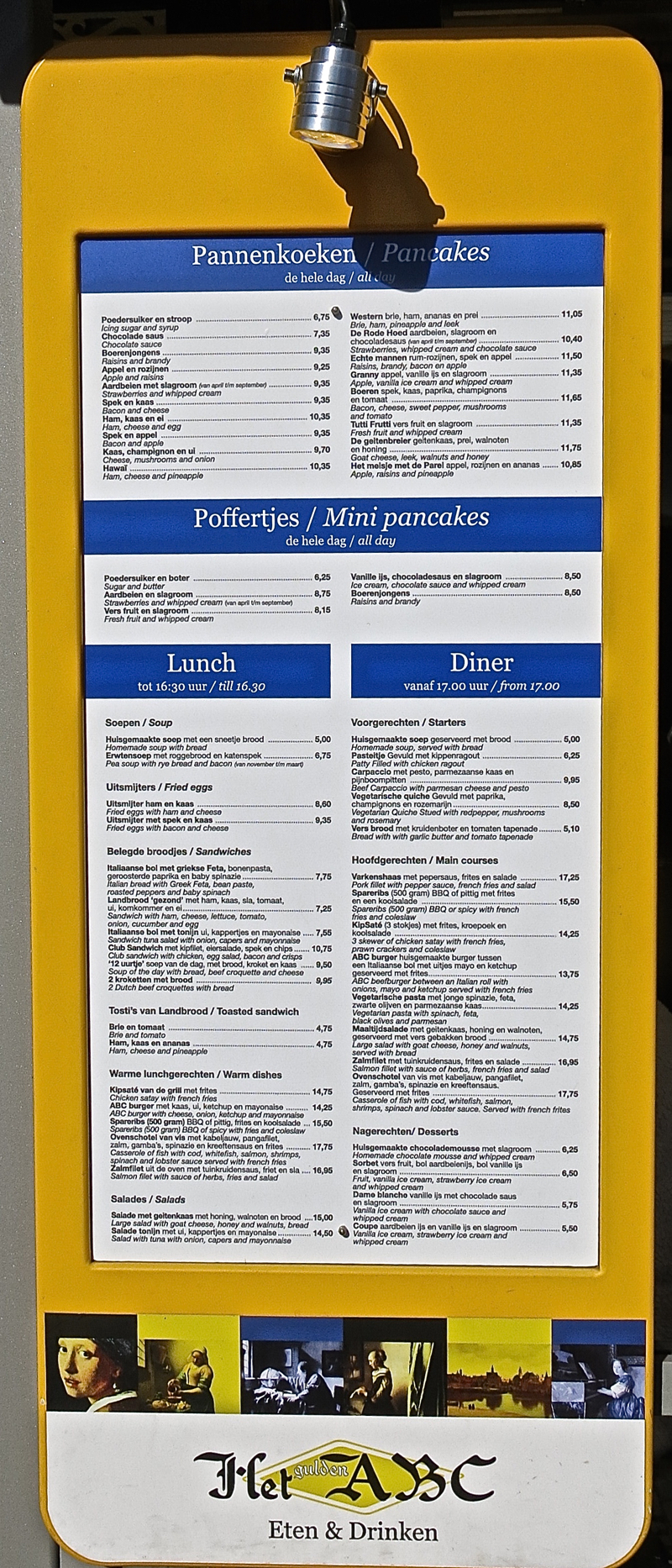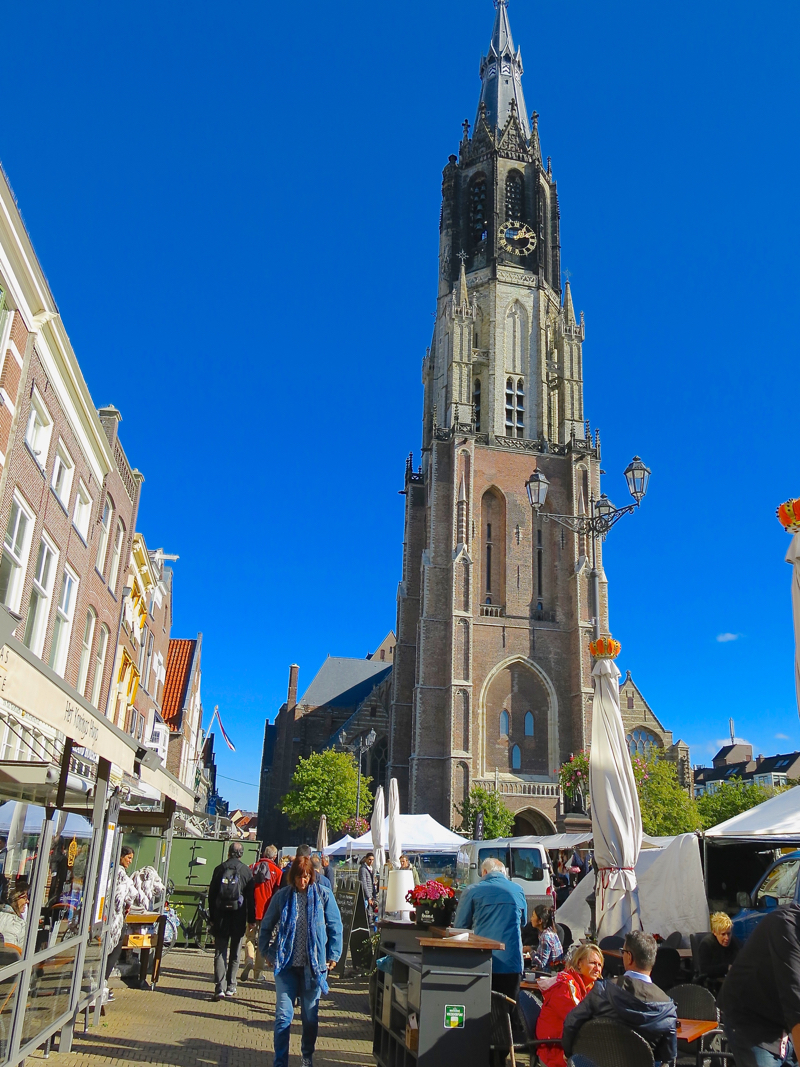 On to the end of our tour at the New Church, the opposite end of Market Square from City Hall, where Dr. Kees Kaldenbach, our Vermeer expert tour guide, told us he was buried. Nope. That would be the Old Church where we had been, but didn't go into it as he had said there was nothing too important there.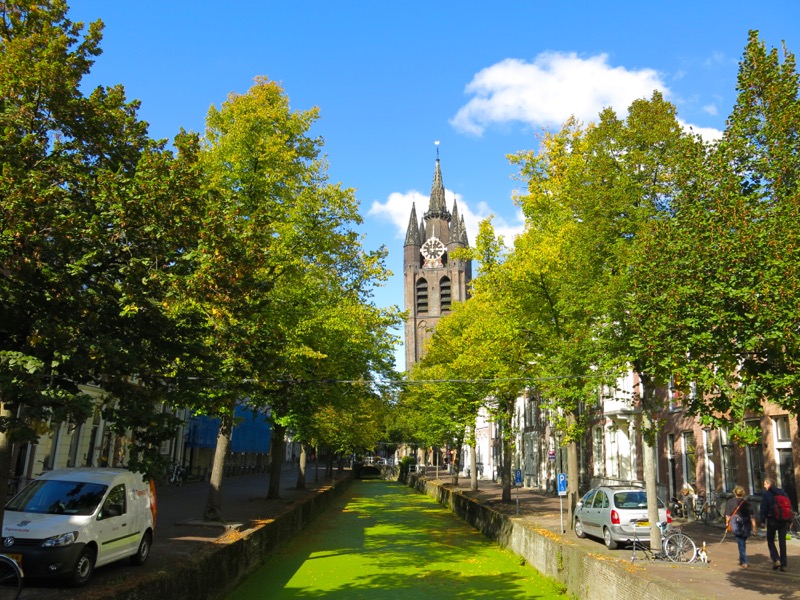 I guess everyone is allowed a moment or so of forgetfulness, but that was super odd. Back to the Old Church I went and really enjoyed my time over Vemeer's tomb. The old church was much more beautiful than the new church. One ticket will get you into both. Can you see the tower, above, learning? It is the tower of the old church and it is really leaning. All in all, a wonderful two thirds of our day with "Dr Vermeer"; but disappointed that he missed taking us to the Eastern Gates. Don't miss those when you visit Delft. Such a basic and important part of the town. But, we had an appointment for a tour at the Royal Delft Factory, and after our incredible experience there, had a decision to make: go to the Eastern Gate, or to the Vermeer spot where he painted the Delft Landscape. We had energy left for only one. It was the Vermeer spot.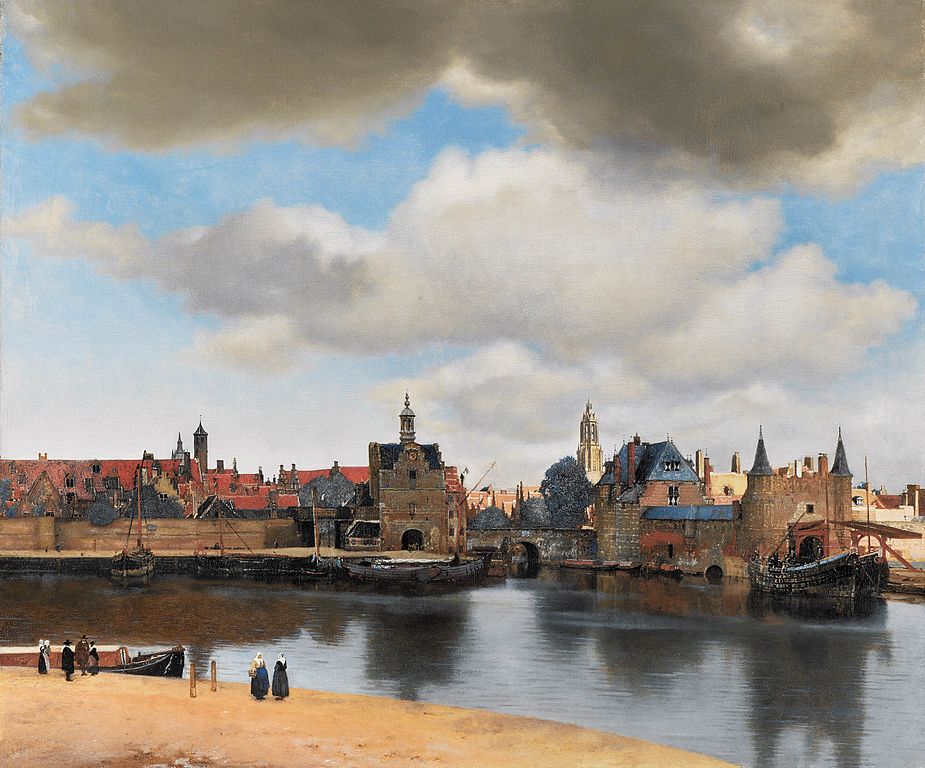 Then, above, and now, below.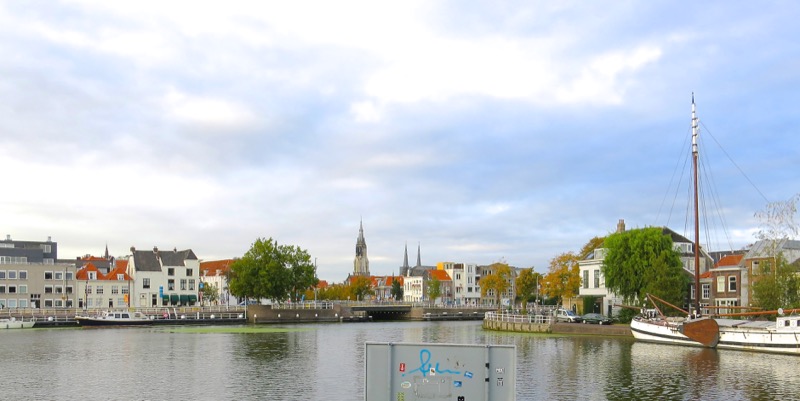 And, back to The Hague we drove for the night. Tomorrow would be a day in Antwerp and all about Rubens!