Traditional German Braised Purple Cabbage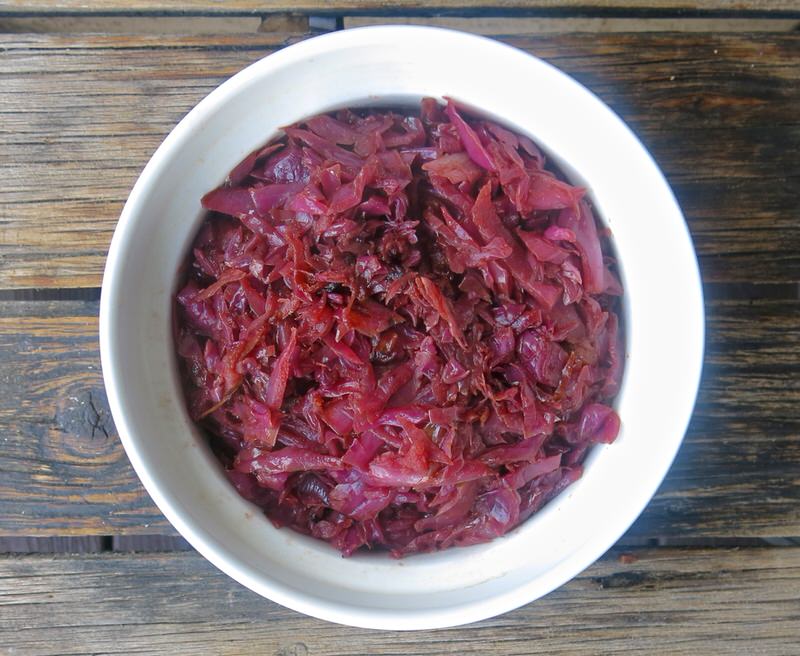 Braised Purple Cabbage! You'll likely love it or not. Rotkohl means red cabbage and Blaukraut means blue cabbage. This dish can be called either, depending upon the region in Germany. I call it scrumptious. I have made it years ago, only once, to go with duck confit. I find it perfect for that dish, or any wild game, as well. It is a little sweet and tangy, yet a bold savory dish.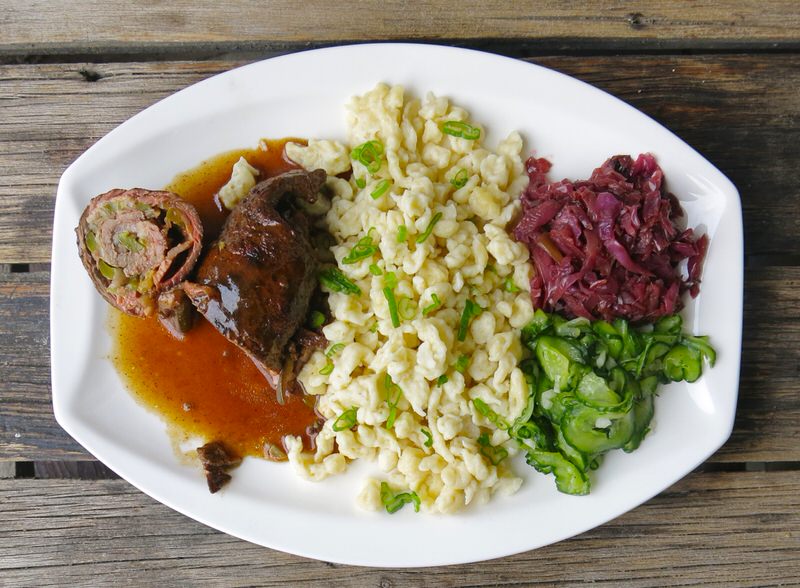 This side is not a quiet little number. Not visually, nor flavourwise. I also enjoy the mouthfeel, but that will depend upon how you like it. It is traditionally served with Margaret Bose Johnson's German Fleisch Rouladen main. Margaret's site is Kitchen Frau and not to be missed. She has been a favourite read of mine for years. Be sure to stop by, say hi and how much you love her recipes here! Remember our project hashtag please: #ACFValerieCookingwithYOU!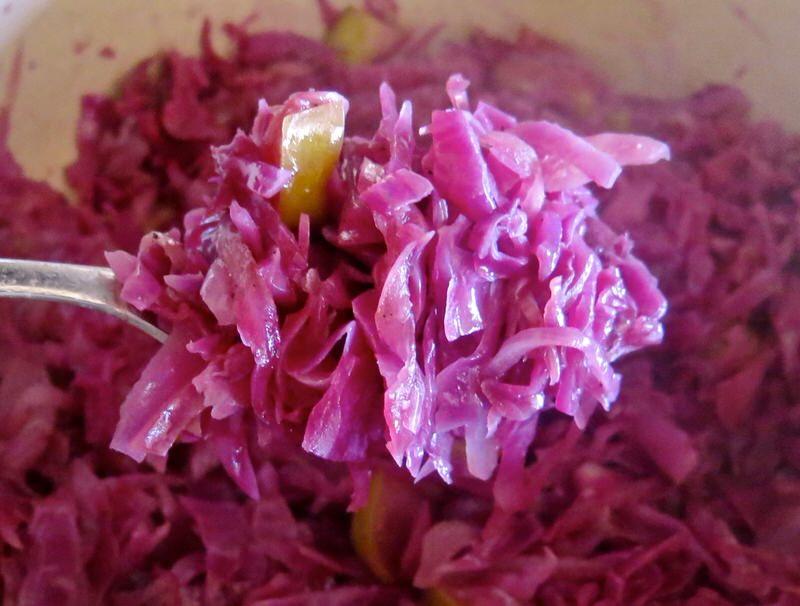 Some prefer it braised into complete, helpless and totally limp and lifeless submission. I like it with a little lively luster, yet most definitely appreciate the rich buttery cabbage note, regardless. How Margaret likes it is exactly how I do.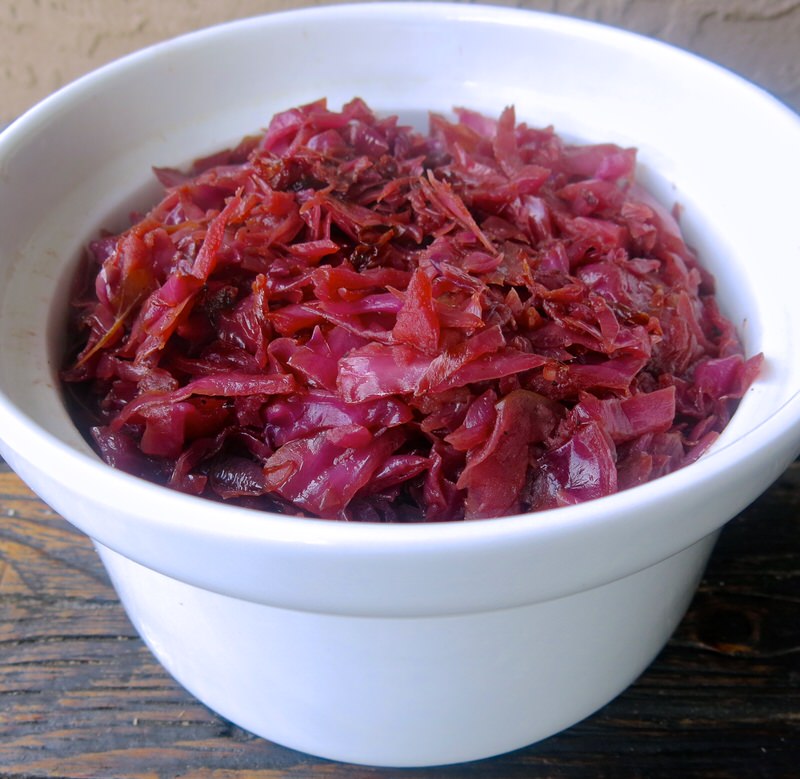 This is her family recipe and a side that is an absolute necessity when dressing the family table for Christmas.
Braised Purple Cabbage: Mis en Place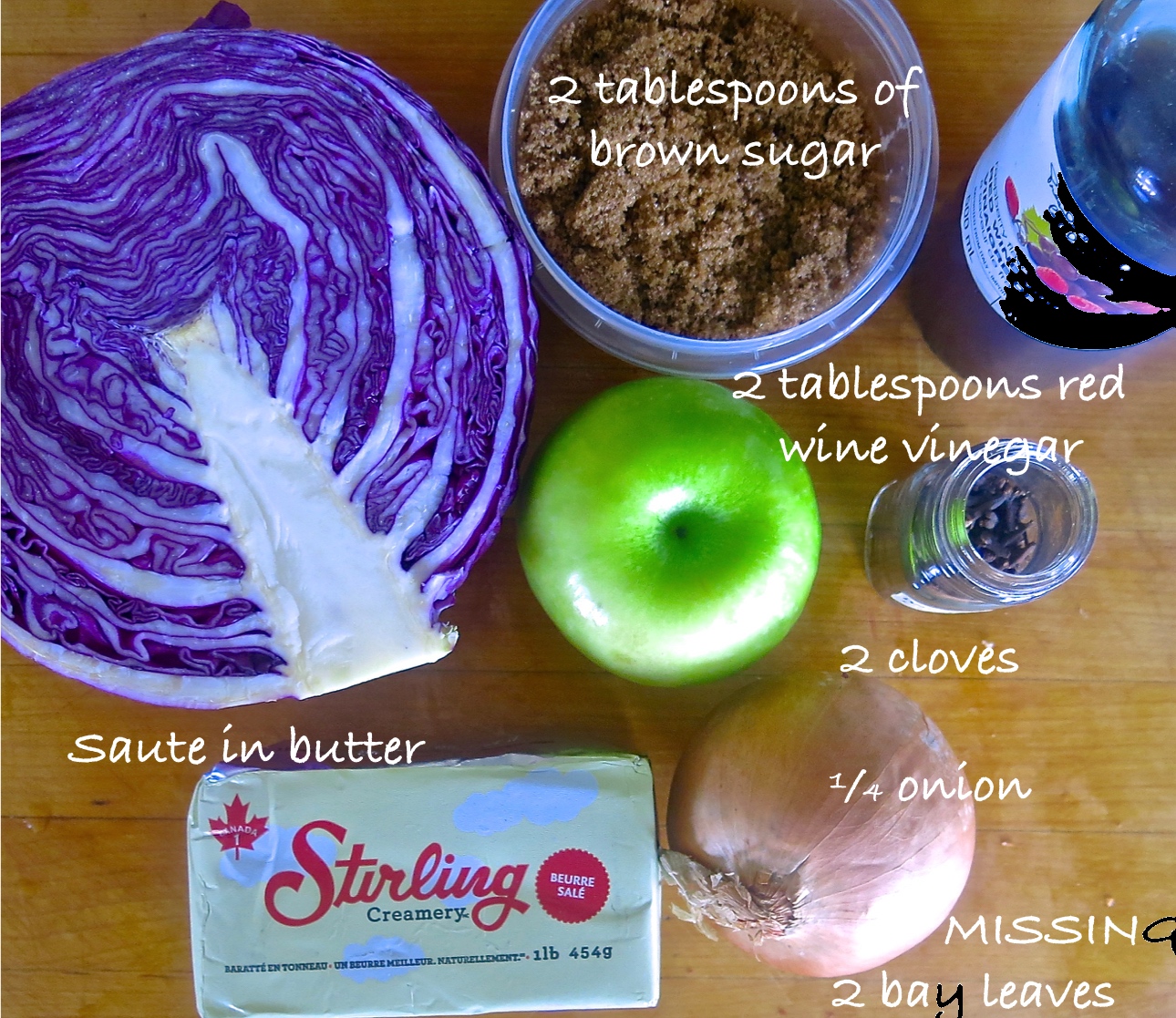 The ingredients are rather humble, with the exception of the luxurious butter. Her mother was generous with the butter. I like that.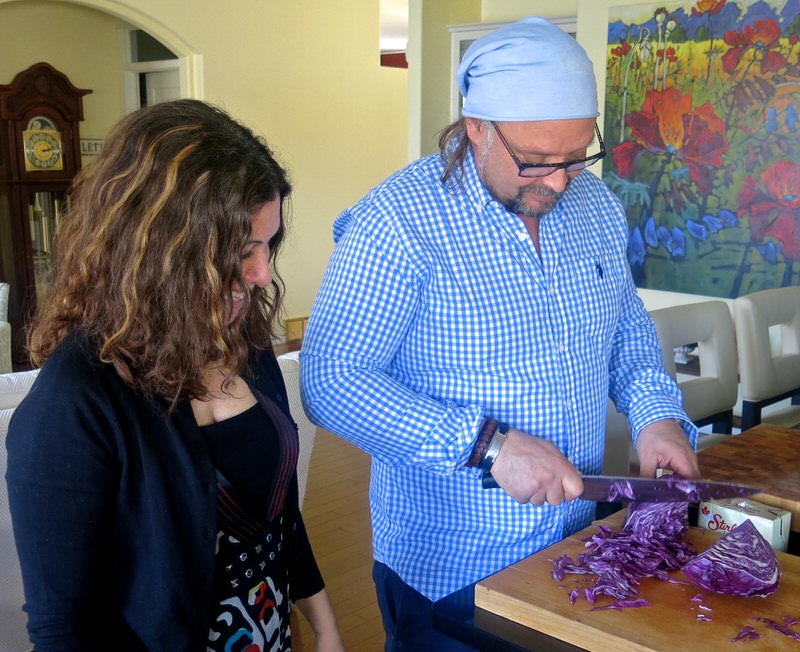 Nicoletta and Loreto of SugarLoveSpices attended the day that Margaret and I cooked together and were instrumental to getting the sides prepared for this meal.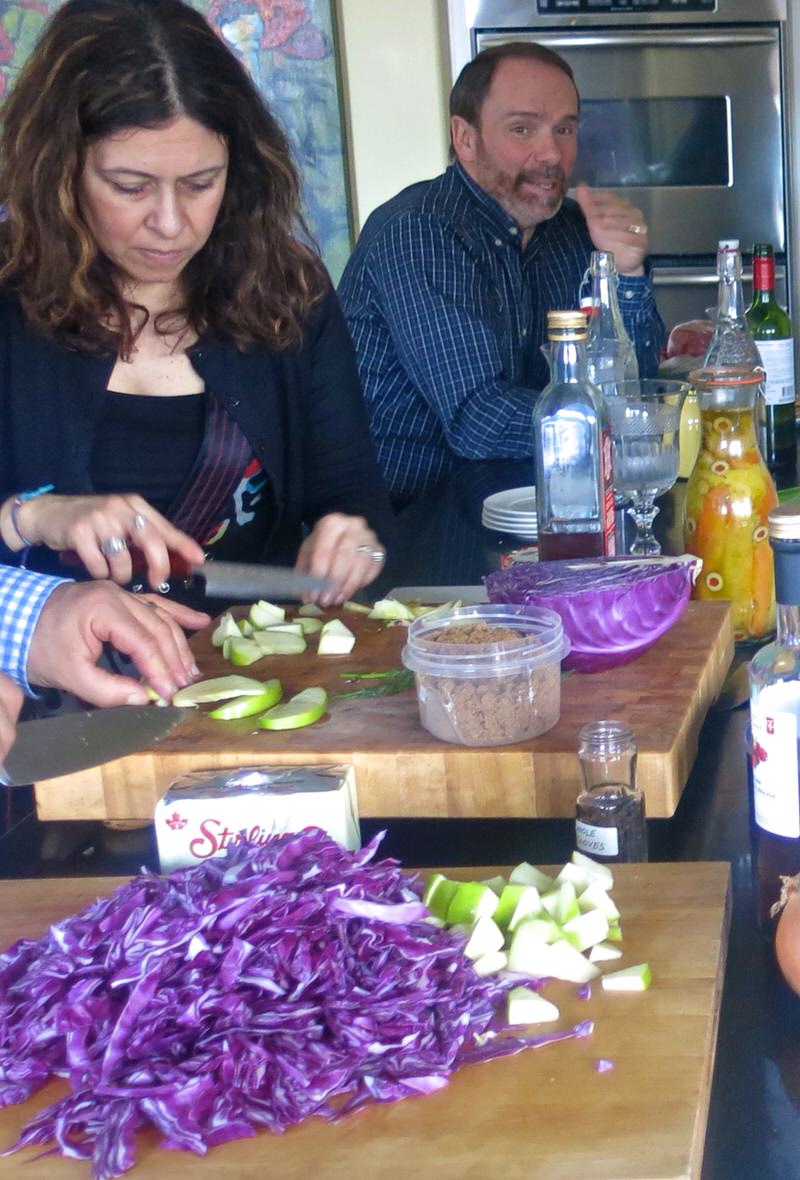 Margaret likes the cabbage shredded and the pieces about 2 inches long, so chopped, as well. Above, her husband Raymond is actually sitting for a moment.That is a rare occurrence for Raymond. He is a machine. Sliced, diced, did dished and cleaned like no one I had every seen! It appears that all three of the woman in this kitchen were very lucky in marriage!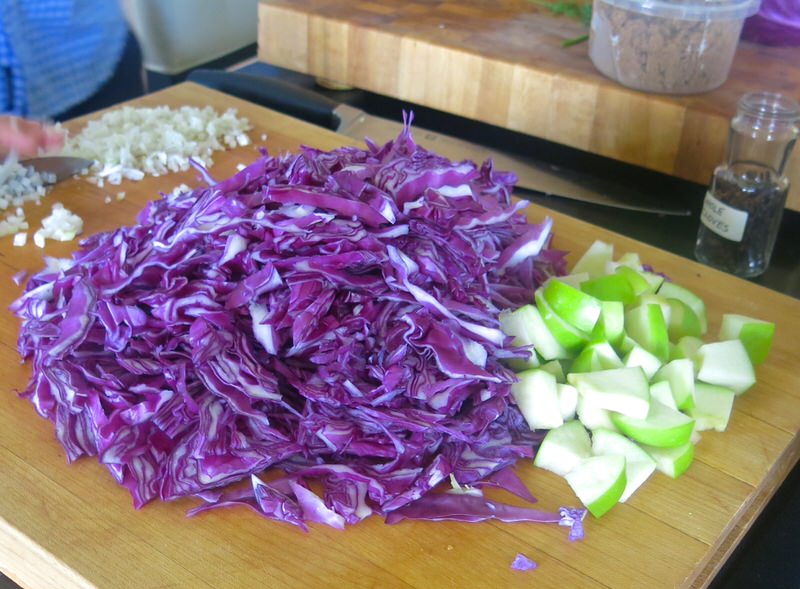 All is chopped and cropped and ready to go!
Braised Purple Cabbage: Sauteing the Aromatics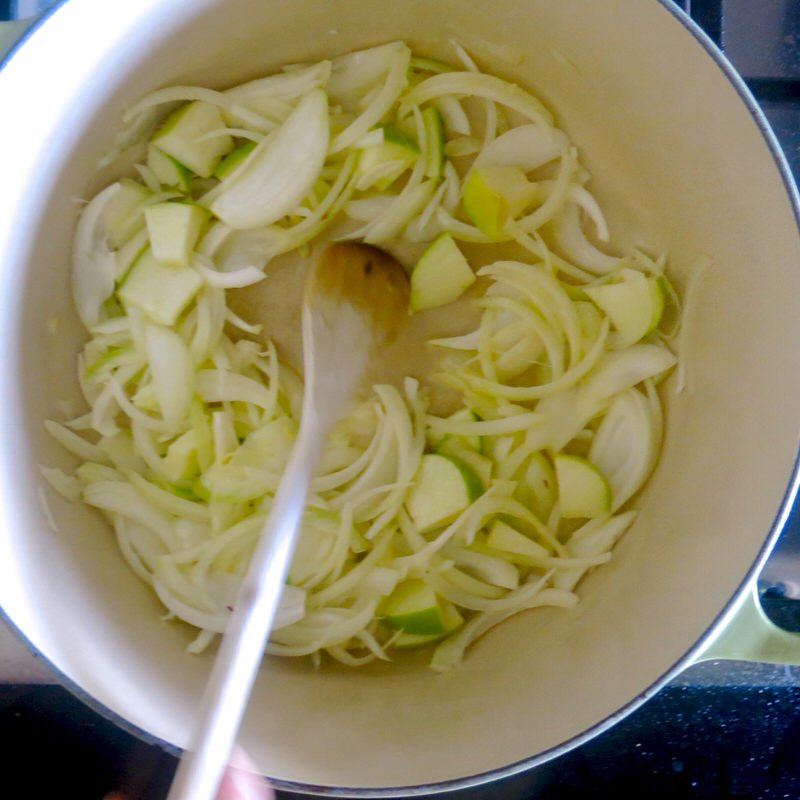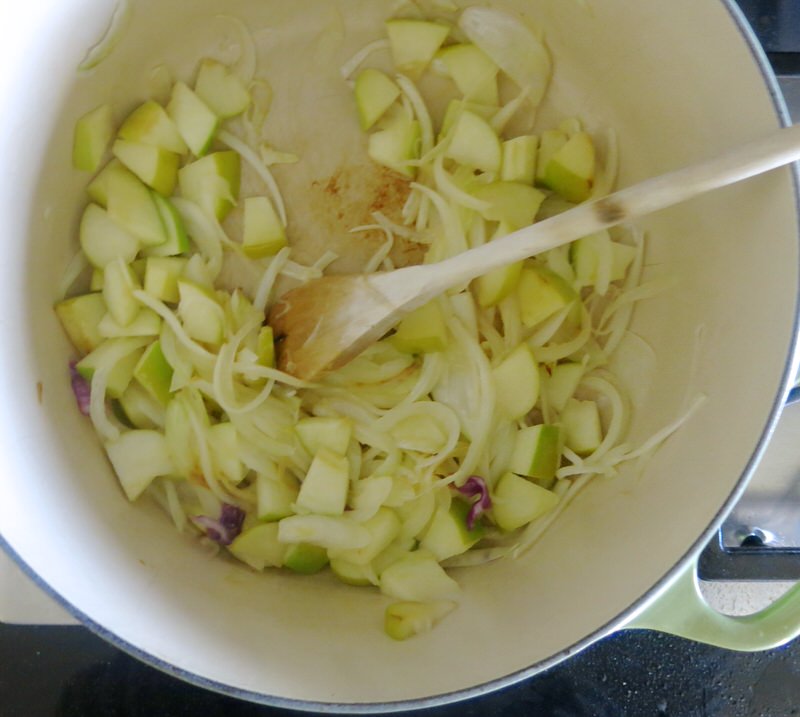 Soften the aromatics.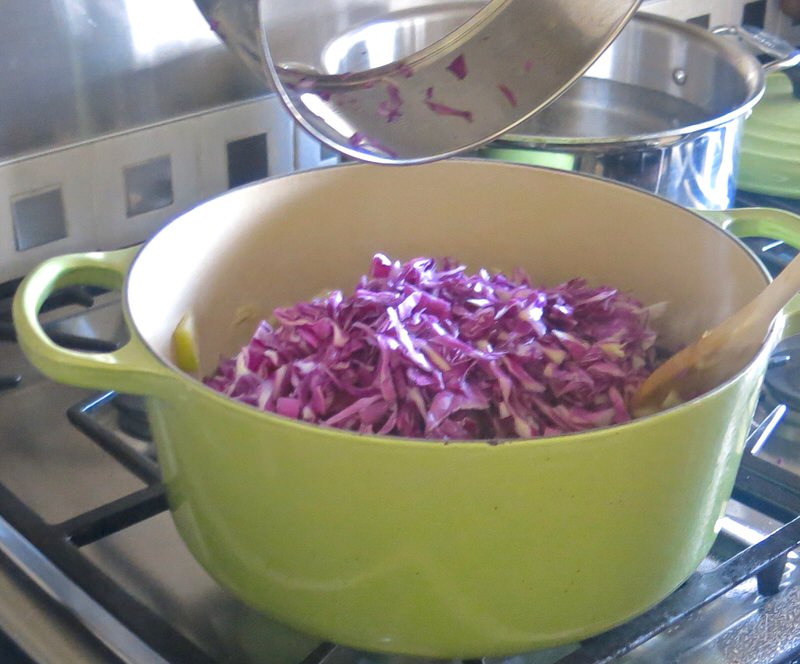 In goes the cabbage. Prepare for the braise!
Braised Purple Cabbage: Preparing for Braise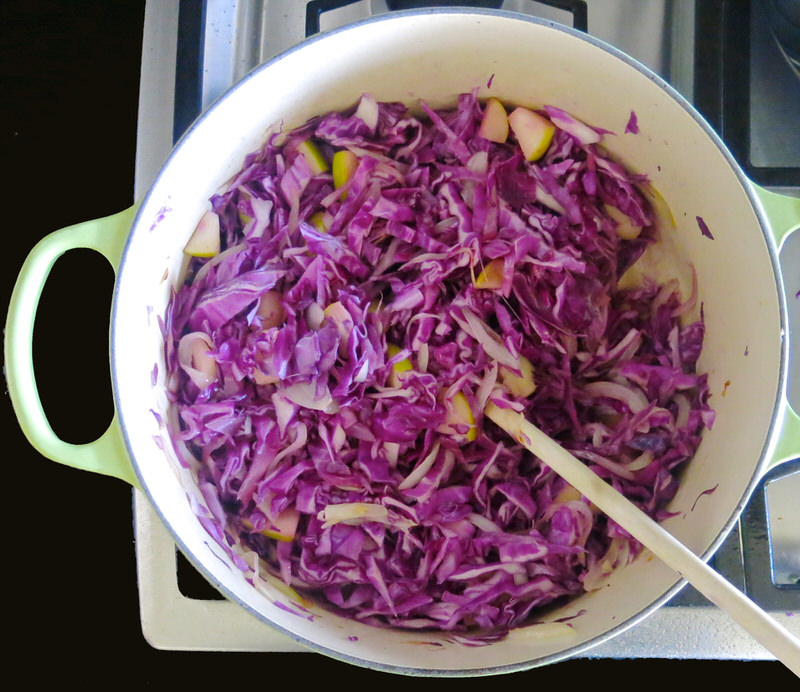 Love the colour.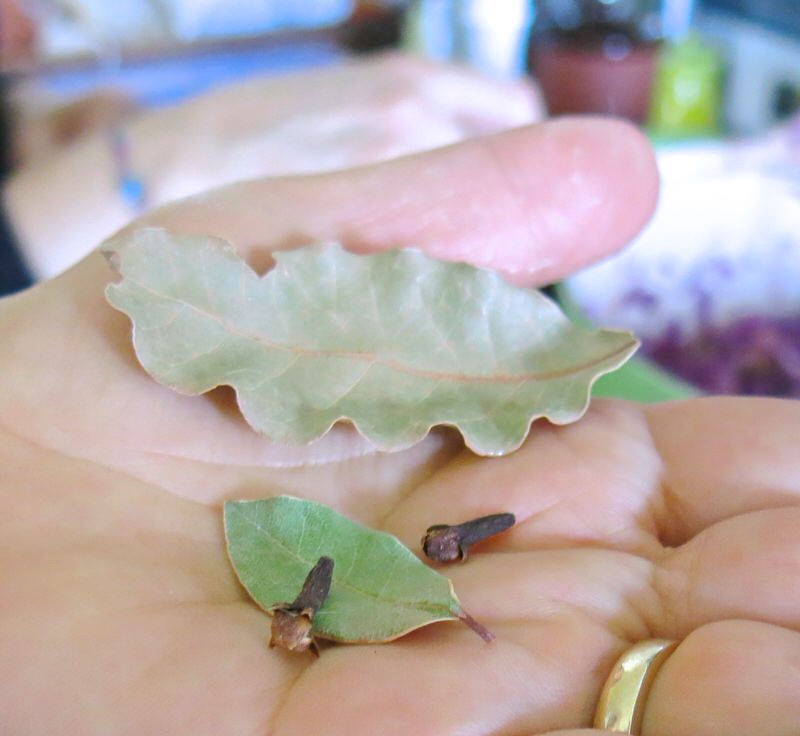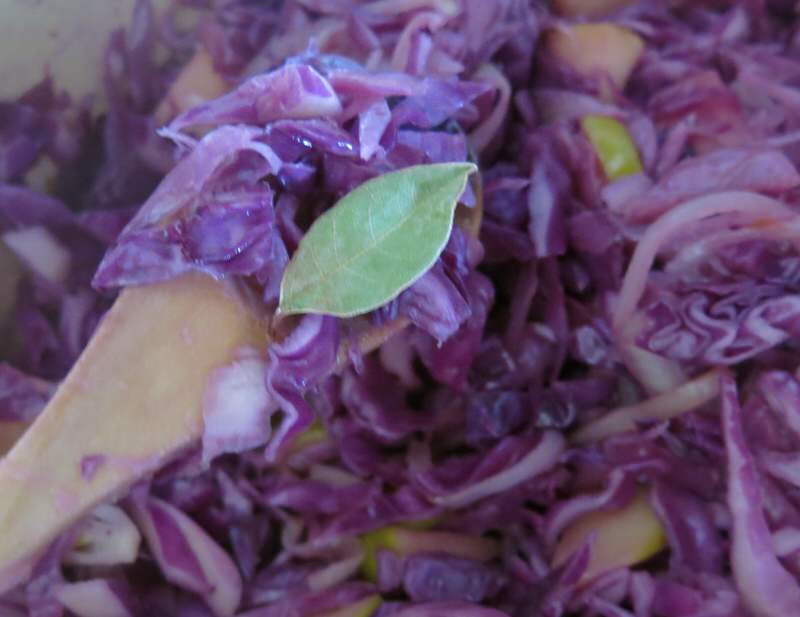 Flavourings are simple: bay leaves and cloves, vinegar and sugar.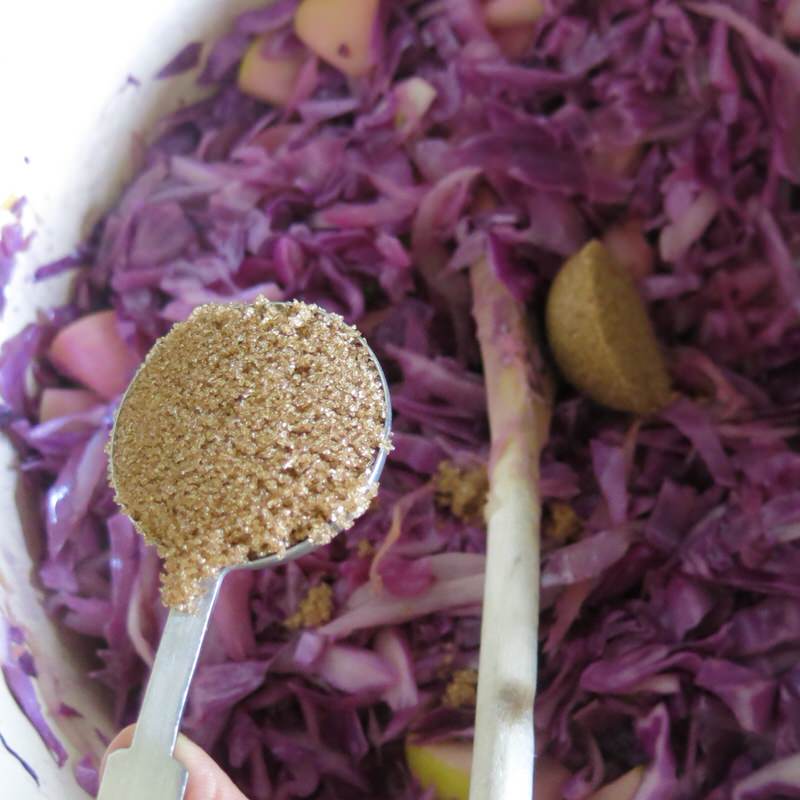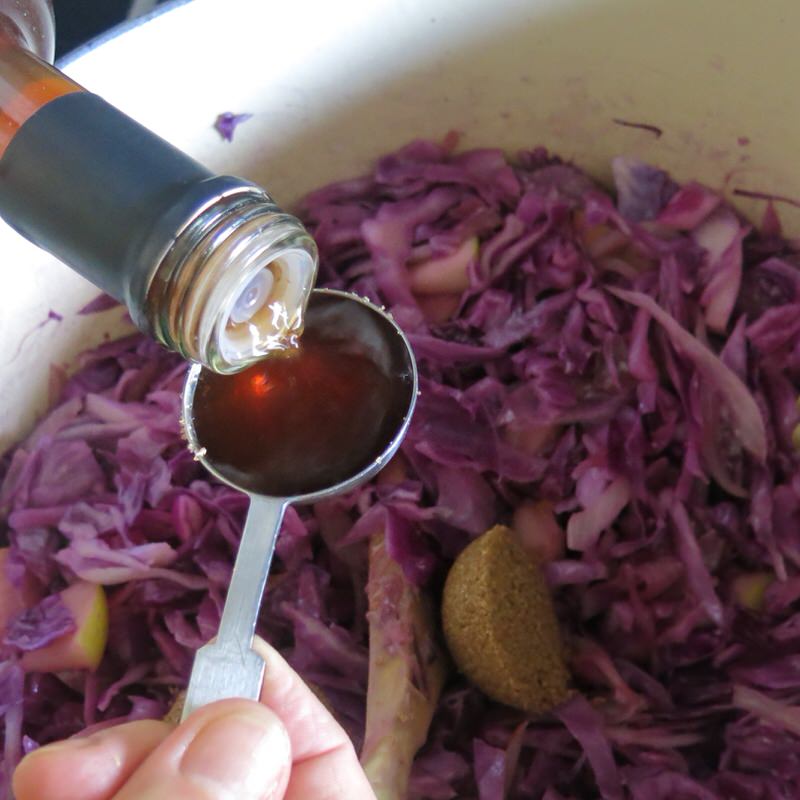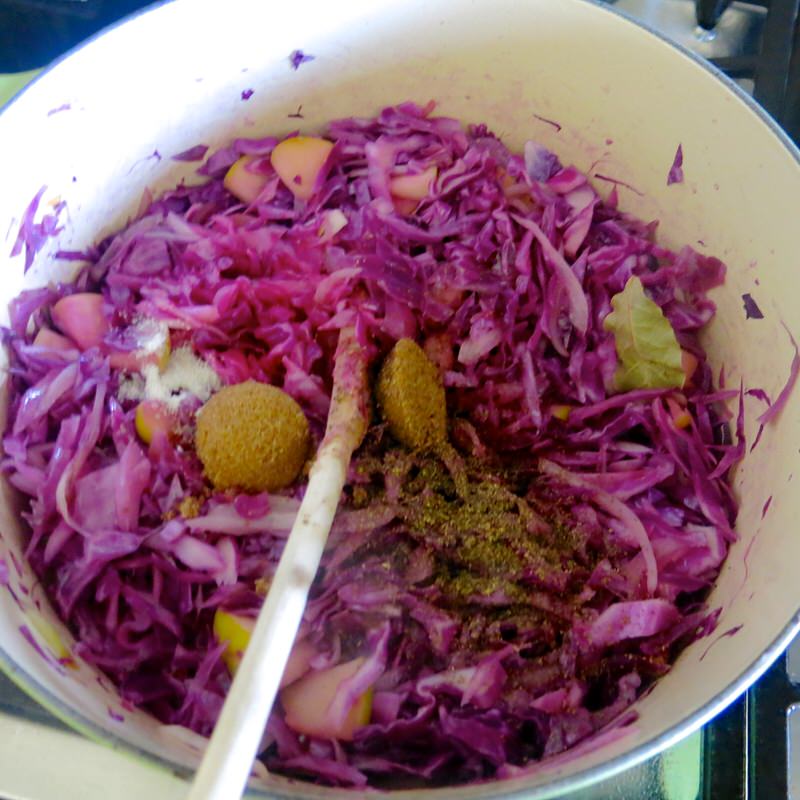 Then about 1/4 cup of water to enable braising to be replenished only if the cabbage starts to stick to the bottom of the pan.
Braised Purple Cabbage: Braising the Cabbage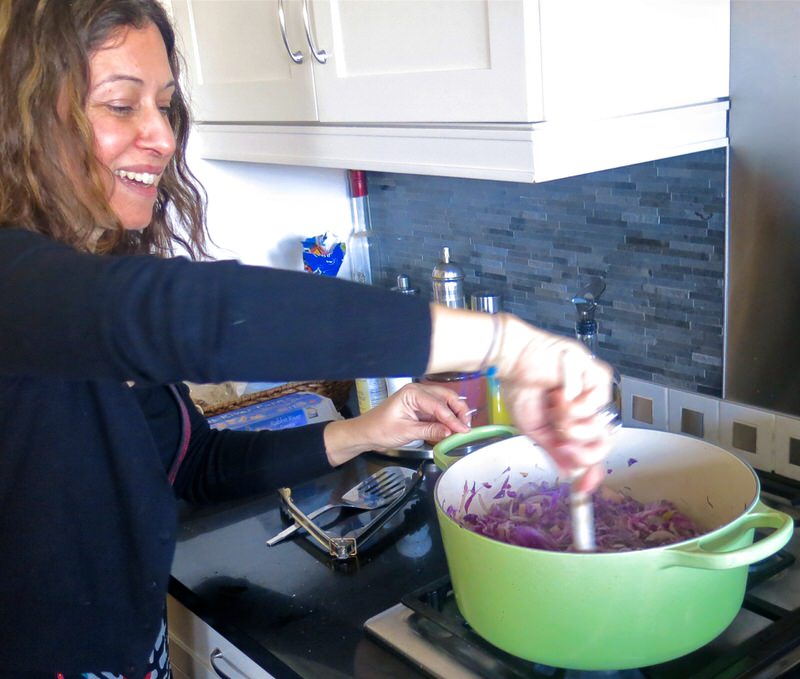 God bless Nicoletta! There was a small moment in the day where there was so much happening at once that I was overwhelmed. Only because I was trying to capture the step by step photos of the 4 recipes we were making and worried about missing something. That rendered me rather helpless for a minute or two. Raymond washed and cleaned with rigor. Nicoletta filled in whenever and whereever. This is a gal that can see what needs to be done and just does it. I love that.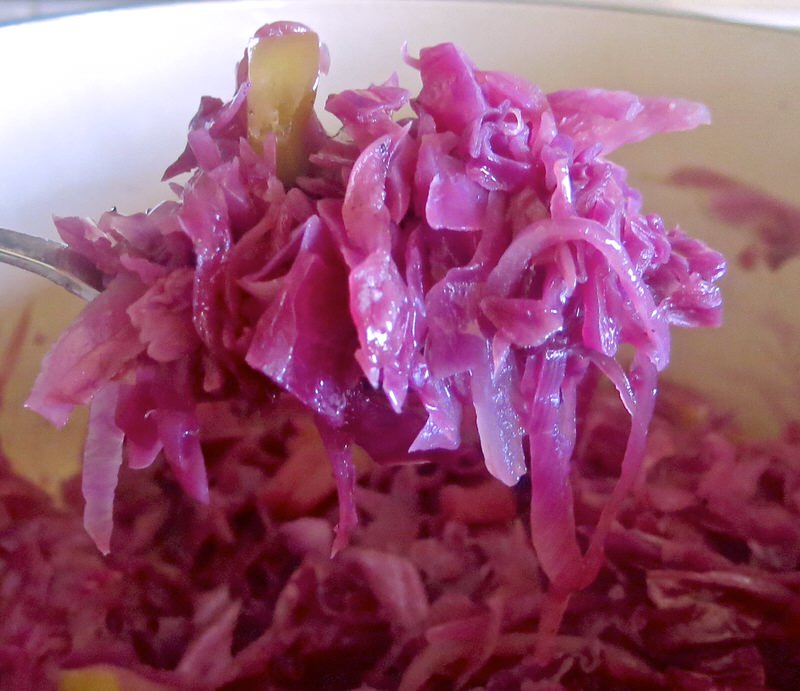 Of course, Margaret was calm, cool and floating about doing a thousand things at once, effortlessly. I think at one point, she was a blurr, she seemed to move so fast to me, yet flowed softly and quietly at the same time. The gorgeous cabbage is ready! We stirred and added tidbits of water now and then. Texture right. Flavour divine.
Braised Purple Cabbage: Serving the Cabbage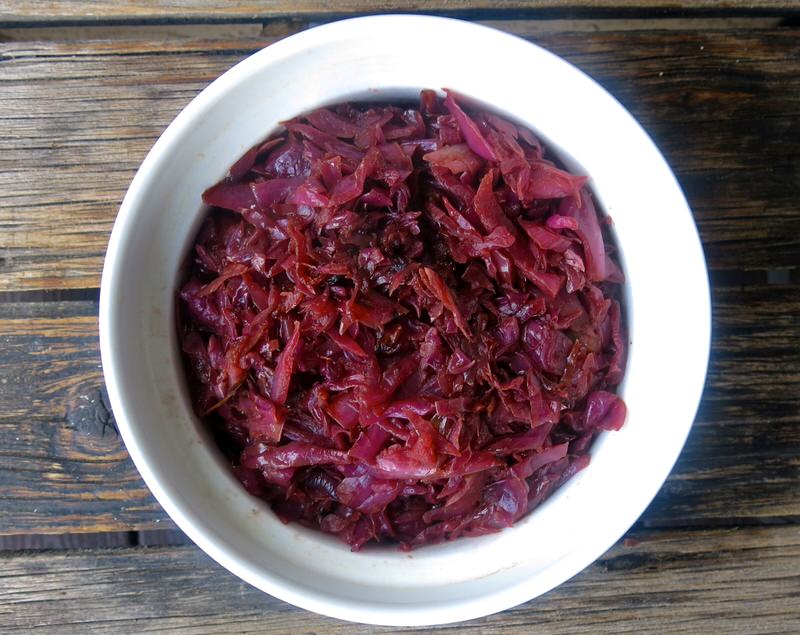 I've had a similar dish with my Latvian friends with caraway seeds. That was tasty, too. Did you know this also freezes like a charm! Again, Margaret's advice: cook a big batch and freeze in small containers to pull out and serve as a side whenever you need a little pick me up!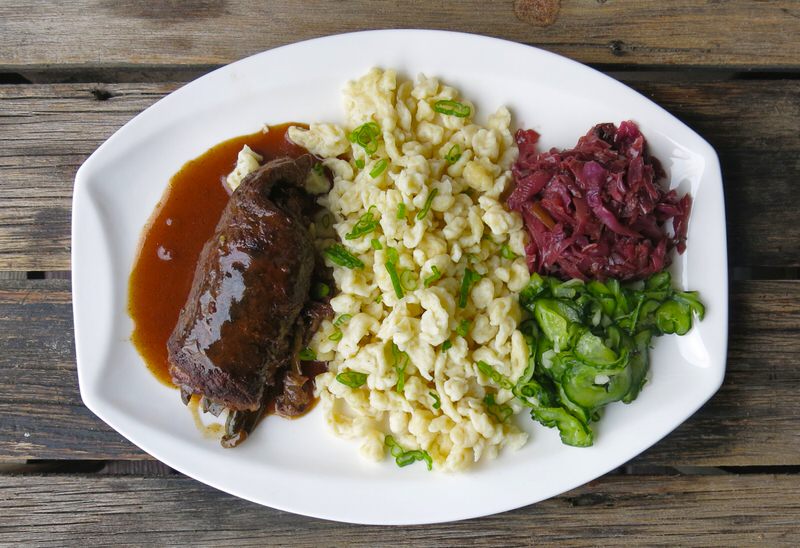 This is one of the recipes we cooked together the day Margaret participated in Project 2017: Valerie Cooking in the Kitchen with…. you!
Recipes for the complete Bose Johnson Christmas Eve Fleish Rouladen Dinner:
What do you do with purple cabbage? Let's start the conversation!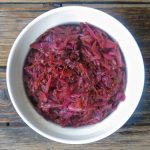 German Braised Purple Cabbage


German Braised Purple Cabbage or Rotkohl or Blaukraut: traditional side for German Fleisch Rouladen. A delicious, nutritious and economical vegetable side.
Total Time
1
hour
15
minutes
Ingredients
2

tablespoons

butter

(or more!)

1

tart apple

(Granny Smith), peeled, cored and chopped

1

medium onion

, sliced

1/2

large purple cabbage

(about 2 pounds), shredded and chopped (2 inch pieces)

1-2

bay leaves

2

whole cloves

2

tablespoons

brown sugar

2

tablespoons

red wine vinegar

1/4

cup

water

, and more as needed

1/2

teaspoon

salt and to taste

freshly ground pepper to taste

(start with 1/4 teaspoon)
Instructions
Place onion and apple into heavy pan with butter; saute until translucent

Add cabbage; saute at medium heat, stirring often, until soft (about 15 minutes)

Add bay leaves, cloves, brown sugar, vinegar, salt and pepper and 1/4 cup water;

Place lid on heavy pan; braise or simmer slowly for 45 minutes to an hour, checking to replenish water only to avoid sticking on bottom of pan

When done, season to taste, stir well to combine and serve immediately
Freezing Braised Cabbage
Freezes really well and can be made ahead; thaw, heat and serve