A must stop destination for any lover of artisan cheeses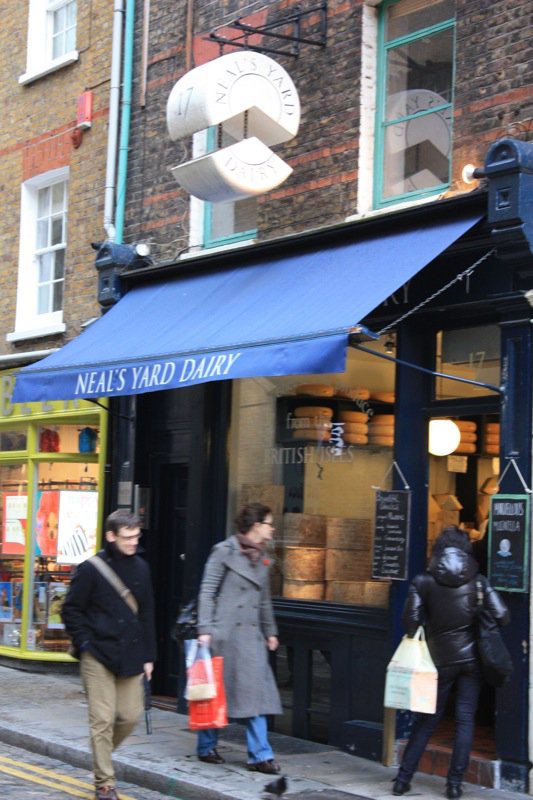 Vanja and I were wandering around the Covent Garden area of London looking for a hot pair of shoes (it is a great little shopping area) when I squeeled with delight and jumped up and down with glee! "Vanja! Look! It's Neal's yard Dairy! " Vanja thought I had gone over the edge and was experiencing a form of exhausted dilerieum from all of the miles we had travelled by foot this day. He just looked at me with the most confused and considerately loving look. "Neal's Yeard Dairy!" I pointed again. Then, I realized he didn't live inside of my head, or read my mind. "Brulee Blog told me to not miss it. It is a great cheese shop! Let's go in!" Ah! He grinned that knowing grin."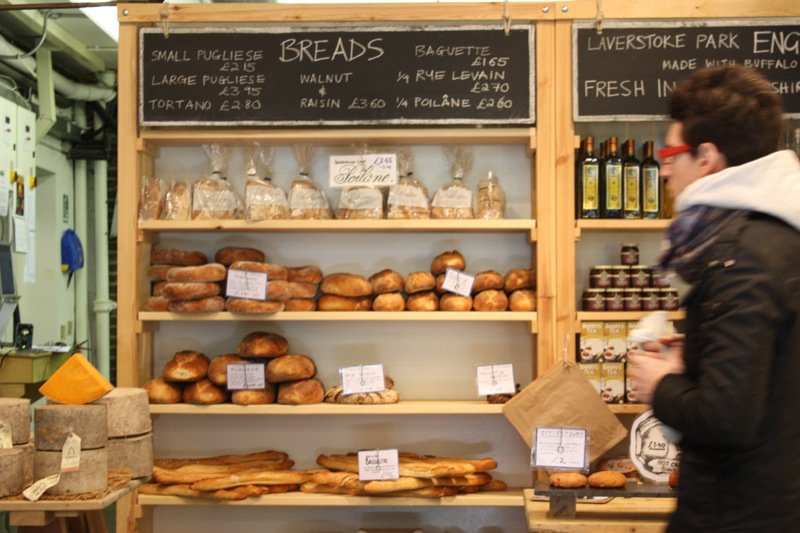 Neal's Yard Dairy is paradise for any cheese lover. And they sell a few other things, but not too much. Just something to eat your cheese or dairy products with.
Cook Sister had written me a lovely letter about what not to miss in London, as well, and this was also on her list for me. Look at that cheese!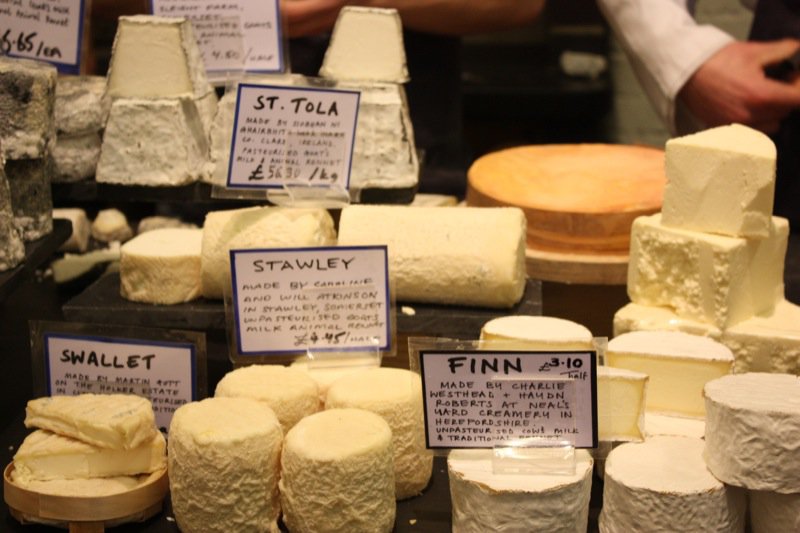 I found the information about how this amazing shop started, on their website, extremely interesting. The artisan cheeses that the owner discovered connecting with one of his providers grew into what we find today. This is not the original location, but this shop is in the area of the first location. The Borough Market shop is much bigger store and there is also a dairy and another cheese aging location. This small artisan cheese idea grew into a massive support network and sales venue for artisan cheese makers within the UK. There are a couple of cheeses from France (Brie and Chevre)Â and one from Italy(Parmasan).
Double click on each photo, or open each in a separate screen to be able to read the information on each cheese. I found it so gratifying on a primal level to read the names of each cheese, and then when each came from and who the Cheese Maker was. The names of the real people who made each cheese was such a find. To know my cheesemaker, or farmer, or butcher, or producer of any of the food I buy is very important to me. At Neal's Yard Dairy, you will know whose cheese you are eating. You can find out where their farm is. You can taste their cheeses. It was truly a very special experience. I could taste every corner of the UK in cheese if I had the time and the capacity.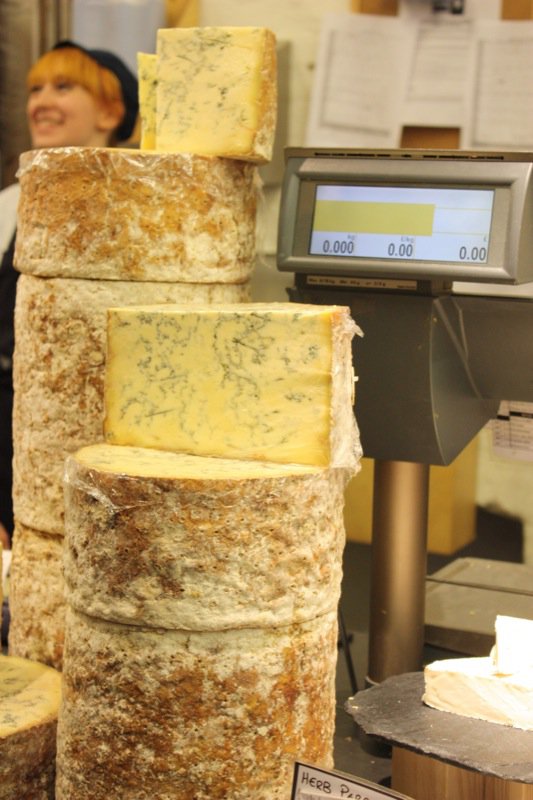 I didn't. But I tasted as much as I could. The staff is incredibly helpful. They do ask you what you like. You may not know. I found that a hard question to answer as I like almost all kinds of cheese. But, we found our way around some very interesting cheeses together. This stilton was deadly: Colston Basset Stilton made by Billy Kevan, one of the proprietors of the Colston Basset Dairy founded in 1913 and synonymous with Stilton. There are only 6 dairies in the UK permitted to make Stilton Cheese. I have never had a blue cheese like it. Look at all of that luscious Stilton. Not in my life have I seen so many varieties and so much of each in one location. And all are artisan cheeses. Double swoon! You can order online from Neal's Yard Dairy. Otherwise, you have to go to the Dairy and buy it in person.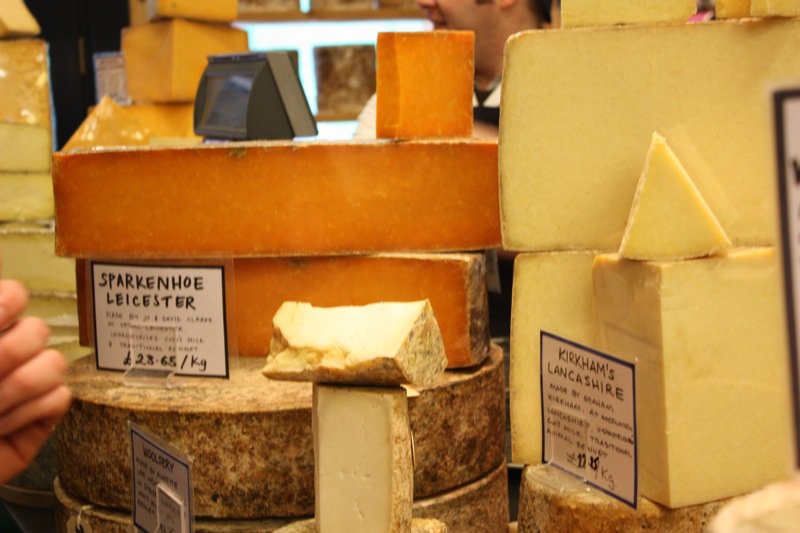 I was drawn to the deep orange cheese for a taste, and found it very mild. I was told that almost everyone asks to taste this cheese and expects something different than they taste. It was delicious, but I do like strong cheeses. That was a helpful clue to my guide.
It is a very busy place, and there are usually a lot of people waiting for a person to help them make their choices, so, I did feel a bit rushed. On the other hand, I couldn't have tasted any more with clarity, and certainly purchased any more. I just wanted to stay and talk cheese and learn. But, my half hour was definitely over, and I had made my choices. This would be a magnificent cheese platter for mom's 80th a few weeks after I get home. Everything I bought was to last at least 6 weeks in the fridge.
Artisan butter. I could not resist. It had a beautiful cow embossed on it that had been pressed out by the time it arrived home in my suitcase. Darn! The Cadea was a must.
I bought a slab of quince paste, too, as it pairs beautiful so with cheese and cannot be found anywhere in Edmonton at this time. The Colton Basset Stilton was the best Stilton I have ever tasted. The Montgomery Cheddar, below, right, was also unforgettable and a must!
Now, how did I get this cheese home with me? I once bought a huge round of young Pecorino from a cheese maker in Sienna, Italy: Pecorino country. It was about 30 pounds and I carried it all over Italy in my back pack. When we came back to cross the border, I declared it, and was allowed through. I had it wrapped as it would be to be mailed to me. That is what I did with this. I have had many people tell me that they have never been able to bring cheese through the border. Either I was lucky, or had it wrapped properly.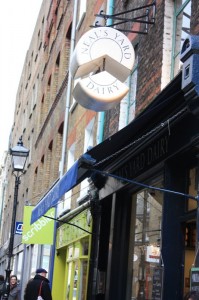 Time to leave. Satisfied, and happy. I know I will be at the Borough Market store tomorrow, so I don't feel a need to linger. Smiling wide with the load over my shoulder, I greet my husband and we continue shoe shopping before stopping by a pub for another thing to do on my list: "eat a pub meal at a local pub".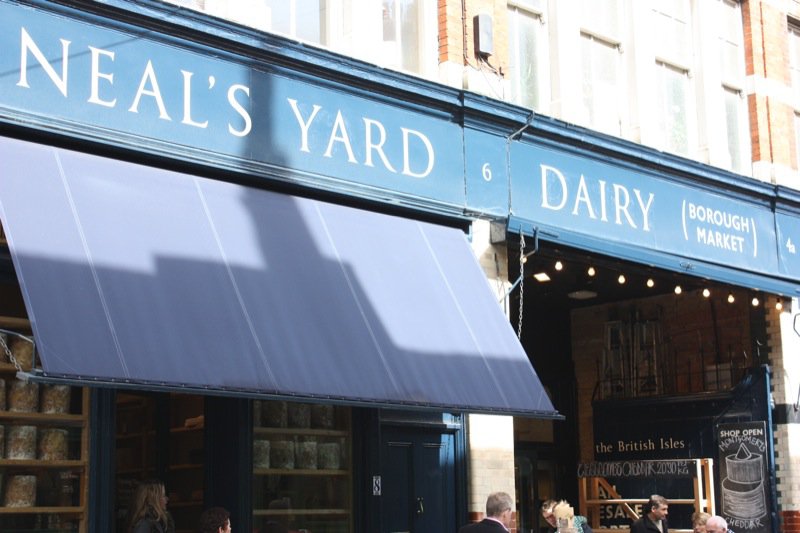 Ah, Saturday. Our last full day in London, and after an early morning tour of The Globe Theater (which was amazing and I would highly recommend it to all), we were off to the Borough Market. We took the tube to the Millenium Bridge, and walked across it to The Globe. Borough Market is a short walk from there. We turned down a street toward the market, and the first shop I spotted before even getting to the market was Neal's Yard Dairy!Â
Lucky, me, many times over.
This store was much bigger than the one in Covent Gardens, but also much more crowded, particularly on this last Saturday before Easter Sunday. The only sample one would find would be outside the door of this dairy today, above, to the right. Delicious. But, I was here particularly for the double creams as the dairy had just sold out of them all when we were there the evening prior.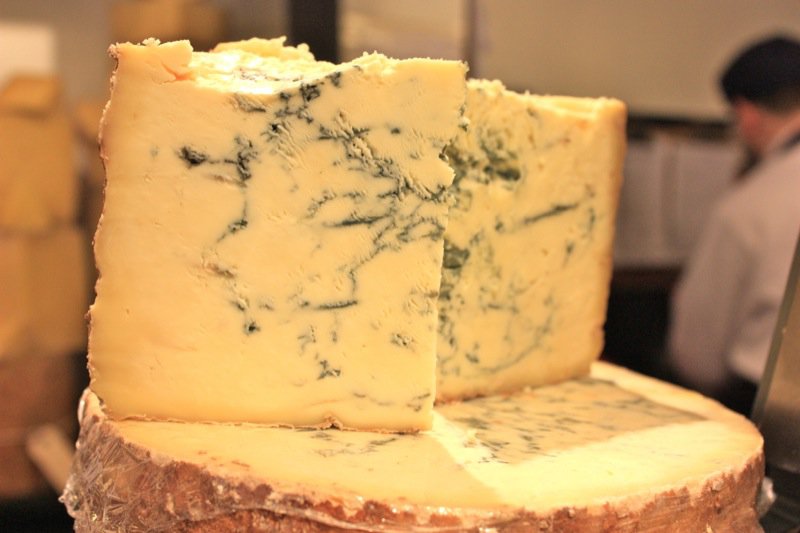 And, of course, I could not resist another look around and a second opportunity to breath in this amazing artisan cheese experience.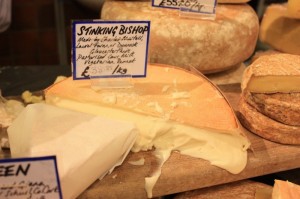 I did get a taste of the Stinking Bishop and consider myself extra ordinarily fortunate. Everyone else was buying for the holiday and seemed to be there knowing exactly what they wanted. It was clear I was enamoured with the experience and was lusting after this cheese. A young chap kindly took a little wooden test stick and swooped up a scoop and handed it to me with a wink and a smile. That Bishop might stink, but he was mighty tasty!Â
I really appreciate that the label even includes whether the cheese is made with traditional animal rennet, or not. And, in this area, all I saw were. This Yarg was a softer hard cheese: not sharp like a cheddar, but strong and full and distinct.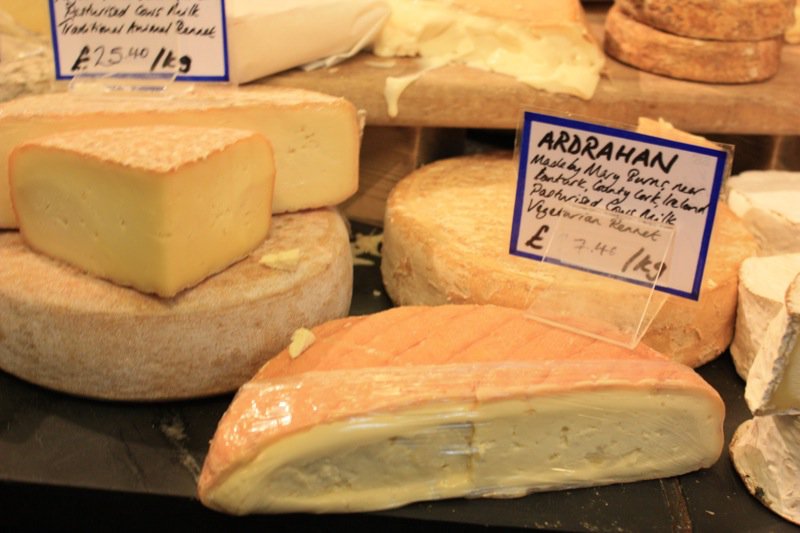 Wouldn't a tasting of all these creamy buttery soft cheeses be a blast? Oh, my!
The shapes and sizes and colours and textures are simply incredible.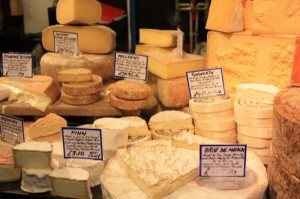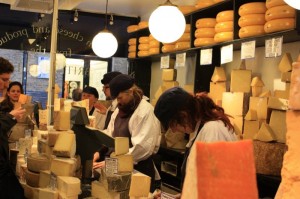 And now, I found my creams.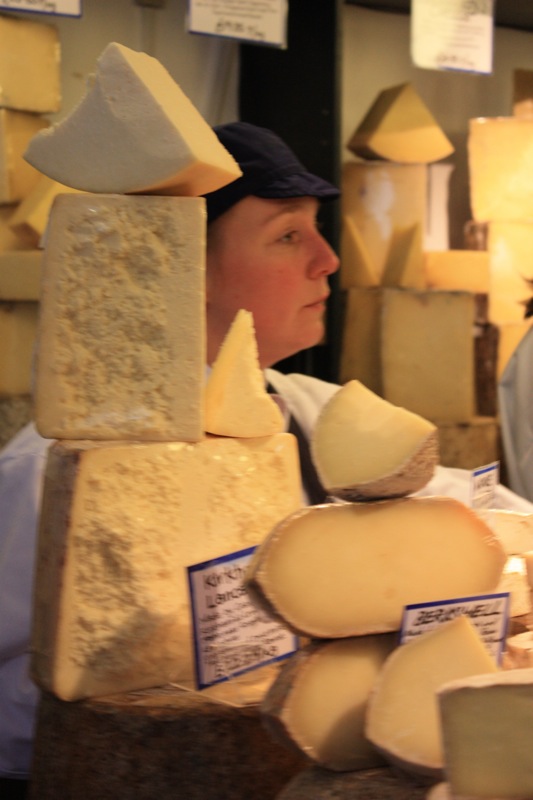 I bought each of these. I was told they would all freeze beautifully. So, that is what I did. I froze them and then thawed them for mom's party. But, no one even tasted any of them. There was too much to choose from. The thought was there… and I found each divine. The gal at the store had her favourites, and another gal had hers. That is why I bought three. And, I could not pick. The clotted cream does have a different texture. It is clotted, so has little grains of texture in it, that dissolve into buttery goodness. I think anything dairy from a Jersey cow has to be lush and rich and creamy and full. And it was. I love the double cream. It is as thick as our sour cream in Edmonton, but with the flavour of a 52% whipping cream. Can you imagine that on a scone? Addictive.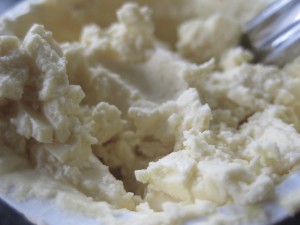 This is still cold.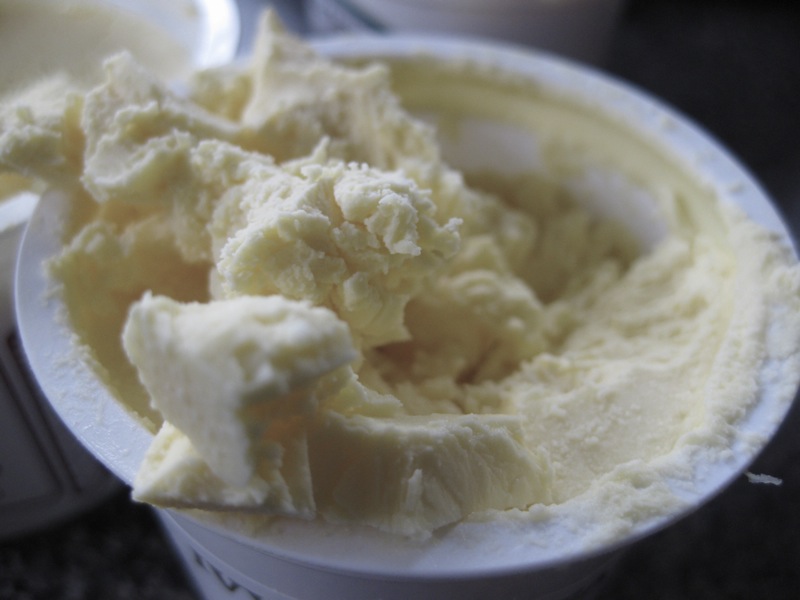 We can buy so many international foods here, but not this. I wonder why?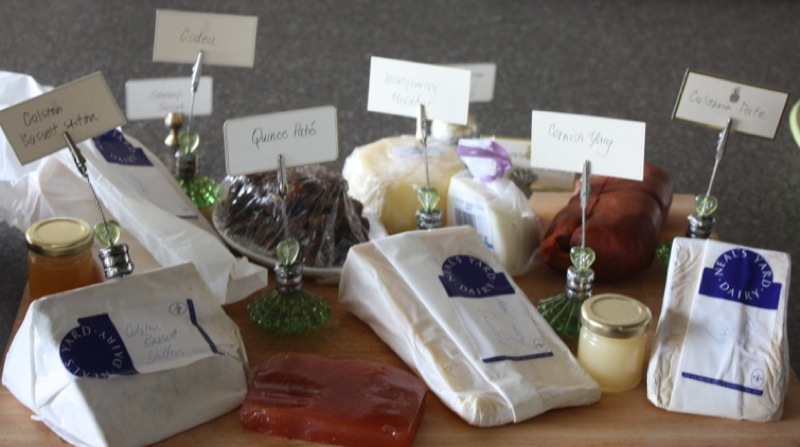 Everything arrived home safe, and healthy and delicious. Except Beavie. He got home owly, stinky and with his nose out of joint.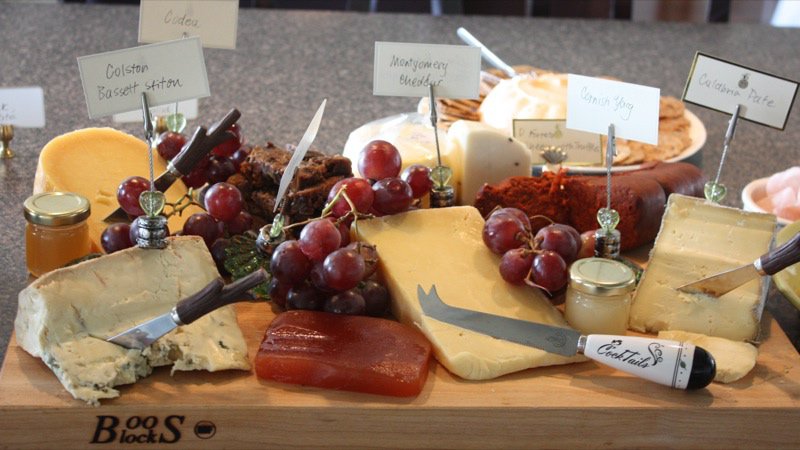 I am still enjoying some of these cheeses. I baked Fougasse and breadsticks that Richard Bertinet taught me to make at my cooking class in Bath, to eat with them. YUM!