See what I get?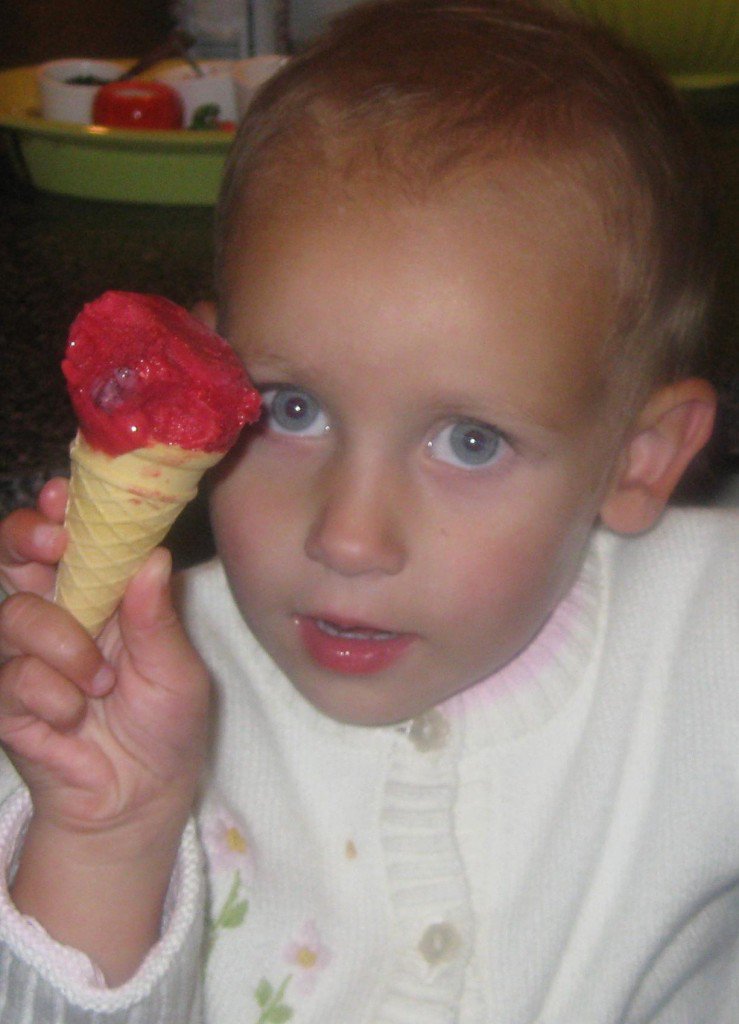 Can you taste it? You may think you can, but I guarantee you, if you haven't a Thermomix, you have tasted nothing like this delectable treat. I am certain that this is why I bought my Thermomix. Well, the sorbet and the zabaglione! I use it far more for other things, but its ability to whip up such amazing sorbets and ice creams are second to none!
Raspberry is my very, very favourite. I am into gardening, and have worked to make the plants on my city plot edible. And, most are! Beautiful, too, except the raspberries. God Bless my sweet neighbours. I planted them where most people put decorative rocks: between our garages on the front street. I did ask them first! Honestly, they are truly an eye-sore ten months of the year, but the precious, brilliant jewels of nature that they produce in the summer leave us both in anticipation and longing for the rest of the year, totally ignoring their awkward gangly branches. Of course, I share!
These raspberries are planted with my grandmother, "œMaude", forever in mind. She had the deepest, blackest, richest soil in her infinite garden on her acreage in Clive, Alberta, when I was a child. Mom would tie an ice-cream pail around our waist with a housecoat belt, and my sister and I would have to fight the thorny branches for their fruit. "œDon't eat any!" was the accompanying mantra. "œDon't eat any?" Impossible!
I did feel guilty sneaking the sun-hot jellies from my stained and scratched hands. And how did they know I ate them? They always did. Was it my half full bucket at the end of an hour, or my ruby red lips and tongue? Anyhow, I remember loving it, and hating it, all together and all at once. But, after a bath and a scrub dry, an ice cold bowl of those berries with thick fresh farm cream and a little sugar sprinkled on top was worth it all. Sitting there, at the table in the kitchen of my grandmother's old farmhouse in front of the double window overlooking her garden, past the honeysuckles growing up the side of the house, spooning those berries into my mouth, waving my clean bare feet back and forth under my chair is where I am right now, in my mind. Hmmm"¦
And now, today, I pick my berries every morning as the sun is just coming up. I take my bucket and tuck in under my arm. Some days I fill it; some days I don't. Everyday, in raspberry season, there are a lot of berries and enough to last me almost all year. I flash freeze them on a cookie sheet with parchment paper in a single layer and then package them in ziplock freezer bags: 350grams per bag. Exactly the amount the following recipe calls for.
Thermomix Sorbet Recipe
(it is actually ice cream, but looks like sorbet!)
100 grams of sugar

350Â grams of raspberries, or any other frozen fruit

150 grams of heavy cream
Scale the sugar into the TM bowl.

Pulse on Turbo 3 times, 1-2 seconds each until powdered

If you are using frozen fruit other than raspberries, it is best to chop them into smaller chunks as they will blend more evenly; scale the frozen and loose raspberries into the TM bowl

Scale the cream into the TM bowl and get the Thermomix Spatula ready

Close the lid, turn the time onto 20 seconds, and with one hand on the spatula in the hole of the lid, use the other hand to turn the speed of the machine from 0 to 10 slowly during the 20 seconds while you work the spatula to keep the berries in the bottom of the bowl

After the machine goes off, check your product; you may need another 10 seconds, or so, of mixing (I used to always do it to 30 seconds, but found that depending upon the temperature of the frozen berries and the finished product, 30 seconds was just too soft for what I was looking for: see the difference below)
Above was at twenty seconds and below was at thirty seconds.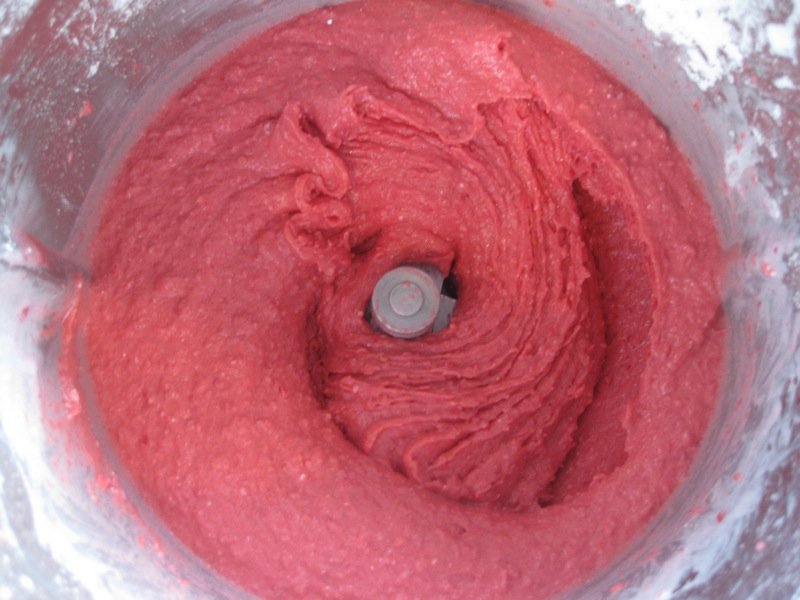 Not quite ready, but YUMMY!
And when it is ready, little Elizabeth agrees! Eating her little miniature cone is taking her complete and very serious attention. What greater compliment could one ask for than "œthe mouth of babes"? And it this case, it was absolute silence…
…but her expression says it all….
YUMMERS!
Can you get any more serious about delicious food than this?
Mommie Bonnie is a close friend of my daughter, Lauren, and what a gift to now have her daughter in our lives.