Thermomix® TM6™ and TM5™: Valentine's 2020 Share the Love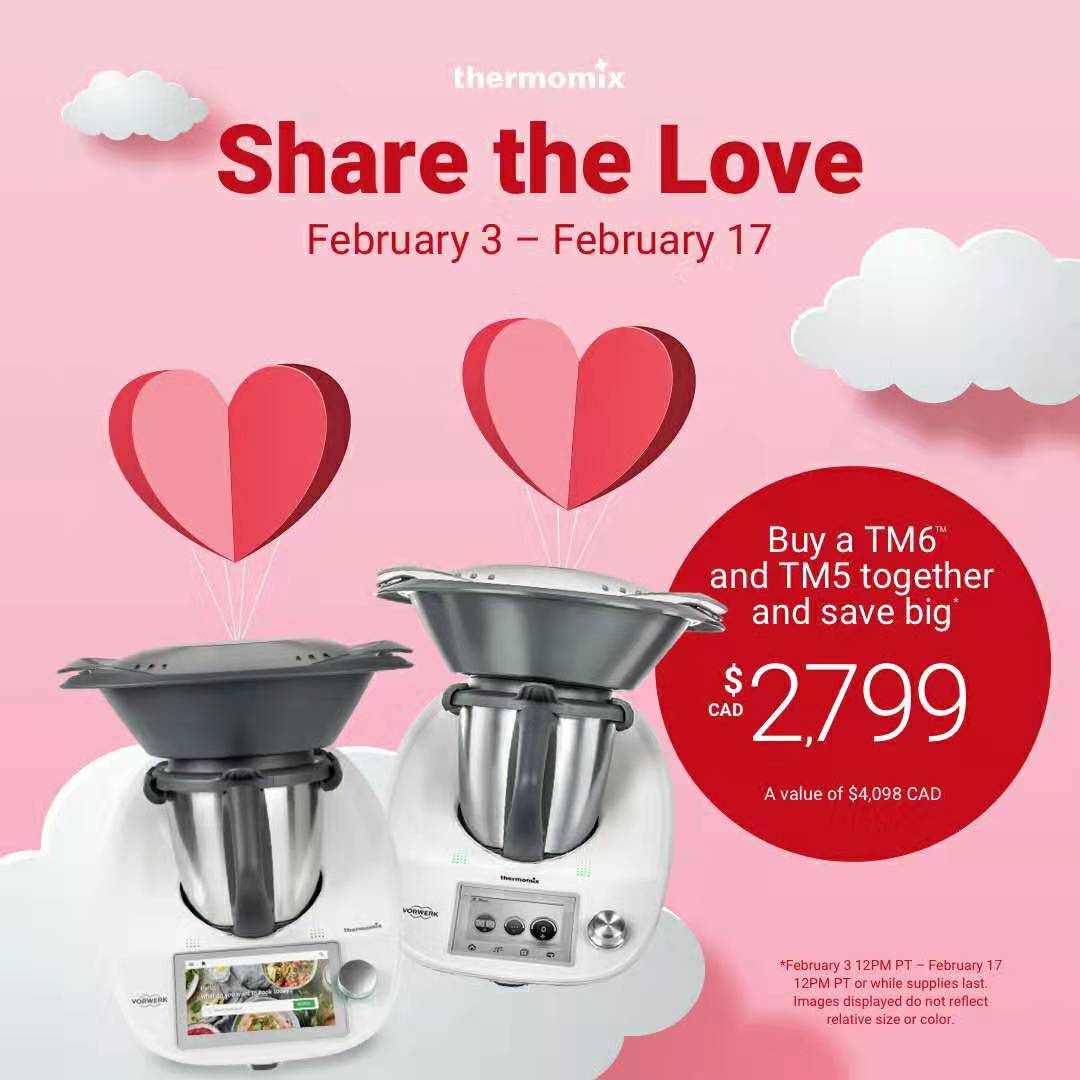 Thermomix® TM6™ and TM5™: Better than a BOX of CHOCOLATES!
Yup! You can make incredible chocolates in Thermomix®! The most versatile kitchen appliance on the planet!
Where other appliances fall short in delivering complete, gourmet meals, the TM6™ can whisk, caramelize, brown, chop, steam, sauté, blend, boil, knead, emulsify + so much more all with the touch of a button.
22 culinary functions and techniques
New modes include Thicken, Rice Cooker, Slow Cooking, High Temperature, Sous Vide and Fermentation
Save time, eat healthily, and cook effortlessly
And the TM5™? It is SMART at HEART with the Cook-Key it also has access to 54 000 recipes at your fingertips in your home kitchen!
12 culinary functions and techniques, soon to be 14
New modes coming soon…
Save time, eat healthily, and cook effortlessly
Buy here: https://shop.thermomix.ca/consultant/400659/
Thermomix® TM6™ and TM5™: A Sweetheart deal!
Every day is the best day to purchase Thermomix®, but for these next 10 days, you have the opportunity to SHARE the LOVE with us!
TM6™ alone is 2099 plus tax and shipping (69CA)
TM5™ alone is 1999 plus tax (shipping is free)
You do the numbers!
Thermomix® TM6™ and TM5™: Host a Cooking Experience and get FREE SHIPPING and a gift!
That's not all! You can host a cooking experience and automatically get a voucher for free shipping valued at 69CA. Every guest will also get a voucher. Should someone purchase at the Cooking Experience, the host will get a gift.
Buy NOW or… contact me for FREE SHIPPING first!
Contact me to find out more! Now is the time! valerie AT acanadianfoodie DOT com
If you DO buy now, be sure to let me know so I can provide the support you will need. No pressure. Can be done in person, via Zoom, Facetime, Skype or just on the phone.