Gooey Hot Chocolate Cookies: Consultant Cookidoo® Cookie Exchange Collection 2020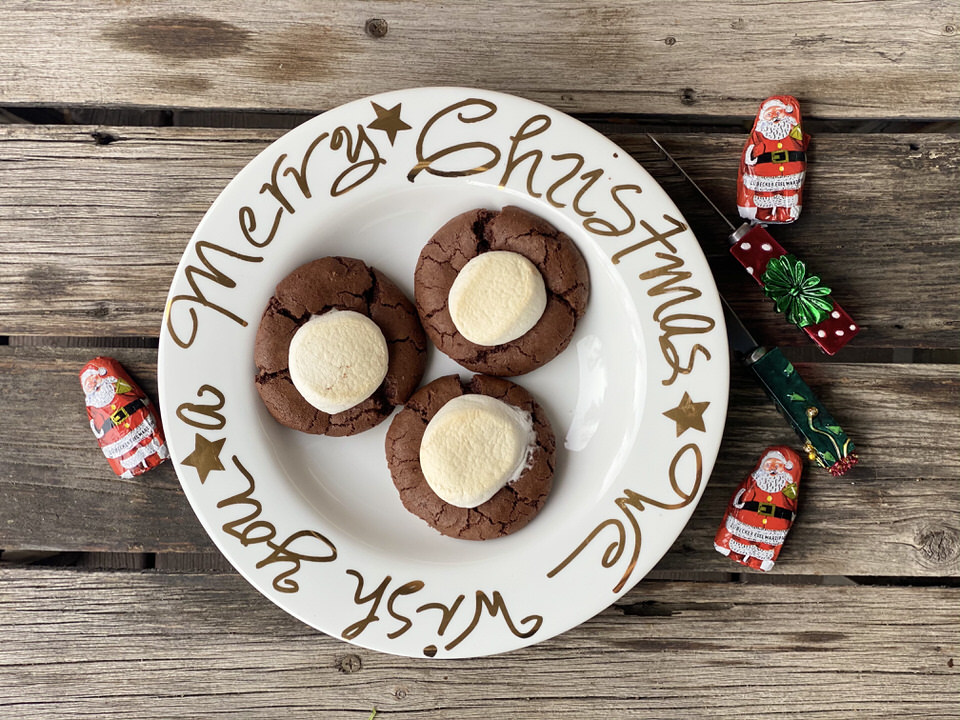 Gooey Hot Chocolate Cookies or Ooey Gooey Hot Chocolate Cookies? Either way, you are in for a decadent treat! This cookie, when served to a friend or family member, very simply and very deliciously, spells L-O-V-E.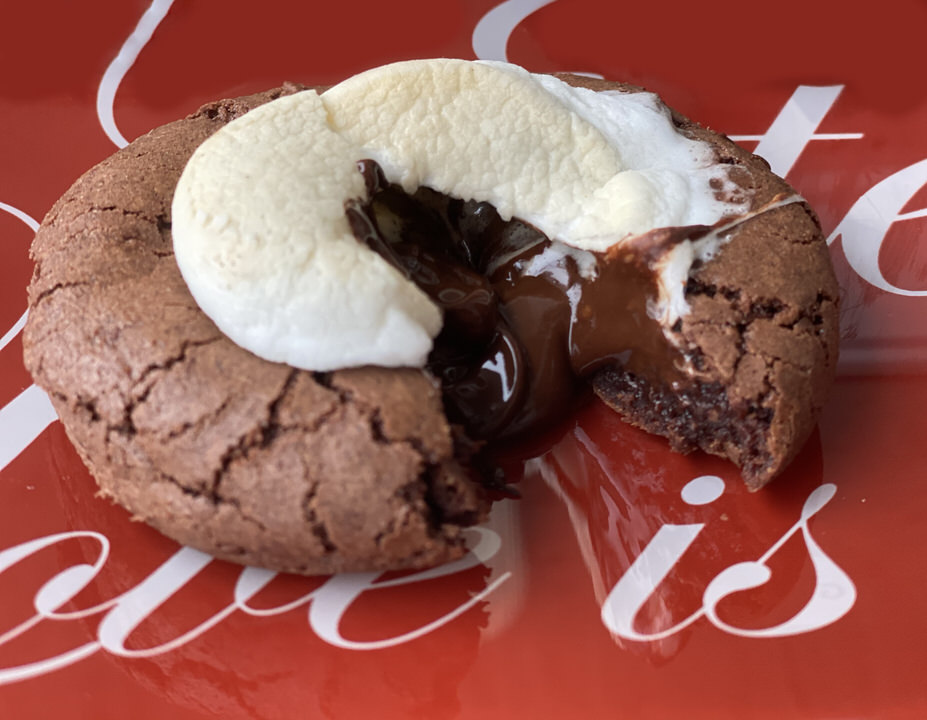 Just look at that ooey-gooey wonder, above! If that image does not motivate you to add its Cookidoo® recipe to your weekly planner or your collection in your Cookidoo® account, you are a tough cookie to crumble! Haha! My daughter, Ragan, created this cookie recipe when I was in the US last fall with my grandchildren. Thermomix® Canada and Thermomix® USA held a Consultant Christmas Cookie contest. Ten winning recipes would be selected to be in the Cookidoo® Consultant Cookie Exchange Collection. What an honour that would be. Oh, my!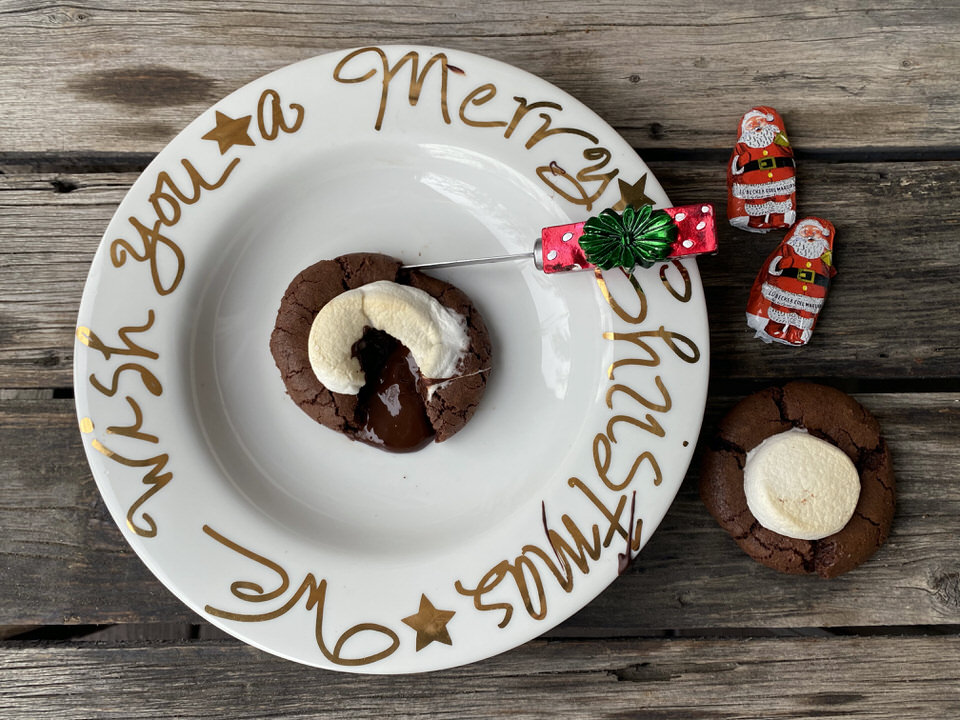 And then, it happened. She received the email, and her recipe was chosen! Screams of joy! Mother and Daughter, united in her joy! What a delightful moment. There are over 80 000 recipes globally on 22 Cookidoo® recipe platforms all accessible within our most versatile kitchen appliance on the planet, the TM6™ at your fingertips, in your very own kitchen. Yes! Seriously! And her recipe is one of them.AMAZING! Standing ovation, Ragan! Proud Mama Moment!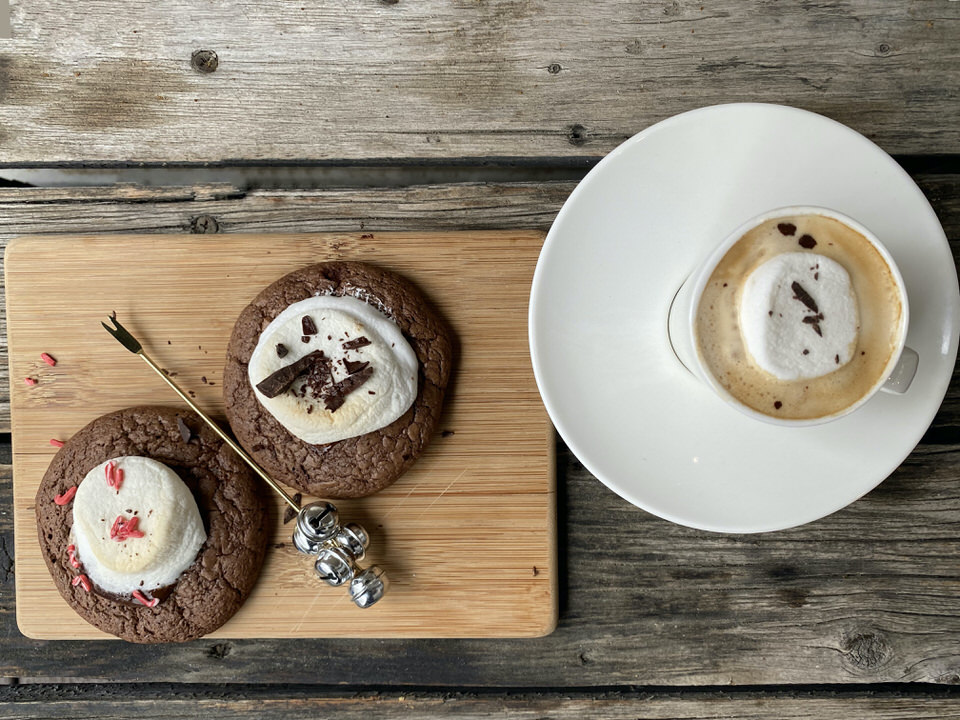 Gooey Hot Chocolate Cookies: An Honour and A Celebration!
How did we celebrate? Well, when I returned home, she brought me a cookie straight away. I was gobsmacked. This is a serious chocolate lover's moment. The crisp edge of the cookie gives way to the chewy consistency and then (wait for it) the eyeball rolling molten moment when the gooey molten interior presents that warm luxurious rich thick velvet hug. A perfect textural trifecta. Add a warm sticky marshmallow to that mix and you have an irresistible unforgettable pleasure that begs to be shared.
So we did! We celebrated Ragan developing her first Thermomix recipe by adding it to our Cooking with Momsey Cooking Class in October. I could not get enough. And how are we celebrating now that she was actually selected? We are holding a class on National Cookie Day, December 4, 2020 (tomorrow) to share her expertise with anyone interested and we are preparing this post for those of you unable to attend!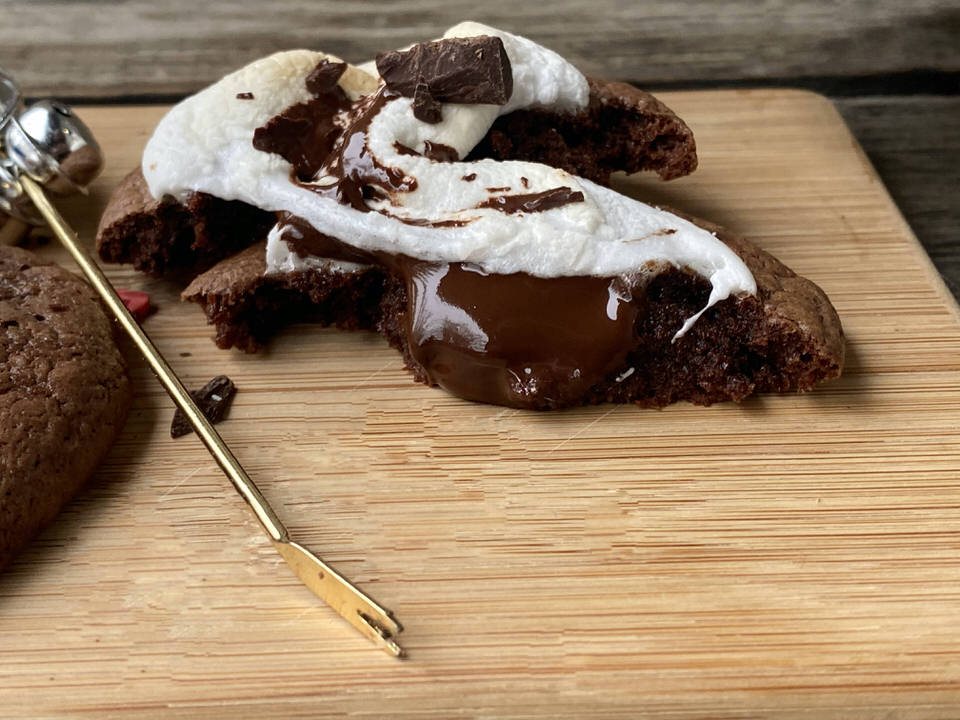 One is enough. After a lovely meal, who would think this kind of cookie could be a Grand Finale? Me! One, served with an espresso or specialty coffee is the perfect Grand Finale! These cookies can be made in advance, not baked, but frozen in balls and prepared in small portions which is why I have doubled Ragan's recipe here. Her Cookidoo® recipe is for 6 cookies because she is right. Six is plenty. However, it is easy to double the batch and to be honest, even 12 is not enough in my freezer! I have made them several times, myself!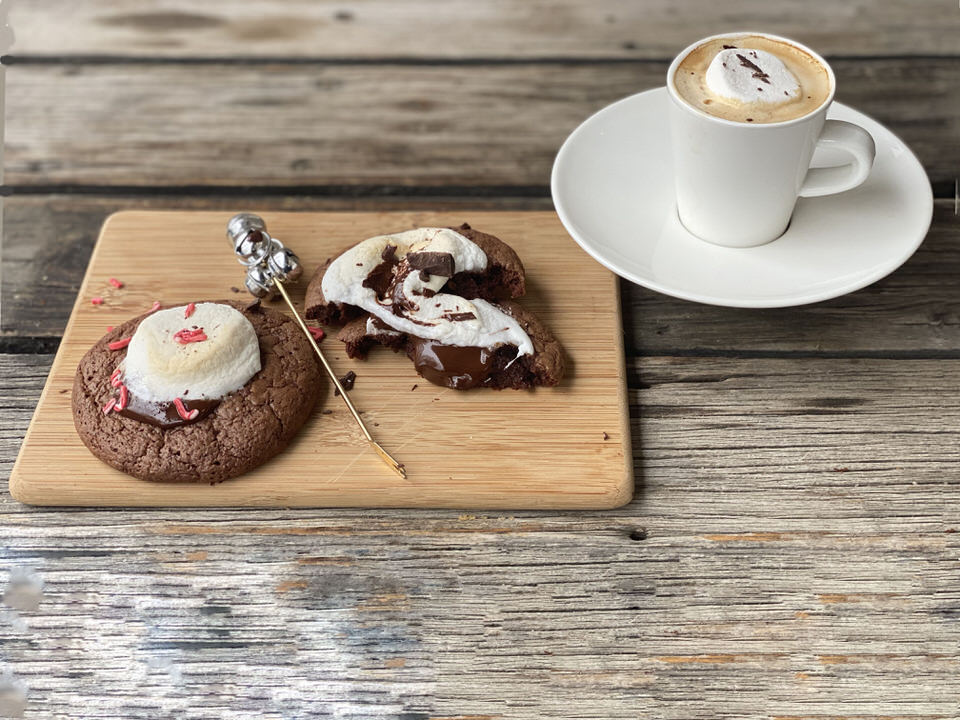 Gooey Hot Chocolate Cookies: Mise en Place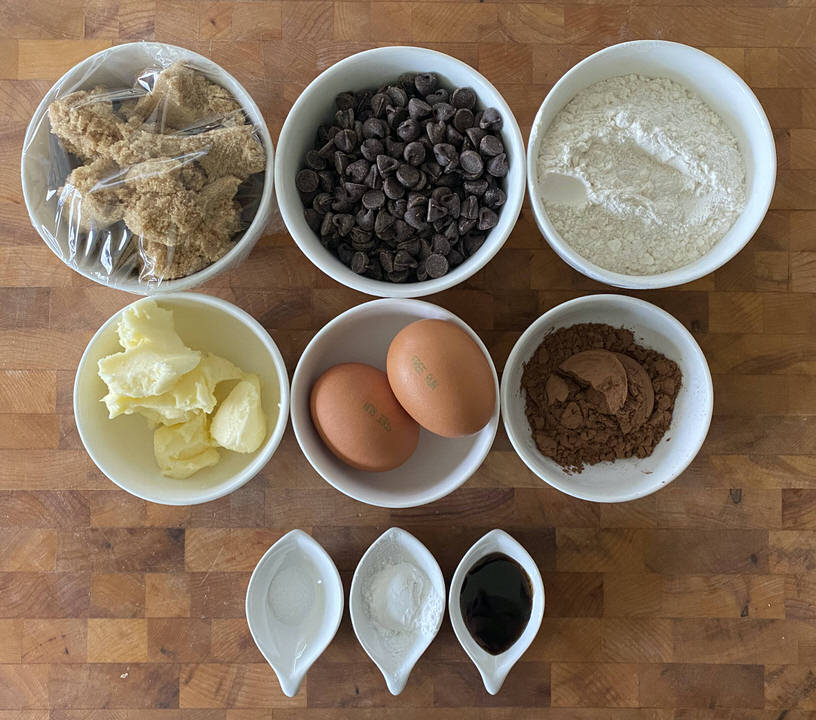 Simple ingredients. Nothing special to purchase or to fret about. As always, the best you can buy will always make the best food: best chocolate, best vanilla, flour, know-your-farmer eggs. You get the idea.
Mise en place for the toppings not needed until cookies are ready to bake.
Gooey Hot Chocolate Cookies: Melting the Chocolate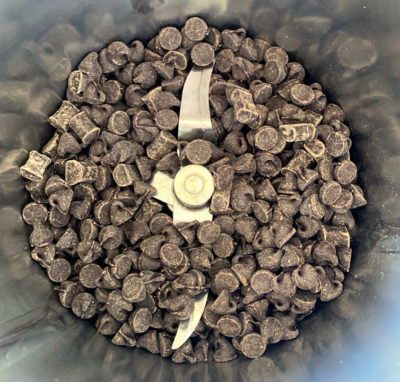 Add a great quality chocolate chip. The higher the percentage of chocolate, the better, but stick with Ragan's recipe: use chocolate chips. Kirkland brand Chocolate chips are a good brand for chips.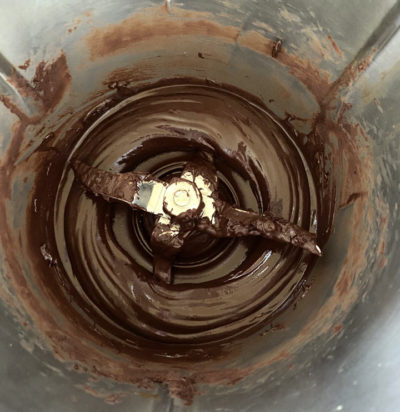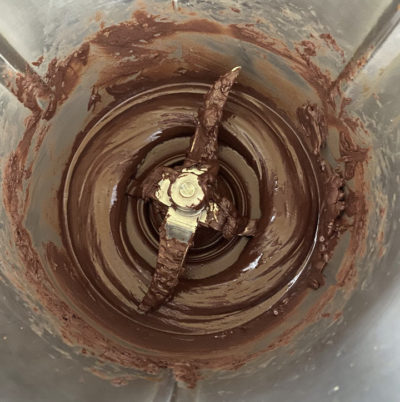 Check on your chocolate if you need to while it melts. Make sure it is completely melted. I used the spatula to clean the sides of the bowl and incorporate that goodness into the mass once or twice.
Gooey Hot Chocolate Cookies: Making the Cookie Dough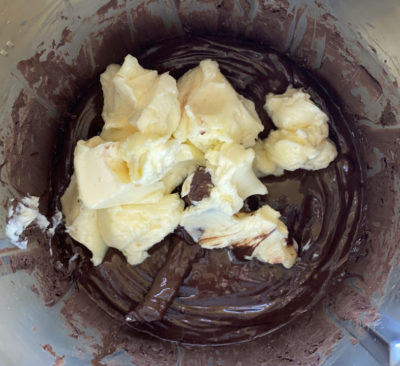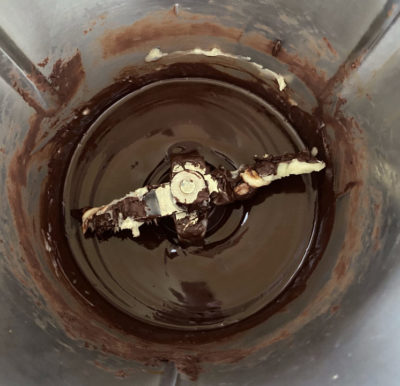 Add the butter and melt into glossy submission.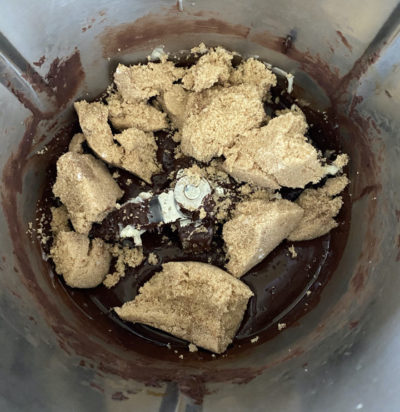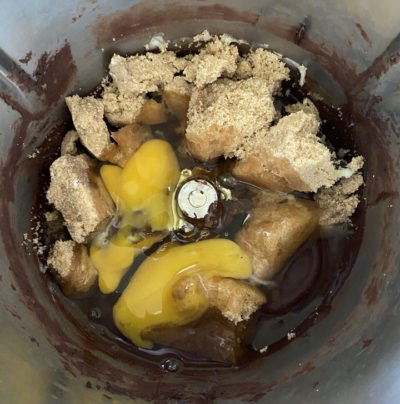 Add golden brown sugar and a great flavourful pure vanilla; make sure the mass is cool enough for the know-your-farmer eggs to be added.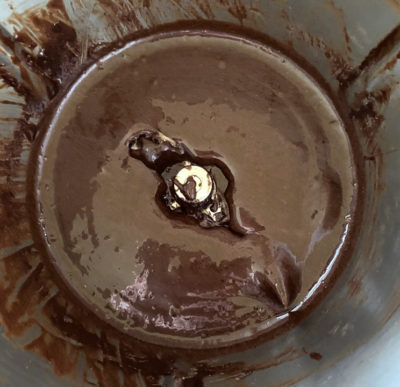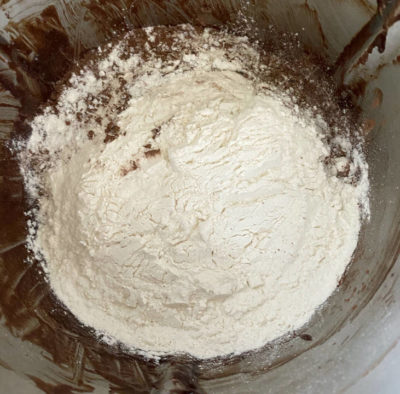 Volume is increasing. Texture is changing. Time to add the cocoa powder, baking powder and flour.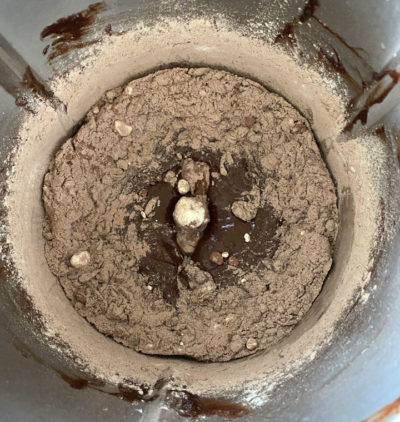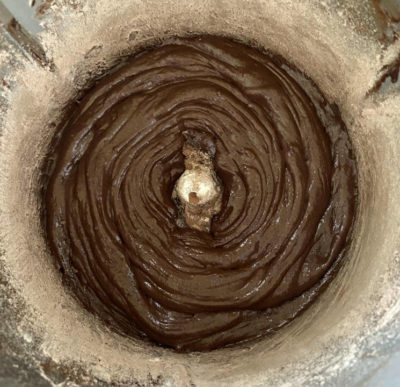 After the first portion of time, the mixture is coming together. Always scraping down sides of bowl with spatula. After second portion of time, dough is ready to be chilled. Gorgeous. There is an example of the texture included in the video above the recipe, at the end of this post.
Gooey Hot Chocolate Cookies: Chilling the Dough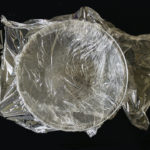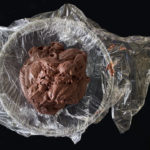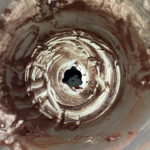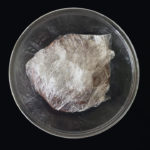 Plastic covered bowl ready, ingredients plopped into the bowl, ensuring every little bit is redeemed, then covered and chilled.
A very unusual cookie dough consistency. Chilling is very important for that reason. I make it the day in advance. Easy-peasy, but in 2 hours, it will be ready.
Gooey Hot Chocolate Cookies: Preparing the Toppings
Believe it or not, our favourite baking chocolate is the No Name Brand. Odd, eh? The chunks of baking chocolate are much more substantial. Each of the above portions in the wrapper are 30 grams. You need one 7-7.5 gram square or portion per each cookie, so this is perfect! You can see the one that is unwrapped, above. There are 2 pieces in each 30 gram portion, each of those 2 pieces is 15 grams, so there are 4 portions.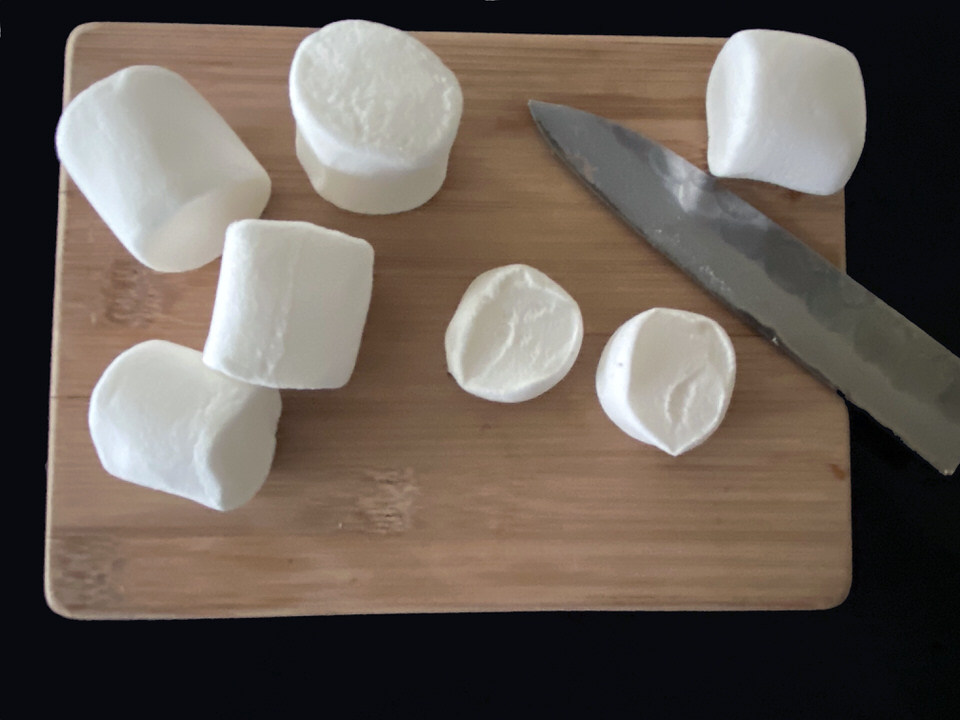 Halve your marshmallows.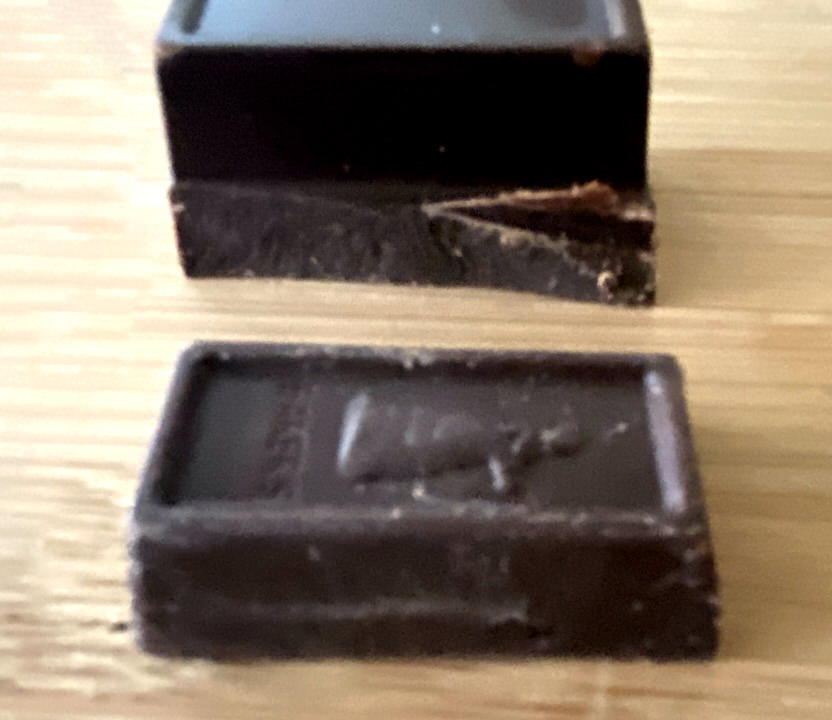 If you cannot access those lovely tasty thick No Name brand chunks, no problem. Above, you can see that Baker's brand is exactly 1/2 thickness, so each full piece is 7.5 grams. Just cut one in half and place them on top of one another to fit under the marshmallow.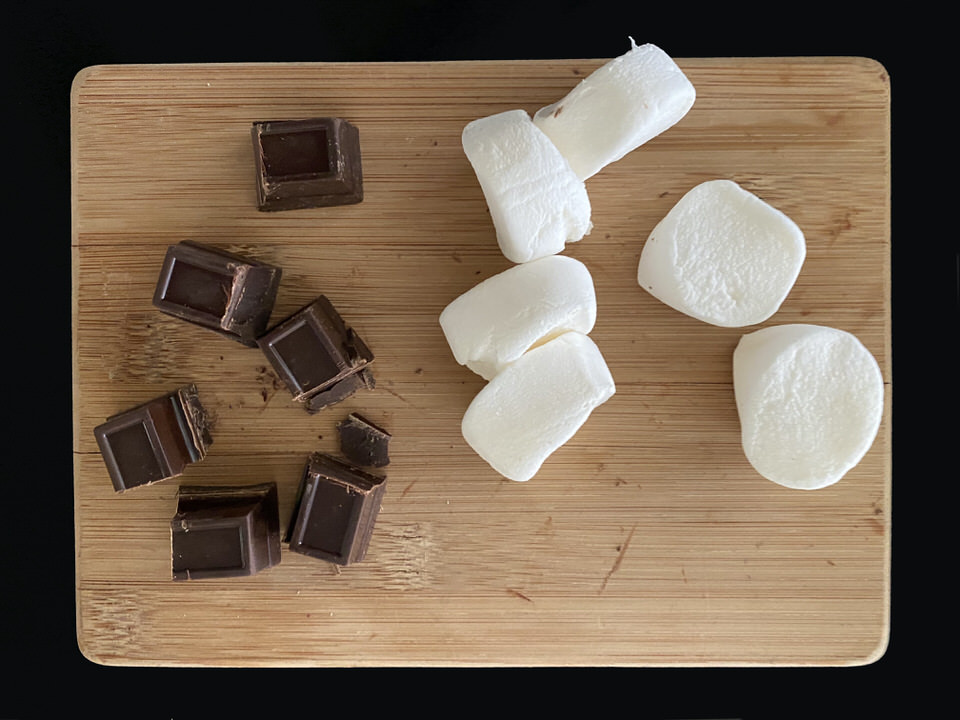 You can see the cut chocolate portions above, for just 6 of the 12 cookies as we are only baking 6 at a time.
Gooey Hot Chocolate Cookies: Making the Cookies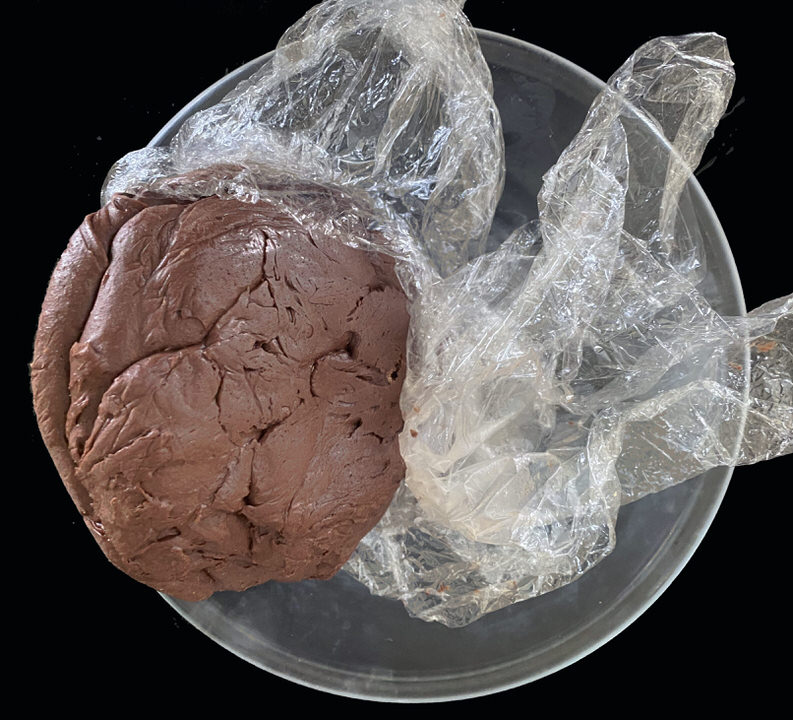 Pre-heat your oven! Dough is ready. It is firm, but maleable. Use a tablespoon and portion 2 slighly heaping tablespoons of dough together to make a ball. Make 12 balls. Or, if you are like me, weigh the mass and divide it by 12 for 12 even balls. Ragan gives you tips for this in the video, below. Either way, this is the perfect portion for 12 balls.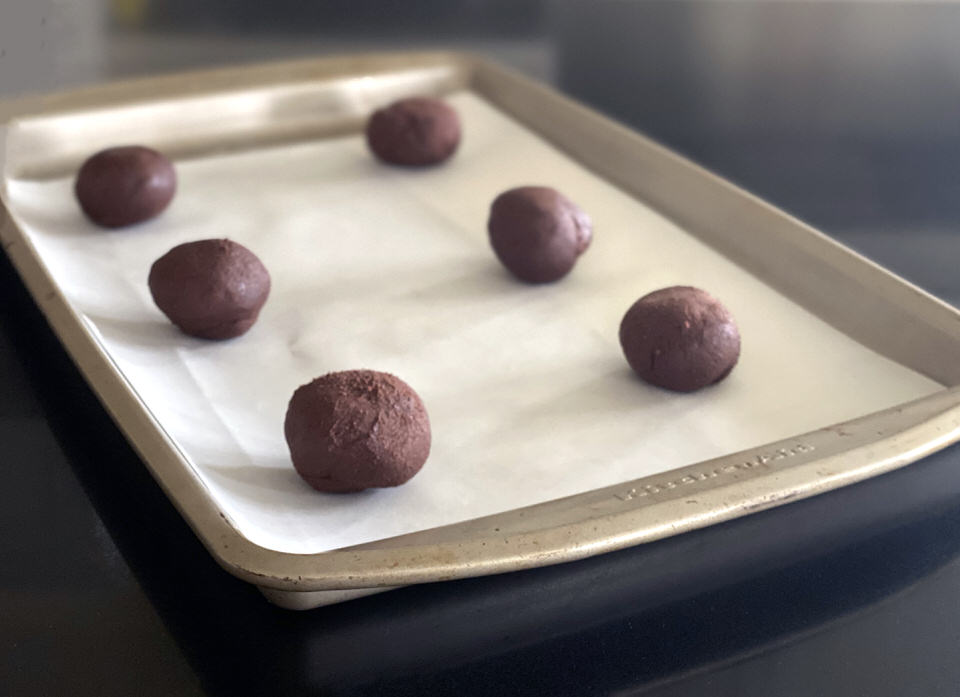 Place them evenly well spaced on a parchment lined baking pan.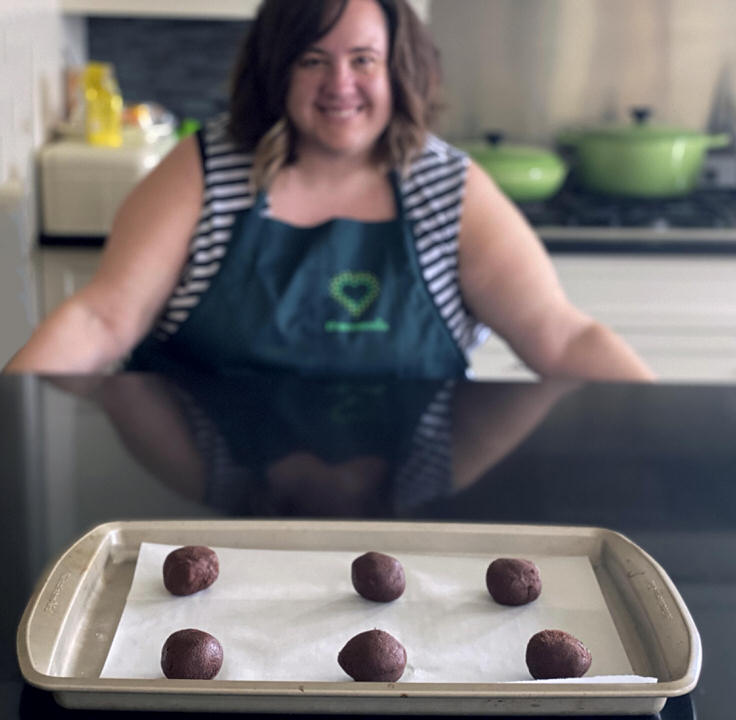 Proud Cookie Maven!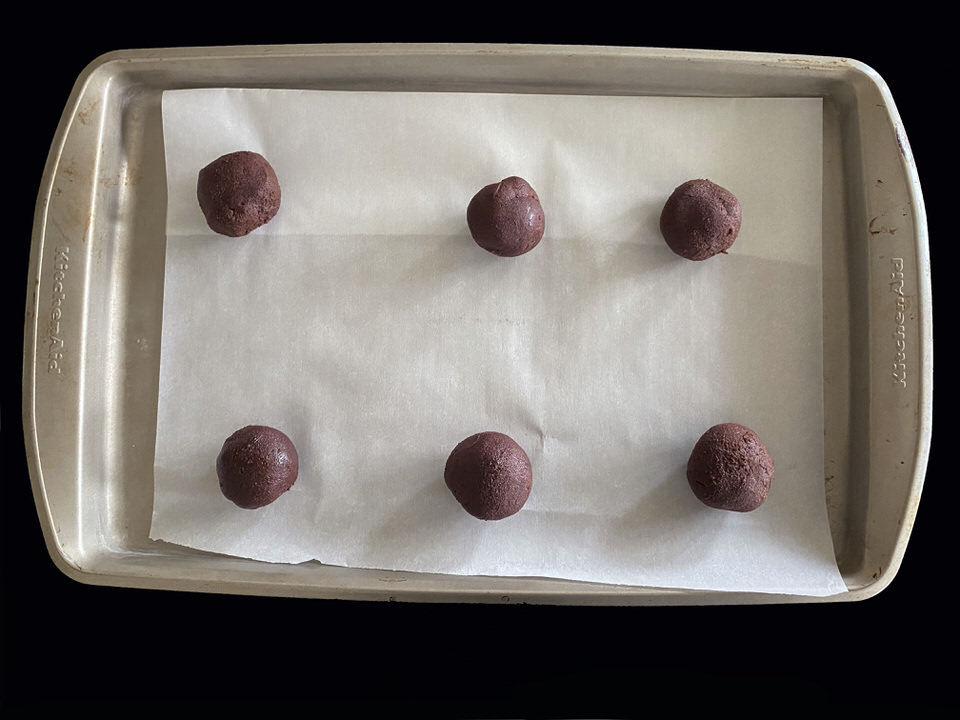 The before image above, and the after image, below. Just 10 minutes for first bake, unless out of the freezer, then it is 13 minutes.
Gooey Hot Chocolate Cookies: Baking the Cookies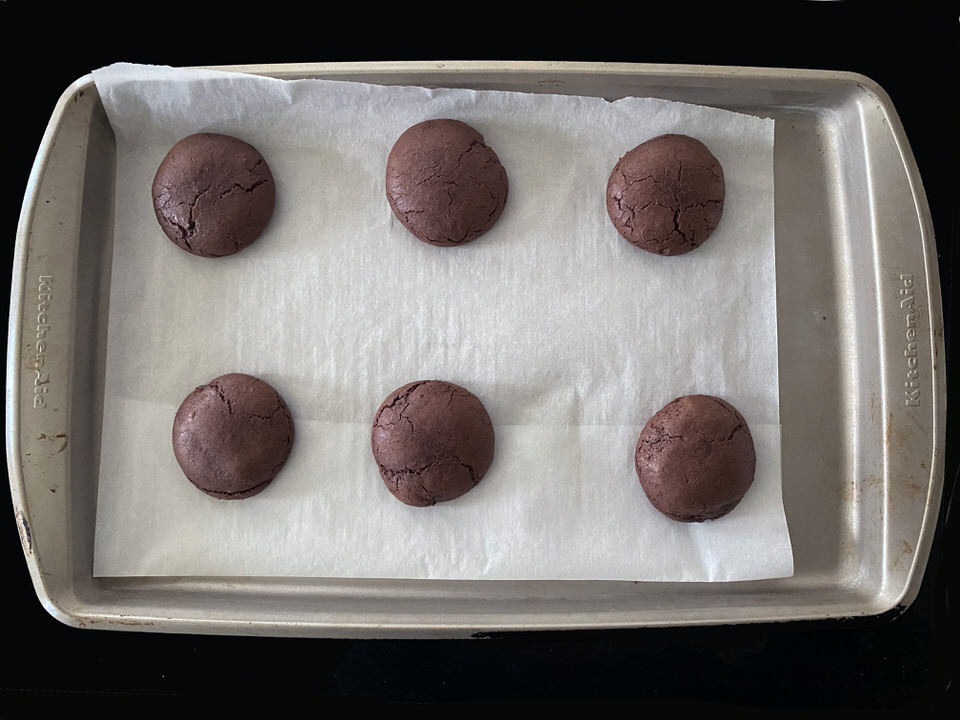 Remove partially baked cookies and have topping ready to plop on.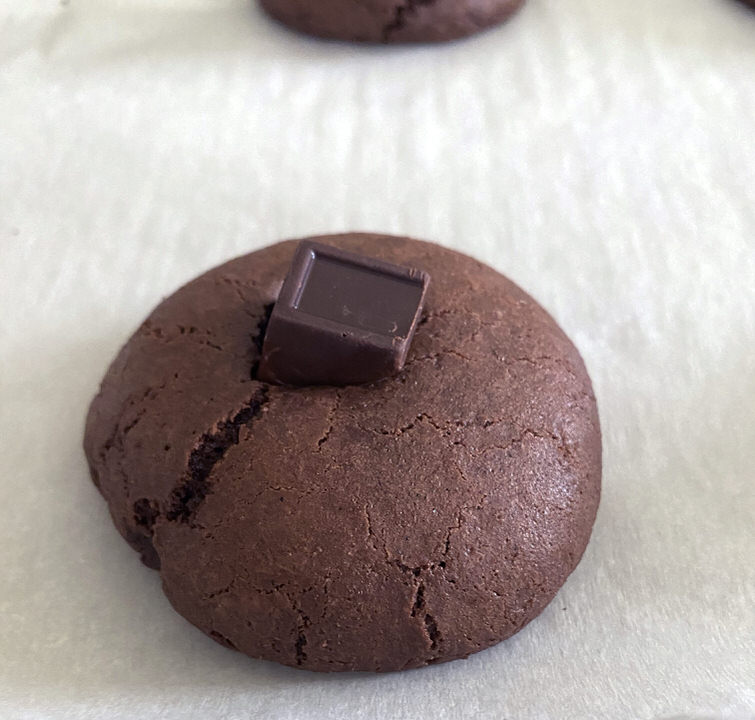 Simk chocolate squares gently into the middle of each moist portion and top with half a marshmallow, cut side down, covering the chocolate portion. The idea is that the melted chocolate will be under the puffy mallow and a complete surprise!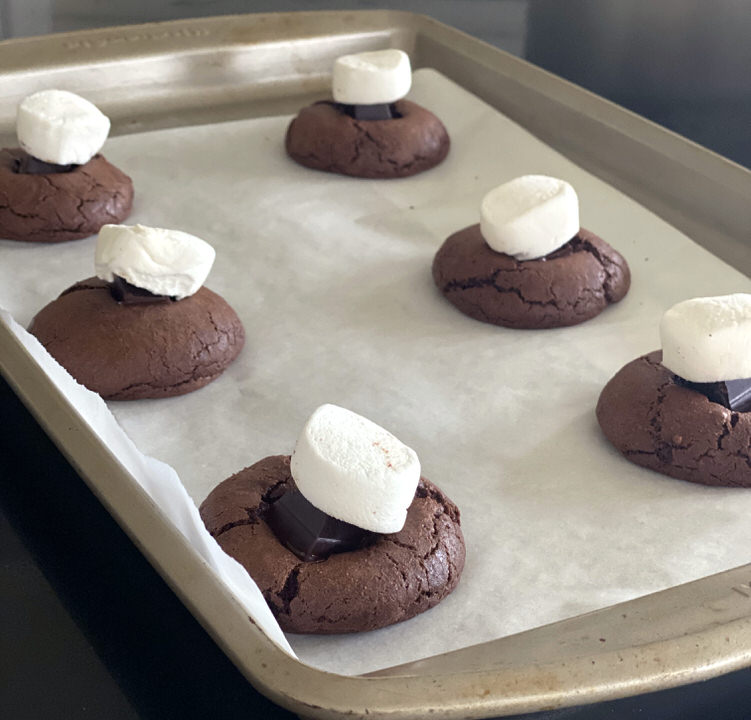 It's Ok is there's a little melted chocolate visible. No one is going to expect the pleasure they are about to experience anyway. Back in the oven 5 more minutes.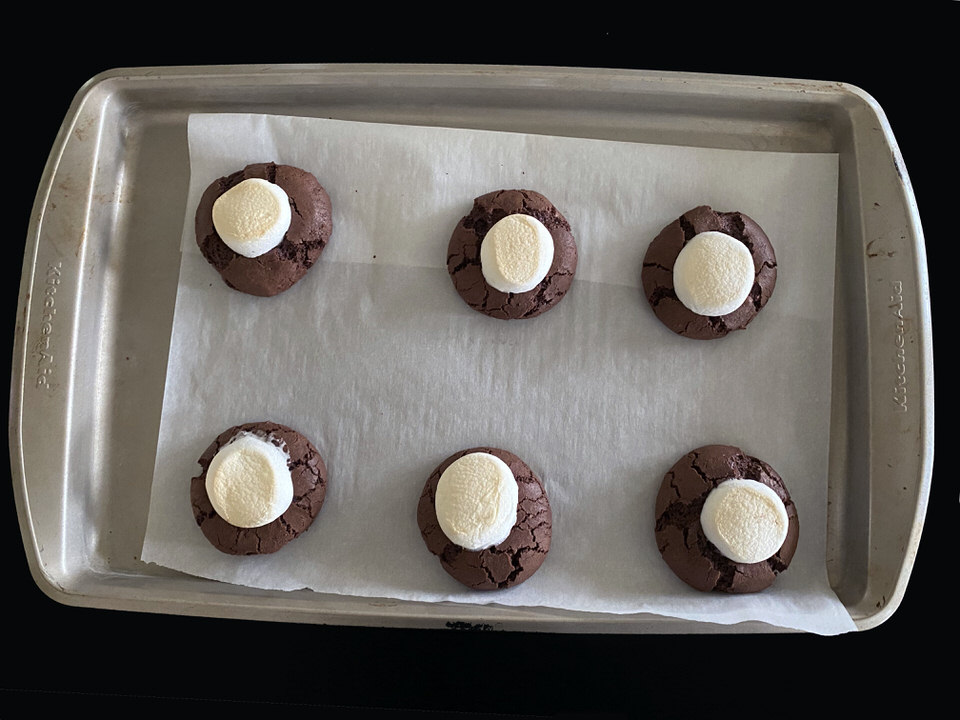 Ooooo-la-la!!!! There's something about this simple statement.
Gooey Hot Chocolate Cookies: Serving the Cookies
Cooling on the counter. Don't slap my fingers. But don't eat too soon! I have burned my tongue. Room temperature is delicious, too, but these are meant to be eaten warm, not hot. Look at the recipe tips. Serve with espresso, liqueur, or Ginger tea by the fire or after a dinner as your Grand Finale.
Gooey Hot Chocolate Cookies: Video Demonstration
Did the video help? A picture is worth 1000 words and a video is worth even more, right? Now, if I could just get a warm cookie served hot off the press to you while you sit reading, the world would be truly perfect. But, it's close, right?
If you make these, let us know. You can tag Ragan if you post on Social Media @solosmartwithRagan
Use hashtags #ACFOriginalRecipe #RaganRodgersCookidoo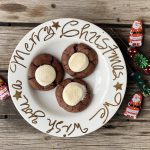 Ragan's Gooey Hot Chocolate Cookies
Ragan Rodgers developed this recipe for a Thermomix Consultant Cookie Contest. This recipe was one of 10 chosen to be in the Consultant Cookie Exchange Cookidoo® Collection 2020. We are still celebrating as this is such an honour.
Note: The Cookidoo® recipe is for 6 cookies; this is a double batch (which I recommend) so melting and mixing times are longer and you can adjust the time and amounts on the guided Cookidoo® Recipe if you do a double batch. Instructions for adjustments included here.
Total Time
2
hours
30
minutes
Ingredients
Ingredients for 12 Cookies
170

grams

semi-sweet chocolate chips

55

grams

butter

room temperature

5

grams

pure vanilla

140

grams

brown sugar

2

large know-your-farmer eggs

105

grams

all-purpose flour

5

grams

baking powder

20

grams

cocoa powder

¼

teaspoon

salt

12

7 gram portions

6 large no-name brand or 12 Baker's brand bitter-sweet baking chocolate chunks

large no name brand are 15 grams each (30 gram in each wrapped portion); small Baker's brand are 7 grams each

6

large marshmallows

cut in half (12 halves)

Chocolate Shavings

optional
Instructions
Instructions for 12 Cookies
Prepare medium bowl with plastic wrap liner for batter and set aside

Place chocolate chips in mixing bowl and melt for 3-5 minutes / 45˚C / speed 2 and use the spatula, as needed, to ensure chocolate melts evenly (7 minutes for double batch)

Add butter to mixing bowl and melt for 2 minutes / 45˚C / speed 2 (4 minutes for double batch)

Place brown sugar, eggs and vanilla into mixing bowl and combine for 10 seconds / speed 3 (15 seconds for double batch)

Add cocoa powder, flour, baking powder and salt and blend for 10 seconds / speed 3, or until combined (10 seconds speed 3 twice for double batch) and transfer cookie batter to prepared medium bowl lined with plastic wrap to refrigerate for at least 2 hours, or overnight, until firm (cookie dough will be sticky and "batter-like" so be patient and remove every lovely morsel of deliciousness from the mixing bowl)

Pre-heat oven to 325˚F or 165˚C and line baking tray with parchment

Roll dough into 12 balls* about 2 tablespoons each and flatten gently, then bake 6 cookies at a time for 10 minutes only (no longer) or freeze (see note)

Prepare chocolate pieces** with halved marshmallows while dough is baking

Remove from oven and quickly place a 7 gram portion of baking chocolate into middle of each soft partially baked cookie and top each chocolate portion with cut side of halved marshmallow (cut side down)

Return to the oven for 5 more minutes or until the marshmallow has puffed (may not be golden, but sure pretty if it is)

Remove immediately and top with optional chocolate shavings, rest 5-10 minutes and serve while still warm and gooey
Recipe Notes
Note:
- Chocolate seizes at 115˚F or 46˚C so watch that you do not go over this temperature when melting the chocolate
- Cookies must be eaten within 15-20 minutes as the centre is molten; that is why the freezer option is wonderful as you can make them ahead and bake just prior to service
- When baking from frozen, add 3 minutes or bake for 13 minutes before adding the chocolate and marshmallow and proceed as directed above
- If leftover, microwave for 10 seconds and enjoy
- Do not stack cookies
*Single batch of dough mass weighs 590-600 grams, so each cookie ball will be approximately 50 grams of dough
**Semi-sweet or bitter-sweet chocolate chunks both work well, but different brands come in different size chunks: the No Name brand in Canada has 2 portions per individually wrapped chunks and each are 15 grams or 30 grams per wrapped portion, so each wrapped portion can be cut to top 4 cookies at 7ish gram squares each. The Baker's brand is half as thick and one portion must be cut in half to make a 7ish gram square to fit in the middle of each cookie to be then topped with ½ marshmallow
Tips:
Cover bowl with plastic wrap before placing cookie batter into it to chill to enable easier release
Freeze 12 balls individually on parchment paper overnight, then in freezer tight bag until needed
Makes a great holiday gift: frozen cookie dough balls accompanied with a bag of marshmallows, chocolate chunks and baking instructions tied with a pretty bow
Variations
• For Spicy Hot Chocolate Cookies: add ¼ - 1 tsp cayenne pepper to step 4
• For Peppermint Hot Chocolate Cookies: grind candy canes in T® for .05 second/Turbo until desired consistency and sprinkle ½ the candy cane dust over the chocolate in step 7 and the rest over the marshmallow immediately out of the oven