The perfect accompaniment for Sticky Toffee Pudding or warm Mincemeat Tarts!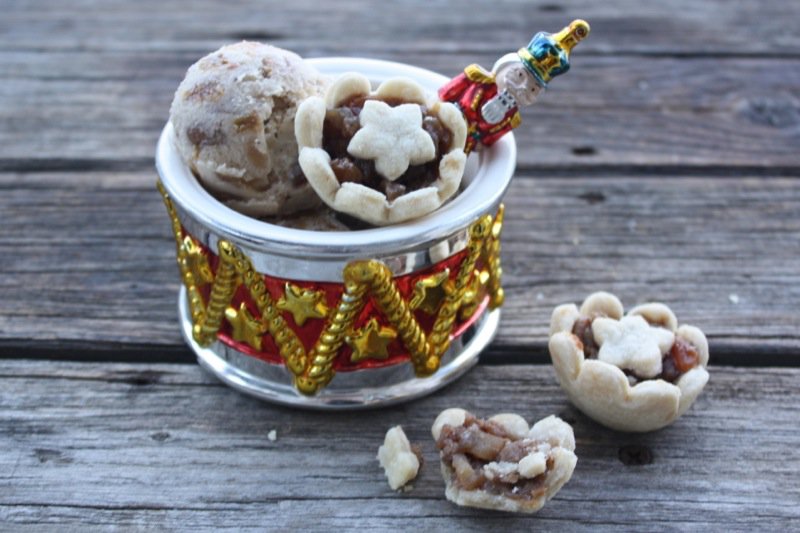 Homemade mincemeat ice cream is dreamy with steamy Mincemeat Tarts, above, and decadent with Sticky Toffee Pudding, below. The generous addition of Calvados makes it a great little treat straight up, as well! Mini-cone, please! Yes, even in the dead of the icy blue Canadian Winter at Christmas.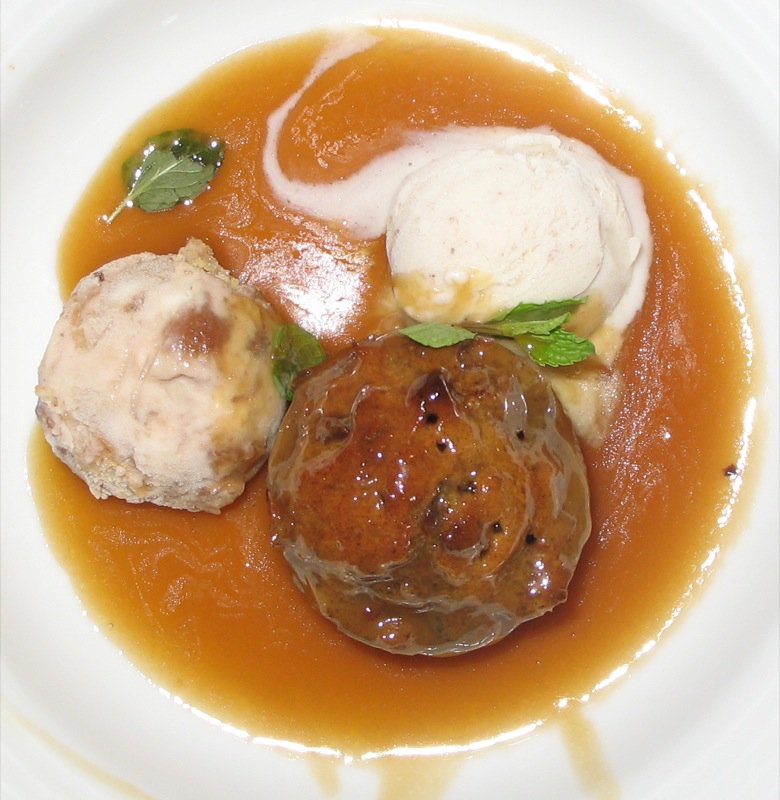 Make the vanilla ice cream, first. Plop it into the fridge and then whip up this easy-peasy little batch of aromatic appley mincemeat without the traditional suet or meat: raisins, sweet diced apples, lemon zest and juice, homemade apple juice, Calvados, (or homemade Pommette), sugar and cinnamon, nutmeg and cloves. Mmmm. There will definitely be Christmas in the air, and you will find yourself singing silly little Christmas ditties as you stir these ingredients into caramelized submission.
This year I was a little over zealous with the chopping of the nuts. They are actually better if a little bigger. Use a hammer with the nuts in a plastic bag, or an old fashioned knife. Do not chop them in a food processor.
What's not to sing about? Family home for the holidays? Time with friends? Indulgent food and lots of compassionate sharing and giving. 'Tis the season for it all!
I would say that this is pretty much cooked down, wouldn't you? Nummy-num! And lovely and cold the next day, below, ready for the ice cream and a couple dozen miniature mincemeat tarts. Just scoop out the three cups needed for the ice cream and use the rest for the tarts. I find that, sadly, so few like them that two dozen is about all I can eat by myself. (double wink!)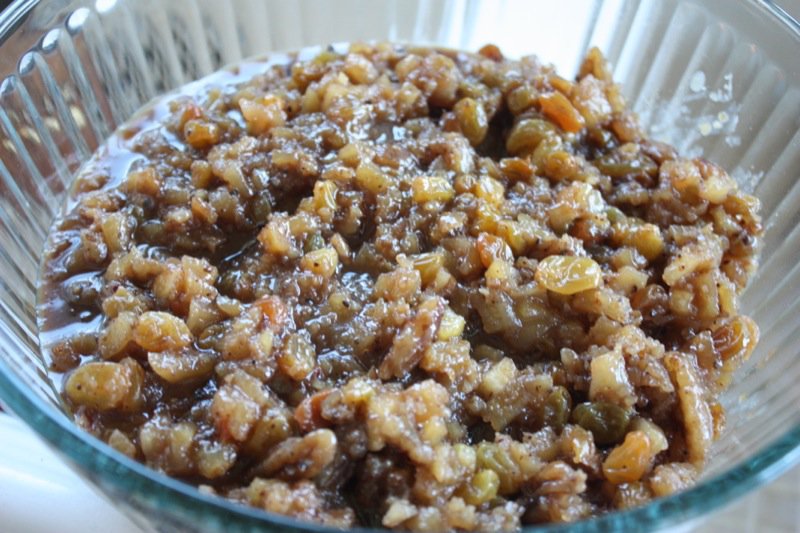 The custard has also set overnight and is lovely and thick: ready for the ice cream maker!
When thicker than a milkshake, as above, add the ice-cold mincemeat. You might even stick it in the freezer for the twenty to thirty minutes the ice cream will take to get to this stage. Remove the cinnamon sticks and add the three cups into the bowl, if you have the 2 litre sized bowl, slowly, with the machine still on until completely combined. Continue to mix for 5 more minutes.
Above, it is extremely thick and cold and ready for the freezer. This batch is also ready for the freezer, below. Both consistencies work well. I find that covering a container with plastic wrap makes it easier for me to get the ice cream out of the container. Below, where you see the scooping photos, are the most authentic colours of this ice cream: warmly jeweled and fragrant with the flavours of the season!
Pa-rum-pa-pom-pom! There is nothing better to put into your drum! Happy Holidays, everyone!
Homemade Mincemeat Ice Cream
Makes enough for the ice cream with almost 2 cups left over for about 24 miniature tarts!
Ingredients for the ice cream:
2 cups heavy whipping cream
2 cups whole milk
1 vanilla bean, split lengthwise
10 large egg yolks
1 cup sugar
Ingredients for the mincemeat:
2 Golden Delicious apples (about 1 1/3 pounds), peeled, cored, cut into 3/4-inch cubes
1 1/2 cups raisins
1 cup pecans, toasted, chopped
1 cup sugar
3/4 cup apple cider
1/4 cup Calvados (apple brandy)
1/4 cup (1/2 stick) unsalted butter
2 1/2 tablespoons fresh lemon juice
1 cinnamon stick
1 teaspoon salt
1/2 teaspoon ground nutmeg
1/2 teaspoon ground cloves
1/2 teaspoon finely grated lemon peel
Instructions for the ice cream (make this first and set in the fridge overnight):
Mix cream and milk in heavy large saucepan; scrape in seeds from vanilla bean, adding bean
Bring to simmer; remove from heat
Whisk yolks and sugar in large bowl to blend; gradually whisk hot cream mixture into yolk mixture
Return mixture to saucepan stirring over medium heat until mixture thickens and leaves path on back of spoon when finger is drawn across (about 5 minutes)
Strain custard into bowl, cover; chill until cold (about 4 hours or over night)
Instructions for the ice cream with the Thermomix:
Scale cream and milk in TM bowl; scrape in seeds from vanilla bean, adding bean
Bring to simmer for 5 minutes at 37°C; cool for 10 minutes
Remove vanilla pod from the TM bowl
Scale yolks and sugar into TM bowl with vanilla cream mixture and whisk for 20 minutes at speed 4, 80°C
Strain custard into bowl, cover; chill until cold (about 4 hours or over night)
Instructions for the mincemeat (make the same day as the ice-cream and cool in the fridge):
Bring all ingredients to boil in heavy large saucepan
Reduce heat to medium and cook until almost all liquid is absorbed, stirring frequently (about 20 minutes)
Discard cinnamon stick; transfer mixture to bowl
Refrigerate until cold (about 2 hours)
Putting it all together:
Process custard in ice cream maker
Fold 3 cups ice-cold mincemeat into the ice cream maker just when ice cream appears to be done; mix for 5 more minutes
Pour into a container lined with plastic wrap; seal well
Freeze until firm (at least 4 hours)
Serve with Sticky Toffee Pudding