Almond Cherry Shortbread: A family favorite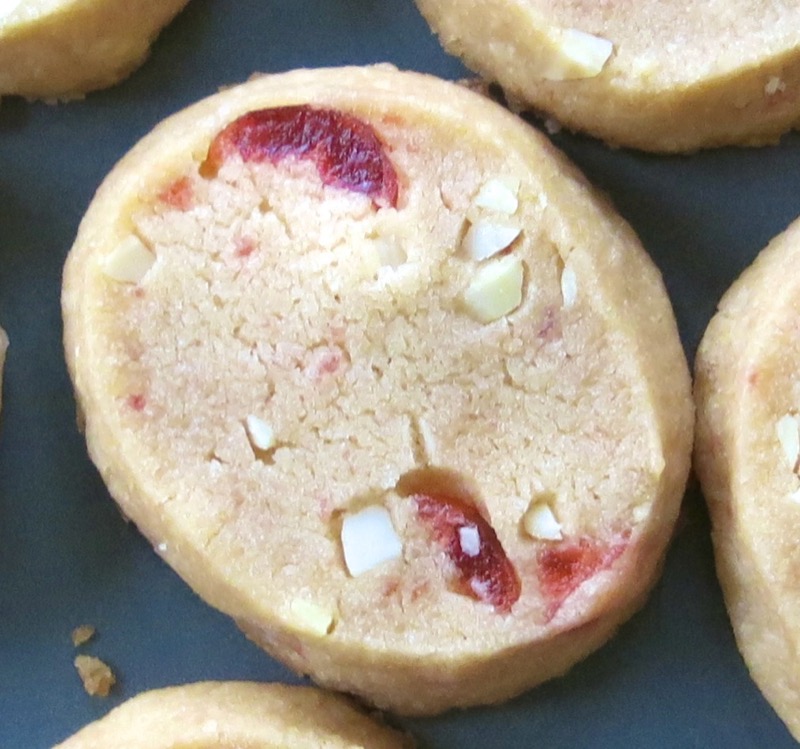 Definitely one homely cookie. That is why I don't make ice box cookies: they lack visual appeal. Christmas cookies must be dressed in their Sunday best to find that cherished spot on my Christmas Cookie Platter. And, if not dressed up, I usually make it happen.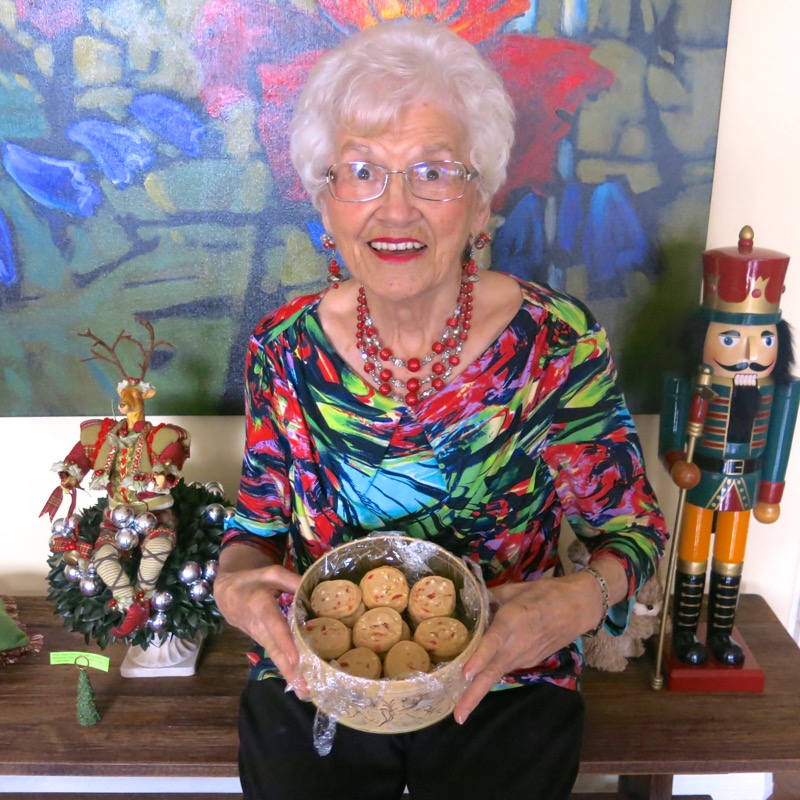 Yet, this is one irresistible little bite. One year, I did add the 24K gold foil glitter to each cookie and that definitely worked; however, this year, the Great Glammas got first dibs on that quick fix. How do you dress up an ice box cookie and why even try? Typically, the ratio for all shortbread is 2:1:1/2 flour, butter, sugar. This melt in your mouth eyeball-rolling-back-into-your-head moment has a ratio of 2:1:1 flour, butter, brown sugar with the addition of nuts and glazed cherries that add a golden crunch and a cheery chew to the mix. More butter. Caramelized sugar. Almonds and Cherries? That should answer the why.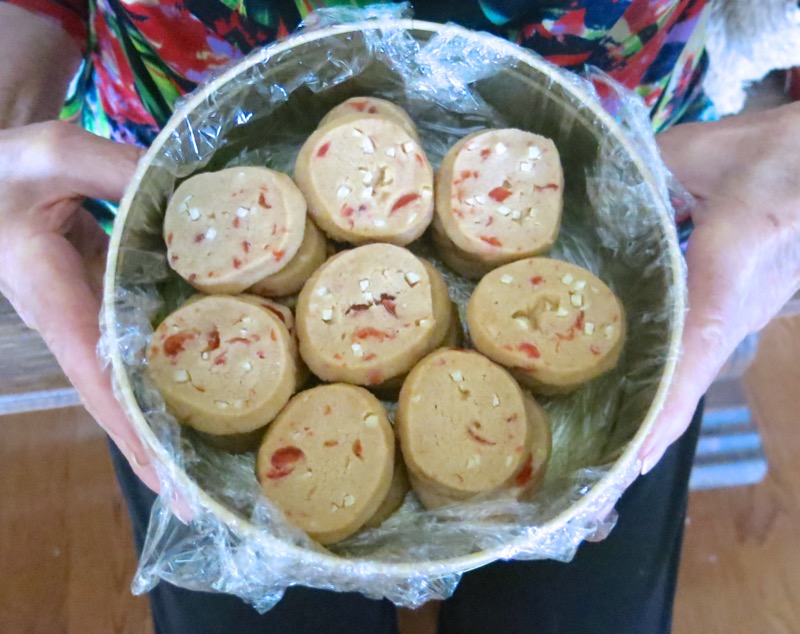 Year after year I have worked to reform, reshape, represent the Almond Cherry Shortbread our family holds so dear. Year after year I have never been truly pleased with the outcome, so have left one of our most cherished family Christmas cookie recipes in the closet, without sharing simply due to its "ugly duckling" status. This year, however, my goal is to document all of mom's treasured recipes, and somehow, with that in mind, the little cherries appear jewel-like and the homely little slice holds a rustic old world chic this year, don't you find?
Almond Cherry Shortbread: Making the Dough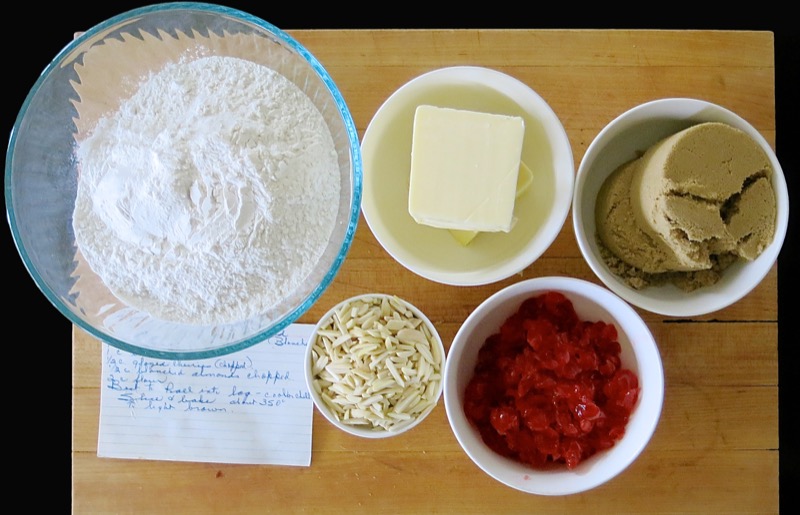 Flour, golden sugar, butter, nuts and cherries: only 5 ingredients in the Almond Cherry Shortbread, but clearly a decadent mix that promises pure pleasure.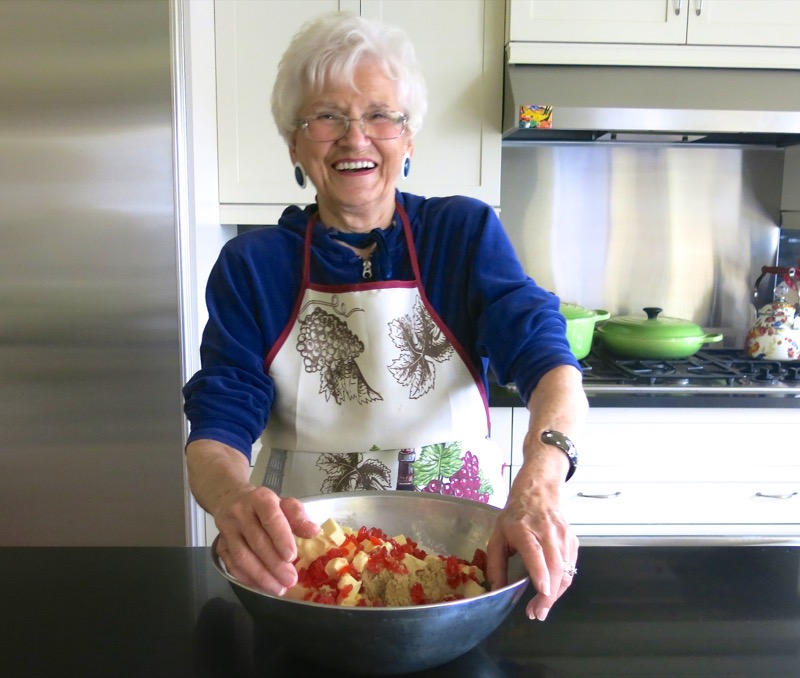 There she is! Up and at 'em early every morning. Walks the dog at dawn. Makes her bed, dusts, cleans, coffee and then dresses like she's going to a party. Every day. That's my mom.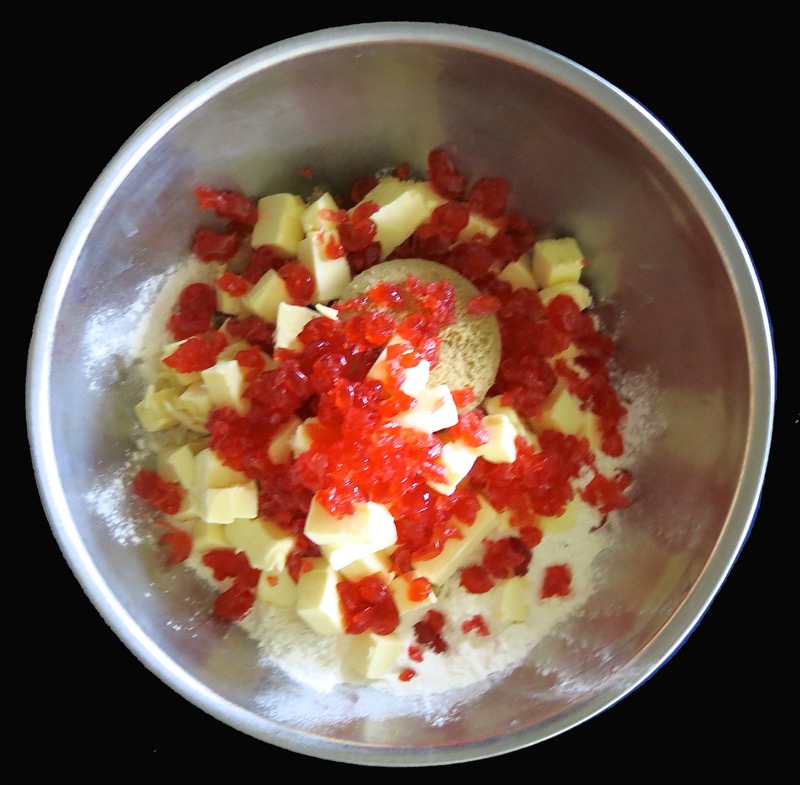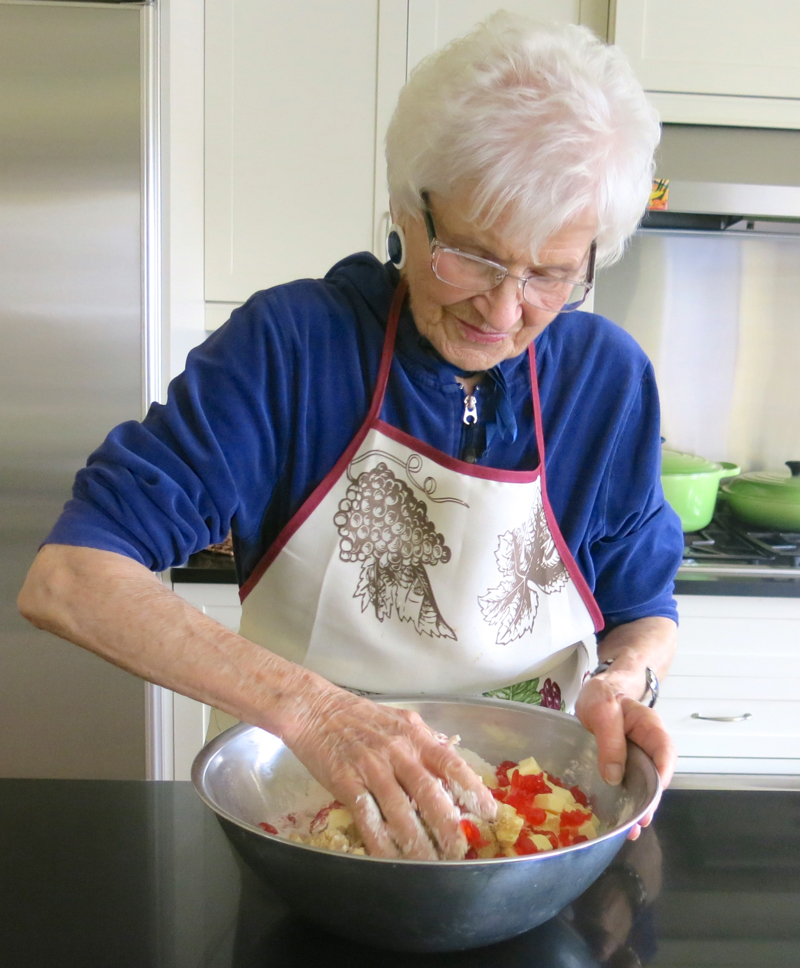 All 5 ingredients into the bowl, and in she goes with both bands. Never afraid of hard work. Only afraid of not working hard. At 86, she remains fiercely independent and it is almost impossible to do anything for her. Carry her purse? No! Her suitcase? Never! Help her with her groceries? Unlikely. But maybe if she has a couple of cartfulls. She still cooks for an army though she lives alone.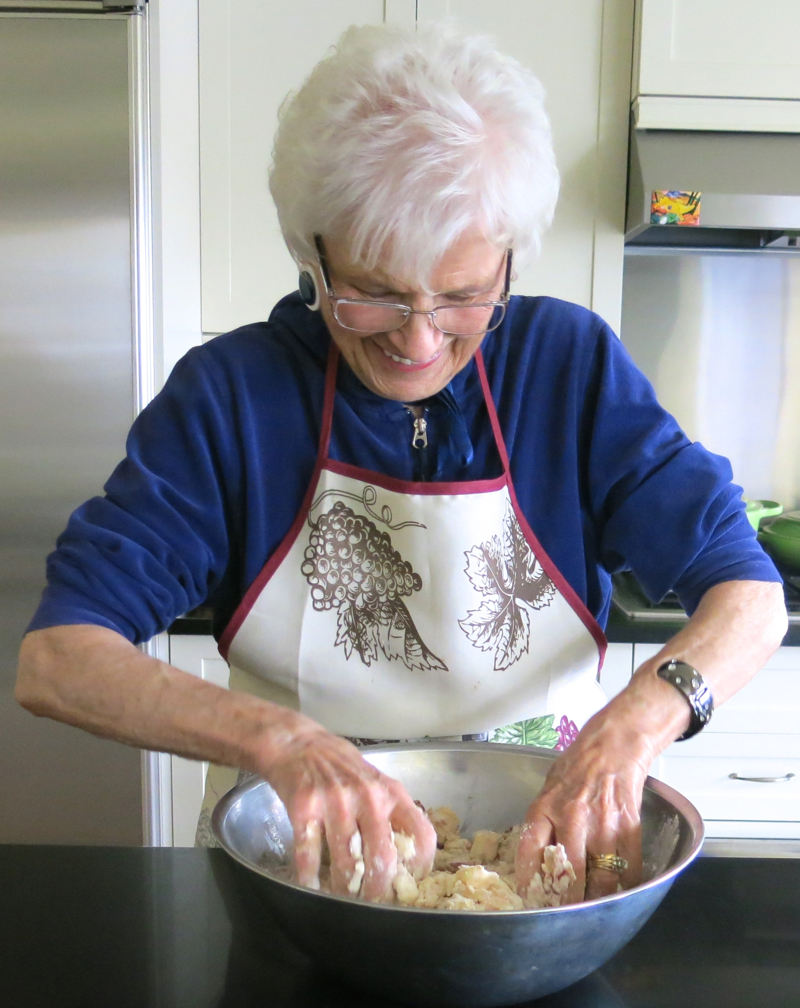 Actually, this past year, she has let go of that "somewhat". But her freezer is full, and her overflow is at Ragan's house. She cannot stop herself. Tradition, seasons, holidays – each presents the work for the season, and she just ploughs through it all.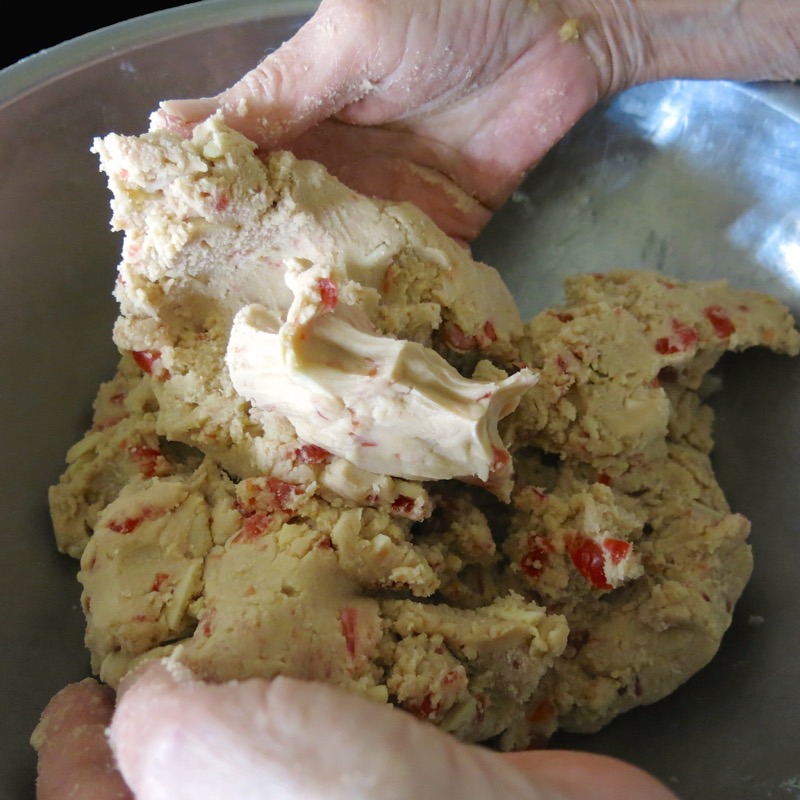 Today, working the Almond Cherry Shortbread dough like a teenager. Strong, Powerful. Kneading and working the ingredients into one cohesive mass. All with a smile on her face, chatting away. Boundless energy.
Almond Cherry Shortbread: Shaping the Logs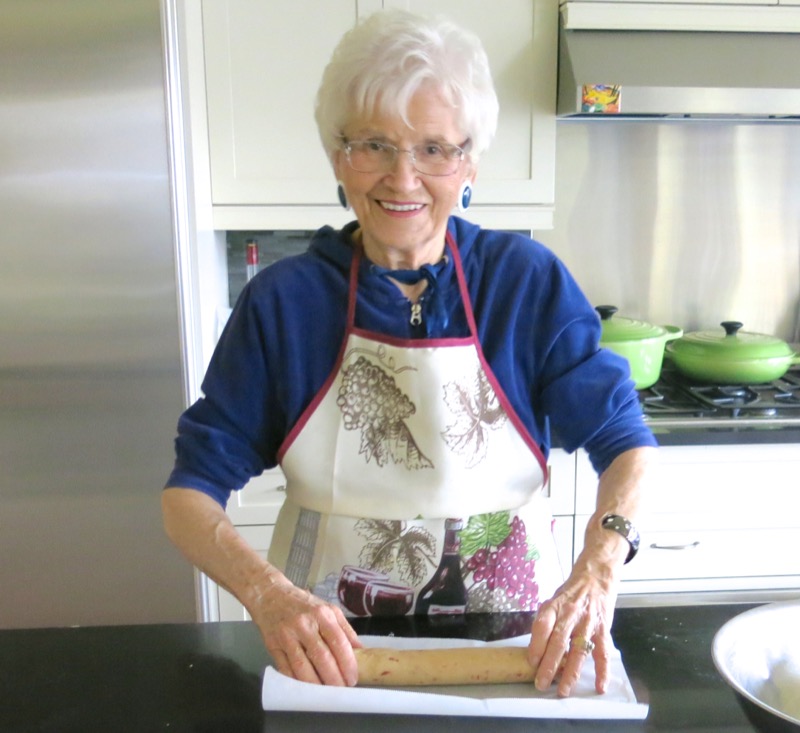 I blinked and she had the first Almond Cherry Shortbread ice box cookie log rolled.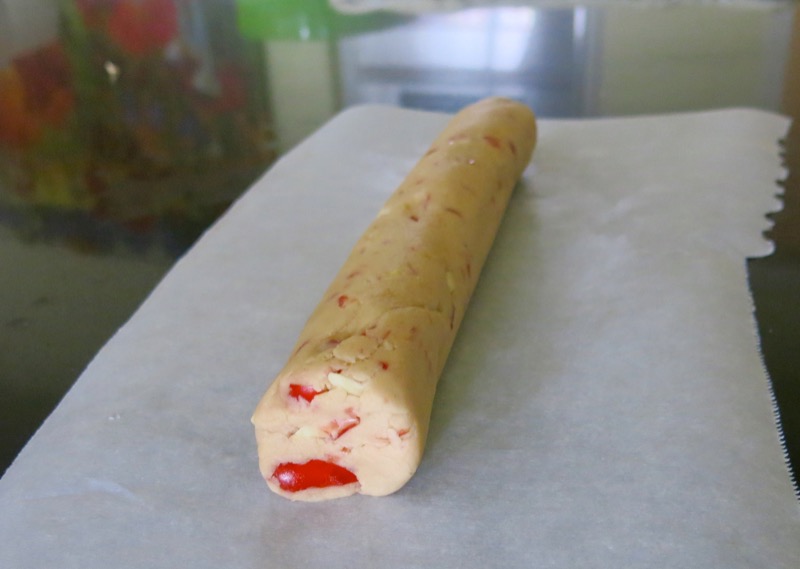 It was perfect. "How did you do that? Remember I am supposed to photograph what you are doing?"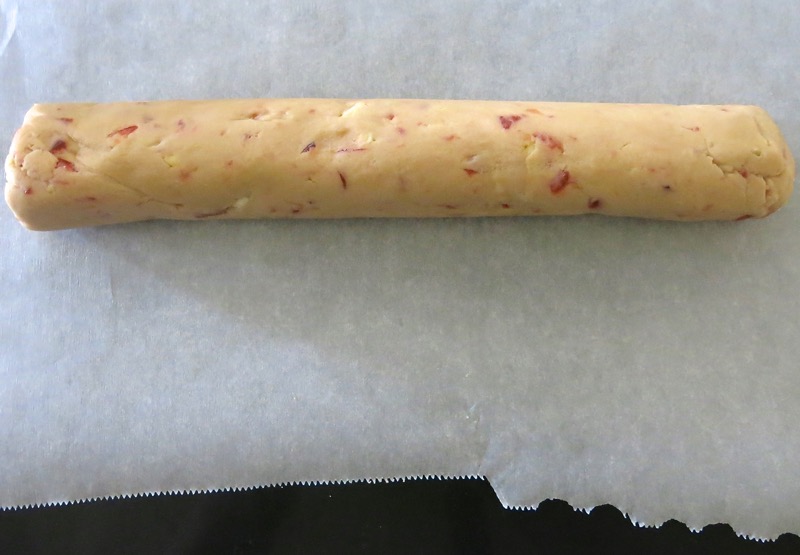 Somehow, all four logs "appeared" like magic. Each so fast that I simply could not capture her technique.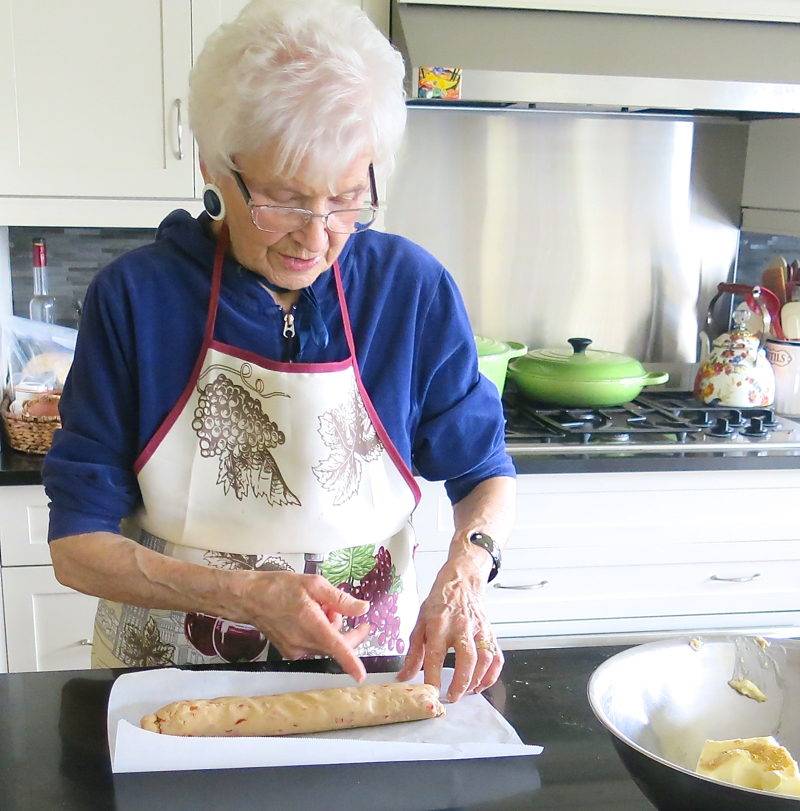 "How did you do that?" I just did it. Above, she is counting out how many cookies can be cut from each log: about 14.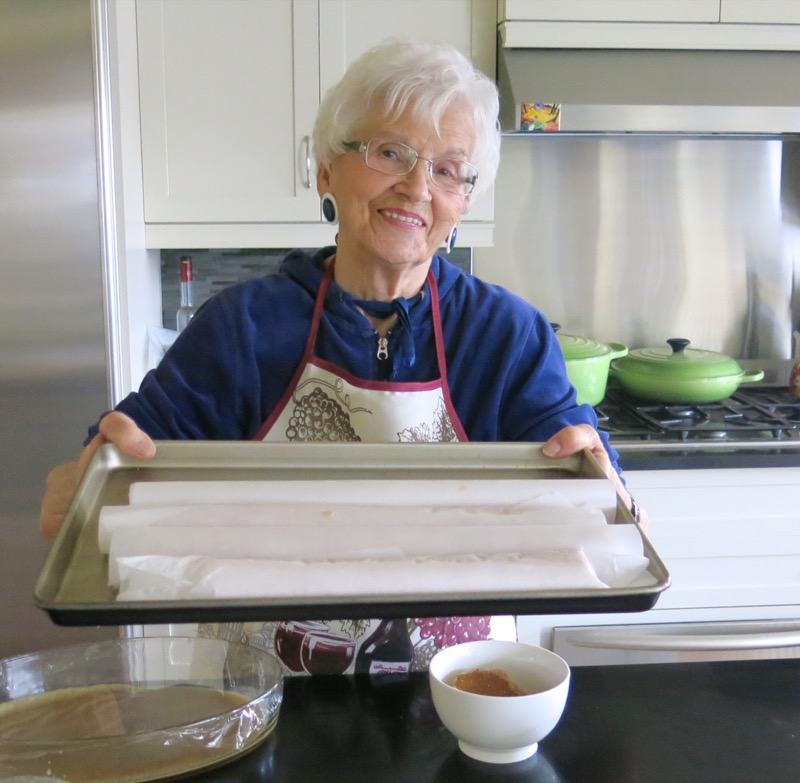 We made a double batch: two logs for her, and two for me. I got about 36 cookies from my logs.
Almond Cherry Shortbread: Making the Cookies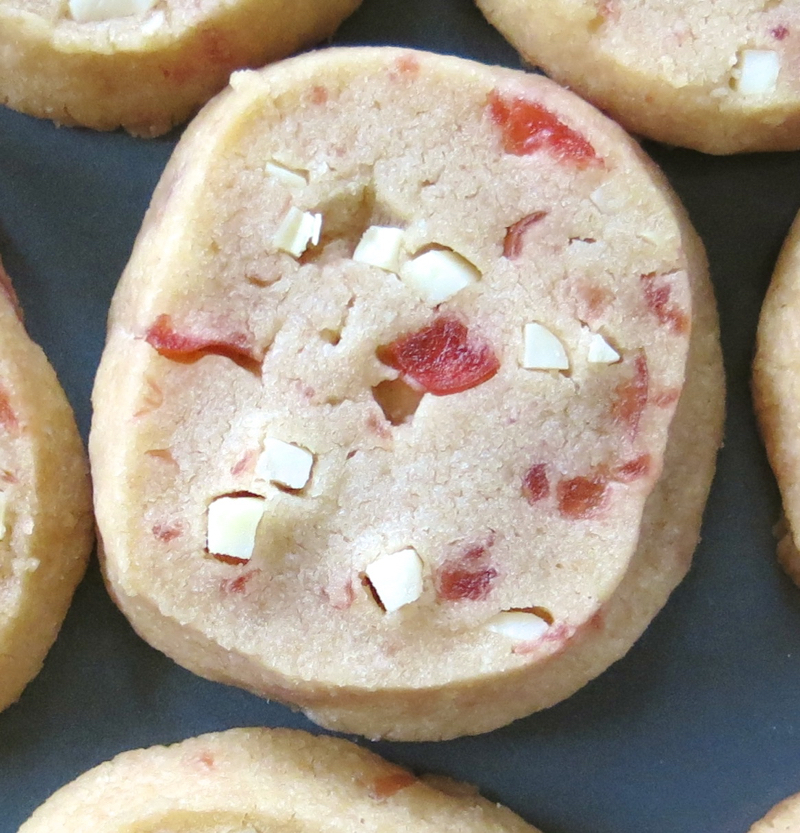 Sliced when ice cold, placed on parchment lined cookie sheet and baked until golden.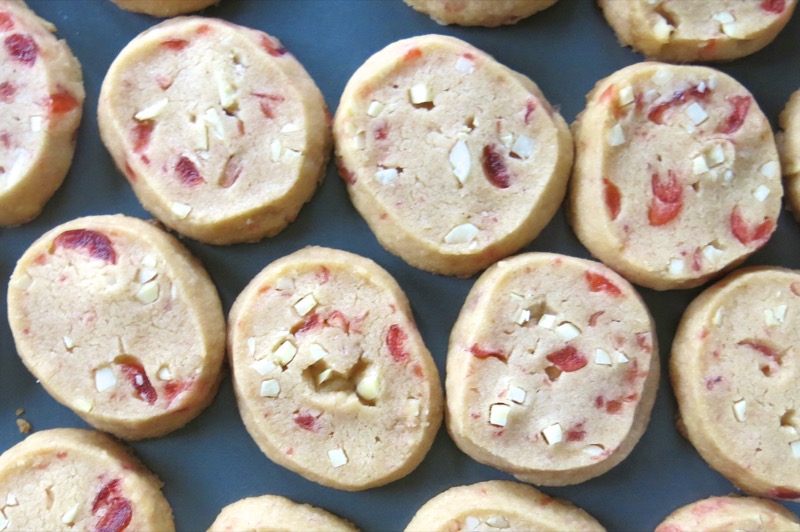 Certainly, not a cookie that a baker has much control over during the baking process. They spread a little. They crack a little. They finish in the oven with an aroma that is irresistible, yet I have always plated them separately from my Christmas Cookie Platter cookies. "They're just too special for that tray, mom." It would be naughty to sit them beside a perfectly shaped Christmas Cookie. The homeliness would be magnified ten fold. Yet, the truth is, I can never keep their platter full. They are the first cookie to be eaten every year.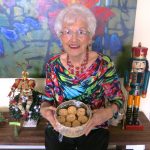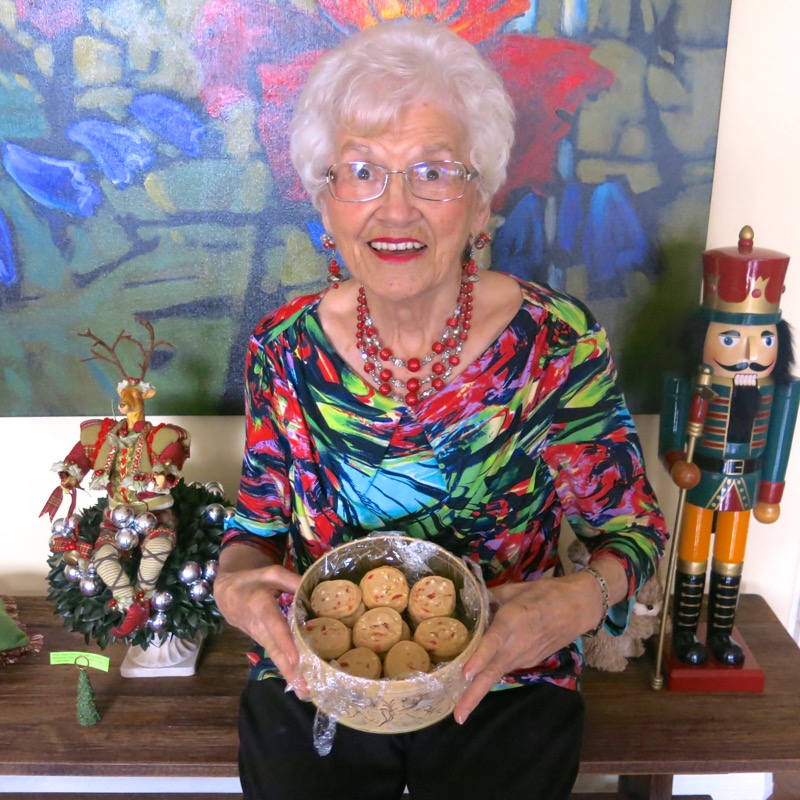 Helen McKinney's Famous Almond Cherry Shortbread


My mom is Helen McKinney and this is her famous recipe for Almond Cherry Shortbread. It is an icebox cookie perfect for gift giving and divinely delish!
Ingredients
1

cup

butter

, room temperature

1

cup

golden brown sugar

1/2

cup

red and green glazed cherries

, chopped

1/2

cup

blanched slivered almonds

, chopped

2

cups

flour
Instructions
Place all ingredients into a large bowl; combine well with hands

Form into 2 logs; wrap in plastic or parchment

Refrigerate or freeze until ready to use; preheat oven to 350F

Slice into 1/2 inch slices; place on parchment covered cookie sheet

Bake until golden brown, 8-10 minutes