This is A Canadian Foodie Original Creation!
I read a recipe at my dentist's office that inspired this Spicy Tomato Chickpea Soup and wondered how effectively my Thermomix could toast the spices. The answer: very!
I just love the nibbly texture the spices give this Spicy Tomato Chickpea Soup, and the explosion of flavour I take pleasure in when I burst into a plump and juicy little spice seed that didn't get pulvarized during the puréeing process. I am really happy with these flavours, the nutritive value, and the fact that there is virtually no fat in the entire soup. It must be served with a generous dollop of great homemade yogurt that is stirred into the mix as the tang compliments the taste experience.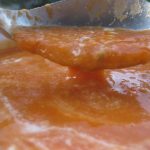 Spicy Tomato Chickpea Soup


A Canadian Foodie Original Recipe that will leave you warmed from head to toe in the cold Canadian Winter months.
Ingredients
1

tbsp

. of fennel seeds

1

tbsp

. of coriander seeds

2

tsp

of cumin seeds

2

tsp

. of yellow mustard seeds

10

grams

or 4 cloves of garlic

, peeled

135-150

grams

or 1/2 large onion

, chopped

10

g

olive oil

1

tsp

salt

1 19

ounce

can or 375-400 grams of garbanzo beans

(chickpeas), drained

1 28

ounce

can or 800 grams of DOP tomatoes

, not drained

200-400

grams

organic chicken stock

2

red peppers

, roasted, peeled, and seeded

freshly ground pepper

, to taste
Instructions
Toast the first 4 ingredients in TM bowl for 4 minutes at 100°C on speed 2; remove and set aside

Weigh garlic and onion into TM bowl; chop for 3 seconds at speed 7

Scrape down sides of TM bowl and add toasted spices and weigh in olive oil; sauté for 3 minutes at 100°C on speed 2

Weigh in salt, garbanzo beans, tomatoes, and stock; cook at Varoma for 10 minutes on speed 2

Add roasted pepper and purée all for 30 seconds at speed 8, until desired consistency

Serve hot with a dollop of homemade yogurt
If you are familiar with the flavours of the spices in the Spicy Tomato Chickpea Soup, you will know if this recipe will appeal to you, or not. I am not a cumin fan in many recipes: chili, yes; tacos, yes: that's about it. However, love it in this soup. You?