Our Family Christmas Tradition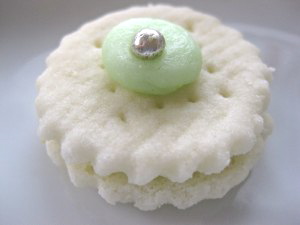 I cannot remember how old I was when I first saw these cookies. I just remember that they looked like whimsical fairy delicacies. My mother had made them in this pale green, and in a pale pink, for a tea. They were carefully plated on a tiered pedestal on the dining room table. The diffused light softly pooled around them, fairy dust particles danced in the light beam, and I watched, breathless. Silently, stealing closer and closer until my chin was just above the height of the table and I was almost able to get a close up of the bewitching silver ball on top.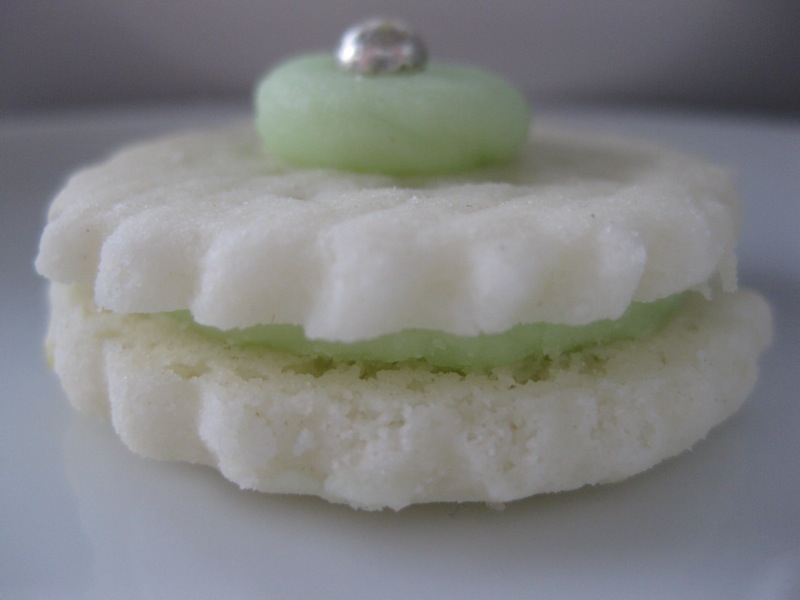 I must have ran to find my mother to ask her what these were, or if I could have one, and what they were for and what was the silver ball on top, because I do remember eating two of the cookies: first biting the pink, and then the green. Licking off some icing back and forth, tasting each, and trying to discern what the flavours were. I was so puzzled and so confused, and so outraged when my mother told me that there were no differing flavours. "Then why are they different colours?" That was not possible. Each colour has a flavour. Everyone knows that. Flavours were colours, and colours were flavours. It was impossible for me to make sense of a beautiful cotton candy colour not having a familiar flavour. And even more impossible to have two completely different colours have the exact same flavour. What a dirty trick. I felt foolish, and angry and completely deceived. The taste of the cookies did not match with any frame of reference in my memory palate. And the silver ball…. I don't know what I expected silver to taste like, but I know I did not expect it to taste "hard". I sucked it and spit it in my sticky little hand so many times until the silver had completely disappeared, and – no magic. Just a little white flavourless ball as hard as a rock. The only appeal of this "edible" glitter was the glitter. Even at that young age I figured out that in this instance, "edible" meant I would not die if I ate it.
But, I still adorn each of the little shortbread cookies with one big fat silver sparkle every Christmas and make sure there is not one smudge on any of them. If you look closely, you can see the shadow of my image taking the photo in it. I still absolutely love how festive and delicate and delectable these cookies look. Shortbread cookies embody the joy of the season: ultimate perfection in one cookie. I love that my mother made them, and now I am making them. The shortbread recipe is the real McCoy. Not a soft cornstarch melt-in-your-mouth shortbread, but a butter-tender flaky cookie with a crisp bite that always makes my eyes roll back in my head. Every time. The formula is 2:1: 1/2 . Two cups of flour, 1 cup of butter, 1/2 cup of sugar. That's it. Well, use berry sugar, and take out a couple of tablespoons of flour and replace them with cornstarch for added tenderness. That is it. The almond butter icing is key.
They are a bit of work. Everything is. They do take some time. But, I plan my time to enjoy the experience, instead of sweating and swearing my way through it. I make the dough and the icing one night, roll and cut out the cookies the following morning. Or, another morning. I then make sure we have a really good movie or program to watch and I set up my work station nearby. Sitting in a comfortable chair, I mold and pat every cookie centre with the round heal of my hand at the bottom of my thumb and then place it in the middle of two shortbread cookies that match, facing one another. When all of these are done, I stack them, and form the little tops. A little dab of icing rolled like putty, glued to the top with a dab of water; then the silver ball. Single layered on a cookie sheet, wrapped in saran, I freeze them, then package in an air-tight container.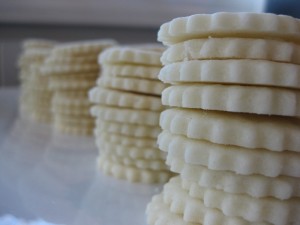 Now my chin(s) are way above the table, but I am still carefully placing my shortbread cookies on a tiered pedestal on the dining room table, and I just love to stand and look at them and think of the stories they tell me. This year, I made these with my daughter for the very first time. I explained how the berry sugar and the flour must be mixed well first, and that this is so contrary to the way cookies are usually made. After the butter is blended in, and the dough is kneaded, it is cooled over night, or for a few hours, then rolled. We made sticky toffee pudding while the dough rested and chilled.
I used a pastry cloth and a rolling pin cover to roll out my shortbread. "Why, mom?" Well, look at how well it works. Try it on parchment. Try it on the counter. Try it without the pastry cover. Look at the texture the cover leaves on the face of the dough. The round fluted cutter I use is the one that my own mother used to make hers all those years ago. I have only seen one other like it at Rae's mother's house. And Rae's mother has the square one I covet. Someday, this precious little cutter will go to Lauren and she will hold it as her grandmother and mother before her.
"Why do you put little holes in the cookies with a fork? Just for decoration?" If you don't dock shortbread cookies, the top may bubble up and the cookies will not be flat ans even. Lauren was a perfect docker. I remember docking for my mother. I was so nervous worrying that each row was perfect. "There must be four." I see I have passed on that neurotic bit of advice on to the next generation. The cookies looked perfect. This year, they were particularly special. It is the first time I made them so late in the season, and the first time with my daughter. So, little shortbread sandwich cookie of mine, you embody a whole lot more buttery love and richness within your delicate little form than you will ever know… and my eyes roll back in my head in pure bliss every time. I am truly blessed. Yes, there is all this in just one cookie.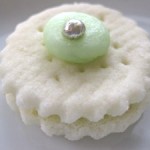 Traditional Canadian Shortbread Cookies


Shortbread Sandwich Cookies (makes about 80 single cookies)
Ingredients
2

cups

of flour

(remove 2 tablespoons to be replaced with the cornstarch)

2

tablespoons

of cornstarch

1

cup

of unsalted butter

1/2

cup

of Berry sugar
Ingredients for Almond Butter Icing:
1

cup

of unsalted butter

, room temperature

3

cups

of icing sugar

2

teaspoons

of pure almond extract

8-12

drops of green food colouring
Instructions
Preheat the oven to 325ºF

Combine sugar and flour mixture; mix well

Work in butter; knead

Divide into two equal portions; wrap in plastic and refrigerate

Roll cool dough to 1/8 inch on pastry cloth using a rolling pin cloth cover

Cut out shapes; transfer to tray and dock decoratively

Bake for 8-9 minutes, until a very light golden on the bottom (still white on top)

Cool on rack; decorate with icing and silver dragee
Instructions for Almond Butter Icing:
Mix all ingredients together until the consistency of play dough; refrigerate in a sealed container

Take out of the fridge 15 minutes before needed