From Deb: Now that is a labor of LOVE!
Yesterday was my "wash-my-hair" and "put-my-makeup-on" to go out, day. I have been hiding for several reasons. I am tired. We are renovating and it is hot. Deb had told me she "had something for me", so we were meeting for coffee at the Italian Centre, South. When someone tells me they have something for me, I get very excited, and very curious. On this day, I was also excited to be just getting out. Love the Italian Center. Meanwhile, Ntala from our Cheesepalooza project, whom I had not yet met, was coming into town and also had something for me. Talk about a "two-fer"! She was also hitting the city around 10, as she lives on a farm near Barrhead, so I suggested she meet me at the same place.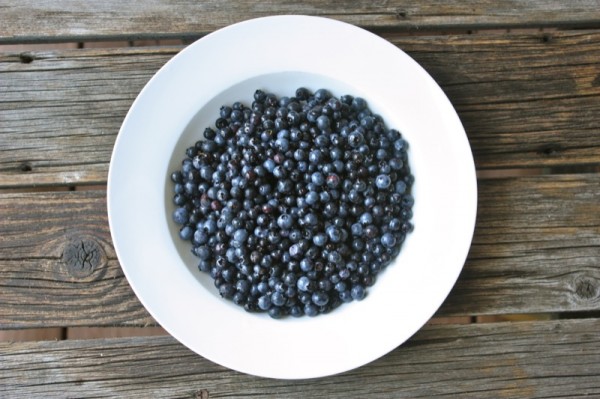 Double good reason to get my hair done. Not only does Ntala live on a farm, make cheese and raise her two lovely children, she is a hair dresser! Talk about multi-talented. I had just walked in the door and hadn't even peeked in the coffee shop to wave to Deb, yet – whom I knew would already be there, when Ntala phoned. She was there too. We had a lovely visit. She also got to meet Deb and the lovely and demure Londyn. It was so wonderful to meet her and her two kiddles. She couldn't stop long, so out to the car to get her offering, and voilà: 4 different colourful squash as well as a little homemade goat cheese! How lucky am I? She had told me to bring my cooler, so in it all went, good-byes were said with a promise to visit her farm in September to make some cheese! I cannot wait!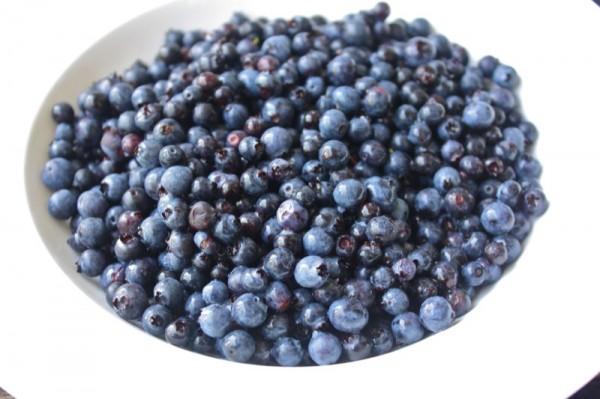 I return to our table and Deb presents me with these tiny, gorgeous, flavourful hand-picked and and immaculately cleaned wild blueberries! She had told me that they grow around her parent's farm, and I have never seen them growing in my life: Alberta raised and bred, too. I have bought them frozen, but never before tasted a fresh one. I was delighted and surprised to actually discover a hint of a Saskatoon berry flavour. I have always professed that these two berries are as different in flavour as apples and oranges, but the wild ones do share a similar little "somethin' somethin"".
I could tell these would have taken forever to pick. I wish I was as generous. I will share my pie, but not my berries. Deb is a good role model for me. I cannot and could not express to her how deeply touched I was by this gift. And, it was not the first one. I was to head out to her parents farm for some wild Saskatoon picking a few weeks ago, and could not make it. Guess what I got? A bucket of wild Saskatoon berries to make a pie. The wild berries have more flavour, to me. The domestic are more plump and jucier, but a wild berry is a wild berry. Thank you, Deb! I cannot wait to make these little dainties into miniature tarts similar to my Prairie Summer Saskatoon Berry Pie.
That will probably have to wait until Sunday morning as tomorrow morning I am making Chévre and another batch of Cabécou. Today I made Whole Milk Ricotta with citric acid and it is stowed in the fridge for Thursday's tasting in all it's fluffy and creamy glory. I also made feta which is hanging now (it must hang for 4 hours before I put it in the mold. ) As well, I made lots of "Vanja" food for the freezer, and fed our drywaller!
Busy days are the best when everything turns out as it should. After the cheese making in the morning, we are headed out to Nature's Green Acres Farm to Blair Lebsack's Second Range Road 135 Farm to Table Dinner! I am looking so forward to that.
And then, on Sunday, I will be writing about the incredible variety of peppers I found at the Italian Center. I have tasted them. They are vying for position on my favourite food list, trying to push out the tomato! Mom and I will also be making her deadly chocolate zucchini cake and then I am going to try a recipe I have found recently for zucchini bites. Little appetizer portions of flavour, theoretically. We shall see.
Lucky me! Lucky me! Lucky me!