Brioche Hamburger Buns: Merging of Three Bubbles to Celebrate Return of Sunday Suppers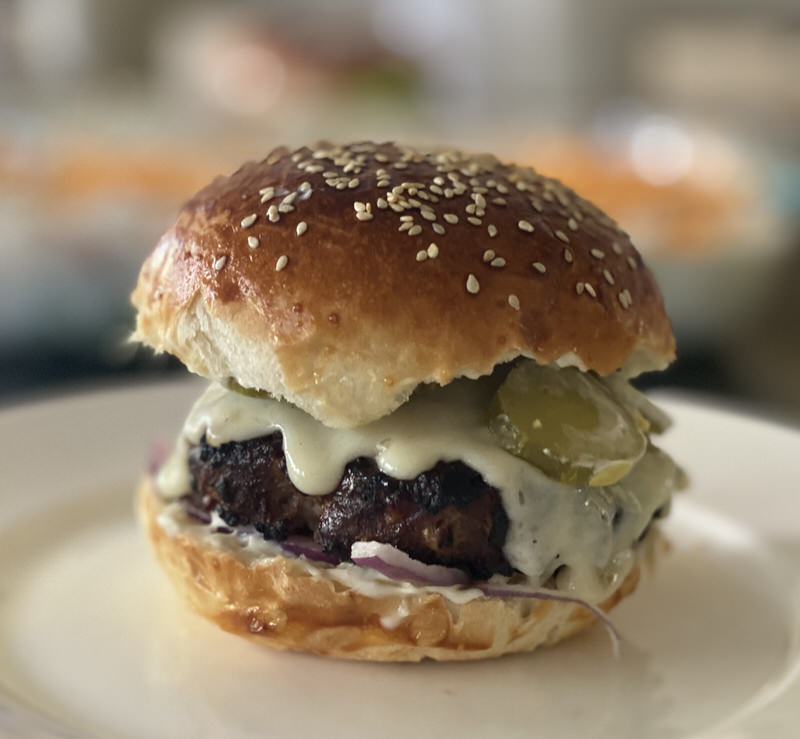 Brioche Hamburger Buns: Couped up Celebration as we Escape to enjoy a Casual Sunday Supper Together!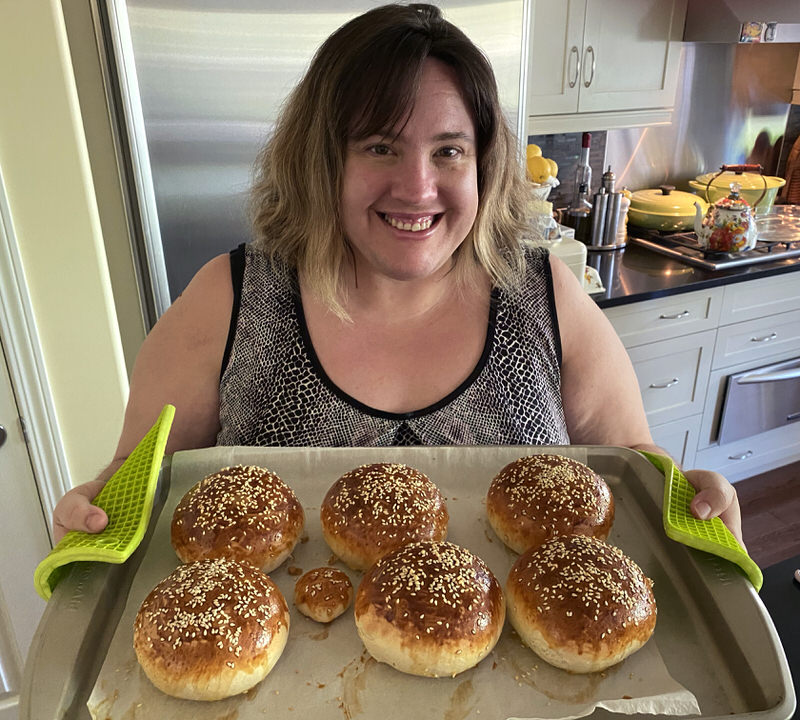 Ragan made the buns. The meal was her idea. Getting together was mine. It was WAY past time. Convincing my mom to "join her bubble" with "my bubble" and "Ragan's bubble" took a little convincing. None of us had left our home since March 11. We were all pretty sure we were virus-free (haha) and I knew with the beauty and onset of Spring that now was the time to re-establish our long-standing Sunday Supper tradition.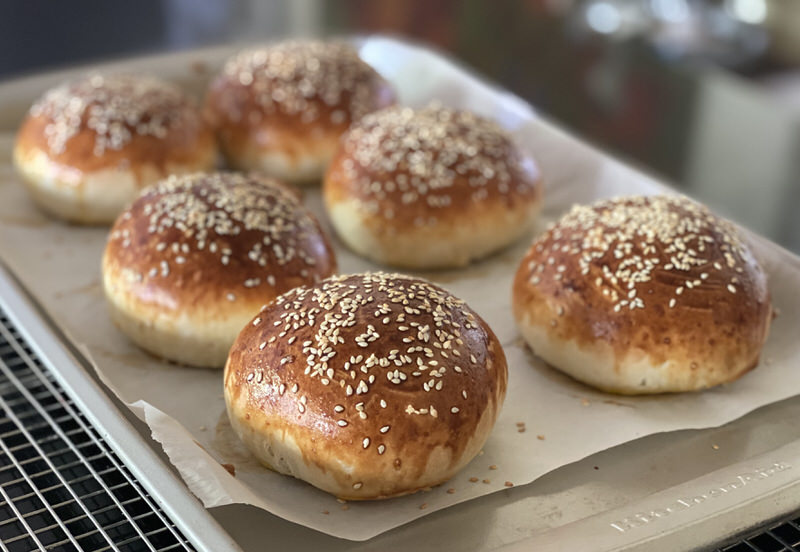 Once we all agreed, there was no question about what the menu would be: HAMBURGERS! We are kind of famous for them at our house. We like to think so, anyway!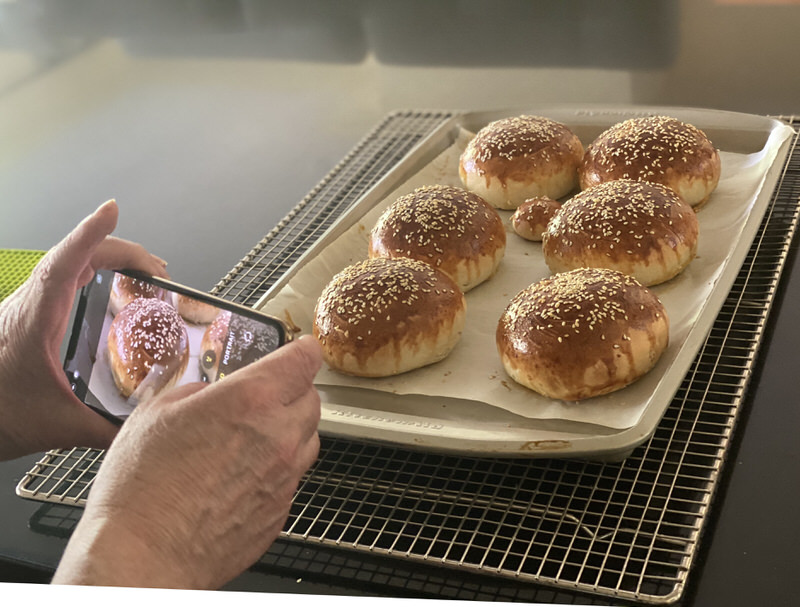 Both Ragan and I sell Thermomix® (the most versatile kitchen appliance on the planet, just ask, and we'll book you in: haha) so there was a lovely looking Brioche Hamburger Bun we were seeing rear its head on our favourite Thermomix Facebook Page: Thermomix Canada Community (pop by). It looked too good to be true, so she said if I make the burgers, she'll make the buns. What mother can refuse such an offer. Not I!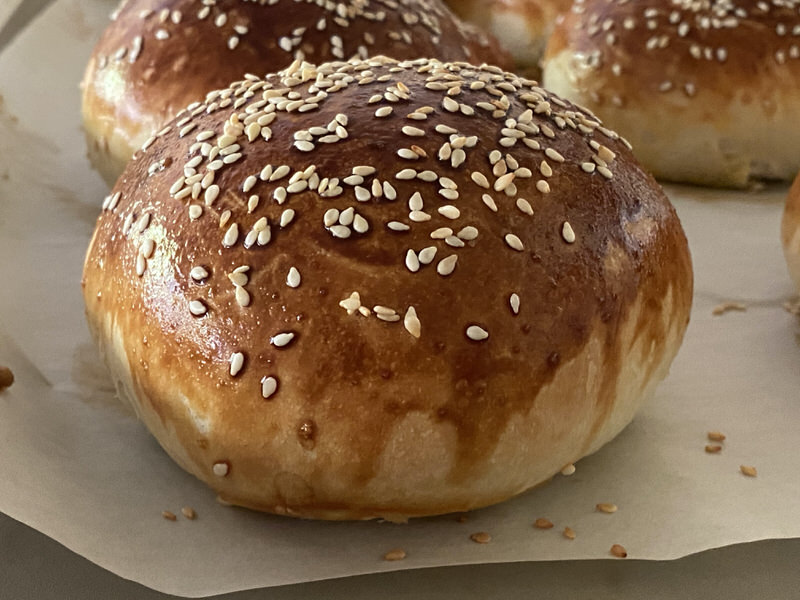 Then mom (who was 90 in April, during Covid-19, party still to be had) offered to make the Seven Layer Salad. Yes, please! So, I decided my contribution would not only be our famous family hamburgers, but also Tomato and Basil Bruschetta salad to top my favourite Basic Garlic Bruschetta. A little too much starch, maybe – but the flavours of Spring and Summer and Togetherness and Home.
Brioche Hamburger Buns: The Fixings and Tips for Making the Buns Alberta Beef Big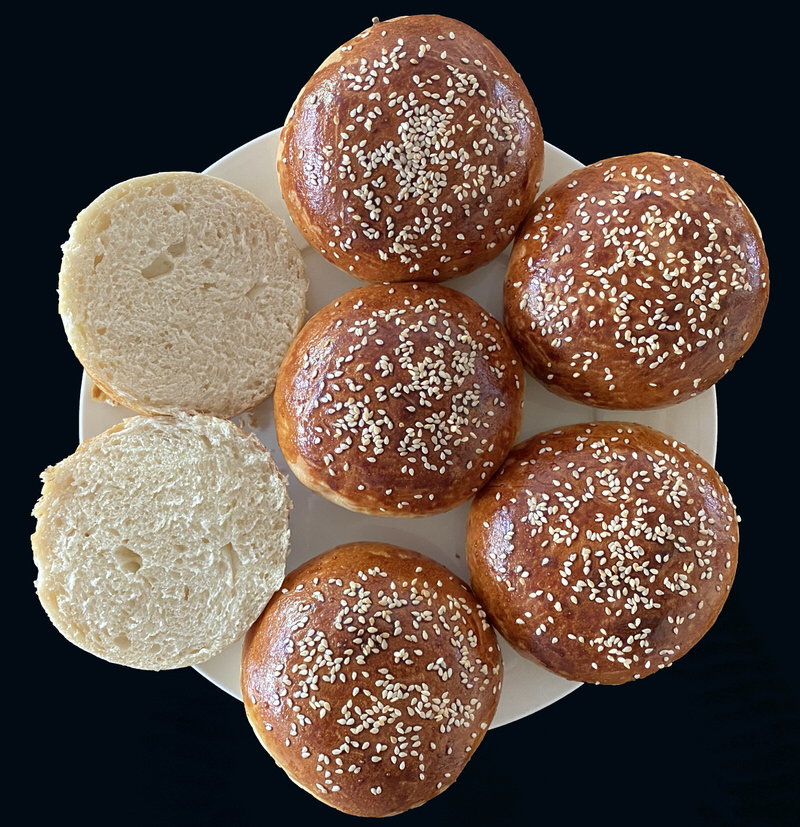 And, TA-DA! Following the recipe on Cookidoo®, the Thermomix® recipe platform was SO easy, and Ragan's buns turned out so professionally. I was ultra impressed. The recipe Yield is 9 buns, but we make our Alberta Beef burgers with our know-your-farmer beef that we buy from Nature's Green Acres every year with our 1/2 cow, and these are Alberta-sized burgers! So, our buns had to be big enough to accommodate them. Instead of the typical 80 grams of dough per bun, we made 6 from the recipe at 1.35 grams of dough per bun. Perfecto!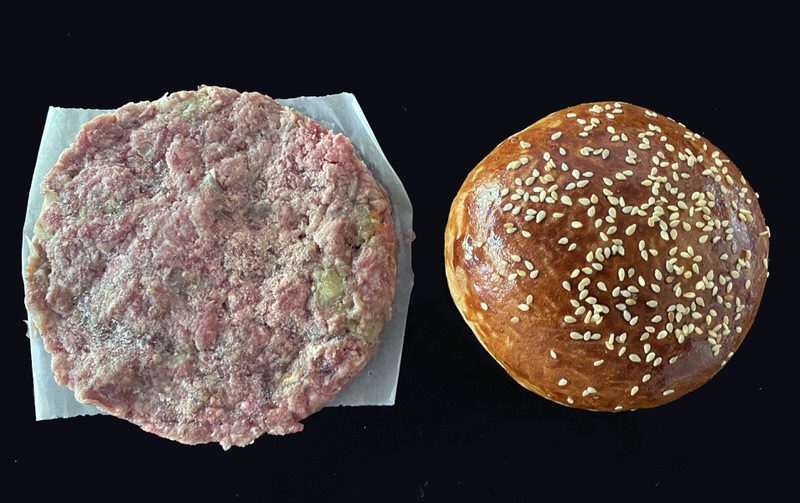 The raw burger looks too big, but you will see how perfect this size is after it is grilled.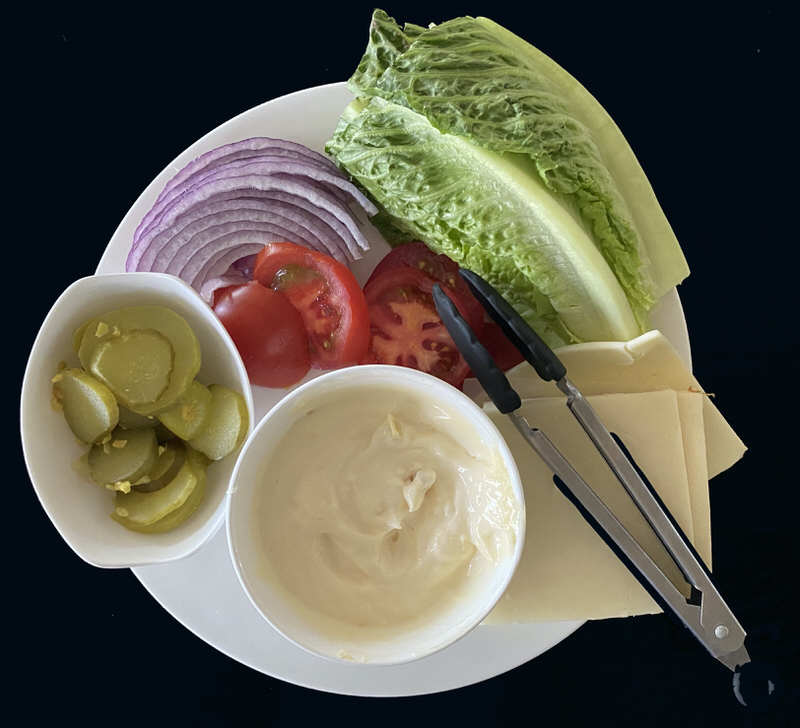 We keep the fixin's pretty basic: lettuce, cheese, tomato, pickles and mayo. A good patty needs nothing more. Orange cheese makes a better photo, but I do not like that sliced cheese.
Brioche Hamburger Buns: The Fixings and Tips for Making the Buns Alberta Beef Big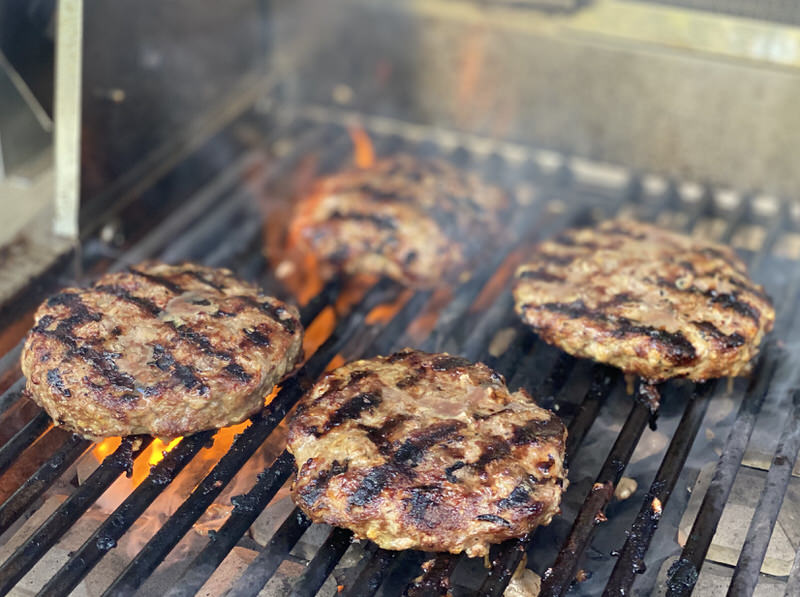 When you buy your ground beef from a farmer you know and a butcher you like, you don't need to worry about cooking your hamburger until it's suffered a second death. Lovely, plump and juicy is my goal. Not pink, though. Usually about 4 minutes a side for a burger this big. Two minutes for the grill marks one way (I have a high-heat searing BBQ up to 700 degrees) and flip. Two minutes the other side to get the grill marks, and flip back the other way to get the cross grill marks. Two minutes more, flip and add cheese for the last of the two minutes.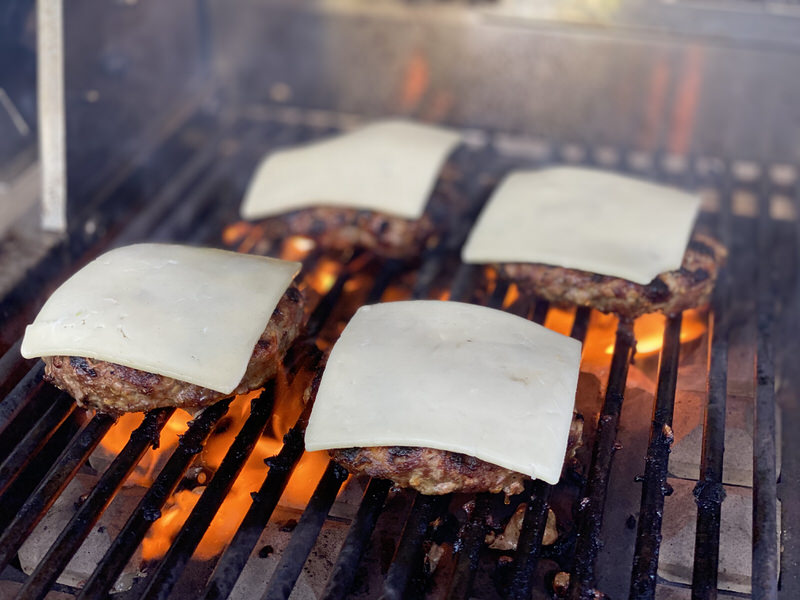 One minute left, add cheese and melt. YUM!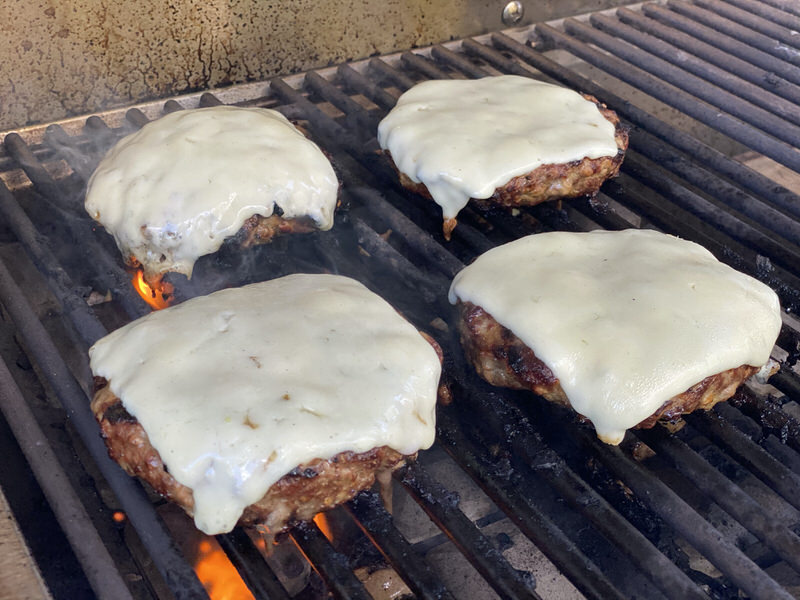 We all knew to have our buns ready because hot off the grill is the best!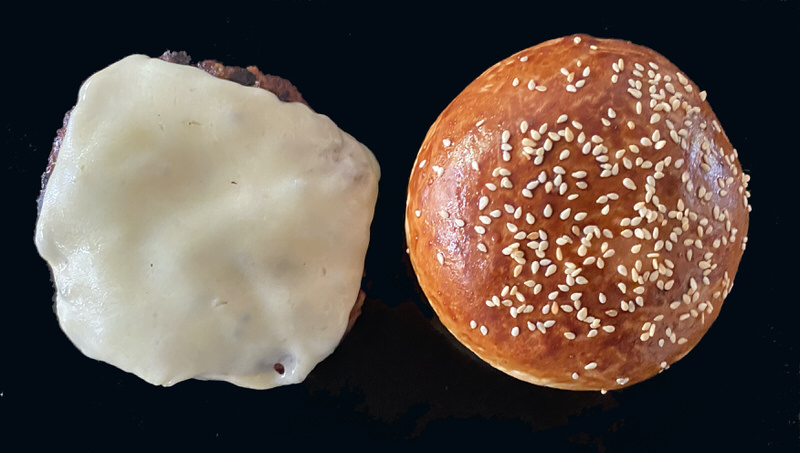 See how perfect the bun size is for our Big Alberta Hamburger?
Brioche Hamburger Buns: Valerie's Fixin's (a Step by Step Celebration of this Moment)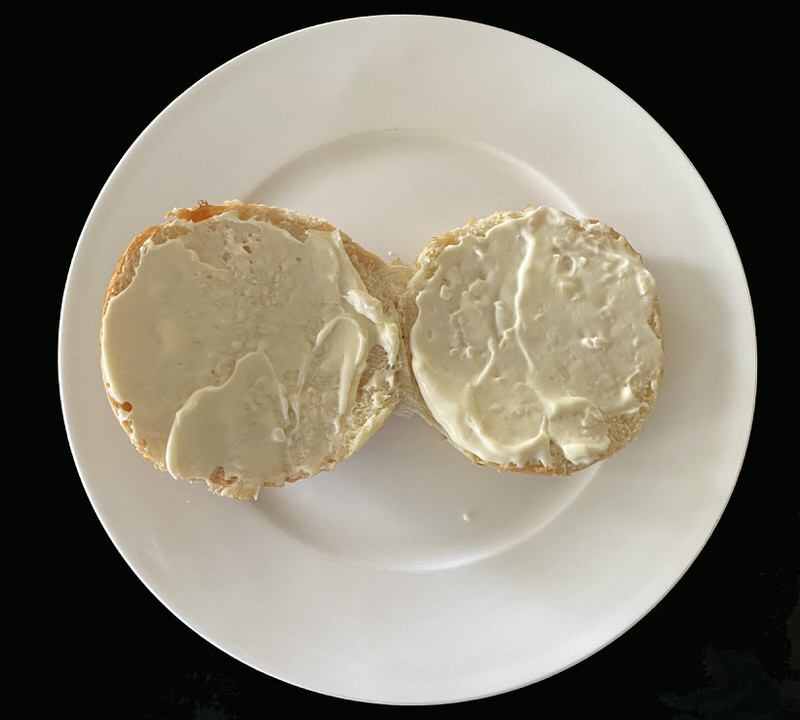 Butter the bun. Sure! I didn't. Slathered it with mayo. Homemade or garlic mayo is my favourite.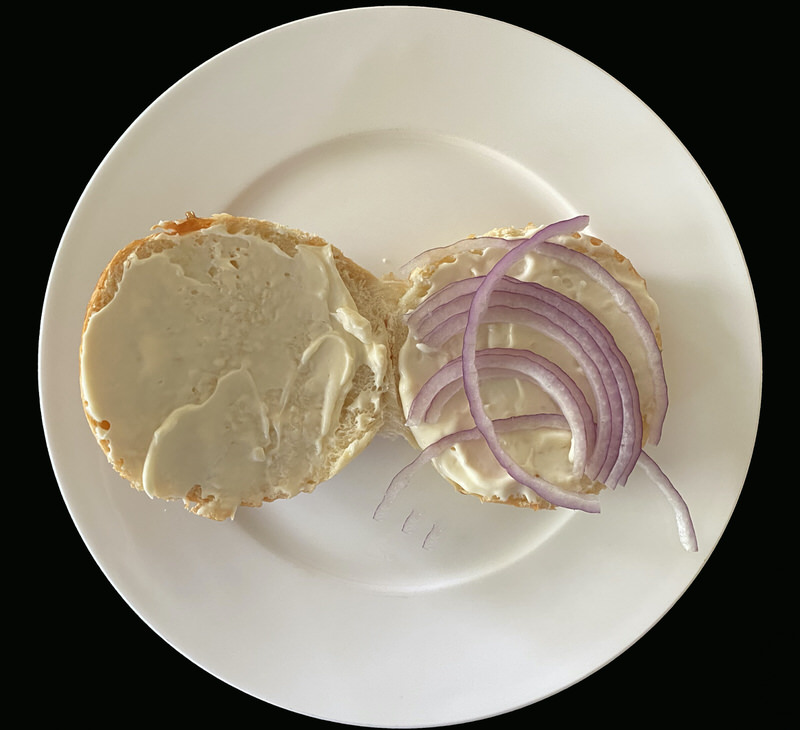 Usually, I would add a full thick round of very juicy mild onion. But, this is Covid-19 and we get what we get at the store. This red onion was HOT so this is enough.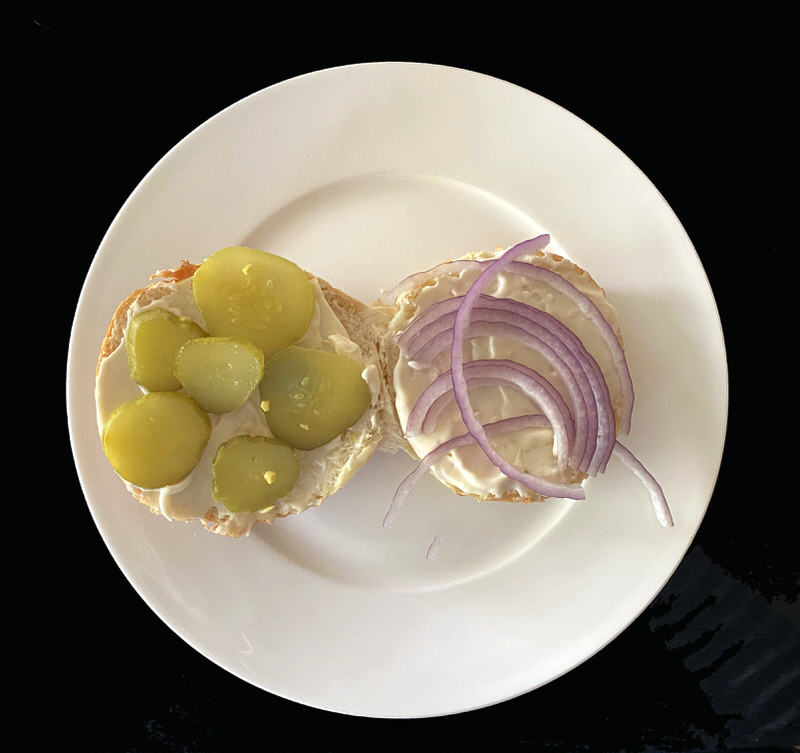 Lots of lively garlicky dill hamburger pickles.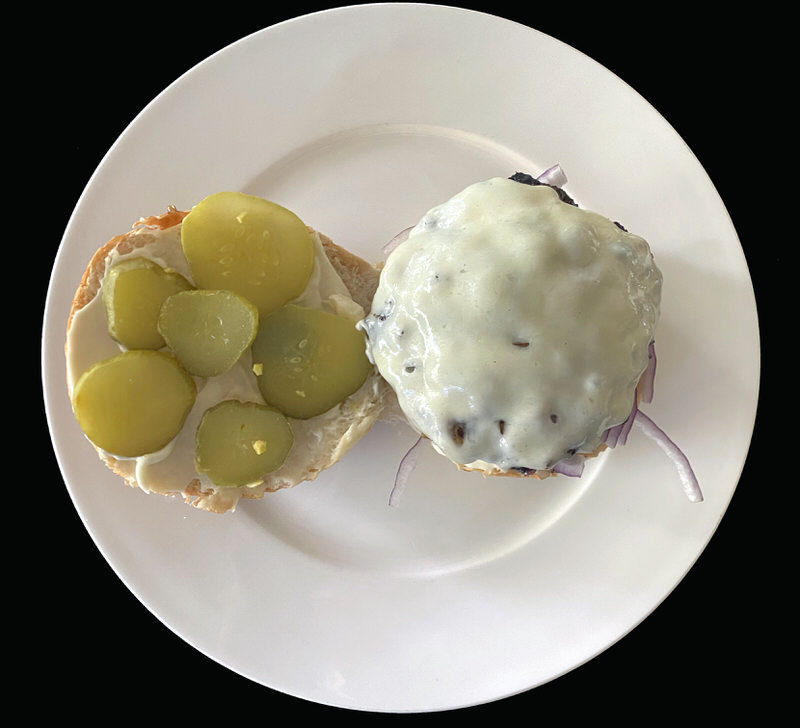 Monterey Jack, it is for me, with lots of onion, extra pickles and mayo. Lettuce and tomato add colour to a photo like orange cheese, but that's not what I need on my burger.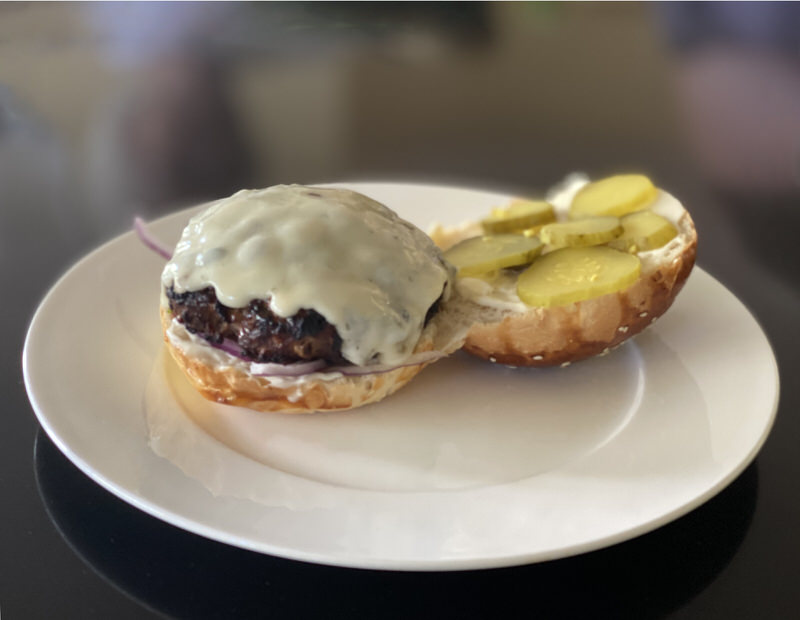 I can't eat the whole thing (and should not be eating the bread, but today, I allow myself this opportunity). Gorgeous. No?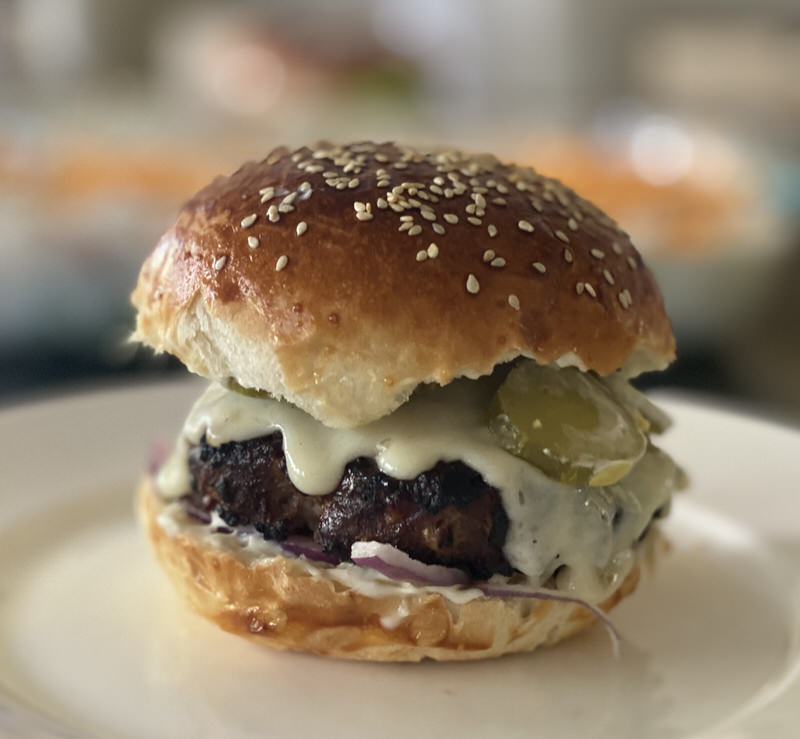 Time to add the sides to my plate, and get out in the sun to enjoy the moment.
Brioche Hamburger Buns: The Sides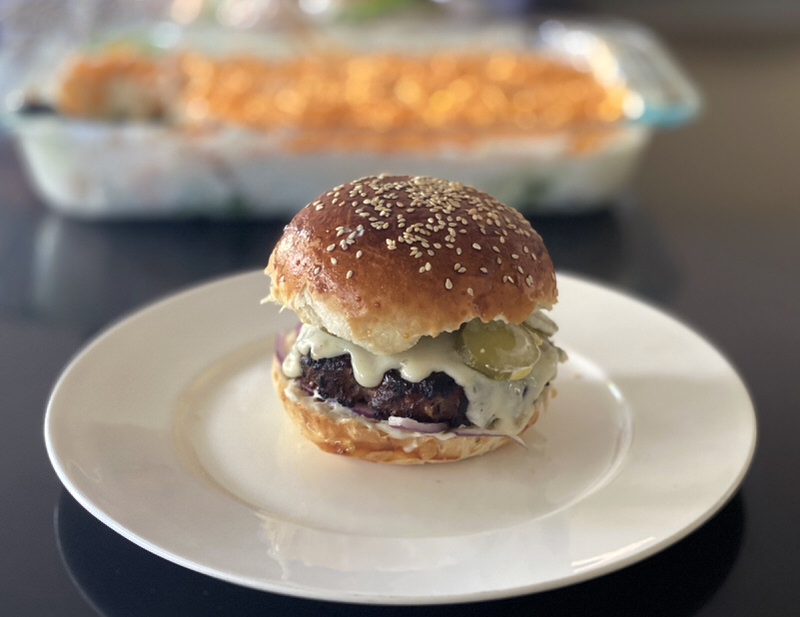 The Seven Layer Salad is a family favourite and an Alberta potluck favourite from the late '70's.
Island is where we do our casual meals and I set it up in case it was too hot, or breezy or buggy to eat outdoors, but fortunately, it was perfect, so we filled our plates here.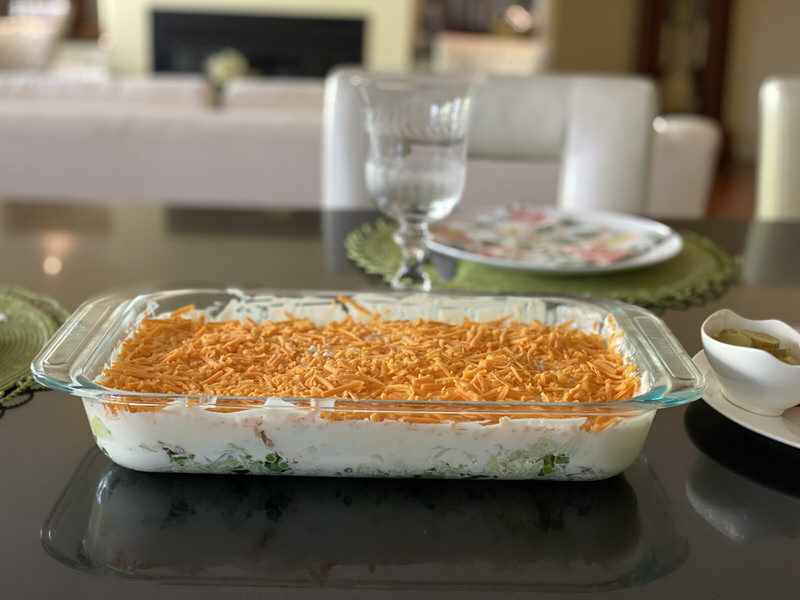 A little moment to ogle the first seven-layer salad of the season. Thanks, mom!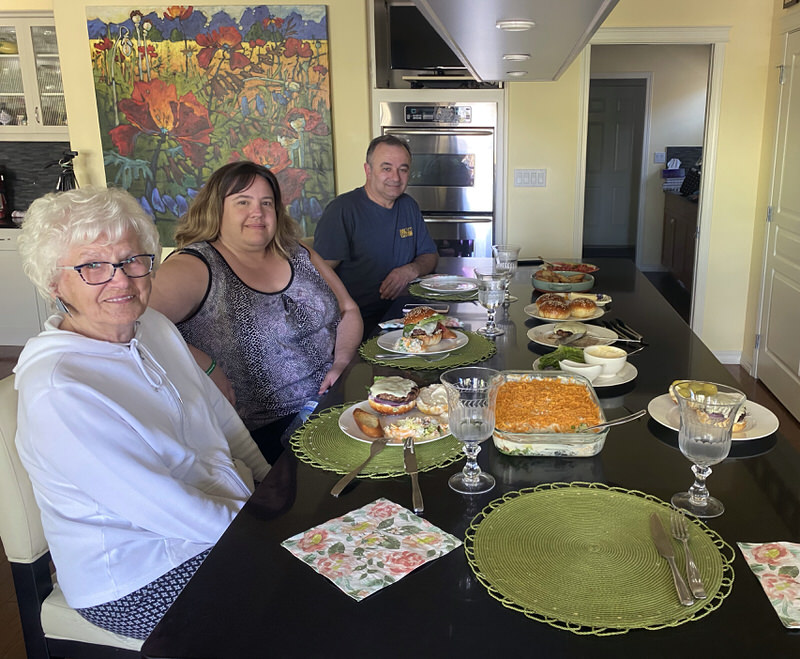 Just a moment for a photo opp, then, "Come on! Let's eat outside!"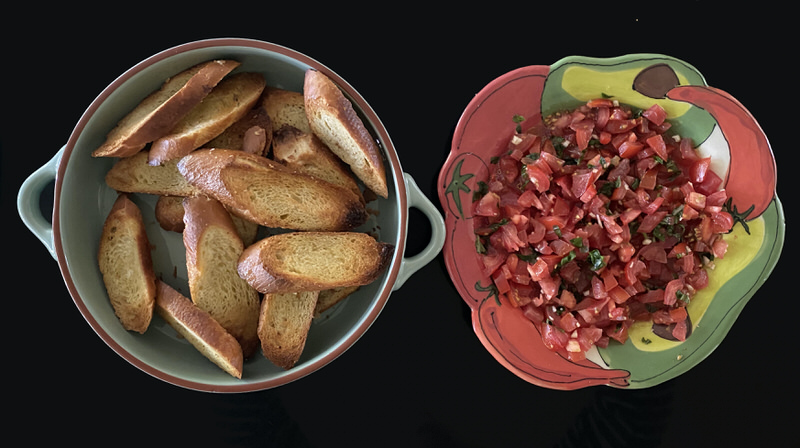 I could make a meal of these two items, above, alone. Thank you, my dear friend, Luciana, for introducing me to this so many years ago… it must be almost 35 or 40 years now. I remember the first time Luch brought a bowl of this lovely tomato basil garlic topping with her bruschetta toasts to a party for an appetizer so many years ago. None of us had a clue what to do with it. She did a 30-second demonstration and I promise you she had no leftovers to take home. We all got the recipe and made this for every party in the next few years. I make it almost every week in the summer.
Brioche Hamburger Buns: Sunday Supper Picnic in the Backyard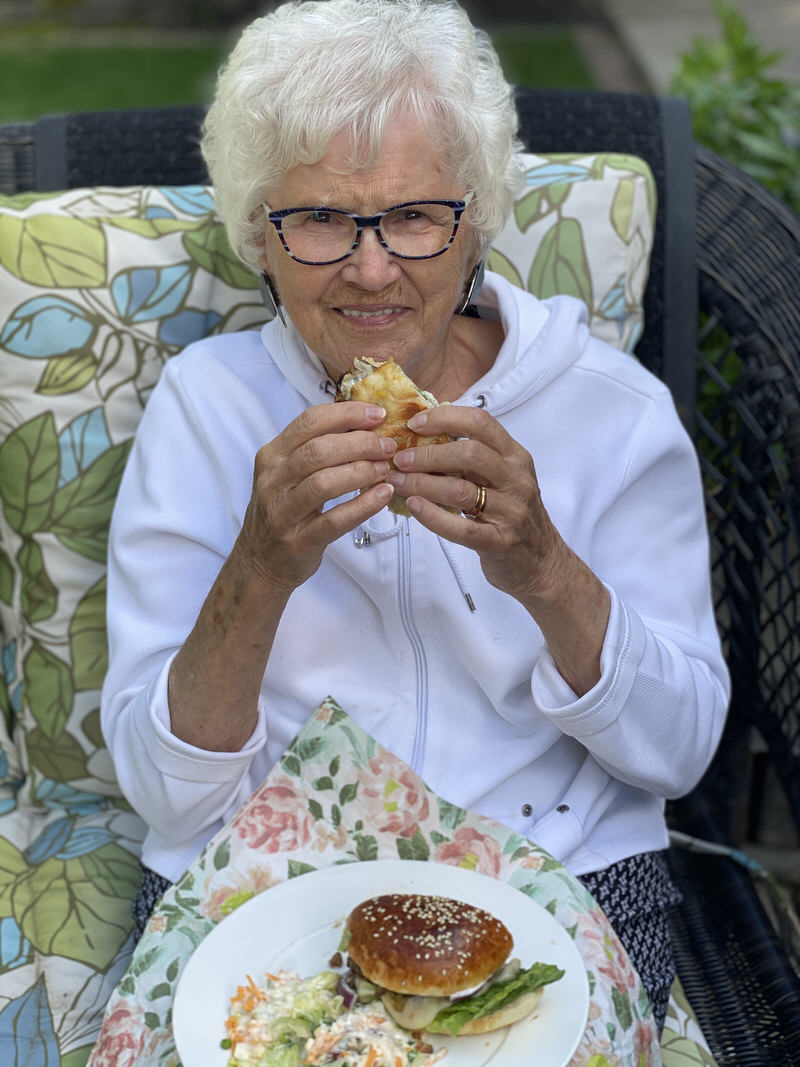 Yes, I have tables and chairs. But, we hadn't had enough sun to get out and sparkle and clean everything, so we pulled up the coffee table, cleaned it and had a little intimate meal together in the sun. I was so happy to have my family together again on a Sunday. We have had Sunday dinners since dad passed: over 6 years now, every Sunday, without fail.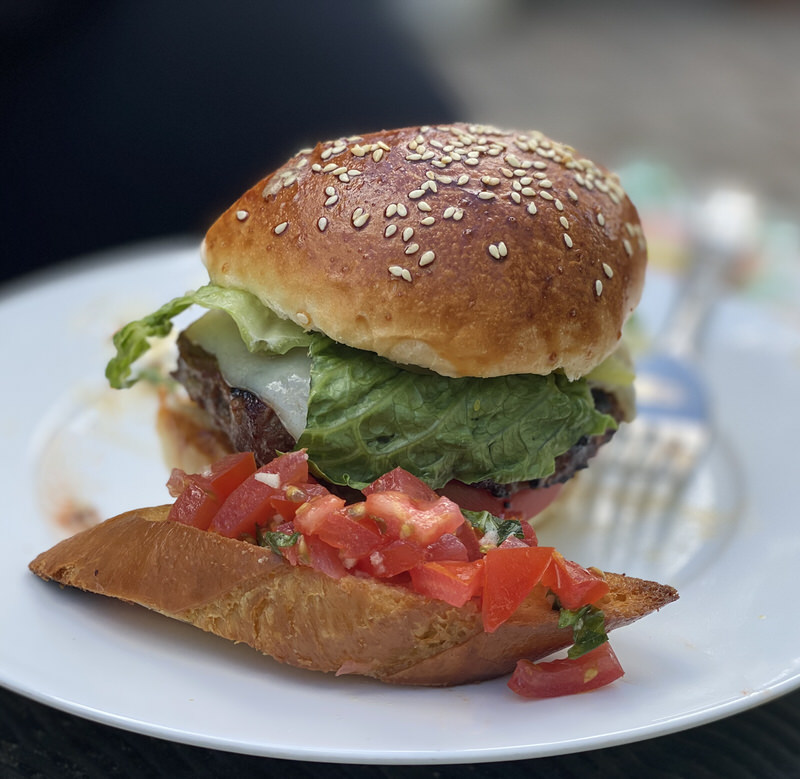 Ragan's burger and her bruschetta side.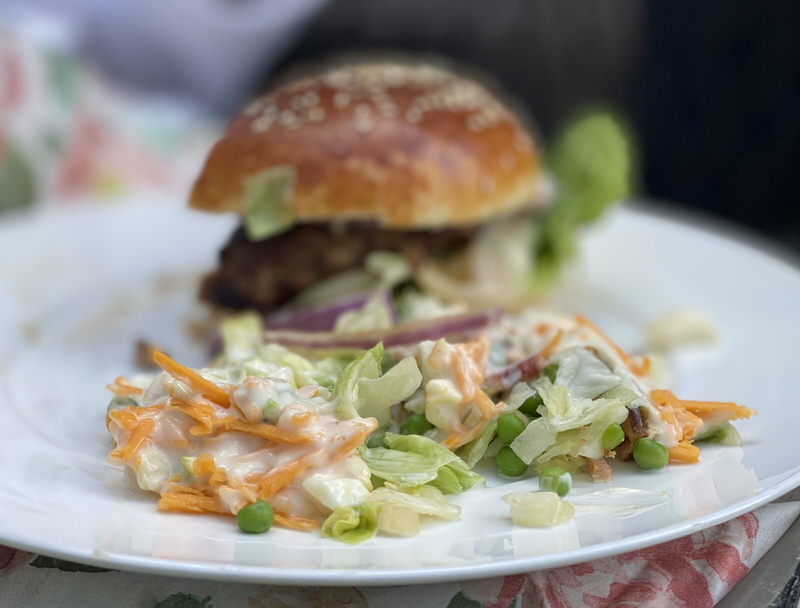 Mom's burger with her salad. Firsts are always the best, and this first was a celebration of "bursting our isolating bubbles" for safe family members, a celebration of the onset of summer (to come soon) and a celebration of a homemade delicious nutritious casual family dinner. Ah, just being together was so edifying for the soul.
Brioche Hamburger Buns: Recap of our Menu
What did we serve? HAMBURGERS!!!! On the grill! YUMMERS!
No Room for Dessert!
What is your favourite casual summer Sunday Supper fare? Have you been able to reunite with your family yet? What is your favourite Covid-Cooking recipe? Share yours and I'll share mine! Let's chat in the comments below!