These are pucker perfect!
For all of my Thermomix Clients and Friends: Try it, you will love it!
This recipe is the best curd for a French Lemon Tart that I have ever had. Not the best lemon curd that I have ever had. I love my traditional curd recipe for these tiny bites. It is truly tart and sugary all in one bite. This curd is perfect for a large dessert tart. YUM! I was really excited when I tasted the silky smooth, though tart, buttery goodness. And, the addition of the white chocolate would make the perfect ganache for a French Macaron. I will make Lemon French Macarons now that I have this recipe…. ah!!!!… soon!
Fo
r now, I need to make some more of this, plop it into my fridge and fill my frozen mini tart shells with a dollop of this perfect puckery pleasure whenever I have guests!
And here is a video from Chef Laurent in Australia making his favourite recipe for a lemon tart. It can't be as scrumptiously divine as the one above, or can it? I cannot imagine it. In any case, he doesn't share his complete recipe, but it is a great eye view into what the Thermomix can do!
I grow Bowles Black Violets in my garden. The do not have the flavour that the gorgeous French violettes have, but they are beautiful to sugar. If you are interested in learning how, you can find out here.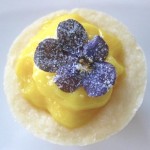 Lemon Shortbread Tarts with Lemon Curd or Lemon Curd Ganache


This is the best lemon curd and the switch up to making the white chocolate ganache is just too much fun! These tarts are the first empty plate at every party.
Ingredients
zest of three lemons

160

g

lemon juice

, freshly squeezed after zesting

160

g

egg yolks

(usually 8 yolks)

100

g

sugar

180

g

soft butter

650

g

Callebeault B2 white

, or Valrhona Ivoree chocolate (if making the ganache)
Instructions
Scale all ingredients, except chocolate, into TM bowl; cook for 4 minutes at 90°C on speed 3

Scrape down sides of bowl; cook 3 more minutes at 90°C on speed 3

Cool to 60°C, if making the ganache; if not, pour it into a shell, or into a tightly sealed container; and refrigerate
For the Lemon Curd White Chocolate Ganache
When cooled to 60°C, scale chocolate into TM bowl; process 45 seconds at speed 3 and another 45 seconds at speed 7

Pour it into a shell, or into a tightly sealed container; and refrigerate
Recipe Notes
This is exquisite curd for a French Tart before adding the white chocolate; the white chocolate adds a completely different dimension which offers a lovely change