Thermomix Distributors Visit Edmonton: Stir Fry Prawns/Shrimp and The Chinese Dumpling
That dumpling even tastes more delectable than it looks! Believe me! What a treat we were all in for last week! We had five days notice that Merry and Victor were visiting us from Vancouver. You would have that it was the early 1800's the way we panicked! Lynda and I had wanted them to come for over a year, but I was thinking I would just go there to meet them. It hadn't happened in over a year, and then, "Ringy-dingydingy! Hello! Valerie, Lynda, Hanna! We are coming to see you!" "But, but, but, but, but… " We all had a lot on our plate, but cleared what we could to make some time together on the Friday evening and more later on. Therer was not a planned conference, or even an agenda, but it was a wonderful, and long overdue warm evening of cooking together. Everyone came with something to prepare and to share. I started with my
Yogurt Cheese Balls
, then made
white and whole wheat bread
and
Porcini Chestnut Soup
with White Truffle Oil. Merry stir fried beautiful black tailed tiger prawns in the Thermomix. She had marinated them for three hours in some seasonings and a bit of white wine. I had no idea they were so easy to do. She put the blade on Reverse at Speed 1-2 for three minutes. They were the best prawns I have eaten in my life. Absolutely jumped right out of the sea and on to my plate. YUM!
Then she made dumpling dough and the filling for Chinese Dumplings. This was a lot of fun. I need a pasta maker, Vanja! Merry was so suprised we didn't have one. Good thing, too. Half of the fun was rolling them by hand.
See how Merry is beaming? She should be. She did a wonderful job of teaching us all how to make the most magnificent Traditional Chinese Dumplings I have ever had.
She and Victor brought a very special kind of sauce with them that you cannot buy in Canada. It is a kind fo mushroom ferment and is meaty and earthy with a depth of richness that I have never tasted, yet it is also light. It brought the moist parcels of fragrant flavour a presence that really grounded the dish.
Hanna made crepes with cheese filling that she made in her Thermomix. I will try to get a link for this really lovely recipe.
Meanwhile, here is the shrimp recipe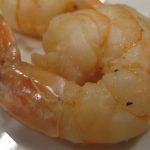 Stir Fry Prawns or Shrimp


These shrimp are absolutely delicious and take only 3 minutes to prepare once marinated. The cleaning takes a considerable 30 minutes and marinating 2 hours, but they are then ready for immediate service after cooking! The best shrimp recipe I have used!
Ingredients
Ingredients for Marinade:
3

cloves

Garlic

, minced

5

g

Ginger chopped

15

g

White Wine

Pinch of sugar

Salt and freshly ground pepper to taste

10

g

Oil

15

g

Soya Sauce

20

g

Oil for Stir Fry
Ingredients for Stir Fry:
400

g

Raw Prawns

, shelled, de-veined, and marinated for 2 hours
Instructions
Instructions for Stir Fry:
Place 20g oil into TM bowl for 2 minutes at Varoma, speed 1

Add marinated prawns for 3 minutes at Varoma on Reverse speed 1

Serve immediately