The quintessential Alberta Beef BBQ Bumped up a Notch!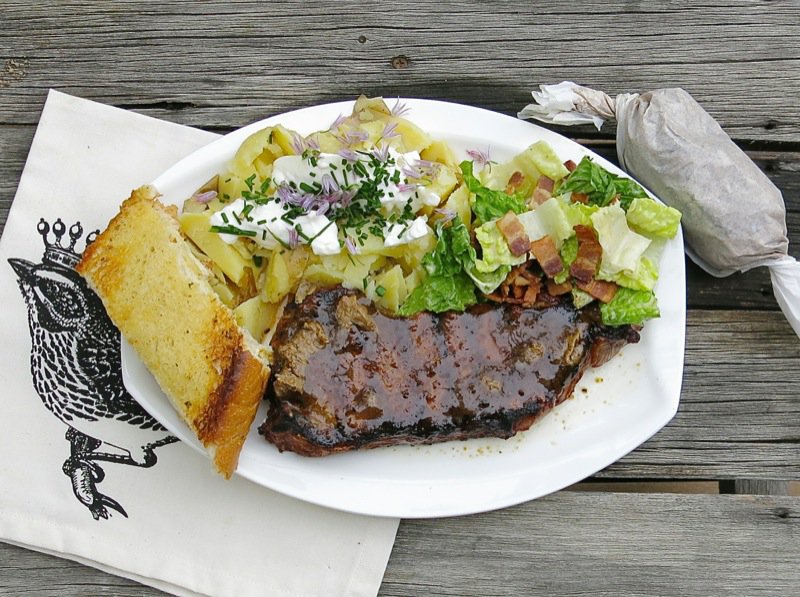 Al Picketts is a Canadian Food Hero. There is no doubt about that. I met him when I was in Prince Edward Island in May and spoke to him at length on the phone before that. This is a farmer with character, dignity, and a truck load of creative intelligence guiding his farming and produce practice. He makes the best black garlic in the world. Don't just take my word for it. Order some from him, and try it yourself. Read his story here.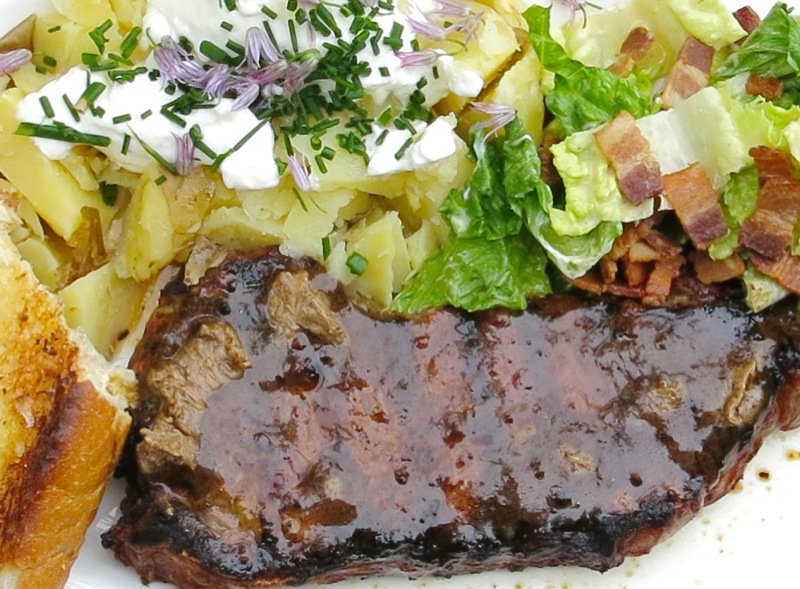 Black garlic? What is that, you may ask? The process of producing Korean black garlic does not involve microbial action and is a form of slow cooked garlic. It is often called a fermented form of garlic, though that isn't known to be accurate as "something", such as a yeast, bacterium, mold, or enzyme must cause fermentation and this isn't known to be the case with Al's garlic, either. Al is a garlic farmer and produces black garlic from a few of the varieties of garlic her grows. More details in my post about Al's story. Today is a celebration of his creation in this very simple summer black garlic butter recipe. Can you see it glistening on the steak, above?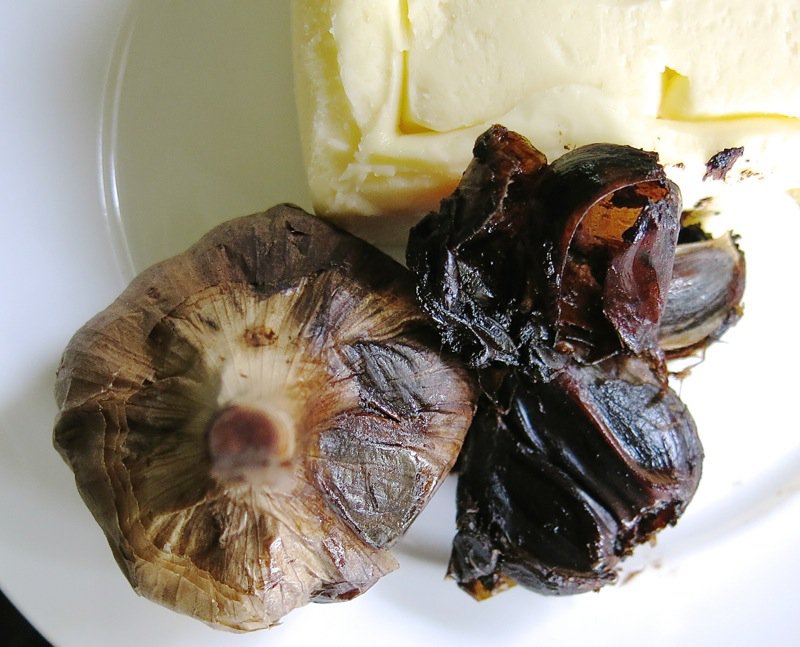 Al's garlic and a very good organic cultured butter.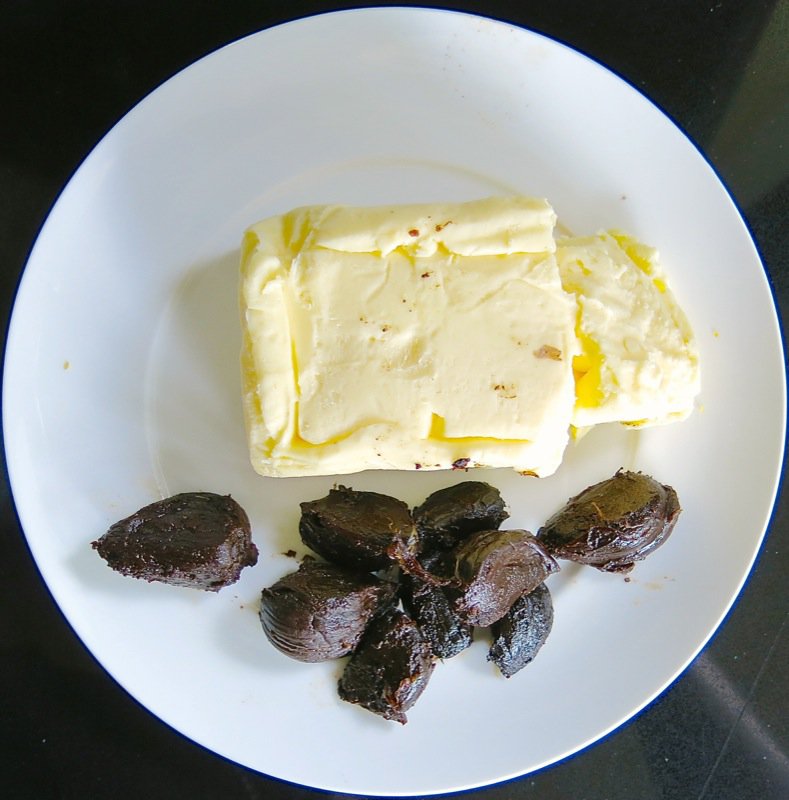 The cloves released from the garlic papers. Think about one clove per two tablespoons of butter. I have a little more than that in my mix, but that is a good amount to get a great flavour developed in the butter compound. It would be important to note that Korean Garlic is 60-80 dollars a pound. Al's black garlic is only 30 dollars a pound. That is still very expensive, but considering it is the best, a steal of a deal. He takes orders and will send it right to your door. If you buy 4 pounds, he charges only 100 dollars. That is the way to go. One pound will not be enough and the lifespan of the black garlic is unknown, but well over a year out of the fridge. Buy it from Al: al@eurekagarlic.ca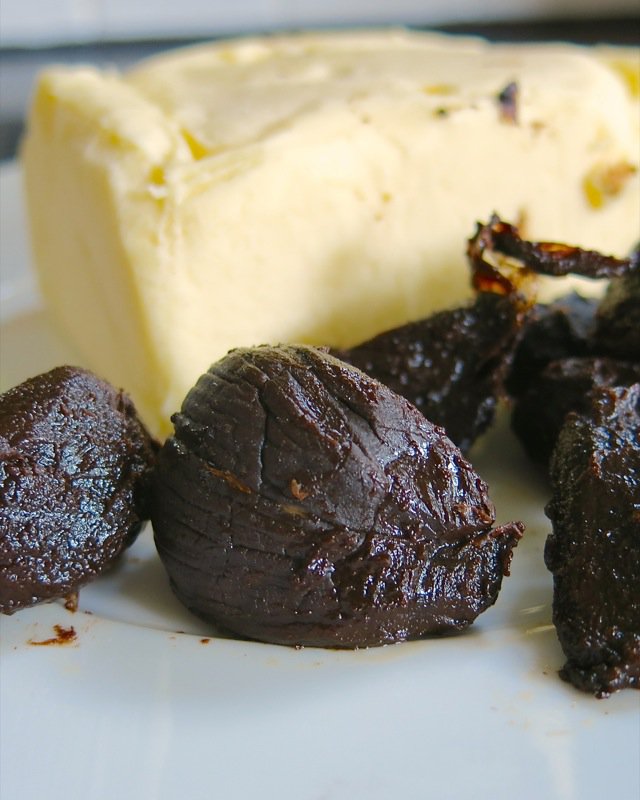 If you have tasted this, you couldn't look at this photo without salivating. The umami punch in this morsel hits all the high notes while strumming all the low ones at the same time.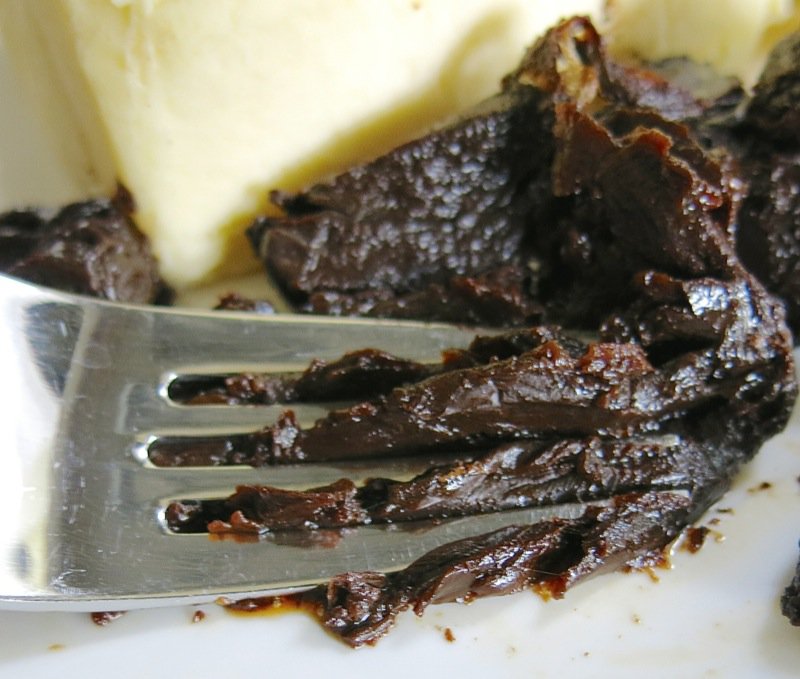 Korean black garlic has been around for centuries and is hard, like jelly bean without the outer layer: difficult to work with. Yet, Al's smooshes into velvet bliss with a fork.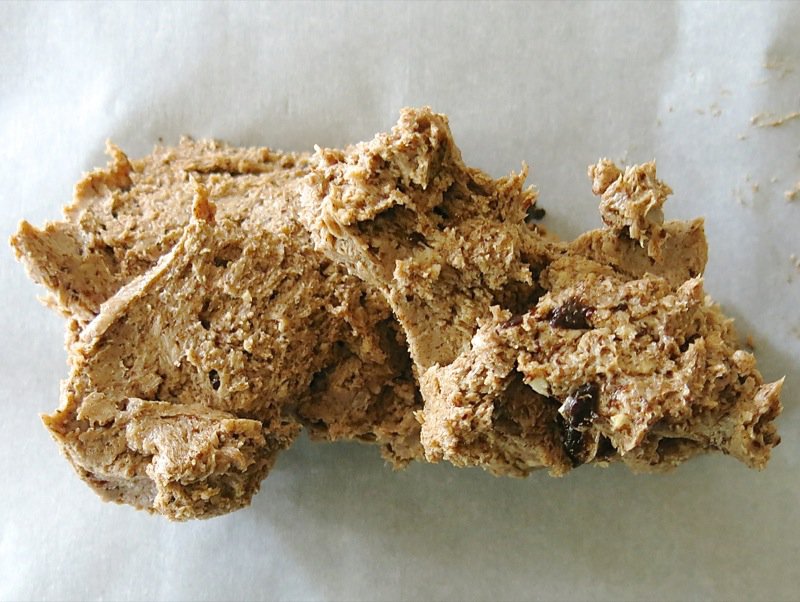 And mooshed into the butter… well. Wolfgang Puck once said that the best sauce in the world is a combination of Soya Sauce and Butter. I beg to differ. It is Al Picketts Black Garlic with Butter.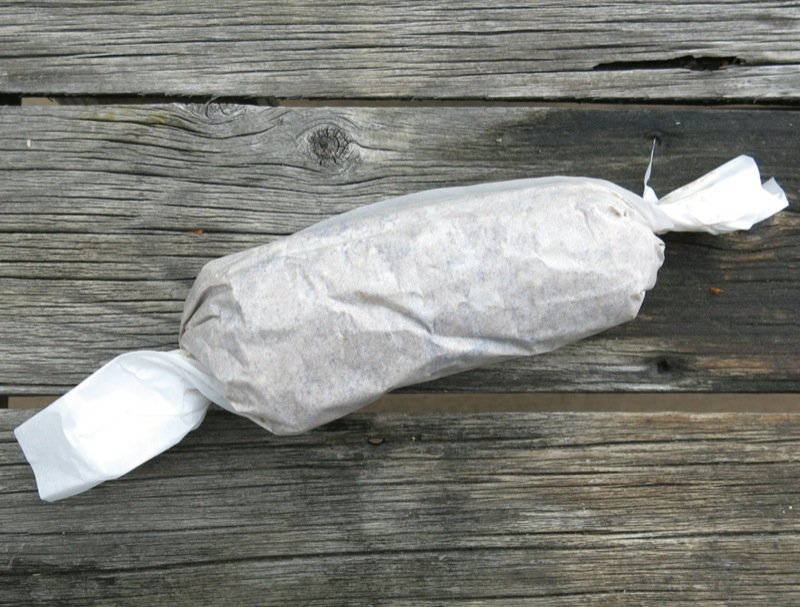 Formed into a long, and refrigerated it will keep a few weeks, if you can ignore it that long. It will keep in the freezer much longer. Slice off a disc and melt ontop of a hot steak or a baked potato. Oh, Glory Day!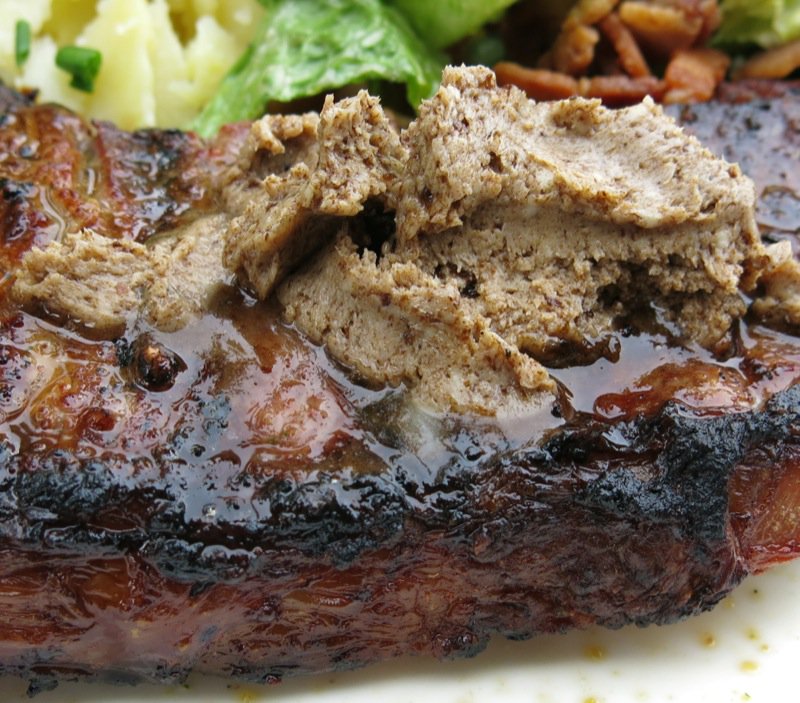 Or land a dollop on top of a hot steak before it is refrigerated. Guide it to melt all over the surface of that caramelized Alberta beef strip loin steak.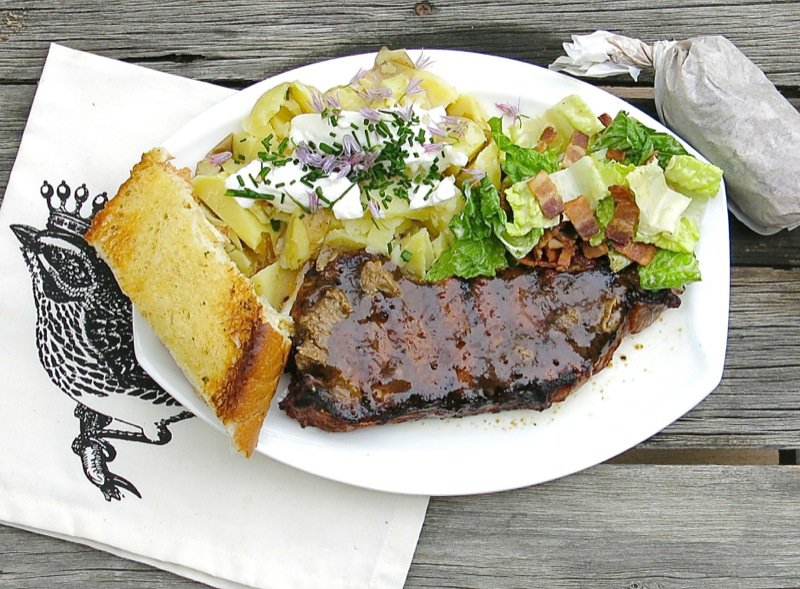 Add the classic accompaniments to this meal. Keep it simple so that this black garlic butter compound reigns supreme. Though, it would be difficult to overshadow, regardless of what was on the plate.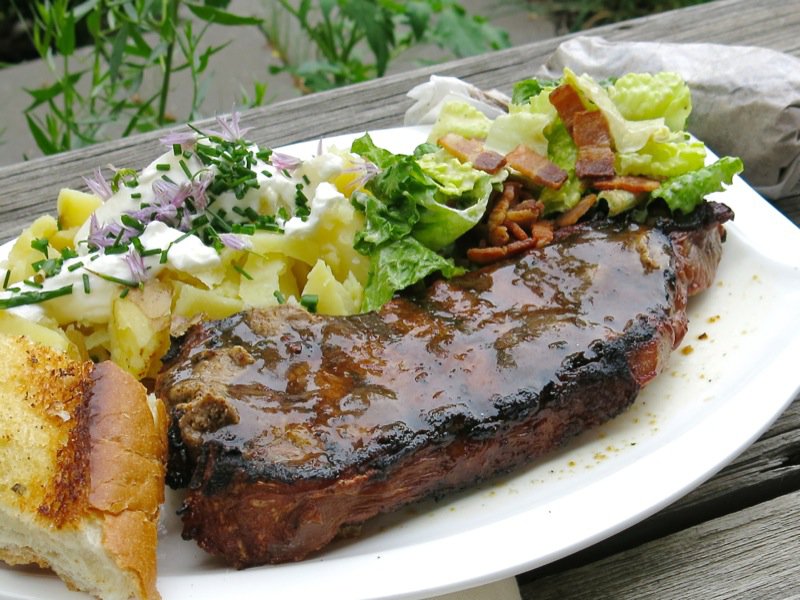 I will be scoping out all kinds of black garlic recipes, and I now know that others have also discovered black garlic butter – as great minds do think alike, for, after I "thought it up", I checked to see if it was "out there", and of course, it is. However, as a child calls a broccoli stem a tree and his parent thinks he is the first in the world to think this way, I feel as triumphant.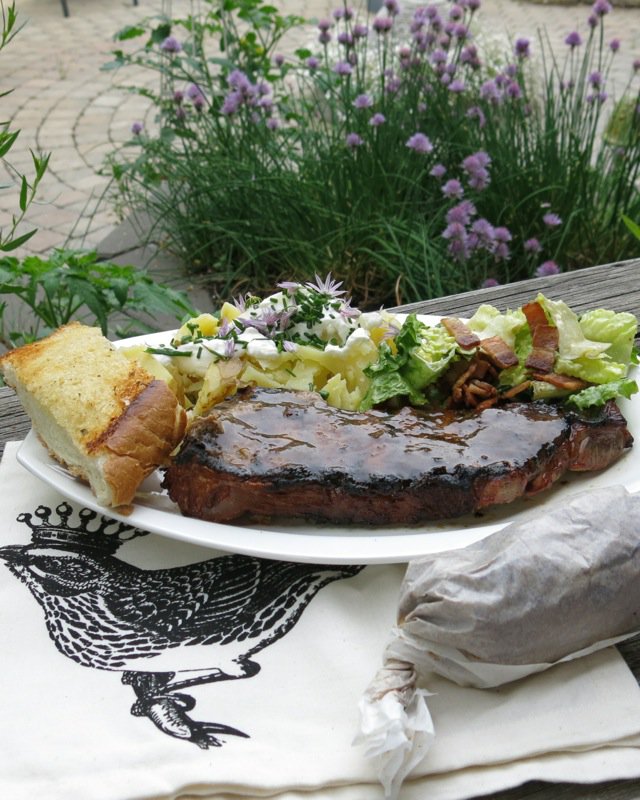 This is definitely my GO TO company recipe this summer. Bring it on! Come on over! I will treat you to this incredibly novel and addictive new to your palate experience. You will be hooked. I guarantee it.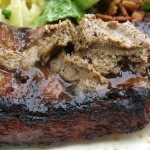 Eureka Black Garlic Butter
Al Picketts Eureka Black Garlic is the best in the world. If you aren't using it, don't bother making this recipe. Contact Al to get his garlic: al@eurekagarlic.ca
Ingredients
1/2

cup

or 115g organic butter

, unsalted

4-6

cloves

of black garlic

, to taste

1/4 - 1/2

teaspoon

salt

, to taste (I used Maldon and it makes a nice difference)
Instructions
Combine all ingredients together, until smooth

Roll into a log in parchment paper

Store in fridge for 2-3 weeks and in freezer for months

Serve by slicing a disc off the end of the log; melt onto steak or baked potato
Recipe Notes
Ratio: about 1 clove of black garlic for every 2 tablespoons of butter