A Mexican Cooking Class in Edmonton!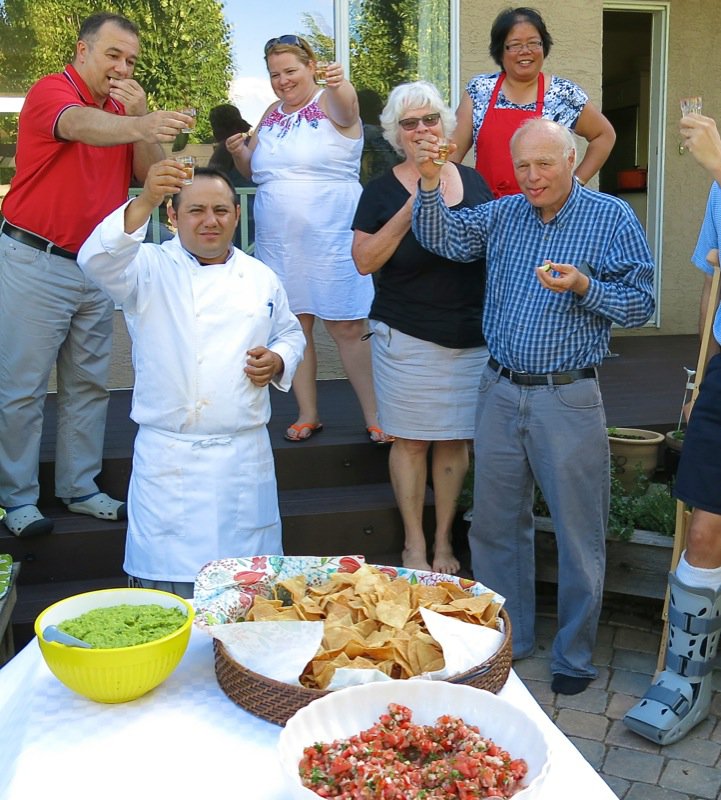 Salud! Oh, what a day it was! It really was. Attending Cancook in Cancun at Mi Cocina es Tu Cocina with Chef Claudia Garcia Ramos in February of 2014, I wrote an epic post about the experience, completely enamored. The article was so lengthy, that at the bottom, I added: Whoever actually reads this entire post deserves a medal, a prize, and award! Or, I can recommend my therapist? NO – if you actually read it all, let me know and let's cook Mexican together one day this summer!. Ming, Su, and Nancy chimed in, each noting the accomplishment. Meanwhile, Hugo Raya, a self taught local chef, sent me a tweet saying he would love to share his passion for the food of his homeland with all of us. And so it was.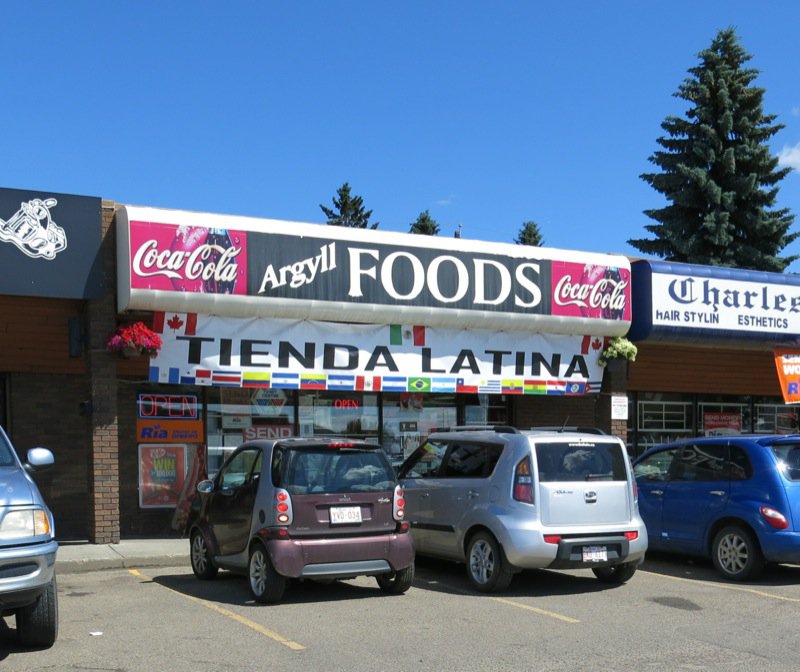 The day started with a tour of La Tienda Latina (or Argyll Foods) with Hugo and one of the owners. I have shopped here before, but they have recently expanded and carry so much more. Everyone in the store has always been so helpful. This is definitely my go-to one stop shop for Mexican specialty ingredients. I highly recommend a stop by if you have never been. An orthodontist for 25 years in Mexico City, overwhelmed with the heat, and adventurous enough to follow his dream to relocate to a cooler climate, he chose Edmonton. I know. Difficult for many of us to believe as our winters can be harsh; however, he was seeking a much smaller, more intimate cosmopolitan lifestyle within a four seasoned climate. And, anyone who lives in Edmonton loves this city. Once he arrived, it was obvious to him that a Mexican food specialty store would be a niche that he could fill, and doing so, his quality of life would improve. Standing ovation for Dr. ? (Embarrassingly, I misplaced the business card with his name on it, and names are not listed on their website.) Few of us have such courage to follow our dreams. I am glad he did!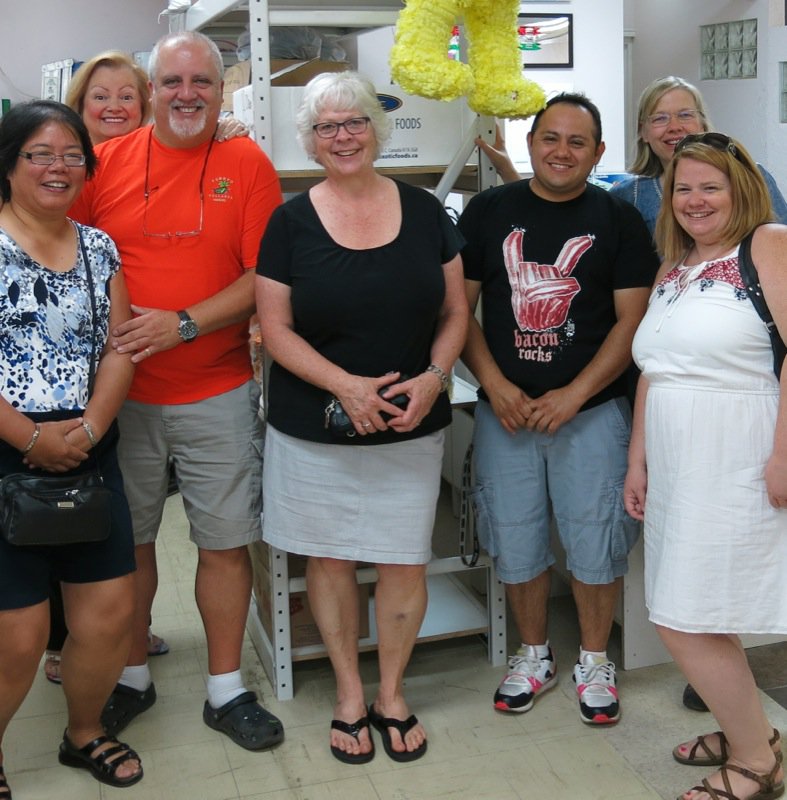 Ming, me, Dr.?, Nancy, Hugo, Su and Laura.
After a great tour, shopping and sipping authentic Mexican sodas, we arrived home. Another short tour of our house, unpacked and were immediately immersed in all things Mexican. We were charmed by Hugo! He reappeared in his chef whites to applause and ahhhh's, turned on his music, and started cooking as he danced the salsa! Oh-la and cha-cha-cha! Chef Hugo Raya hails from Mexico City and has over 15 years of experience in restaurants there, including his own Taqueria, before coming to Canada. Hugo is proud to have grown up in a family with roots in the fields and kitchens of Oaxaca as Oaxaca is the birthplace of authentic Mexican cuisine; he was born into a local family noted for their expertise in traditional food preparation. Hugo also studied traditional Mexican cuisine in the best educational institutions known to all chefs: the kitchens of his grandmother and great aunts, in Oaxaca. Those same family Mexican recipes have been nationally recognized and scribed into the foundations of Mexico's haute-cuisine books and studied by others from around the world. Hugo is very honoured to be part of a family with such deep culinary roots. He continued to take various culinary courses in different schools throughout Mexico City, and has now adopted Canada as his second home. As he shares his passion for traditional Mexican food, he is in the process of pursuing his red seal (a Canadian certification) as a chef.
Now what was on our menu? We started with the Pastel de limon for dessert. Above, you see the consistency of the filling. I was remiss as I did not photograph the 40 limes we purchased for today's cooking… and though almost everything was steeping in fragrant and freshly squeezed lime juice, each dish tasted completely different from an other.
Totopos with Gucamole and Pico de Gallo
Shrimp Ceviche with Tostadas
Sopes with Salsa Verde and Queso Cotija
Enchiladas de mole
Pastel de limon
As this was a day of chopping, and dicing, and mincing and wincing, chatting, and laughing, dancing, and shooting shots of tequila in between rounds, I will not include recipes in this post. If you would like a copy of our recipes, please leave a comment asking for them, and I will send them all to you. I will leave you with this photo essay of our beautiful sunny day together, strangers bonding throughout a day of cooking and eating and sharing passion with Hugo for the cuisine of his home country.
Pastel de limon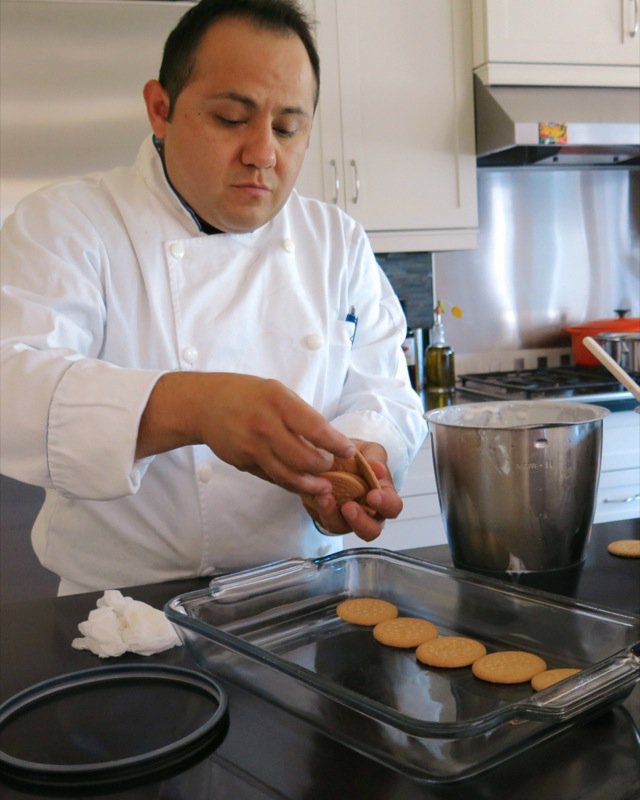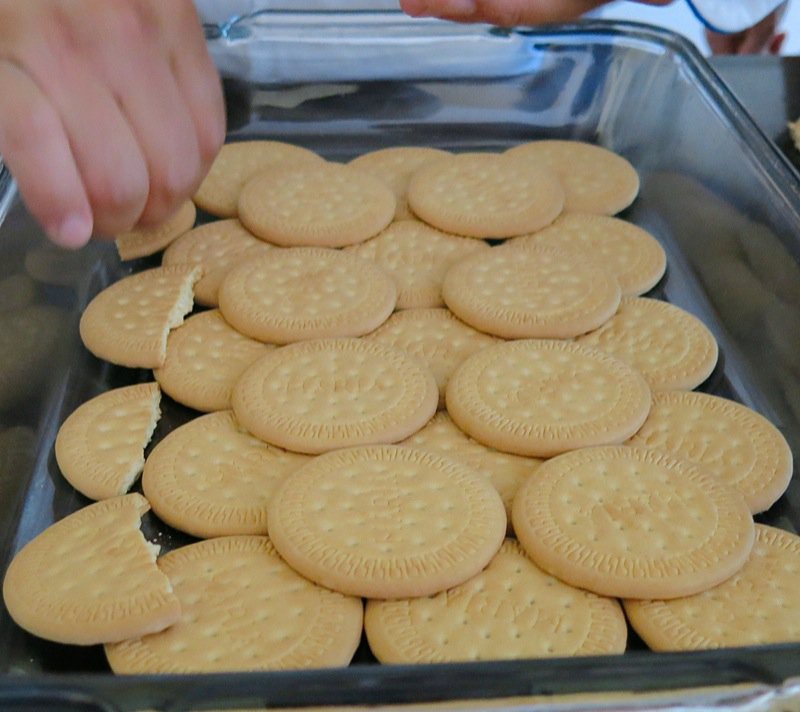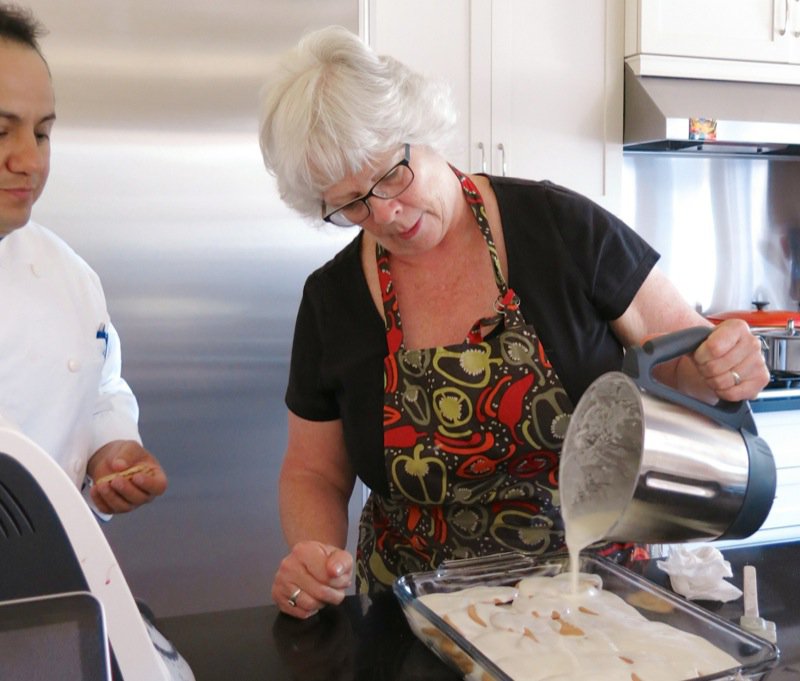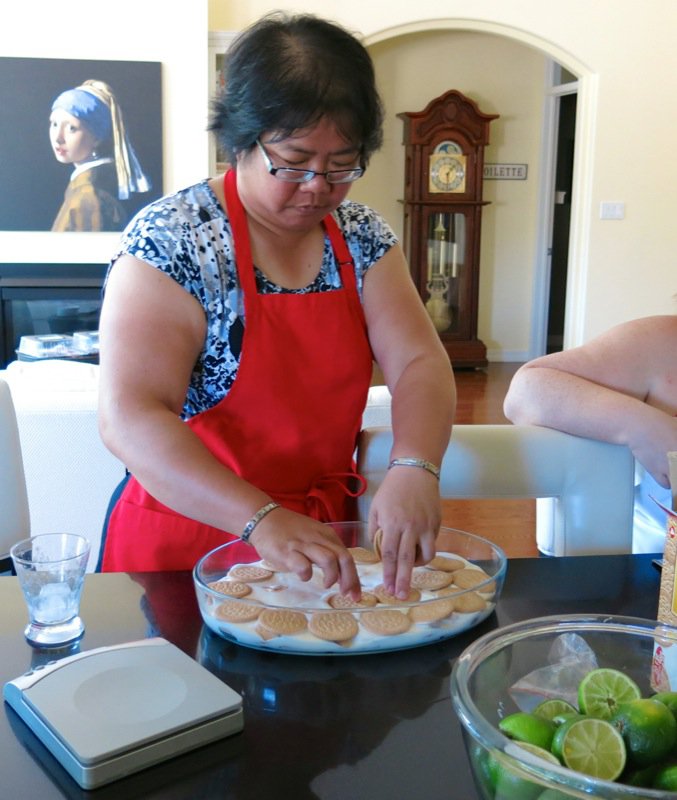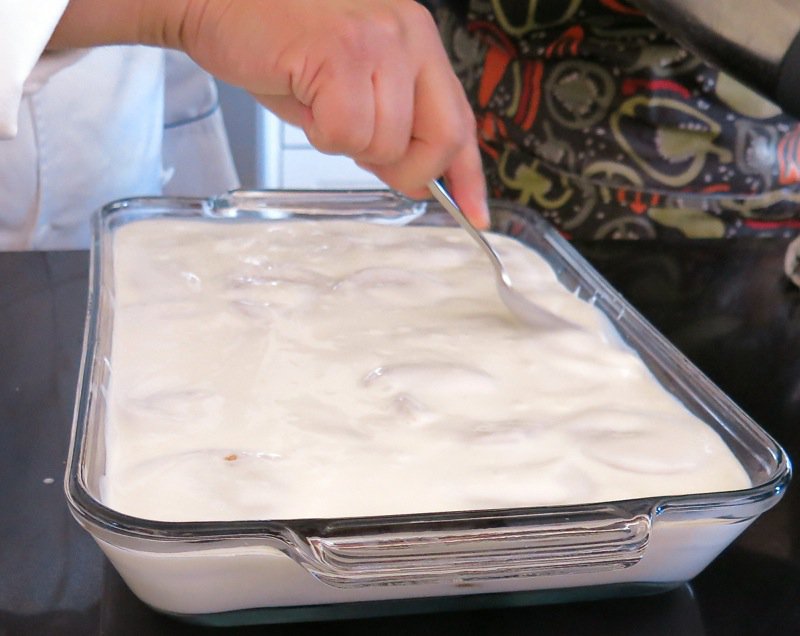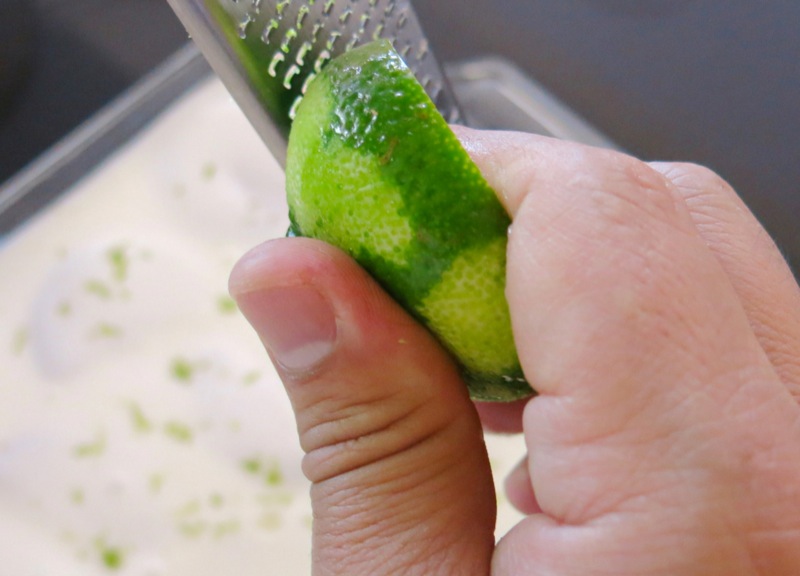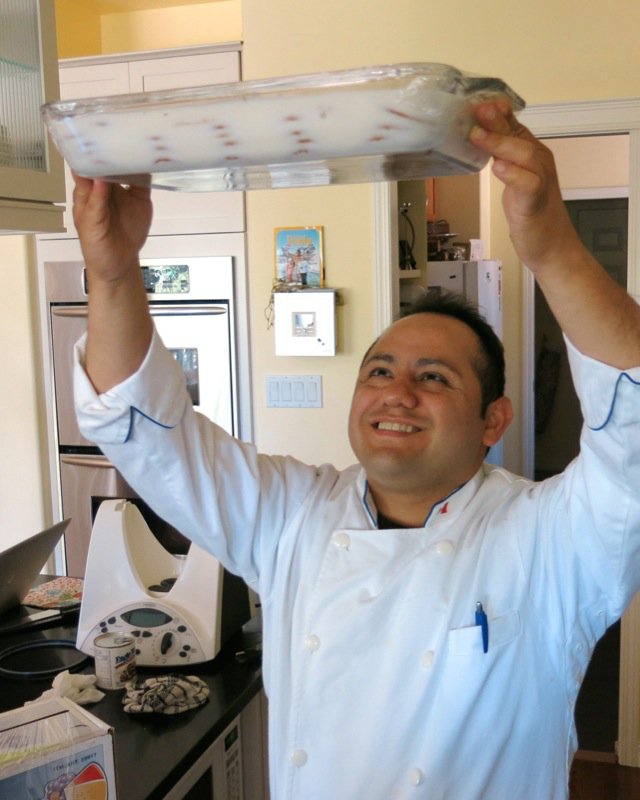 Of course we want dessert! I answered, when we were planning our menu. Sweetened condensed milk, lots of lime juice and whole milk are combined to make the "sauce" to pour over each layer of Maria cookies. Topped with lime zest, and refrigerated a few hours until soft, this is a very hearty, yet refreshing dessert.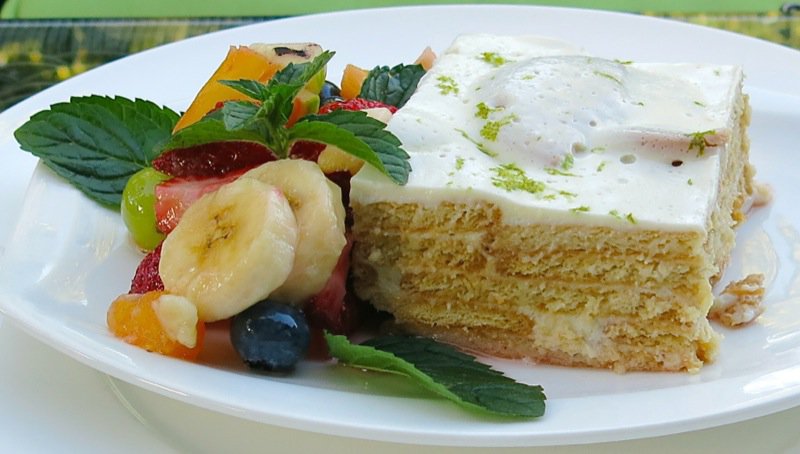 A fruit salad that I had made ahead garnished with fresh mint was the perfect compliment. Mmmmm… OK. Now that we know each other better, let's get to work!
Pico de Gallo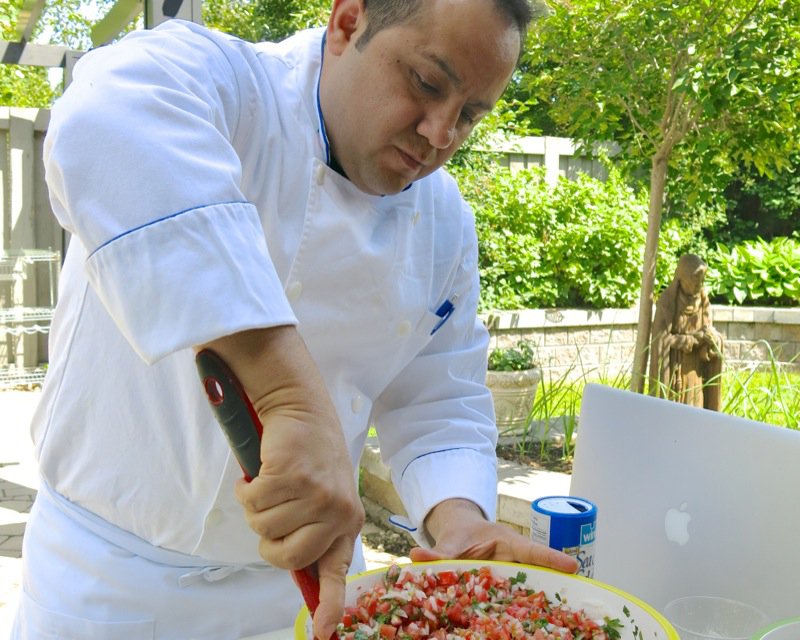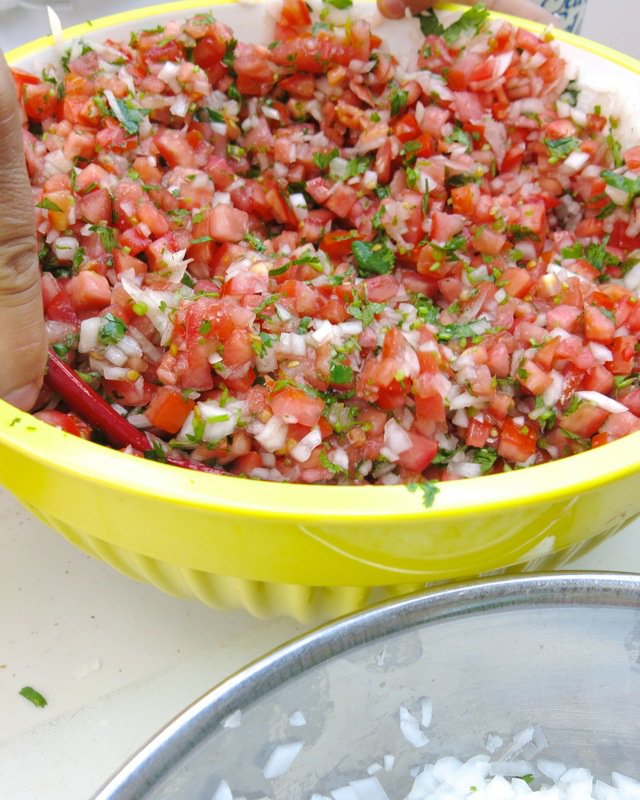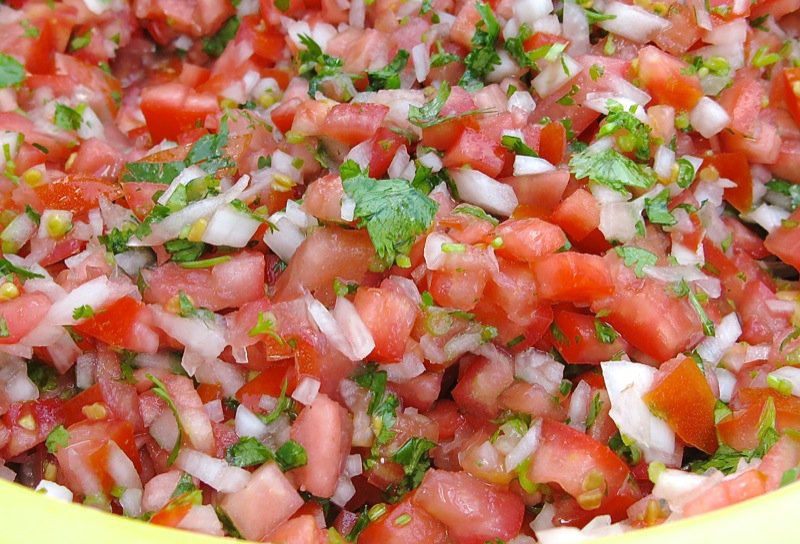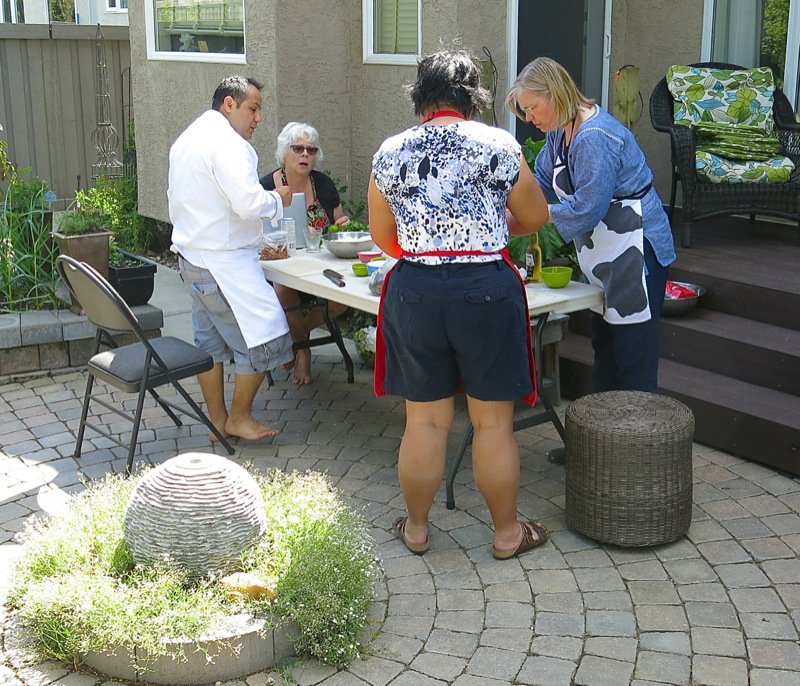 Dicing tomatoes, mincing onions, squeezing limes and chopping cilantro is all it takes to have a massive bowl of pico de gallo. Seasoned to perfection with just the right amount of salt, into the fridge it went. Interestingly, only in Canada (well, and the US) is pico de gallo a dip. In Mexico, it is a condiment eaten inside of an enchilada used to season part of a main course. That is how all of their salsas are eaten.
Gucamole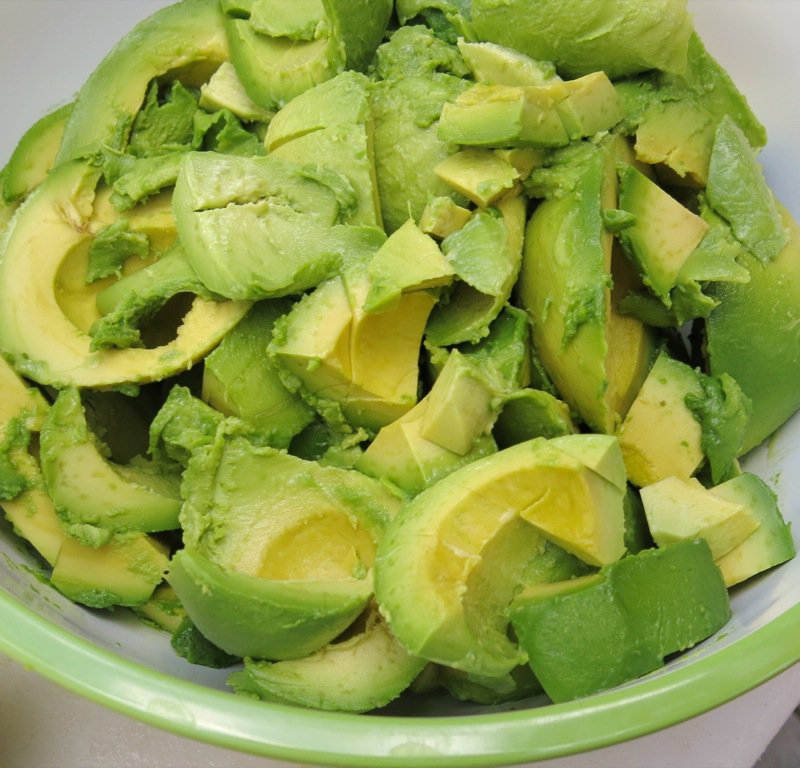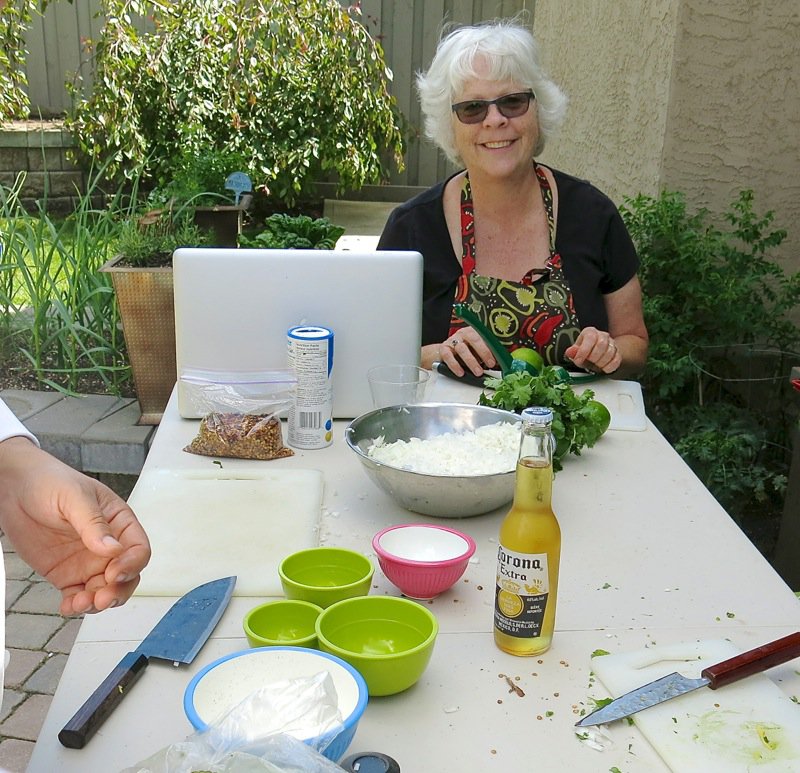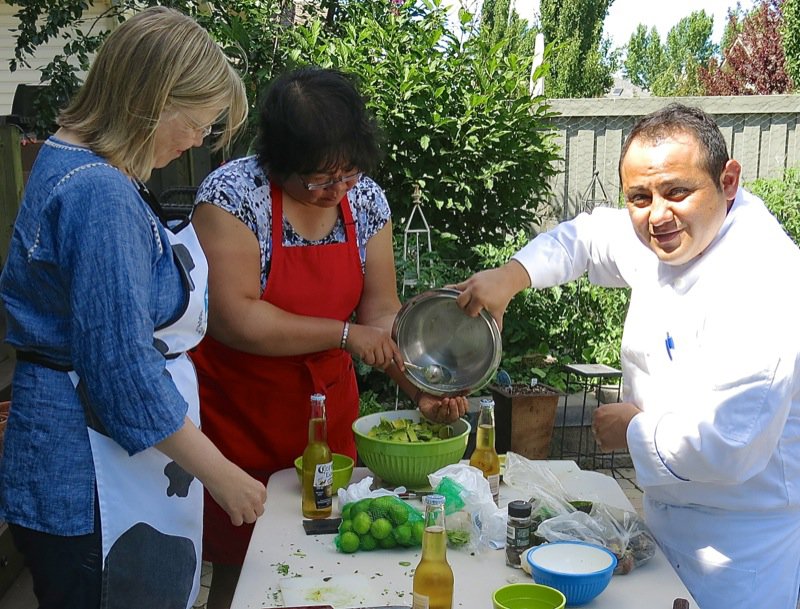 Absolutely gorgeous avocado. Nope. Not grown anywhere near here. Such a luxury. And look at how many. I was quite proud of myself as Hugo's recipe was the same as mine: Avocado, minced onion, freshly squeezed key lime juice, cilantro and salt. He adds one more ingredient, however. Water. Yup. "The secret ingredient (besides love, he winks) is water. You add just enough to get a creamy texture."
Salud!
Time for Tequilla! There is music. There is the rhythm of the knives against the cutting board and a chorus of chatter over that. It is hot outside and we need a break from our hard work. And, maybe a little somethin' somethin' to energize!

Scroll back up and take another look at those faces! Hilarious! But, they liked it!
Totopos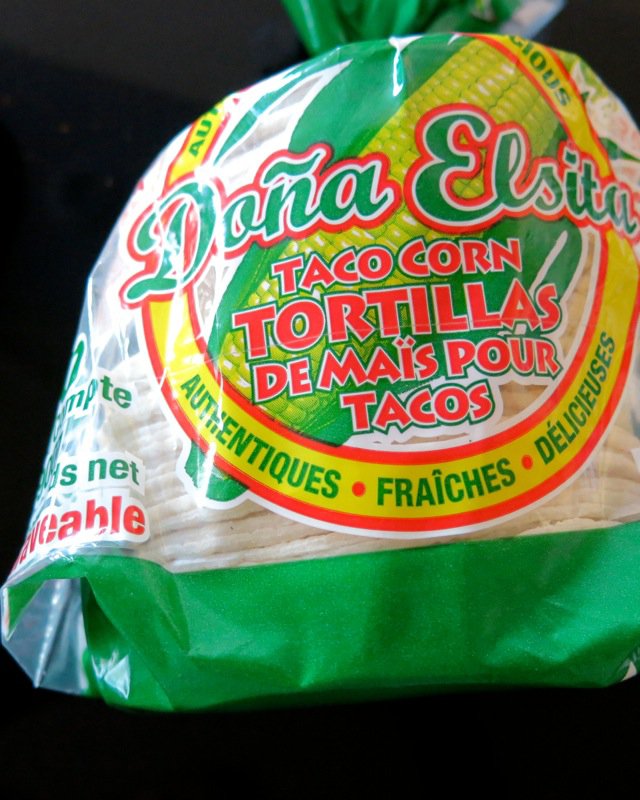 Hugo says if you are buying corn tortillas, the above is the best brand.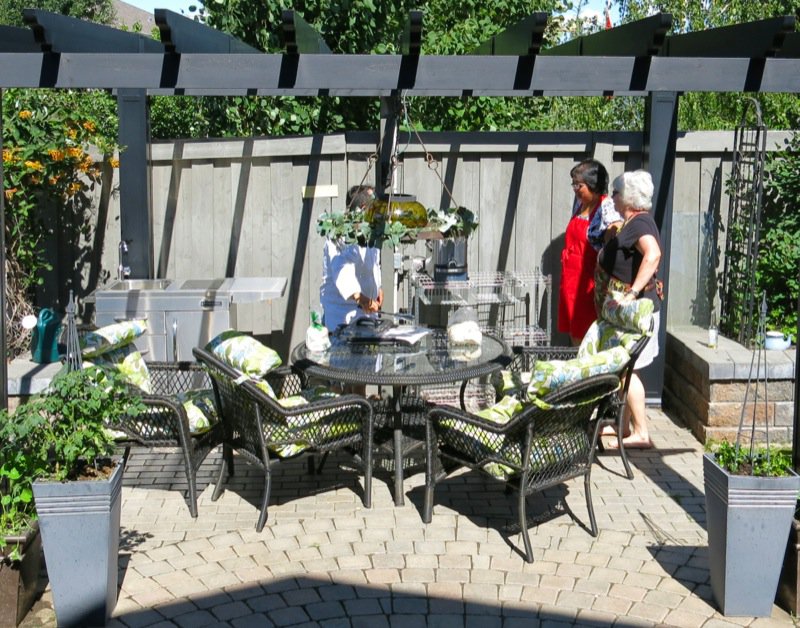 Setting up the deep frier in the backyard to fry the totopos and tostadas.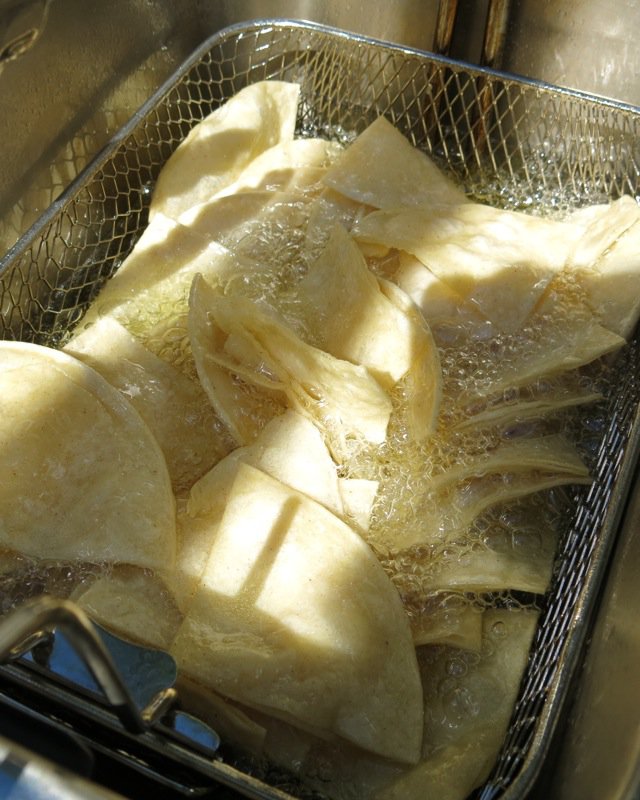 In February, at our resort at Playa del Carmen, there were hard, tasteless chiplike things and I could not understand why they were there and what anyone would do with them. They were hard and flavourless. Well. Those were terrible totopos. These are delicious, addictive, make only when company comes totopos. Yup. 100 corn tortillas cut into triangles and deep fried, then salted. The salt makes all the difference. Did I say addictive? They really weren't great the next day, though they were delicious until the very late end of this day.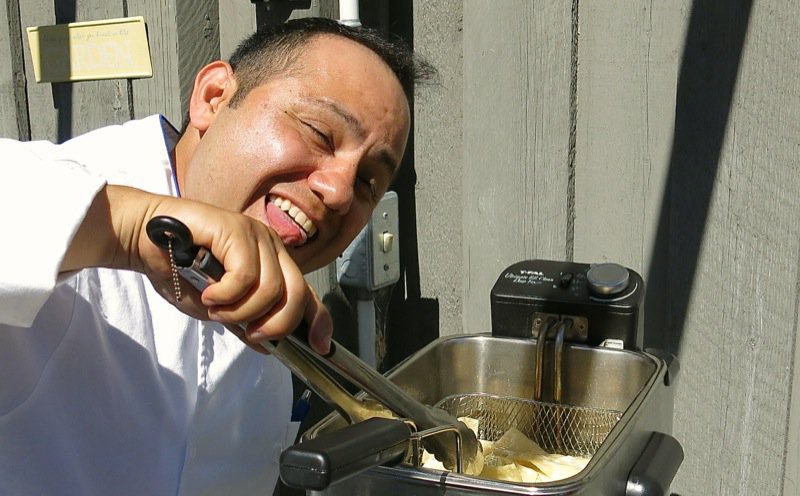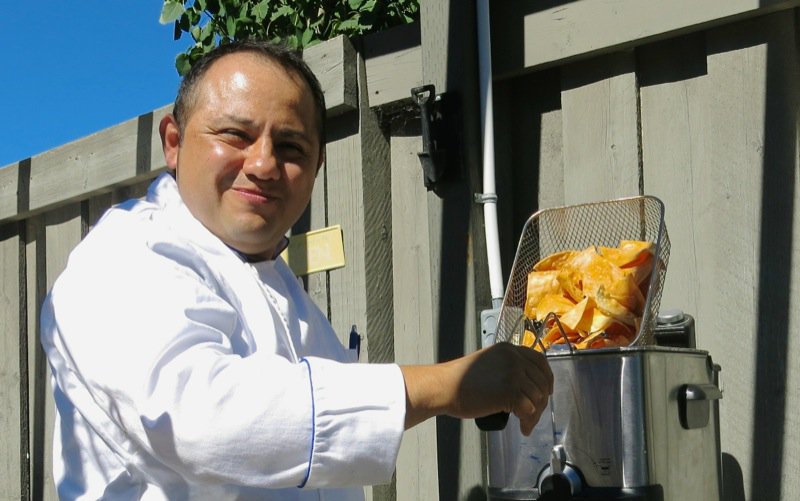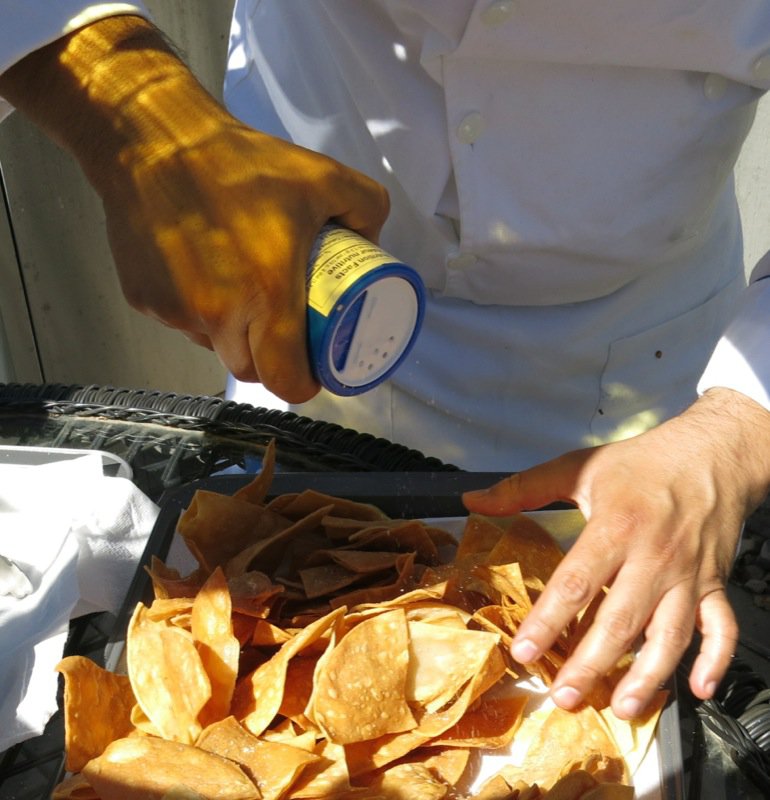 A fine sea salt is what Hugo ordered. More. More! They really don't look as good as they taste.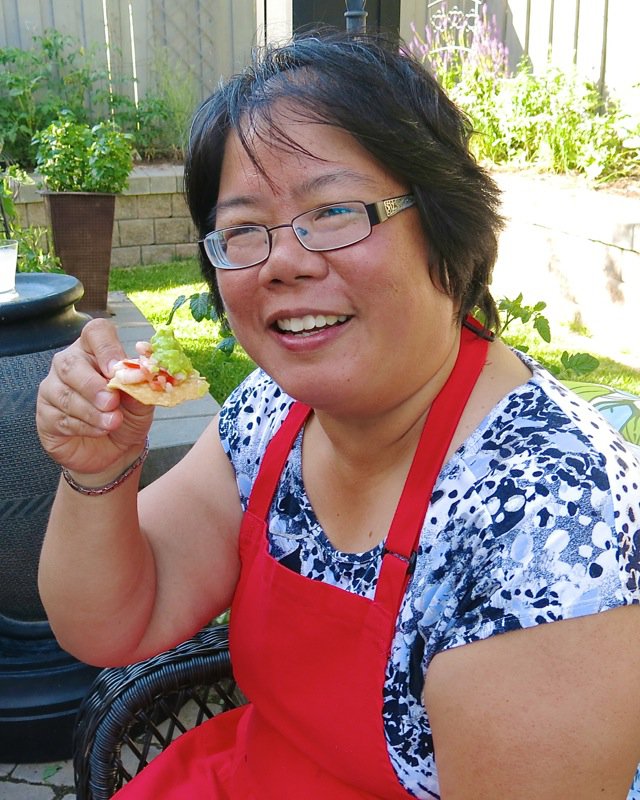 Ming had the right idea, later, during dinner: pico de gallo with salsa on a totopo! I think she may even have a little bit of civechi on her totopo! No matter. It is all good. So good, and so refreshing, actually. The lime and fresh vegetables really spell S-U-M-M-E-R!
This was a special request from me, as Chef Claudia Garcia Ramos from Cancook in Cancun at Mi Cocina es Tu Cocina didn't show us how to make the dough for these at her cooking class, and wouldn't answer any of my e-mails about how to do them. I had made them on my own, but still wanted to learn at the hand of a master, as the consistency of my dough was just too dry. Now, I know. Add more water. (It is that simple.) This dish was my favourite of the evening. I will make them again and again and again. I loved them the first time I made them, but knew there must be a better way to work with the dough. Thank you, Hugo!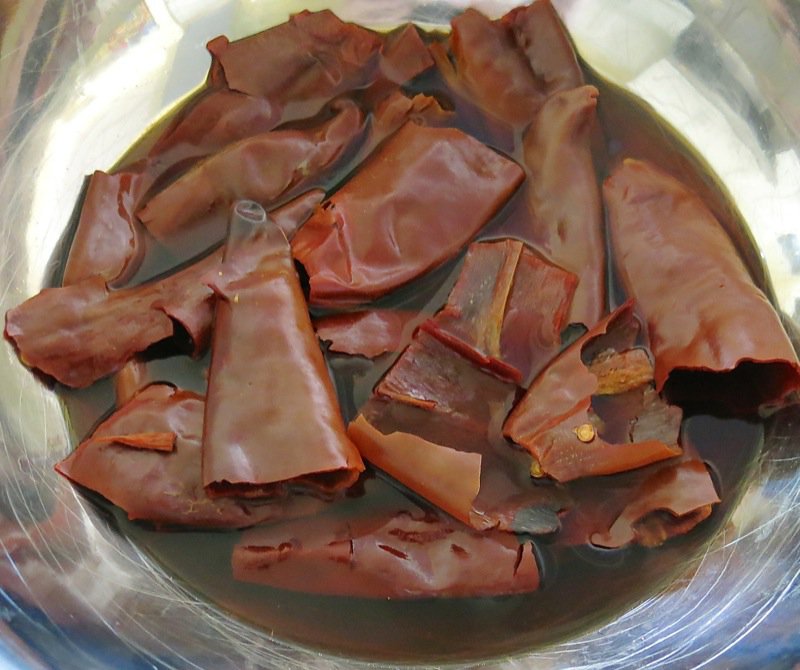 This is a special tortilla made with adding reconstituted and puréed guajillo chiles into the dough. I am crazy over this dough.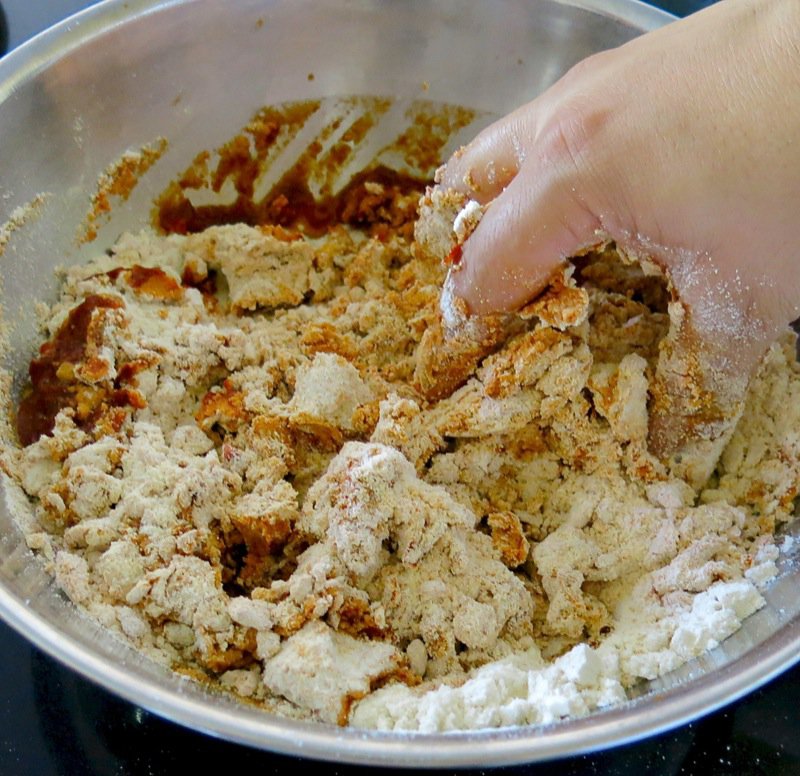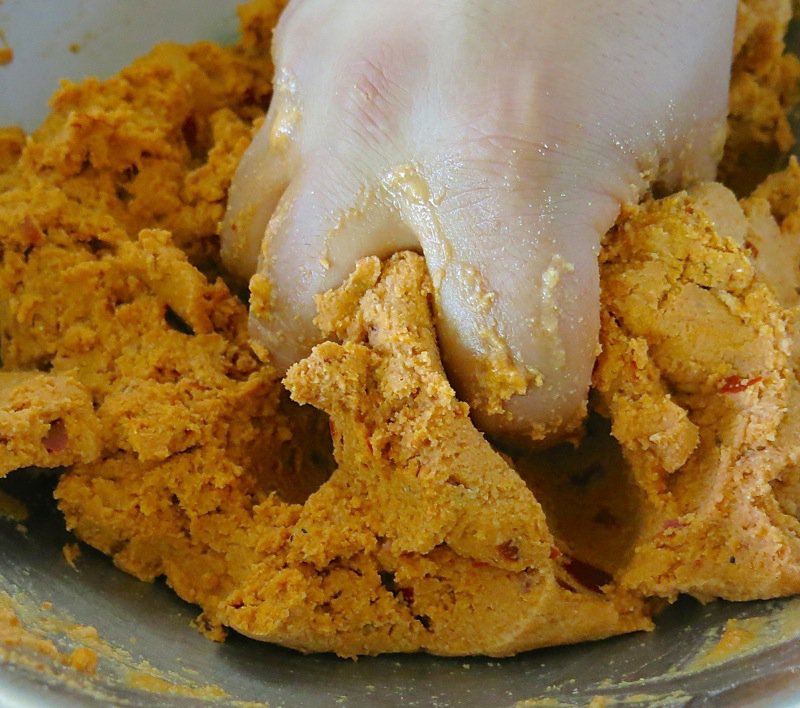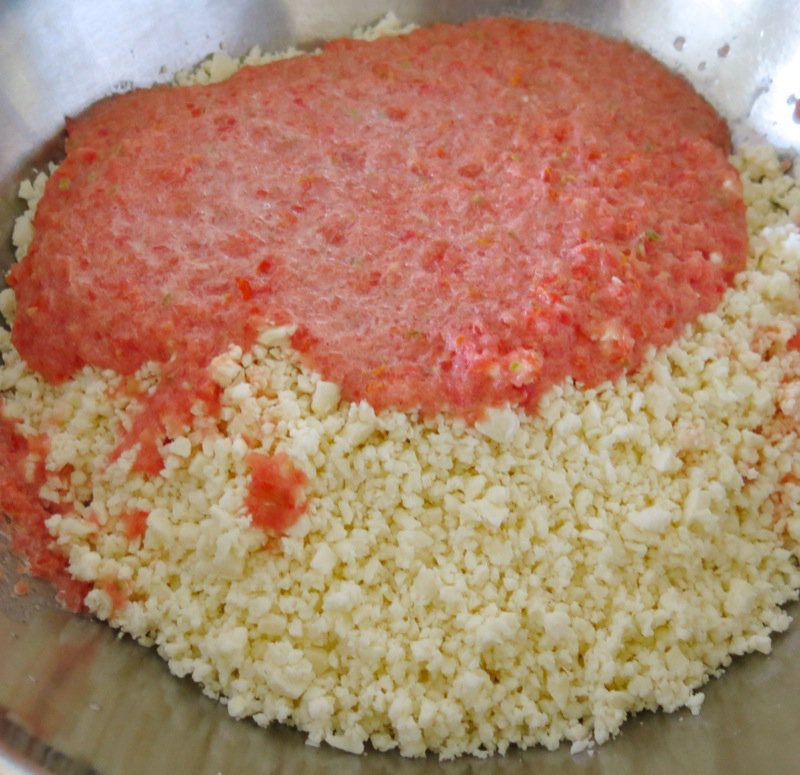 Just checking out the filling, as we have discussed the amount of Serrano chiles Hugo would like to put into this recipe: 4. Yes, four. He agreed to one. So, when I was photographing the filling, I saw one sticking out, and it still had the seeds in it. Of course, the heat is in the seeds! As I was taking it out to remove the seeds, warmly scolding Hugo, a second, hidden Serano became visible! Hugo! Hugo! Paw-leese! I want to enjoy your food, too. He was so sweet and just let one seeded pepper into this filling. For him, that was a huge sacrifice as the flavour would be bland and not as it should be. For me, it was still almost too spicy to enjoy. Fortunately, the key word is "almost"! I loved them. I would have to leave out the heat for me, in the future. Maybe 1/2 a Serano?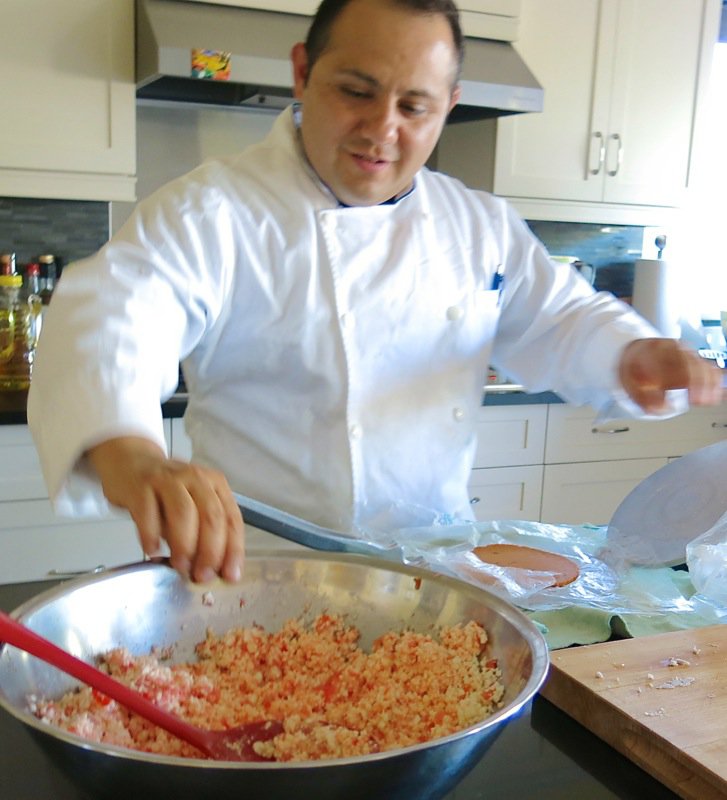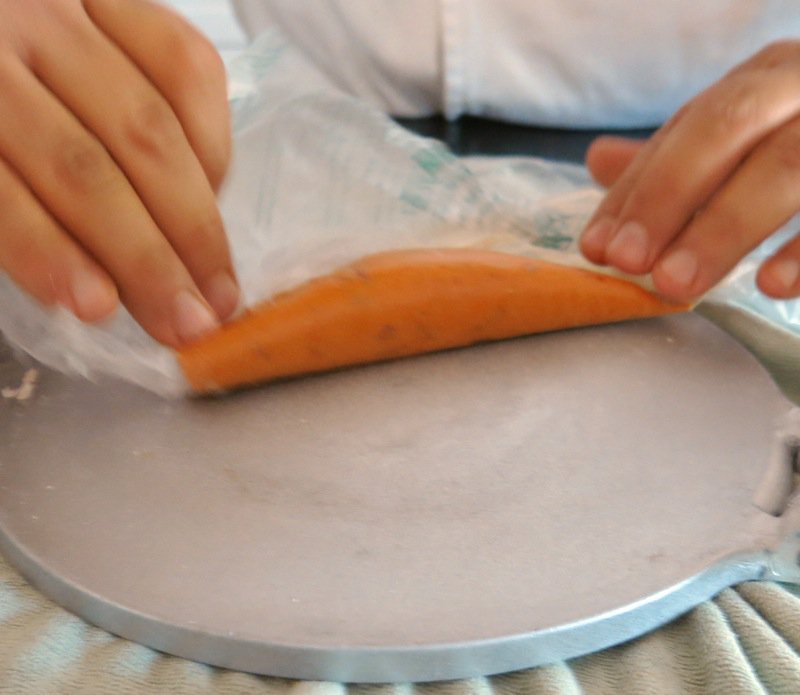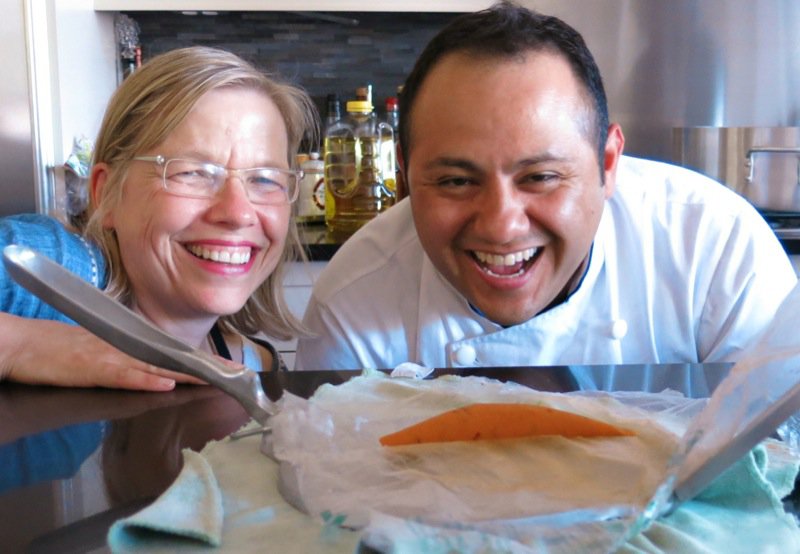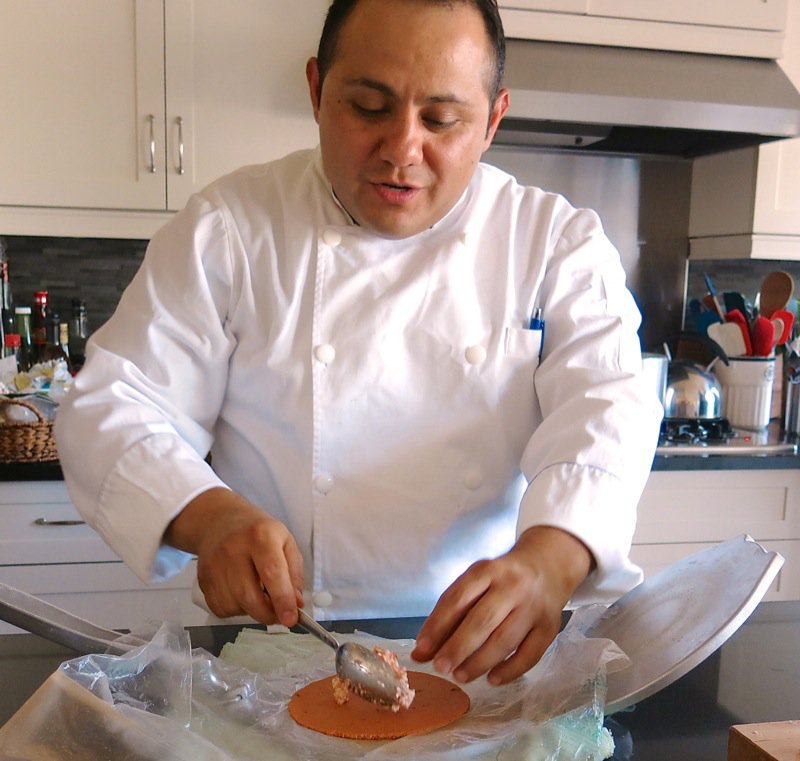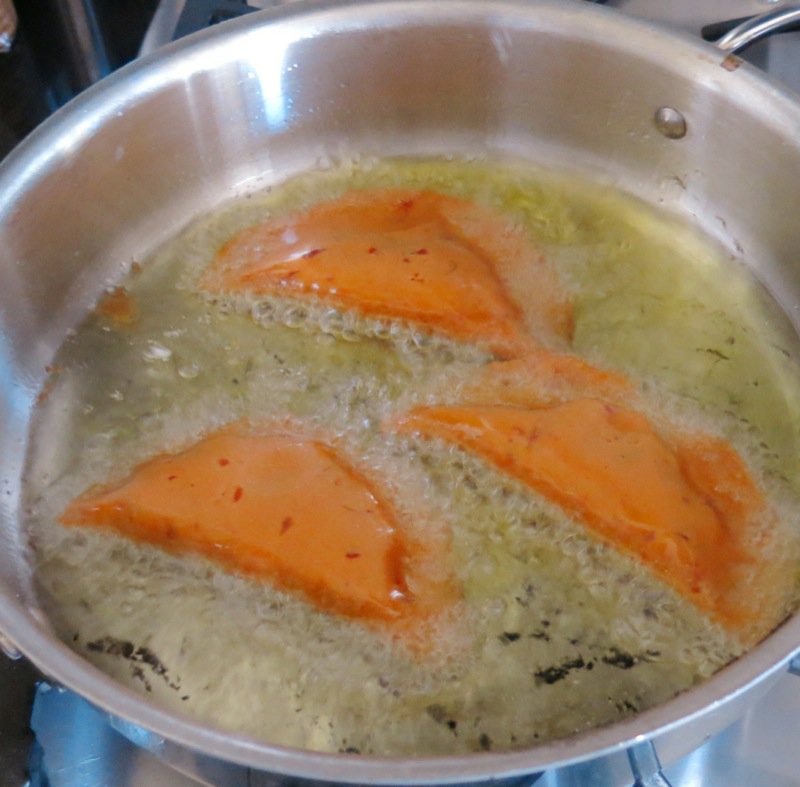 This is the frying that killed my pan, almost. I would suggest you don't use your best pans for this kind of labour. Silly, though, eh? That is exactly why we buy them. I suppose if I was frying, I would have cleaned the pan more often, but on a day like this, who thinks of that? Seriously, though , I have learned it is very important to think about this for the future.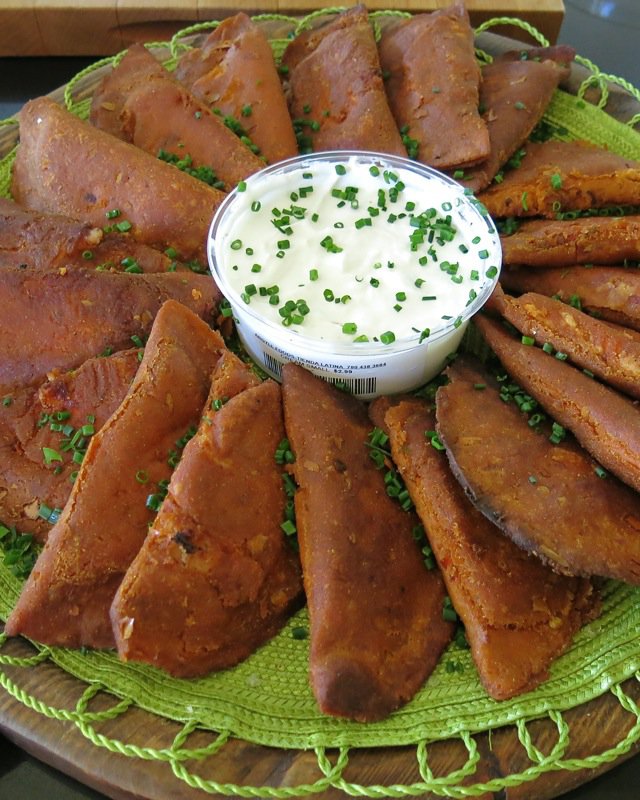 I could dive, face first, into that plate, above.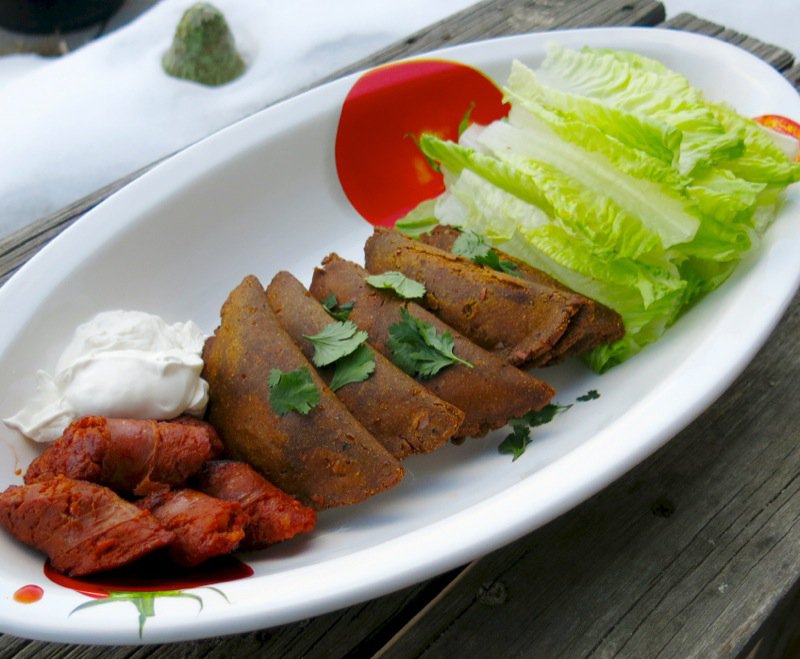 Here is the photo of mine, above. I did use two peppers in the shell. One was darker, so mine are not as red. I like Hugo's colour, better. I also added garlic to the dough which I would do, again. I preferred the recipe I used in my filing. They were very similar. I served them with Mexican Crema we bought at the Mexican store. Perfection.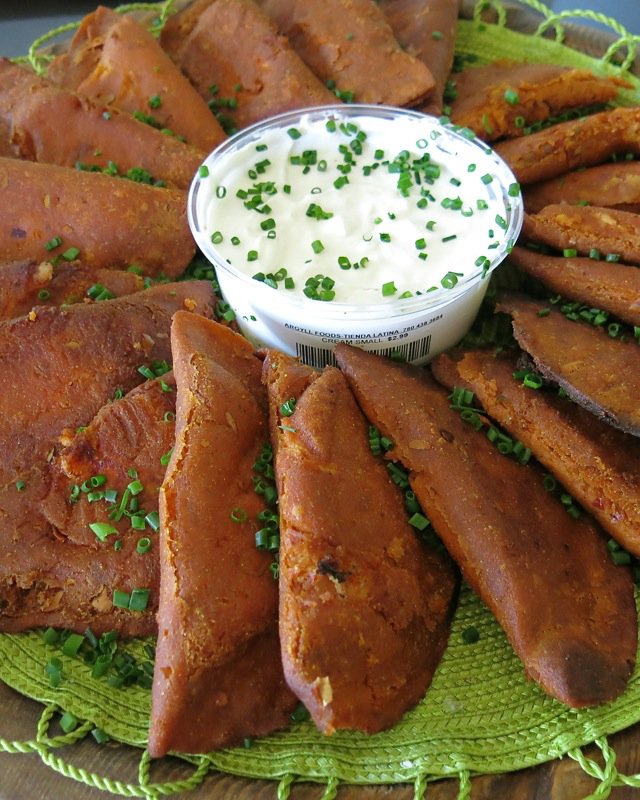 Salsa Verde
Loved this sauce, and it is so very simple. Did you know that the small tomatillos have a lot more flavour than the larger ones? I have always gone for the bigger tomatillos, but Hugo has redirected my thinking on this! Simmer the tomatillos until very tender. Cool to room temperature. Blend with salt and garlic. That is it. Well, theoretically. The authentic recipe would have a couple of Serano peppers in it, but Hugo agreed to make it "Canadian Style" just for me. Or, so I thought. He snuck one in! Hugo is hilarious! I learned that I definitely had to keep an eye on him where the hot peppers were concerned. It is fascinating to me how inedibly hot this salsa was to my palate, yet held almost no flavour to his. And it was obvious that he felt it would not be a dish true to his culture without the hot pepper. Everyone, but Laura and I, enjoyed it and did not find the heat too much. I saw those, "Don't you think you are over-reacting looks." 🙂 But, no. I was not. You, too, will age one day.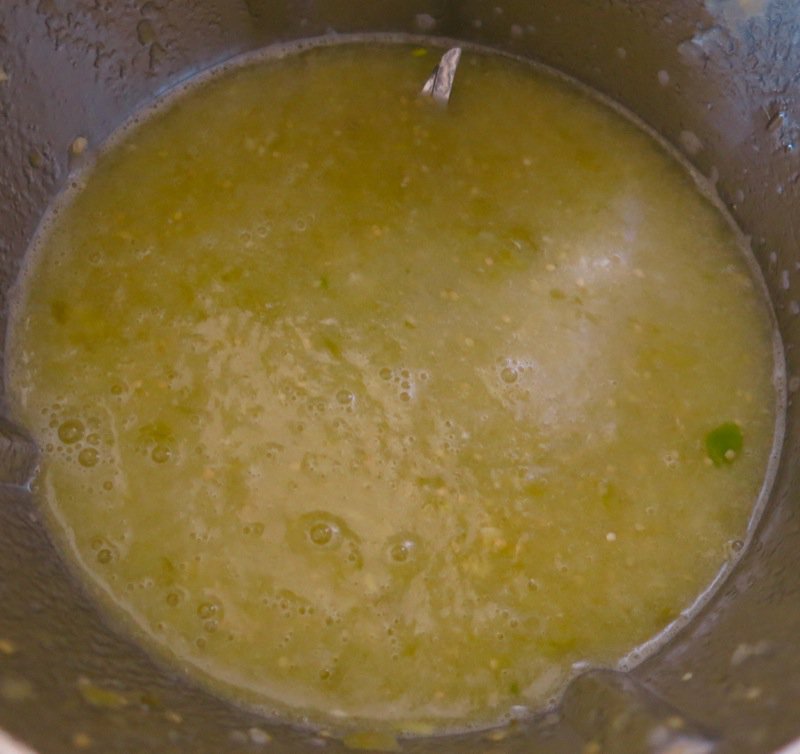 Blue Corn Sopes with Salsa Verde and Queso Cotija
The Salsa Verde was made to top the sopes. I fell in love with the flavour of the Mesaca Corn Flour in Mexico. It is not possible to get this in Edmonton. If you know where I can get some, please let me know. I will not order it on line from the UK. I would order it from Mexico, but cannot find an online outlet from there. Anyway, there is nothing like the flavour of that gorgeous Mesaca blue corn flour, and Hugo surprised me by bringing a little purple flour to add to the sope dough for colour! He will make them for dinner with different toppings. I have only had small bite sized ones with fillings beside for topping yourself. This version was really vibrant. The corn flour with the acidic salsa verde topped with the sharp cow's milk cheese was a colourful, flavourful and deeply satisfying meal on its own. Sadly, the next day, the sope were quite hard. That is probably why I almost broke a tooth on one at our resort. It was so hard, I couldn't even bite it.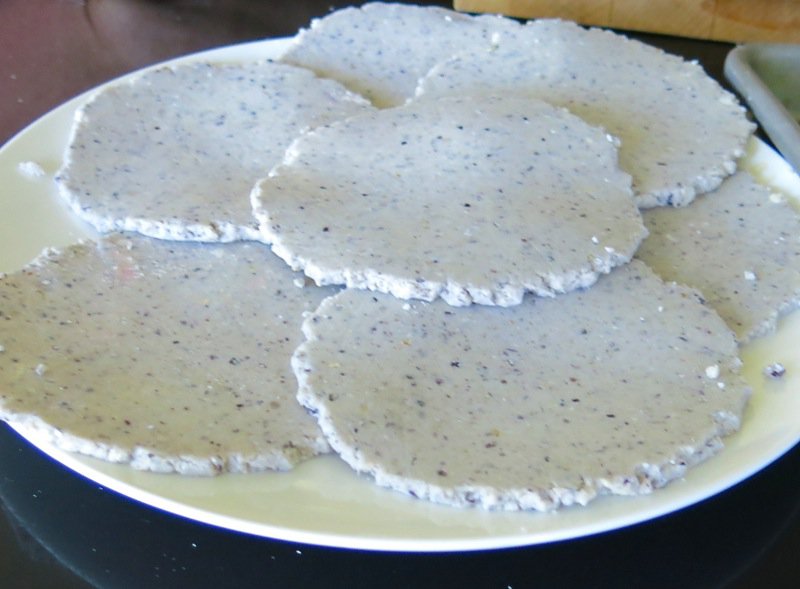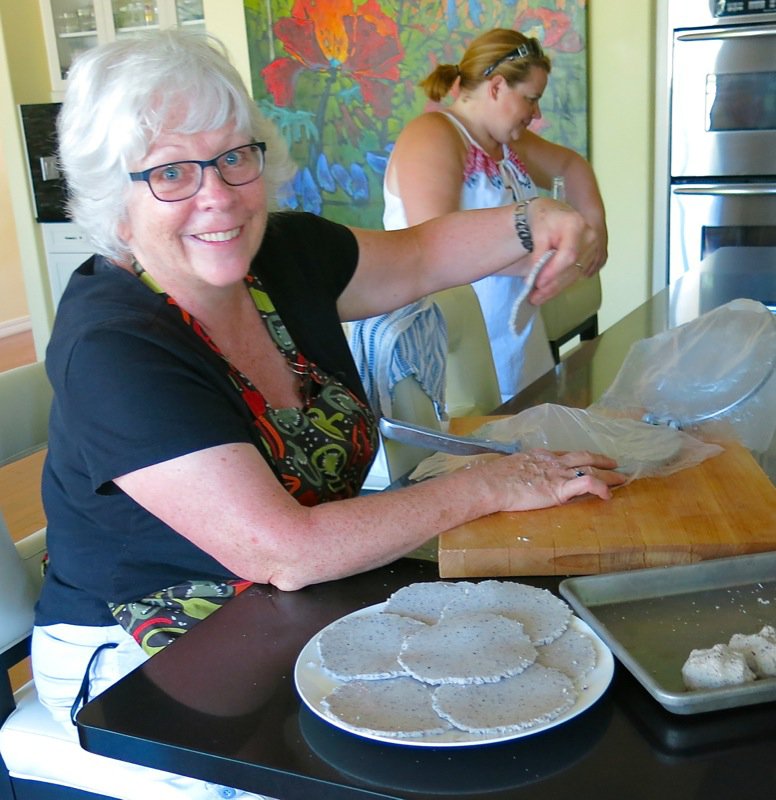 Lovely Nancy helped out at every corner!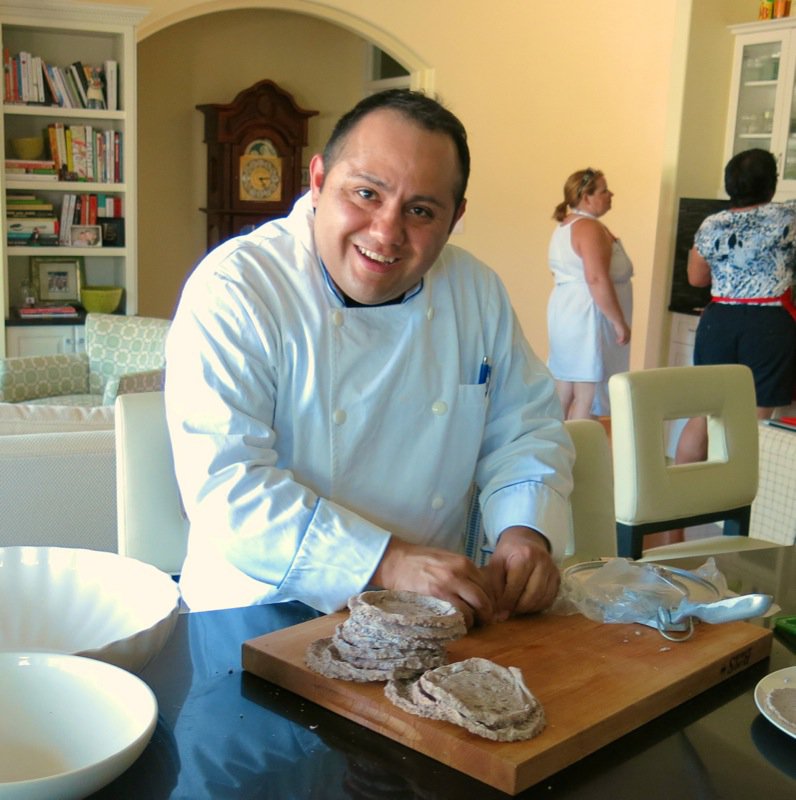 After frying the thicker tortillas, below, the edges are then formed, by hand, above. Hot! Hot! Hot!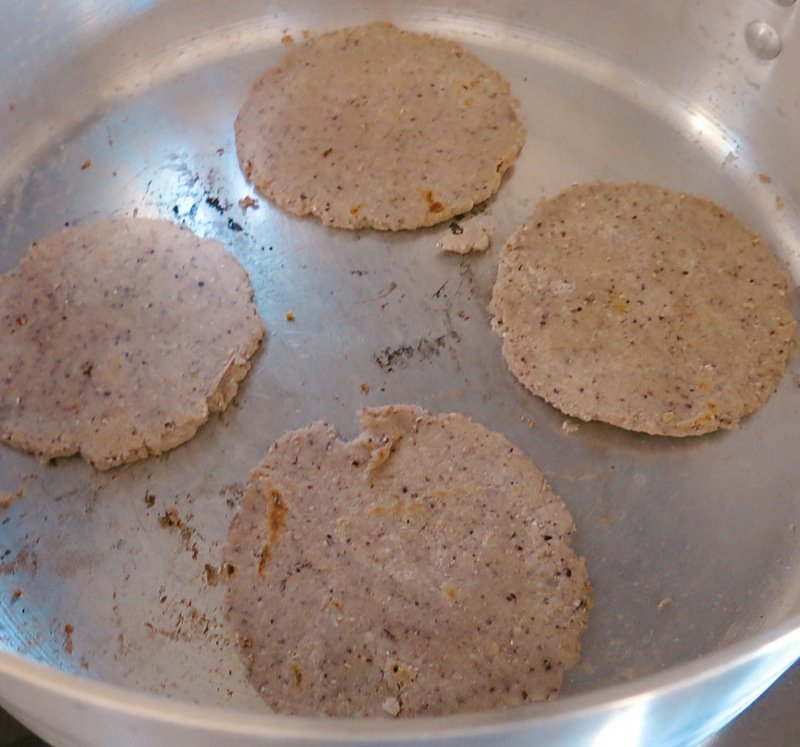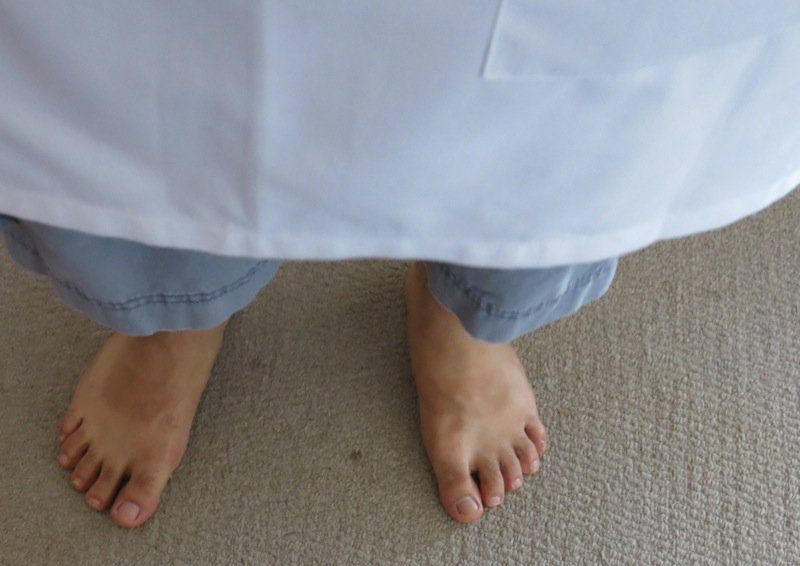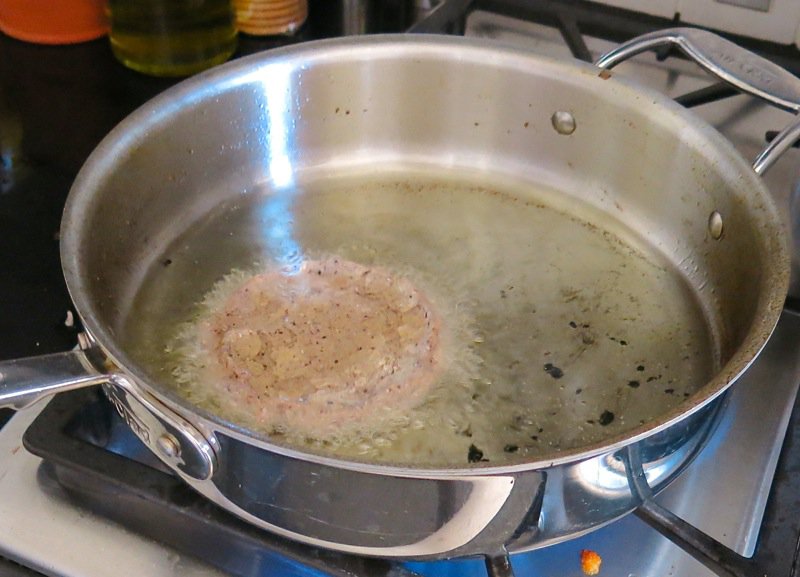 After the edges are formed to hold their toppings, the sopes are fried in oil. Isn't everything? (Note to self: do not use good pans when frying food!)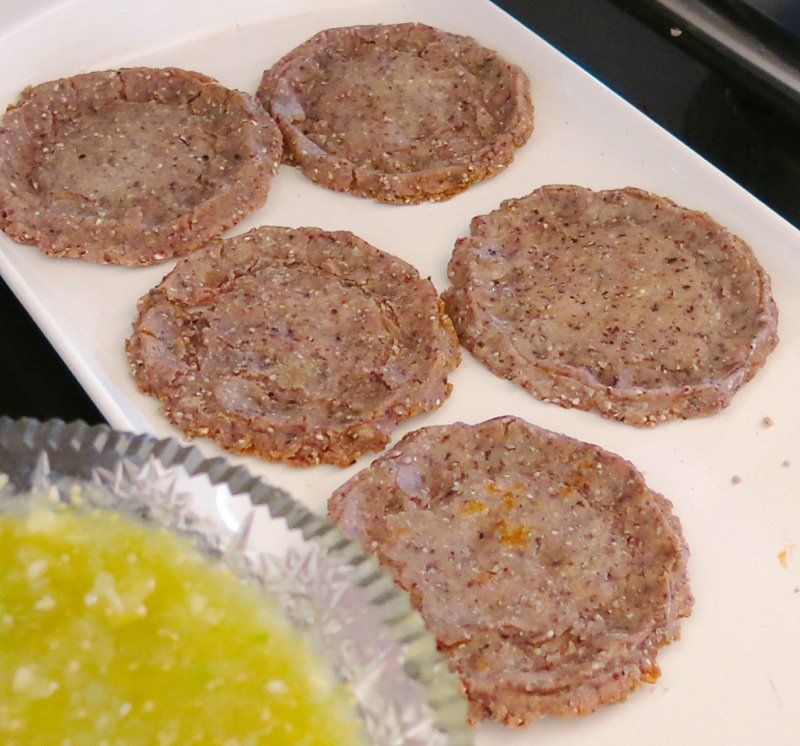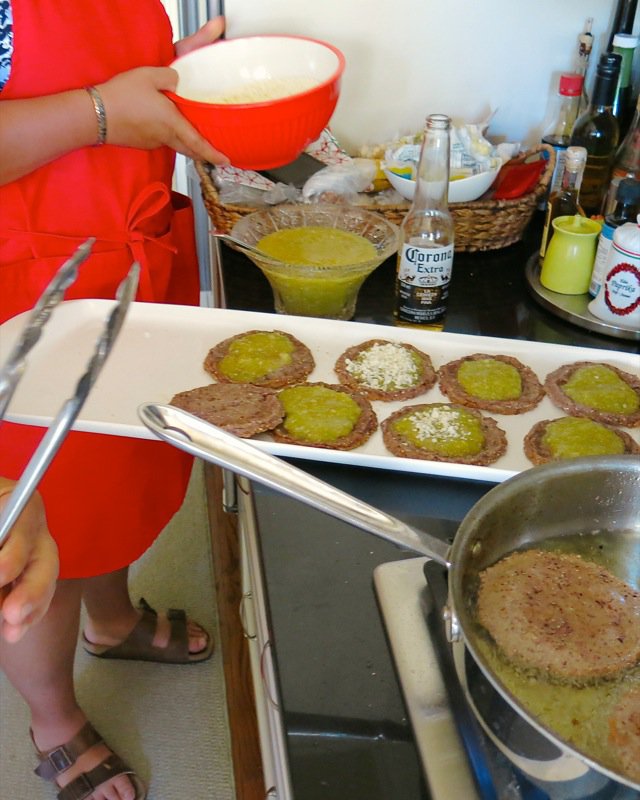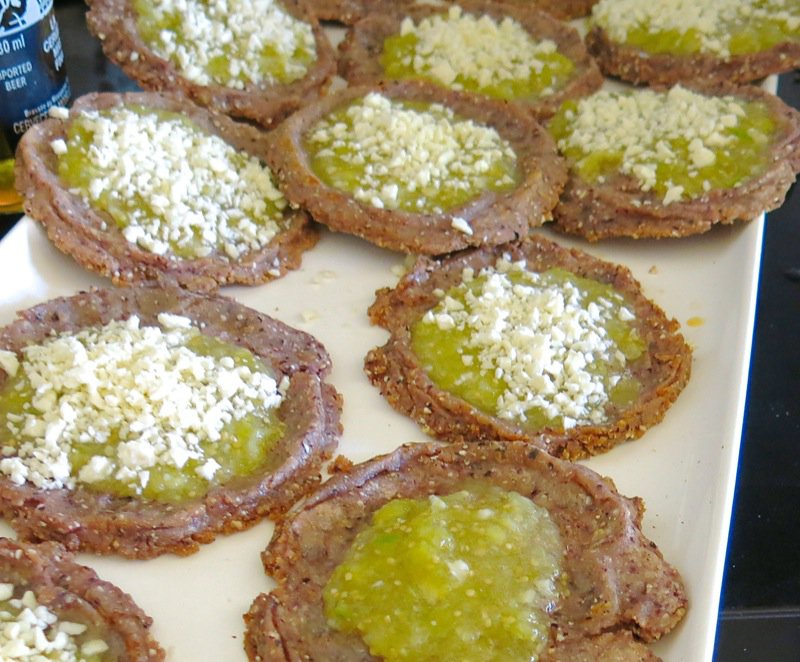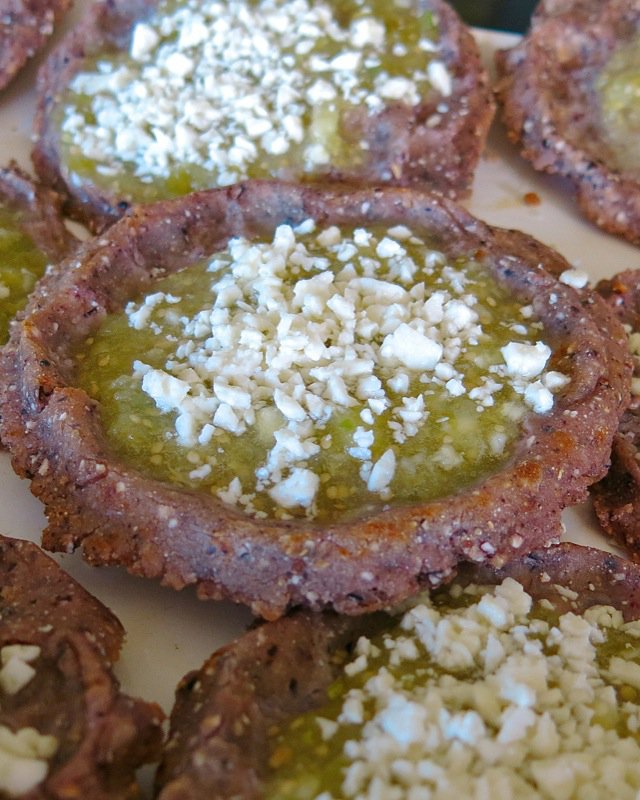 Topped with the salsa verde and then the cheese, the blue sopes looked gorgeous and made such a lively contrast served with the enchiladas potosinas both visually and flavourwise.
Shrimp Ceviche with Tostadas
I would have more photos, but our dear Hugo Raya was a work in progress this day. He was a constant flurry of activity and it was almost impossible to keep him still. Could he ever cook! …and entertain! …and dance! We laughed so much at his antics throughout our day together that my cheeks hurt. But, he kept forgetting I was trying to take photographs of what he was doing. He completely finished the shrimp ceviche without even letting me know he had started, thus no in-process images. Sorry. I dug this blurry one out of the trash so there is at least a frame of reference. I will be happy to send you the recipes, remember. This recipe was a huge hit with everyone and probably the easiest dish we made. They are served on freshly fried Tostadas which were the same tortillas used for the totopos, but fried whole, no salt.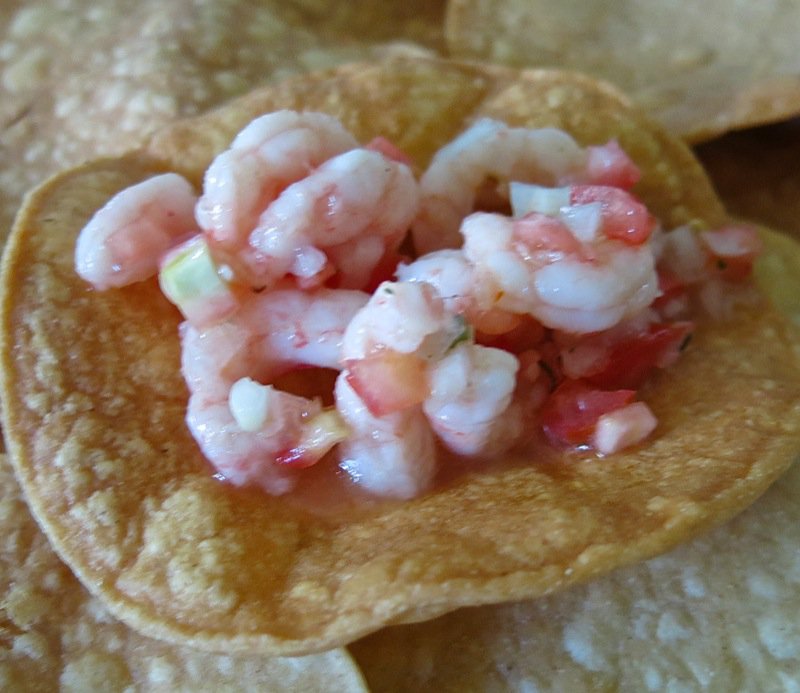 Guests Arrive!
Hugo welcomes all and introduces the first course, reminding all to not forget that special ingredient included in all Mexican home cooked dishes: love!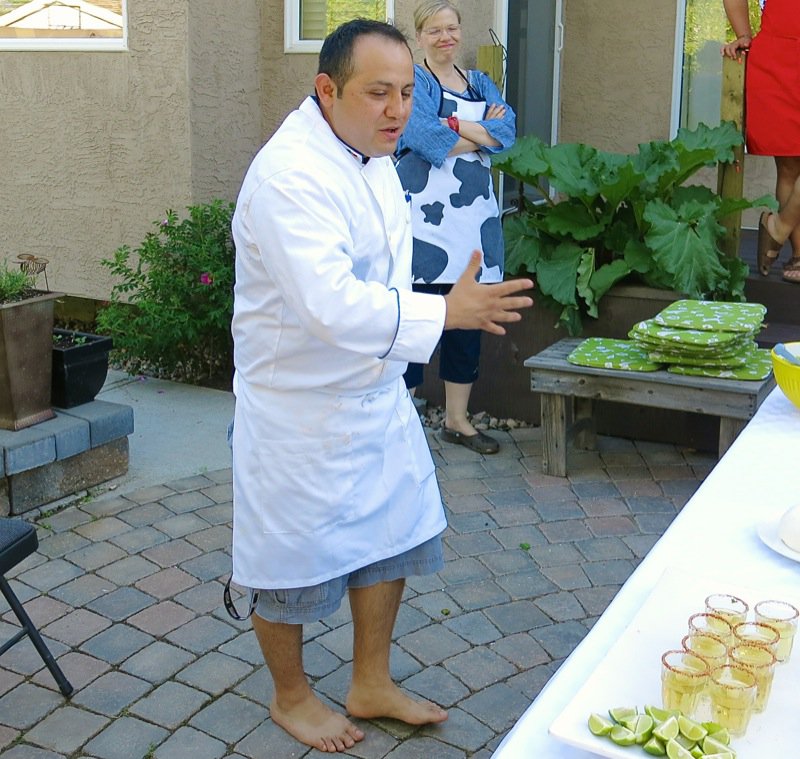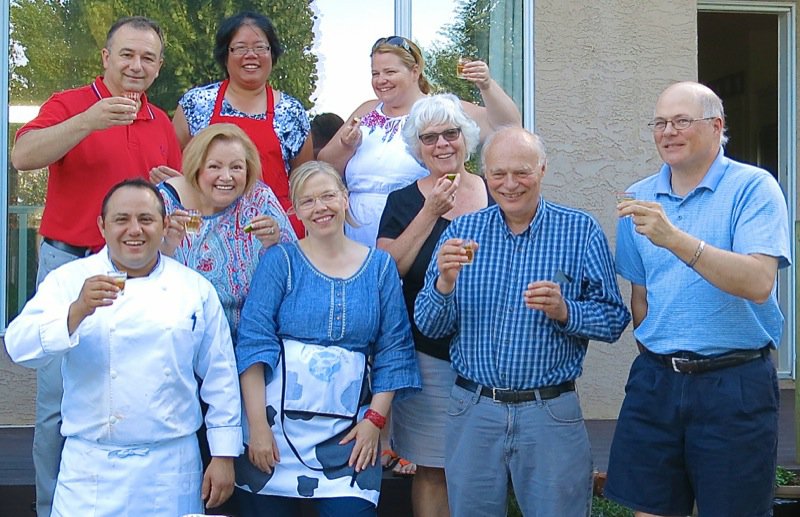 But, before we eat… Salud! Tequilla!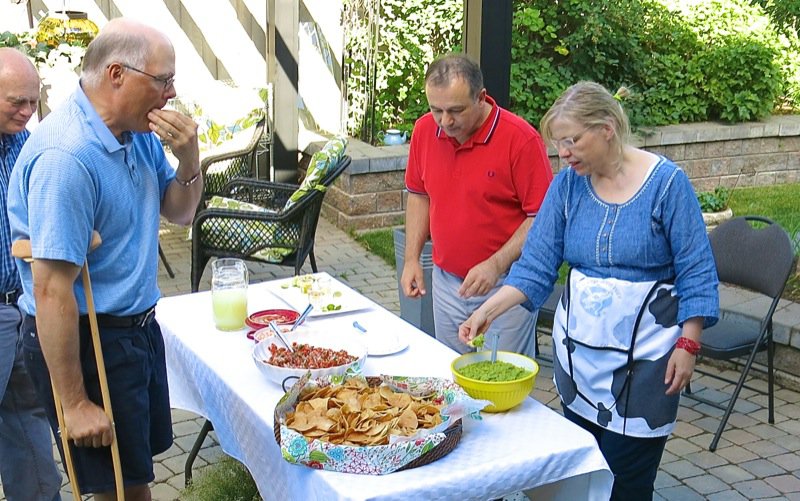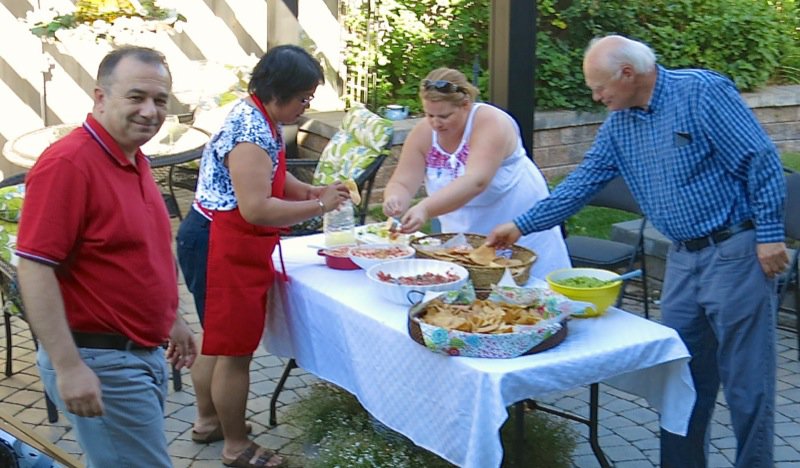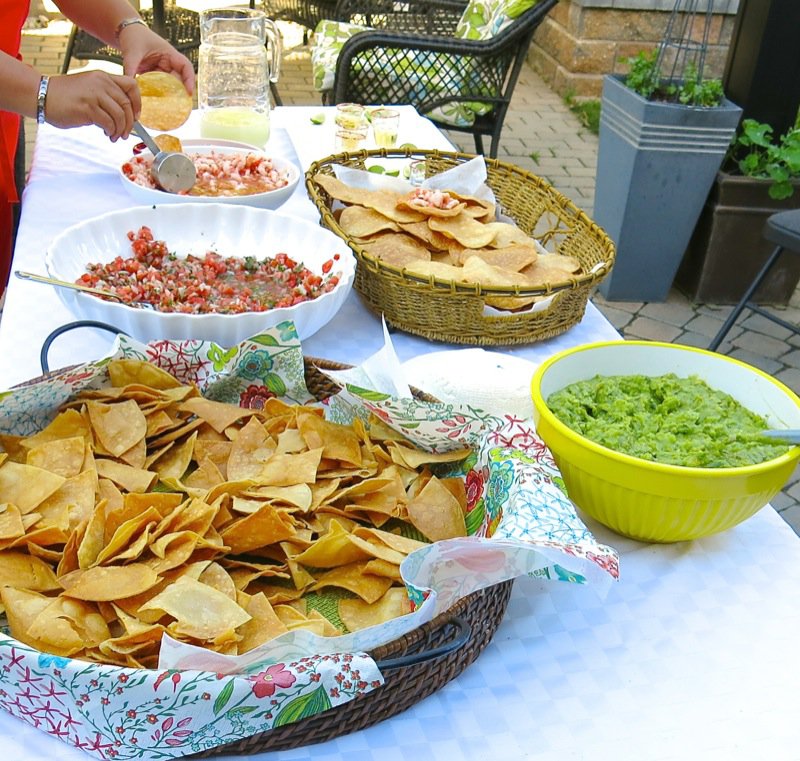 This is how much food Hugo makes to feed 11 people. He must be a part of my family, somewhere along our family tree.
Enchiladas de mole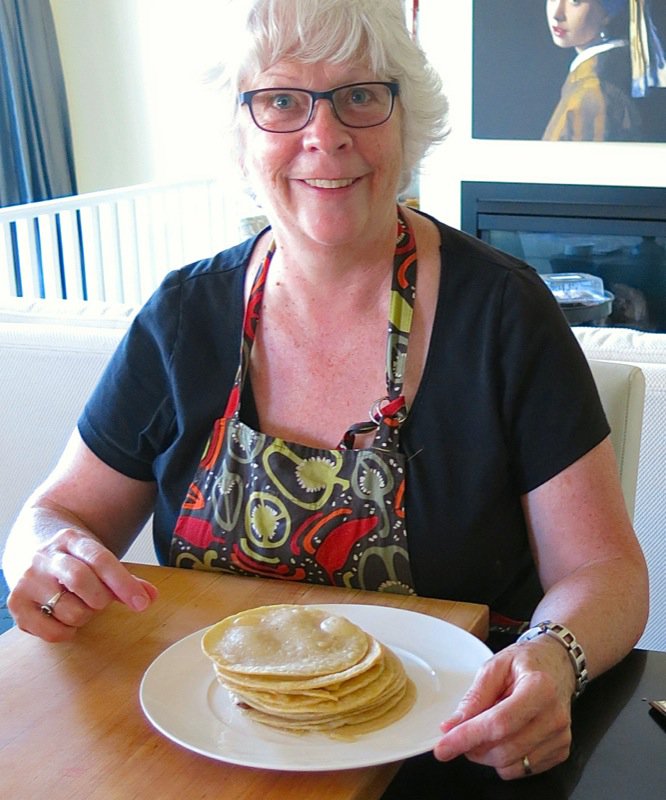 The same corn tortillas are now fried, but not deep fried: gently fried, still soft enough to stuff with poached, shredded chicken, and rolled.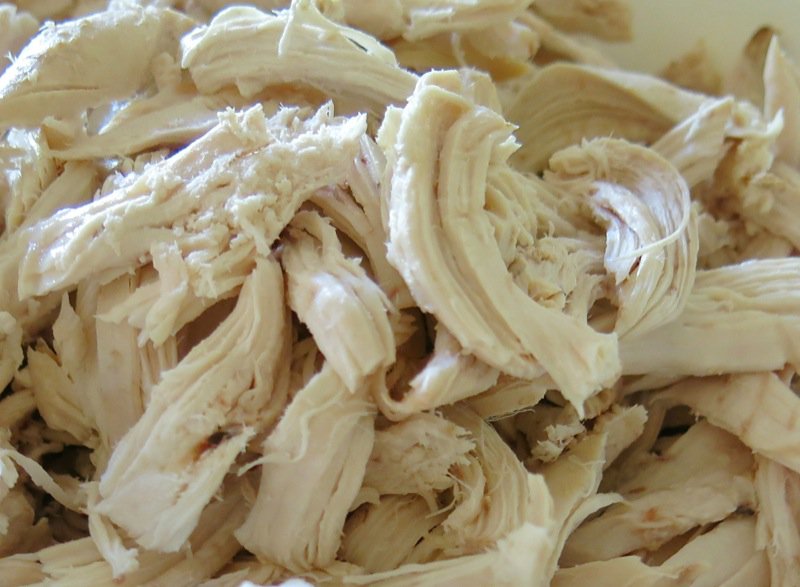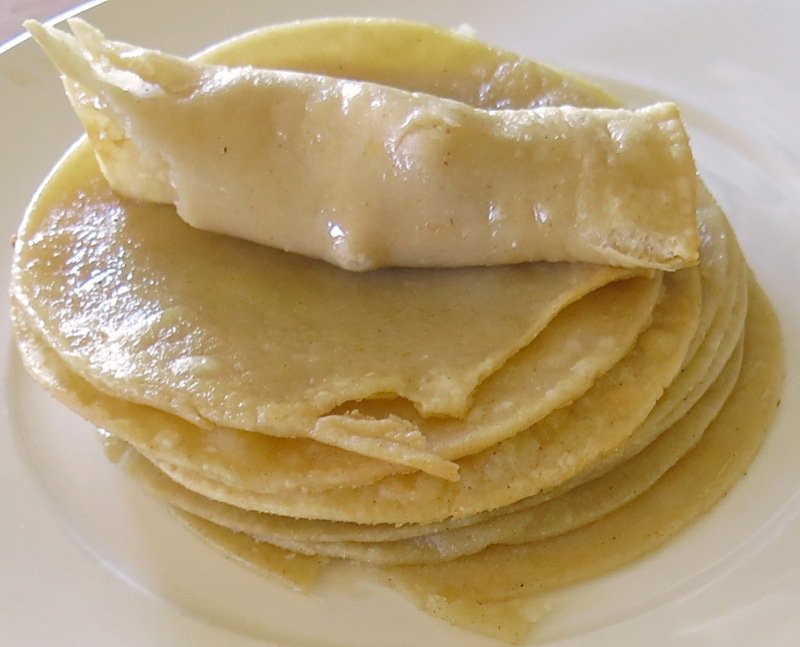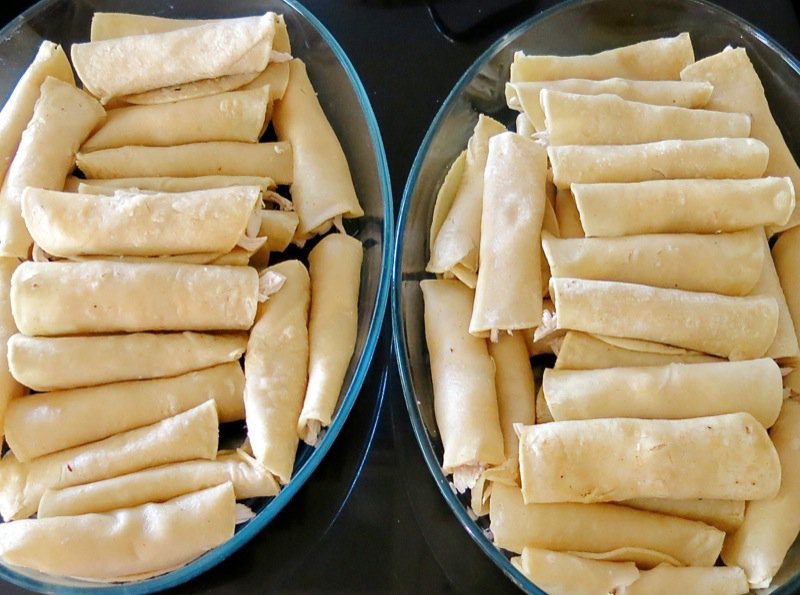 That is it. Nothing else. Chicken all snuggled up in the gently fried tortilla.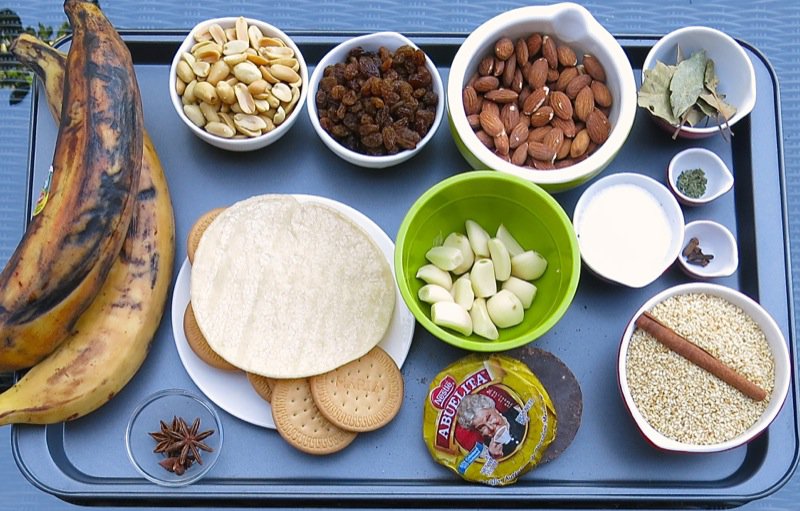 The chicken enchiladas will be slathered with mole and the mis en place for that, is above. All but the tomatoes and peppers are in the photo.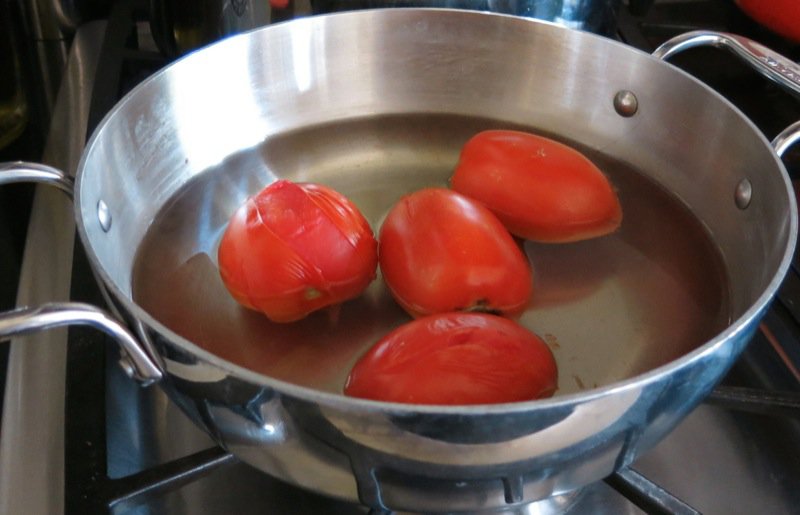 The tomatoes are slowly poached, then peeled and blended with the fried ingredients, later.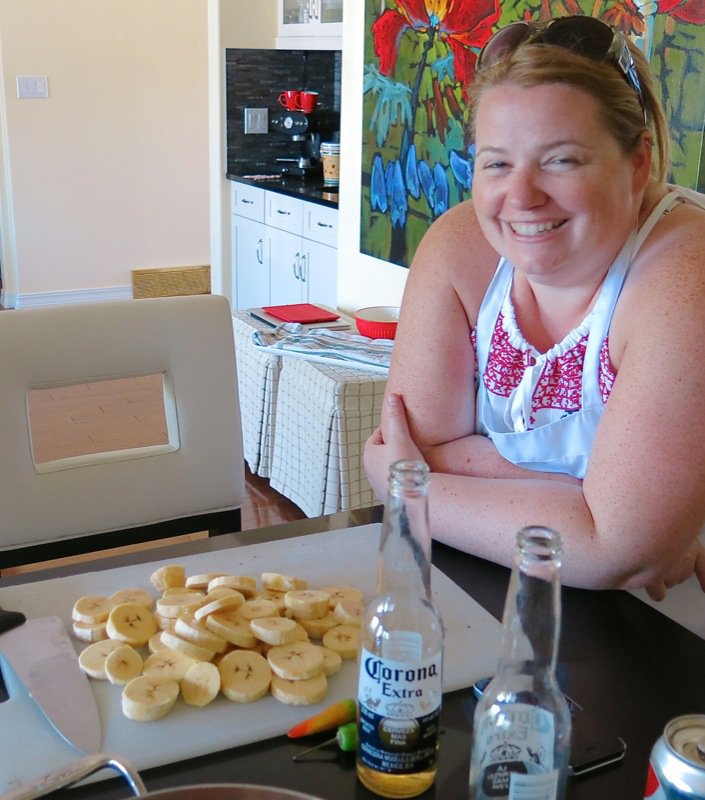 Not bananas: plantains.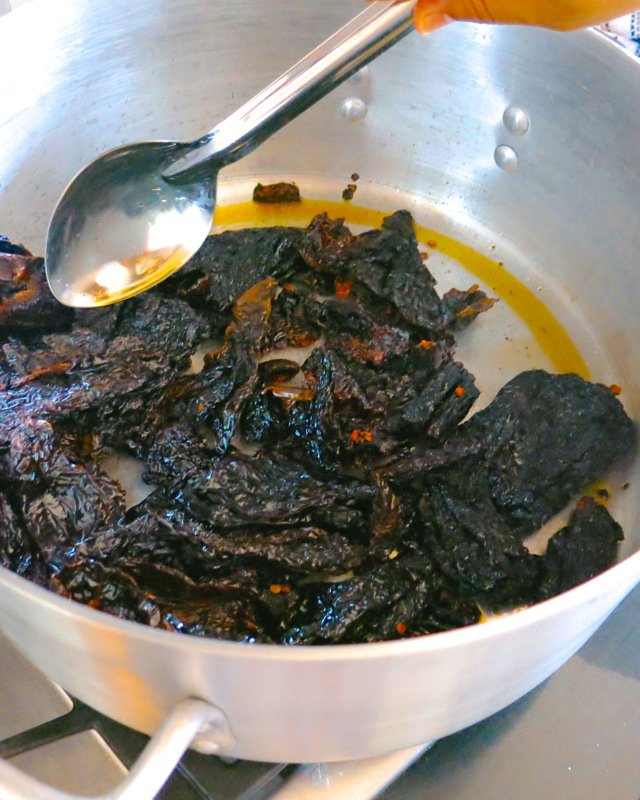 Seeded and deveined peppers are fried in batches.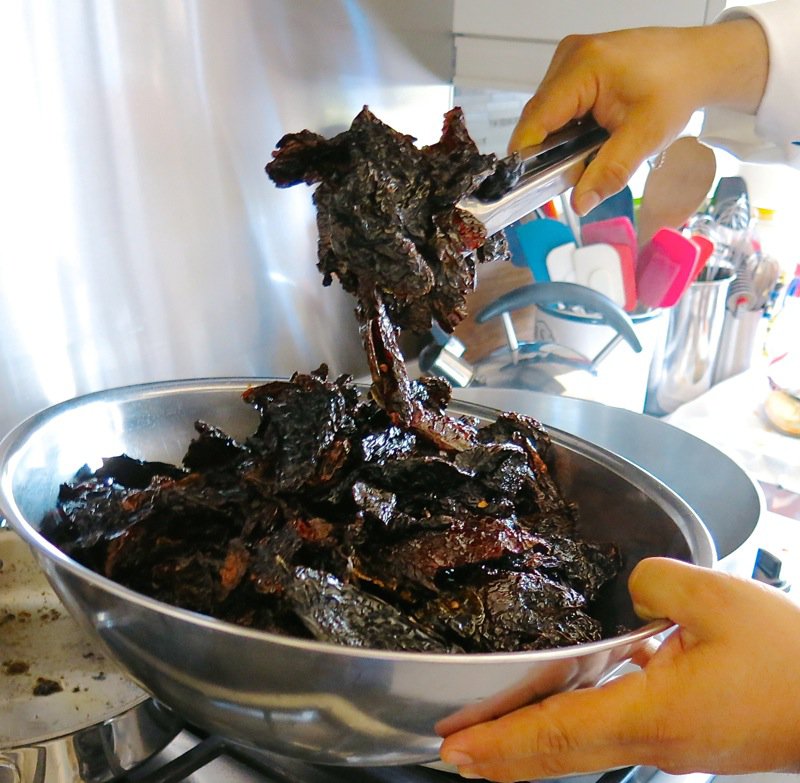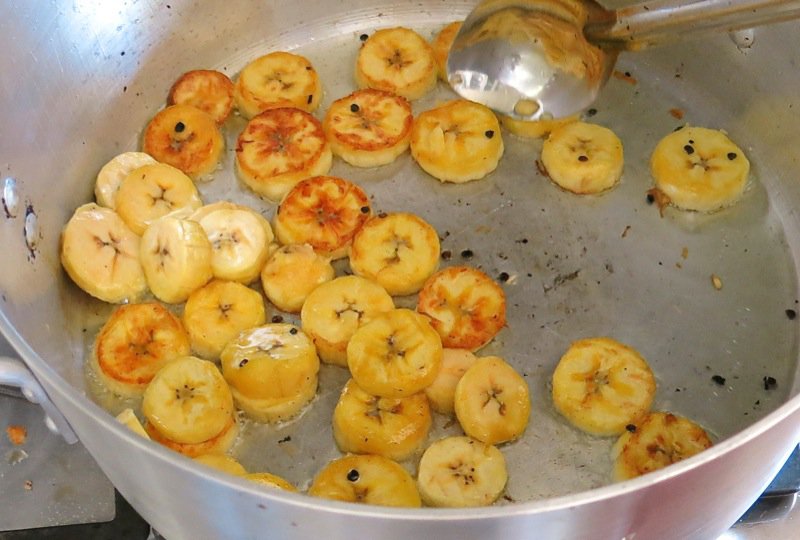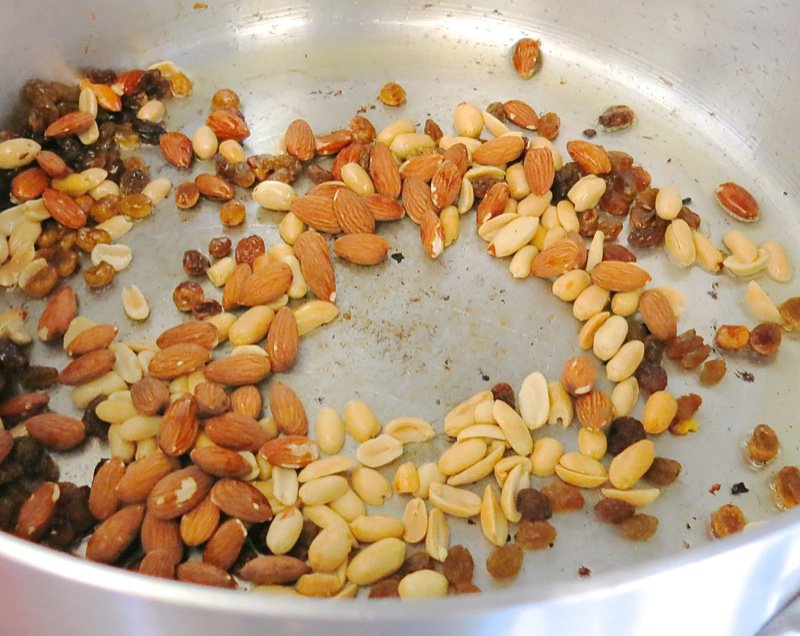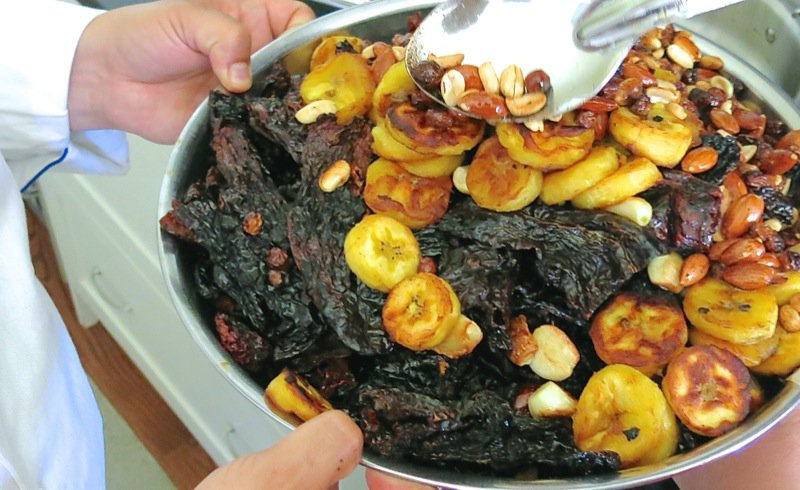 Almost all ingredients are fried and added together in a massive bowl.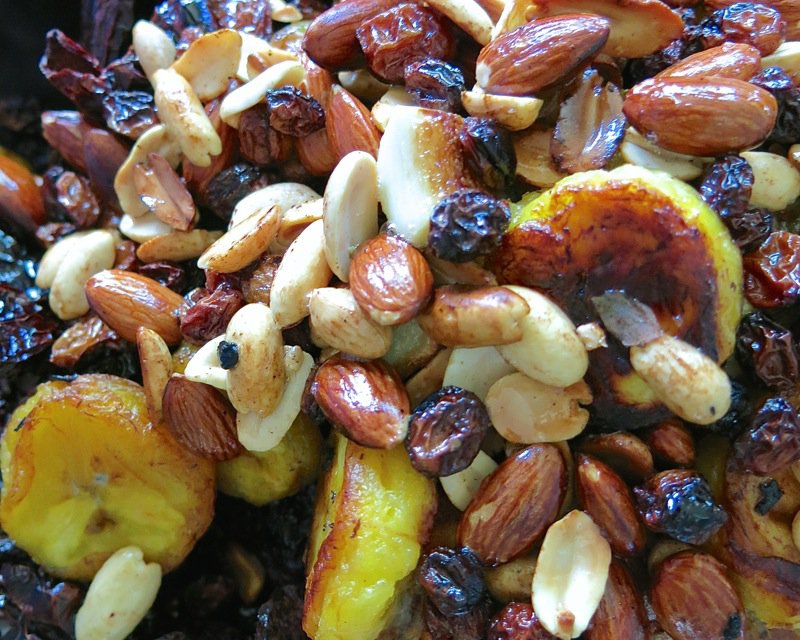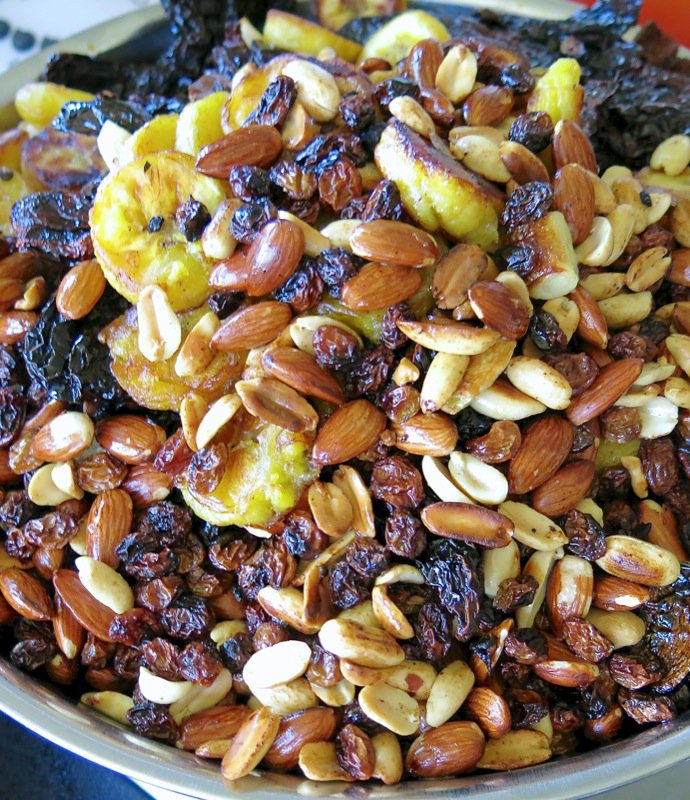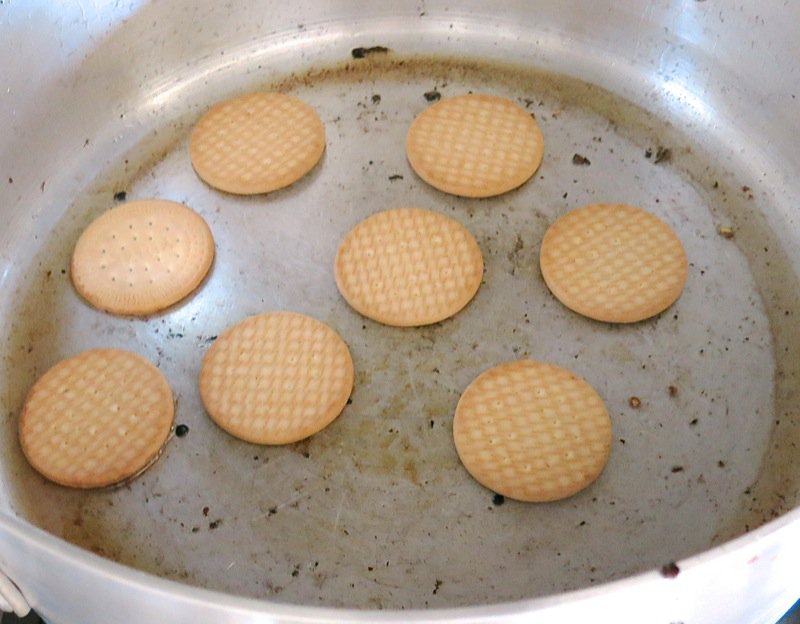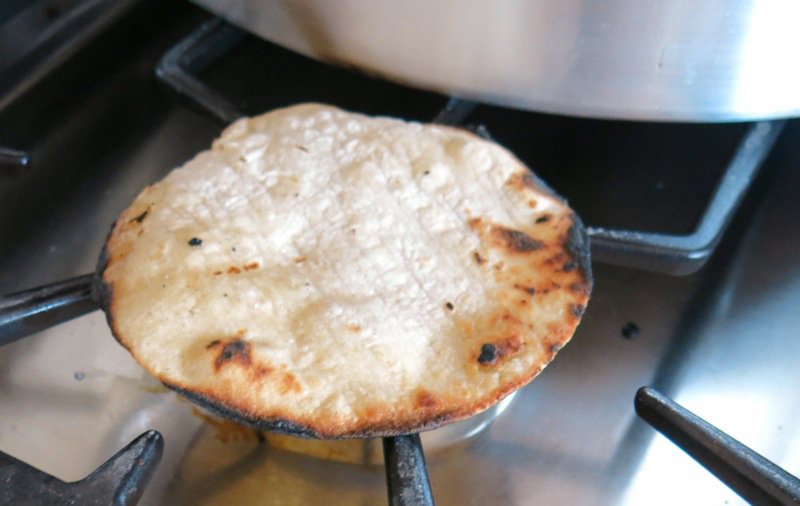 The cookies and the tortilla are fried or charred: flavour, flavour, flavour!
Second Course

While the mole sauce is in the making in the kitchen, the sopes and enchiladas potosinas are served. I was in no rush to serve the enchiladas potosinas as they are so delicious!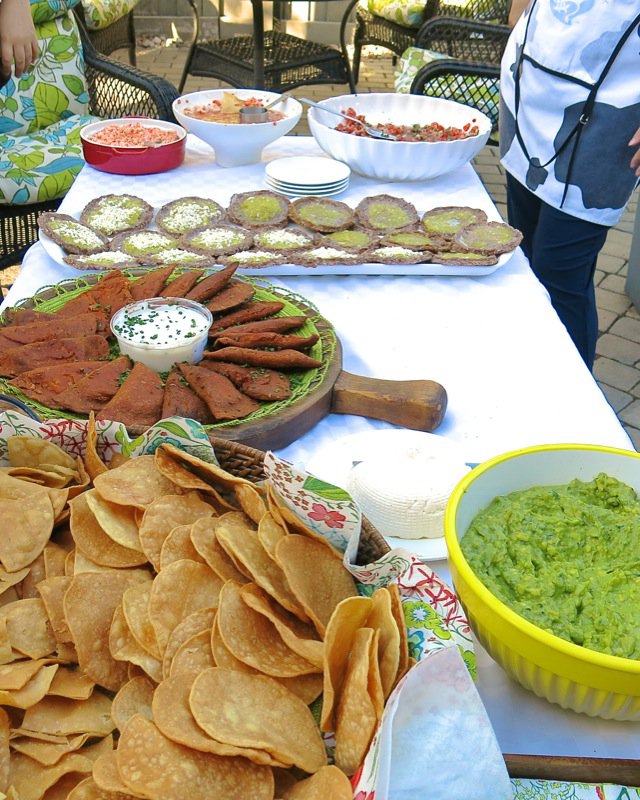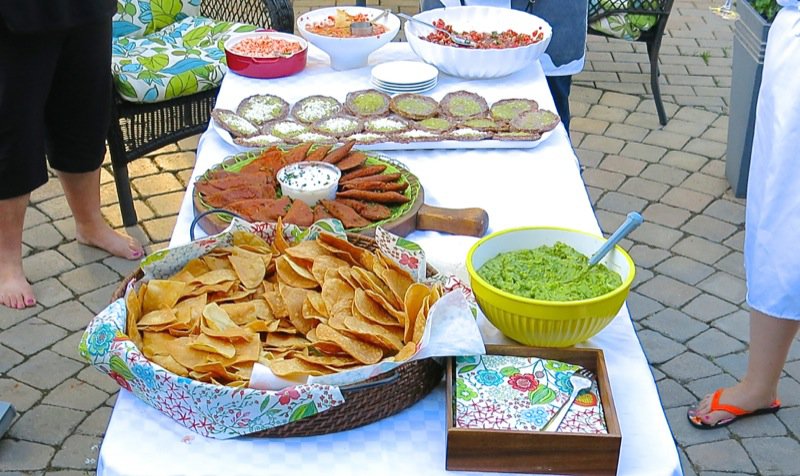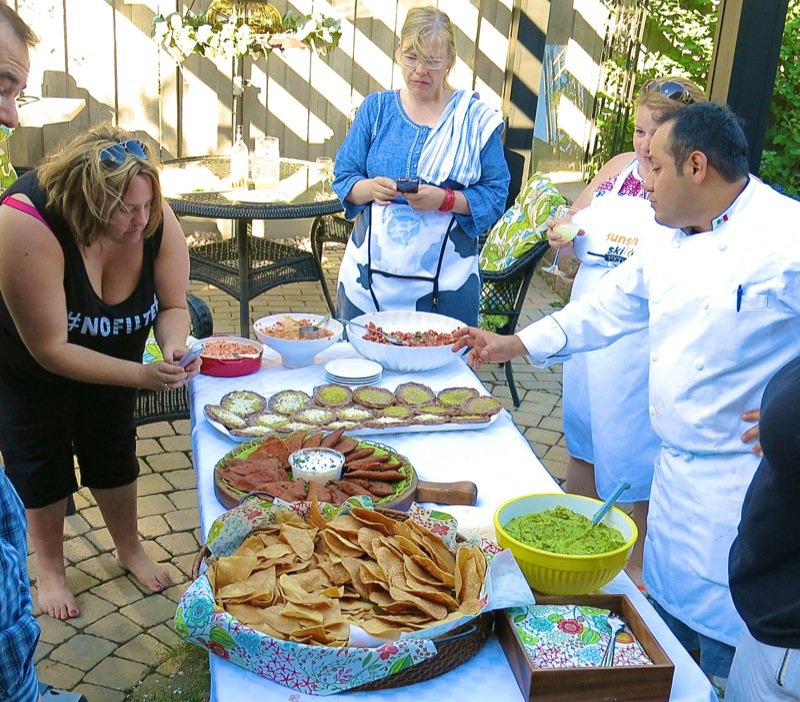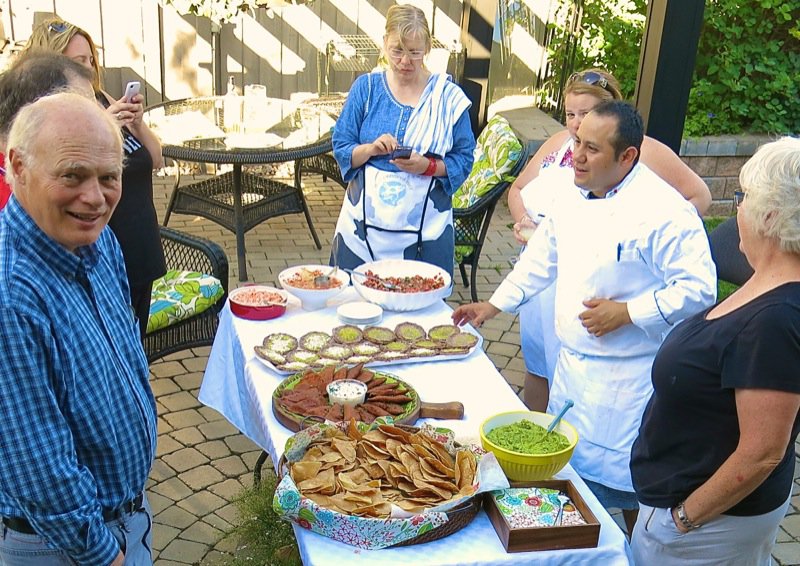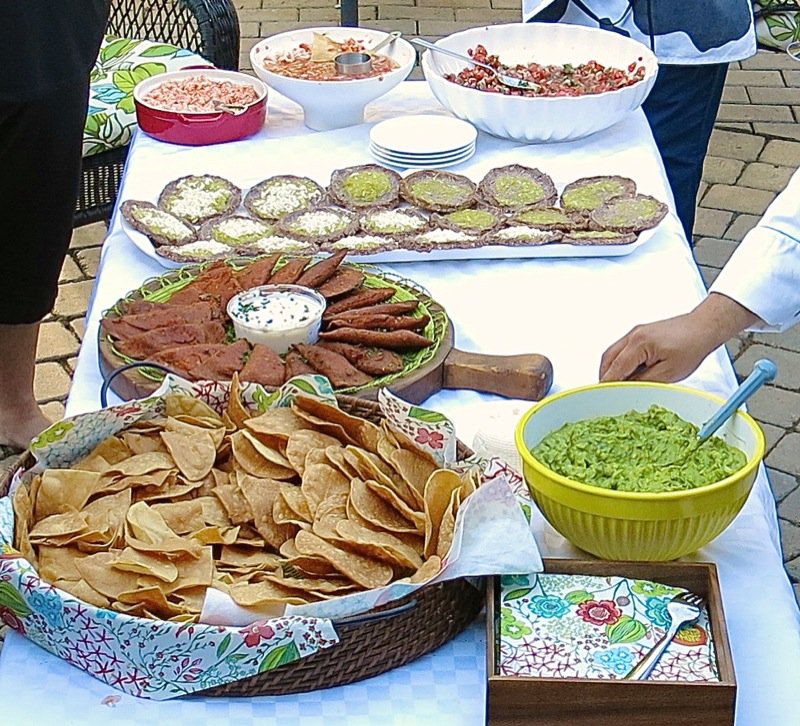 The two warm recipes were welcomed by our guests and we found ourselves back in the kitchen working on the mole!
Back to the Mole

Fried peppers, and other ingredients were put into the Thermomix machine in batches with the broth from poaching the chicken, to purée into a very thick paste.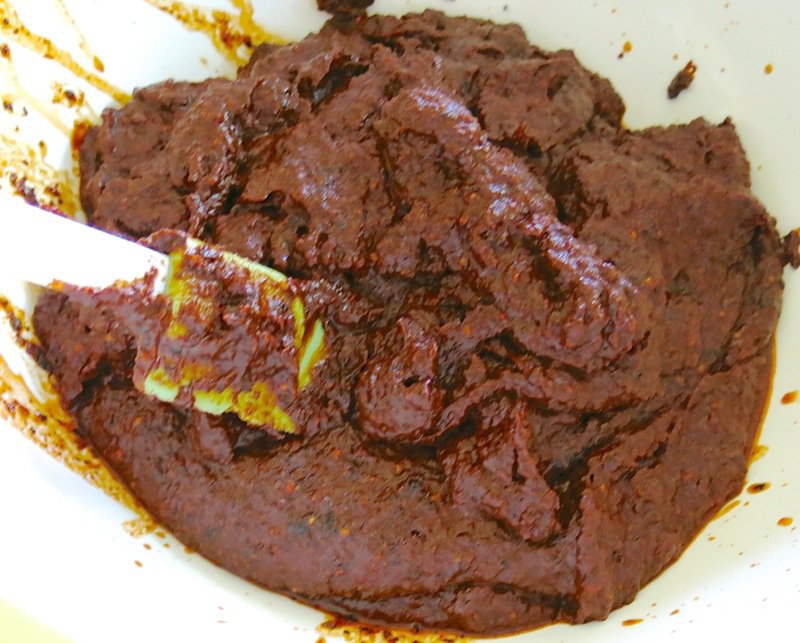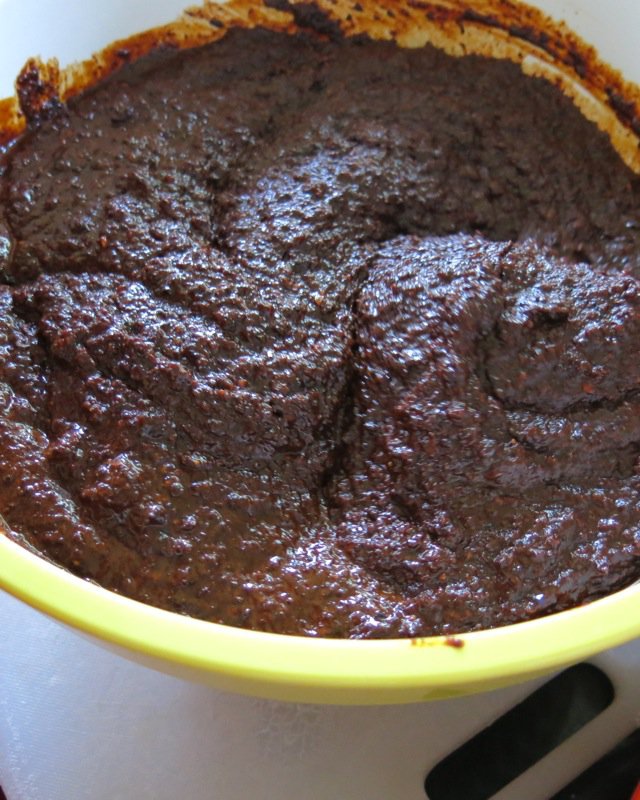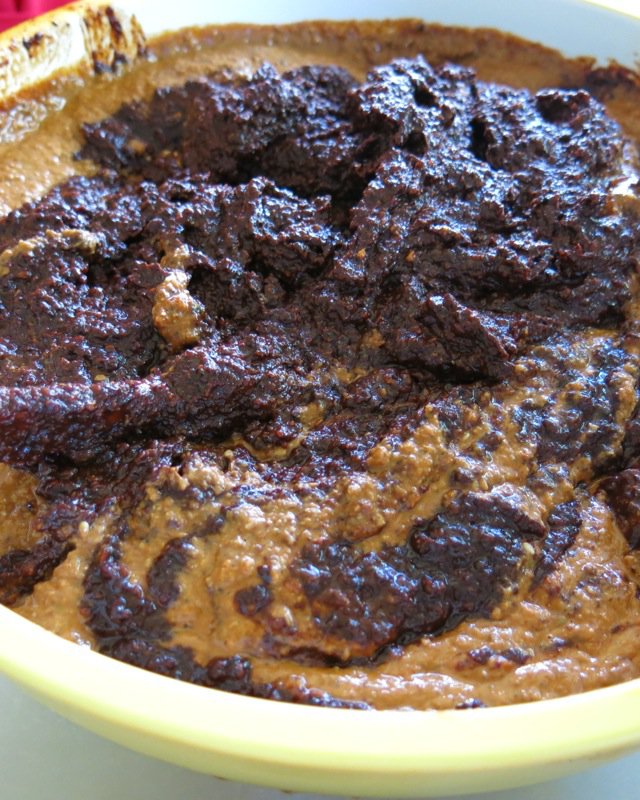 Once everything was puréed and all ingredients mixed well together, the mole was then fried again, in lard. Before the frying again in lard phase, this puréed mole can be stored and then fried in lard 1/4 mole with 3/4 broth, as needed. However, today, Hugo finished the entire batch. This is apparently only 1/2 of his family mole recipe! His pot holds 16 litres and I believe he made a good 12 litres of sauce, once her was done.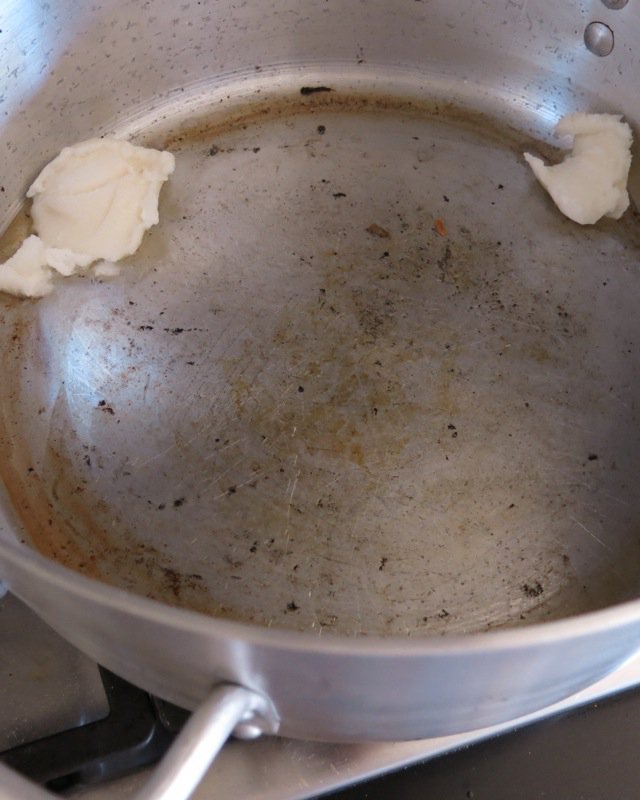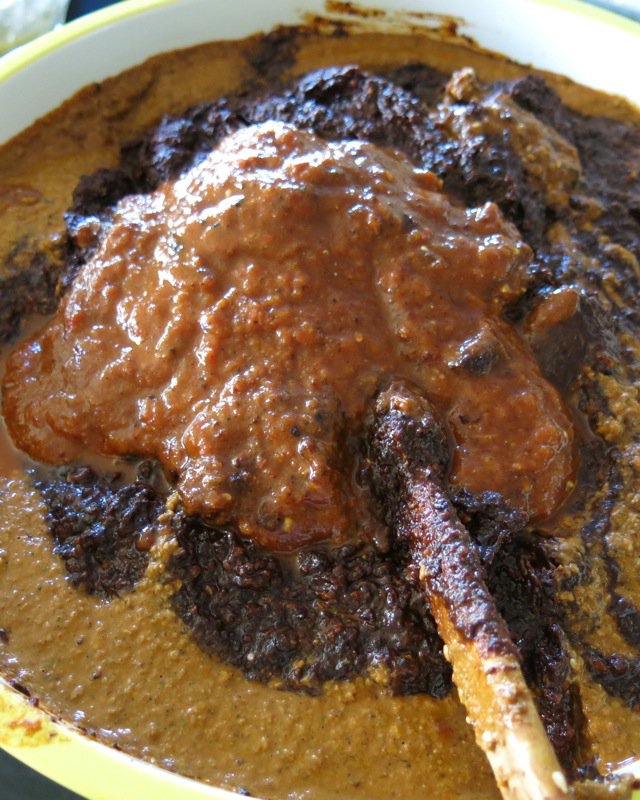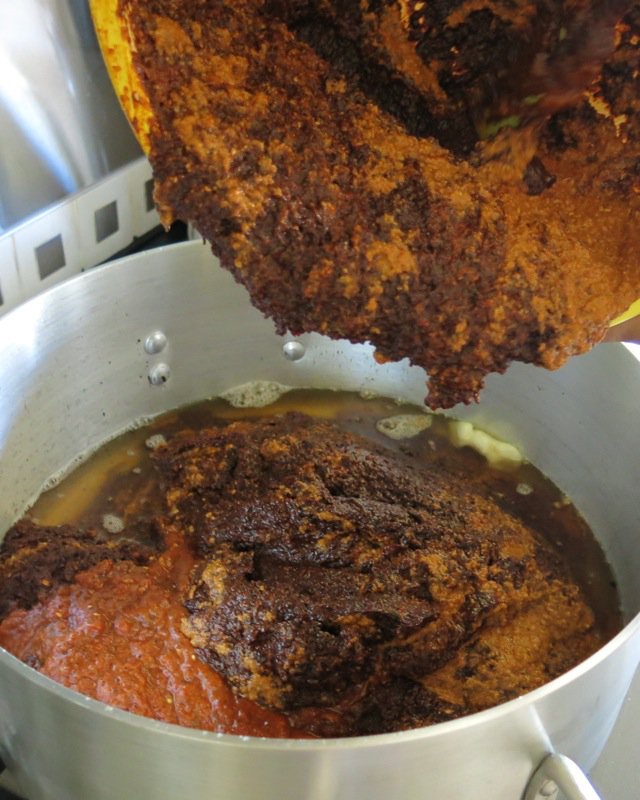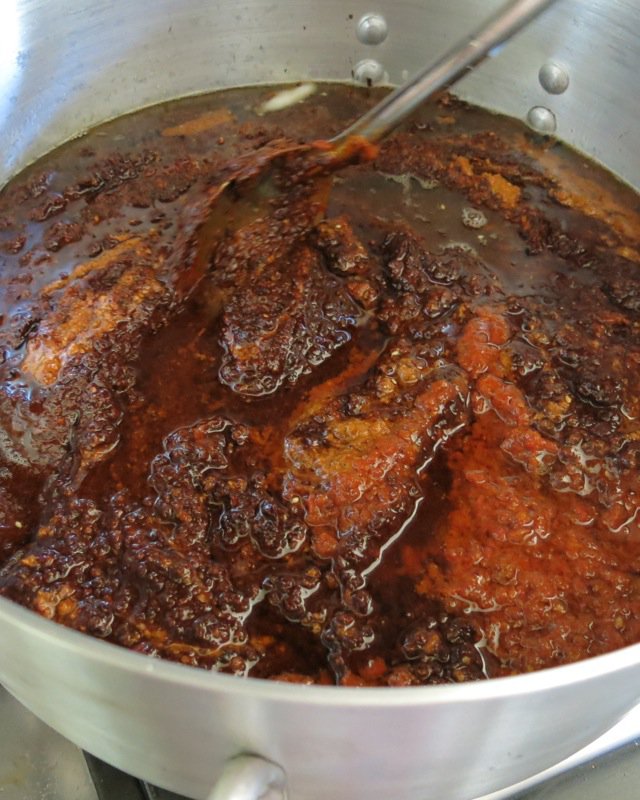 Lots of frying and adding to the pot until all ingredients are in the pot. More chicken stock, and more, and more and more was added until Hugo felt the consistency was perfect.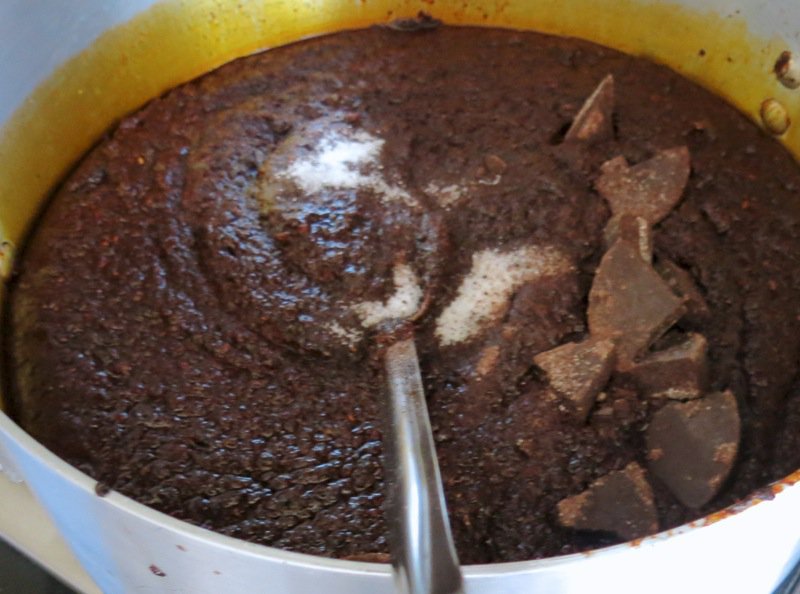 It was at this point that he added the chocolate and then worked to balance the flavour with the sugar and salt. Balancing the flavour so the mole is a delicate balance of both sweet and savory. It is also important to be careful when frying the garlic with the mole. Some believe it is most important to simply use it to flavour the oil and then take it out, as blending the garlic can add to the bitterness of the mole and a good mole should not be bitter.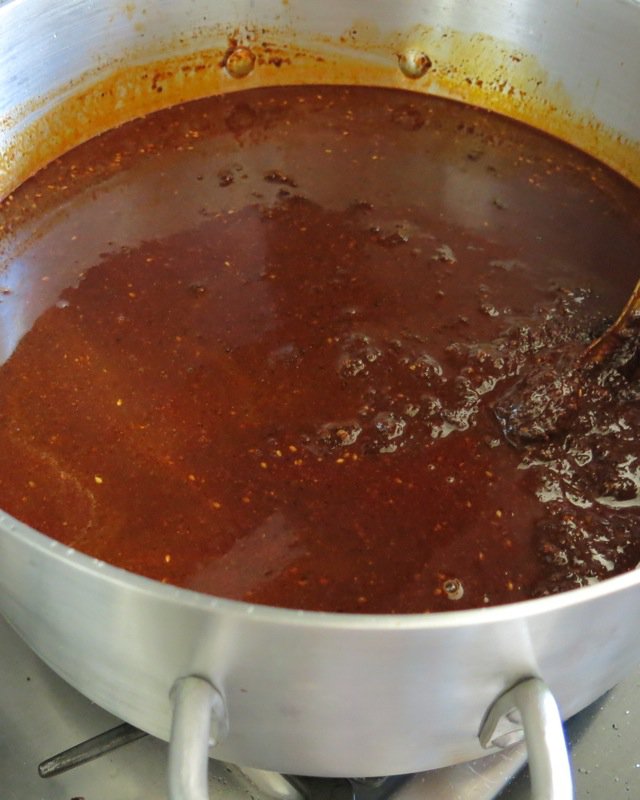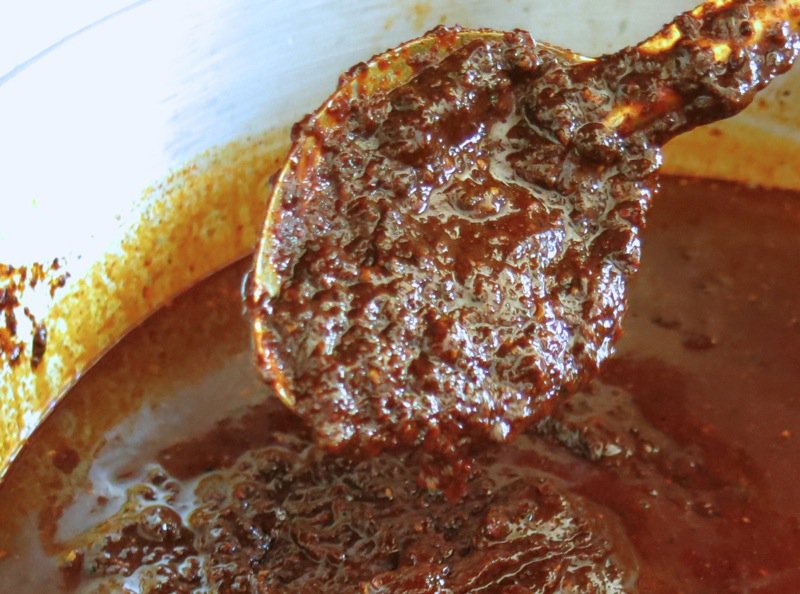 We all noted that the mole was actually smoother and an even better flavour the following day.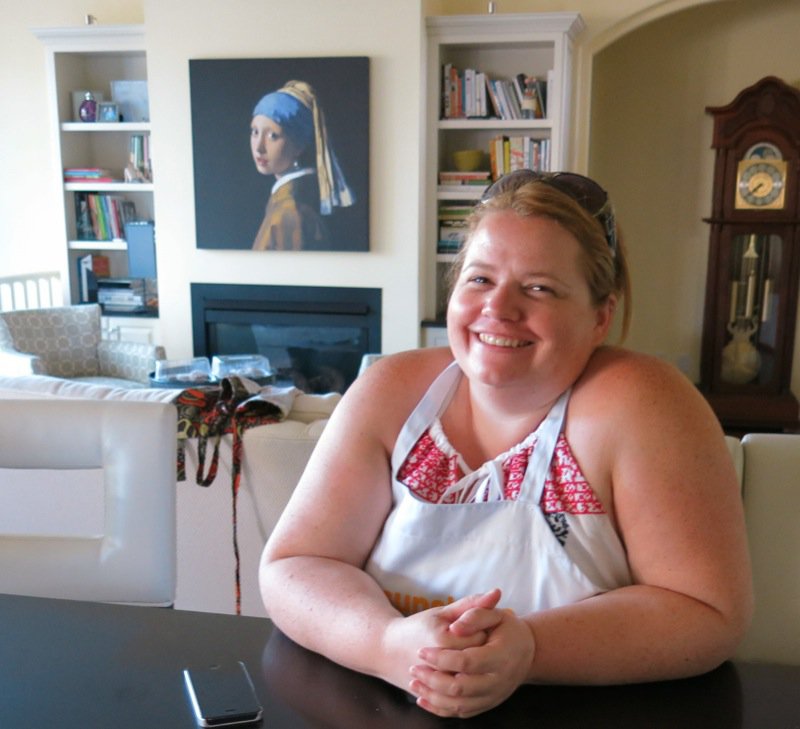 C'est Fini en Mexican!

Slathered over the chicken enchiladas, the mole is traditionally garnished with toasted sesame seeds and served as the grand finalé to the fiesta!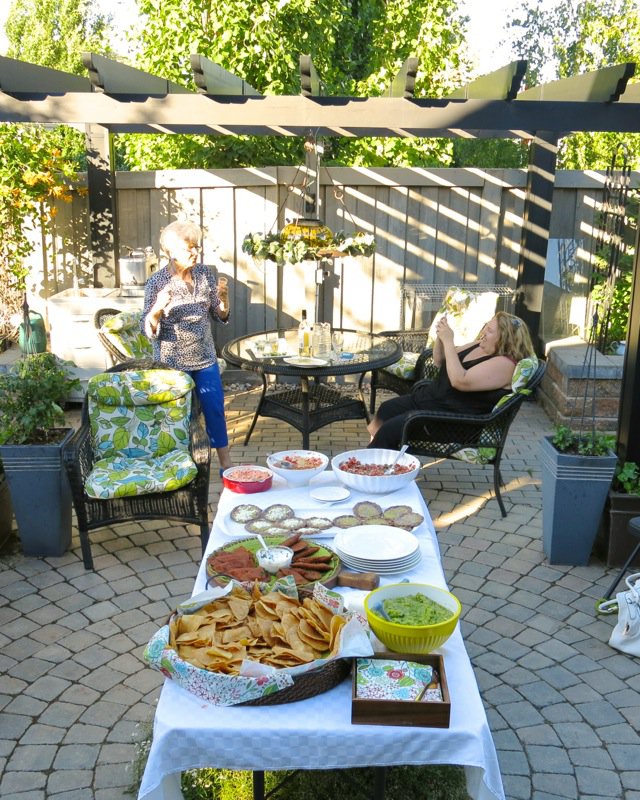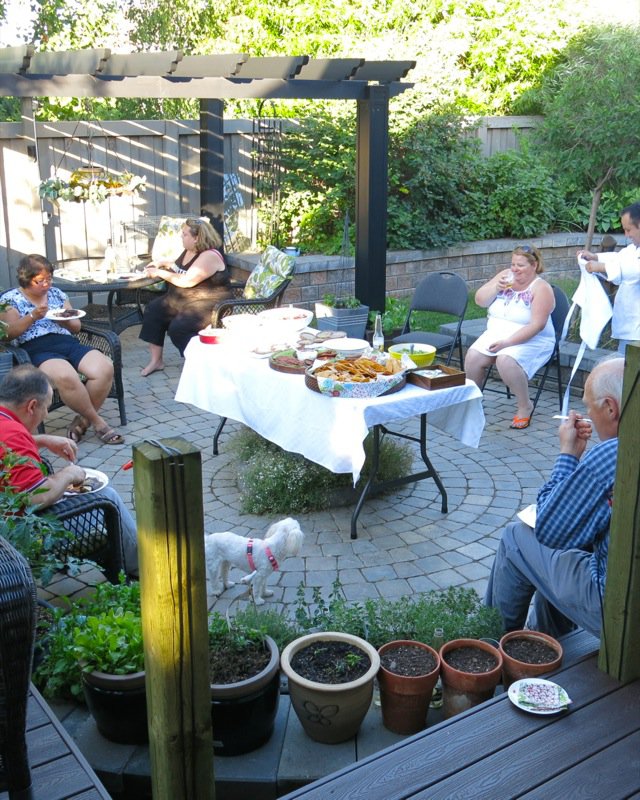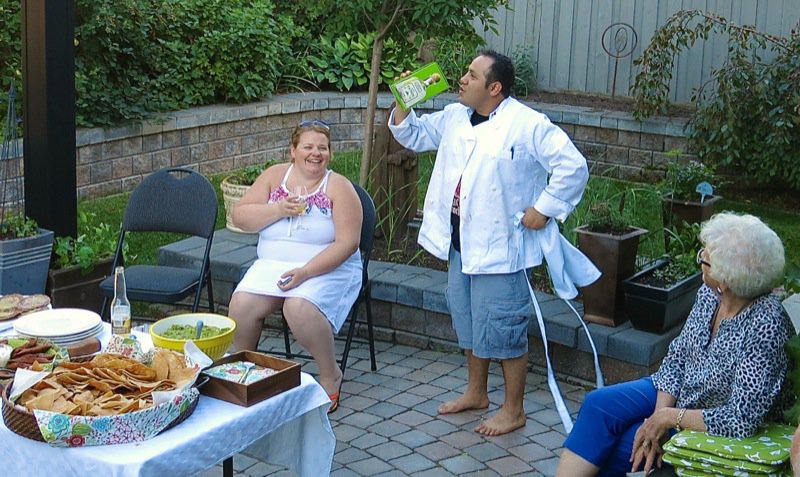 We thanked Hugo for his generous time, incredible teaching, and the truckload of his favourite ingredient he shared with us this day!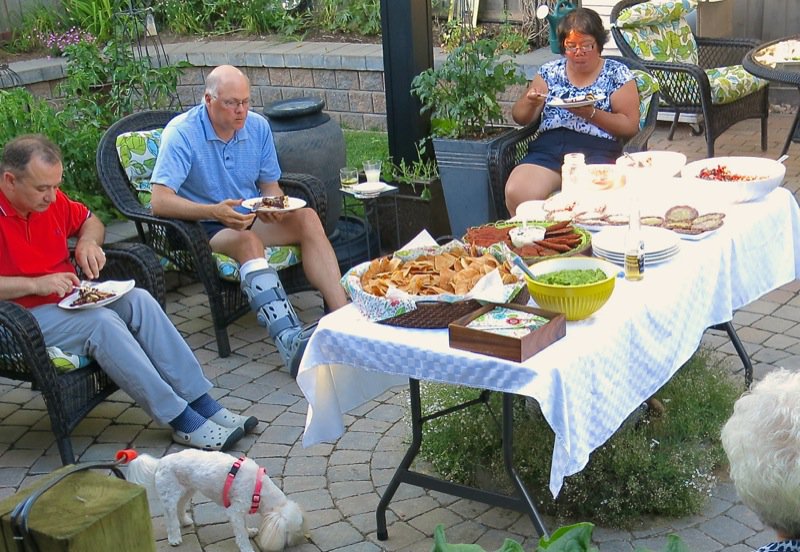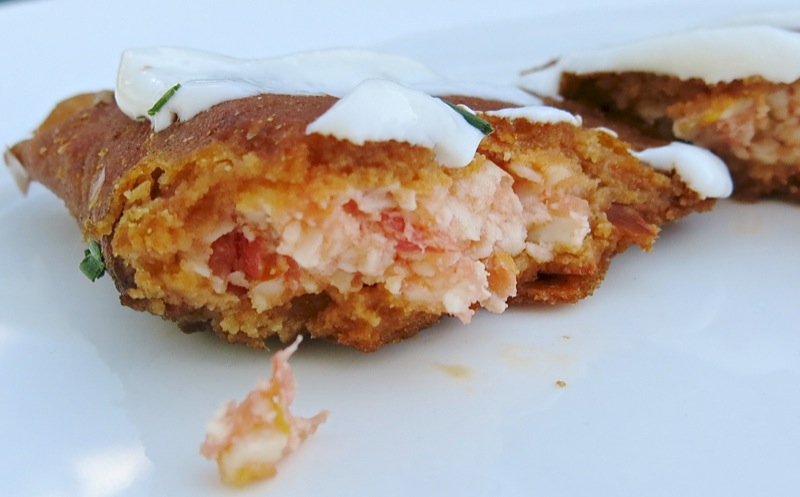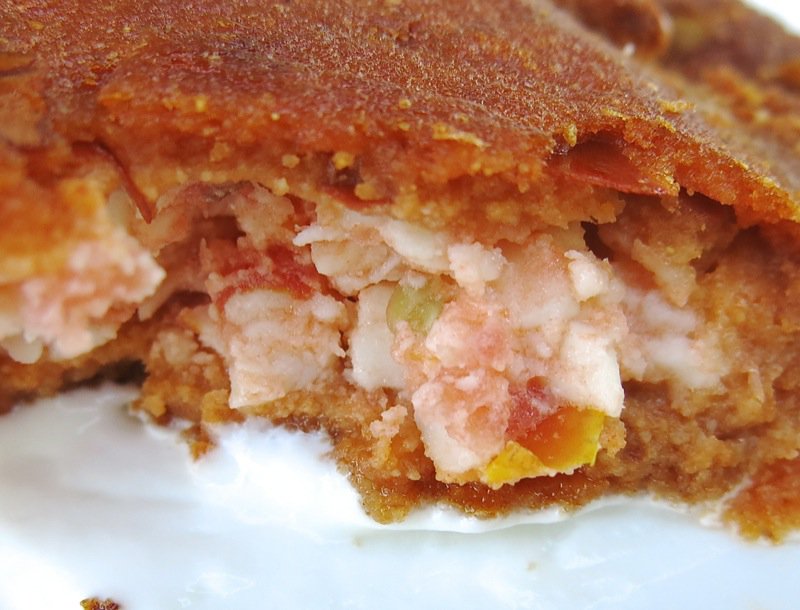 Mmmmm. the Enchiladas Potosinas were Vanja's favourtie, too!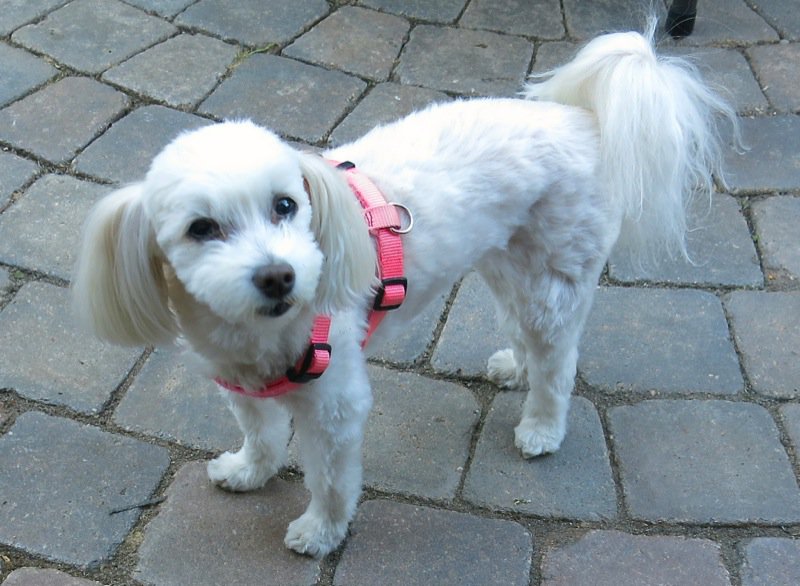 And, my baby sister? Can you see that look of disgust? She just wants a little puppy cuddle and is a little miffed that none of this food smells or tastes good to her.
Layered Fruit Salad (made in advance to accompany the Pastil de limon)

Fruit Salad is such a simple recipe and Vanja's very favourite; however, I don't make it that often. The key is colour, texture (crispy and varied textures) and flavour (tart to sweet).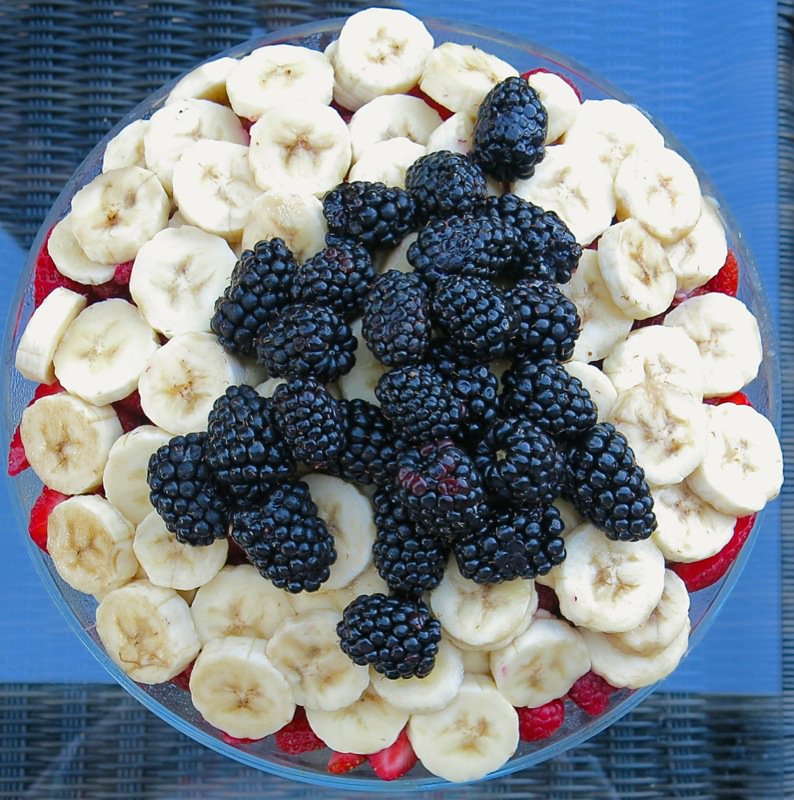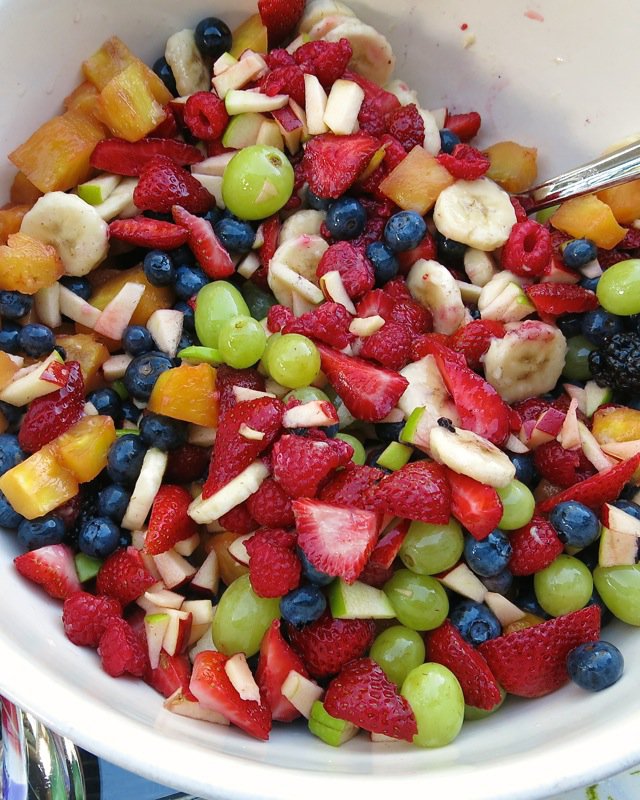 Presented in the layered bowl, and tossed into another one for service makes it easy.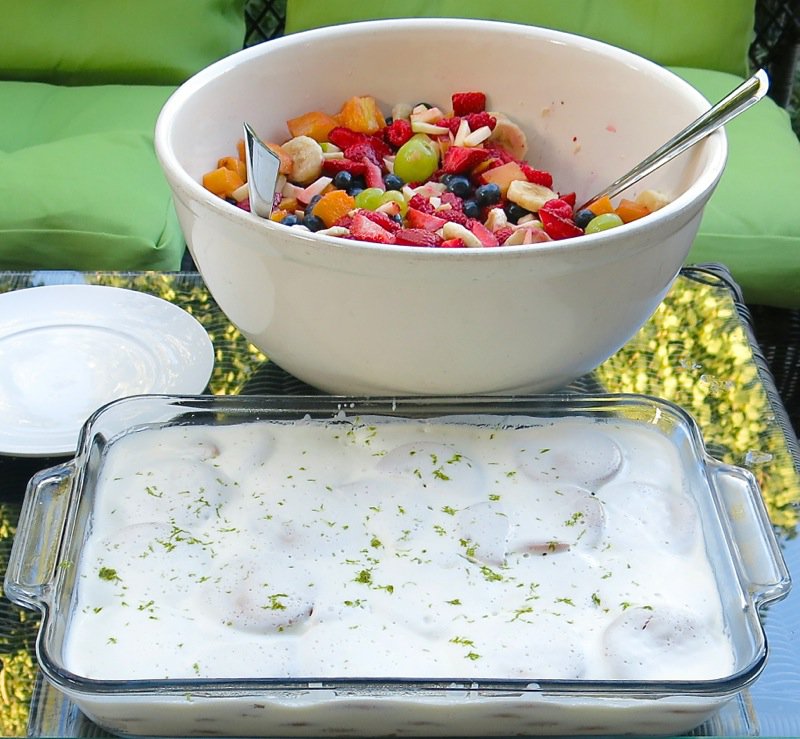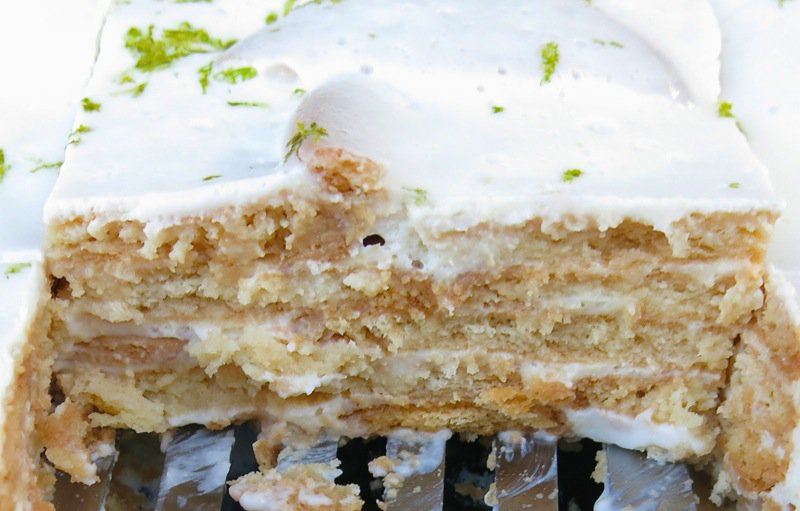 The Pastel de limon was soft, lime-lively and creamy luxury: a perfect accompaniment to the fruit salad with a sprig of fresh mint.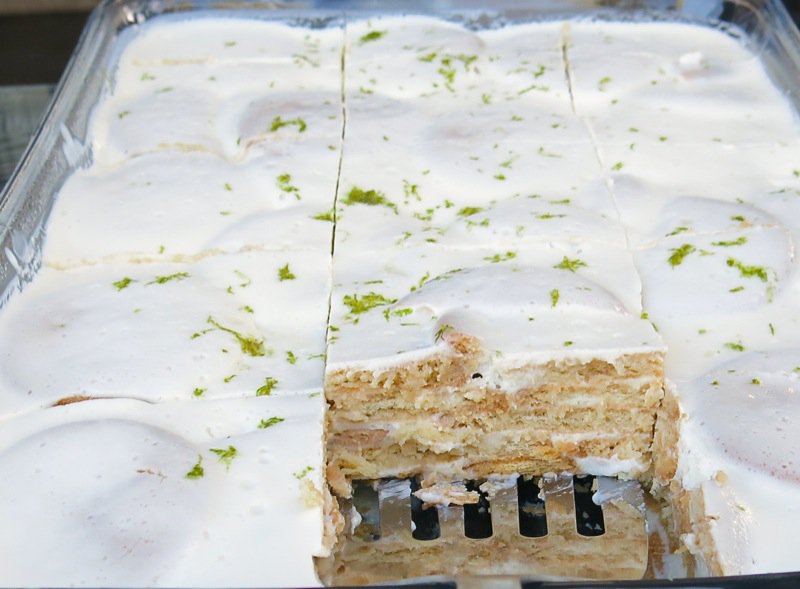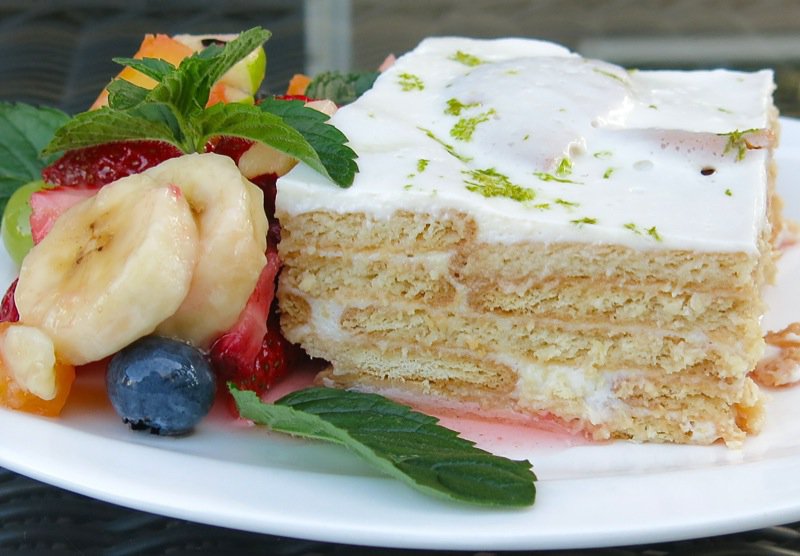 Though there was so much food, there is always room for dessert!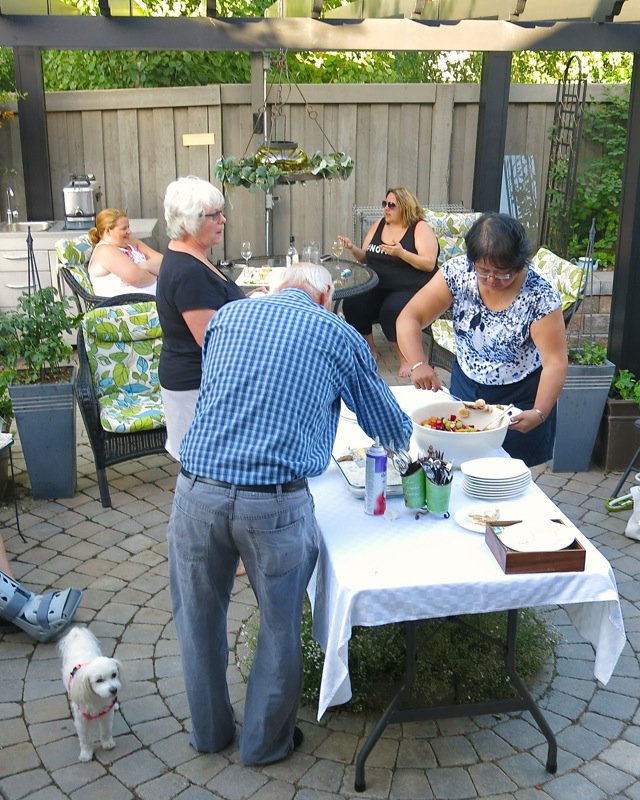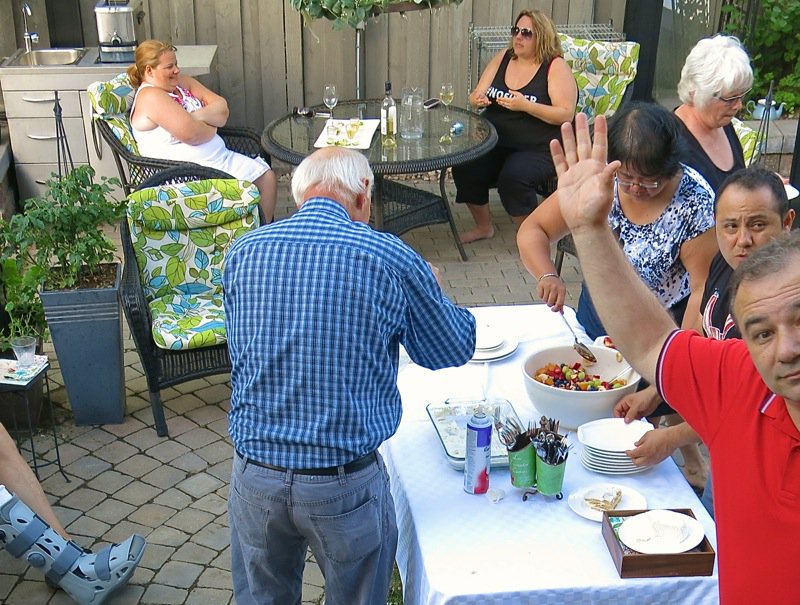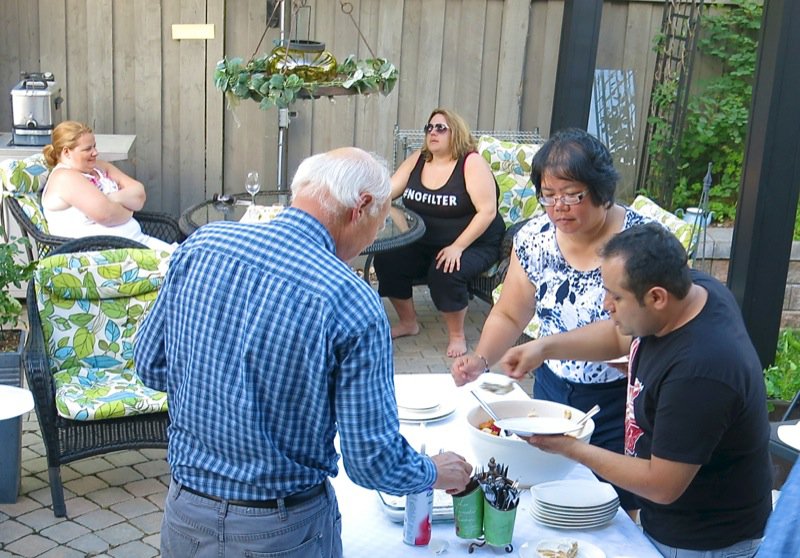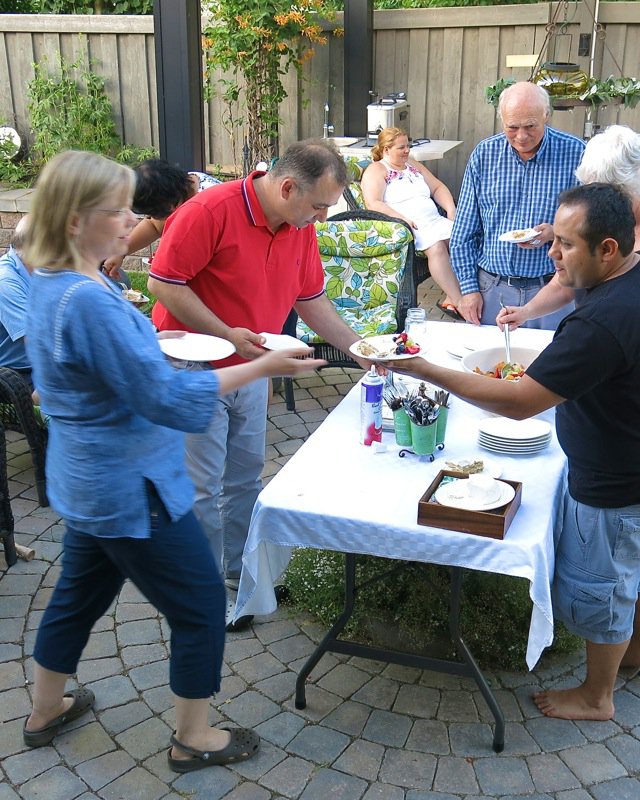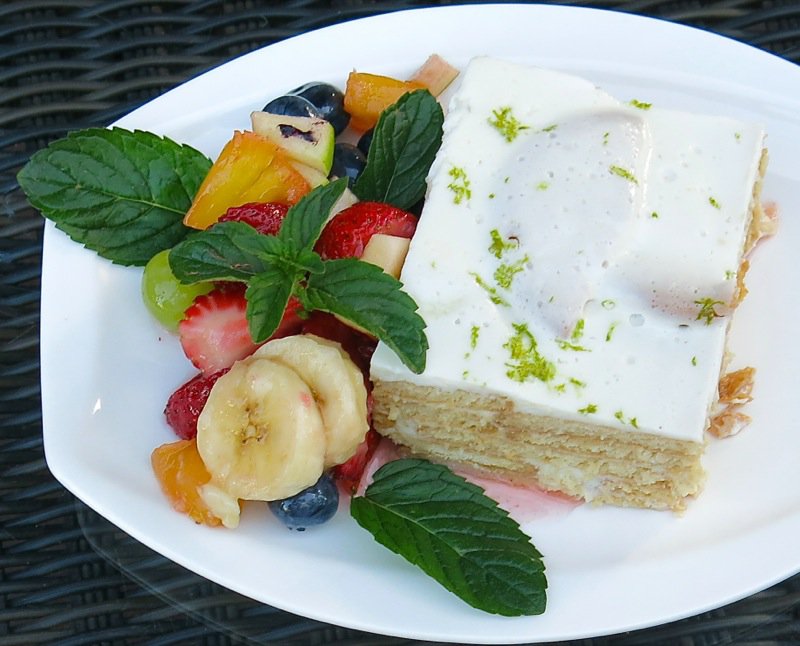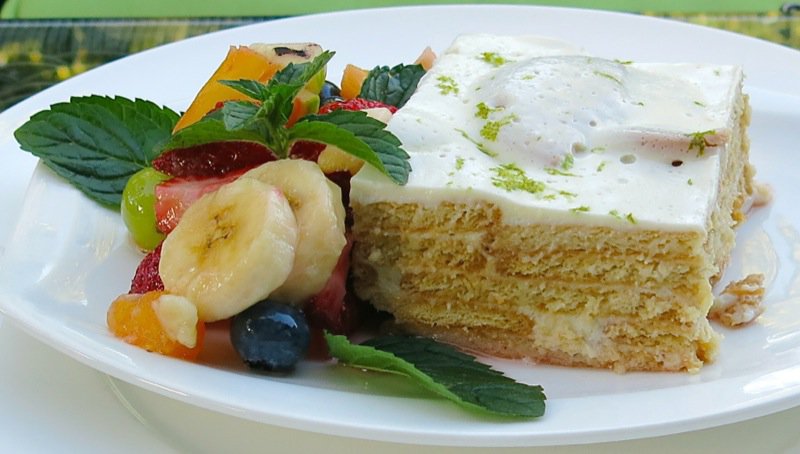 Completely edified in every way, people found their way home later in the evening. I still savor so many silly little moments that reared their head throughout our time together. But, hold dear the learning and that gift of the special ingredient Hugo shared with us all on this day: his love!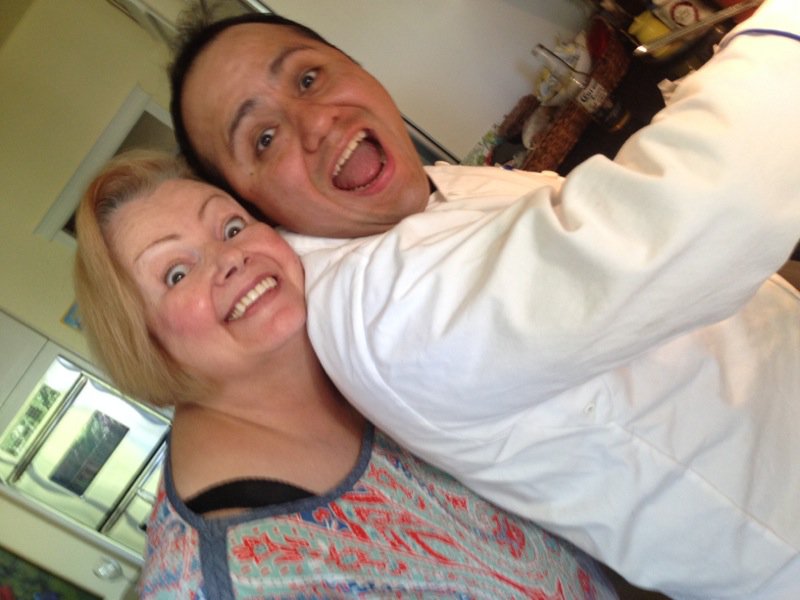 Remember to write and ask me for the Mexican recipes!