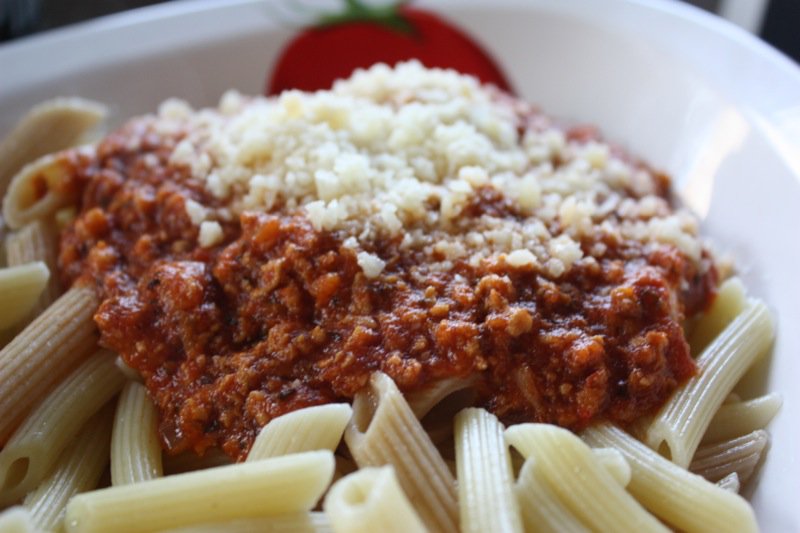 … and Vanja is still licking his chops!
I always enjoy Sharon's Q and A's about local foodies. (She even did me once!) When she did Cathy's the first week of May, I was curious about Cathy's meat sauce as it was her weekday meal stand by. Cathy is a local foodie I admire, so I had to try it, and I bugged her until she posted it on her site. Thanks, Cathy!
I followed Cathy's recipe as closely as I could.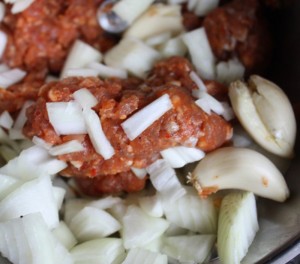 I didn't go out shopping for the ingredients, so if I had what was in the recipe, I used it and if I didn't, I adapted. This hot Italian sausage is really the best I have ever eaten. It is full of flavour and is great on the grill or in a pasta sauce. If anyone local has another favourite, please let me know as I will be happy to try it. I do prefer to buy from a local farmer. I would love to learn to make my own, too. But, for now, this sausage is Costco's Hot Italian Sausage and the current winner of my not posted hot Italian sausage tasting.
Cathy uses a whole bulb of garlic, and I love garlic, too, but thought I should be a bit more conservative working out this recipe for the first time in my Thermomix. I used three huge cloves. The sausage is already full of seasoning, so I added no more at this point. Just the onion, garlic, and sausage, then browned away.
Beavie was curious. "What smells so good?" It wasn't long before the steam was clouding out of the lid, and I think he was climbing in for a whiff, but got a little unexpected scalding.
Cooking meat in the Thermomix is so convenient and it is so delicious. It will not caramelize, but definitely browns.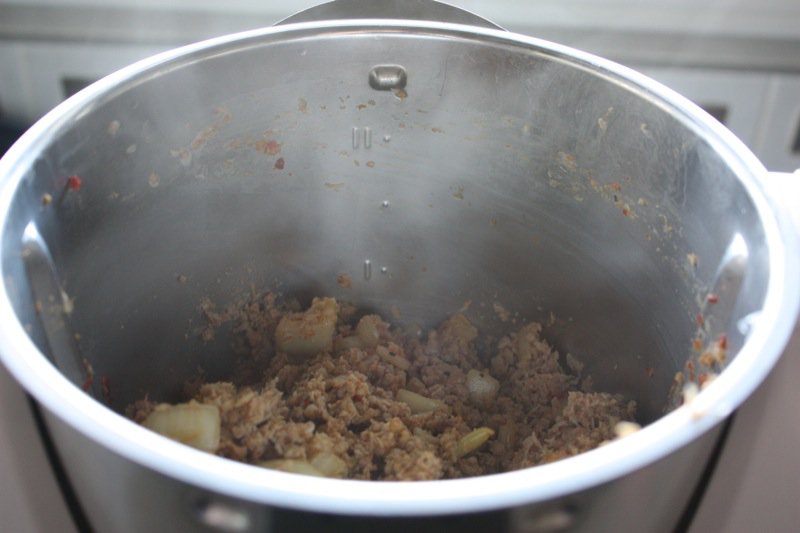 The TM basket is perfect to use to keep the meat in the bowl and drain the grease from it.
Chef David Adjey told us that his favourite tomato sauce was just a little garlic, onion and a really expensive can of tomatoes. I think he meant the DOP tomatoes from the San Marzano area in Italy that are famous for having the best tomatoes in the world. I was through it once on a trip to Sorrento and Pompeii and the produce there was incredible. The tomatoes indescribable. I learned that DOP on any Italian product indicates the best in the region. You needn't pay high prices. Just ensure whatever you buy (olive oil included) is indicated as DOP (Denominazione di Origine Protetta: Literally translated "œProtected Designation of Origin", this label applies to various cheeses, meats, etc. throughout the various regions of Italy), and you will get a really good product from region to region. I had some on hand from the Italian Centre Shop. There area a few different labels of San Marzano DOP tomatoes there, and I am sure they are all good. Joe was in when I was there, so I asked for his opinion, and he recommended the one I got. I got quite a few, as we use a lot f canned tomatoes, and without realizing it, I got some flavoured with basil. This I never do. I like to flavour my own sauces. But, I had it, so I used it.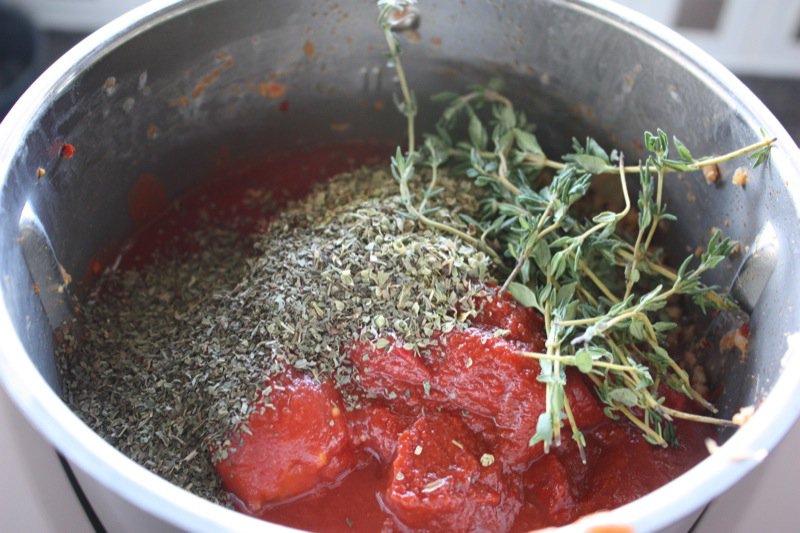 And the herbs and salt go in now, too.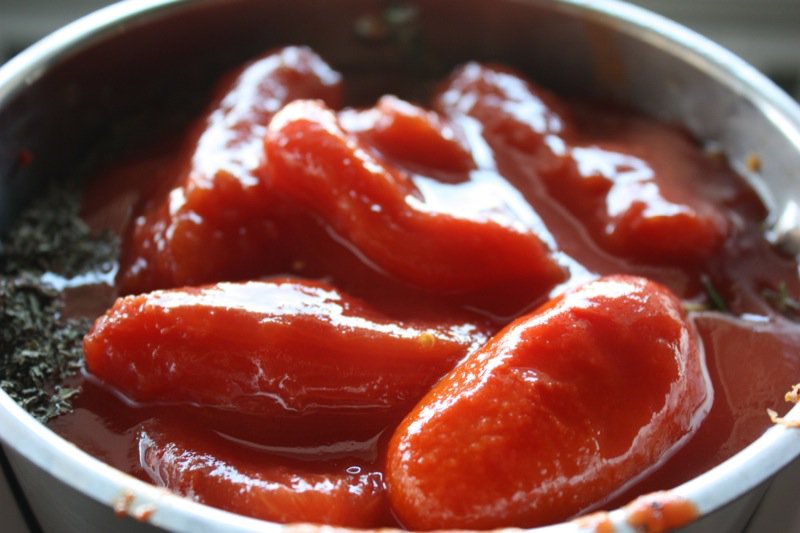 The tomatoes just look gorgeous, don't they? I added a second can, and no water. I know that this lovely little machine can heat up very fast and spurt all over the place if it is full, as it is today, and doesn't get turned to a simmer fast enough. Always turn the measuring cup sideways to avoid this.
It was completely my fault. The machine was calling my name for at least 5 minutes before I got back to it. There was a really good movie on TV, and look at my fine mess. The measuring cup had been plopped back into position by the boiling steam and the pressure had spurted tomato sauce all over everything. Including, Beavie! What a mess. This will not happen if you come when you hear the beep. I just was not thinking. But, good to see it happen to me before you, right?
It was definitely at a hard boil, so I turned it to a gentle boil and took the measuring cup off to thicken the sauce for 30 more minutes, or so.
Fortunately, I have two TM bowls, so I ground my cheese when the sauce was done. Otherwise, you have to remember to do it beforehand. There is nothing like freshly ground Parmesan. So fragrant!
I just ran the fork around the sauce a couple of times to catch the thyme strands and fish them out.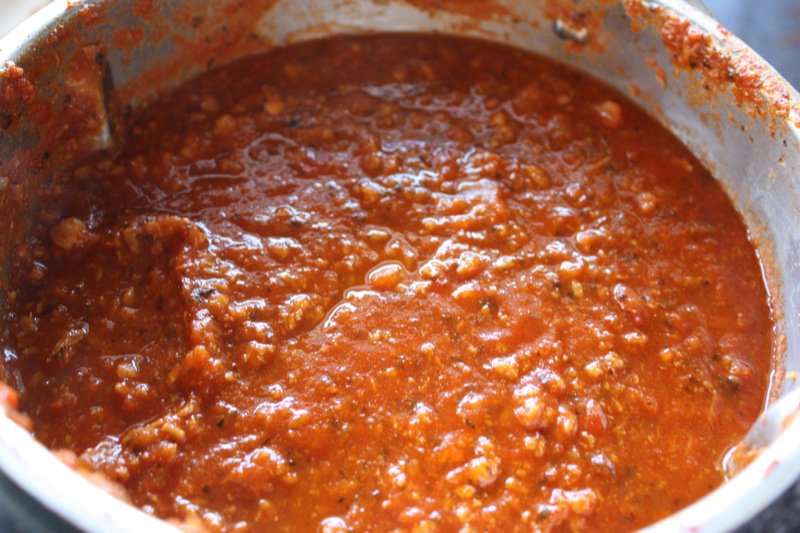 It was a very tasty sauce. I was really pleased with how complex the flavours were for the short amount of time cooking. Certainly, I could have simmered it another hour, but there was no need. It was great.
I have always loved penne. I don't know when I started to prefer it. I never had it as a child. It is definitely my favourite pasta. I did throw a few whole wheat ones into the mix. I had them, so I used them.
I was excited to use my new serving dish from Teresa for the first time. Perfect for this sauce! Thank you, Teresa! 🙂
I know it looks like far too much sauce for the pasta, but Vanja was not home yet, and I didn't want to toss it together at this point. I just added enough sauce to barely coat the pasta (then he added a whole lot more).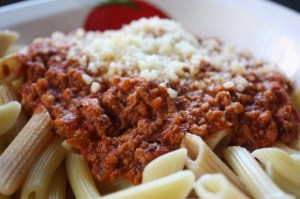 Cathy's Bolognese Sauce Recipe adapted by me (per what I had on hand in my fridge)
Ingredients:
750g hot Italian Sausage meat (removed from tubing)
1 large onion, chopped
3 large cloves garlic
2 28-oz cans tomatoes
1 6-oz can tomato paste
1 tablespoon dried oregano leaves
1 tablespoon dried basil leaves
1 tsp salt
some fresh thyme (as per photo)
cheese for topping the sauce
Instructions:
Grate the cheese for your sauce before you start cooking
Scale meat into the TM bowl; add onion and garlic and sautéfor 10 min at Varoma, speed 1-2
Place the TM basket into the bowl and strain the fat from the meat
Add all remaining ingredients and bring to a boil: 10 minutes at Varoma, speed 2-3, measuring cup set on the diagonal to avert bubbling over (check a couple of minutes before to avoid you-know-what!)
Simmer for 30 – 40 minutes at 80ºC, measuring cup off, speed 2-3
Remove thyme strands; serve with pasta and freshly grated Parmesan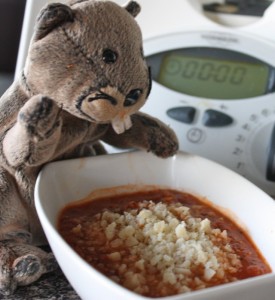 This is just the beginning. Read Cathy's recipe for the real scoop on the recipe. I was thrilled with this inspiration on this particular day. Exhausted after a hot day at school, left over sausage in the fridge, and no ambition or clue about what to make for Vanja. Pasta would be great was his response when I asked. Cathy's recipe was on the top of my list to try and convert to the Thermomix, so this was the perfect time for it. I bought my sausages at Costco. They are still the best hot Italian sausage I can find locally, I am sad to say. But, they are really delicious and flavourful and do have just the right amount of heat and fennel, and paprika and whatever else is in them. They definitely added value to my adaptation of this recipe as I left a few ingredients out. I am also certain that the DOP tomatoes (unfortunately) with Basil added another good hit of flavour.
Vanja was really pleased. He thought it was the best meat sauce he had had in a very long while. I am always happy to see that satisfied smile on his face after a quick and easy to make dinner. I ate mine as a thick soup with the cheese on top. YUM.
Beavie tried to get his little teeth into my bowl, but there was no sharing this with him. It isn't good for his diet, anyway!