Mom's Homemade Cinnamon Buns Recipe is our Christmas Brunch Staple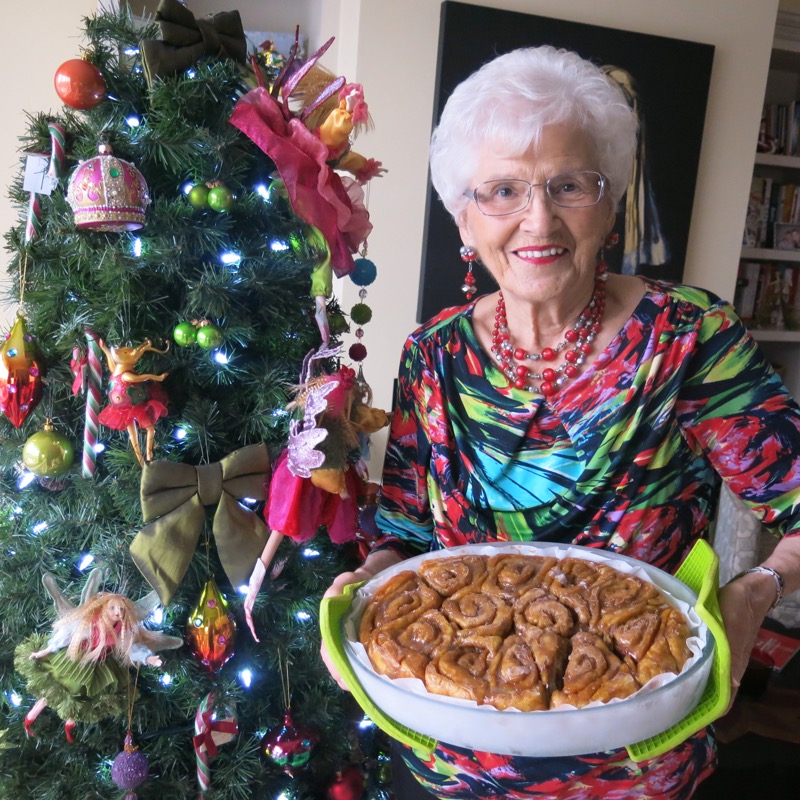 My daughters love my mom's cinnamon buns. I rarely make them, as she always has them made about when I start thinking about it during the holiday season. Yet, I made them often enough when the girls were younger that I am confident and competent in the "how to's" and make a mighty fine pan of yeasty cinnamon lusciousness if I do say so myself. I would like to say mom taught me, but she didn't.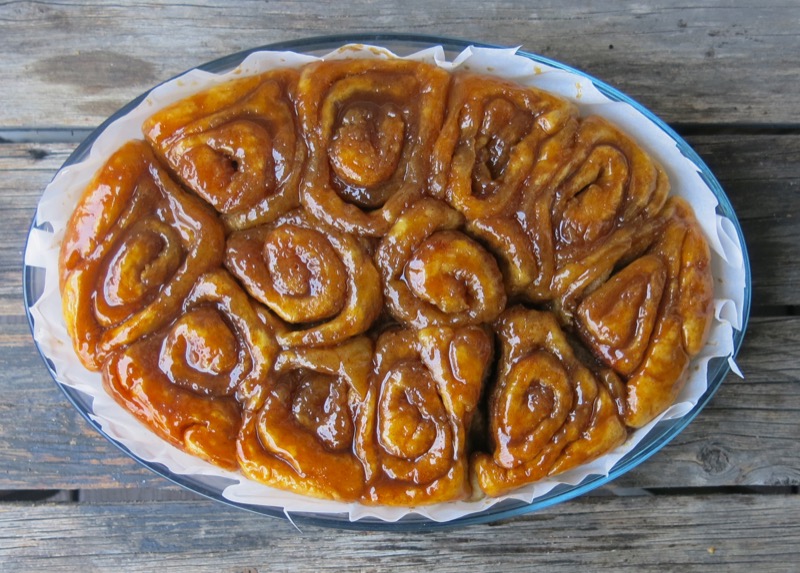 Watching her make them so many times during my childhood let me give it a go so many years ago.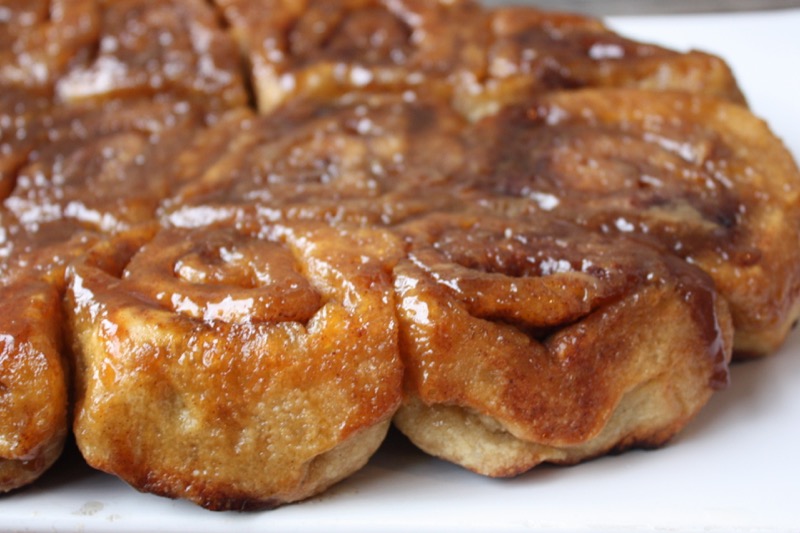 Mom made bread. Not often, as she was a working mom, but often enough. Certainly, a few times a year and always at Christmas. When she would knead a massive mound of dough, the last portion would be rolled into cinnamon buns. There might be loaves or buns, but there was always a tray of cinnamon buns in the mix.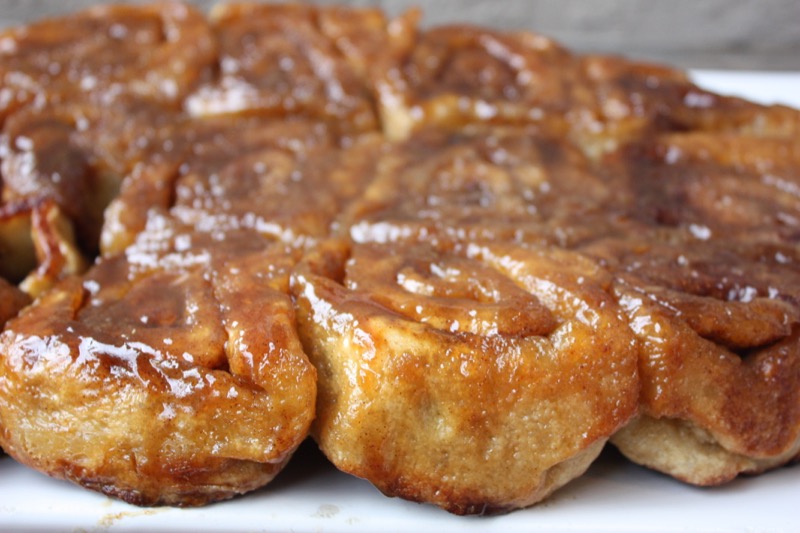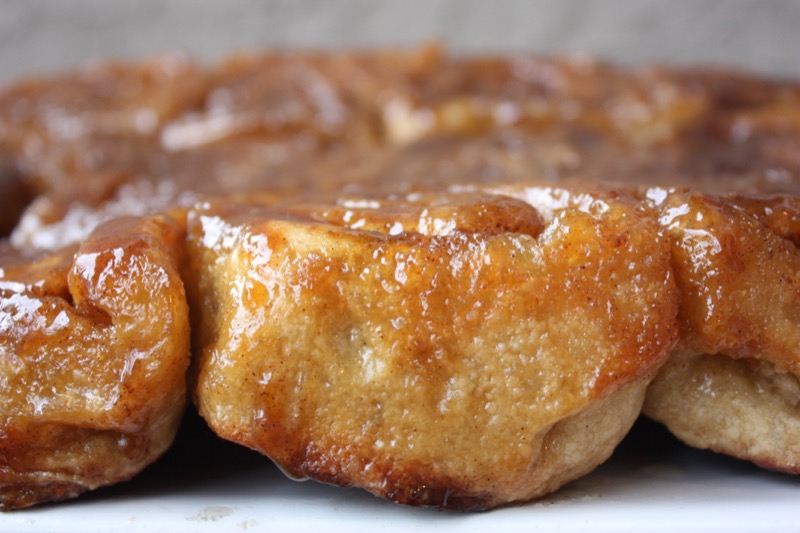 My mom's cinnamon buns were absolutely the best in the neighbourhood. Hands down. To be honest, very few of the ladies even made them. She made a beautiful dough, and before "sticky buns" were even heard of, she made cinnamon buns with so much goo at the bottom of the tray that it is actually possible she was the inventor of the "sticky bun". She would butter her tray liberally (thickly), sprinkle it with golden brown sugar (thickly) and nestle each bun onto that "waiting-to-caramelize-in-the-oven" mass.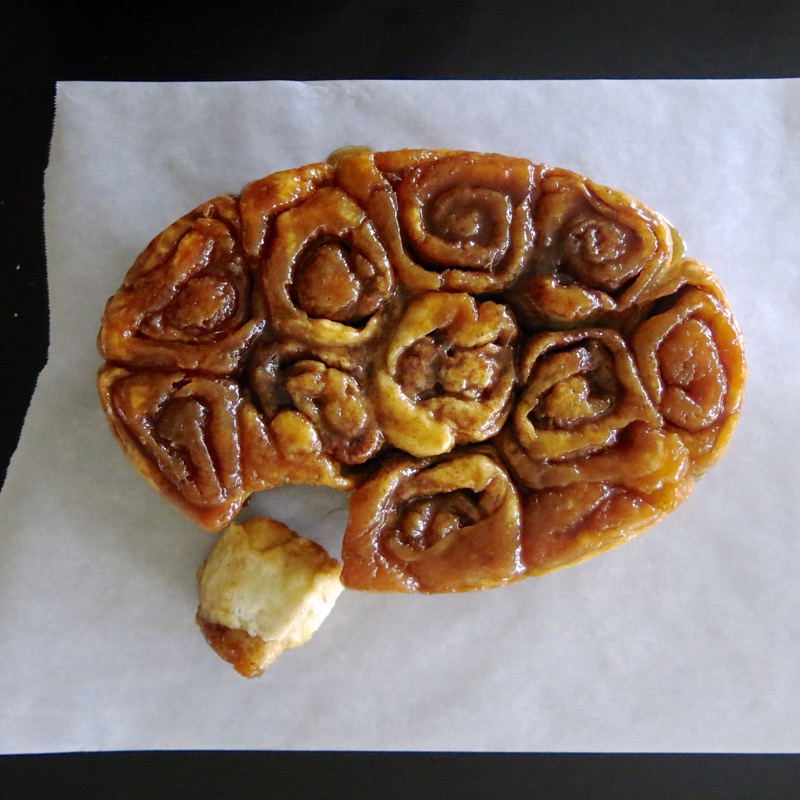 I did that, successfully, for years, too. Then she read about "goo", concocted her own magic mix, and would make it up and pour it into the bottom of her baking pan. She has been doing this for the last 30 years, or so. I am sharing her recipe with you, today.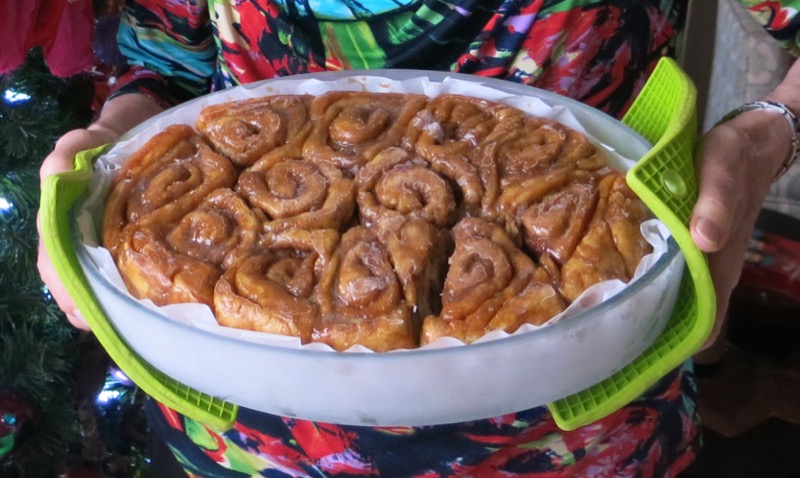 Above, mom is holding the cinnamon buns I made, straight out of the freezer. They freeze beautifully, but dad would tell you, "There is nothing like fresh bread straight out of the oven, or a hot cinnamon bun, slathered with butter."
Homemade Cinnamon Buns: Making the Goo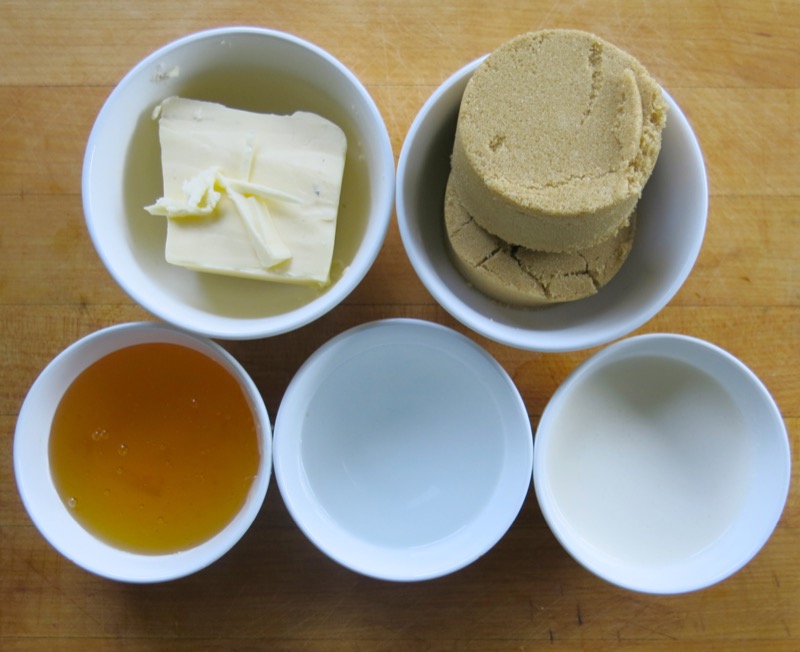 Mis en place, above, for mom's goo. She uses golden corn syrup. I use honey. I choose natural whenever I can, though Grandma Maude's Popcorn Cake and Butter Tarts are the only recipes that I use it in as both are iconic for our holiday table. If you have no idea what I am talking about, regarding the "evils of corn syrup" or GMO corn, in general, just read Michael Pollan's The Omnivor's Dilemma.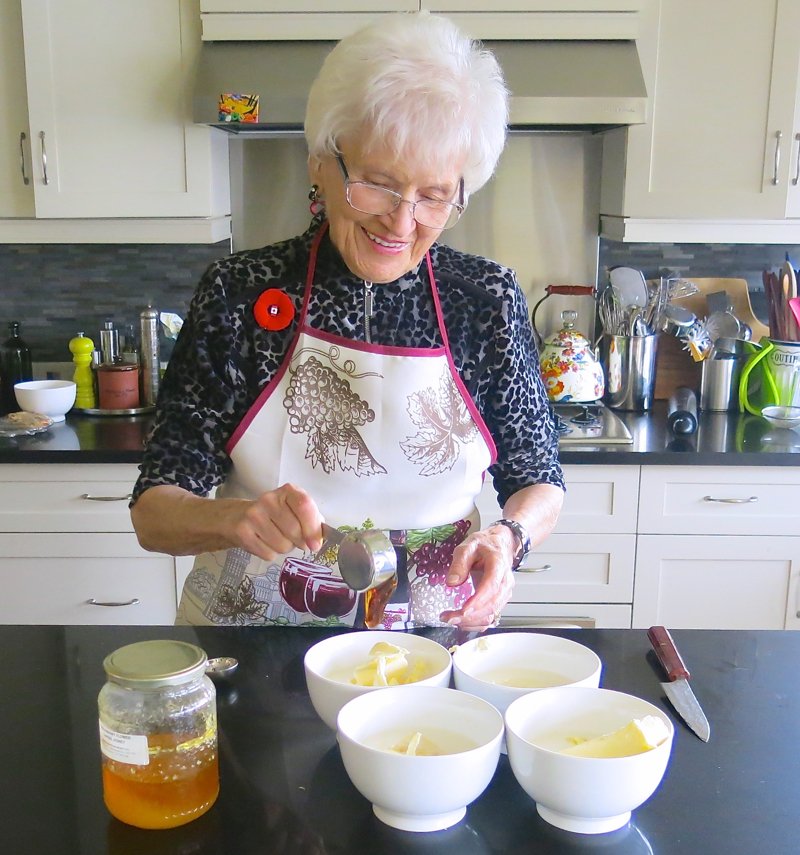 When mom and I bake together, or alone, it is no different. We never make one of anything. Today, we are making 4 batches of cinnamon buns, thus preparing 4 batches of goo, above.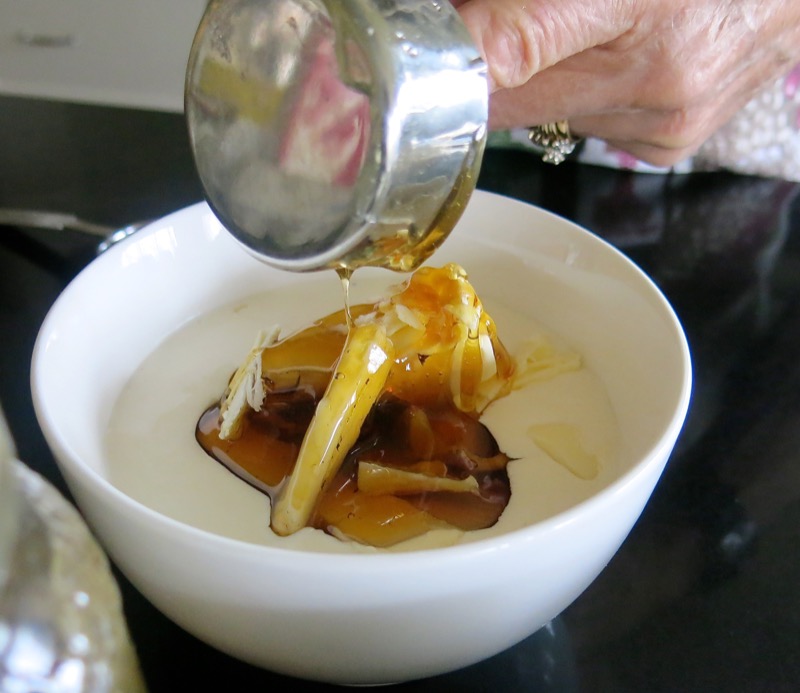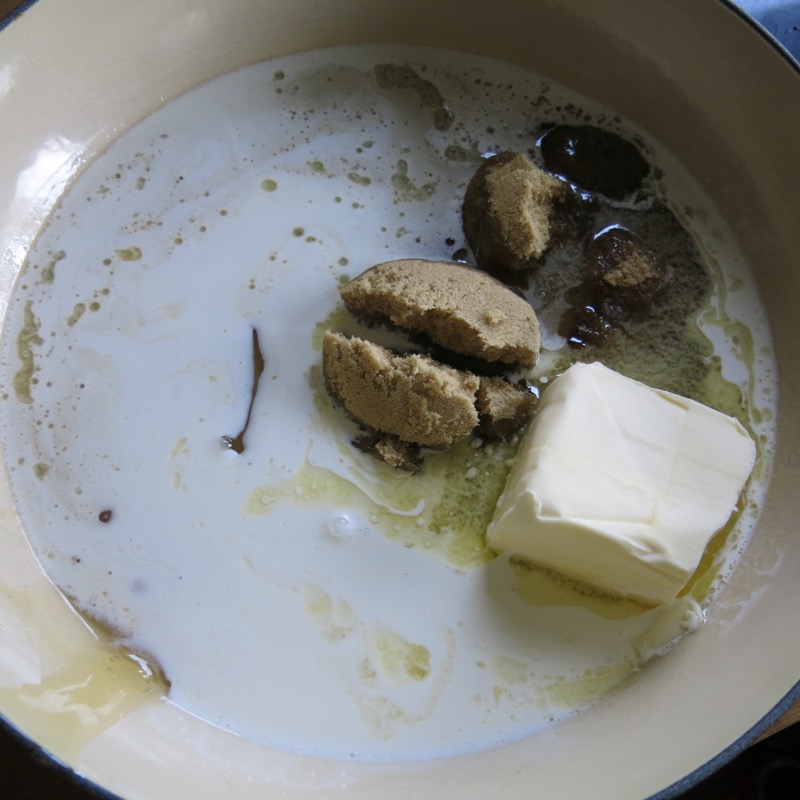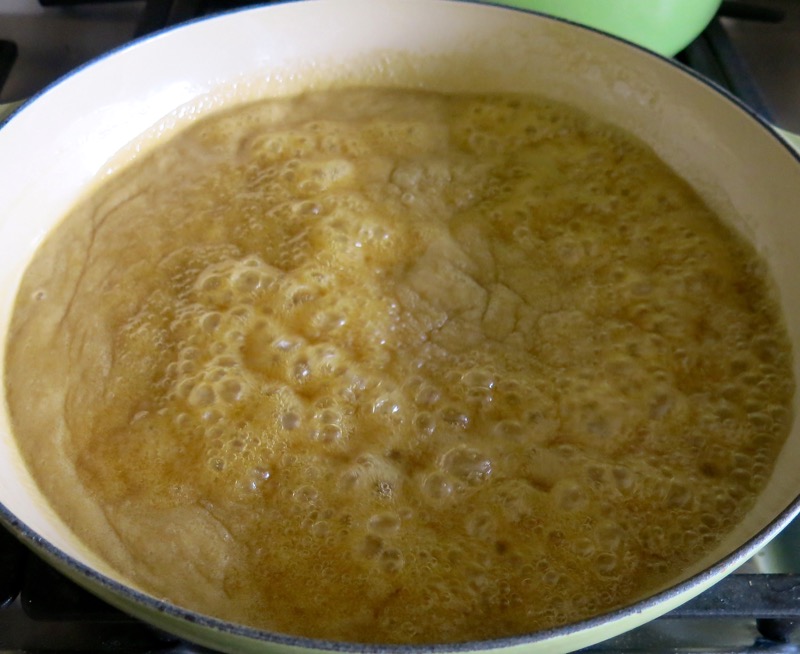 All into a heavy saucepan, brought to a low rolling boil for 3-4 minutes, then into the bottom of the baking pan.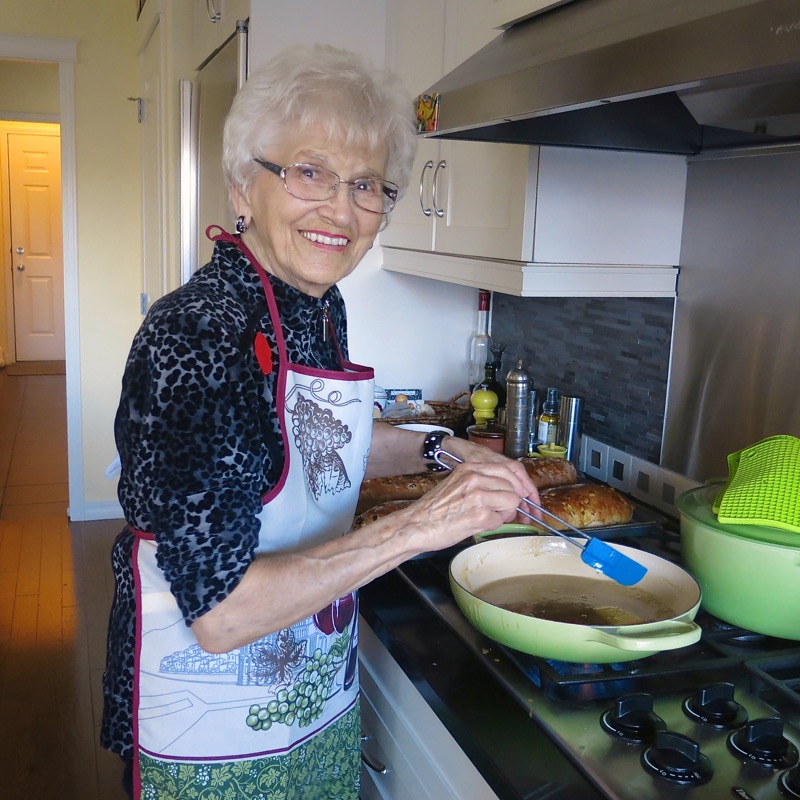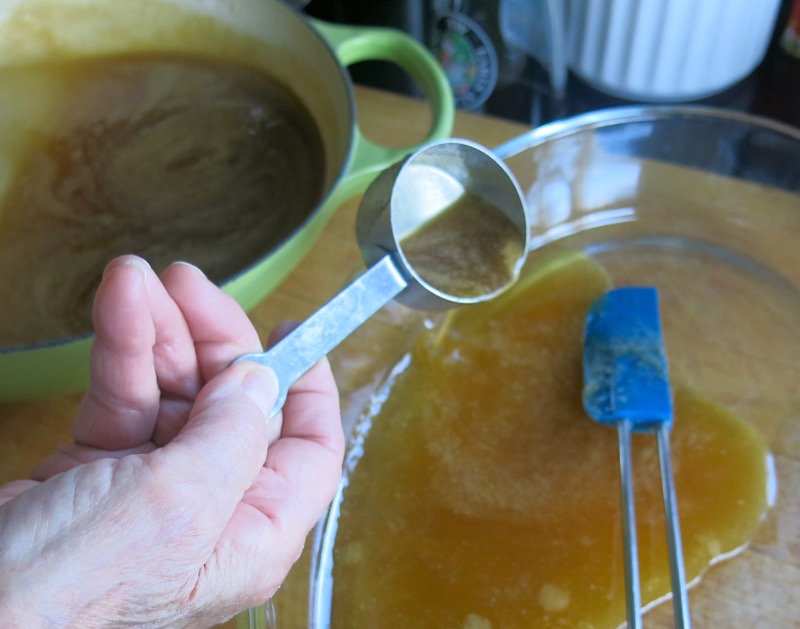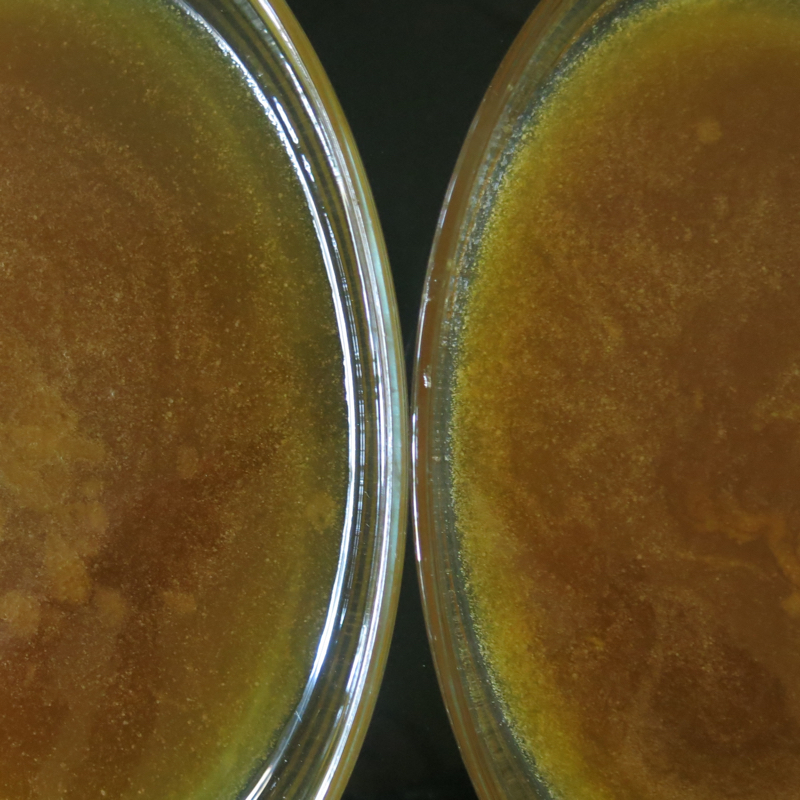 We made the good while the bread was proofing.
Homemade Cinnamon Buns: Making the Dough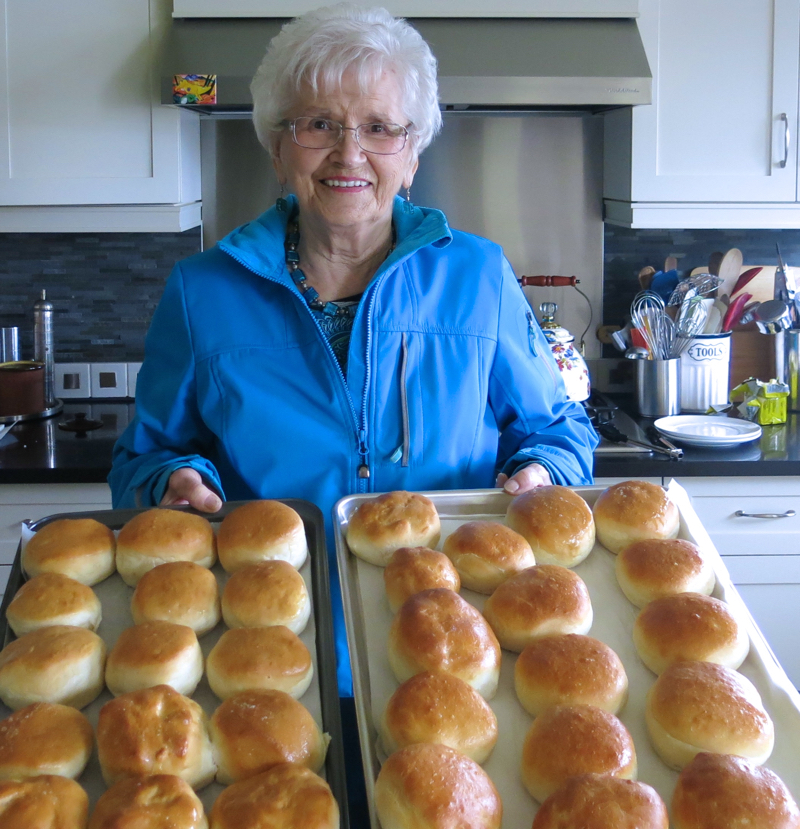 Mom uses the same dough to make the cinnamon buns that she used to make her famous Canadian Prairie Dinner Buns. All instructions and the recipe for the dough are here.
Homemade Cinnamon Buns: Rolling out the Dough and Making the Cinnamon Buns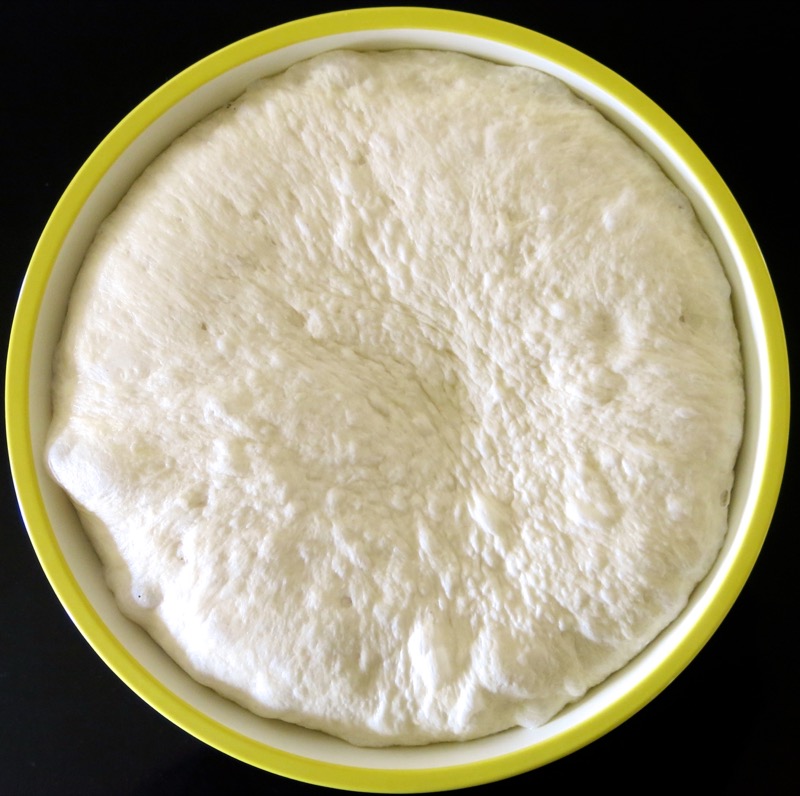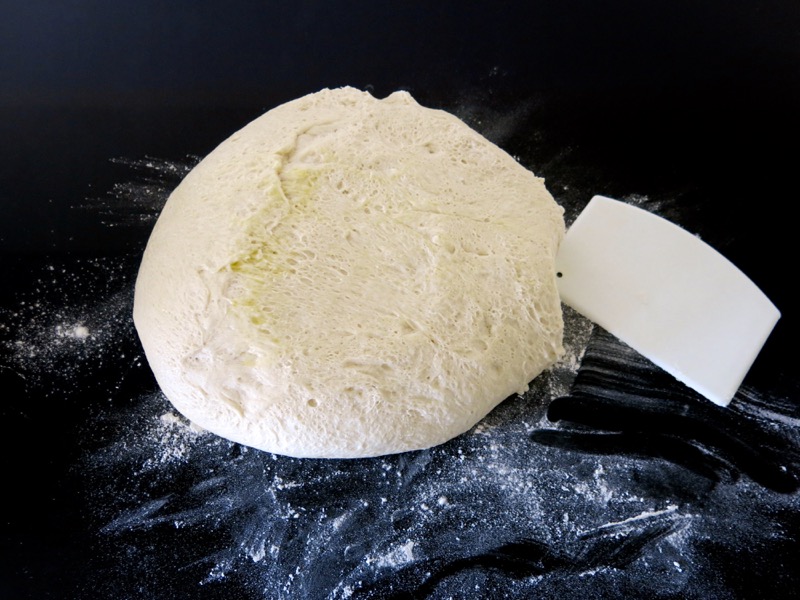 Dough proofed, and ready to roll!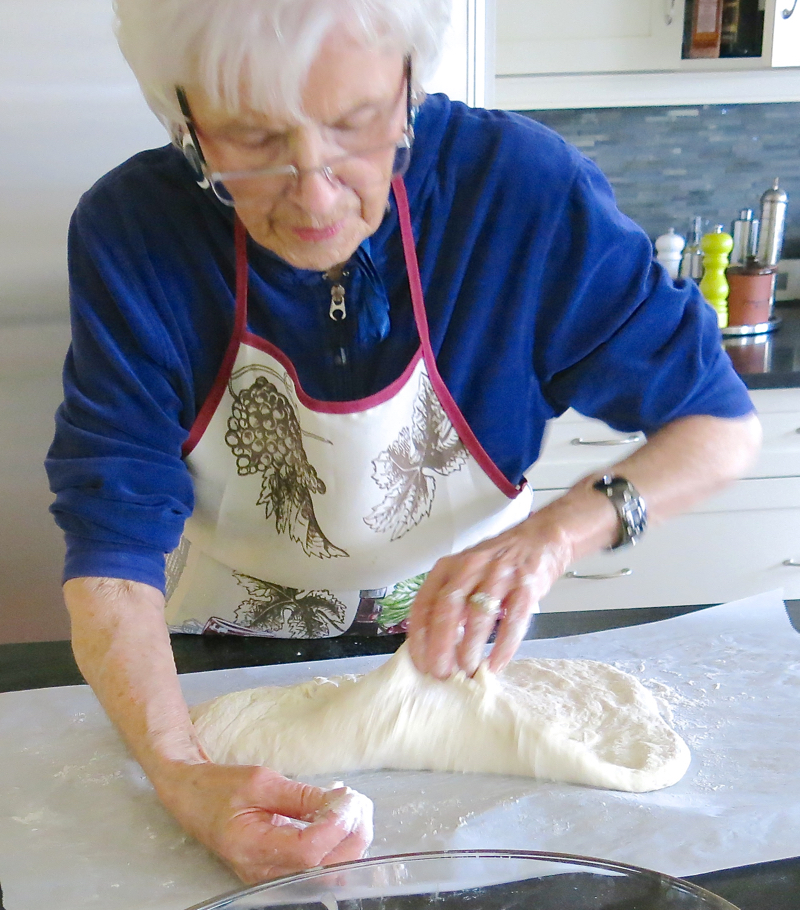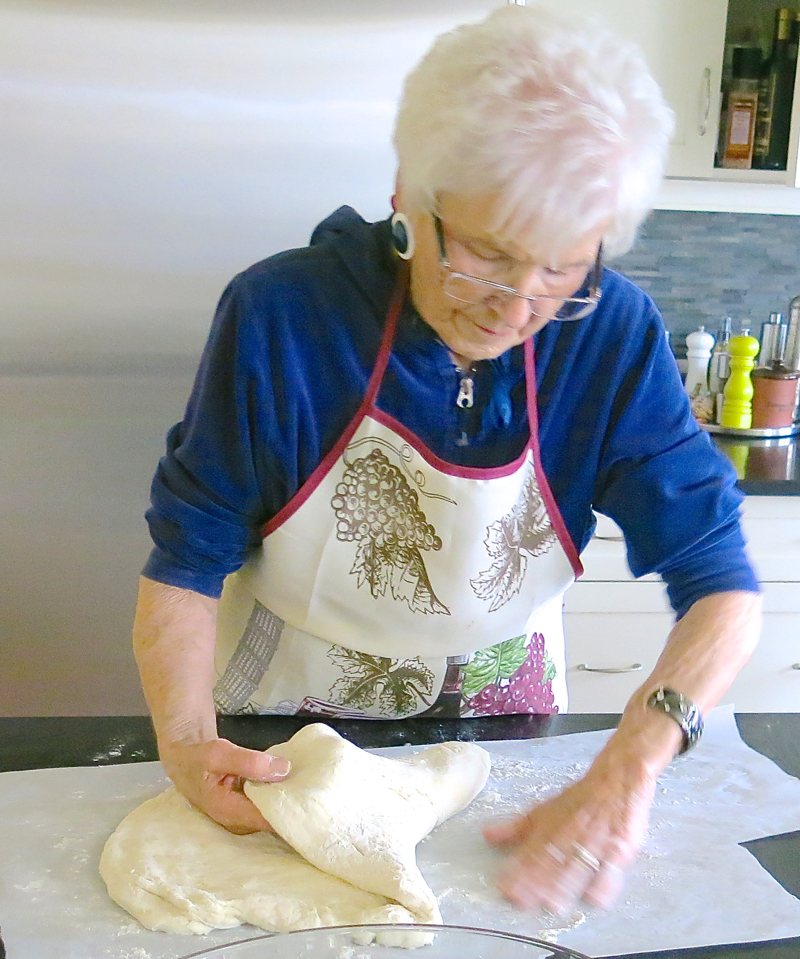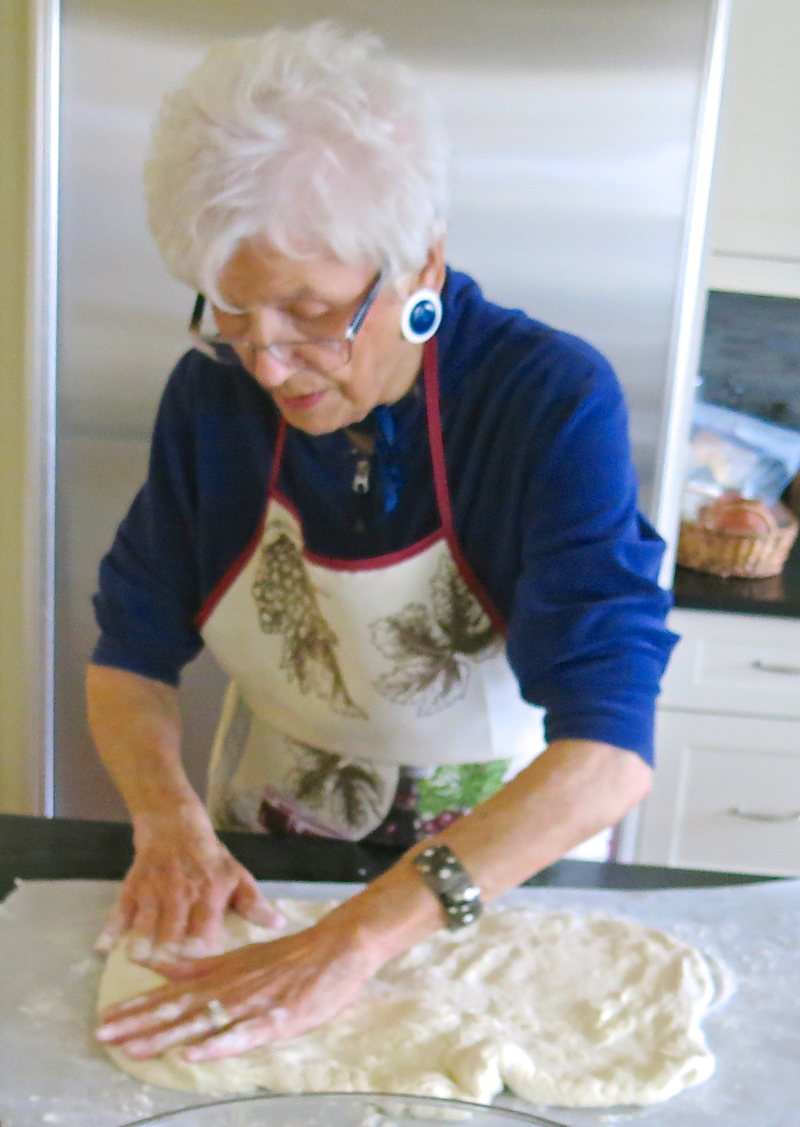 Placing the dough on well-floured parchment helps with the rolling process, and contains the mess. Mom ensures there is plenty of flour under the dough while gently patting it out into a rectangle shape, above.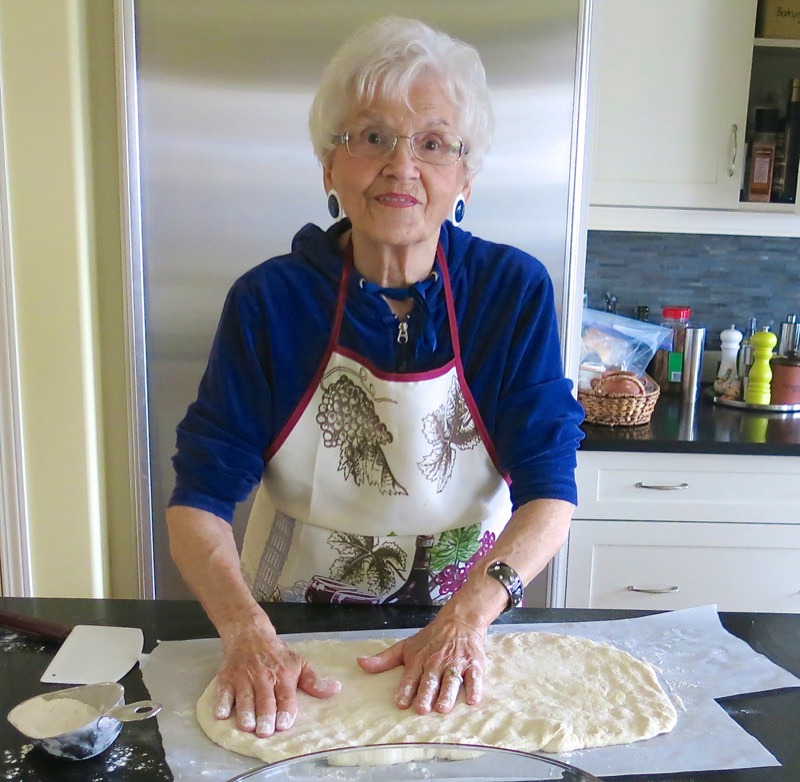 She's happy with the thickness and size of her dough, above. Done. Now, for the butter.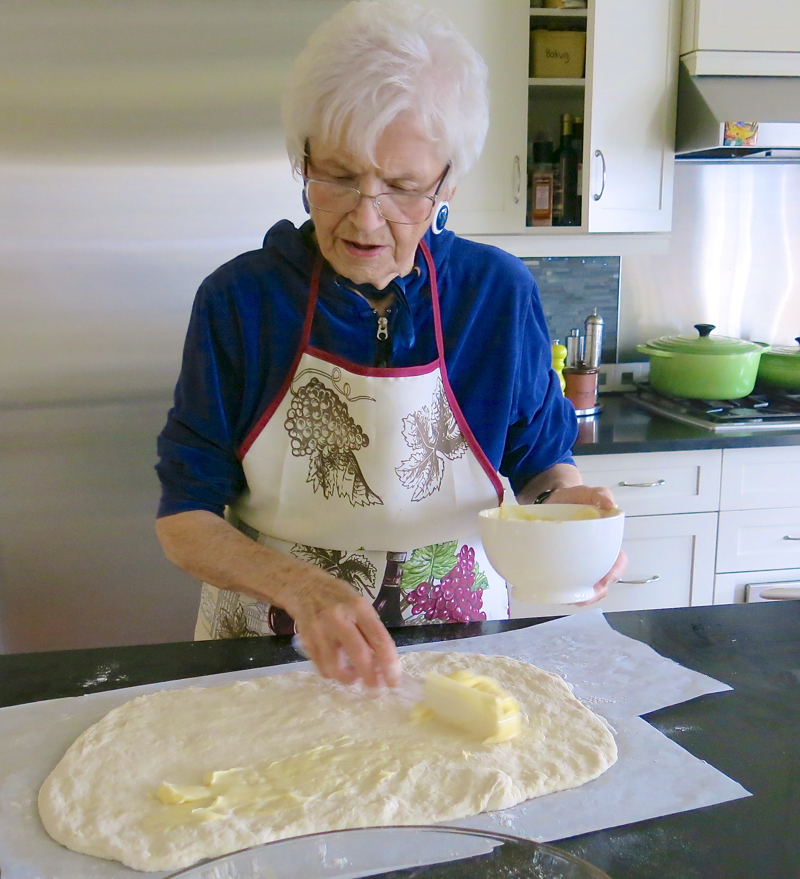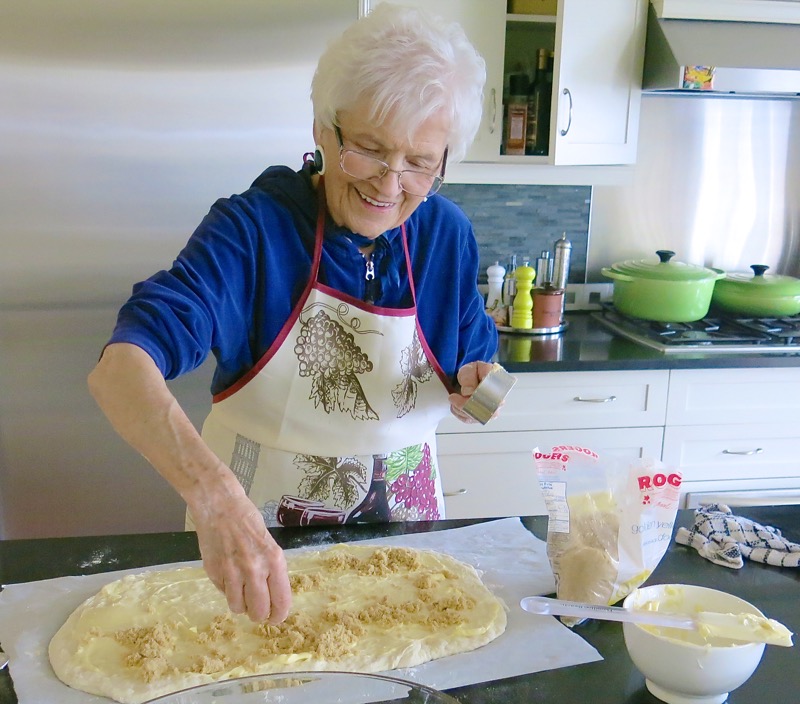 Why no mis en place for the filling? "I don't measure what I do. Never have!" But, I did watch and measure, so the ingredient amounts mom used are included in the recipe. She used almost a whole cup of butter, but went back and "evened it out", so a good 3/4 cup was generously slathered over the supple dough. This was followed by a packed cup of brown sugar. She used the entire cup and it was the "perfect amount".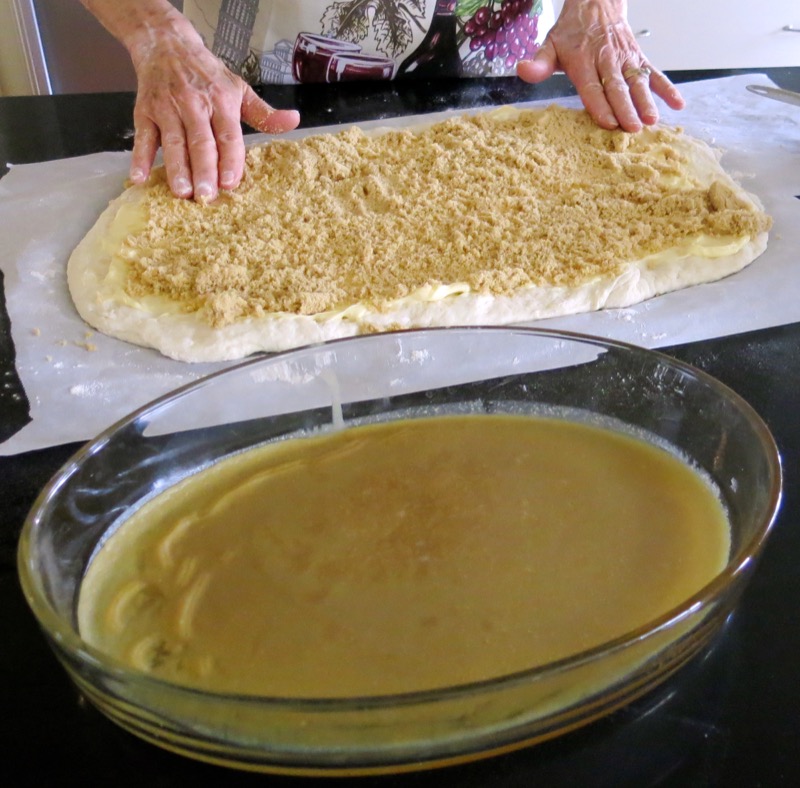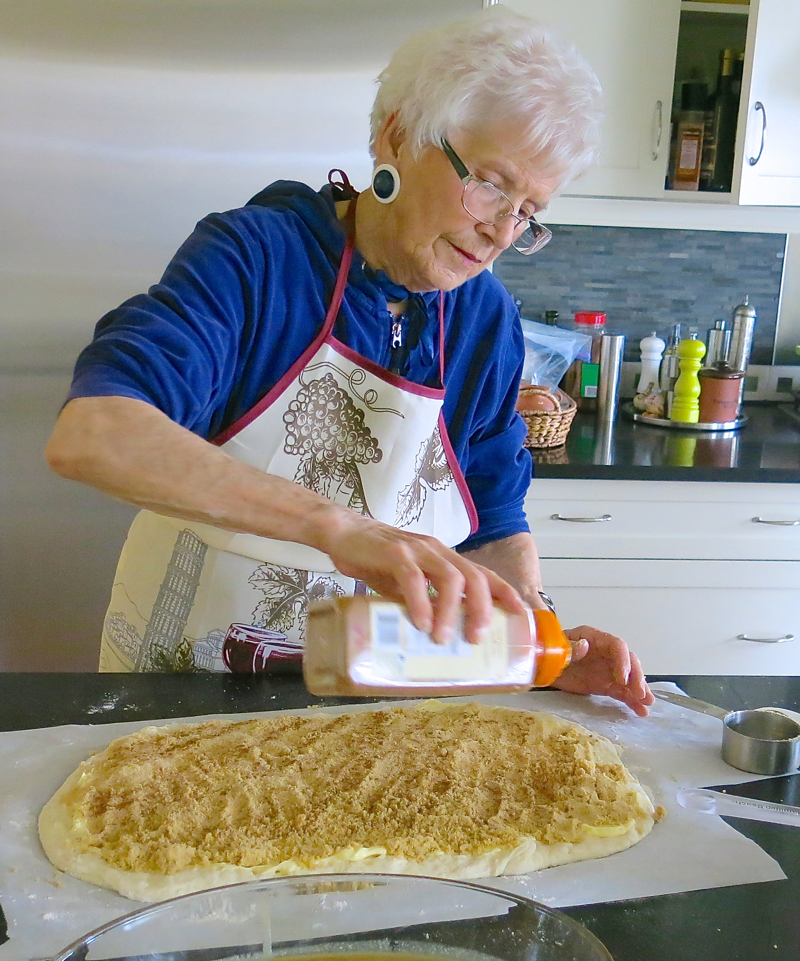 I only let her sprinkle the cinnamon straight from the container after measuring a tablespoon at a time and watching her sprinkle it on the previous dough. She used 2 tablespoons. That really surprised me. I would have stopped at one, but she insisted it was not enough. "These are cinnamon buns, Valerie!"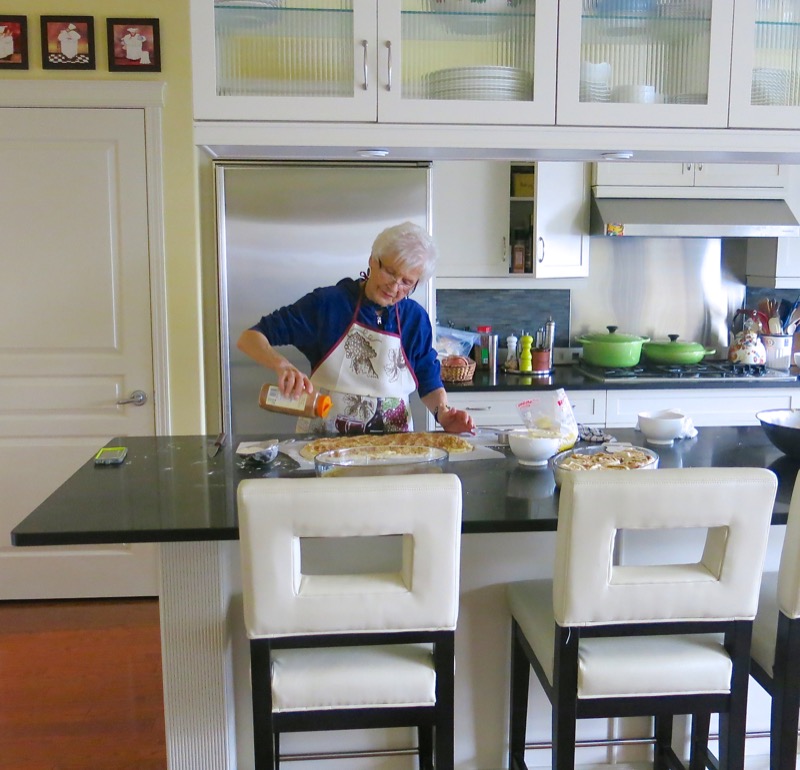 We had the Christmas music on and were definitely enjoying ourselves, but I am certainly better at photographing food than someone making the food. I must have closed the door behind mom so many times, but clearly, I never noticed it was opened, or so many other details I can clearly see now. Yet, hey! This is the reality of cooking in the kitchen, right?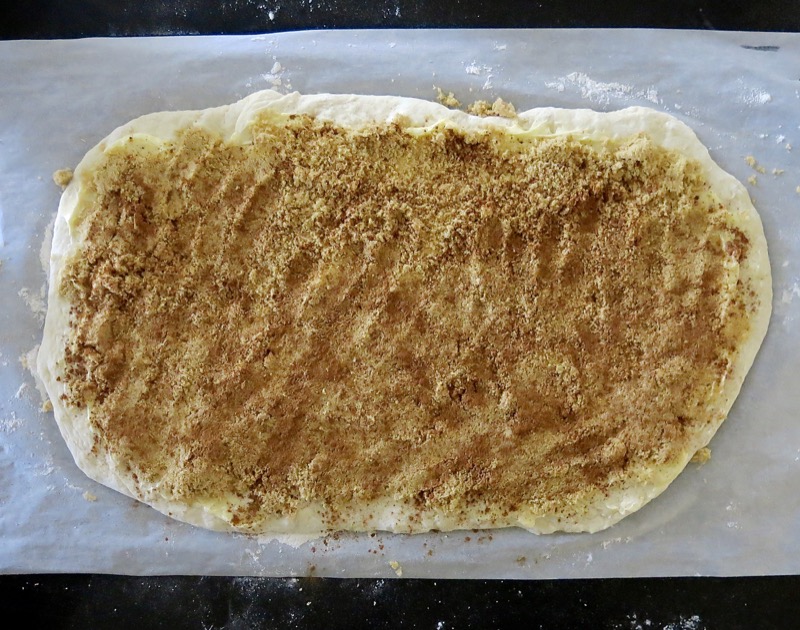 Above is what the dough looks like with the amount of cinnamon mom used.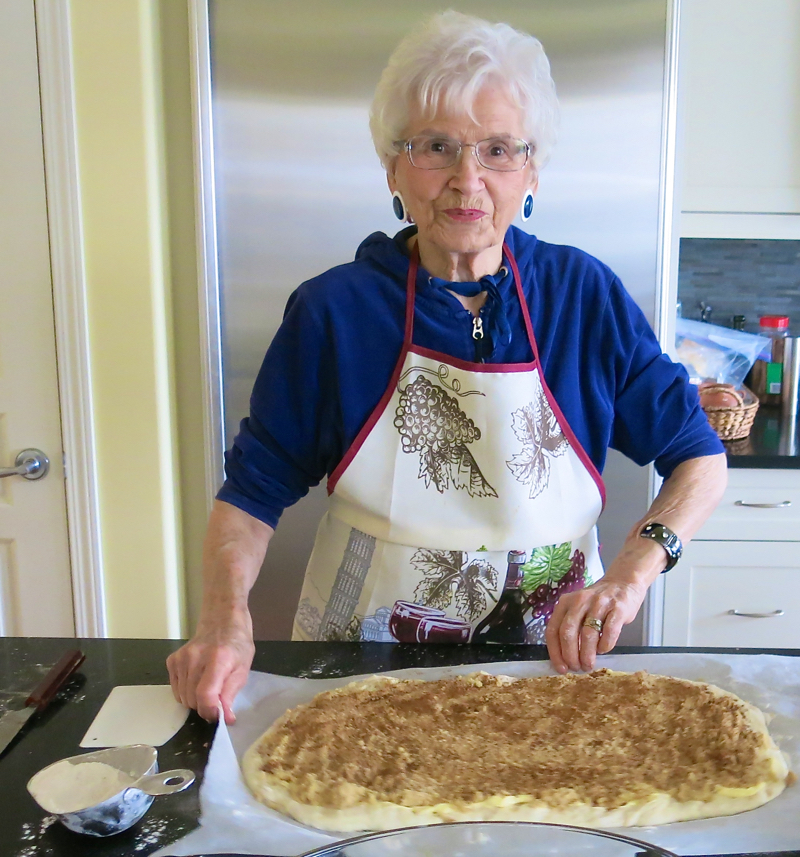 And now she's ready to rock and roll!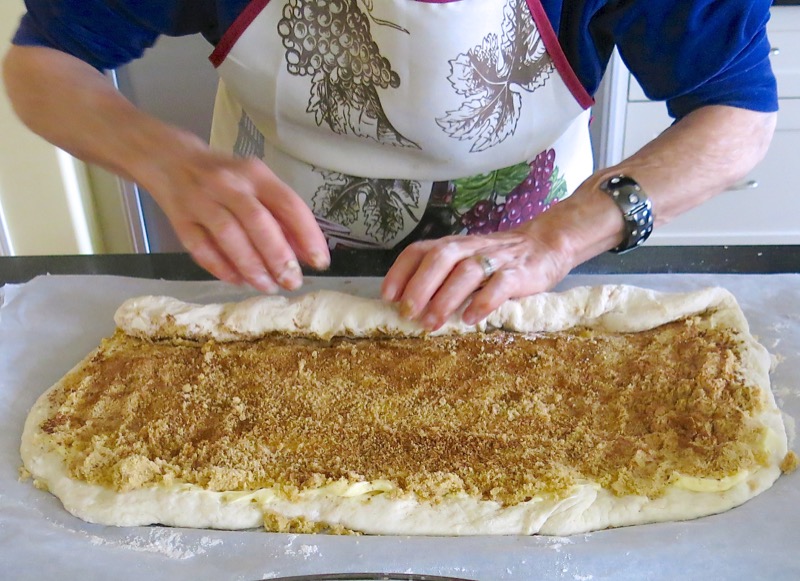 "The first roll has to be tight; it's the middle of your bun."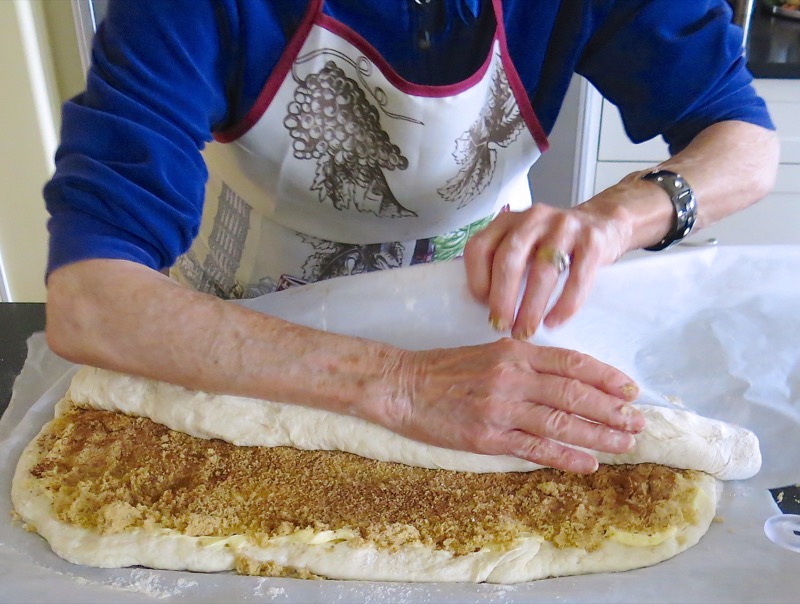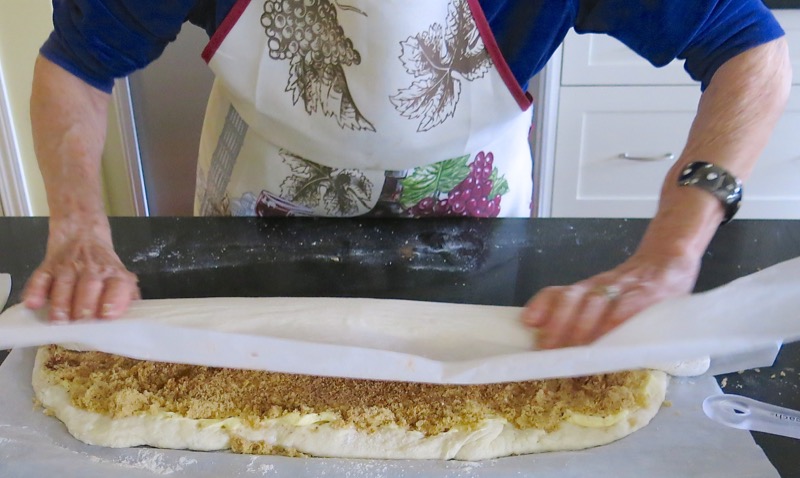 Lifting the parchment enables the dough to roll over upon itself.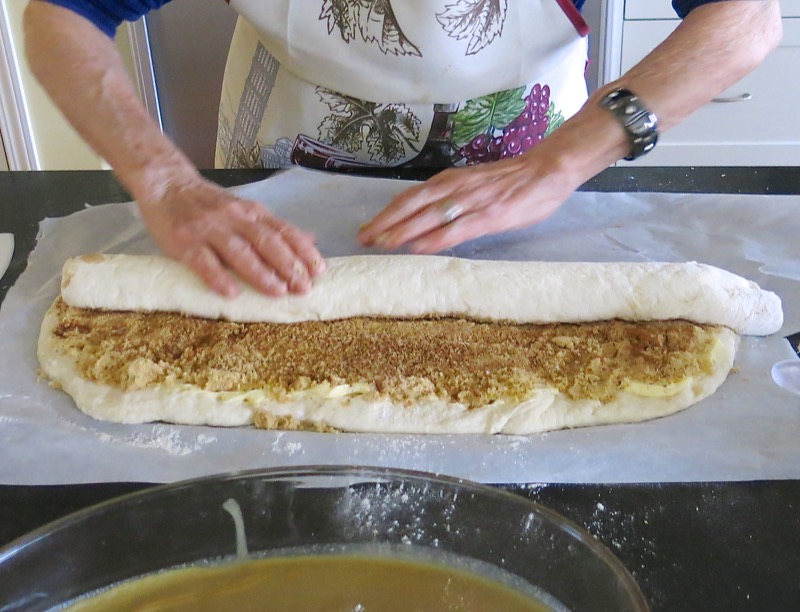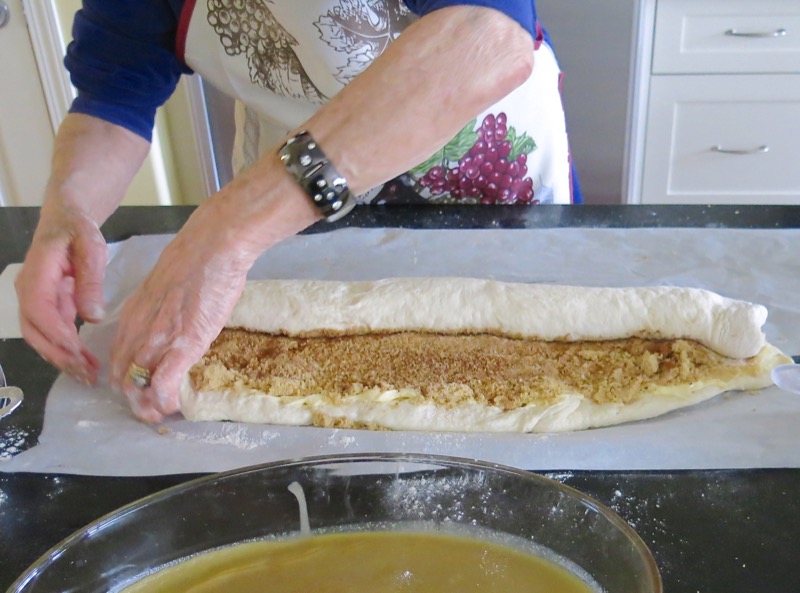 Look closely, above left. Do you see the long bit hanging over the end of the mass on the right side of the image? Yet, above right, you can see mom has pulled the dough under that long bit so that it will now roll over onto something. She is adjusting the alignment of the dough at the other end in that same image.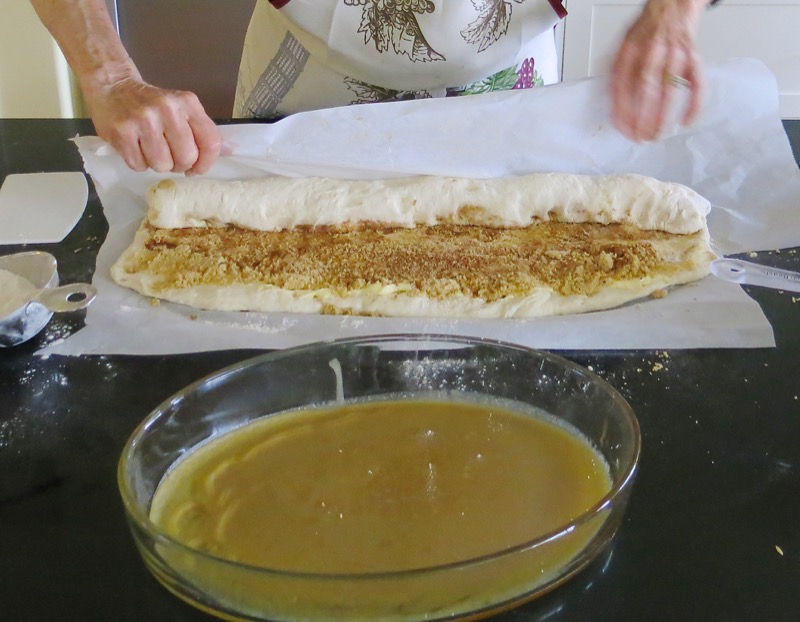 It isn't really "all that technical". It is just common sense, really. Yet, if you are new to baking, hopefully good tips for you. Above, she is lifting the parchment, getting ready to guide the dough to its finished roll.
Beautiful!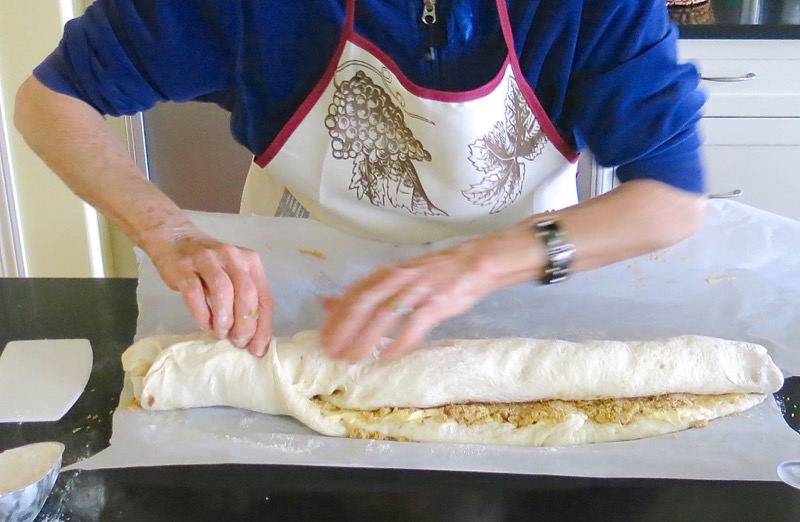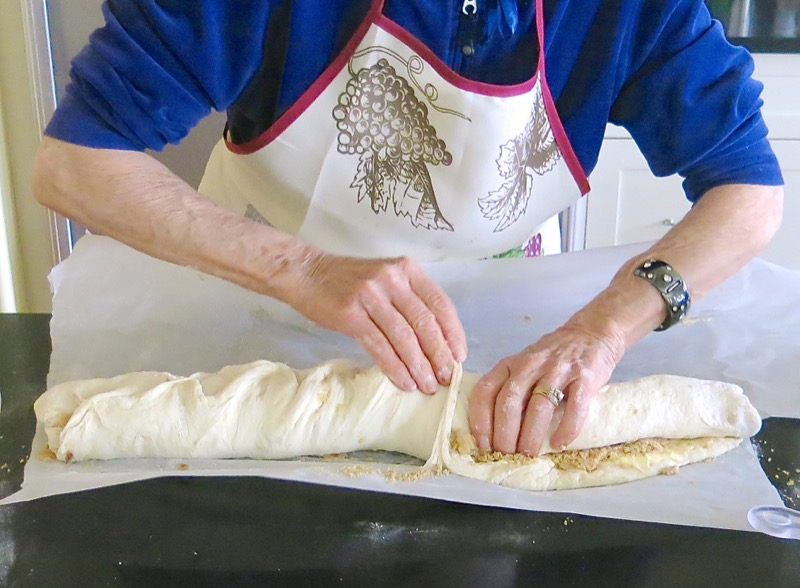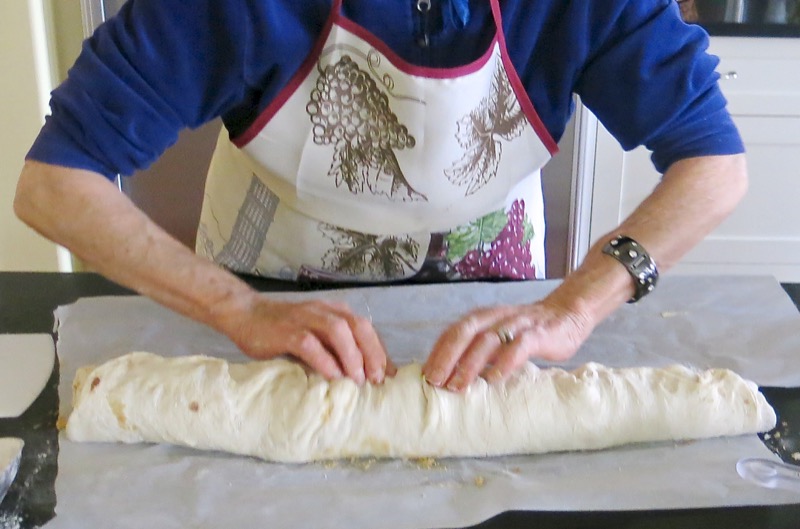 I am always surprised by the stronghold she takes to the dough. She pulls it up and around the log with confident vigor and pinches it securely in place to ensure it will not open. I usually worry about pulling the dough this thin, and just roll it over onto itself, seam side down, and start slicing. Yet, this is mom's technique and it makes beautiful buns.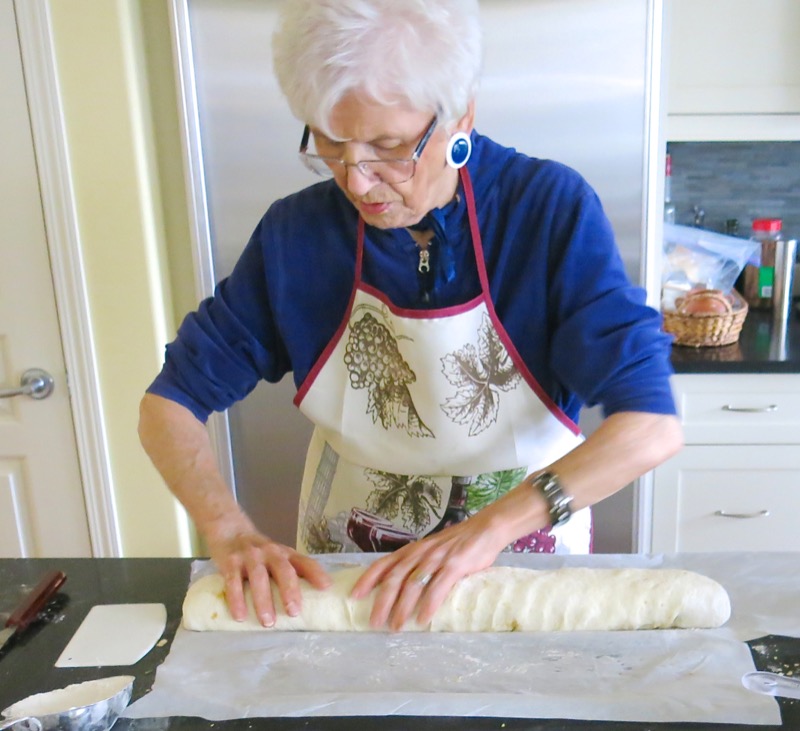 What a gorgeous length of the dough. She took a moment before she started slicing to determine the middle, and to decide how wide to slice each portion, then estimated the total.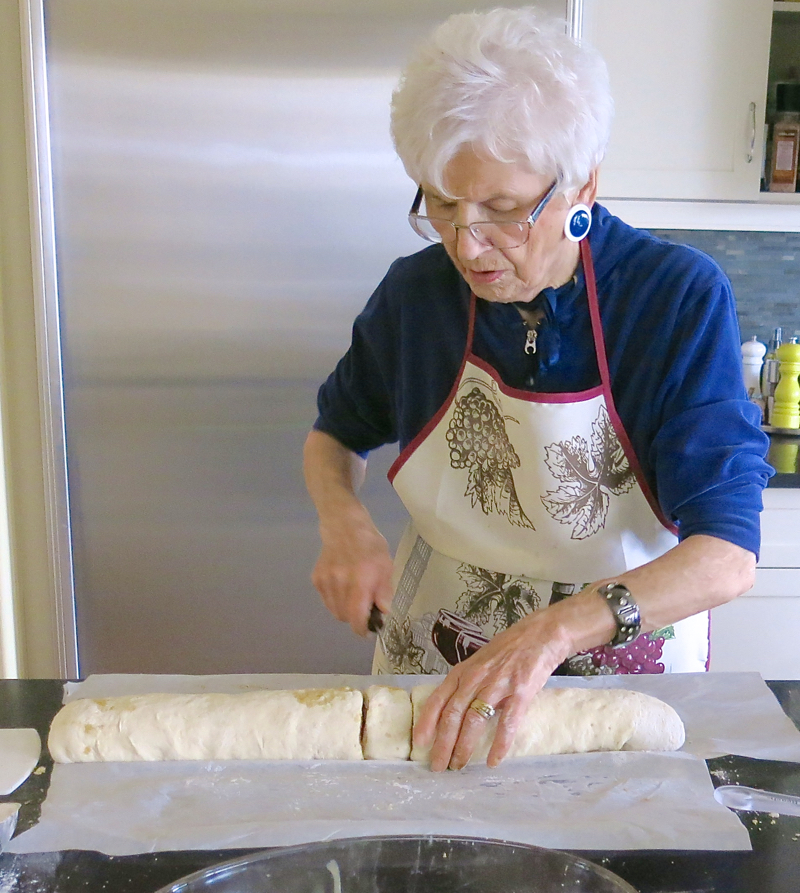 There would be 14 large buns in this recipe. Twelve large slices fit into the large oval pan, and we filled prepared pie plates with the leftover slices!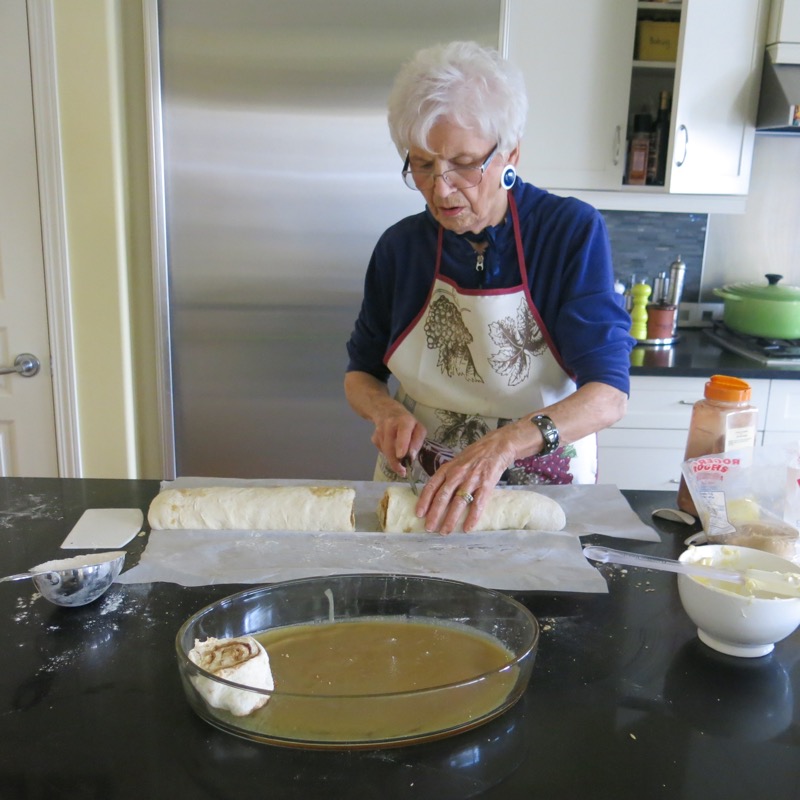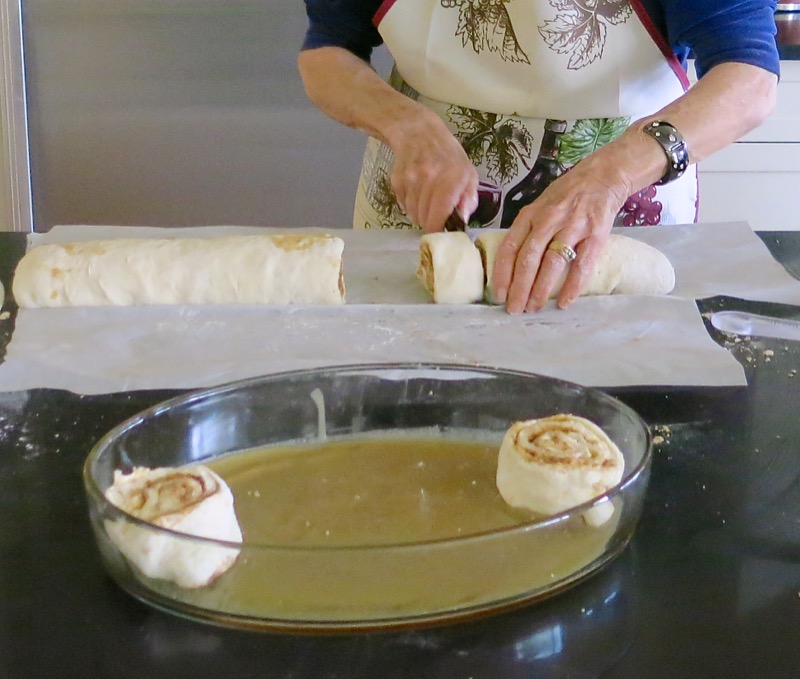 Onto the goo each slice went, and at 86 (87 in April), she still knows how to portion her pan: one at each end! When plopping them into the pan, the prettiest side goes down into the goo. Why? The pan of buns gets baked and then after cooling a bit, inverted so that the goo is on the top. Thus, the prettiest end of the slice goes down into the goo.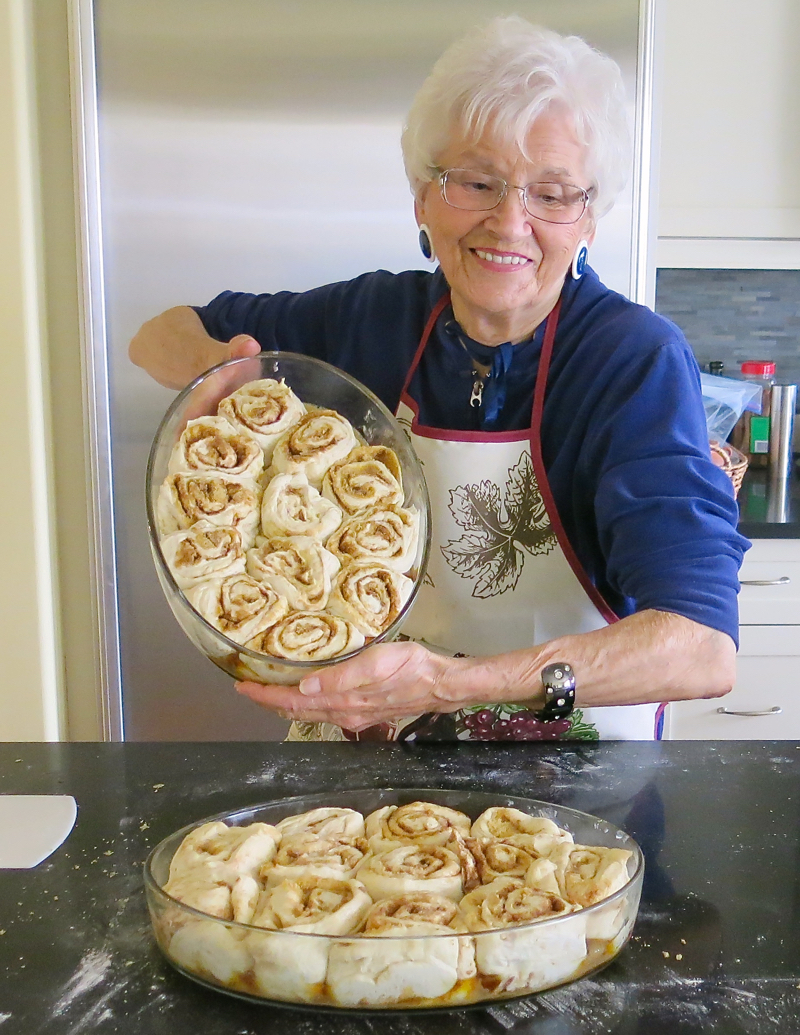 Ready for the oven, with more to make! Gorgeous!
Homemade Cinnamon Buns: Baking the Buns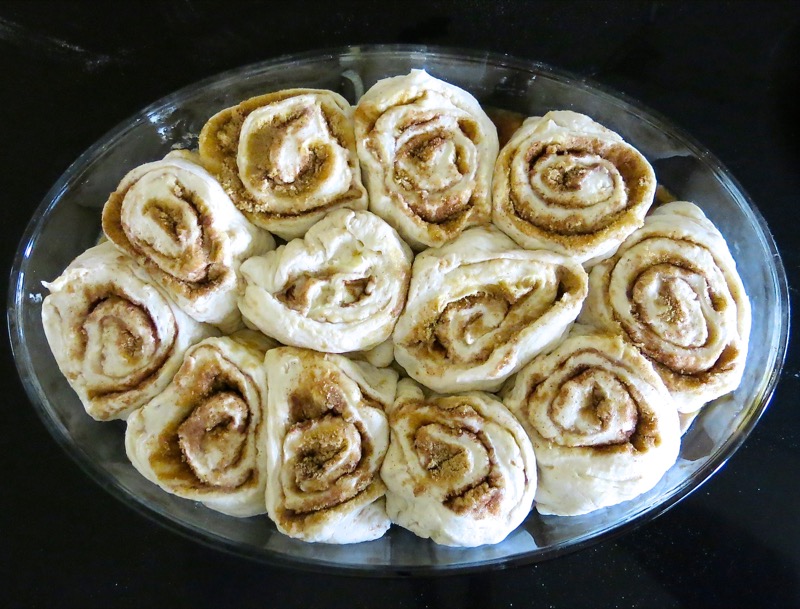 Knowing your oven is important when baking cinnamon buns as it is not the same as baking bread. With bread, the hottest oven possible is best. With cinnamon buns, the oven temperature is much lower and the baking time longer to ensure a full bake through to the middle of the gooey mass.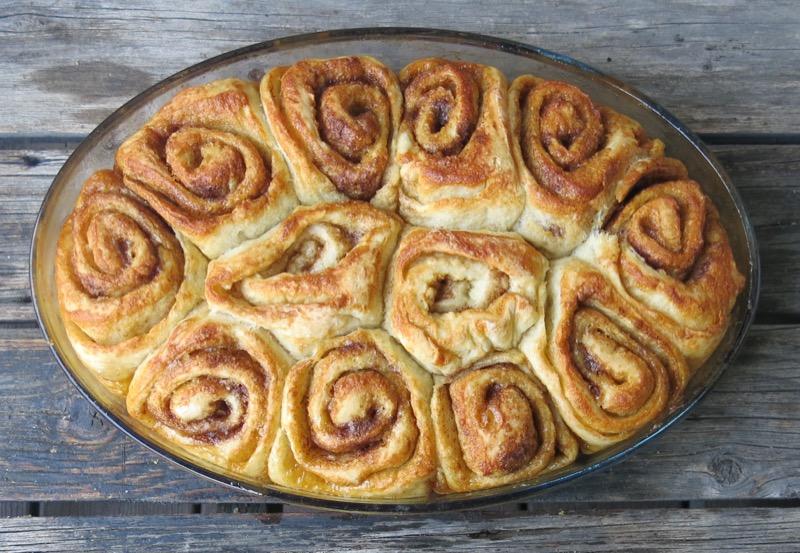 Are these not gorgeous? Recall that the prettiest end of the slice went into the goo? After cooling these a bit, it is important to remove them from the pan while still warm enough to do without anything sticking to the pan.
Homemade Cinnamon Buns: Freezing the Buns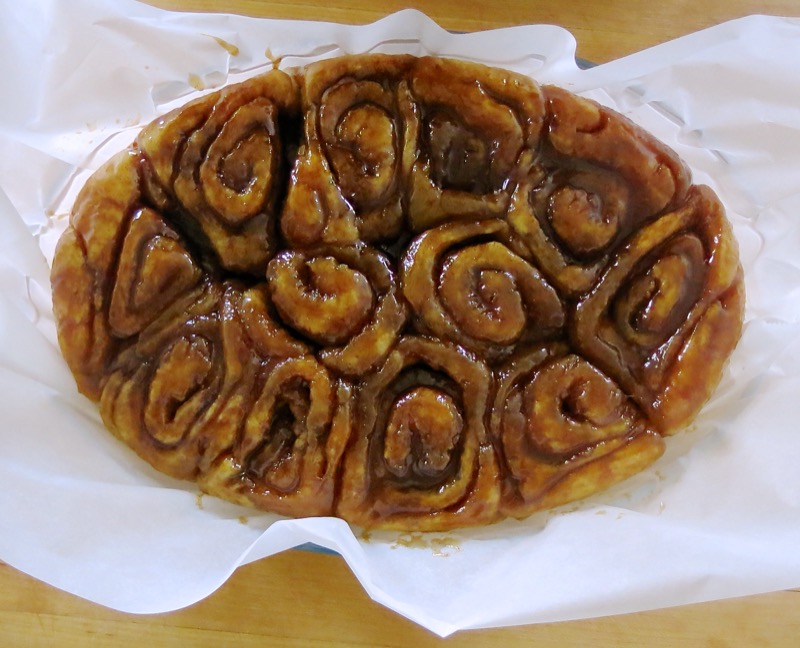 If serving the buns hot out of the oven, I flip them onto a serving tray and present with a resounding, "Ta-da!" But, usually, I freeze them as I make them in advance on a baking day. So, I flip them onto a piece of parchment paper. Wash the dish they were baked in, and then set them back into that dish.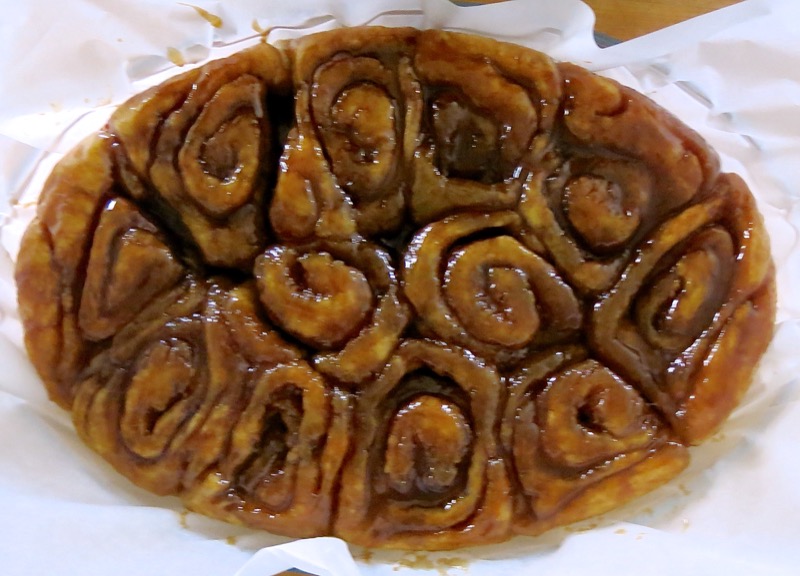 Above, you can see the outline of the dish through the parchment paper. I then trim the paper to be the same height as the dish, cover all securely and well with plastic wrap, then freeze. Once frozen, if I need the dish, I just remove them and rewrap place them back into the freezer.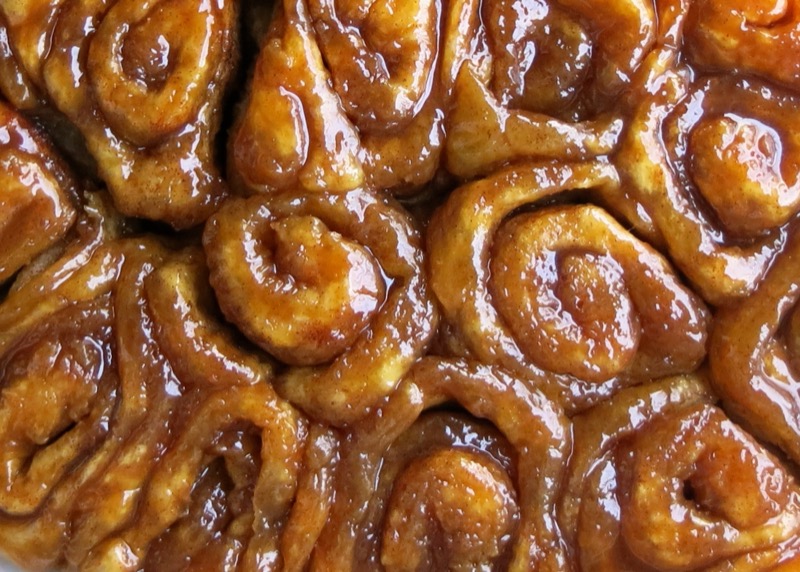 Best served warm, and heating on a plate individually in the microwave, or the entire pan in the oven on low is well worth the wait. They are already laden with such deliciousness, that they really need nothing else, but why do we heat them? Butter! Yes! Melted into the soft fleshy dough, there are no words.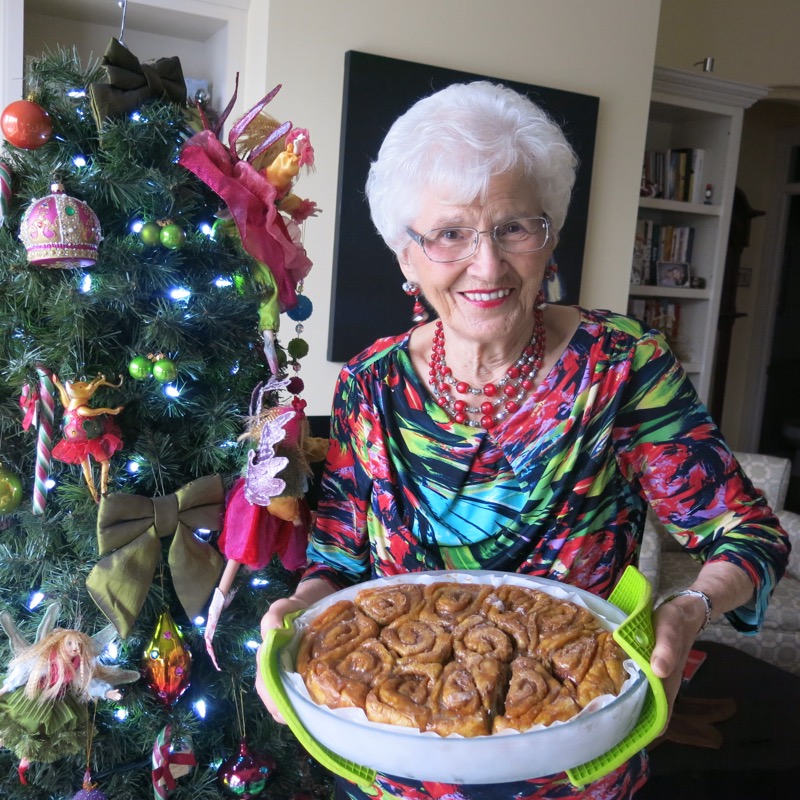 Mom's legacy will be known for generations to come. I am so fortunate to have had such wonderful experiences in the kitchen with my mom and as she is an incredible role model who motivated me to achieve excellence in all I undertake in my home kitchen. My children revere her and make her recipes. I am fortunate to be able to record some of these experiences and capture some of these stories as they will be told to her great-grandchildren, and their children, and theirs. The food is that good, the stories are that interesting, and the grandchildren's love for their grandma is that powerful. With these 3 elements in place, only magic can happen.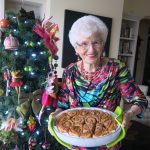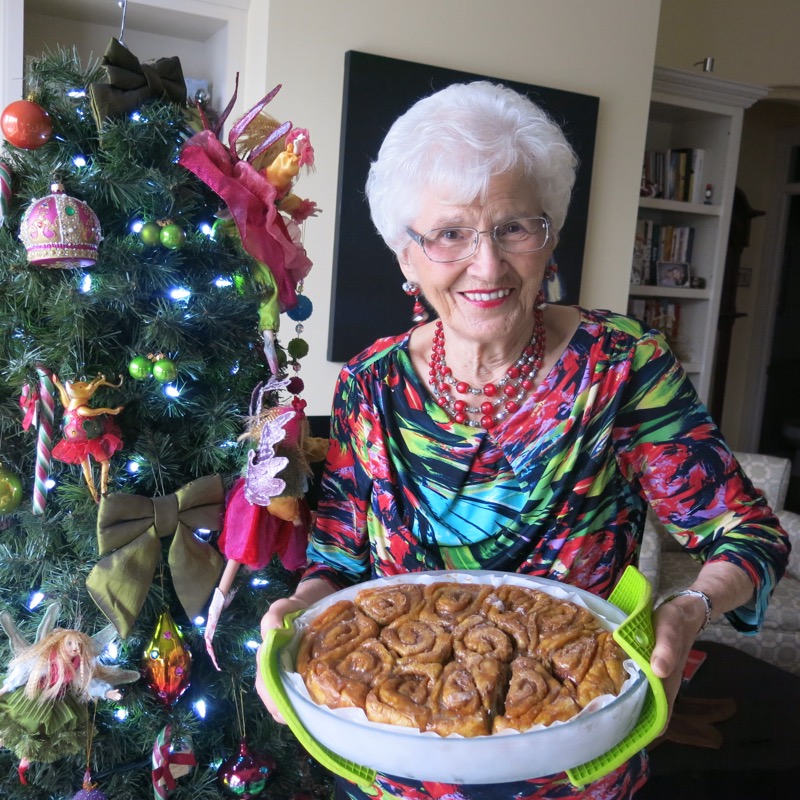 Helen's Prairie Cinnamon Buns
Helen's Cinnamon Buns are famous in our family, our neighbourhood and our home town. No one makes them better. You will love this simple recipe. Not nutritious, but outrageously delicious.
Total Time
2
hours
30
minutes
Ingredients
Ingredients for the Goo
¼

cup

butter

½

cup

packed golden brown sugar

3

tablespoons

honey

3

tablespoons

heavy cream

2

tablespoons

water
Ingredients for the Dough
Link to recipe in notes section
Ingredients for the Filling
1

cup

butter

, room temperature and softened (approximate amount)

1

cup

golden brown sugar

2

tablespoons

cinnamon
Instructions
Instructions for the Goo
Place all ingredients into a heavy pan over medium heat stirring constantly; bring to a rolling boil for 3-4 minutes, or until starting to thicken

Pour into 10x12 pyrex pan; set aside
Instructions for Making the Dough:
Rolling out the Dough and Making the Buns
Combine cinnamon with brown sugar; set aside

Place a large sheet of parchment paper beside work surface; lightly dust work surface with flour

Carefully remove dough onto lightly floured work surface with D-shaped spatula, working to maintain air in dough

Dust top of dough; dust parchment paper with flour and turn dough gently and carefully into middle of floured paper

Gently roll dough into a large rectangle, ensure surface next to paper is lightly floured and dough is not sticking to it

Once dough is rolled into a large rectangle a good half inch or thicker, place dobs of softened butter over entire surface

Using an offset spatula, spread the softened butter over the complete surface of the dough (work to not push into the dough to deflate it)

Sprinkle the cinnamon sugar mixture over the entire surface of the dough, getting as close to the edges as possible, with the exception of the edge furthest from you

Use the offset spatula to spread the sugar cinnamon sugar over the buttered dough evenly

With the dough in landscape position, roll it over onto itself, then using the parchment paper to roll the dough away from you, continue to roll the dough until in a long log (about 24 inches)

Using a very sharp knife, divide log in two and mark lightly on surface every 2 inches from centre on each side to mark where to cut for making 12 buns with 2 small ends

Bring the pyrex pan to the work area with the goo in the bottom; start to cut the buns and place tightly together in the pan three across and four down

Cover with damp cloth; proof for 20-30 more minutes
Baking the Buns
Pre-heat oven to 350F; place pan in middle of oven setting timer for 30 minutes

Buns should be dark brown and may take an extra 5 minutes to bake, depending upon oven

Cool for 20 minutes; loosen sides and turn over onto serving platter so sticky side is up

Let cool completely; serve immediately

Cover well with plastic wrap once buns have been broken into and inside is exposed to ensure they don't dry out
Recipe Notes
Note about the Dough Recipe
The recipe for the dough can be found here
Note about the Goo
I never make one batch at a time of cinnamon buns, thus, I always double this recipe and divide it into two 10 x 12 pyrex pans. It is easier to make in a bigger batch.
Note about Baking Temp and Time
As every oven is different, a lower temperature and a longer bake time is the solution to this. You will have to experiment with your oven if this happens to you. For me, 350 for 28-30 minutes works well, and I do have to cover the top with heavy foil to avoid over-browning the past 10 minutes.
When the cinnamon rolls are lightly golden brown, if you are new to bun baking (and a perfectionist) spot-check their internal temperature with an instant-read thermometer to test doneness. Their internal temperature should be 190–200°F (88–93°C). I find 197˚C is where mine is at. It is critical to ensure the centre buns bake to 197˚C so they don't sink which can be a problem.