"To me, food is completely transparent, honest and generous, that has something true and original to it." RenéRedzepi of Noma.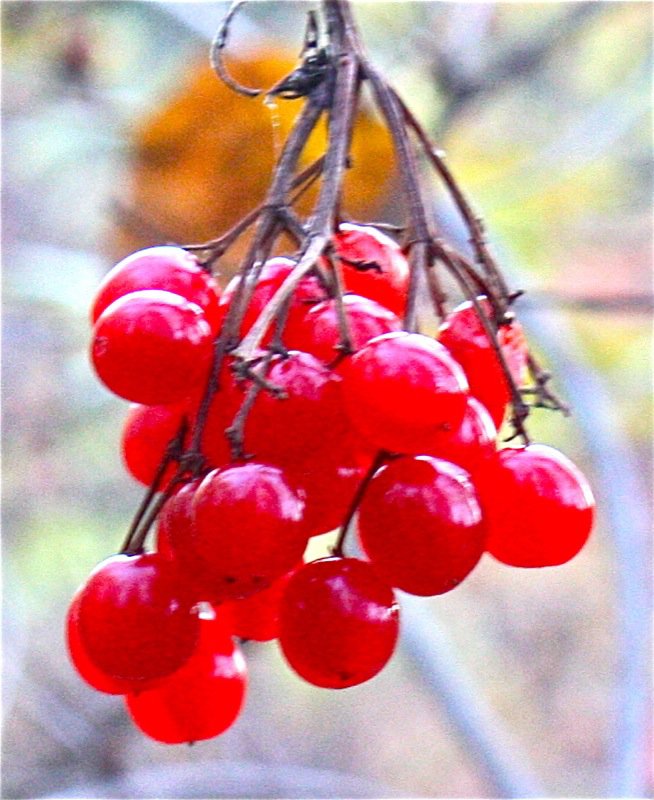 This introduces my experience with high bush cranberries last week. When I saw Kevin writing about them, and that he had been out foraging, I had to ask. Those of you who read me often, know I have learned to ask to be taught lessons I want to learn from those who clearly know what I want to know. In this case, it was: where are the cranberries and will you take me with you? Kevin is consistently generous with his time and his expertise,which I appreciate, and we arranged a time and a date.
A couple of days later, we were in the middle of our city on a very popular nature walk and the berries were abundant. And, I mean abundant! The warm sun and the blue sky were settling as we met at 6 pm near Snow Valley Ski Hill just off the Whitemud Freeway. Seconds later, we were breathing in the beauty this late autumn has painted for us. Crimson leaves. Golden leaves, Crunchy underfoot…. and high bush cranberries!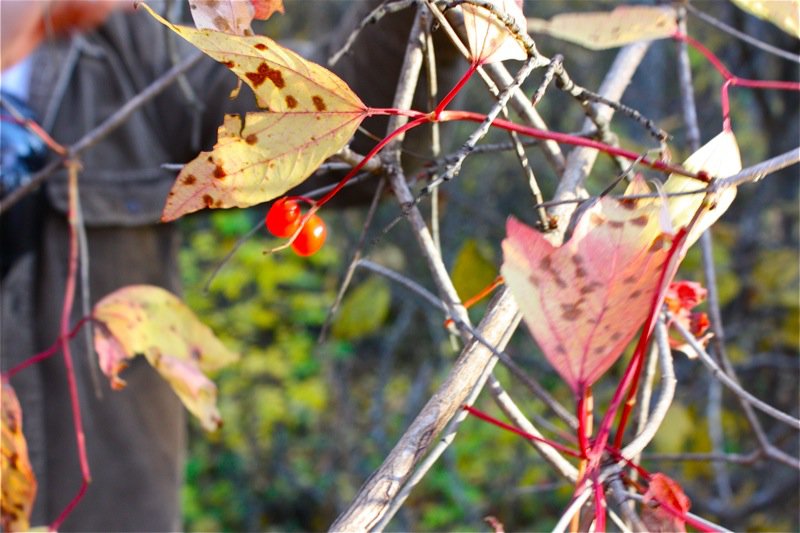 Why have I not been picking these all of my life? Kevin did not know. Neither did my mom. I come from a long line of foragers and scavengers. I was elated and dumbfounded to discover an unknown edible wild berry in my midst that I was completely unaware of. And this year, the high bush cranberries (Kylina to the Ukrainians and Pembina, to the French) were absolutely exploding with colour as the brilliant bundles of glistening morsels saturated the landscape. Actually, you can smell them before you see them, if you pay attention to your nose.
They are tall, but the branches are easy to manoeuvre which made picking them incredibly rewarding and a heck of a lot of fun. Kevin pulled this tree over and we picked and plucked about a half bucket full each on the alone! See how plentiful the clusters are! But they are definitely not tasty as a fresh fruit. Tart would be an understatement. Yet, they are nothing like a chokecherry in dryness. There is a stinkiness to them that is sour and sweet and musty and musky. It is really very appealing in a completely unexpected, unusual, and unexplainable way!
I was delighted to be outside on a gorgeous evening practising a ritual that I have not participated in for a few years. I caught the berry picking fever. Getting something for nothing is a really great feeling. Especially something this precious.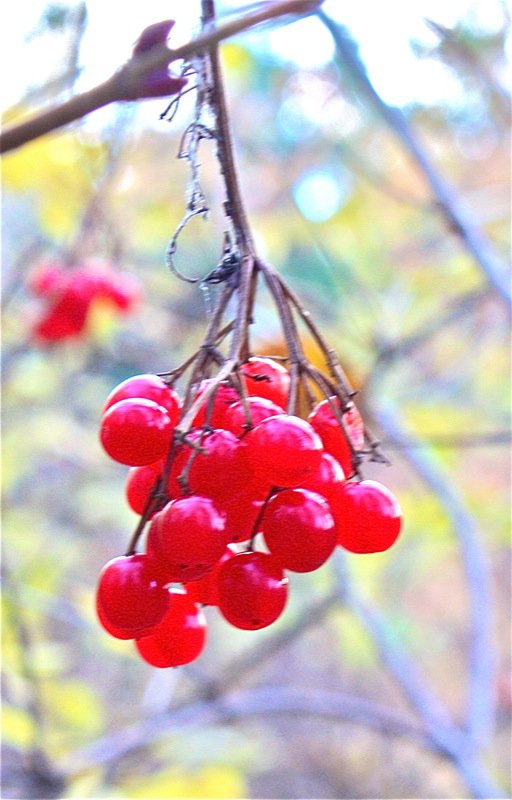 As I said, the path was busy. People were consistently walking by and calling out to us, "What are you picking?" The interest was high. The berries are clearly a secret to most. Yet, here we are, in the heart of our metropolis, foraging an abundant supply of berries that are very high in vitamin C and can be used a variety of ways. Kevin is harvesting them to make wine. I am going to make jelly, and syrup, and juice, and try to dry some for baking or cereal.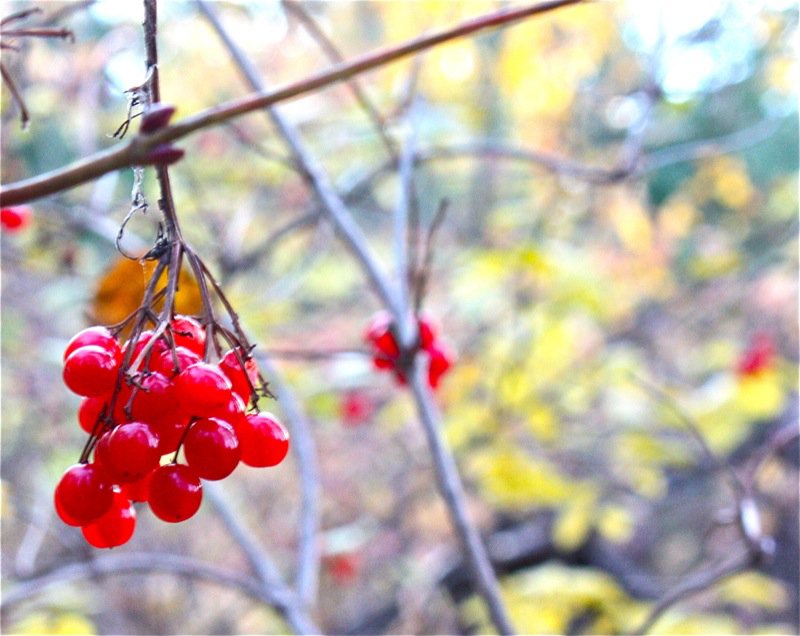 They do have a very big heart shaped pit in them. Kind of like the purple grapes with the huge seeds, but these berries are much smaller, and the seed is bigger.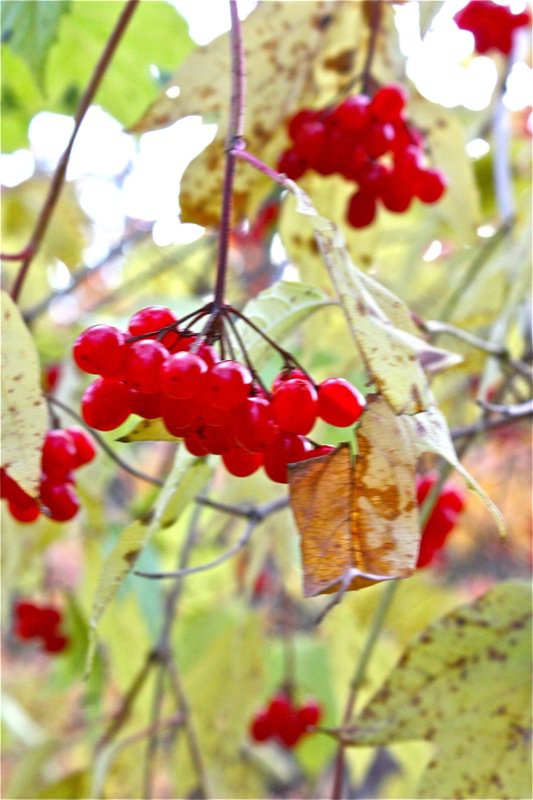 I love living where there are four distinct seasons. I don't remember an autumn for a long time that has been able to age in full colour before the snow flies. Look at the bounty!
Are you getting the idea that there were berries everywhere? I have a little mental illness, or a fetish, that when I am berry picking, if there are more berries, I cannot stop. I just cannot. Even if I reach my goal. What will happen to them? What a waste if they are not used…
Woops! A little too over zealous, and my bucket slid off of my arm as I was pulling down a branch. I scooped them back up, dirt and all.
We were out a little less than two hours and it was getting too dark to see. My bucket is the short fat one. Kevin's is the tall narrower one. I got 15 pounds; he got 21 pounds. If the sun had not gone down, I am not sure how long I could have continued one. Much longer than berries needed, that is for sure. I had a phenomenal time!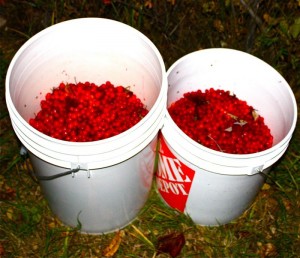 After they were all cleaned and washed, leaves removed, I had 12 pounds of fruit: beautiful.
I can't help it. They are gorgeous. I can't get enough of their brilliant translucent beauty. But, time for the juicing process. I read a lot of recipes. Most had too little fruit and too much water. All had far too much sugar, but that is what it takes to make jelly: a lot of sugar. The yellow berries are nor fully ripened, and contain a lot of pectin. Kevin told me this, and I learned it through my research. If you get a lot of them, you use less, or no pectin. I had a lot in my last two thirds. In my first batch, I didn't have many. I used four pounds of berries to 2 cups of water. That seemed perfect for the juicing process. I actually put my hands right into the pot until it was too hot, and pushed and pinched the berries under the water to juice them. After that, I used a flat mallet to squish them. I set the timer for ten minutes and very lightly boiled the fruit and squished the plump globules to release their ruby juices. Between 8 to 10 minutes of doing this, I used a cheese cloth and folded it a few times over my sieve.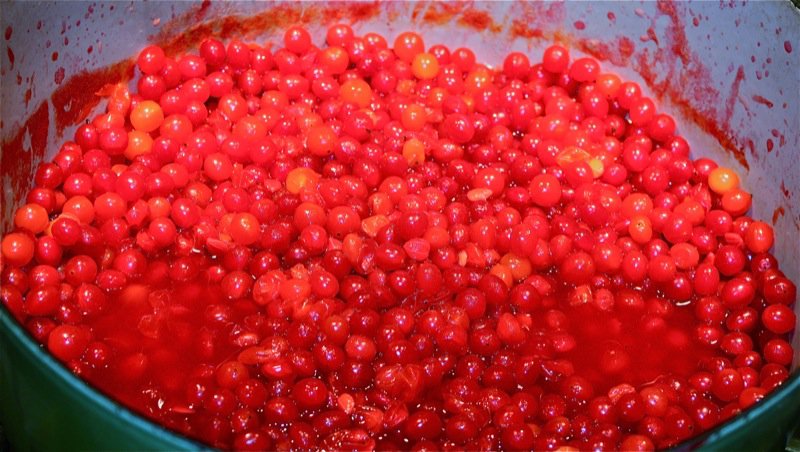 The berries were scooped up into the cloth covered sieve and left to hang overnight: no pushing or the liquid will be cloudy!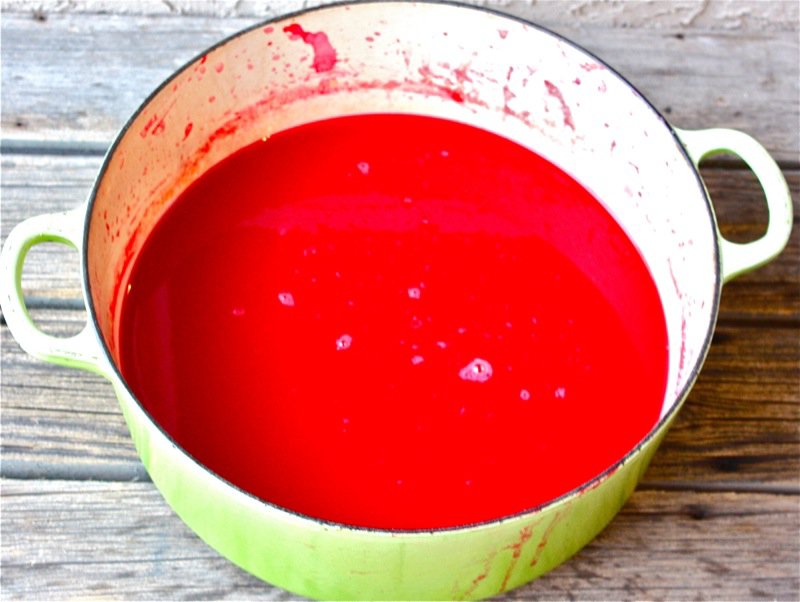 In the morning, I was very happy to see I had a little over three litres of juice. I then took the mash and squeezed it to make a cloudy drinking liquid. I tried to dry berries, but that did not work: too labour intensive. If you have done it, please tell me how!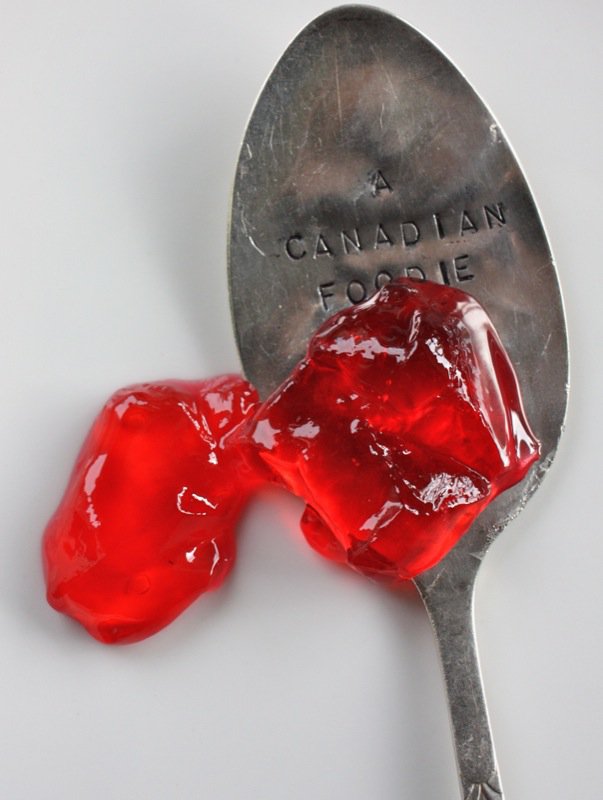 No pics of the process as I did it at night. I measured the juice and had 15 cups. Wonderful! I measured 5 cps of juice and 7 cups of sugar into a heavy pot. Stirring it frequently, I brought it to a rolling boil, at which time I put in the pectin (one package of the gel) and let it continue to roll and boil for a minute; turned down the heat, and using my wide-mouth funnel, poured the soon-to-be-jelly into jars of all shapes and sizes. I had the canner on heating and when I finished the last bottle, it was ready to process the jelly. In they went at a low processing temperature of about 180″œF for 25 minutes; the water was not quite boiling. And see they gorgeous jelly I found the next morning?
I am crazy over it. It is a distinctive taste, but not stinky. It is just unfamiliar and bright and tart and as delicious as it is brilliant.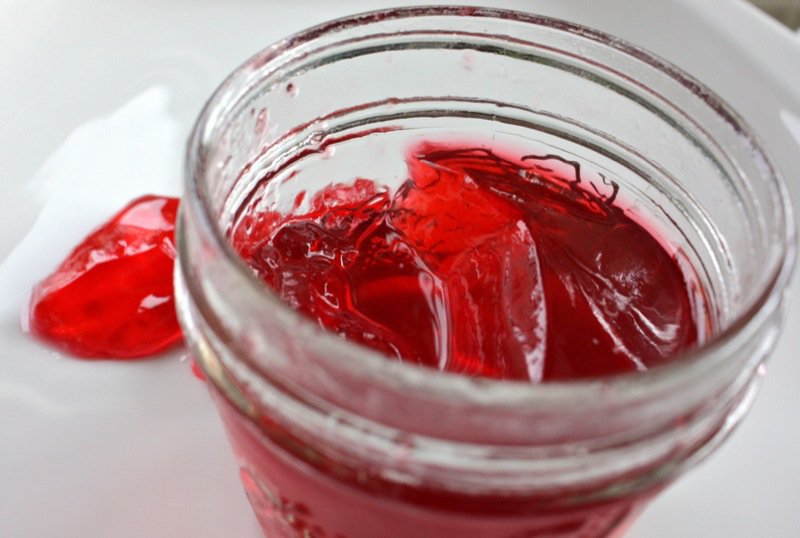 On the left are my jellies; on the right are the syrups.
I used the 10 cups of juice and 5 cups of sugar with 2 packages of liquid pectin to make the syrup. I was hoping it would be thicker. It is a nice thickness, but I was hoping for a loose jelly. I should have known better with so little sugar. But, I was hoping that the pectin in the fruit and the added pectin would work some magic. No matter. It is incredible: much stronger and more tart than the jelly. I thought I might use it in a verrine dessert and add gelatin to it to make a lovely high bush jelly layer. That would be a deadly panna cotta. So many ideas have come to Vanja and I. He just wants to drink it with sparkling water. It would be lovely with Champagne, too!
Interestingly enough, the high bush cranberry is not a cranberry at all. It is a member of the honeysuckle family. It is truly amazing what one can scavenge and create into a gourmet delicacy. If this isn't Canadian, what is?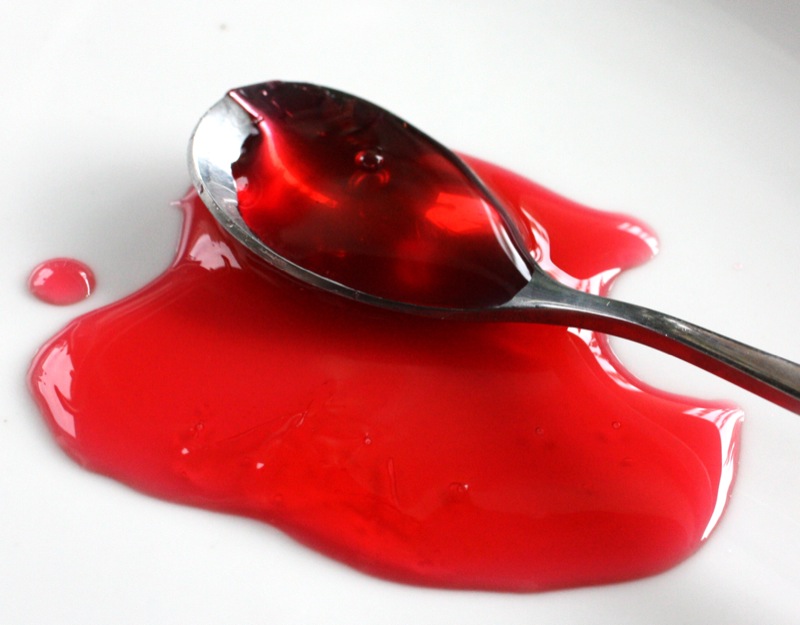 The video below is by Chef RenéRedzepi of NOMA restaurant in Denmark. He presents my food philosophy: not my ability, but I celebrated with him as I watched this. If you are reading this post, you will enjoy this video. Truly.
httpv://www.youtube.com/watch?v=ygTaJC5FeD4
High Bush Cranberry Jelly Recipe
Yields about 10 cups of Jelly
Ingredients:
5 cups of high bush cranberry juice (about 4 pounds of cleaned berries and 4.5 pounds of uncleaned ones)
7 cups of sugar
1 package of liquid pectin
jars, lids, sealing lids and canner
Instructions:
Add 2 cups of water to 4 pounds of cleaned berries in a heavy pan; heat to a light boil for 10 minutes while squishing the berries to release their juices with a mallet of a potato masher
Once all berries are squeezed, and no longer than 10 minutes on the heat at a low boil, strain the berries with cheese cloth and a sieve overnight; do not press on the berries, or the jelly will be cloudy and not have the lovely glistening transparent hue that is so sought after
Set canner on the stove and bring to a simmer (180°F)
Measure 5 cups of liquid and add to a heavy pot
Add 7 cups of sugar tot he pot; stirring until the sugar is dissolved, and then bring the mixture to a strong rolling boil
Add the pectin in as soon as the mixture reaches a strong rolling boil, and continue to stir and boil for one minute
Remove from the heat and use a wide mouthed funnel to pour into canning jars
Be sure the jar top is clean; add the sealing lid and lightly screw on the other lid
Set all jars onto the canning rack and lower into the canner, watching for the temperature to reach 180°F once again, and when it does, ensure it stays there for 25 minutes (set the times, and monitor heat closely)
Remove jars gently and set on a towel or rack when processing is complete; so not touch for 12 to 24 hours
Check the seals, label, and store (YUM!)