The chronic war-zone appeal of my kitchen has worn all too thin around here.

I tried to get one of each in the shot, but did not succeed. Trying to transition to being at home in September and harvesting my first urban garden in years (not travelling) brought on a whole new CANdition!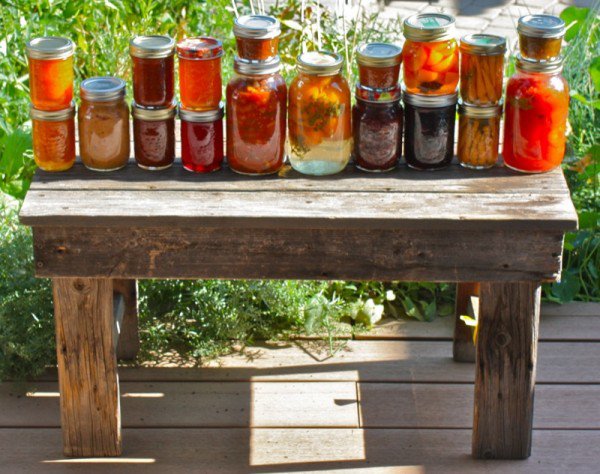 I harvested so many sour Evan's Cherries earlier in the Summer and was so pleased! "I will make pies and sauces and…" I was dreaming of little cherry sugar plums dancing in my head that I would reconstitute to true Summer vitality in the dead of our cold Northern winters when I did serve my dear husband my first Evan's Cherry Pie. It was so beautiful and so delicious. And he liked it. A lot. He said. But it sat and sat and sat. And I ended up throwing half of it away. I never throw a pie away around here. "What was the problem?" He wasn't sure. But, one thing I was sure of after that incident that whatever I was going to "put up" for the Winter had to be something he would actually like. And eat. And enjoy.

Or, that I would. So, here is my list, from left to right, above:
beautiful loose French Style Apricot Preserves: translucent lusciousness to serve at my cooking classes on steamy hot buttermilk biscuits
Crab Apple Sauce completely unsweetened (only apples): crab apples provided by Corey and Katherine, (two good friends I met at a Slow Food event last year) to use in baking to take the place of fat
Top Jar: Ajvar: my Red Pepper Caviar (I made 13 jars like this) to savour slowly with cheese and crackers while not talking at all; this is too good to be a social food
Black Bing Cherries in Cognac: to recall the memories of the incredible hard, black, giant flavourful cherries Teresa brought in from BC at the Italian Centre this year
Top Jar: glistening Apricot Syrup to use when needed a glaze for fruit tarts or layered in Winter cakes
Bottom Jar: Evan's pucker perfect Sour Cherry Syrup made by macerating beautiful fresh glistening ruby cherries until they were wisened and wrinkled and had exuded their essence completely into the yummy sugar to share over ice cream or triffles
Big Bottom Jar: Peppy Salasa (yummy!) to get Vanja to eat all of his vegetables as this is crunchy deliciousness and we use salsa in a lot of dishes, or simply on eggs
Top 1/2 cup Jar: Homemade Tomato Sauce for pizza (I always have homemade tomato sauce in my freezer; this time I canned it)
Apricots with Thyme in a light syrup: swirling and surreal for making frangipan tarts with puffed pastry and French Tarts and decorating meat dishes
Bottom Jar: Sour Cherry Conserve with Walnuts (great right out of the jar as a snack!) for accompanying cheese and crackers at a cocktail party or for wolfing down with cheese as a snack
Top Jar: Homemade Tomato Ketchup (really delicious stuff!) which is much more nutritious and tasty than Heinz (but, a heck of a lot more labour intensive, too)
Bottom Jar: Red Beet Pickles because I love them
Top Jar: Golden Sweet and Sour Beets because I love them with fish
Pickled Baby Carrots: so tiny and crunchy because they are so delicious
Nadia's gift of preserved roma tomatoes: aren't they absolutely gorgeous! (and now I know how to make them)
On top of the tomatoes: Rhubarb Jam because I made a sticky concoction that was delicious so I canned it, too!
Not in the photo, my Evan's Sour Cherry Liquor (for toxic enjoyment late at night) you will find below on the shelf as well as my yellow beet pickles, and other syrups and jams. We really don't eat jams, so I made only one or two of whatever I did make.
Honestly, I kind of lost count. Let's put it this way: What was I thinking?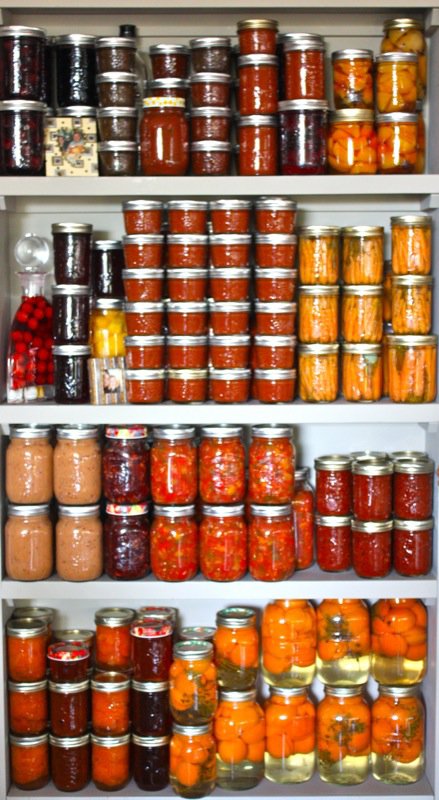 And there are more in the pantry and in boxes and I haven't done anything with our apples on the apple tree, the Slow Food Canning Day is coming up this Sunday for pickles, nor have I done my High Bush Cranberry Jelly. And, I have heaps of green tomatoes sitting here screaming: "Make me into Karlyn's Green Tomato Chow! "
My fingers are in my ears and I am chanting: "Na-Na-Na-Na-Na-Na-Na-Na-Na-Na-Na-Na-Na…" and I still hear them – and see them – and feel that CANpulsion that created this CANdition. Oh, What to do?
I will try to write about each of these CANfounding experiences to keep focused for awhile, so you, too, CAN enjoy the "YES, I CAN!" feeling! And, so far, Vanja likes everything – but, I am shrinking at what he will say 36 salsa jars from now….
After Word (the following year)
I preserved nothing the following year. I had enough of almost everything to last 3 years, and most of it did. Some, however, we never ate. We liked them, but the fruit or condiments didn't fit into our usual repertoire of food, so I kept forgetting to use them. So, important to note: Preserve only what you will use, what you like, and what you cherish.