Christmas in November 2013 25th Anniversary Fresh Artichoke Dip

Had it on Wednesday. Have to make it today. Yes, it was that good.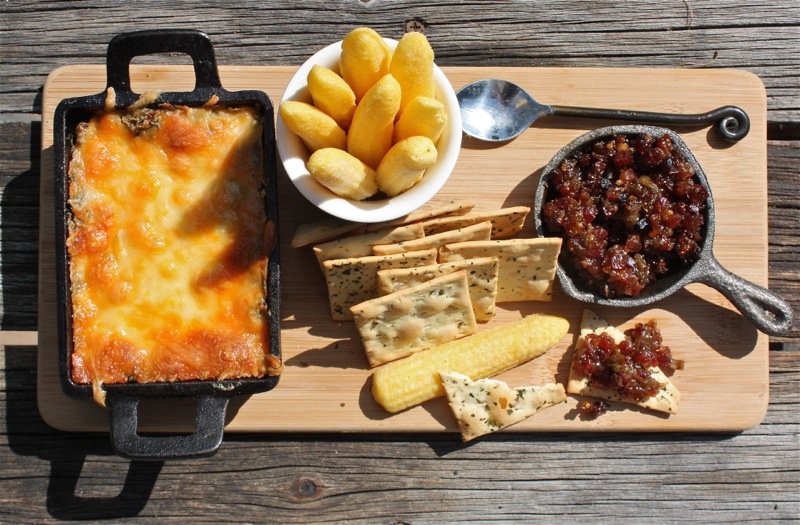 Heading out to Cathy's Birthday Party tonight. Yup, we still celebrate our birthdays even though we are all now over 50. There was a time when I was going to the party's and we were having 30th birthday's and 50th birthday's the same year. Love that span of friendship.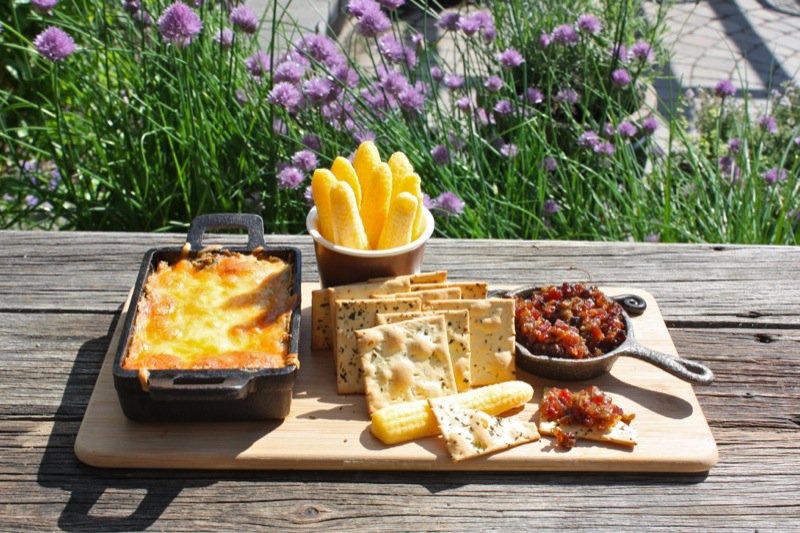 Gotta take the appetizer. Made the Bacon Jam. Made the Mini Cornmeal Corncob Sticks. Now making the dip. Maybe an odd combo, but I was in the mood to make all three so I hope they taste good together! Cathy's favourite appetizer is the layered Mexican Dip. I opted out of making it, though everyone does love it, and it is so easy. Hope she loves this dip as much as I do. I guess I will find out.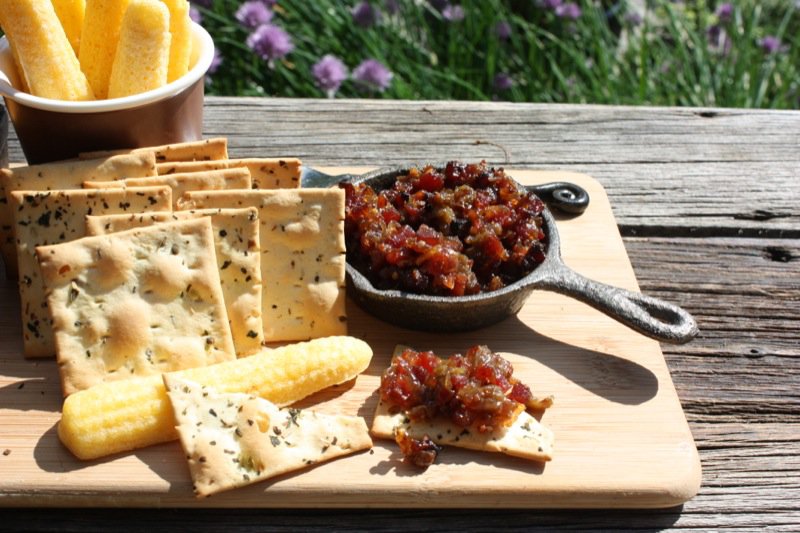 The Rhubarb Bacon Jam was a hit. I am crazy over it and eating the remainder of my batch on just about everything.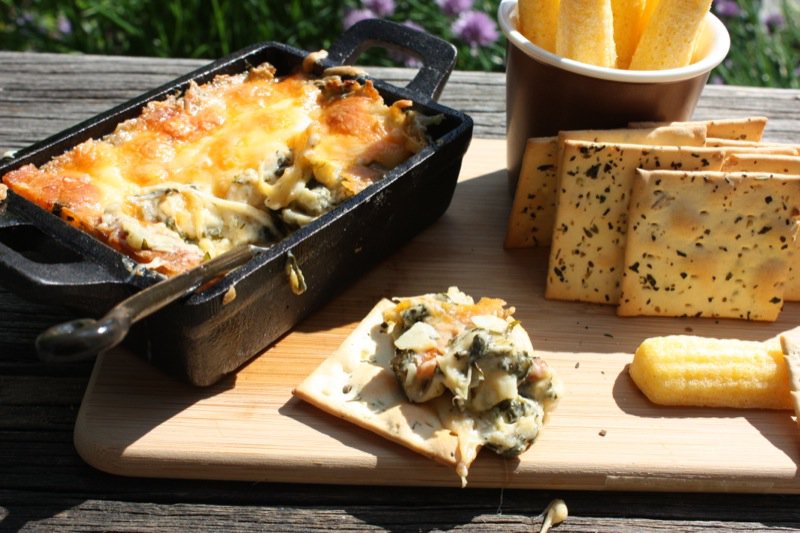 The dip must be served on a cracker with some heft for the crunch and simply the ability to lift the gooey goodness out of the serving vessel. Using the recipe acquired from Fairmont Hotel McDonald's Chef Jiju Paul that I had aptly named the Christmas in November 2013 25th Anniversary Fresh Artichoke Dip, I was surprised to discover a completely different concoction than the one we enjoyed last week. I have written to the chef for clarification on what he actually did do when he made the original dip. It looks nothing like this one, and they don't taste very similar, either. Fortunately, the recipe he provided is also delicious.
You can see that this dip is nothing like the one in the photo from the Christmas in November media event. That dip was puréed. This one has texture. That one had no evidence of fresh artichokes, whatsoever. This one definitely does. I do not think that the effort or expense, or even the "use everything fresh" concept serves us well in this dip. I used fresh spinach, too. I will use only canned artichoke and frozen spinach in the future. The incredible quality of each ingredient fresh is wasted on this dip as it is a melange of flavour and texture and the subtlety of both delicate lovely ingredients fresh, is lost.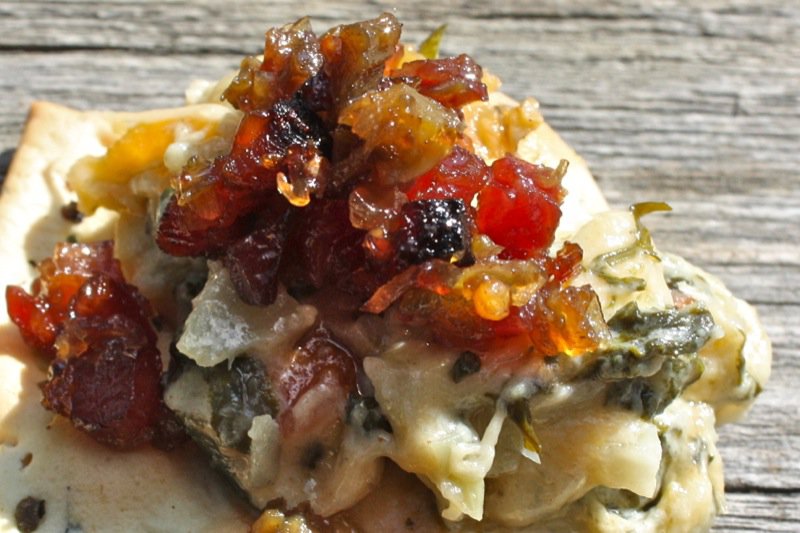 The Rhubarb Bacon Jam takes this already decadent, creamy, flavourful cheesy dip to a whole new realm. Think cheese and bacon. Think sweet and savory. Think crunchy and creamy. This one bite not only has all that, but the combination transforms each concoction exponentially, when eaten together. I do not tell a lie.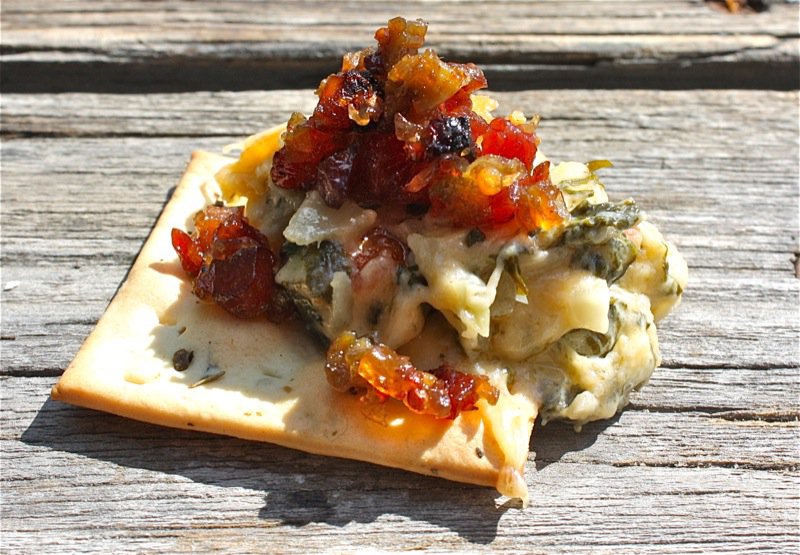 The Mini Corn Cob Cornbread sticks are tasty with the Rhubarb Bacon Jam, but not a good match for the dip. The flavour is great, but the texture is not crunchy and that is definitely a must to hold up to the luxurious dip. I thought I was the only person taking an appetizer for the Birthday dinner I attended last Friday, so worked to concoct a manger pour deux on a board for mixing tastes and flavours: shared plates create shared experiences.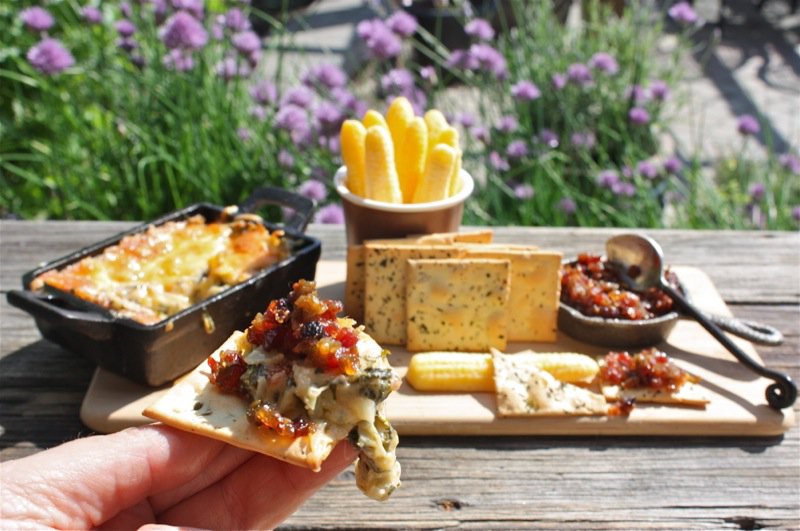 Can you tell I am having a little bit too much fun?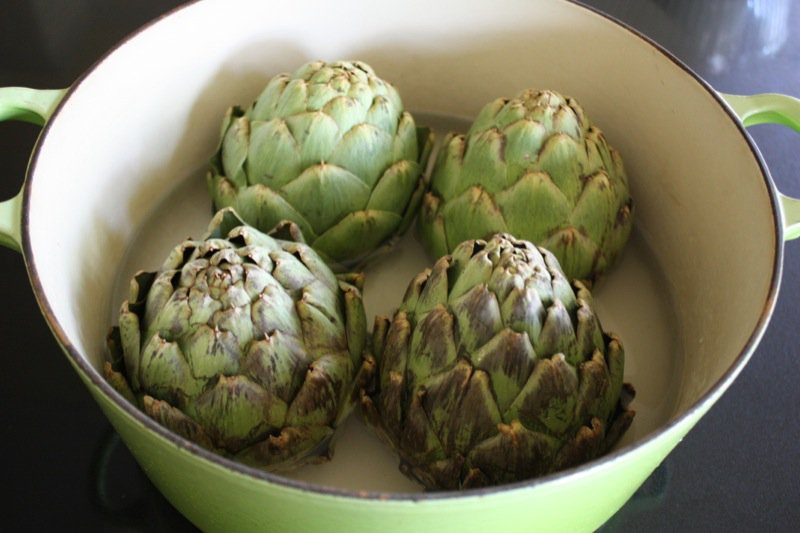 To make a batch of the dip, I would need 8 to 10 fresh artichokes. They are five dollars a piece on the "we-don't-grow-these-here" Alberta prairies. I used 4 and one can of the hearts to make a judgment call after tasting the dip.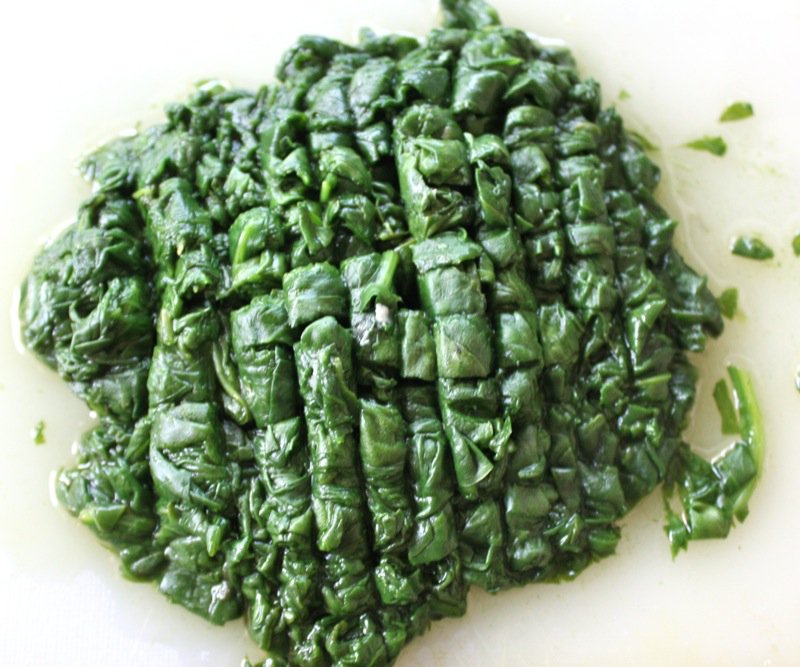 Bought a 6 ounce bag of fresh baby spinach. Steamed it for a couple of minutes in my Thermomix. Chopped it, and got about 1/2 cup of spinach. More would have definitely made this a Spinach Dip.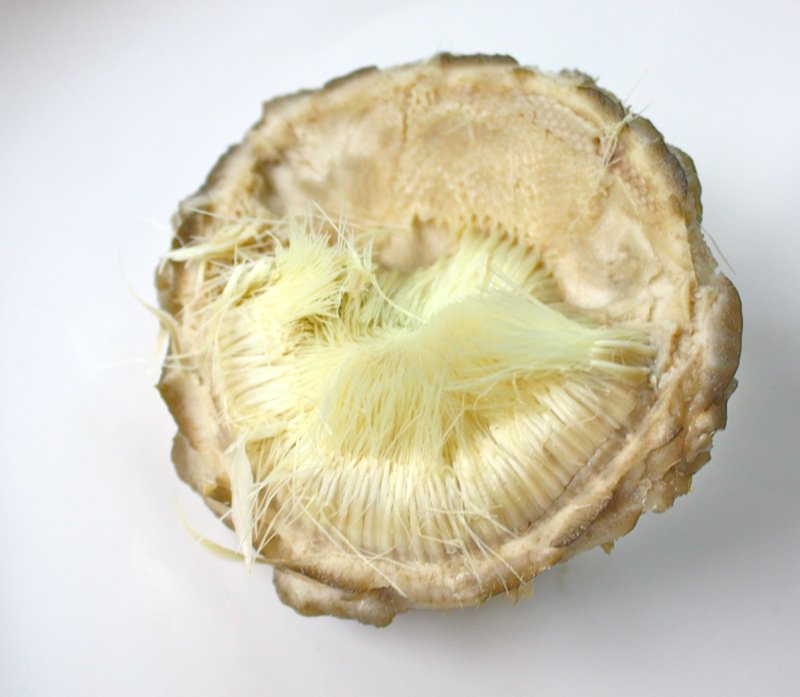 The gorgeous fresh artichoke hearts need their hair removed before being eaten. I steamed them for about 45 minutes, pealed away the petals and was left with the heart, above. I then nudged the hairs from the heart and was regretting having to use these scrumptious delicacies in a dip as soon as I had them cleaned, and ready to chop. I was imagining individual stuffed fresh artichoke hearts. Oh, my. I was remembering the unforgettable fresh grilled artichoke that I purred through at Cassanova in Carmel. Ahhh…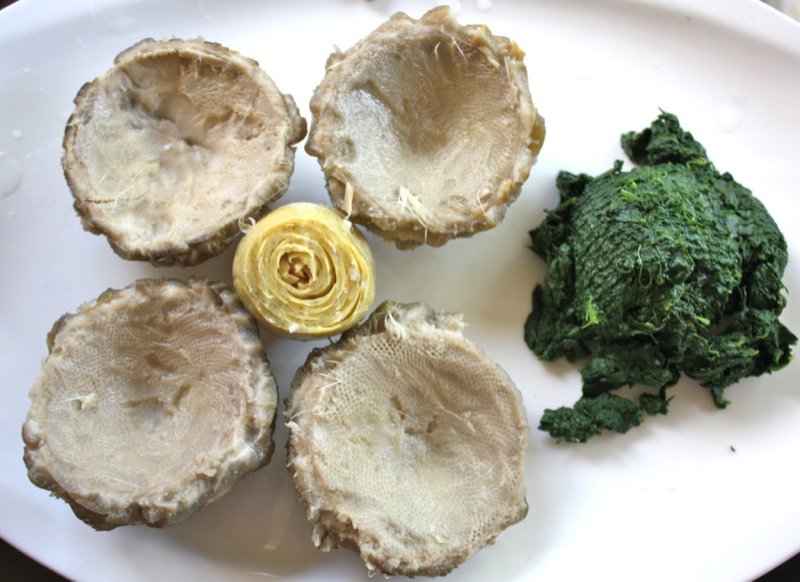 The canned choke is pictured with the fresh. I removed the sharp ends of the chokes in the can. I chopped both and had a good cup of hearts for the recipe: spinach was carefully tossed into the chopped chokes.
Mise en place, time to saute the onions and garlic.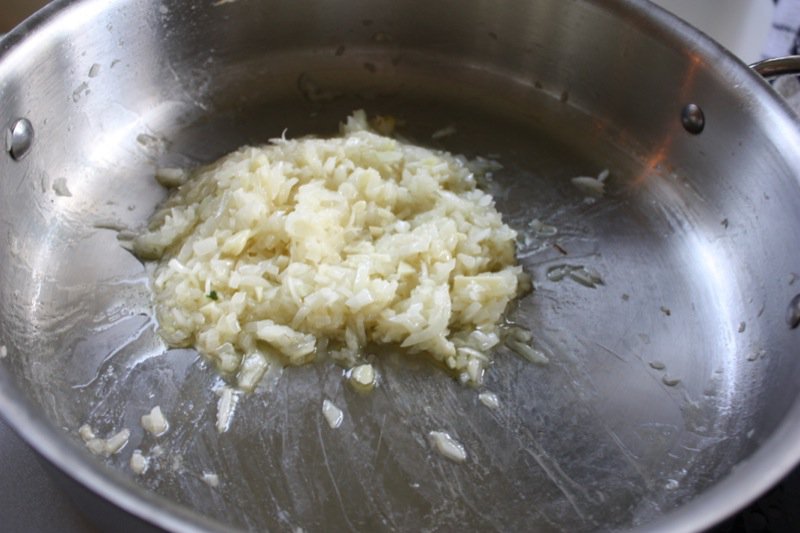 Everything into the bowl to combine: very easy to put together.
Taste for seasoning. There was not even close to the heat that was in the original dish. I added Tabasco Sauce. Lots of it. I cannot tolerate much heat, but the mild kick was part of the charm of the original dish. Into the casserole dishes, covered with cheese and baked until cheese is bubbly.
No regrets. Have never fussed so much over a dip before, but know better now. All of my notes are in the recipe, below.
(Fresh) Artichoke Dip
Ingredients:
1 small white onion, finely chopped
2 large cloves fresh garlic, minced
2 tablespoons butter
1 cup cream cheese, room temperature
100g Parmesan Cheese
50g Romano Cheese
50g fresh herbs (Chef did not disclose; I used 10g each of parsley and tarragon, chopped)
2gm paprika (There was a heat in the recipe that was not duplicated by this amount of paprika; I used 2.5g of beautiful Serbian Paprika and 10 shakes of Tabasco Sauce)
salt and pepper to taste
1 cup frozen chopped spinach, thawed and well drained (I bought a 6 ounce bag of fresh baby spinach, steamed it and it worked, but I would use frozen in the future)
1 cup fresh artichoke hearts, cooked and chopped (In the future I would use two 18 once cans, well drained and rinsed )
100g mozzarella cheese, shredded (I used a 50g more of both as I made individual pots)
1000g cheddar cheese, shredded
Instructions:
Preheat oven to 350°F
Sauté onion in butter until translucent, add garlic for 30 seconds; cool
Lightly butter a small baking dish
Mix next three ingredients together in medium bowl; add onion and garlic mixture with fresh herbs, paprika and salt and pepper, to taste (I actually added 10 shots of Tabasco to get the kick that Chef had on Wednesday)
Gently stir in chopped artichoke hearts and spinach; check seasoning (I like the texture; this could also be puréed at this point)
Transfer mixture to prepared baking dish
Top with remaining cheeses
Bake 18-25 minutes, until bubbly and very lightly browned; serve immediately with crackers
Note: I did use fresh artichokes, and this recipe does not need fresh artichokes. I would most definitely used canned in the future. The fresh lovely heart taste does not sing in this recipe. The canned ones are delicious in this dip.
Love ya, Cathy! Happy Birthday! XOOXOX