Oatmeal Coconut Pecan Blueberry Cranberry Nutrition Packed Cookies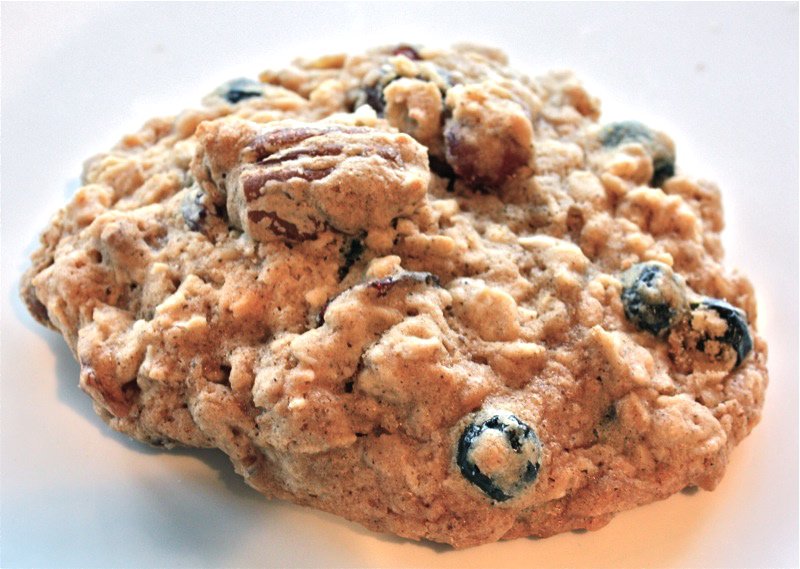 Look at that pretty smile… someone likes these cookies….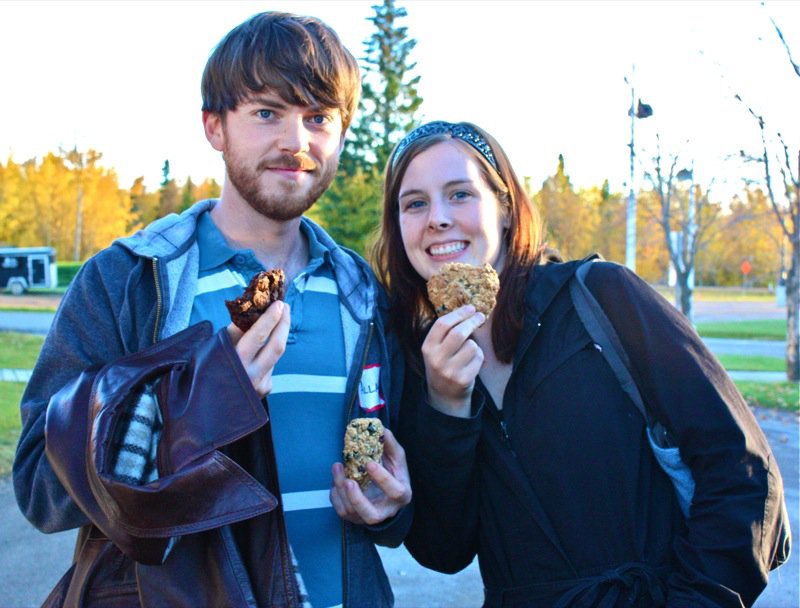 I use my Thermomix for almost all of my cookies and cakes, anymore. Creaming the butter and sugar is easy once you know your machine: add the eggs, and whip. I get excellent consistency. Then I just continue out of the Thermomix folding in the dry ingredients the traditional way. I have all of my ingredients ready. This is such an important step for me that I really learned later in life. I used to get things out as I needed them throughout the making. Getting everything out an in place, then putting all of the boxes and bags away makes for such a pleasurable cooking experience.
I added the wet to the dry (below, left) and folded them together (below, right).
All of the other dry ingredients are well mixed and folded into the batter at this point.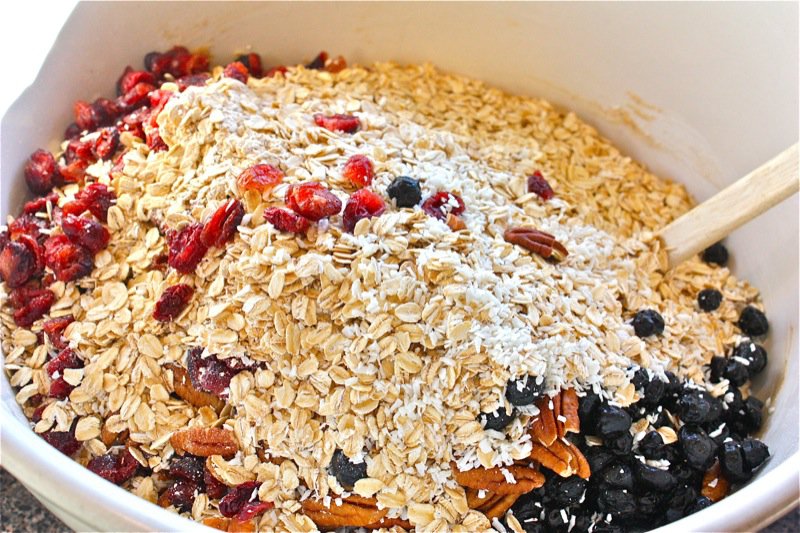 It is a dense, but moist batter plump with chewy goodness.
I have found that one cookie is never enough. So, I make them big enough so that one cookie is plenty. I use my 1/4 cup measuring cup and it works perfectly.
If I only want to bake a few (and really, how often does one need 36 cookies this size?) I freeze them just like this on the cookie sheet and place them in freezer bags. They freeze perfectly, then when unexpected company calls, I take them out, and have freshly baked (no fuss at all) cookies coming out of the oven when they arrive. I love this. I usually have a couple of kinds on hand in the deep freeze. This time, however, I needed all of them.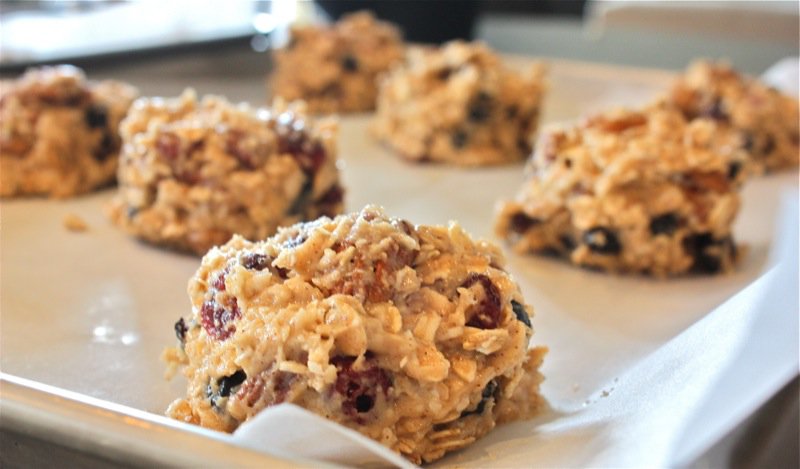 It is important to turn the pan in the oven after 6 minutes. No one's oven cooks evenly and it really does make a difference. These continued to bake 7 to 8 more minutes after the turn then onto the cooling rack. Cooling racks are important as the bottom of the cookie will continue to cook if left in the pan and the racks cool cookies perfectly.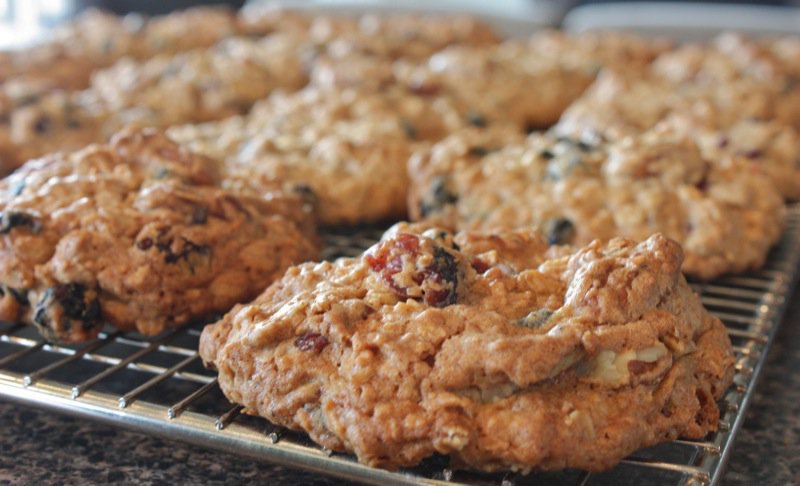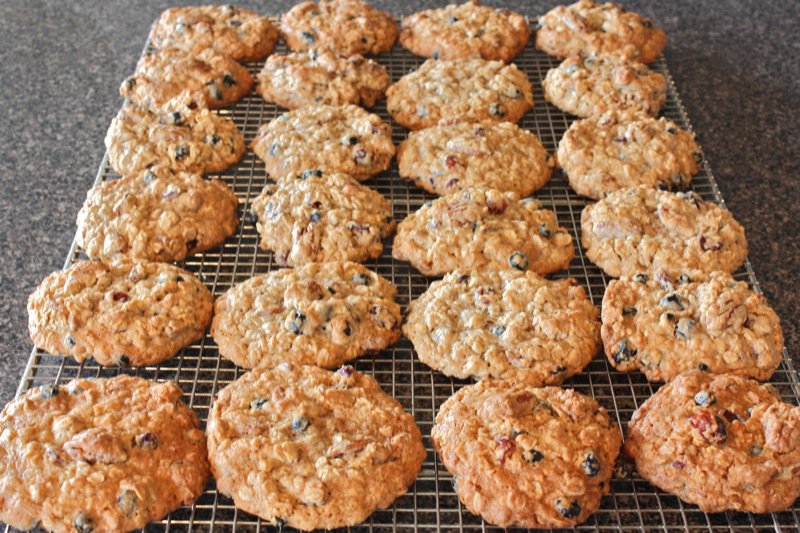 I baked these for the Slow Food Edmonton Dairy Farm Fieldtrip that I organized and enjoyed so much Sunday! (Will post that trip, soon.) The people who came were so much fun! The farmers were terrific! I also made a chocolate cookie, and will be posting the recipe for that one, next!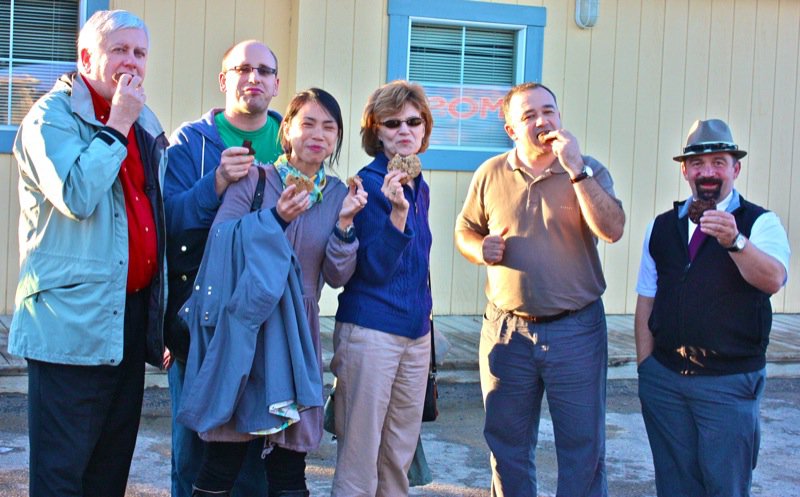 I think they were a hit. I didn't find any half eaten ones in the trash. These are sure a favourite of ours and I hope you try them!

Breakfast Cookies
makes 36 cookies
Ingredients:
2 cups butter, room temperature

1 cup sugar

2 cups brown sugar

4 large eggs

1 tbsp vanilla

3 cups flour

1 tbsp baking soda

2 tsp salt

2 tsp cinnamon

1 tsp mace (Bosch Kitchen Centre, Edmonton)

1 tsp nutmeg

1 tsp cloves

4 cups rolled oats

2 cups coconut, unsweetened

2 cups dried blueberries

2 cups dried unsweetened cranberries

2 cups whole pecans, gently toasted
Instructions:
Preheat oven to 350°F


Cream butter and sugars until fluffy

Beat in eggs and vanilla

In medium sized bowl mix: flour, soda, salt , cinnamon, mace, nutmeg and cloves

Slowly add dry ingredients to creamed mixture

Mix in oats, coconut, nuts and dried fruit

Place parchment paper on cookie sheets, and measure 1/4 of dough per cookie, carefully placing the portions on the paper to allow for spreading

Flatten each mound slightly

Bake at 350°F for 6 minutes, then turn sheet in the oven; bake for 7-8 minutes more

Cool on wire rack; should be firm, but soft and chewy on the inside