It is so easy to make that you should never again spend money buying this in any processed form!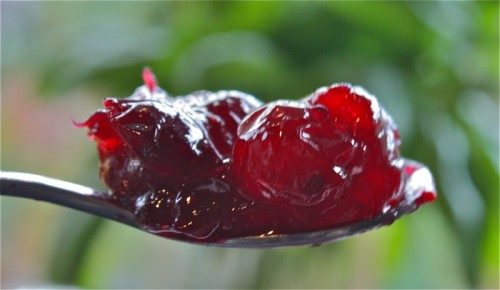 I could be wrong (tell me), but I believe the reason most people buy things is not because it is easier to buy it that make it. It is because they think it is. They don't actually know how easy it is to make many things at home that used to be a very basic part of school and home education. One thing is for sure: it is much healthier to make everything yourself. You have control of your food. There are no chemicals or preservatives in it. After reading this, tell me if you think it is easy or hard!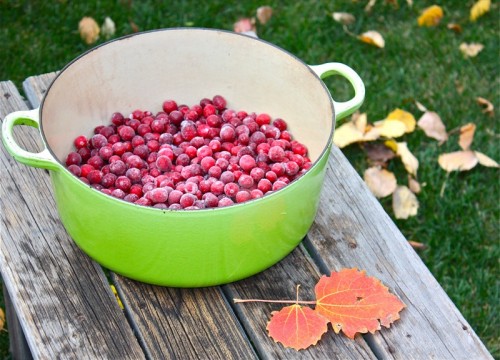 A couple of bags of frozen cranberries right out of the freezer and into the pot: gorgeous berries. I make enough at Thanksgiving for Christmas, as well.
I added three cups of sugar. I like to add the least amount of sugar possible. Some people would add more. I have one cup of sugar per pound of berries here.
Then, barely cover the berries with water: skimp on that. Fill the pot with water to about two thirds up the sides of where the berries come to. Bring to a boil; the berries will pop open and their skins will split.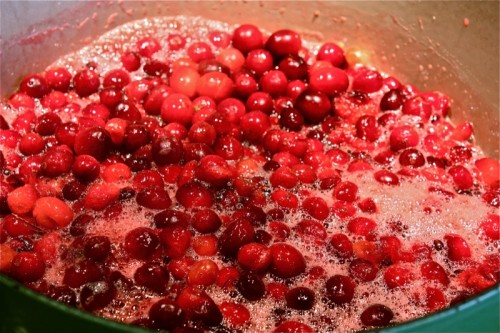 They produce their own pectin, and lots of it, so you just boil at a low rolling boil (once the pot boils, turn down the heat and maintain a boil) for about 10 minutes. My grandmother taught me that if you dip a wooden spoon into the mixture and hold it up horizontally the jelly will drip off of the spoon.  When the drips coming off of it form together, or run together to make one drip, it is done. I still do this, but usually 10 minutes works as long as you haven't added too much water: remember to fill the pot with water to cover the berries, but don't cover them: just have the water about two thirds up the pot to where the berries are.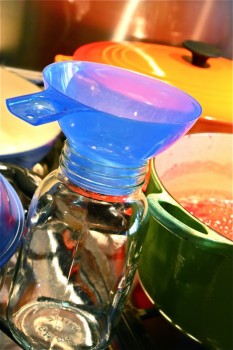 You are done! FIll your jars with the jammy jelly mixture and let it cool. Cover and refrigerate when cooled to room temperature. This doesn't need to be processed any further and will keep in the refrigerator until your Easter dinner, too!
Isn't it gorgeous? I never eat it with the hot meal, but there is nothing like a turkey bunwich the following day on a homemade bun with cranberry sauce and salt and pepper. Yum!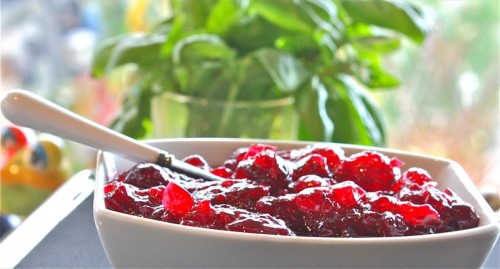 That is definitely another of our family traditions. Dad used to make the bunwiches the next day for lunch.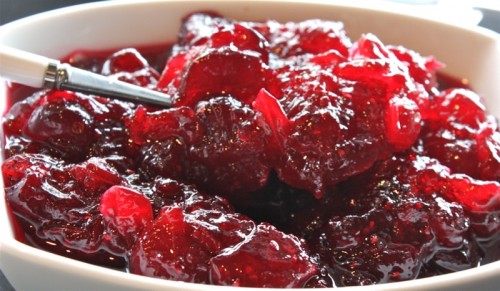 Wonderful memories of our little family of four sitting around the chrome arborite covered kitchen table, feet dangling under my chair, house spotless (it always was) and the crimson leaves waiting for me to run out and roll in them. Ah! I had a wonderful childhood.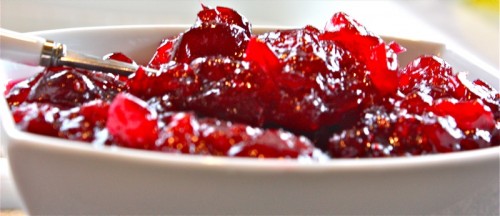 Cranberry Sauce Recipe
Ingredients:
450g or one pound of cranberries (16 ounces)
200 grams or one cup of sugar
enough water to cover two thirds of the cranberries
Instructions:
Place all ingredients into a heavy pot on high to medium high heat
When the berries boil, turn the heat down to maintain a boil
Boil for 10 minutes
Pour into jars and cool to room temperature
Store covered in the fridge
Instructions for Thermomix:
Weigh Cranberries and sugar in TM bowl; add enough water to cover 1/2 of berries in TM bowl
Place simmering basket on lid to avoid splatter; set for 10 minutes on Varoma at reverse speed 1 and watch until temperature reaches 92ºC (boiling point)
Note when berries start to boil, or reach 92ºC re-set time for 10 minutes
Pour hot thick jelly into 1 litre jar, leaving ¼ inch (6 mm) head space; wipe jar rim thoroughly
Seal and process or keep in the refridgerator.
Note: it is tasty if you add ginger, orange zest, Grand Marnier or try other combinations (I have tried various options and enjoyed many, but in the end I have decided to not mess with what I consider perfect, as it is.)
If you make yours, please tell me how you do it. If not, do you agree, now? Is it easy? Tell me what you think because I really am curious and so is Beavie (though he is currently sleeping off his turkey coma).