Another one of Grandma Maude's incredible recipes: perfect for gift giving!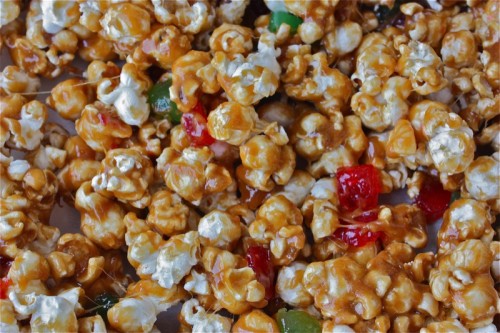 Mom and I decided to make 8. Three for her, three for me, one for my sister and one for my daughter that lives here. We made them all in two hours: kitchen was cleaned, too.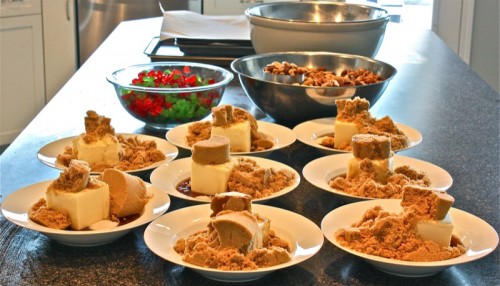 It was all in the planning. And, possibly, the experience. We have been doing this for at least twenty five years.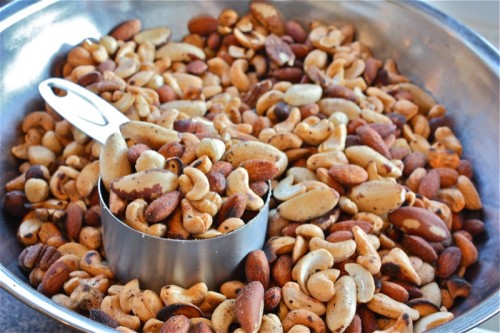 Toast the nuts; cut the jujubes.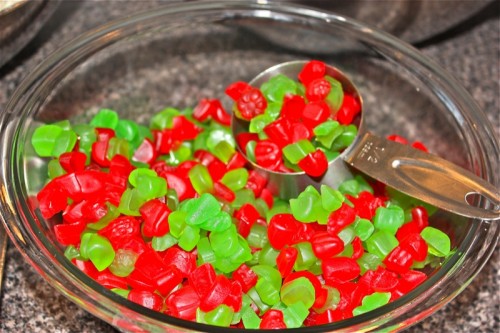 Pop the popcorn. Do all of that the day before you want to make the poppycock. Then, it is a very easy process.
Would you believe that one year, a girlfriend and I made 50 batches? Twenty five each. We still laugh about it. Everyone we knew got a batch. That was the whole point… and we did make all of them in one day, too! Crazy! What were we thinking. We still do not know!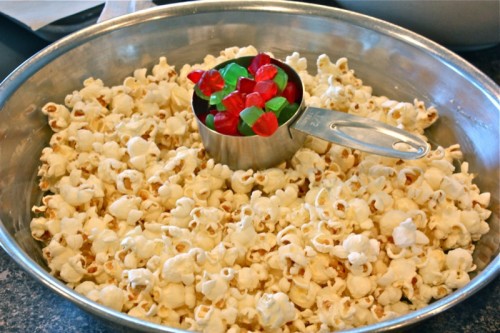 Sprinkle the jujubes on top of the popcorn.
Get the ingredients for the sauce measured out into bowls: one for each batch. No one ever makes just one batch!
Now you should be ready. Get out your heavy pots and your candy thermometers. Even though mine are calibrated, I always use two per pot, and usually have the ice cubes standing by for a soft ball testing, too. I like to depend upon the technology, but still continue to test the consistency on the ice as I find that the thermometers are not as consistent as I would like them to be.
One batch is heated in the microwave for easier release from the bowl, then scooped into the pot.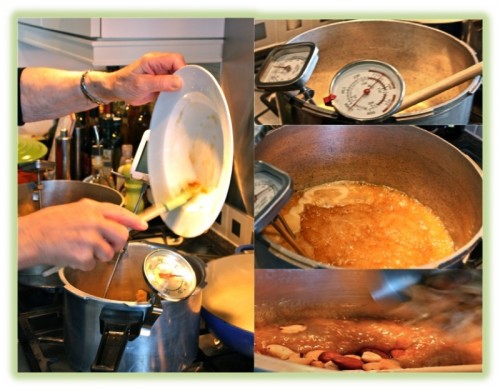 I usually do two at once. I have one a little ahead of the other, and if you have someone helping, they can wash that pot while you do the second one and keep the process moving.
Once the desired temperature is reached, turn off the heat! Remove the pot from the heat and add the nuts, soda and vanilla immediately: stir rigorously to combine.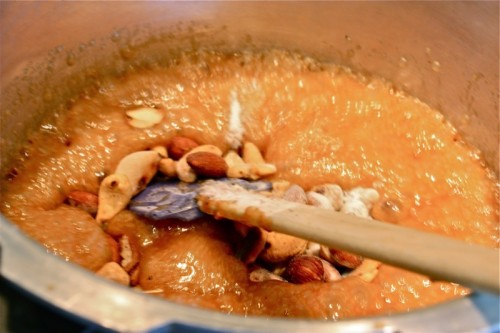 Pour the caramel mixture over the popcorn quickly, hand off the pot to your partner to wash and refill. Stir in the caramel to completely cover all of the popped corn.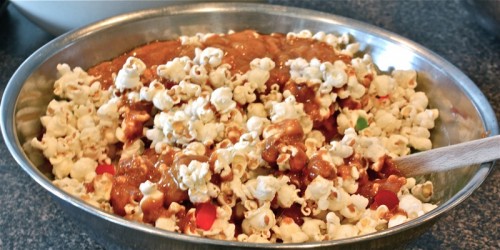 Transfer to a parchment lined cookie sheet and leave to cool; I set mine outside in the cold air for a short while.
When I am finished all of them, I parcel them up for gift giving and wrap up the ones for home in plastic bags, tightly closed. This freezes well.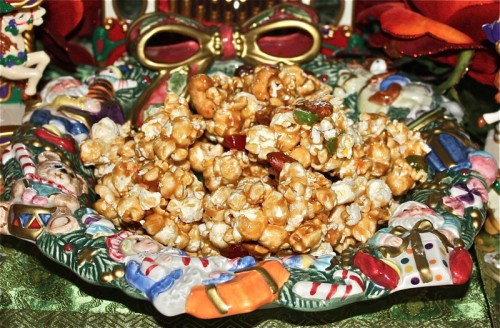 But, it does not last long at our house, and there is a long list of my friends who love to get this in their stocking from me, every year!
What traditions and treats do you share with your friends? This is a great place to start! Nothing compares to homemade and it's even better when there is a story behind it!
Valerie's Poppycock (Caramel Corn) Recipe
Ingredients:
Prepare the following ingredients in advance:
Pop 11 cups of popcorn ( 1/2cup of kernels popped in oil makes about 11 cups of popped corn)
1 cup of salted mixed nuts, toasted
1/2cup of red and green jujubes, cut up (optional)
a buttered mixing bowl (place popped corn topped with jujubes in here)
a cookie sheet, buttered, or layered with parchment paper
2 candy thermometers
Place all of the following ingredients into a heavy pot, or into a bowl if making several batches:
1 1/3Â c brown sugar
1 cup butter
1/2c corn syrup
1/2t cream of tartar
Have these ingredients ready to add to the caramel immediately upon temperature:
1/2 teaspoon baking soda
1 teaspoon vanilla
1 cup of nuts (the same cup toasted from the above ingredient list)
Instructions:
Toast all nuts, pop corn, cut up jujubes
Place 11 cups of popped corn (or 1/2 cup unpopped corn, popped) into a large buttered bowl
Sprinkle the cut up red and green jujubes over the popcorn
Place middle 4 ingredients into a heavy pan, insert candy thermometers, and bring to a boil on medium heat
Get the cup of toasted nuts ready to pour into the caramel once it reaches temperature; pour 1/2 teaspoon of Baking Soda into the nuts; have the vanilla ready
Watch your thermometer and use ice cubes for testing, too: you want the caramel a little past soft ball stage (watch this carefully, as it takes quite a while to approach this temp, and then it is suddenly there – if let go higher, it makes a very brittle product)
Once it reaches 250°F on the candy thermometer, turn off heat and remove from stove top immediately and add the nuts with the soda and vanilla
Stir to combine vigorously and quickly pour over popcorn and jujubes
Using a wooden spoon, stir caramel into the corn gently, but firmly: you do not want to crush the corn, but you do want to distribute the hot caramel over every piece of popped corn
Spread poppycock on parchment covered cookie sheet, and flatten in small clusters
Cool, the pack in airtight containers to store (also freezes well)
My grandmother used to butter an angel food cake pan generously, and pour hot coated corn directly into the pan (pressing gently to push out holes). Then she would wrap these "œcakes" and gift them to all of her friends. We would heat them in the microwave to break them apart, but I am not sure how they ate them before the microwave was invented. We do them this way, now, as over the years, that is what she came to do herself. Big ice cream pails of this gooey treat would arrive with Grandma Maude every Christmas eve and be an intregal part of our Christmas morning munch.