A Canadian Foodie Kitchen Staple and an ACF Original Recipe
These frozen cubes may not appeal to your senses in this form, but they are nuggets of pure gold. I cannot function in my kitchen without them. Make them once and there is no going back. For my family of 2 (Vanja and me) with Sunday dinners for 4 and the occasional company, this batch lasts 2 years. And, yes, the cubes retain their intense umami distillation of juxtaposed dynamic delicacy up to two years.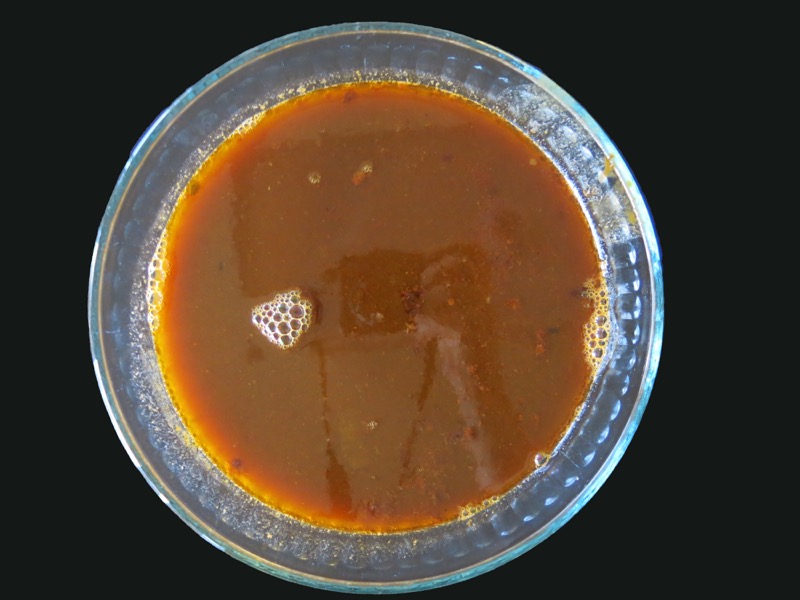 Whenever I tour a fine hotel restaurant kitchen, and the Fairmont Jasper comes immediately to mind, there is always a massive vat of veal jus simmering at-the-ready. That succulent streak across my dinner plate is never enough. Certainly, my highlight of any beefy main.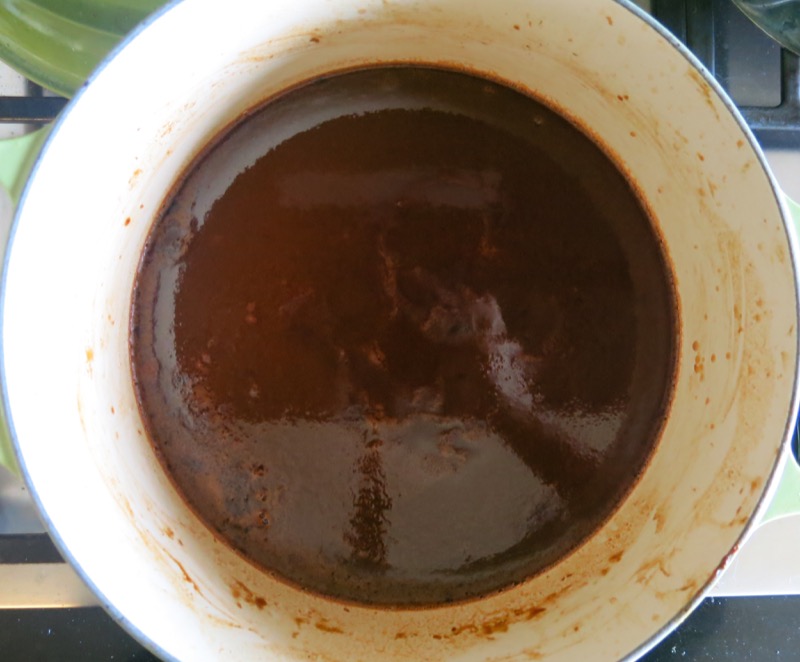 Look what I did, mom! Isn't that amazing? And, all by myself! It takes three days, but you just need to be home. It is not labour intensive, at all. And me? I enjoy every second of the magical creation of this luxurious concoction. Bouillon cubes? Nah! They may enhance something, but taste artificial to me. There is nothing like a flavour-filled power pack to add depth and complexity to a weeknight meal: that gets me clicking my heels!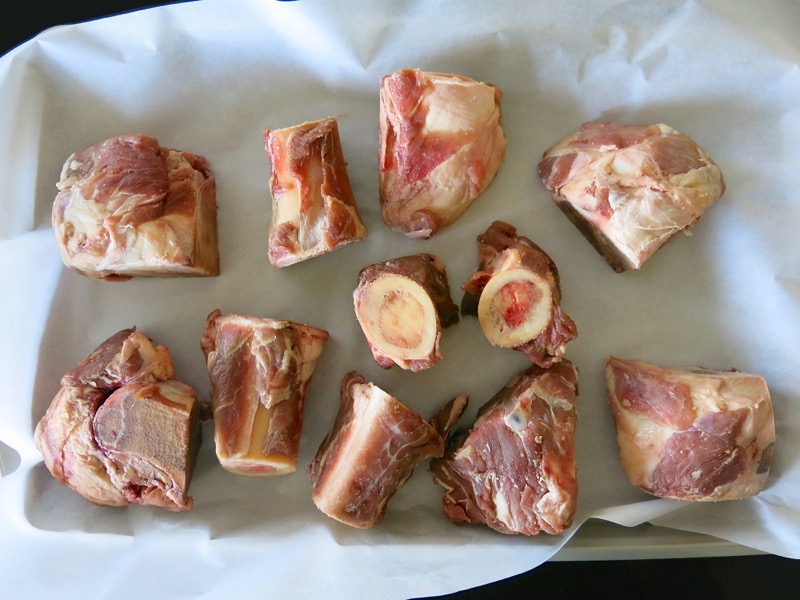 Look at those gorgeous bones. The first time I attempted veal jus, I was simply on a quest to learn. It was difficult to find the veal bones. It still is. It took some experimentation. Did I want to roast the vegetables and then cook them in the stock, or not roast them? Did I want a white stock or a red stock? Did I want a tomato base, or a meatier base? I've made a few different recipes, by now. The first one was very labour intensive because it was my first time. I was learning, out of my element and had no previous frame of reference for any phase of the process, so was reading and researching as I went.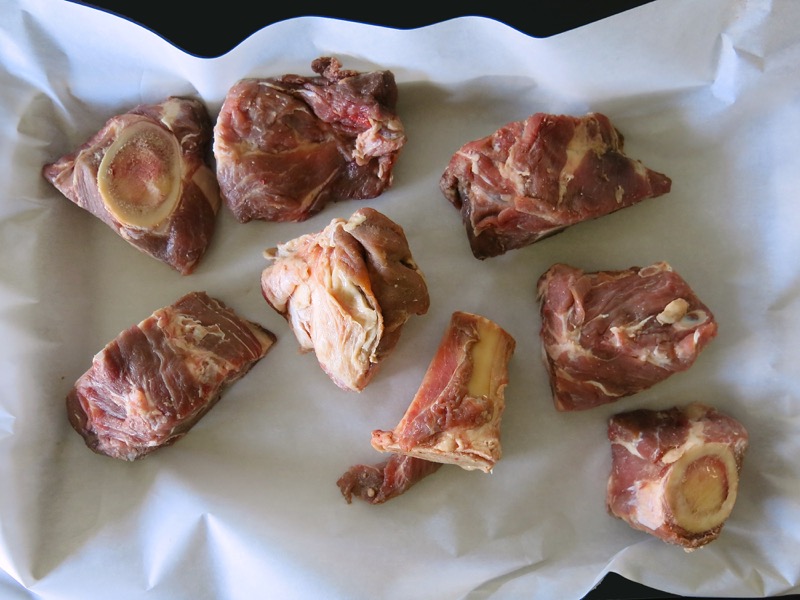 I now have my little process down pat. Have shaved off a few hours and lots of anxiety as my common sense kicked in based on the experience gained. I get excited when my order of beef comes each fall from Nature's Green Acres. It is what Shannon and Danny call their Nouveau Beef: slaughtered at 7 months, or less. That is as close to veal as one can get from a farmer in Edmonton in 2015-2016. I called so many places for veal bones, and my butcher said, "Valerie, use the bones from your own cow! Those are as close to veal as you are going to get anywhere around here!" Of course! I had all the bones sent with my whole cow – and was so surprised to find there were only 7 pounds of bones. It was enough, but 12 pounds is what I am used to working with.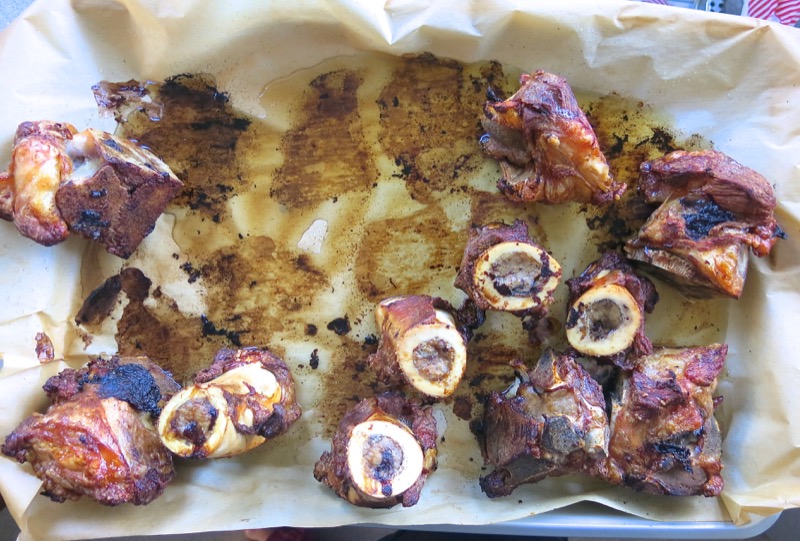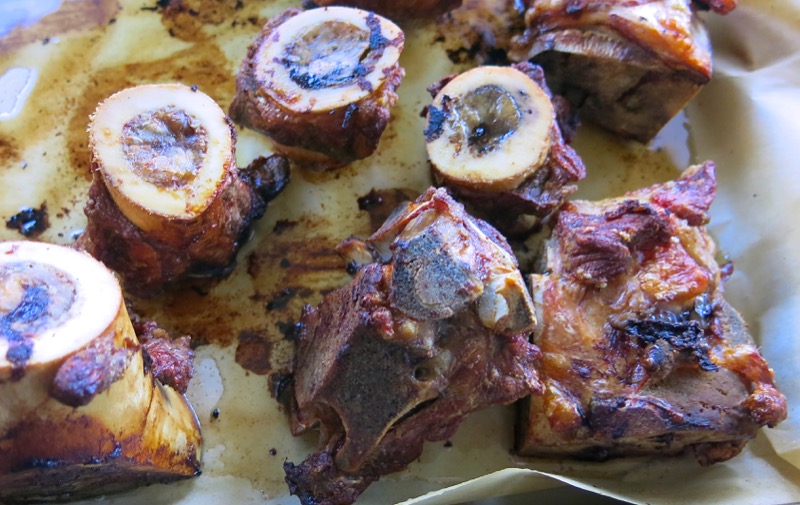 Of course, one has to clean the oven after roasting a load of these meaty morsels! Yet, it doesn't take long to get them roasted and ready.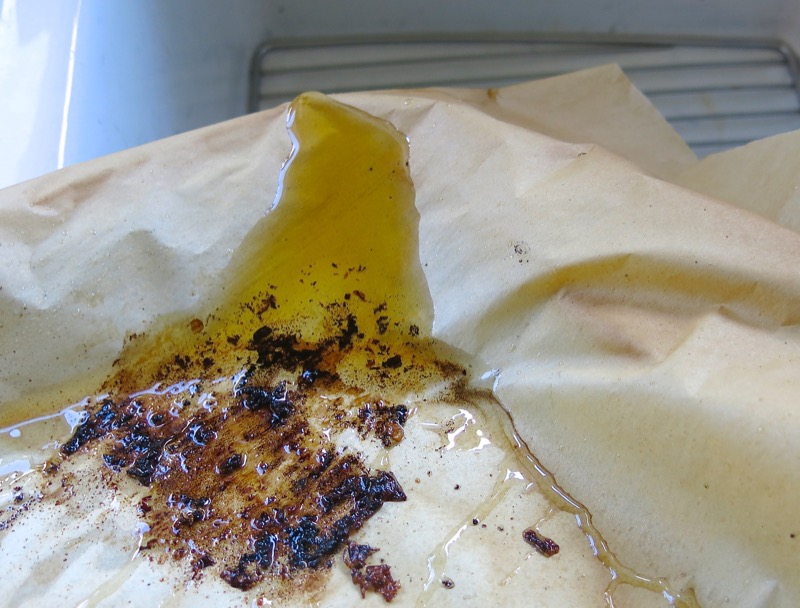 Drain the fat, keep the flavour. It all goes into the stock.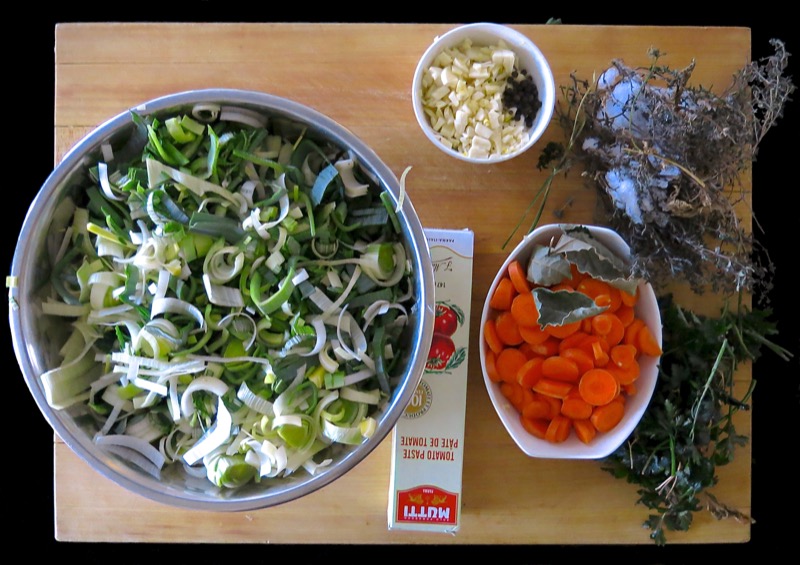 Leeks, carrots, garlic, peppercorn, bay leaves, thyme, parsley, tomato paste…. all part of the flavour pack.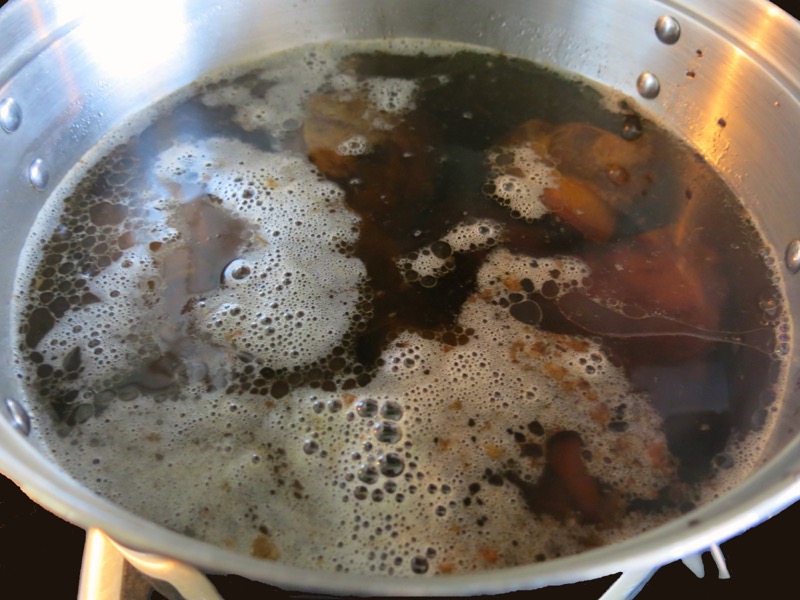 As in any basic stock, bones are covered with water.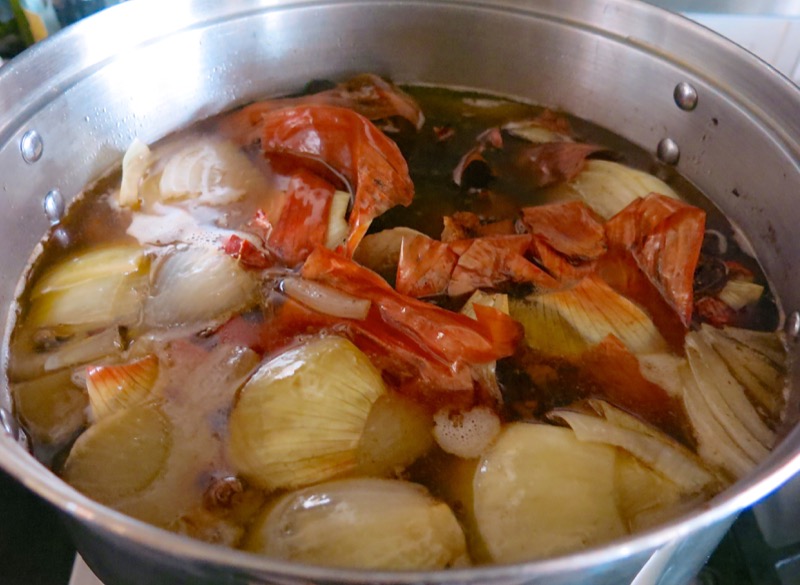 Onions and skins all in. Skins are for added depth of colour. Stock is simmered for 10 hours.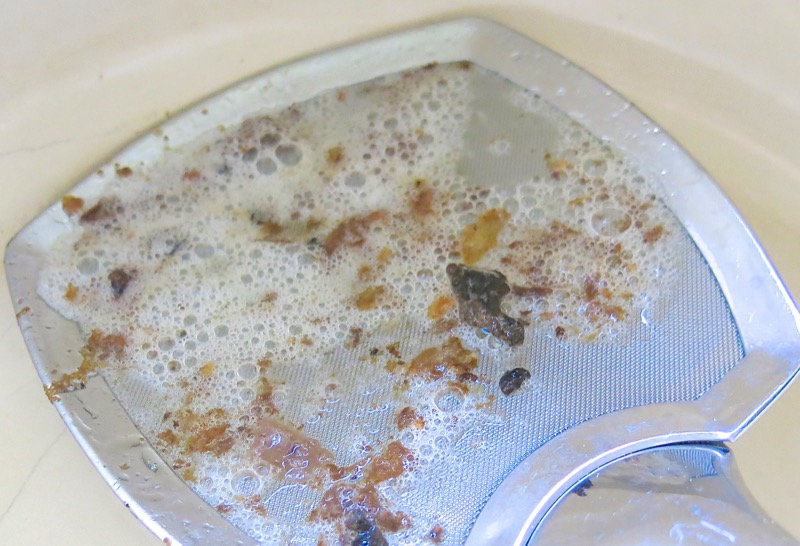 Then, skim, skim, skim: some batches have more to skim than others, but skim the scum off, and rinse the skimmer and skim some more.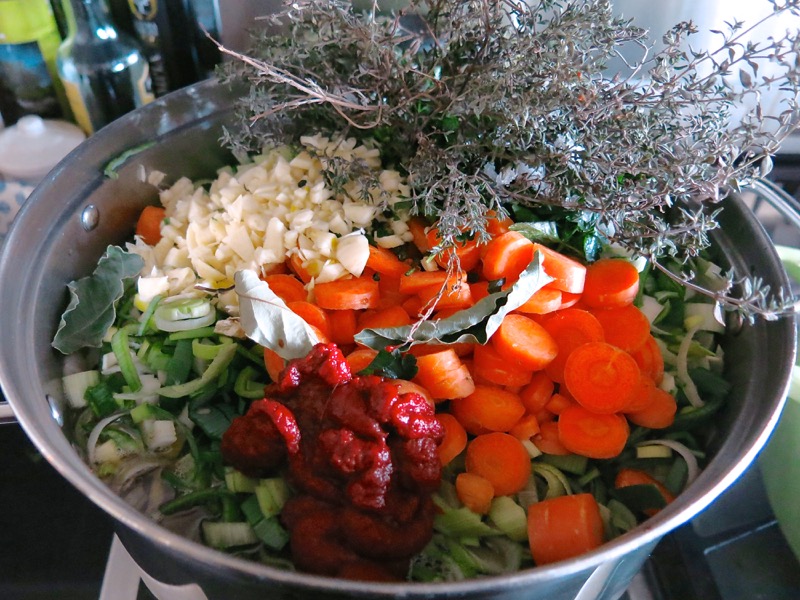 The flavour pack goes in for the last 2 hours.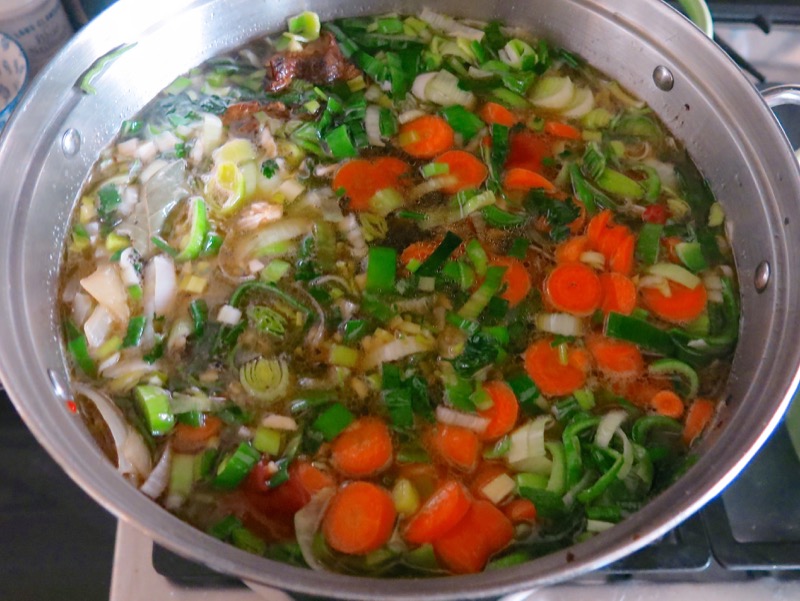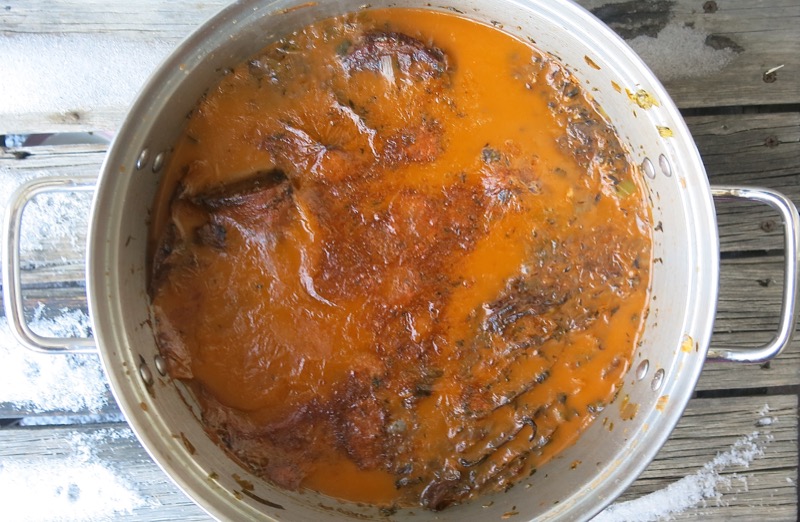 Overnight to cool has the fat set up on top which makes it so easy to remove.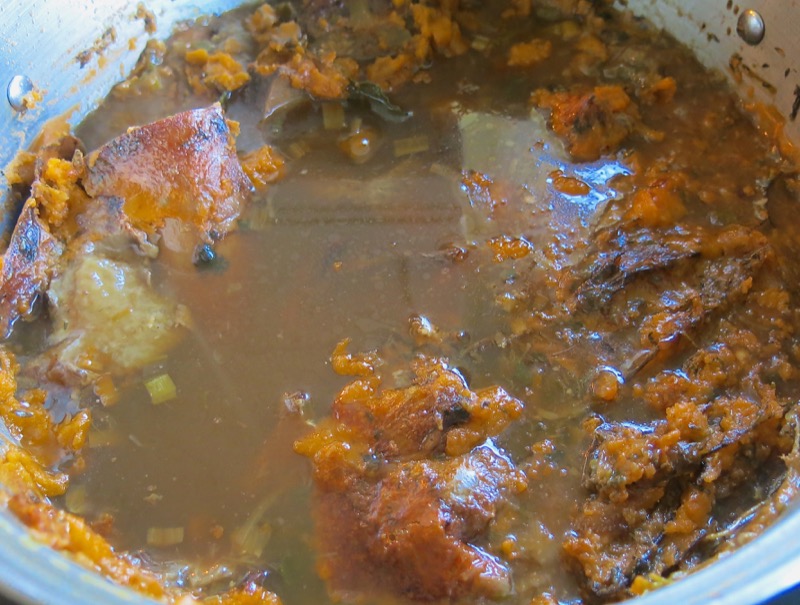 Usually the flavour is in the fat, but with this stock, removing the fat is an important part of the process.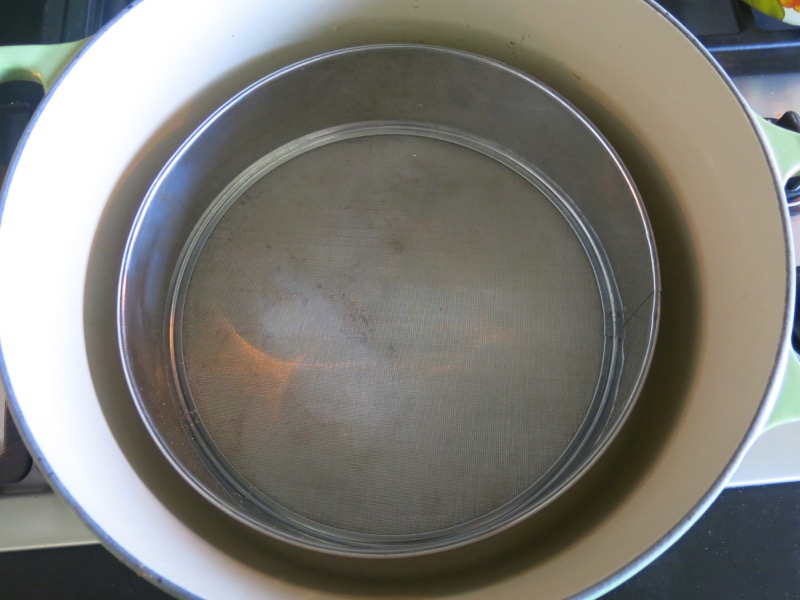 Strain out all the solids through a sieve.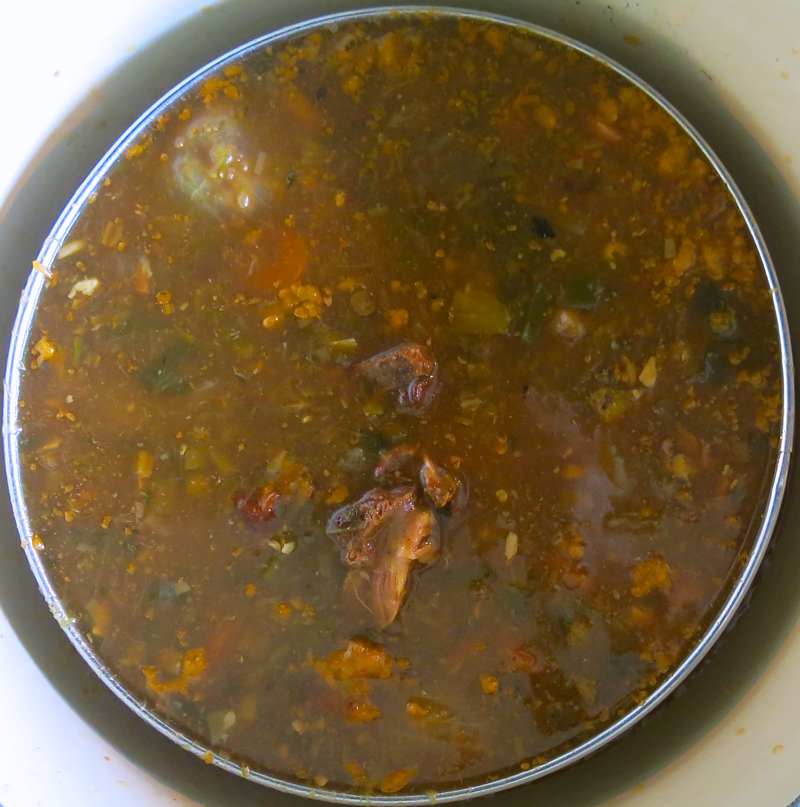 Only the transparent liquid is most desirable for the perfect veal jus, so do not push the solids through the sieve. Be patient, and let them strain through it. You may find that a cheese cloth works best.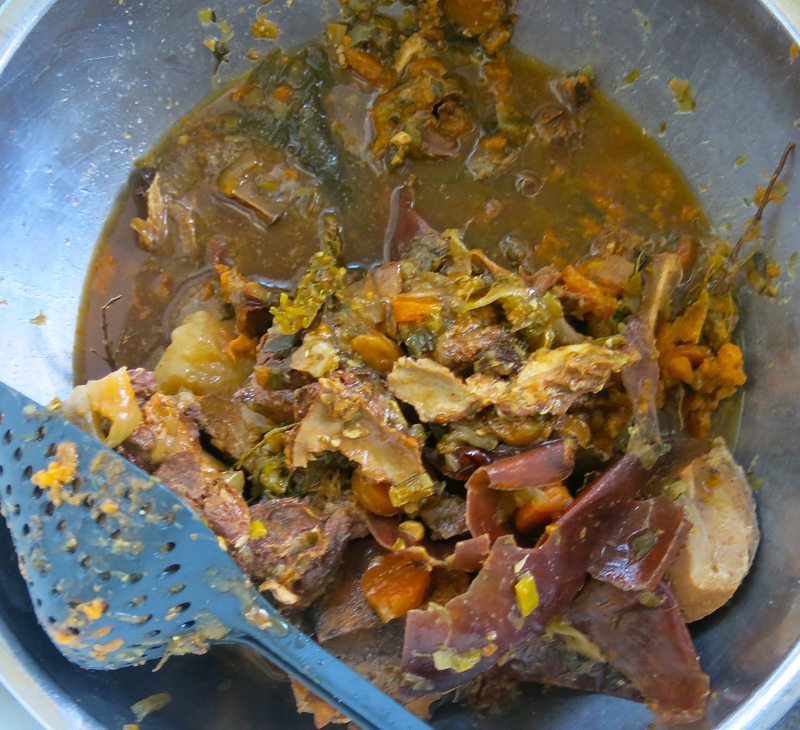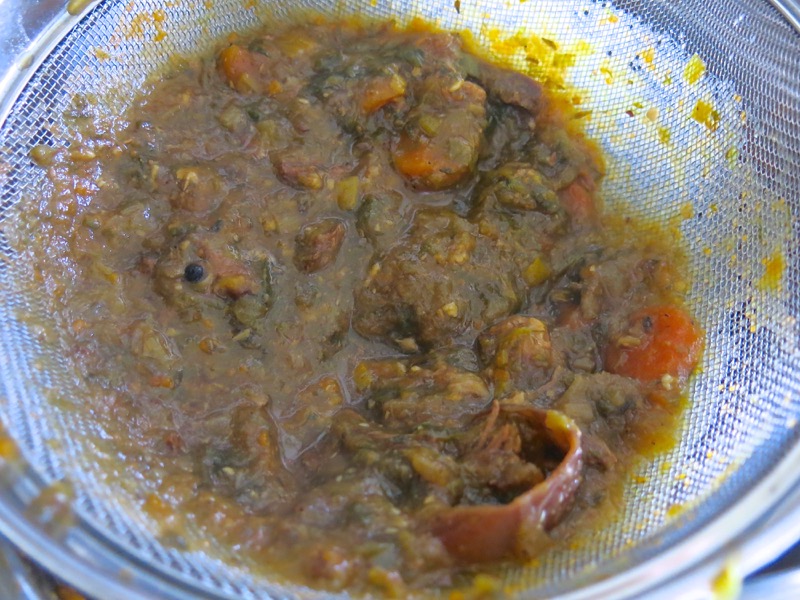 The sludge is still delicious, sans the onion skin, but the texture is not what I want in my jus. It gets discarded, but the bones are set aside for the remouillage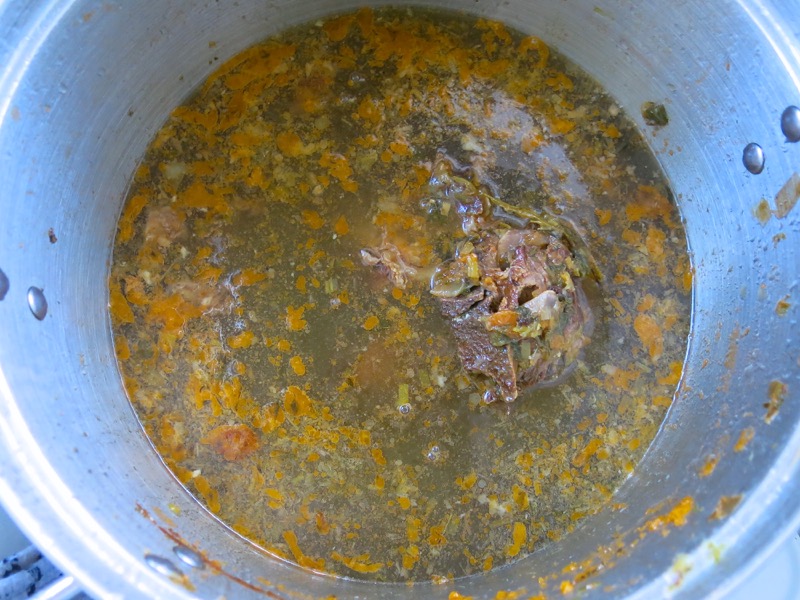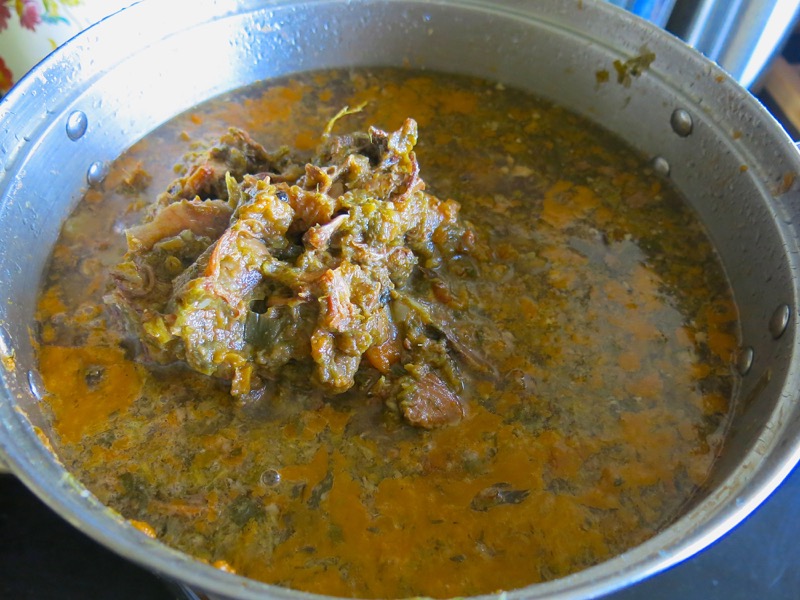 The bones go back into the pot with clean water to be simmered yet again, sans vegetables, to draw out the remaining goodness. It is clearly evident there is much to glean from what remains. This second stock is called the remouillage.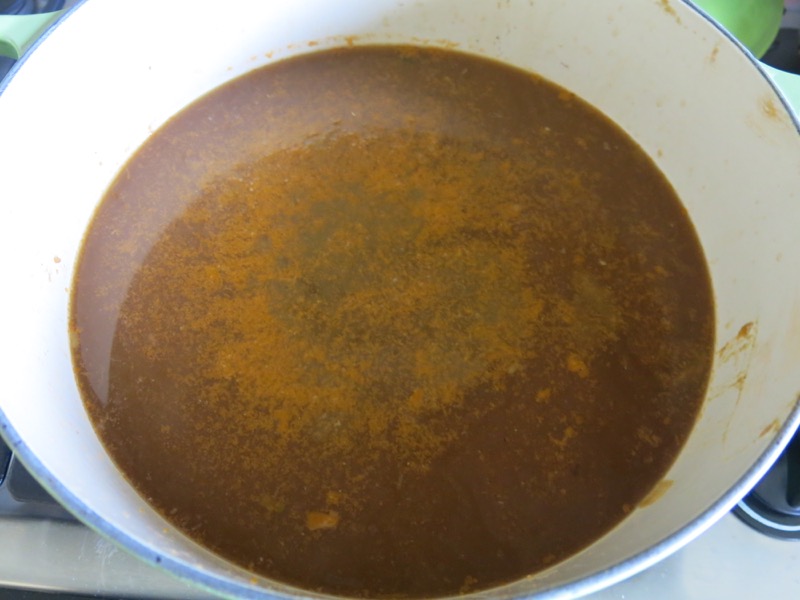 This second process is not as long as the first. The result is a bit lighter and a bit thinner, yet still sumptuous and of great value.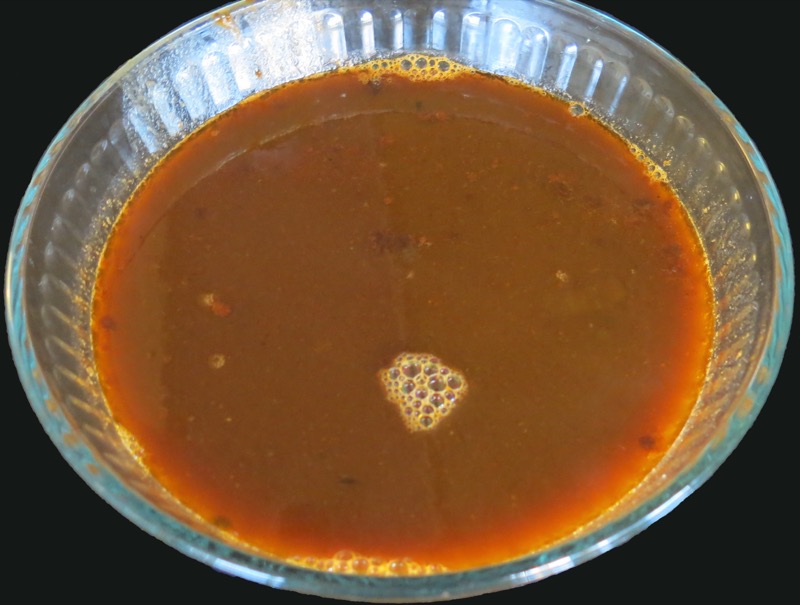 It goes through the same process and the stock from the remouillage is added to the stock from the first stock, then reduced to just over 2 litres which creates the veal jus.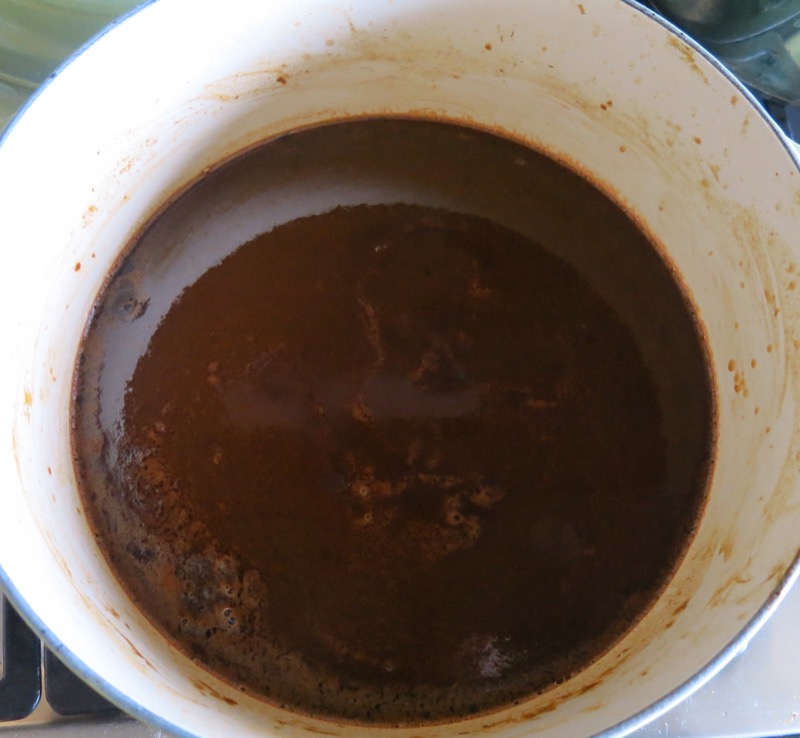 After simmering the stocks, look at the jus that remains. The darkness testifies of a depth of distilled flavour simmered to tantalizing titillation.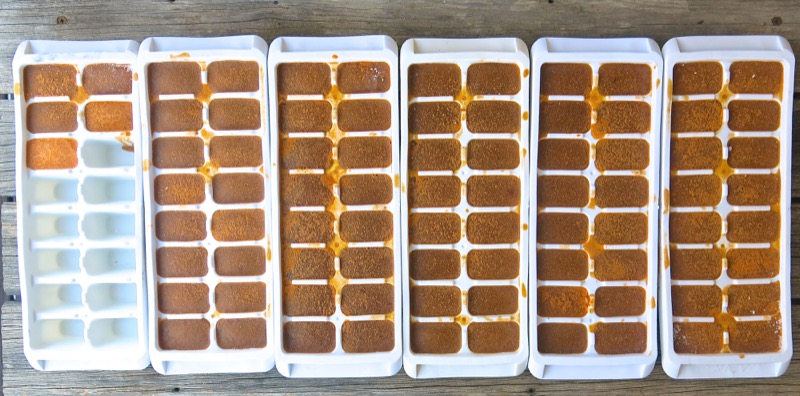 Little globs of fat solids still settled on top. The trays I use are a little over 2 ounces per cube which means that one cube is 1/4 cup of flavour. I packaged them in in ziplock bags inside of another bigger ziplock bag to freeze and be at-the-ready for anything from chili to French onion soup to Boeuf Bourguignon. Oh, glorious day!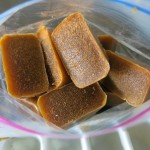 Valerie's Veal Stock and Veal Jus Cubes: Take 2


Yields just over 2 litres, 70 ounces or 35 cubes. This ingredient list is pretty staple and quite a universal list. I have weighed my ingredients to ensure consistency. The process is one I have morphed into, over time, that works well for me, not difficult, and creates excellent results.
Total Time
10
hours
15
minutes
Ingredients
12

pounds

veal bones

water to cover bones

1

onion

(220g), quartered, with skin (extra skins, if possible)

carrots

(500g), chopped

leeks

(230g), cleaned and chopped with greens

one bunch flat leafed parsley

(20g)

one small bunch fresh thyme

(5g)

220

g

tomato paste

(Mutti brand if possible, or homemade)

1

head of gorgeous garlic

, cloves cleaned and minced (15g)

2

bay leaves

1/4

teaspoon

peppercorns
Instructions
Instructions for Day One: Making Veal Stock (13. 25 hours Day One)
Pre-heat oven to 450°F/232°C; start early in the morning

Cover cookie sheets with parchment paper; you need them large enough to contain bones without over crowding (and edges help contain liquid fat)

Roast veal bones in oven, turning occasionally, until appealingly brown and smell delicious, about 1 hour 15 minutes; check every 20 minutes, and turn after 40 minutes (be prepared to clean your oven afterward)

Put roasted bones and fond into stock pot with onion and onion skins, cover with water and bring to a full boil; then reduce to a steady s simmer for 8 hours (watch carefully adjusting heat until you get a slow steady simmer at about 190F)

Add remaining ingredients; bring back to a simmer for 4 more hours

Cool overnight so fat will solidify on top
Instructions for Day Two: Finishing the Stock and Making the Remouillage
Skim all fat off of surface of stock; reheat slowly on stove top to simmer: do not boil

Strain and set aside to cool, then refrigerate, tightly sealed: this will yield just over 5 litres of stock

Cool bones; do not rinse or wash

Clean stock pot, cover with water and complete the entire process again, for 8 hours, without adding any vegetables

Strain; this will provide a weaker, but still delicious stock made with same bones

Cool overnight, tightly covered
Instructions for Day Three: Making Veal Jus
Remove fat from remouillage; strain remouillage

Mix the first stock with the remouillage

Reduce both to 2 litres of veal jus over low heat with no lid on

Cover and store in the fridge or freezer; I put mine in ice cube trays and freeze in freezer bags for future use
Recipe Notes
Do not push on the stock when straining; the finer the seive, the better the quality of the stock and jus: butter muslin works well