Small crowd, wonderful people, and each cookie has a story to tell!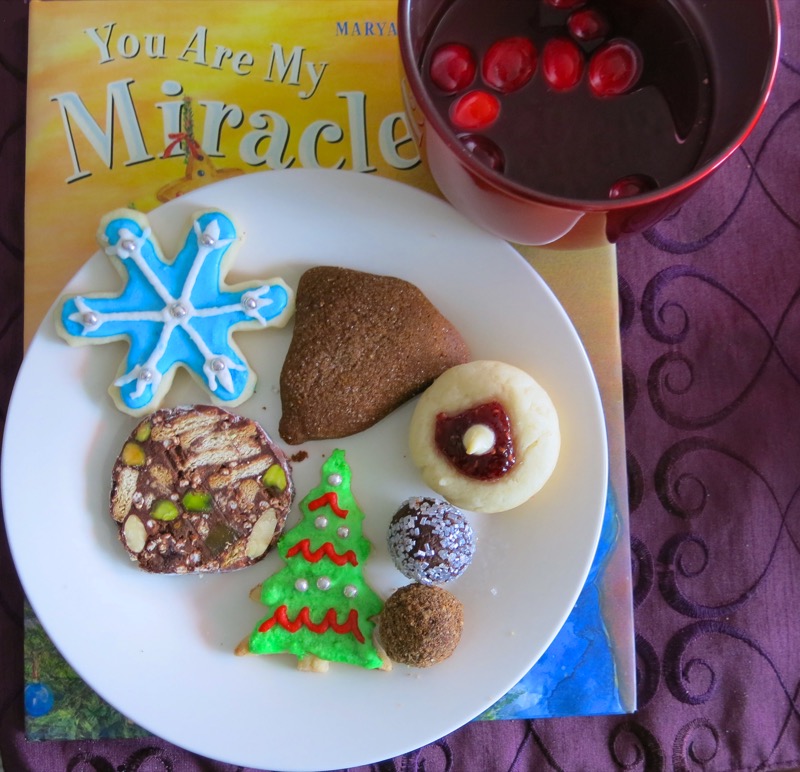 As I have lived a longer life than my darling daughter, I had come to detest the cookie exchange having participated in more than my share in my life. Usually there are 10-12 people. You make 11-13 dozen (one to share at the exhange for all to taste). You cannot even see straight after forming, shaping, perfecting, and talking to 144 little festive morsels of divinity. Arrive so proud to unveil your labour of love and to take a peek at the others…. when (drum roll, please) your heart sinks as you now have 9-11 dozen little crispy cakes of crap. Think about it, really. Who else is going to labour over 144 cookies with such acute precision, focus, and infinite enthusiastic passion?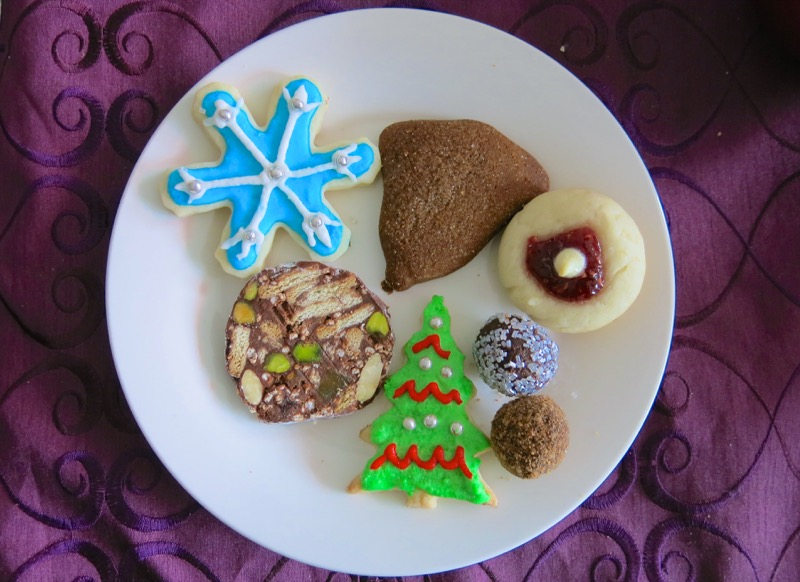 That certainly was not the case with this exchange! I was thrilled when I saw each cookie! Ragan loves these parties and they are so much fun for her. She was planning her first one after moving into her new gorgeous little nest, and a couple of the people she had counted on to participate were not able. I am not baking cookies this year. Of any kind. It is a first. For my entire life, I think. When I heard AA, L and Prince William were not able to make it for Christmas, the spirit of Christmas preparation that invades my soul and motivates my every move from September to December, evaporated. I sat in a heap, deflated, like a sulking prepubescent teen. I recovered, but not with any ambition to prepare my usual festive fare. So, when Ragan was sharing her party list concerns, I asked her if she would like me to make a batch of chocolate salami for everyone. That, I could handle. It would be a labour of love (well deserved) for her, and I would actually be going through some Christmasy motions this season. Lovely! She was thrilled. I was happy she was happy. Fa-la-la-la-la-la-la-la-la!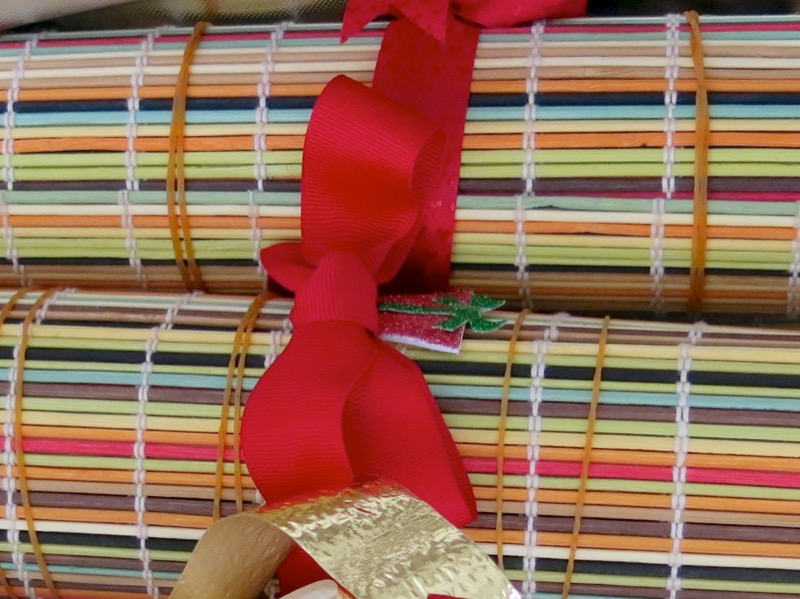 In the end, there were 5 of us making cookies. That is a number I can handle. Three batches of Chocolate Salami. A generous log per gal. Not too labour intensive for me. Above, my holiday salami.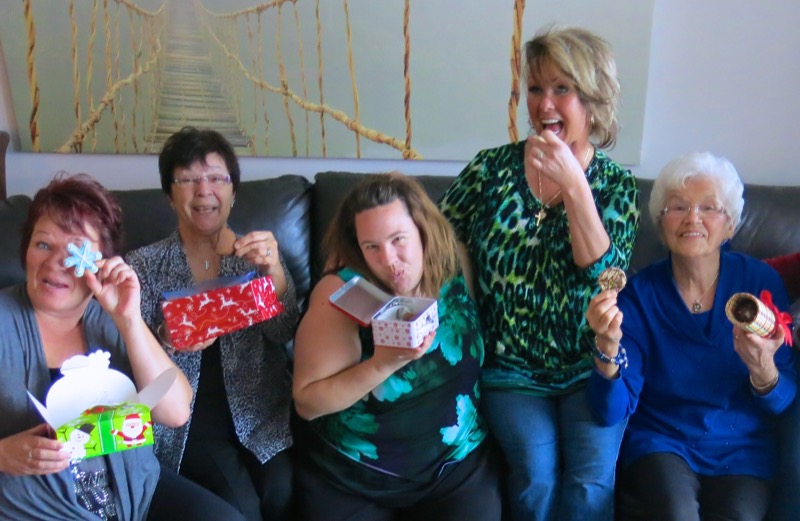 What a great group of gals. I had such a lovely time! Ragan's great gal pal and former colleague, Jeannine came with her mom, Andrea, and her cousin, Michele. My mom came to sample!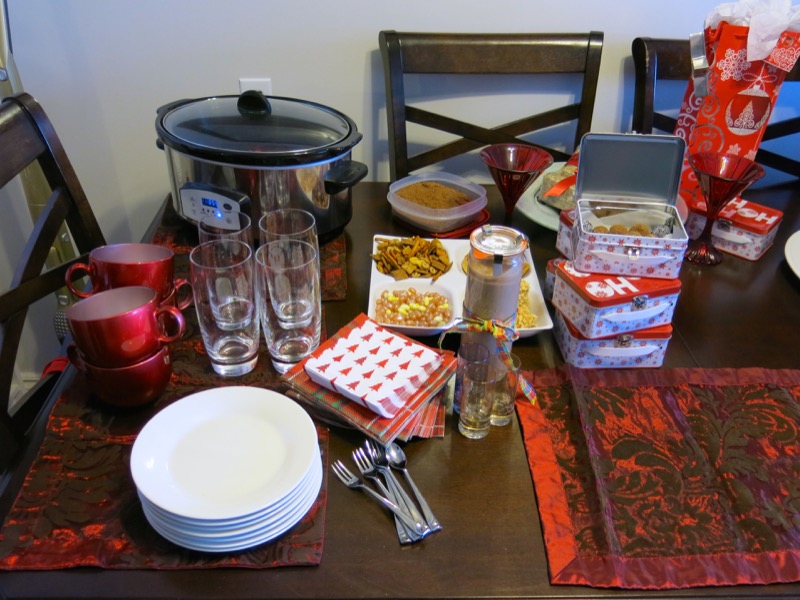 Her new home was set up with all the Traditional Cookie Party Exchange fixin's: nibbles, drinks and cookies!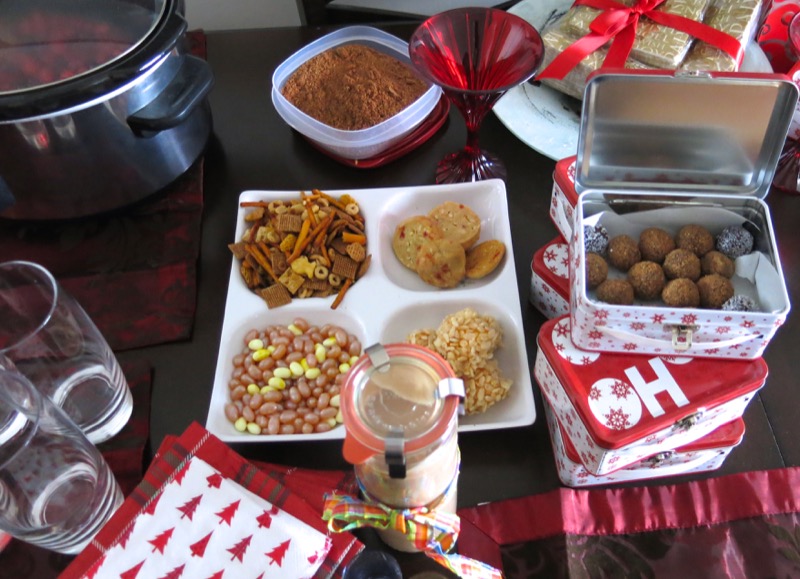 You bet I took her some of my Homemade Irish Cream Liqueur!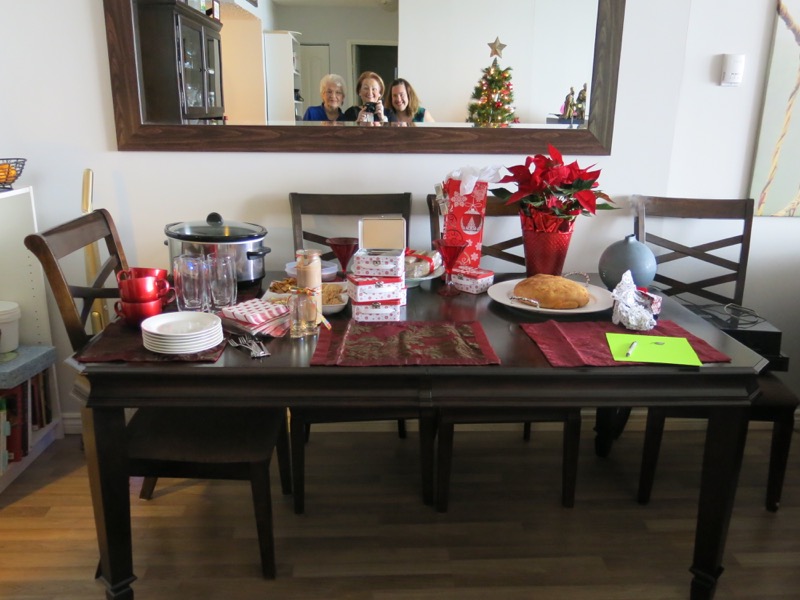 See the three of us in the mirror? Cheeeese -y!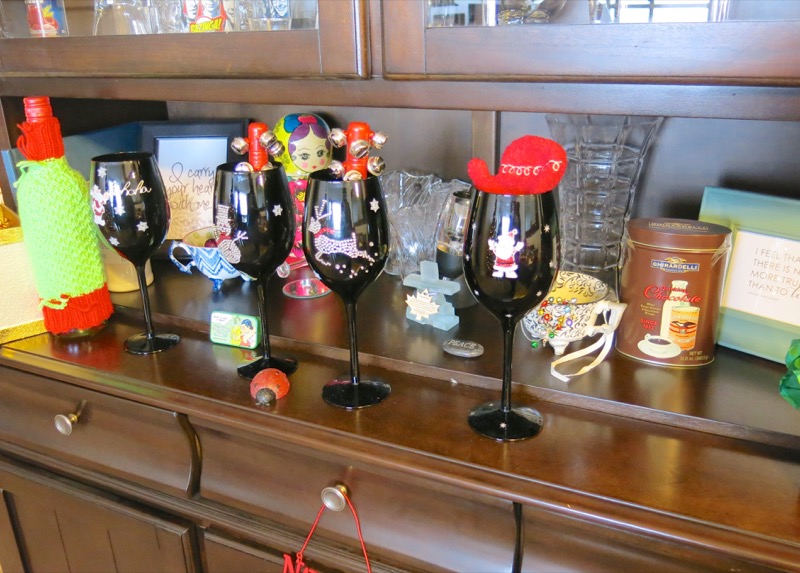 Such a pleasure to go into your daughter's home and see it so festive during the holiday season (and clean, and organized) as every mother would hope for.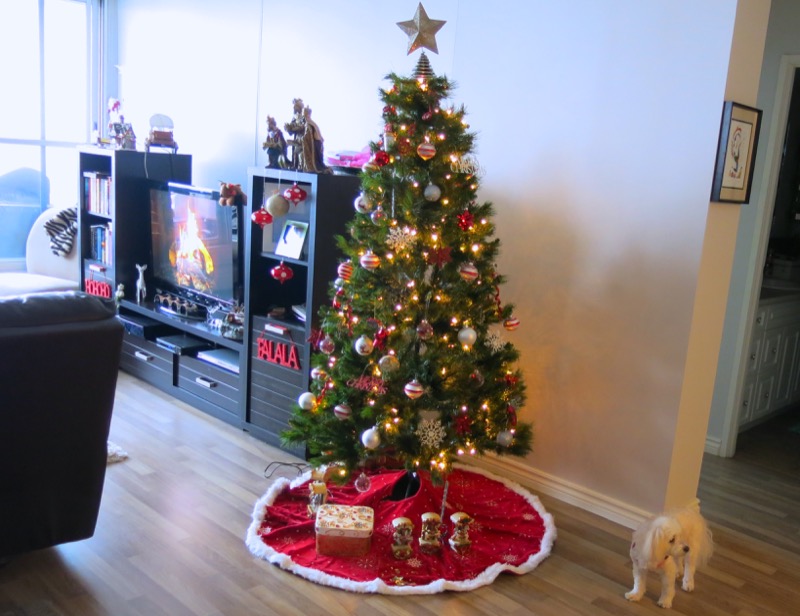 Her tree is gorgeous! Decorated so beautifully and added that magic to her home on this day. (I confess, my tree has been up for 4 weeks now with only the lights. I was going to decorate it, but just don't feel like it. I am not being a pouty puss. Ragan decided to go to her dad's this year as L and AA aren't coming, so there will just be mom and Vanja and I here. We are renovating our basement immediately after the new year, and I am just not in the mood.) I loved the twinkly lights on her tree with the spirit of the season tingling tangibly in the air. Such a treat to go to Ragan's home and sit under such a lovely tree.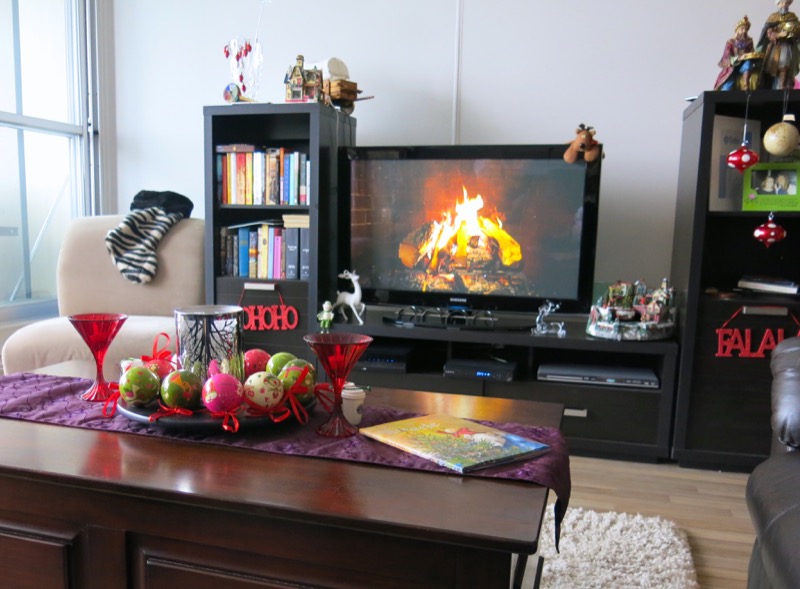 Fire was crackling and warming the room.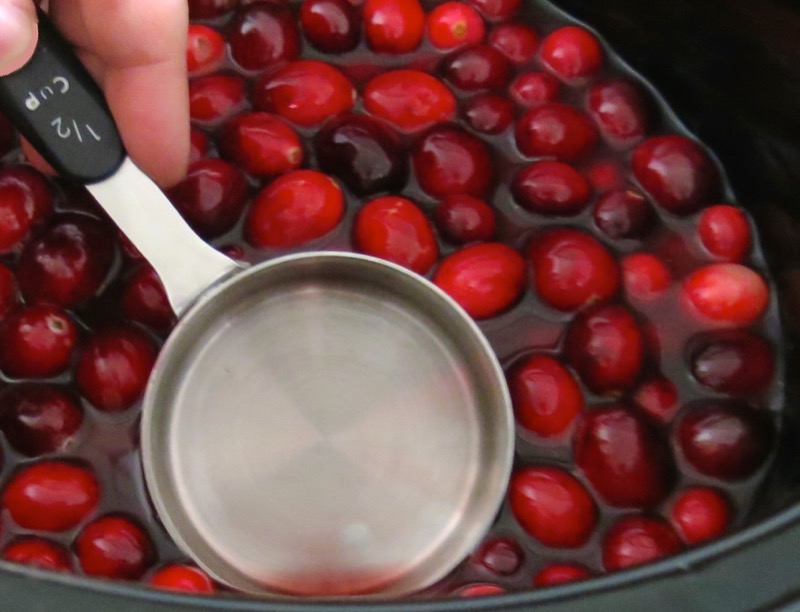 Guests arrived and the mulled wine was ready. It was a hit. Delicious! The aroma was intoxicating!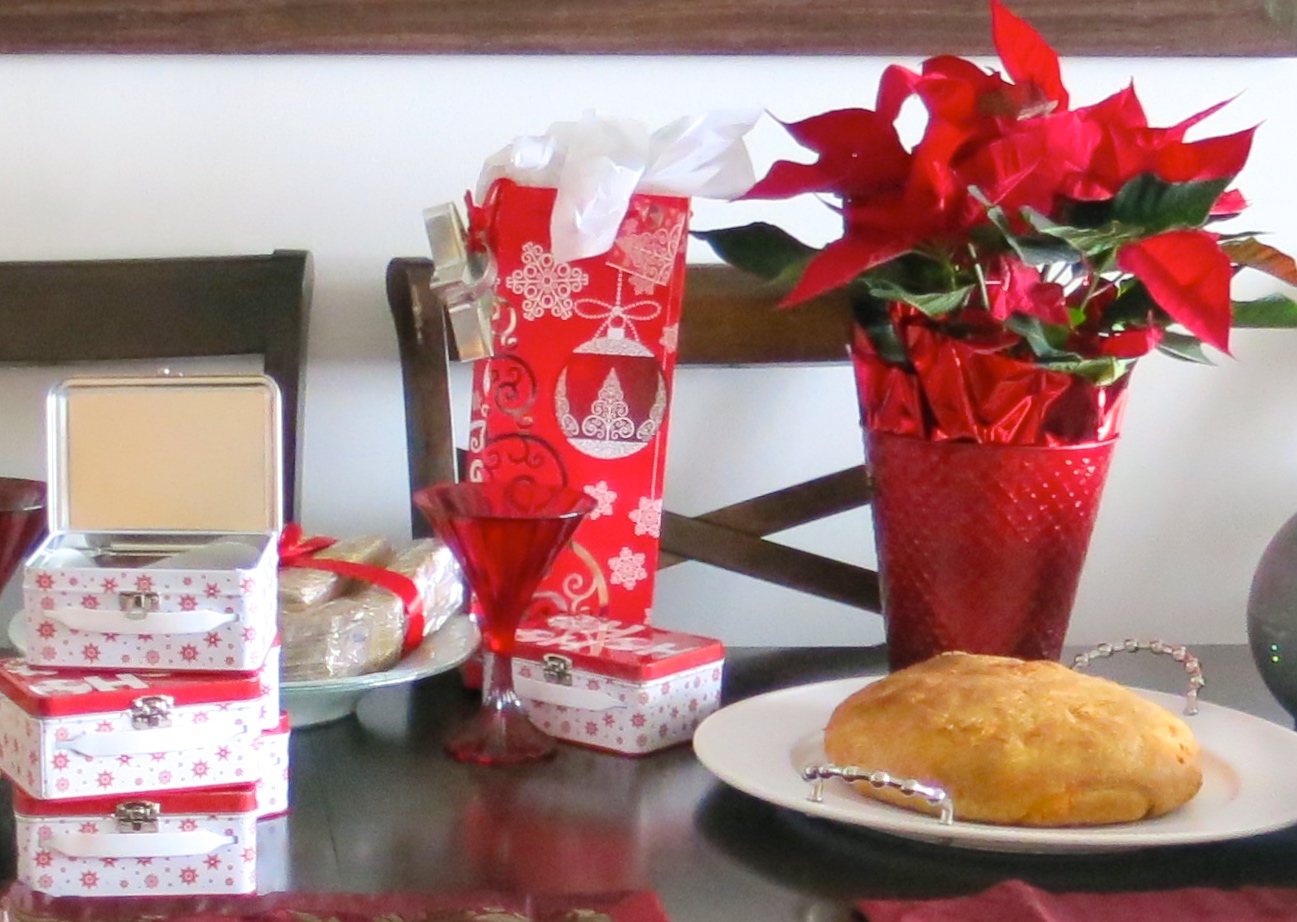 I had brought a wheel of brie wrapped in puffed pastry with sun dried tomato pesto and garlic for a little savory bite prior to our sugar high. (I just looked and don't have a post of this recipe. I am in shock. Soon. If you scroll down you will see lousy photos of how I made it for another party a few years ago.)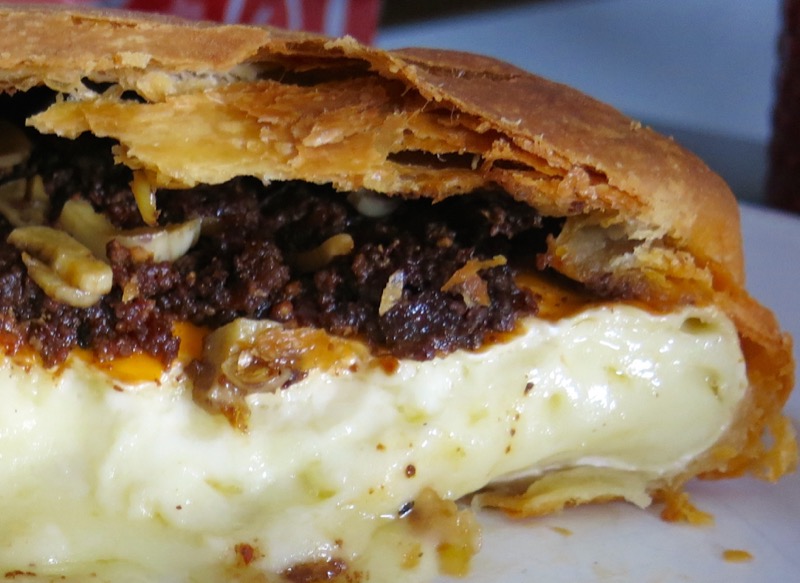 It is so delicious, satisfying, flavourful, makes a nice presentation and super easy to make.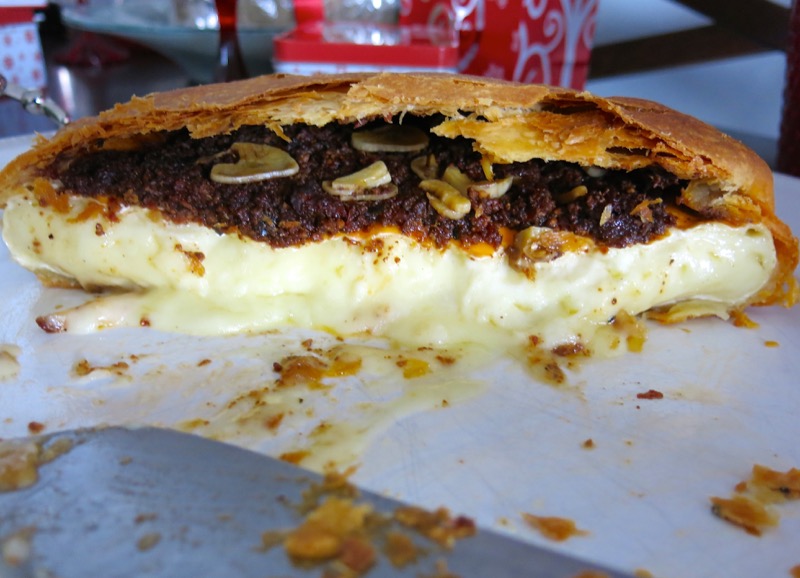 Ok. So it has one flaw. Mega calories. It's the holidays. Fuhgeddaboudit!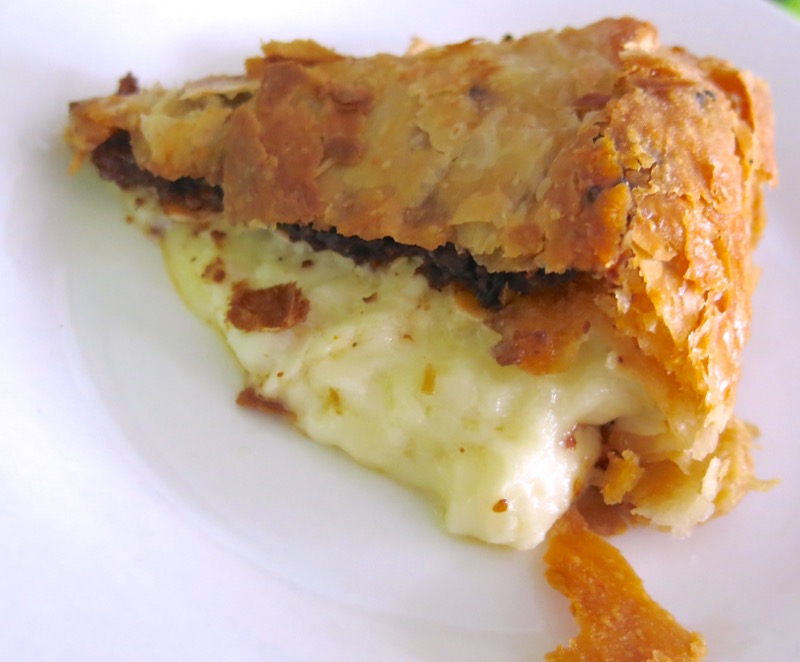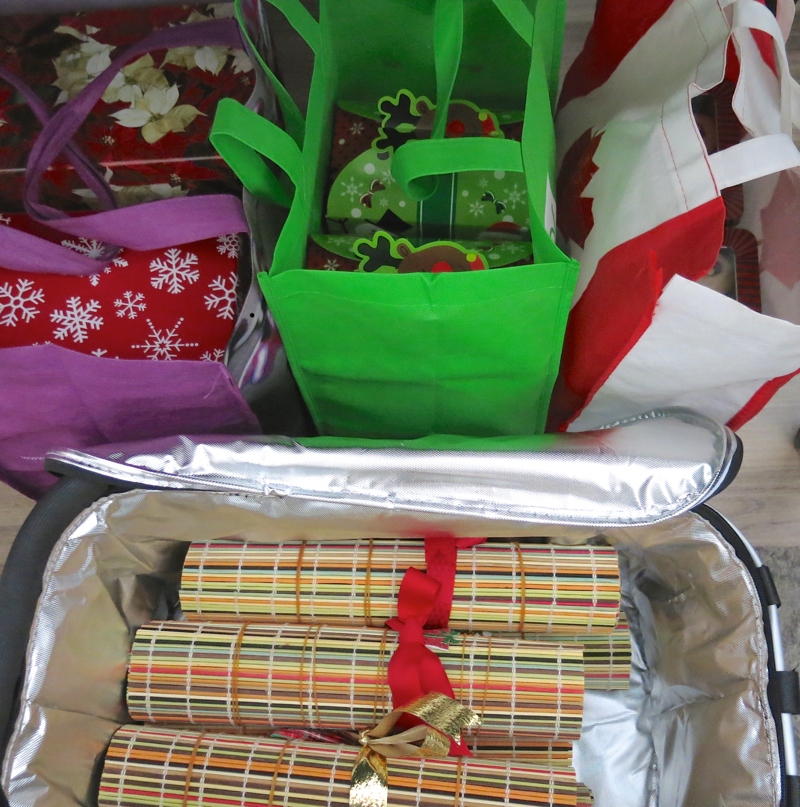 Oooh! One of the pure pleasure of a cookie exchange is not just the cookie, but the packaging. Isn't each one ever so cute? Harder to see all, but take my word for it: AH-DOOR-AWE-BLE!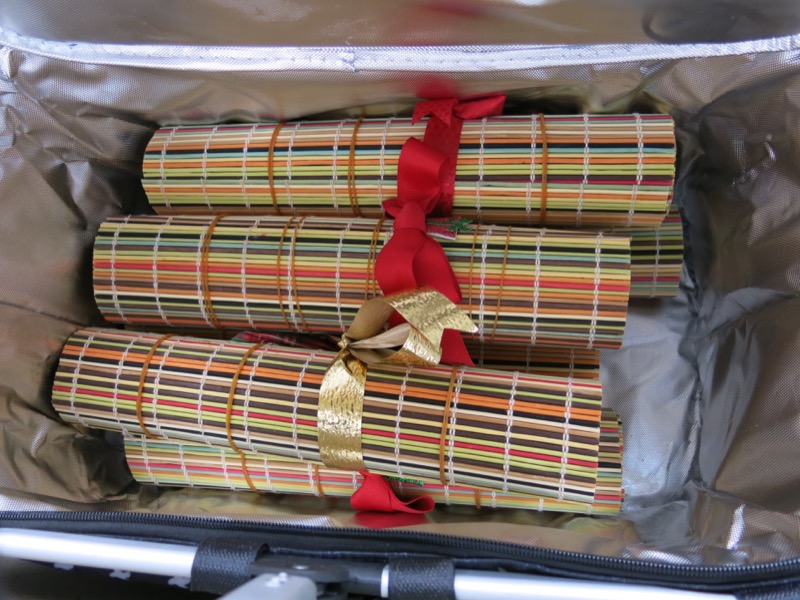 Except mine. I did the best I could, under the circumstances which means: I made a log, not cookies. I could have wrapped each in wrapping paper. Instead, chose a festive bamboo mat with a bow tied around each. Every elegant party needs a little tacky somethin' somethin' – no?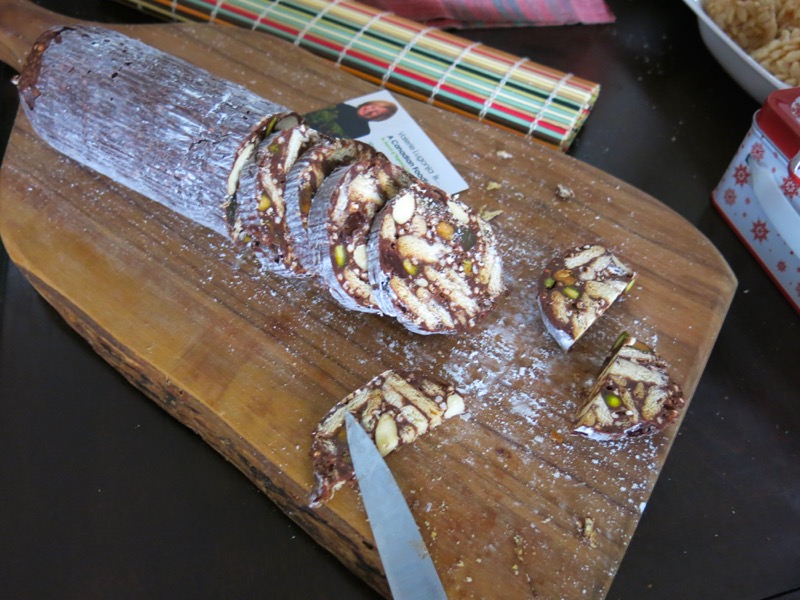 Carrying my favourite little "tacky theme" to the hilt, I demonstrated how to unwrap and prepare each salami for their cookie plates or for serving on its own. See my business card. That is my contribution to a more "tacky-tacky". (Mom!!!)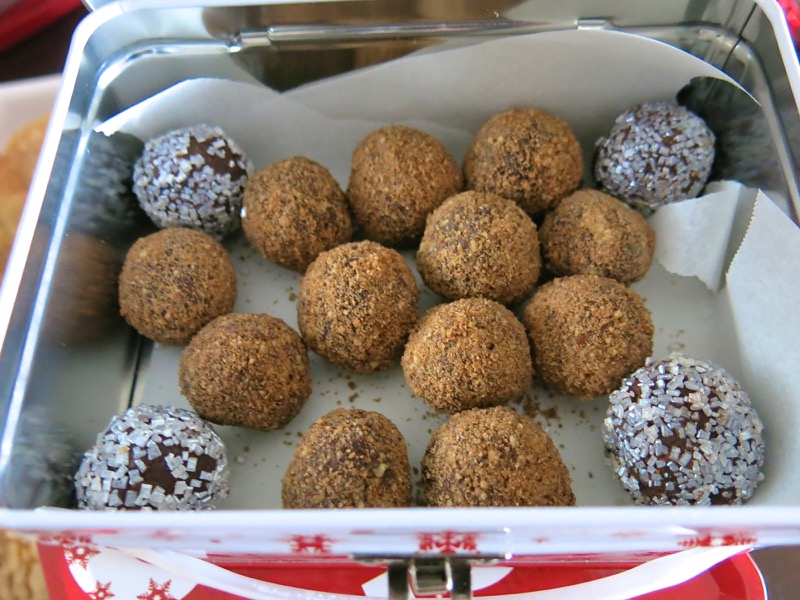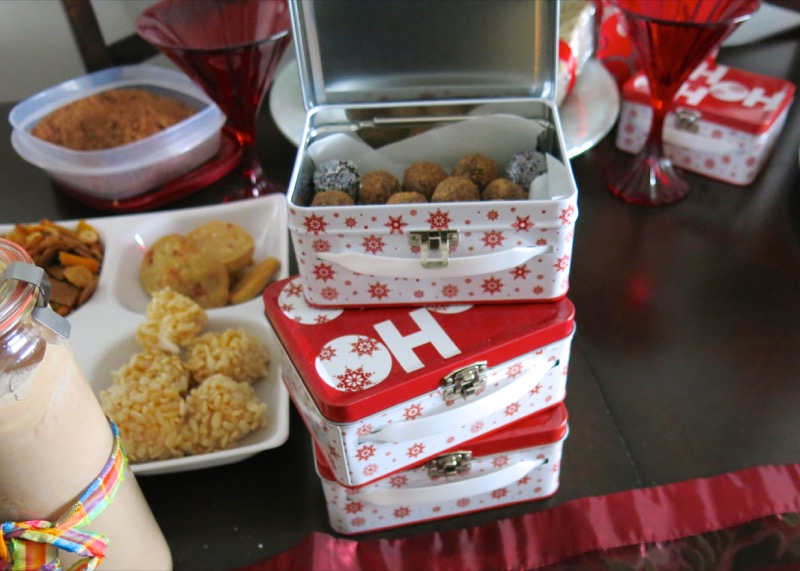 Ragan made the most delectable truffles and packaged them in a little lunch box gift box, rolling in two different toppings which increased their presentation value by two! (I do know my math!) The ones in crystal shimmer sugar added a nice crunchy contrast to the creamy dark rich chocolate and Canadian Whiskey center. The ginger cookie and cocoa rolled truffles just melt on the tongue. Each presents a very different textural contrast which I really enjoyed.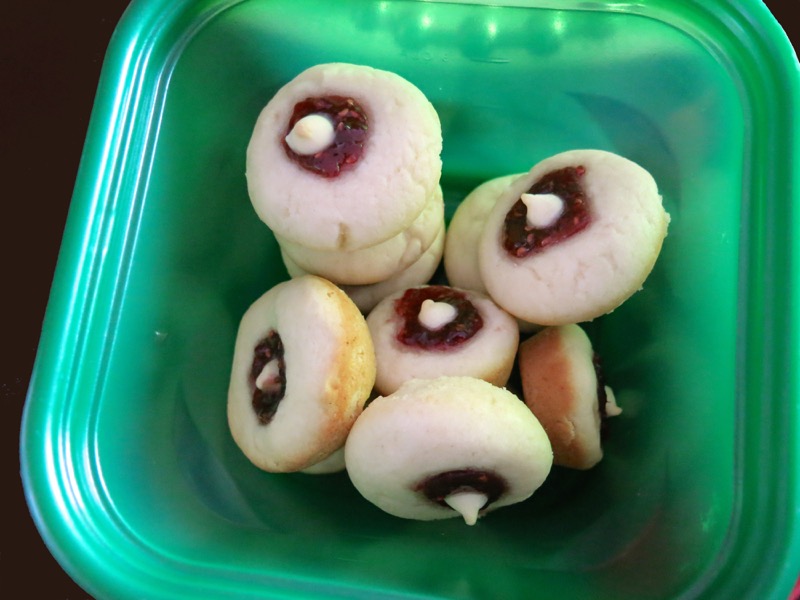 These were actually my favourite cookie due to the learning experience, their story and I how tasty they are. Never heard of a Maid of Honour Cookie. "Tell me the story of this cookie, Michele?" Not sure. Her maternal grandmother had made them, then her mother and she carries on the beloved family tradition. "Why the name?" A silent pause, and then Jeannine's mom and Michele's aunty, Andrea, replied with clarity, "No nuts in 'em!" to peels of laughter. I have come to learn through my extensive and exhaustive couple of hours sitting in my comfy chair researching these little ditties, that they were most likely originally tarts. I would imagine that this recipe has morphed into what it now is from the traditional and iconic Maids of Honour Tart. There is plenty of evidence to make this a logical guess. Filled with raspberries, a beloved sweet treat changed during war times and the depression, made from what was available at the time. Or, when first spied by one familiar with the Maids of Honour Tarts, as the appearance is similar, they could have been dubbed "Maid of Honour Cookies" simply due to the resemblance. As, they are all too obviously in the thimble cookie family, as well. Yet, these are soft, not crisp, very reminiscent of home and simpler times, yet completely new to my cookie palate. The raspberry jam was the crowing glory and most definitely introduced a perky little personality to this almost bread like cookie. I became immediately addicted, to be honest.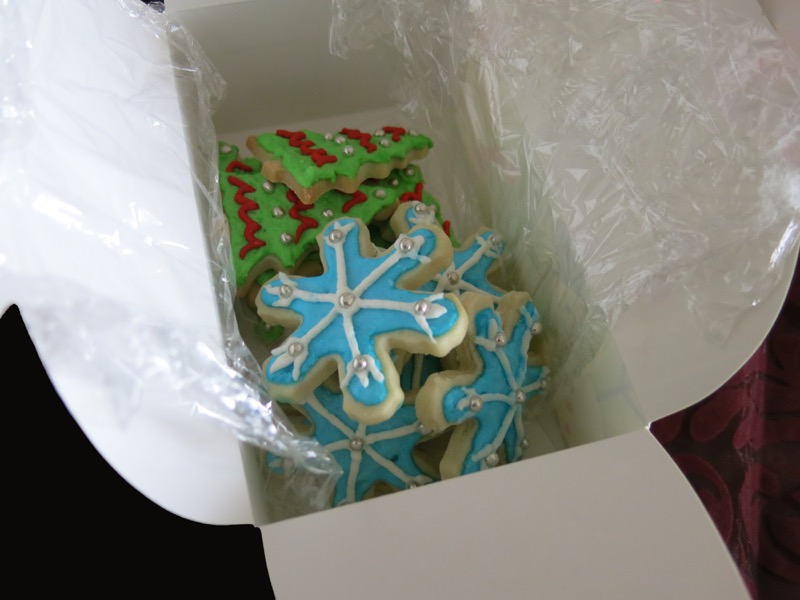 Jeannine's cookies took my breath away. I could see the hours she had spent on these! Oh, my! This reminded me of myself when I would develop a personal long term relationship with each of my 144 ditties as each took so long to make. Lucky me! This time, I took the short cut and made lovely holiday gifts exponentially less labour intensive than hers. Not close to "crispy cakes of crap", but certainly in tune with that shortcut theme. And these were DE-licious! Tasted just like mom's and mine. So, maybe I was a little biased due to that familiar flavour I call "perfect".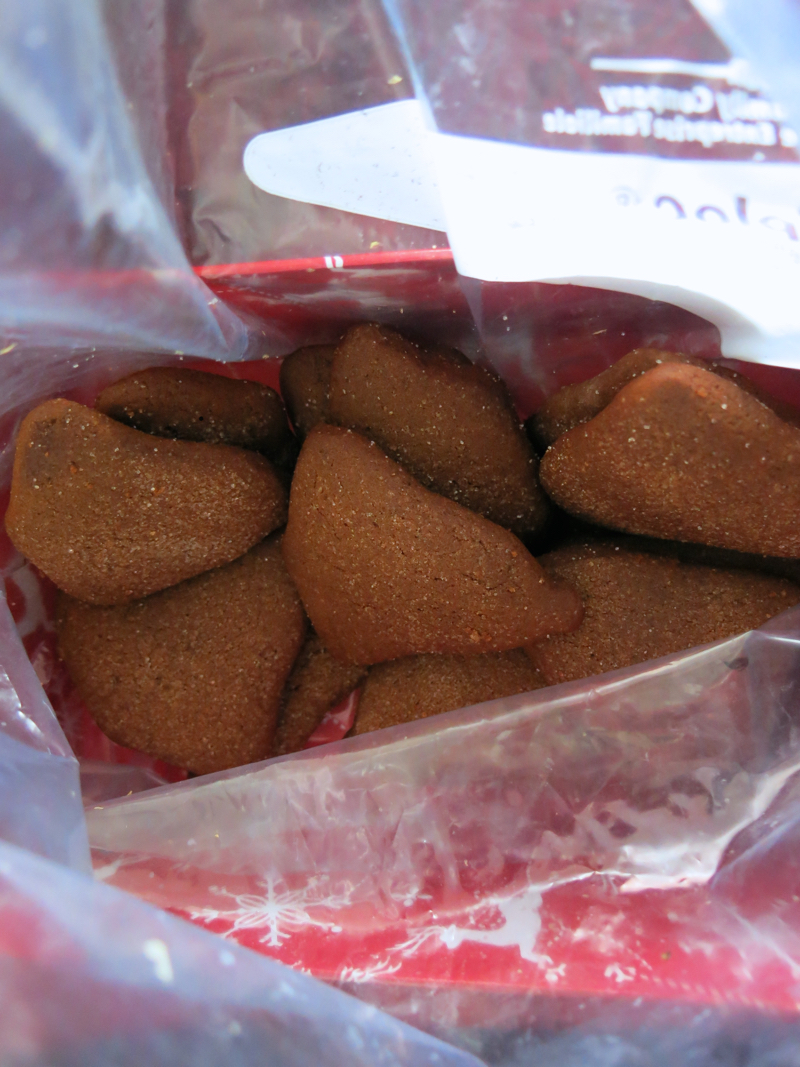 Ginger Cookies. Made with lard – and love by Andrea, Jeannine's mom and Michele's aunt. From the depression era. Simple and soooo delicious. So truly Canadian. I learned this family immigrated to Quebec in the 1700's most likely from Paris. Motivated to Alberta in the 1800's by the promise of free land and settled on a prime section of our rich black gold, farming initially on land that is now well inside of Edmonton. Their food culture is steeped in a heady mix of Quebec specialties: tourtière, pea soup, baked beans with maple syrup, Shepherd's Pie aka pâté chinois and Canadian prairie simplicity. Theirs is the quintessential Canadian story and these soft and tender delicious ginger cookies perfectly personify that. MMM-mmm-yummy!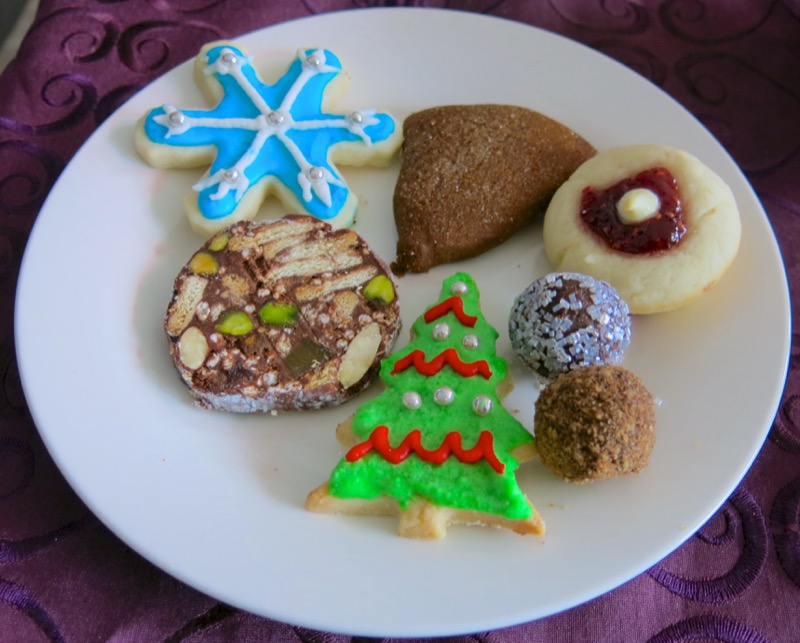 So, there you have it. I have introduced each cookie, each gal, and had a truly lovely afternoon. The recipes should be coming in photo form and will be added to this post as each arrives. Me? I am tickled. This was an incredible success. I got a gorgeous delicious cache of crisp little cakes of wonder, each with a lovely story, friendships formed, the Spirit of the Season clearly evident as everyone (but me) also left a box of cookies for Mom and Kathryn, as well. They had been invited to enjoy the experience and revel in the tasting, but took home cookies, too. Only in Canada, I say! Below, the entire crew. Everyone's already talking about next year. I am scared. I know Jeannine will not be making sugar cookies. When I asked her how many hours, she almost got the shakes but reached for her homemade Irish cream and mulled wine at the same time, instead, before answering. I don't have another little recipe to share that will be as time effective as my salami recipe. I am not sure I will be part of this exchange next year, and have learned not to make promises so far in advance at my age, but I will certainly want to be there… so….?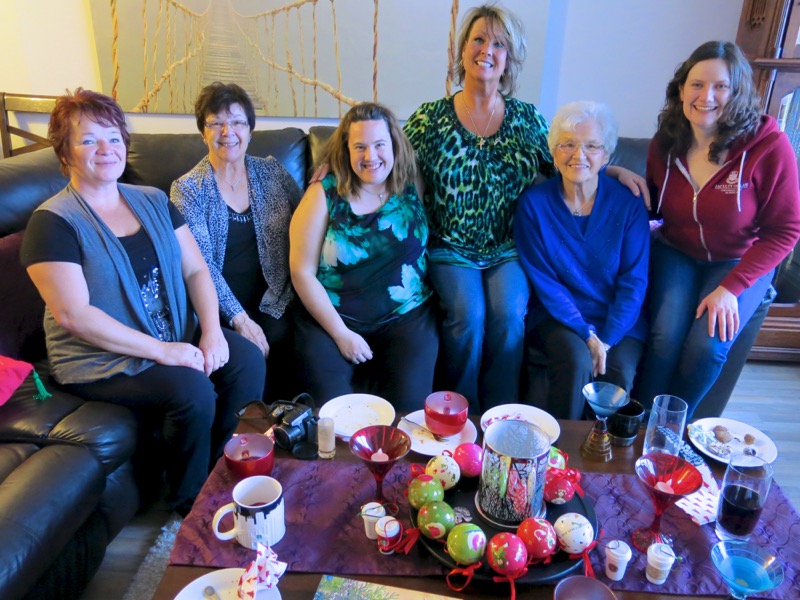 The "Maids of Honour Tart" is a traditional English tart with a puff pastry shell most often filled with cheese curd. Variations include jam or almonds in the filling. The tart is said to date back to King Henry VIII and tales abound as to their origin. "The Original Maids of Honour" is a tea room in Kew, Surrey,UK and dates back to the 18th century, created to specifically to sell these tarts.
NOTE: underlined words are links in this post