Corey and Katherine in Masi Mara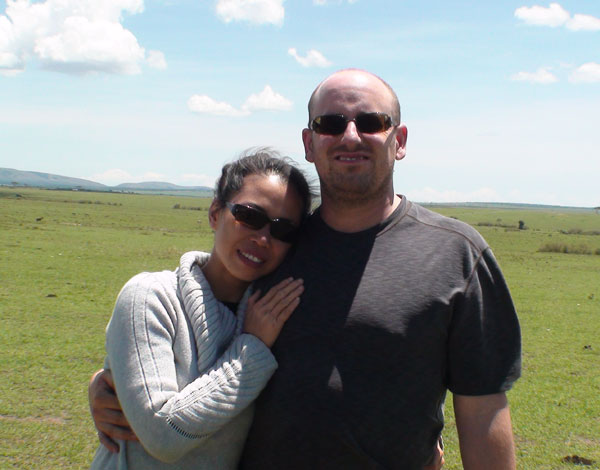 I had the pleasure of meeting Corey Stroeder and Katherine Ng on the Dairy Farm Field Trip earlier this year. They were telling me all about their upcoming Safari at that time. When I saw them again at Mary Bailey's annual Christmas Potluck dinner, they had so many stories to tell. Lucky for us, they came to the Winter Solstice 2011 at our house, too, as fellow Edmonton Slow Food members and we were able to get to know them better. Fortunately, we will be having them over on the 18th of February to see all of their Safari pictures and to hear about their entire trip. But, for now, I have asked Corey to share with you their home stay in Kenya, with a focus on the food!

My wife Katherine and I were talking to Valerie about our adventure to Kenya in late October. Valerie was particularly interested in the home stay and requested that we do a guest blog to share our experiences with a focus on the food.
The home stay was the reason why we chose this particular safari: "œCultural Kenya" by Gap Adventure. It was scheduled for Days 5 and 6 of our 13 day safari. We drove into the Lore village shortly after 2pm and were welcomed by ornately costumed performers singing and dancing. It was nothing like we had ever seen before!
httpv://www.youtube.com/watch?v=l6EOAMygDjg
These villagers were excited to have us there and we were excited to be there. The introductions were accompanied with smiles, hand shakes and even hugs. Not unlike other cultures, the Lore villagers involved food and drink as a social activity.
We were treated to common snacks of roasted groundnuts (aka. peanuts) and mendazi (similar to a Tim Horton cake donut timbit but denser and 3x the size). And drank a sweet black tea heavily diluted with milk. The servings were massive (the portion distortion was very distorted"¦) We're unsure if they thought all foreigners had big appetites or if they were very generous, or both. Although we were considered family, we were treated like royalty: we were served first and our Kenyan hosts ate only after we were done eating"¦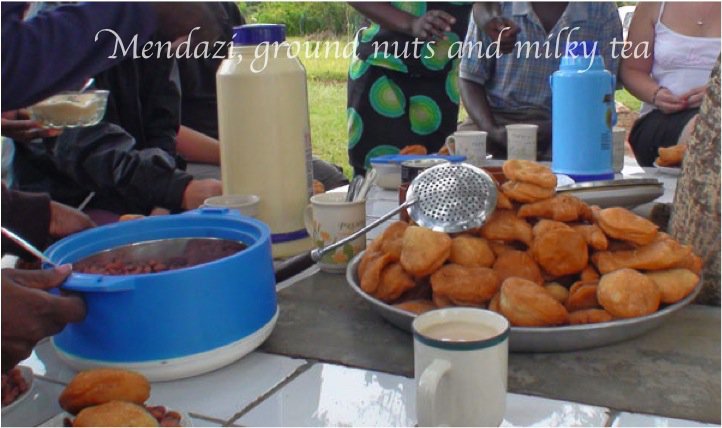 Katherine and I were very fortunate to have been matched with our home stay family. The matriarch was Mama Benta, a single mother of five kids. The eldest son, Victor, twenty one, spoke English fluently and was our primary contact. He lived on Mama's land in his own house adjacent to the main family house. The main house consisted of a living room and a bedroom where Mama and her two youngest daughters, twelve and fourteen, lived. The daughters left for school very early and we only saw them at supper time.
From the welcoming ceremony, Victor, Mama, Katherine and I had a long walk to Mama's land. Despite all the free roaming animals (a dog, two cats, two kittens, several chickens, and many chicks), we were amazed at how tidy Mama kept her home.
The sun started to set and Mama and her niece began cooking supper in a kitchen located outside in the back of the main house.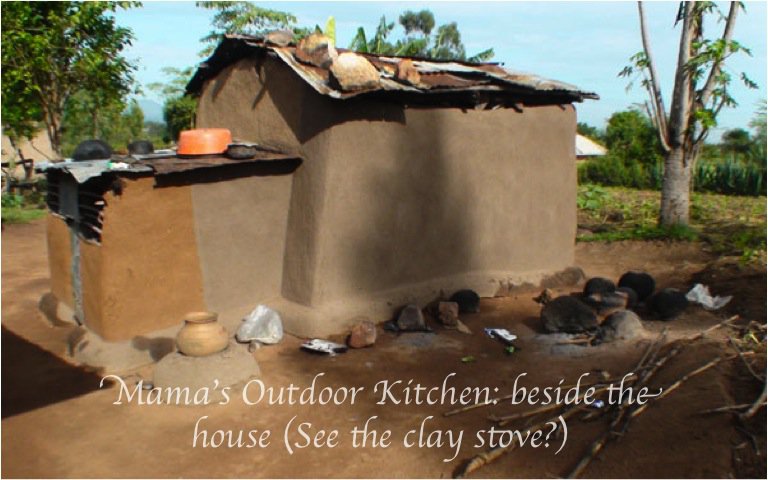 When Victor's sisters came home from school, they helped prepare supper also. Impressively and surprisingly, they cooked for a solid two hours in almost complete darkness. All the hot food and the boiled water, had been heated over a single coal fire.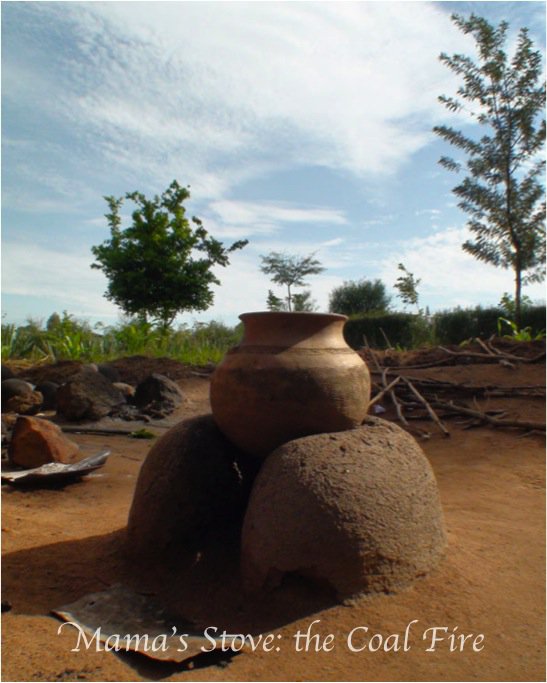 Despite Katherine and I offering to help, we were turned down.
Around 9pm, Katherine, Victor, Victor's friend and I were sitting in the living room with only the light of a kerosene lamp. We knew supper was ready because Victor's youngest sister stood before Katherine with a pitcher of warm water and a basin to prompt Katherine to rinse her hands. She poured the water over Katherine's hands and held the basin under Katherine's hands to carry the runoff water. All of our meals were prefaced with the same hand rinsing routine. Our home stay family had to acquire all water from the nearby river.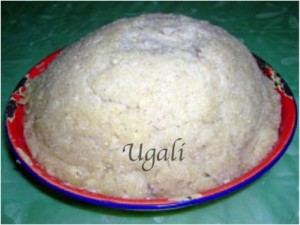 We watched Mama, the niece and other daughter cover the coffee table with a supper of ugali, stew, pineapple and watermelon. Ugali is a starch staple. This ugali was made by heating ground cornmeal and water in pot until it becomes a heavy solid mass. It was extremely dense and bland, but, absorbed the flavor of the sauce well. The stew consisted of a rich oily beef broth with chewy pieces of beef and soft cubes of potatoes. For our dessert, there were slices of fresh sweet pineapple and juicy watermelon. We drank the same milky tea that had been offered at our welcoming ceremony.
For all meals during the home stay, Victor insisted that food be taken off of the serving dishes using utensils. We suspected that this practice was unnatural to our hosts and only done for our benefit. Katherine and I were each given a fork and spoon for our meal; meanwhile, our Kenyan family ate with their hands.
We later learned that "The traditional method of eating ugali (and the most common in the rural areas) is to roll a lump into a ball with the right hand, and then dip it into a sauce or stew of vegetables and/or meat. Making a depression with the thumb allows the ugali to be used to scoop, and to wrap around pieces of meat to pick them up in the same way that flat bread is used in other cultures."
Our hosts' graciousness continued when the only bedroom, normally occupied by Mama and the daughters, was given up for the two of us. They slept on the concrete floor in the living room. It was becoming obvious that Kenyan hospitality is second to none.
The next day we woke to a beautiful sunny morning. Unfortunately, I suffered from grumblings of a common traveler's ailment. We were met by Mama, her helpful niece, as well as a neighbour busily preparing breakfast. Katherine and I suspected that they had been up since sunrise.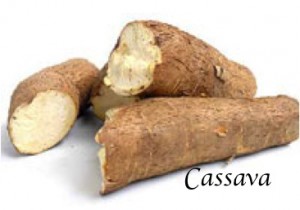 Breakfast was ready at about 8:30am and we were joined by another neighbour whom was partially blind and elderly. Katherine enjoyed a breakfast of thinly sliced boiled cassava, from the garden. The cassava was firm and mild in flavor. Also offered was heavily buttered store bought whole wheat bread as well as the pineapple and watermelon slices leftover from supper. Instant coffee and that milky tea was provided. It's interesting how instant coffee and sliced bread for breakfast transcends across the world.
My intake consisted of Cipro, Imodium, charcoal and lots of our purified water. It was really hard for me to turn down food. especially knowing that the cooking was a long and arduous process. Although Mama was understanding, I could see the disappointment in her eyes as my denying her food was denying her care.
Victor took us for a tour in the morning around the village while Mama and her helpers prepared lunch and did other chores. Upon our return, around 2pm, lunch was ready. Again, we were joined by the elderly neighbour to feast. There was a chicken stew: one of their chickens that had been killed especially for us. None of that chicken was wasted: skin and meat on bones as well as organs were surrounded by a broth of chicken juices and heavy oil. The chicken was surprisingly tough. There was also finely chopped cabbage mixed with a bit of vinegar which provided a nice contrast of refreshing crunchiness. The buttered bread from breakfast was re-served.
In the afternoon, we visited a local elementary/junior high that Victor had attended. This school had 300 students and nine teachers. It was a lot of fun watching the students sing and dance for our group. Mingling with the students was overwhelming! We got mobbed by kids wanting their photos taken!
On our last night of the home stay, we were visited by Victor's friend from the night before as well as three other friends of Victor's. The lovely women with whom we shared company at breakfast and lunch were also there for supper. Accordingly, there was more food and understandably supper was served relatively late (around 9:45pm). We dined on chapatis which is a tasty, lightly pan fried flat bread, another chicken stew (another chicken had been killed), boiled brown beans and a dark ugali (this one had been made from millet). Milky tea was offered.
The next morning was rainy and fit the grey mood of us having to leave our Kenyan family. Katherine woke up with grumblings of the traveller's ailment that I was recovering from. At breakfast, Mama, her niece, Victor, and the elderly neighbor and I had mendazi and there was more of that thickly buttered store bought whole wheat bread as well as instant coffee.
After breakfast, we took many pictures of Mama and crew: our time together was short, but memorable.
Our food experience during the home stay left us astonished and humbled by the minimal resources and scarcity. We, however, always looked forward to the amazing meals, not necessarily for the food itself, but for the pride, care and effort that was involved. There was a genuine sense of community with the preparation as well as the sharing of the final meal.
The intimate level to this insight was invaluable:our Kenyan family will be a part of us for the rest of our lives.
httpv://www.youtube.com/watch?v=tJKHrqA6kG4

I was so curious after receiving this post from Katherine and Corey that I did a little research and came up with some of the recipes for the food they ate at their homestay. Katherine and Corey, please tell me how authentic each of these sounds. I am not talking about the oven method, but more the ingredients and the final product.
Thanks to the both of you for working at providing myself and my readers an account of your incredible experience at this Kenyan home stay! Has anyone else had a similar experience? Please share!
Chai (Milk Tea) Recipe
Ingredients

1 cup water
11/2tsp tea leaves (or 1 tea bag)
1 cup milk
2 to 4 teaspoons sugar
Instructions:
Heat the water and tea leaves together in a 3 to 4 quart saucepan, until it boils
Stir in the milk and sugar and cook until the boiling point of the milk
Remove and strain the Chai into a tea jug or kettle; serve with bread, mandazi or chapati
Maandazi (Sweet Donut) Recipe
Ingredients:
1 cup butter (or margarine)
5 tbsp sugar
2 large eggs, beaten
1/2cup milk
6 ground cardamom seed
2 tsp baking powder
4 1/2cups all purpose wheat flour
1/2cup water
6 cups vegetable oil
Instructions:
Mix and whisk together margarine and sugar
Add eggs and milk and mix
Add the cardamom and baking powder, then add the flour and water; if the dough is sticky, add more flour
Knead well until the dough is smooth and soft
Cut the dough into 3 balls and roll out each to about 12 inches in diameter and 1/4inch thick; slice into 2-inch strips and cut into squares
Heat the oil in a deep frying pan; test if the oil is hot enough by dropping in one mandaazi: if it sinks then floats to the top, the oil is ready
Cook the maandazi a few pieces at a time (do not overcrowd them) in the pan; turn often until golden brown
Remove from pan, drain and cool
Serve with hot milk, coffee or tea (chai).
Traditional Kenyan Chicken Stew Recipe

Ingredients:
Whole chicken

onions

potatoes

tomatoes

garlic

water

chicken stock


milk (optional)

flour
Directions:

Season a 3-7 pound chicken with garlic powder and pepper; roast chicken in oven at 325 degrees

While chicken is cooking, dice potatoes, slice carrots and chop onions to desired thickness; place vegetables in stewing pot and add water until vegetables are covered with about an 3 inches of water
Boil rapidly until potatoes are just finished; remove vegetables from the pot by straining them and keep the water
By removing the vegetables and letting them cool, you prevent overcooking them and they won't dissolve into nothing
With the remaining water on low heat, add a cup or two of chicken stock or milk (milk optional)
Fill a small seal-able container with 1 cup of cold water, then add 1 cup of flour, cover, seal, then immediately shake vigorously
You are making a thickener for the stew the consistency of glue with no lumps: if there are a few lumps you can remove them by straining
Rapidly add thickener to the liquid mixture using a whisk; bring mixture to a slow boil and simmer to desired consistency
Add the cooked (now cooled) vegetables to the gravy; when the chicken is finished roasting, drain juices into the gravy.
Remove skin and bones; tear or cut chicken apart and add to the gravy (now stew)
Stir in about 2-3 tablespoons of salt and about the same amount of pepper to taste; l

et stew simmer for a little longer and serve with ugali
NOTE: Katherine and Corey's Chicken Stew was not thickened at all. It was probably made of similar items, but the sauce or broth was runny.
Ugali Recipe

Ingredients (4 servings)

4 cups water
4 cups maize meal or corn meal flour
Instructions:
Bring water to a boil in a pan
Add the corn or maize meal and stir with a wooden spoon until the mixture is thick and smooth
Make sure it is not too stiff
Add boiling water if it is too thick; gather the mixture in the middle of the pan and turn the heat to low
Cover the pan and leave it on low heat for 15-20 minutes, turning occasionally
Flip the ugali onto a plate and, after it cools a bit, form it into a "cake"
Chapati (Round Flat Bread) Recipe

Ingredients (6 servings)

1 cup of whole wheat flour
1 cup white flour
2 tbsp oil or ghee
3/4 – 1 cup of warm water
Salt to taste
Instructions:
Mix the flour in a bowl and add salt and oil with hands
Add a little bit of water at a time and knead well for about 10 minutes until you have a stiff and smooth dough; cover and let rest at least 30 minutes or up to two hours
Knead the dough well again and divide into egg-sized balls; dust each ball with extra flour, flatten and roll out thinly into circles
Heat an ungreased, heavy skillet or griddle over a medium flame; lightly grease the pan and slowly heat the first chapatti; cook on one side for about 1 minute or until lightly brown, then flip and brown the other side
Press the sides of the chapati with a spoon until it puffs; remove from skillet to a warm dish or foil paper and wrap it to keep it warm
Repeat this process, wiping the pan with greased paper every time a new chapati is to be cooked
Serve warm with a meat stew and/or cooked vegetables; also served with hot milk or chai