Liane Faulder from Eat My Words for The Canadian Food Experience Project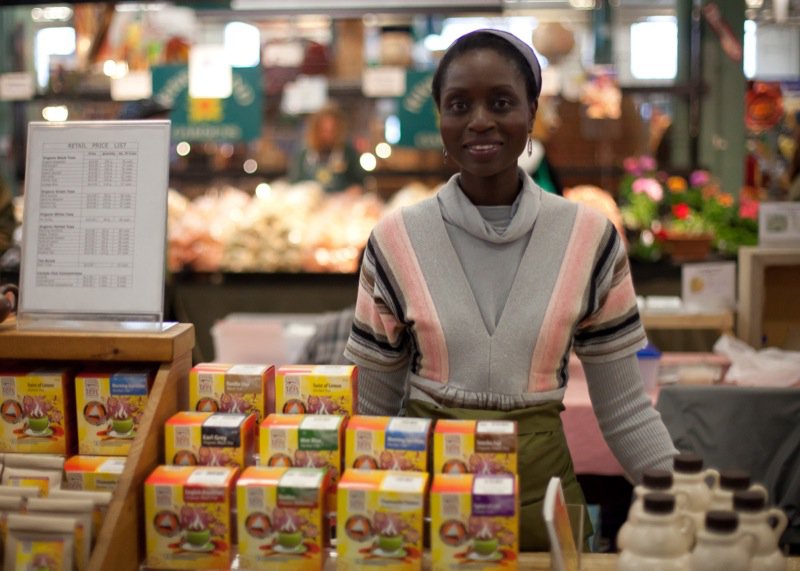 Liane has been busy with writing her articles for The Journal, Edmonton's best local newspaper, but still made time to identify Alberta Tea as a regional Canadian food which makes perfect sense to me, though it is something few of us would think of. Though Liane does have her own site where she usually publishes her posts, she is sharing her article on my site, as a guest this month.
Tea: Made in Alberta
When you think regional food products from the province of Alberta, it's easy to conjure up manly images of beef, or sunshine-splashed fields of canola. Tea isn't the first thing that comes to my mind, or it wasn't, until I met an Edmonton entrepreneur by the name of Fanta Camara – who has created a line of herbal drinks called Vitaly Teas.
Her product is as steeped in the local landscape as any heritage breed on four legs. The tea contains organic, handpicked herbs from Chickadee Farm near Flatbush (less than an hour north of Edmonton), along with a variety of other teas from parts of the world more closely associated with china cups and pinky fingers.
Camara, a native of Senegal, discovered she loved tea when she moved to Canada at the age of 21 to attend university in Moncton, New Brunswick. By the time Camara moved from Moncton to Ottawa to pursue a second degree, she was creating her own tea blends to satisfy an increasingly demanding tea palate. (In retrospect, Camara thinks she came by her passion for home preparations honestly; her grandmother in Mali was a medicine woman, renowned for herbal concoctions.)
But it wasn't until the late 1990s when she moved to Edmonton with her husband (and Vitaly Teas business partner) Marc-Andre Sabourin, that Camara turned to tea as a career option. She began creating and marketing exclusive herbal and organic tea blends from the family home as a way to keep working while raising her children.
In 1999, her first year in production, Camara blended about 100 kilograms of tea; now the company puts out about 1,000 kilograms yearly in 16 different blends, from Organic Rooibos to Vanilla Chai to Mint Bliss. Of course, many of the teas come from outside of Alberta – one of her most popular products is her chai latte syrup, available in three different blends, made from organic Assam black tea from India, pure vanilla and fresh ginger. Still, she uses regional products as often as possible – one of her chai syrups is sweetened with Quebec maple syrup and unpasteurized Alberta honey.
Camara is a perfectionist when it comes to tea, visiting the Chickadee Farm to observe their harvest methods for picking everything from rosehips to camomile flowers. Some of the Vitaly Teas herbs are raised on the farm, but others are gathered in approved areas of the boreal forest using what Camara calls "ethical wild-crafting practices." This means pickers are careful not to deplete the wild plant supply, collecting only a portion of the leaves so the plants can grow back easily. Pickers walk into the forest patches and even into their own market fields, and carry the herbs out in backpacks to avoid disrupting the natural environment with vehicles.
Supporting regional food is important for lots of reasons – it helps the local economy and reduces our environmental footprint, just for starters. But I think it's important to remember that regional foods aren't always what you'd expect, and to be open to new ways of thinking about regional production.