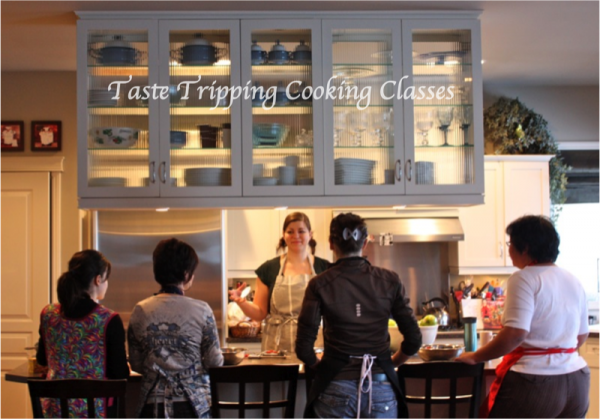 Almost fresh out of the gate this is our second class at my new Culinary Cooking School: Taste Tripping! The first class (Greek Escapes) I was teaching and the pictures are flour covered and blurry! So disappointing as the gals from that class were looking forward to them as much as I, I am sure! However, round two found Christan Miller at the help and myself in the roles of Chef Sous, hostess (hopefully "extraordinaire") and photographer. What a fun Saturday morning!
Scroll through the photos to capture the mood and the cooking class facility.
The first class I had six lovely gals frolicking in my kitchen with a few "Opas!" as we worked our way through Olive Oil Flat Bread and four Greek Dips. My daughter requested this class for her and some colleagues. Christan attended and LeQuan also attended as well as a colleague of mine whom I had not yet met, another foods teacher, Joan, attended. She and I will definitely do more sharing. LeQuan has already made the Olive Oil Bread on her own since and sent me a photo! Incredible! I should have issued the Jamie Oliver Challenge: you teach two people and they each teach two and they each teach two, and so on! Wouldn't it be a blast to see what the fourth or fifth group would actually be making? I have to praise my students. Everyone of them accomplished all aspects of the class with flying colours and left with a little package of delectable dips with a lovely flat bread for their Saturday night.
This class I had four lovely gals making a Canadian Heritage dish: apple pie. There is nothing like the experience of baking together and getting to know how to do something first hand! Ming reads my blog! (I was so excited! I could talk to her about so many things and she knew all about them! She was so lovely! My children don't even read my work and they are why I started it! It was wonderful to meet her. Her friend Edyta came and made the very first apple pie she had ever made in her life! Yes, she is the one that created a new tradition in apple pie making: the happy face! Melissa had come to the leaf lard Pastry Tasting dinner and it was so lovely to meet her mother at this class. Guess what? Her mother also reads my blog! I can tell I have so much to learn from her in the area of traditional Italian cooking! I am still warmed by the pleasure of meeting and collaborating with Christan at this class.
Why was Christan teaching the class instead of me? Three reasons:
I have severe asthma and have found I cannot get through a class comfortably for myself and my students (I will be teaching the occasional class because I love to, but I cough far too much)
The purpose of this business is to preserve the traditions of our past through the teachings of our elders and to enable collaboration of people with a talent to share it with those who want to learn. (So, now's the time to let me know about your talent!)
I met Christan (story here) and made pies with her (story here) and she had a very sensible and authentic way of making pies that I valued and that was definitely worthy of sharing. I do not make my pies the same way, but she has changed the way I make my pies. Thus, she was the perfect person to teach one of my classes!
Remember: you will learn the process of how to make what we are teaching. The taste, or how you change the ingredients to please your palate will always be a part of every class.
Testimonials from Cooking Classes can be read here.
What is next?
THIS SATURDAY is Allan Suddaby teaching Sausage Making. He is a chef at Jack's Grill people! (I cannot believe there are still spaces left in his class.) What a perfect way to spend your Valentine Saturday evening! You take home what you make and have a lot of fun doing it!
The Real Miller's Apple Pie Recipe
Ingredients for the Pastry:
6 cups flour
1 lb lard (I usually use Tenderflake)
2 tsp salt
1 Tbsp vinegar
1 egg lightly beaten
cold water
Instructions for the Pastry:
Measure flour into bowl; add the lard into the middle
With your hands, work the flour into the lard until it resembles coarse oatmeal
In a 1 cup measure, combine salt, vinegar and egg; add water to make 1 cup
Evenly pour the liquid over the lard mixture; add only enough water to make the dough cling together
Gather dough into a ball and divide into 6 portions (wrap unused portions and refrigerate or freeze for later)
Roll out each portion on a lightly floured surface; if dough is sticking, chill for 1 to 2 hours
Ingredients for Filling:
8-9 Granny Smith apples per pie (they must be Granny Smith)
1/8Â "" 1/4Cup brown sugar
1 – 2 tablespoons cinnamon
1/4cup flour
2 tablespoons butter (in 6 teaspoon portions)
Instructions for the Filling:
Peel and core the apples: slice into a large bowl ensuring no core or peeling is included
Add brown sugar a tablespoon at a time, mixing well together; using the "œreal Miller" taste test, taste an apple slice to determine is you have the right amount of sugar: when you have the right amount, you can no longer tell if the apples are tart or sweet (they are "œjust right"!)
Sprinkle on cinnamon until the apples are well covered (start with a tablespoon); mix in well: it should taste like cinnamon without overpowering the apples (another taste test)
Mix in approximately 2 tablespoons of flour (to start); this must be adjusted depending how juicy the apples are, more juice = more flour and visa-versa (look to see how much juice is in the bottom of the apple after you mix in the first two tablespoons; if there is still a lot, you will need more)
Pie Assembly Ingredients and Instructions:
Put bottom pastry into the pie plate by rolling it on top of the rolling pin, or by folding it into quarters
Fill with apple filling, shaking down until the apples are settled
Add butter on top of the apple filling
Brush the outside of the pastry with milk to "œglue" the top and bottom together
Put on the top pastry and pinch the two together around the edge; cut off the excess dough
Brush the top with milk and sprinkle with white sugar for a finished shine
Vent the crust with fork holes, or use a knife to make designs in the top crust
Bake for 1 hour at 350°F and then for another 1/2hour at 325°F
Serve with vanilla ice cream, if desired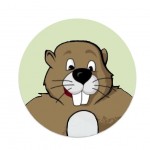 Subscribe to A Canadian Foodie so you don't miss a post! (top right)
Register for Allan Suddaby's Sausage Making Class February 12th in the evening: a really fun friend or partner's night out! VALENTINE'S Saturday!

Register for: Kevin Kossowan's Big Game Tasting and Cooking Demonstration Lunch February 26, 2011 at 11am
Register for:BénéGamier's French Tart Class: Sweet and Savoury SUNDAY, March 6, 2011 at 8:30 am
NEW: The Niagara on the Lake Culinary Wine Tour and Cooking Class Itinerary is now up: CHECK OUT THE HOT ITINERARY!!!
Watch for Culinary Tour and Trips for September to Paris and locally!