Classic French Coq au Vin: A warm cozy hug on a cold Winter's night!
Classic French Coq au Vin is a rather sophisticated dish made from very humble prairie ingredients, with the exception of the wine. While Canadian cuisine is influenced, even in the Alberta prairies, by our French founders, a good quality red wine is not made anywhere within our region and is certainly not an economical addition to any food in this area even if from our British Columbia neighbours. ( A little aside: The first time I visited France my mouth was agape many times as I was reintroduced to a part of my inherent Canadian culture through various traditions within French cuisine.)

The flavours in Classic French Coq au Vin resemble Beef Bourguignon so closely, I was actually taken aback. Yet, why? Almost all of the ingredients are identical. The process for making the dish is the same: make a basic brown sauce or stock, brown the meat, add chopped onion, crisply fried lardons, red wine, tomato paste and a bouquet garni. Simmer. The mushrooms and pearl onions are sautéed until golden; then added to the stew prior to serving. Exactly the same process, wouldn't you agree?
You will see I took some liberties! I have declared my kitchen a safe zone and am completely free from all "supposed to" constraints, at it is my domain! I added flour to the chicken before browning. Not traditionally done, yet it browns better. It tastes better. I did not caramelize the onions. I was running out of time, yet I would recommend it. It would add another caramelized dimension and they would look prettier. The parsley garnish is actually important.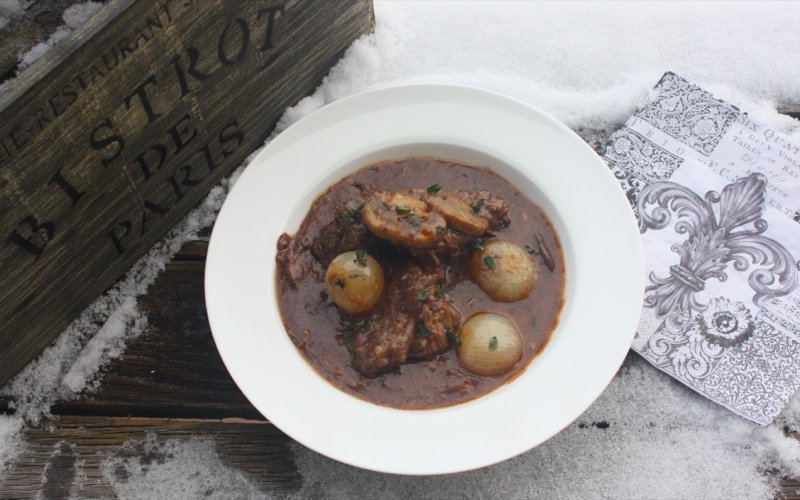 Classic French Coq au Vin: Preparing the Chicken
Here is my dilemma. What is better than fried chicken? I ask you. Is there really any way to prepare chicken that is actually tastier than a gorgeous grass-fed fat and happy chicken that is fried in butter? Yes, butter. I really don't think there is. Yet, I was hoping. This recipe is actually a brilliant concoction devised to tenderize the cock and bring a regal dignity to the table by conquering the tough old bird. No cocks here. Anywhere. Hardly any tough old birds, either. Maybe none. I used to buy them as a University student and we would make the best meals with them cooked long and slow while we were away. Dirt cheap. Nothing is dirt cheap anymore, and what happened to all of these tough hens? Anyone know? That is exactly what I would recommend using for this dish.
Classic French Coq au Vin: Filling the Pot for the Oven
Classic French Coq au Vin is elegant. It is complex. The depth of flavour is extraordinary. There is no arguing any of that. It is just that fried chicken is better. Why do this to a great frier? Just don't. There were phases of making this dish that my stomach was upside down.
Classic French Coq au Vin: Adding the Homemade Stock


The stock above was strained for use in the stew. It was a beautiful stock. What really had me going was how bright red the chicken turned when I added the red wine. Unappealing doesn't even begin to describe it. I chanted my mantra: make it happen. Followed the directions, and the colour deepened. The flavour mellowed and the dish was sensational. It really was.
Classic French Coq au Vin: Braising the Dish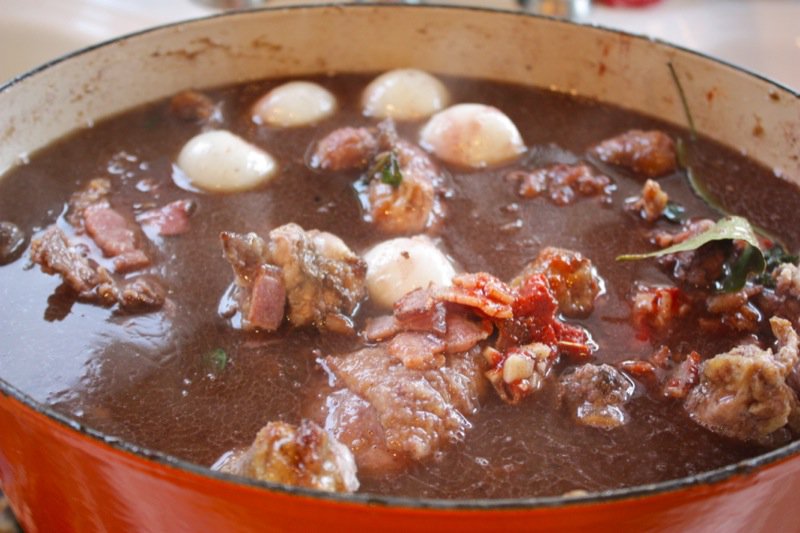 Classic French Coq au Vin: Preparing and Adding the Mushrooms
The white meat appears as dark as the dark meat usually does. The gravy was scrump-dilly-ishous! It just was not as good as fried chicken. And obviously, the point of this dish is to use a chicken too old to fry.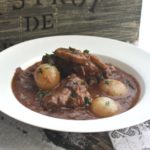 Classic French Coq au Vin (the Julia Child inspired recipe)
Recipe serves 4-6; I doubled this recipe.
Ingredients
1

whole chicken

3-4 lbs.

3

Tablespoons

cooking oil

1

large onion

diced

3

shallots

sliced into thin circles (I didn't have any)

1/2

pound

or 250 g thick bacon

sliced into lardons, fried and drained

1

bag pearl type onions

approx. 15-18, peeled (mine were twice as big as pearl onions)

1/2

pound

or 250g small mushrooms

cleaned and sliced

2

Tablespoons

all-purpose flour

2 

cups

full-bodied

good quality Burgundy or Pinot Noir wine

1 1/2 

cups 

unsalted homemade beef stock

4

garlic cloves

cleaned and thinly sliced

1 

Tablespoon

tomato paste

Bouquet Garni

1 celery stick, 5-6 sprigs fresh thyme or 1/4 tsp. dried thyme, 5 parsley sprigs, 2 bay leaves – I wrapped mine in cheese cloth

1

teaspoon

salt

1/4

teaspoon

freshly ground black pepper

6

sprigs fresh flat leafed parsley

leaves only - for garnish
Ingredients for Chicken Stock
water

2

celery stock

1

onion

2

carrots

5-6

pepper corn

small bunch of parsley

2

bay leaves
Instructions
Cut away the tail and excess fat from the chicken and butcher it into 2 breast pieces, separate the wings and wing tips, 2 drumsticks, 2 thighs. Leave skin intact; set aside

Place the back, neck, wing tips and other bony bits into your stockpot to make an excellent chicken stock that you will use in this recipe. Find the chicken stock recipe link in notes section; put it all together now and get it simmering on the stove

Over medium high heat, in a heavy deep pot, add the vegetable oil and in a single layer, add the chicken pieces; brown for 3-4 minutes on all sides until crispy golden brown; set aside

Add the diced onion to the chicken fat, reduce heat to medium-high and sauté until the onion has softened and is translucent

Add the red wine, beef stock, tomato paste, garlic slices, shallots and bouquet garni

Return the chicken to the pan, combine all ingredients, and sprinkle with the flour; toss and add the stock until all ingredients are just covered

Bring the stew to a simmer; cover the pot with a tight fitting lid and simmer slowly for 30 to 35 minutes, stirring occasionally to avoid any sticking to the pot (and if it is truly simmering, this should not be a problem)

While simmering, sauté the bacon until golden brown; remove from pan and set aside on paper towel

Add the sliced mushrooms to the same pan and sauté on high heat until golden brown; set aside

In the same pan, add the pearl onions and sauté until caramelized; set aside (this can take a good 20 minutes)

The coq au vin should be just finished simmering; the sauce should have thickened, but still be the consistency of a thin gravy

Fifteen minutes prior to service, add the mushrooms, pearl onions and bacon to the stew; taste and adjust seasonings accordingly

If serving family style, sprinkle with finely chopped parsley and serve immediately; if plating, serve on top of creamy mashed potatoes, garnished with freshly chopped flat leafed parsley sprinkled on top with a side of green peas
Recipe Notes
Optional to place the lid onto the pot and place stew in preheated 350 F oven for 30 minutes after adding the mushrooms, onion and bacon, just prior to service. The sauce should be the consistency of thin gravy. If it is too thick, thin with a fresh chicken stock. If it is too thin, remove some of the sauce, add flour to it, shaking well until fully incorporated and then carefully introduce the thickened portion back to the main sauce, cooking briefly to thicken
Chicken Stock recipe is here.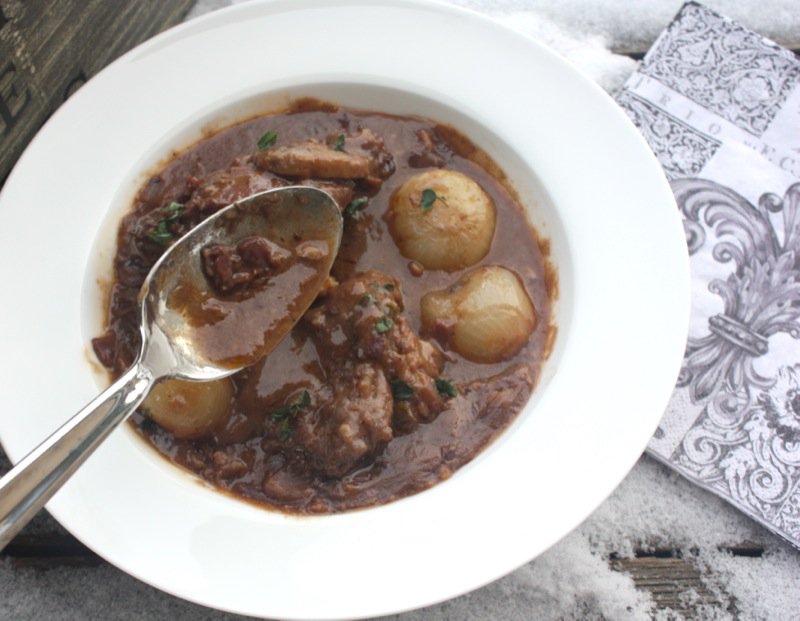 If you have an old hen or a tough cock to cook, this is your recipe. You will have spun wheat into gold when done. But, if you have beautiful young frying chickens, fry them. Anyone agree?