Homemade Hot Cross Buns: One-a-penny, two-a-penny, hot crossed buns!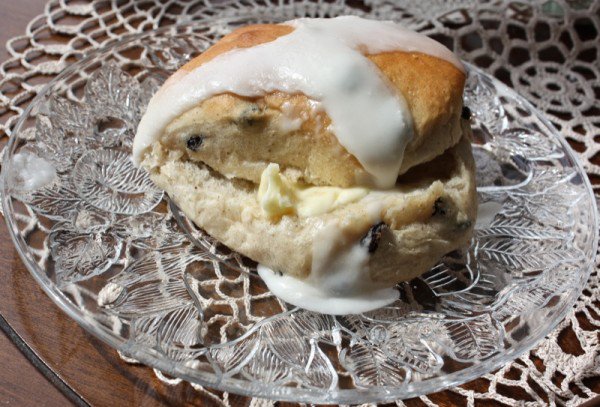 Homemade Hot Cross Buns! What is with a hot crossed bun crossed before it is hot? When I was a child, there were no hot cross buns in grocery stores or bakeries. The only hot cross buns I knew were being turned out in fragrant humid kitchens all across the prairies on every Good Friday just before Easter. We would wait for them to be cool enough to touch and then slather them with fresh creamy butter. The top half was always the best. The glaze just brought the rich buttery egg-filled dough to another level. So did the melted butter. If you have never had a homemade hot cross bun, put it on your Bucket List. Now.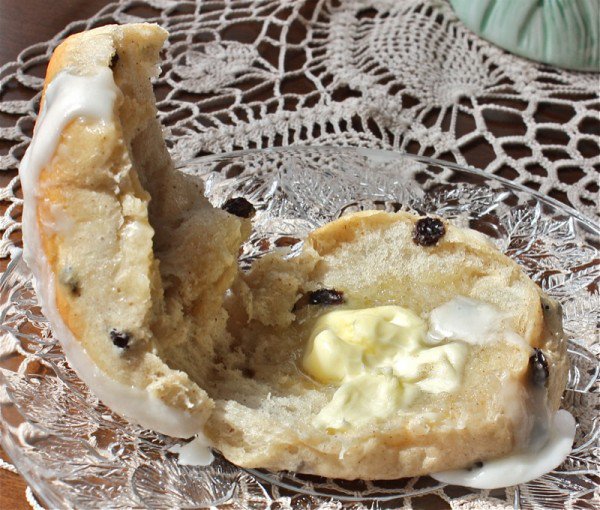 When I did first see them in the stores, I was, frankly, shocked: blasphemy in the bakery! The buns were square and lifeless and squished and the beautiful glistening cross was fake! It was made with some kind of white doughy stuff and baked with the bun. This was the consummate disappointment. I would never buy a hot crossed bun or eat one that was made commercially. This would be like comparing gooey processed white-bleached Wonder bread to beautiful artisanal crusty bread. Commercialism really has poked its nose in far too many sacred little places. My mother's traditional hot crossed buns include mashed potatoes: that is the secret ingredient. But, it is the cinnamon and nutmeg muddled with the intoxicatingly yeasty aroma of homemade bread that beckons.
And finally, not only the buns coming out of the oven give reason to rejoice for the onset of Spring and New Life, but the crocuses in the garden reared their heads on Good Friday, too.
Hello! You are more beautiful than you know! It has been such a dull, dark, dank, and dreary winter for all this winter of 2011.
Homemade Hot Cross Buns: Introducing Mom, Dad, and Penny
Many of you know my mom, Helen, as I have captured her culinary prowess many times. My favourite is the post about her Homemade Angel Food Cake. It is a great story. Today, I am capturing her making these lovely traditional Easter buns. This is clearly a recipe that has become our own from our British countrymen. My mom and dad celebrated their 60th Anniversary last November and there is still no stopping her. Dad and my baby sister, Penny, are curled in their chair filled with homemade Hot Crossed Bun anticipation!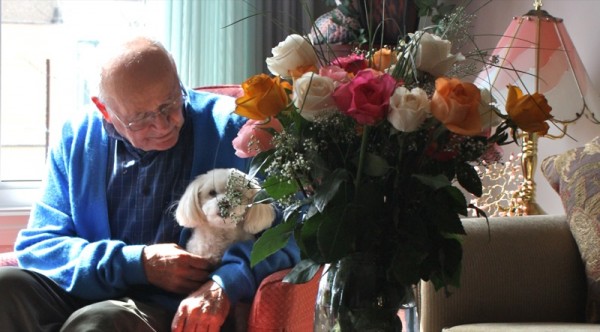 Not only was mom dressed to the nines (this is how she has always been), but she had everything measured and ready to go before I arrived. I love how she used the water the potatoes were boiled in for the water in the recipe. An aside: I have always called these "hot-crossed-buns"!
Homemade Hot Cross Buns: Mise en Place
Homemade Hot Cross Buns: Making the Dough
Her Sunbeam Mixmaster is over 30 years old. It still looks like new and works like a charm. She will be rendered helpless without it. This is her second one. The first one survived for over 30 years, too, but was dropped. They no longer make them like this, so she has been searching for a replacement "just in case", but nothing comes close, in her opinion. She keeps the speed on low throughout most of this process. Adding each item as listed in the recipe and as pictured above and below, then beating in slowly and thoroughly.
And when I thought the bowl was already too full, in goes 4 cups of flour: slow and steady. Lots of beating and patience.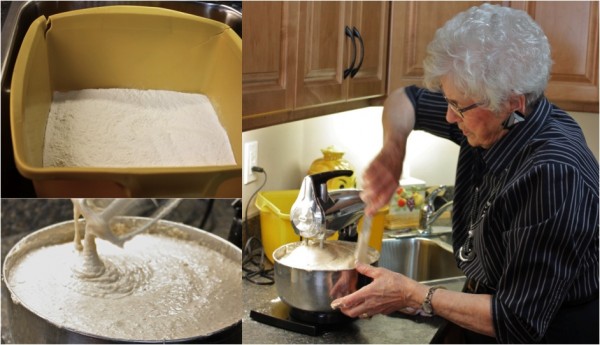 Now, the bowl has incorporated everything but the next portion of flour (6 cups) and the currants. This is added to the bin with the dough.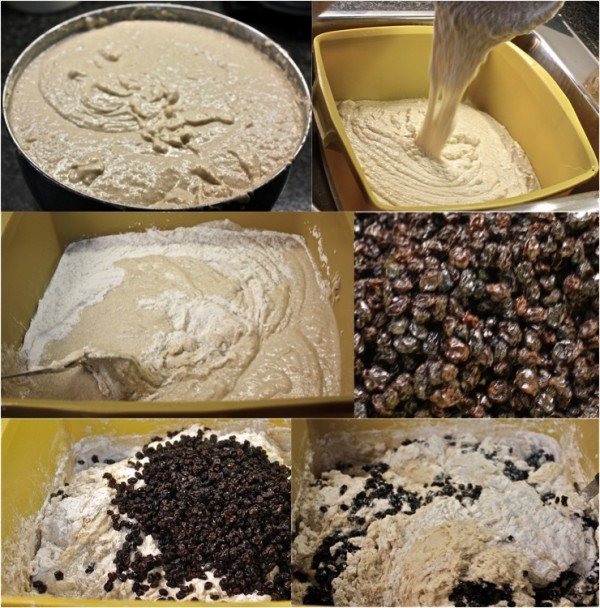 Mom just stirs them in with a huge spoon until all of the flour has been incorporated into the dough. Then, one cup of flour covers the mat and the dough is plopped out onto it for kneading.
She has already cleaned the bin and buttered it ready for the dough to rest in after giving it a workout, here, in a minute.
Homemade Hot Cross Buns: Kneading the Dough
See what I mean? Hair is perfectly coiffed, earrings on, necklace on, make up on: you will never see her any other way unless you pull the fire alarm in the middle of the night. She has certainly been an amazing role model for my sister, myself, and our children.

It wasn't long before I had to get my hands in the pillows of yeasty goodness. I worked the dough the French way, and it was a pleasure to work with. It is a wetter dough, similar to brioche to the touch as it is full of eggs and butter. You can see, below, that I lost a few currants to the floor as I was incorporating air into the dough! Back into the bin it went, covered with butter, and into the sun in the window for a warm rest to proof.
Homemade Hot Cross Buns: Proofing the Dough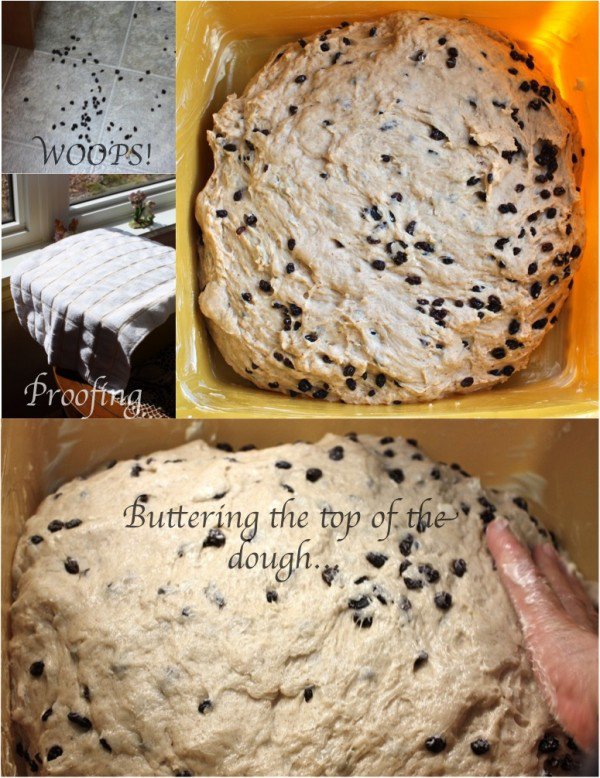 After a lovely visit and about an hour and a half, the dough had risen and was ready to make into buns.
Homemade Hot Cross Buns: Shaping Buns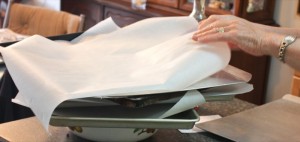 Parchment paper on five cookie sheets: each will hold a dozen buns, oven on to 350°F, and mom's favourite glass out to cut the buns with. She used to have four, but now there is one. Oh, my! What will happen should this perfect sized glass break? I shouldn't make fun of her. I am far too similar! Look at the mound of luscious soft promises.
It is flattened with her hands to a rectangle for cutting. The lip of the glass has been floured and needs to be floured every three cuts.
When cutting with the glass (or any cutter), gather as much dough as possible into the shape so the bun will be abundant, then press to cut.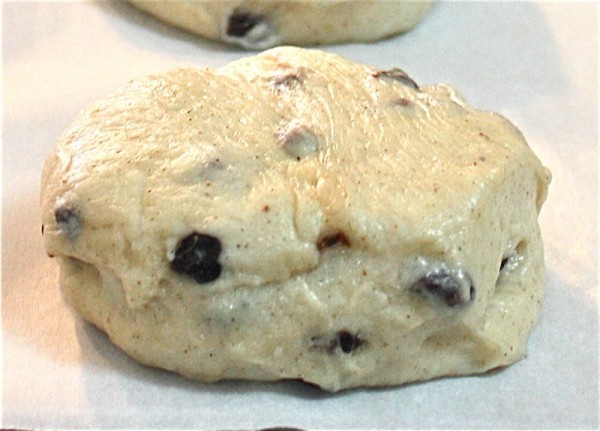 The dough continues to rise, quite quickly, as it is being cut, and needs frequent re-flattening to ensure consistency of portion size.
The leftover strands of dough are regathered and formed into another rectangle for cutting. Once that is done, the glaze is made.
Homemade Hot Cross Buns: Making the Glaze
It used to be made only with powdered sugar and water, but the addition of butter enhances the flavour and increases the stability of the glaze: it no longer breaks off the bun.
My little baby sister is tired of all the commotion and excitement and has decided to have a nap on her favourite blanket in the sun.
The five dozen buns (plus 2) are cut and ready to go. By the time the last tray is cut, the first tray is ready for the oven. Each takes 15 to 18 minutes to bake.
Homemade Hot Cross Buns: Baking and Crossing the Buns
Oh…. look who's getting impatient and coming over to check out the wares in the kitchen!
Another short visit while they bake and then the tops are buttered immediately upon coming out of the oven: look at that! Can you just smell them?
We were not very patient. We each had one immediately after they were iced. About fifteen minutes of cooling, while still a little warm to the touch is the time to ice the cross on the bun. The heat will thin the glaze and encourage it to slide just the right amount.
What can I say?
Homemade Hot Cross Buns: Helen McKinney is my Hero
I went to the market first thing in the morning, then to mom and dad's and we were finished five dozen of these before noon. It was absolutely worth it. They are so good.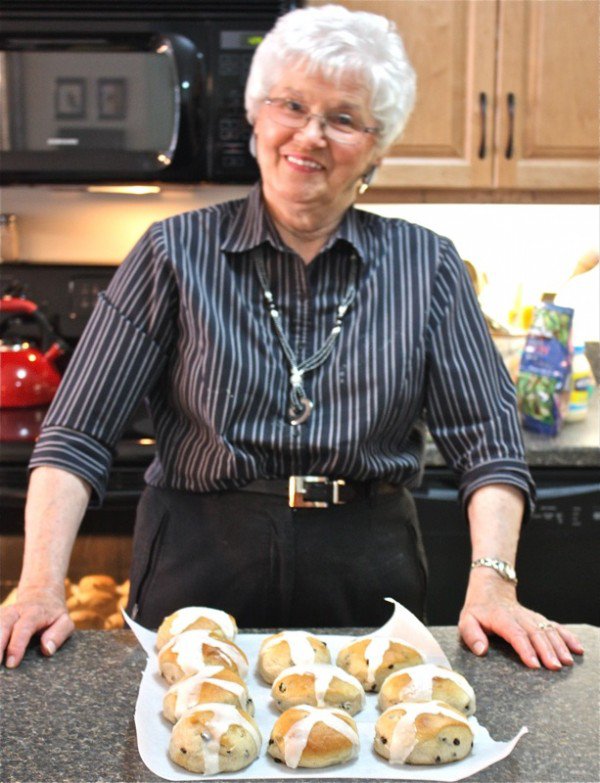 Bravo, mom! Standing ovation! (see the two missing above?) And, in her very distinct and gorgeous writing: the recipe for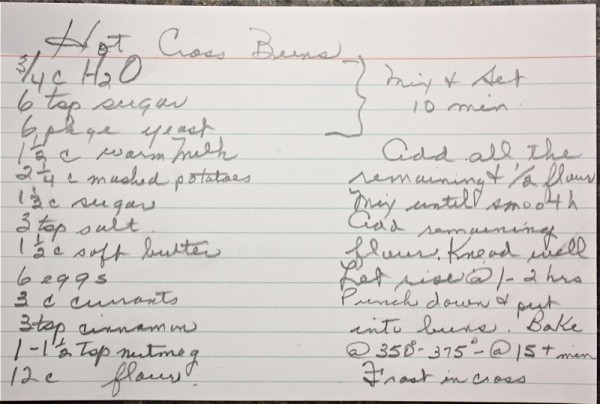 Hot cross buns!
Hot cross buns!
One ha' penny, two ha' penny,
Hot cross buns!
If you have no daughters,
Give them to your sons
One ha' penny,
Two ha' penny,
Hot Cross Buns!
We would sing this little ditty while waiting for them to come out of the oven, while eating them and after eating them, as children. According to the Church of England, they are historically eaten on Good Friday, and the symbolism is evident: the bread represents the communion, the spices represent the spices mixed into the cloth wrapped around Jesus in the tomb, and the cross represents his death. Though all of this is evident, and my childhood Easters were punctuated with Easter Sunday Dresses, cute little white gloves (stained with red Easter egg dye), Sunday School, Dinners, Easter egg baskets, Easter egg decorating and Easter egg hunts, it is the family tradition of making and sharing these buns that resurrects my spirit, my childhood and reconnects me to my family every Easter.
There is nothing like traditional family foods and the stories that are worked into them through the years and over time. Nothing.