An incredible edible downtown Edmonton event! Congrats to Sharon and Mack!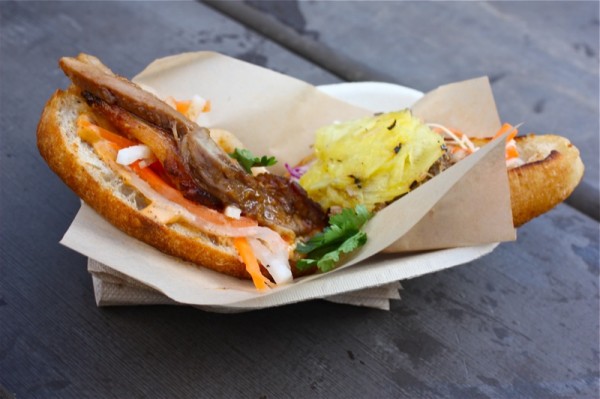 Make it Happen. That has been my mantra, and byline under my name in my e-mail since 1992. (Yes, kids, there was really e-mail back in the old days!)
Sharon Yeo and Mack Male are two people who know how to "make it happen". I had to get downtown and experience this new to Edmonton street food extravaganza that the two of them double handedly engineered and whoa, baby! What a coup!
The street was closed; there was adequate and affordable parking, picnic tables, music and almost every food truck known to Edmonton lining the block just South of Jasper on 102 Street. We arrive at 4:45 and I would say it was a hopping happening place! There were line ups at each food truck and though there was a brisk fall wind playing hide-and-go-seek up and down the street, people were clearly into the food.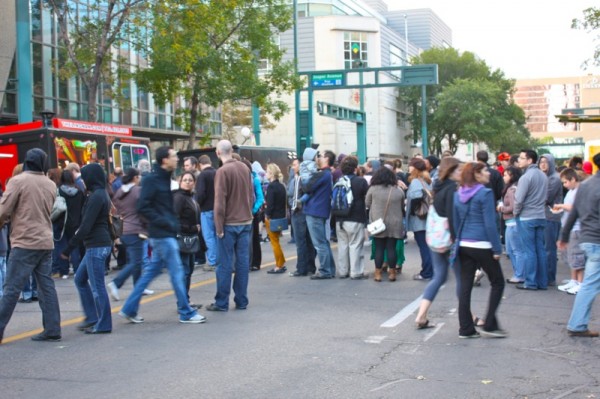 I had done my homework, and read through the evening's menu on the website. I also read it to Vanja on our way to the event on my iphone. (Love my iphone.) We had a plan. We had a ziplock full of loonies. We tied up our street shoes and took off.
I hit Molly's for a few reasons. First, I was going for their Provoleta grilled cheese and a Mulligatawny soup, but also because they are a couple from the Morinville Greenhouse that I have purchased by herb plants from for years at the OSFM and I trust and value their food ethics. I was right on the money, honey!
Standing on the sidewalk, facing the truck were a barrage of young people all reading their i-phones. It was hilarious, yet revealing. The power of Social Media cannot be underestimated. "What am I doing? Reading the tweets about the food tonight to see what I should buy next." Molly's had a great set up: they write the menu on the side of their blackboard painted truck by the passenger seat, a gal is sitting there, taking orders through her window and passing them back to the cooking crew. The truck was well lit and such a pleasure to peer into: stainless steel wall, well organized and spotless.
I couldn't resist interrupting a young trio of guys about 18 or so lapping up one of Molly's taco dishes. "So, is the food good?"
"Oh, yeah! I got two of the three taco samplers tonight, and the pulled pork is amazing! The Mongolian was good, too, but this one is incredible!" The relish he was wolfing it down with was a joy to watch. I love to see people excited about the food they eat when it is really good "authentic" food. I re-met Anant whom I had met a year and a half ago at Slow Food Edmonton's Grilled Cheese Olympics. He was a Chef at Culina at the time. We had a great little chat and he ordered the aromatic Mini Trinidad Doubles: (house made curry scented bread topped with mildly curried chickpeas, cucumber chutney and mango chutney) as well as the pulled pork taco. The Trinidad dish smelled similar to a North Indian curry to me, and the pulled pork we knew was good, didn't we? The carrot coins were a little surprise. On a taco, I would expect a julienne… but, hey, it is street food!
My soup was delicious. I absolutely loved it. It was much darker than any other Mulligatawny soups I have had or made, but really a great texture and depth of flavour in this little hardy bowl! A welcome barrier to the frisky wind. The grilled cheese was really a nice treat: light, buttery, laden with lovely cheese and paired with a very mildly spicy, but delicious, pepper spread.
The white bread is a difficult issue. The Classic Grilled Cheese commands it and it is really yummy in this kind of a sandwich, but my food ethic tells me there has to be something better for me that would taste as good. (Ever since I took Bread Making from Richard Bertinet in Bath,UK, I cannot think of Wonderbread as bread: anything that dissolves in your mouth without chewing has to be a bread substitute.)
It was Nomad or Drift for Vanja because these were the two trucks heavy on the meat selections. I recommended Drift as they are known to be "hard-core" food aficionados who make everything from scratch and buy really good local food. He bought the Jerk Chicken with Pineapple and Pork Belly Sampler Sammies. Each open faced mini was four dollars and he enjoyed both, but raved about the pork belly one. Raved.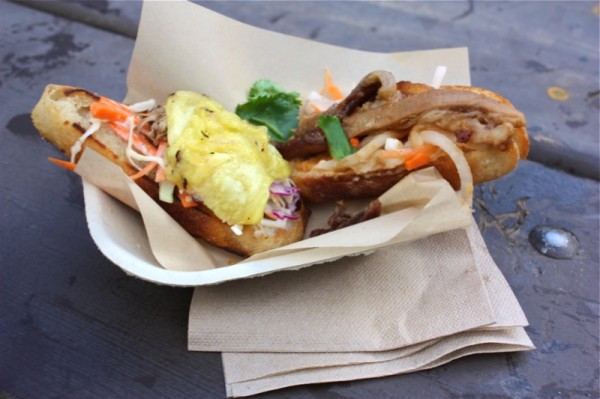 The fries were a different story. Look at how gorgeous they are! These guys really work to put a tasty meal together for people on the go. Their fries were truly cooked to perfection (and I love the rustic skin-on fry) except they were dusted in a curry spice and Vanja detests that flavour. I loved the idea of it, but without telling your customers what version of fries they are getting today, disappointment can result. And did, in this case. His reaction: "You eat them. I don't like them." And his face said more.
The ketchup, or as they call it, "homemade tomato sauce" was a tasty dip. A little strong with the same curry combination if you are Vanja: not good. I loved the lime in it.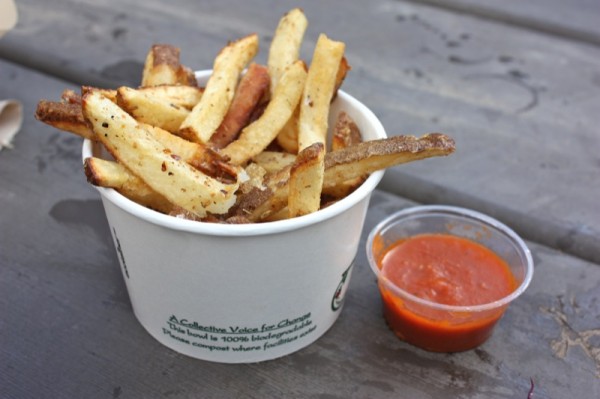 People were a little over the top at this event in a good way. Open. Warm. I loved it. I bumped into so many people I know and how does one do that in a city this size?
When two people decide to make something happen. That's how. Mack and Sharon have been consistently working to revitalize and contribute to the lively life of downtown Edmonton. They live in the heart of it and don't just "wish" it would be "better". They work to "Make it Happen".
Look at the fellow below with a mic talking to a couple eating their food. There was no camera. We couldn't see what the mic was attached to. Reminds me of my single days when my girlfriends and I would "interview" the most gorgeous guys in the bar because I was doing my PHD in Bar Studies and wanted to get a handle on the demographic. 🙂 It really was a lively event.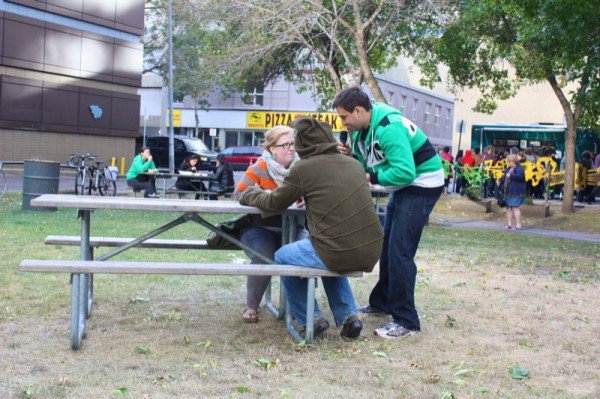 Mayor Mandel, Counsellors, local figures interested in revitalizing downtown: came last time and their presence was known. Maybe others were in attendance this time, but this event was apparently at least double, if not triple the last one, according to Sharon and Mack. And, as Sharon reported on her site, small downtown business benefited from the overflow of people in the area after the event was over. Standing ovation!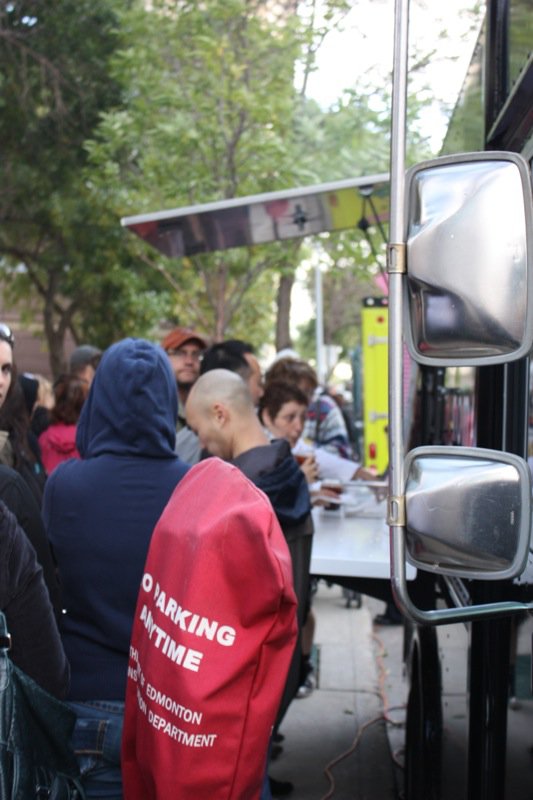 Maria and Jeff live downtown and dropped by for a bite at Nomad's. They arrived at 6 and after a 30 minute wait in line, only the Smoked porchetta sandwich was left. They were not complaining, though. Look at it. Vanja said, "Now that's street food: simple delicious meat on a homemade bun with a special sauce and a bit of crunch!" Nothing fancy. Simple deliciousness.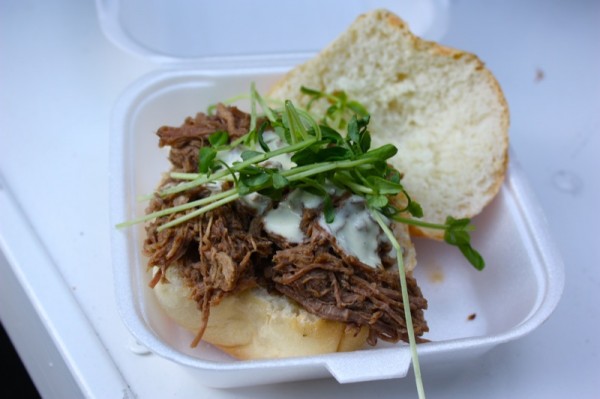 Jeff got right into it. I could not resist.
People watching at these events is huge for me. The relish, the lust, the pure unadulterated pleasure of that first bit – or of the anticipation of it.
Apparently the cost of closing the street was really high and this time covered by Responsible Hospitality Edmonton, though Sharon reports that the City will not be likely to pick up that tab in the future, and other sponsors will need to step up to the plate. Sounds like a consideration for the Downtown Business Association or other similar organizations?
What more could downtown businesses want? The event brought people out of their homes to the area, it was a healthy activity without too much upset and inconvenience for a whole lotta good times and business had in the downtown core.
Who knows where Sharon was when we went to leave – but we found Mack! Thanks so much for the two of you and thanks for "Making this Happen!"
It was a really fun outdoor "date night" with my husband that brought us downtown for dinner and a movie and we would have normally stayed in the west end! YUM!