Zucchini Basil, Saskatoon Cornmeal, Red River Raspberry and Apple Cinnamon Honey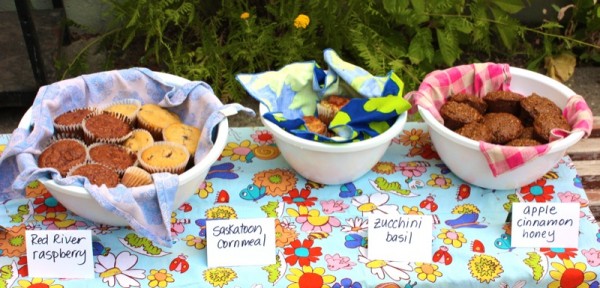 Don't you just know it is going to be a great day when you arrive to a spread of wonderful homemade food – where ever you are? I do! Especially when I don't expect it, and I definitely did not expect the loving touch that welcomed us this day from Patti Milligan of Lola Canola Honey! She was the co-leader to the Edible Garden Tours this year hosted by Claudie Bolli of Wild Green Garden Consulting. This is Claudia's first year of taking it over from Ron Berezan, Edmonton's own Urban Farmer, now living in British Columbia.
This is a not to be missed tour if you are interested in edible gardening at all. I only attended the morning and this is still an epic post. I burned my hand very badly on the coffee and by noon just had to go and take care of it. All ice packs had melted. I will not be commenting on the tour that follows, but leave the information to your imagination through the photo essay. If you have questions, please ask and I will do my best to answer, or shoot over and ask Claudia on her site.
We visited five gardens in the morning and my group saw four in the afternoon. I heard a maybe missed the best part of the day, but I cannot imagine anything better than the morning I spent, burned hand and all. One of the gardents you will see is my friend, Kevin Kossowan's garden, and if you have questions about his space, pop on over to his site to ask those.
The muffins were incredible. Thank you to Patty for sharing her recipes! Thank you to Claudia for the wonderfully planned day and thank you to my driver Christina for the company and friendship!
Registration
House One

Garden Two

Garden Three
House Four
House Five
Lunch

I thought I could make it for the afternoon, but I was in agony at lunch. Agony. However, I will be first in line next year. This was a phenomenal experience! Phenomenal!
Zucchini-Basil Muffins
Ingredients:
2 eggs
3/4Â c milk
2/3 c ve. oil
2 c flour
1/4 c sugar
1 tbsp baking powder
1 tsp salt
2 c shredded zucchini
4 tbsp dried basil
6 tbsp grated Parmesan cheese (1 tsp per muffin)
Instructions:
Pre-heat oven to 400° F
Beat eggs in bowl; stir in milk and oil
Combine flour, sugar, baking powder and salt; mix dry ingredients into egg mixture just until moistened (batter should not be completely smooth)
Gently mix in zucchini and basil
Fill greased muffin cups about 3/4 full
Sprinkle each with cheese
Bake at 400°F for 18 to 20 minutes or until done; remove from pan
Take to your neighbours and be prepared to be friends for life!
Note: Patty didn't have Parmesan so used mozzarella on top!
Saskatoon-Cornmeal Muffins
Ingredients:
1 cup cornmeal
1 cup flour
1/3 cup sugar
2 tsp baking powder
1/4 tsp salt
1 cup buttermilk
6 tbsp melted butter
1 egg, lightly beaten
11/Â cup fresh or frozen Saskatoon berries
Instructions:
Pre-heat oven to 400° F
Sift dry ingredients together in bowl; form a well in the dry ingredients and add combined liquids, stirring until just blended
Fold until gently combined
Butter muffin tin, or use paper liners
Fill muffin tins 2/3 full
Bake 20-25 minutes at 400° F, or until tops of muffins spring back when lightly touched
Makes 1 dozen large muffins
Raspberry-Red River Muffins
Ingredients:
1 cup flour
3 tsp baking powder
1/2 tsp salt
3/4 cup Red River Cereal
1/4 cup brown sugar
1 egg
1/4 cup melted butter
1/3 cup milk
1 cup mashed, fresh or frozen raspberries
Instructions:
Pre-heat oven to 400° F
Measure dry ingredients into a large mixing bowl; stir with a fork until well blended
Whisk or beat egg, butter and milk
Stir in dry ingredients and mix briefly
Add raspberries and mix until evenly blended
Fill greased muffin tins 2/3 full
Bake at 400 F for 20 minutes, or until done
Makes 12 large muffins
Apple-Cinnamon-Honey Muffins
I used Red River Cereal and dried apples from last year. I also forgot to sprinkle cinnamon-sugar on top.
Ingredients:
1-1/2 cups Red Diver Cereal
1-1/2 cups boiling water
1 cup whole wheat flour
1/2 cup all-purpose flour
3/4 cup unpacked brown sugar
1-1/2 tsp baking powder
1 tsp baking soda
1/2 teaspoon salt
1 tsp ground cinnamon
1/4 cup honey
1/4 unsweetened applesauce
2 egg whites
3 tbsp butter, melted
1 tsp vanilla
1-1/2 cups peeled, cored, and finely chopped apples or the same amount of dried apples (Patty used dry)
cinnamon-sugar to sprinkle on top (Patty didn't do this)
Instructions:
Preheat oven to 325ºF
Pour boiling water over cereal in a medium bowl; stir and let stand for 20 minutes
Combine flours and next 5 ingredients in a large bowl; set aside
In a small bowl, whisk together honey, applesauce, egg whites, butter and vanilla
Add applesauce mixture to oats and stir until smooth
Add oat mixture to flour mixture and stir until dry ingredients are moistened
Fold in chopped apples.
Spray large muffin tin with non-stick spray (or use paper muffin cups)
Divid batter among 12 muffin cups
Sprinkle each muffin lightly with cinnamon sugar, if desired
Bake for 25 minutes, or until wooden pick inserted in center comes out clean
Remove from pan and let cool
Makes 12 muffins